Ikumi Mama Animal Doughnuts Selling Limited-Time Happy Halloween Sweets Set
Happy Halloween Set
Ikumi Mama Animal Doughnuts sells some of the most adorable sweets in Japan. Made from safe and high-quality ingredients, the shop in Kawasaki is now selling Halloween goodies for a limited time. Which one is your favorite? 
Ghostly Kitty (Black)
Ghost (Purple)

Mummy Kitty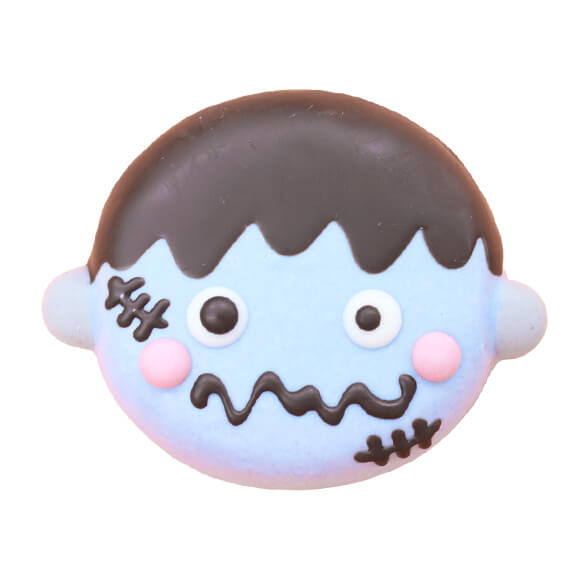 Frankenstein

Spider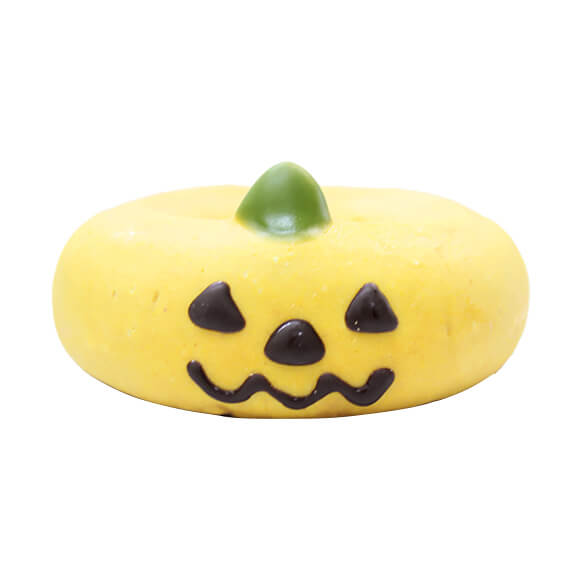 Ghostly Pumpkin

Pumpkin Calico
Mini Halloween Set
Ghostly Kitty (Orange)

Ghost (White)

Ghost (Black)  

Spider
Each doughnut is made with carefully selected ingredients, and the colored chocolate coating is made from natural coloring from things like purple sweet potato and pumpkin. While the colors may be striking, don't worry: they don't contain any synthetic coloring. These doughnuts aren't only cute, but delicious, perfect for a fun night at home with family and friends, online drinking parties, or posting on social media!
Doughnuts ordered online are shipped frozen and can be stored for a month.
RELATED ENTRIES
Starbucks' Sweet Potato Frappuccino Gets a Halloween Makeover

Earlier in the fall season, Starbucks Japan unveiled their popular Sweet Potato Frappuccino to herald in the cool weather. Now, the drink has been transformed for the mischievous Halloween season, with the Treat with Trick Frappuccino now available at participating stores nationwide. 

Treat with Trick Frappuccino Tall, Takeout: ¥678 / Dine-In: ¥690

What's different about this drink? While it may contain the same base ingredients, the color has been changed with the addition is chocolate powder and purple potato-flavored sauce. Customers can also add the "Popping Topping" for an extra charge, basically adding Pop Rocks to the drink. Each is made of white chocolate. 

Popping Topping, Takeout: ¥108 / Dine-In: ¥110

Be sure to stop in for these limited-time treats before they're gone!

Information

Treat with Trick Frappuccino

Popping Topping

Available: October 20, 2021

Where to Buy: Participating Starbucks Locations Nationwide

Official Site: https://www.starbucks.co.jp/

Halloween Festival Coming to Virtual Shibuya

Tokyo's Shibuya Ward and au 5G are coming together to promote this year's Halloween events online through Virtual Shibuya, a digital space accessible from smartphones, PCs, and VR devices. A number of events will be held from October 16 until October 30, incorporating popular artists, companies, and popular anime series. The concept for the event is 'FUN FOR GOOD,' aiming to inspire people to contribute to their community while also enjoying the holidays. 

Sadly, this year's Halloween celebration in Shibuya will be canceled again due to the COVID-19 pandemic. To ease any congestion on the streets, the ward is promoting the Virtual Shibuya au 5G Halloween Festival 2021, which will be available to anyone, anywhere. That's right: you won't need to be in Tokyo to participate!

Event Lineup

Special Anime Talks


A simultaneous global virtual fan meetup for Sword Art Online Progressive: Aria of a Starless Night will be held on October 16! Yoshitsugu Matsuoka, who plays Kirito, and Haruka Tomatsu, who plays Asuna, will appear in Virtual Shibuya in avatar form to discuss some highlights of the upcoming film. 

Also, to commemorate the release of the 100th volume of Detective Conan, the Conan Edogawa x Furuya Rei Special Talk in Virtual Shibuya event will take place on October 30th, featuring voice actors Minami Takayama and Tohru Furuya. 

Virtual Concerts

Three artists are scheduled to perform live in Virtual Shibuya during the Halloween event!

・October 24 – povo Presents Creepy Nuts
・October 26 – au 5G Presents MY FIRST STORY
・October 31 – au 5G Presents Atarashii Gakko!

Attraction Lineup

A number of attractions will be available during the two-week event period. Check the website for complete details! 

https://vcity.au5g.jp/shibuya/halloween2021

Official Shop

Starting October 16, an official store selling original event merchandise will be accessible in Virtual Shibuya and on the special event website. These goods will feature characters from select anime series and artists who have supported the project, with all proceeds being reinvested into Shibuya ward. The above items aren't the only things that will on sale, so be sure to check the website for more details!

Limited-Time Only! Make a Collaboration Anime Avatar During Halloween!

In collaboration with avatar platform AVATARIUM, visitors will be able to generate custom avatars wearing costumes from Sword Art Online Progressive: Aria of a Starless Night and Detective Conan! Choose from characters Asuna (SAO), Kirito (SAO), Conan Edogawa (Detective Conan), Ran Mori (Detective Conan), Furuya Rei (Detective Conan), and The Criminal (Detective Conan). 

Even if you're not in Japan, be sure to check out the event while you can!

Information

Virtual Shibuya au 5G Halloween Festival 2021

Running: October 16 – October 31, 2021

Location: Virtual Shibuya (authorized by Shibuya Ward) 

How to Participate: Virtual Shibuya can be accessed using VR Devices, smartphones, and PC/Mac. Users will need to create a free cluster account and install the cluster app on the device you will be using. 

Create a cluster Account: https://cluster.mu/

Download the cluster app: https://cluster.mu/downloads

Official Site: https://vcity.au5g.jp/shibuya/halloween2021

'Kyoto Yura Hotel M Gallery' New Halloween Menu Features Adorable Monster Motifs

The '1F Lounge & Bar 1867' at the Kyoto Yura Hotel M Gallery will be hosting a Halloween themed afternoon tea from October 1 2021, with tea sets and cocktails available. The premium hotel is owned by Accor, a Paris, France based group that owns over 5,000 hotels and resorts in 110 countries.

The Halloween-themed afternoon tea has been made by Jennie Chiu, a pastry chef who grew up in America, the home of Halloween. The afternoon tea features cute and playful monster motifs, including a witch-hat Mont Blanc, a Cassis and Chestnut Cake topped with a small ghost, and a spider-web topped Raspberry and Chocolate Mousse. For savory treats, Chef Nishimura Niki has prepared Foie Gras soaked in Salted Koji, plus two luxurious lobster dishes.

The creative Halloween cocktails were brainstormed by Yamazaki Sousei, who ranked in the Japan Top 10 category of bartending competition 'WORLD CLASS 2021.' The Halloween and apple pie inspired lineup was inspired by Scotland and the Celtic people, looking back to when Halloween was first celebrated. 

Enjoy some adult-only time in this retro-modern "family mansion" themed space. 

Information

Halloween Afternoon Tea Set

Availability: October 1 ~ October 31 2021

Location: Lounge & Bar 1867 

Serving Hours: 12:00 and 15:00 *Please reserve your table by 17:00 on the day prior to your arrival

Halloween Cocktails

Availability: October 1 ~ October 31 2021 

Price: ¥1,900
Location: Lounge & Bar 1867

Serving Hours/Opening Hours: 11:30 ~ 21:00 (L.O. 20:30) 

Official Site:  https://kyotoyurahotel-mgallery.com/ja

Eggs'n Things Popular Halloween Menu Returns for Limited Time

EGGS'N THINGS JAPAN have announced that between October 15 and October 31, their most popular Halloween item ever – the 2018 Halloween Trick Pancakes – will be returning to Eggs'n Things and Eggs'n Things Coffee stores nationwide. 

 

 

The black pancake batter is kneaded with cocoa and is topped with subtly sweet pumpkin cream shaped in a cute spider pattern, finished with a swirl of purple taro whipped cream. Eggs'n Things have even hidden a colorful, popping trick inside the pancake. 

 

Have some fun this Halloween at Eggs' Things!

Information

Halloween Trick Pancake

Cost: ¥1,730 (Tax Incl.)

Availability: October 15 ~ October 31 2021 

Participating Stores: Eggs'n Things, Eggs'n Things Coffee stores nationwide 

※This item is not available to take out.

Halloween Sweets Now Available at Historical Kyoto Sweets Shop Tsuruya Yoshinobu

Founded in 1803, Tsuruya Yoshinobu is a famous Japanese sweets shop specializing in wagashi, or traditional Japanese confections. To celebrate Halloween, the shop is now selling some themed treats through the end of October. 

Halloween Pumpkin/Halloween Ghost Japanese Sweets

Happy Halloween Cookie Assortment

The celebration of Halloween dates back to the ancient Celtic festival of Samhain, before later being Christianized as All Hallow's Day. A day to ward off evil spirits and celebrate the fall harvest, it has become a much less serious holiday in recent decades. Children dress up in costumes and go door-to-door asking for candy, and the past is largely forgotten. The sweets available at Tsuruya Yoshinobu are decorated with cute expressions and are sure to be a hit at tea time with friends and family. Be sure to keep an eye out for the ghosts, featuring six different expressions!

Japanese sweets aren't as strong as their American counterparts, and each is sculpted like a work of art. These will melt in your mouth and are perfect for enjoying with matcha, tea, or coffee! Be sure to fill out the blank card along with the cookie gift box for a thoughtful gift this holiday season.

Information

Tsuruya Yoshinobu Halloween Wagashi

On Sale: 

Happy Halloween Cookie Assortment, Available October 10 – Late October: ¥1,620 (Tax Included)

Halloween Pumpkin Japanese Sweets, Available October 16-31: ¥486 each (Tax Included)

Halloween Ghost Japanese Sweets, Available October 16-31: ¥486 each (Tax Included)

Where to Buy: Tsuruya Yoshinobu

*Please note that products are only available in-store, not online. 

*Certain locations may not offer these products. 

Official Site: https://www.tsuruyayoshinobu.jp/

Hotel New Otani Osaka Offering Halloween Plans for a Limited Time

For those looking for a safe getaway for Halloween, Hotel New Otani Osaka is offering a limited-time room plan allowing guests to enjoy a selection of scrumptious and spooky dishes in the privacy of their hotel room. A bottle of very photogenic blue sparkling wine will also be served!




The menu includes a pumpkin quiche and mini-burgers, along with mummy-themed sausage pie rolls, black pasta with squid, and plenty of other treats to tantalize your taste buds. 

Enjoy a toast with the lively La Vague Bleue sparkling wine from France, offering a dry and refreshing taste perfect for pairing with food. Room service will be available to serve plenty of other drink items, including wine and cocktails!

Exclusive to the Halloween plan, a slightly terrifying sweets plate is available, featuring pumpkin mont blanc, bat-shaped cookies, eyeball blancmange, and more! If a Halloween getaway isn't in the cards this year, enjoy this completely private party in a luxurious hotel room instead! 

Patisserie Antenor in Kobe Releases Limited-Time Halloween Cakes

Antenor, a beloved patisserie located in Kobe, began selling limited-time Halloween-themed cakes on October 1, 2021. The exciting lineup will have guests ready for the scariest day of the year, offering sweets made with purple sweet potato, Mont Blanc, and pumpkin. 

Halloween Petit Four – Available from October 16 until October 31

Pumpkin Mont Blanc – Available from October 1 until October 31

Halloween Cheesecake – Available from October 1 until October 31

Gateau Chocolat Classic Cake – Available from October 1 until October 31

Halloween Assortment (M) – Available from September 1 until October 31

The Halloween Assortment (M) includes three types of popular cookies and is available now ahead of the October holiday. It would make a perfect gift, so snag one of these festive boxes before they're gone!

Halloween Sweets Buffet Coming to Haneda Excel Hotel Tokyu for Two Days Only

Moshi Moshi Nippon has delivered news on tons of Halloween treats this holiday season, but can there ever really be enough? Haneda Excel Hotel Tokyo has announced a special two-day-only Halloween Sweets Buffet on October 30 and 31 at the location's Flyer's Table restaurant on the second floor. 

Pumpkin Cheese Tart

Ghost Mousse

Black Cream Puff

 

Guests can enjoy a variety of spooky treats all incorporating fall flavors like chestnut, pumpkin, sweet potato, pear, and apple. Offerings include the Pumpkin Cheese Tart, a mildly-sweet cheese tart made with sour cream, cottage cheese, and cream cheese, and topped with pumpkin cream; the Ghost Mousse, a chestnut mousse made to look like a ghoul; and the Black Cream Puff, made with black cocoa and a cassis cream filling. 

 

At the demonstration corner, guests can see the Sweet Potato Mont Blanc being made. Those wanting something besides sweets can enjoy a selection of sandwiches decorated in Halloween style!

Neko Neko Shokupan Releases Online-Only Limited Edition Halloween Set

Neko Neko Shokupan have announced that between October 1 and October 22, a limited edition "Dark Halloween" Neko Neko Shokupan Halloween and special set will be available on the official ALL HEARTS MALL webshop. The Nyanchee cheesecake from sister brand Neko Neko Cheesecake will also be included in the new set. Why not spend your Halloween with these tasty treats?

Online-Only Flavor: Neko Neko Shokupan Dark Halloween

Neko Neko Shokupan ~Halloween~

Nyanchee

Neko Neko Shokupan Dark Halloween & Nyanchee Set

Neko Neko Shokupan Galloween & Nyanchee Set

Neko Neko Shokupan Two Types & Nyanchee Halloween Set

Neko Neko Shokupan Three Types & Nyanchee Halloween Set

The Neko Neko Shokupan Dark Halloween variation is baked from a cherry flavored dough and filled with cream, raisins, and chocolate chips. The subtle cherry taste is combined with rich and creamy whole milk to create an all-new flavor. A bitter black cocoa has been mixed in to add a slightly mature taste to the recipe. This slightly dark Neko Neko Shokupan can only be enjoyed this Halloween!

 

 

The special Halloween flavored Neko Neko Shokupan ~Halloween~ will be sold for the first time in two years in stores nationwide. The catchy Halloween-inspired design is baked using a pumpkin and black cocoa flavored dough, filled with raisins and dark chocolate. While the Shokupan is made using black cocoa, bitterness is reduced by the whole milk cream used in most Neko Neko Shokupan products, resulting in a sweet and milky flavor. Don't forget, the desserts look great in photos too!

 

 

The Nyanchee is a cheesecake that has been baked at a high temperature to produce a dark brown, Basque finish. For this season, both a plain and Autumnal "Pumpkin" set will be released. The seasonal pumpkin Nyanchee has been made using a pumpkin purée for a rich, Fall flavor. The subtly sweet pumpkin and soft cheese will resonate with your tastebuds!

KEYUCA Celebrates Halloween with Limited-Edition Autumn Sweets

Dolce Felice and Keyuca Sweets, two sweets brands produced by lifestyle shop KEYUCA, have come together to sell some new treats inspired by the autumn season, along with the Halloween vibe. The autumn-inspired sweets will be on sale starting October 1 at participating shops and online, while the Halloween sweets will be sold for three days only, from October 29 to 31. Preorders are open now. These delicious delicacies will be filled with fall ingredients, including Hokkaido-grown Ebisu pumpkin cream and chestnut. 

Limited-Time Halloween Sweets

Petit Halloween Pound Cake, 2 pieces

On sale: October 1 – October 31 *While supplies last. 

Monster Shortcake / On sale: October 29 – October 31

*Available to preorder at all stores starting October 1

Monster Eclaire / On sale: October 29 – October 31

*Available to preorder at all stores starting October 1

Monster Mont Blanc / On sale: October 29 – October 31

*Available to preorder at all stores starting October 1

Limited-Time Autumn Sweets

Ebisu Pumpkin Eclaire

Chestnut Mont Blanc Shortcake

Various limited-edition treats signify the coming of Halloween, with monster, black cat, and jack-o-lantern motifs. How would you like to bring home some of these ghoulish delights?

2021 Halloween Sweets Collection Coming Soon to Cerulean Tower Tokyu Hotel

The pastry shop at Cerulean Tower Tokyu Hotel will start selling an absolutely gorgeous selection of Halloween sweets starting October 1, 2021. 

Purple Sweet Potato Mont-Blanc (S, pictured left and right): ¥630 (Tax Included) / (M, pictured center): ¥2,700 (Tax Included)

Chatnoir: ¥745 (Tax Included) 

Pumpkin Pudding: ¥626 (Tax Included) 





The sweets included in this year's lineup are meant to bring some joy to those who have struggled during the past year of lockdown, and those who might not be able to attend their favorite seasonal events this year. In this lineup of three beautifully decorated treats, guests can bring the spirit of Halloween home. Which of these would you want to add some spooky flair to your kitchen?

Villain-Themed Halloween Sweets Buffet Opens for One Day Only in Saitama

The Omiya ART GRACE Wedding Chateau in Saitama will hold an all-you-can-eat Halloween buffet on October 31, 2021. Guests can enjoy as many villain-themed treats as they like, all prepared and decorated by the skilled on-site wedding patissier.

In addition to sweets–like the sorcerer's macaroon, pirate pudding, and cold-hearted chocolate mint ice cream–guests can also treat themselves to all-you-can-eat savory meals, including pirate's seafood pizza and devil black curry. A photo spot will also be available in the main dining room, which will be entirely decorated for the occasion. This is the perfect event for a girl's night out or for families with children, so be sure to make your reservation now!

Information

Mischievous Villains Dessert Time ~Art Grace of Terror~

Open: October 31, 2021, *Reservations required. 

First Seating: 11:00-12:30   Second Seating: 13:15-14:45

Address: Omiya ART GRACE Wedding Chateau/Guest House (1-816-7 Uetake-cho, Kita-ku, Saitama)

Access: 9-minute walk from JR Toro Station

Phone: 048-614-0811

Reservations: https://www.bestbridal.co.jp/guestparty/saitama/artgrace_chateaux_omiya/2021event-73/