MAN WITH A MISSION Unveils Track List and Artwork for First Album in Over Three Years
Japanese rock band MAN WITH A MISSION will release their new original album Break and Cross the Walls I on November 24, 2021. The group's first new album in three and a half years, the tracklist and artwork have just been revealed to the delight of anxious fans. 
Break and Cross the Walls I Limited Edition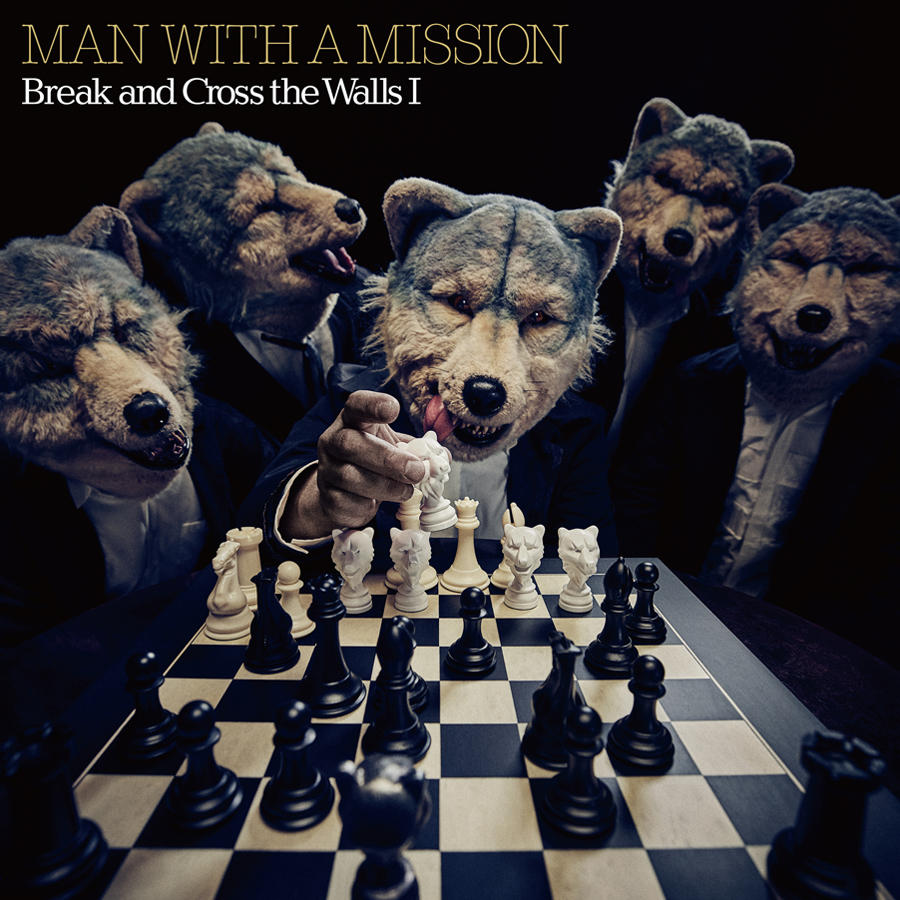 Break and Cross the Walls I Regular Edition
The album will be the band's sixth original album. Originally conceived as a two-disc set, MAN WITH A MISSION decided to instead release two consecutive albums to give fans new music as soon as possible. With so much delayed or canceled due to the pandemic, it was the group's way of giving back to those who have supported them through the continuing crisis. The sequel,  Break and Cross the Walls II, is scheduled to be released in spring 2022. 
Break and Cross the Walls I will include seven previously released tracks, including Merry-Go-Round, the opening theme song for the popular anime series My Hero Academia and INTO THE DEEP, the theme for the Japanese release of the film Godzilla vs.Kong. The newly-released jacket art shows five wolves standing symbolically atop a chessboard. The December 2021 issue of ROCKIN'ON JAPAN magazine will feature these five animals on the front cover, along with an exclusive interview with the band. 
MAN WITH A MISSION Presents Merry-Go-Round Tour 2021, the band's first arena tour in two years, will start on November 30 at Yokohama Arena. The first day of the two-day event is titled 'Day 1: Songs of Innocence,' and will feature songs released between 2010 and 2013. The second day, 'Day 2: Songs of Experience,' will cover songs post-2013. 
RELATED ENTRIES
MAN WITH A MISSION's Famous Track 'Emotions' Used as Theme for Horse Racing Festival

03.September.2022 | MUSIC

Emotions, one of the most iconic songs by MAN WITH A MISSION, recently appeared in a special promotional video for JBC 2022, known as the festival of dirt horse racing.


The video, produced by the National Association of Racing, has been posted on the NAR official YouTube channel and is being broadcast at horse racing facilities nationwide. It has also been shown on television.

JBC 2022 Special Promotional Video (60-second ver.): https://youtu.be/WSmgBrB-sdM


Emotions, the second single from MAN WITH A MISSION, was released in 2013 and became an instant hit, often played during concerts. At the time of its release, it was featured on Music Station and was used as the theme song for the film HK: Forbidden Super Hero.

 

Be sure to check out the video above and get ready for some serious horse racing!

Information

Emotions – MAN WITH A MISSION
Released: February 20, 2013
Price: ¥1,257 (Tax Included)

XG's 2nd Single 'MASCARA' Debuts at #1 on iTunes Charts in 17 Countries

Japanese hip-hop R&B girls group XG released their second single MASCARA on June 29, 2022. In only a few short weeks, the track has made big waves around the world.

MASCARA managed to reach #1 on the iTunes Song Chart (Alternative) in 17 countries. It also reached #25 on the WorldWide iTunes Song Chart, which combines results from 175 countries around the world. On the Billboard JAPAN HOT 100 chart for July 6, MASCARA ranked 48th. The CD Box was sold out within one week of its release.

Since the song's release, the group has appeared on a series of popular Korean music shows such as Mnet's MCOUNTDOWN, KBS 2TV's MUSIC BANK, and MBC's Show! Music Core. XG's performance on MCOUNTDOWN on June 30 has already been watched over 1.39 million times, while their performance video from SBS's THE SHOW on July 5 ranked first in Japan on YouTube's fastest-rising ranking. The girls have an incredibly strong stage presence and are scheduled to appear on five music programs in a row going forward. This is unprecedented for a Japanese girl's group. 

Fans of the group have been posting dancing videos on TikTok and YouTube since the song was released, and many posts describe the choreography during the chorus as the 'shuriken dance.' 

On July 11, a making-of video from the set of the MASCARA visual was released on YouTube, showing off the girl's individual personalities. 

XG – MASCARA (Photoshoot | Behind The Scenes)

XG – MASCARA (Official Music Video)

With tons of new content incoming and tons of popularity already growing worldwide, expectations are high going forward, so keep an eye on XG!

Debut Song from18-Year-Old AI Singer ERROR Featured on TV Show Junk Sports

Amadeus Topline is a music creation app, and a certain song created using the software has been selected as the ending theme for Fuji TV's Junk Sports. The song Kotoba is the debut song of 18-year-old ERROR, who made her debut in the singing audition Power of Song in July 2022. By using Amadeus Topline, creators can shorten the very time-consuming process of finding a good melody during the composition process. 

ERROR Track #1 – Kotoba


 

Amadeus Topline is a powerful and simple melody creation app that allows music creators both novice and professional to compose songs in minutes. The melodies created by the AI can then be exported to outside music software to be polished.

Theme Song for Initial D The Arcade Arcade Finally Hits Streaming Services

Initial D The Arcade is the tenth game in the Initial D series. Released in February 2021, one particular song from the title has struck a chord with fans. After a long wait, SCRAMBLE EYES by MOTSU vs A-One, has finally been released on streaming services starting May 25!

 

SCRAMBLE EYES is a fast-paced track blended with sharp vocals and engaging rap. The speedy song is perfect for Initial D, bringing to mind being behind the wheel and driving at top speed. Fans have called the song addictive, and even those who aren't a fan of the game have been applauding the track across social media. 

 

MOTSU and A-One have both provided comments following the song's release.

 

MOTSU

The name SCRAMBLE EYES was inspired by the bright headlights plowing through the darkness during a particular stage in Initial D The Arcade.

I'd be so happy if the listeners could get the same tingling sensation I felt when I met A-One for the first time.

A-One

I'm so thankful to be able to create music for Initial D, a series that brought me so much joy as a child.

And collaborating with MOTSU? I absolutely adore him, so I put all of my energy into this track.

If you work hard and don't back down, your dreams will come true.

But one of my dreams hasn't come true yet–playing this song live!

MOTSU, let's do it someday!

Please enjoy this track and really feel the speed and excitement as you race towards your goals!

 

In 2023, an anime adaptation of MF Ghost, the sequel to Initial D, is scheduled to premiere. The series takes place in the 2020s, when self-driving cars are normal Japan, and focuses on Kanata Livington, a Japanese driver who goes back to Japan after graduating at the top of his class at a racing school in England.

MAN WITH A MISSION Releases Music Video for 'GUNDAM Iron Blooded Orphans Special Edition' Theme Song

Rock band MAN WITH A MISSION is getting ready to release a new album, Break and Cross the Walls II, on May 25. Ahead of this exciting date, the group has revealed the music video for Blaze on YouTube!

Blaze has been featured as the opening theme for Mobile Suit GUNDAM Iron Blooded Orphans Special Edition, the nine-episode digest edition of the 2015-2017 anime series, since April. The clip is packed with the anime's memorable scenes, so be sure to check it out! 

The theme song is also available on all popular music streaming sites.

Blaze – MAN WITH A MISSION (GUNDAM Iron Blooded Orphans Special Edition Anime Music Video)
https://youtu.be/rTamYmhLOaw

MAN WITH A MISSION will start a nationwide tour, MAN WITH A MISSION Presents Break and Cross the Walls Tour 2022, on June 16.

Up-and-Coming Boy Band INI's 2nd Single to be Released in April

Boy band INI, created during the second season of PRODUCE 101 JAPAN, will release their second single on April 20, 2022. 

 

INI initially debuted on November 3, 2021, with the release of their debut single A. The group's most popular track, according to a national poll, was Rocketeer, which is still used to promote the boy's activities. The group's debut single surpassed a half-million copies sold and reached the top spot on the Oricon Weekly Single Chart. INI also won the Favorite Asian Artist award at 2021 MAMA, one of the world's largest K-pop award shows, and Best New Artist at the Japan Record Awards.

 

NIGO Releases 'Arya feat. A$AP Rocky' from the Album 'I KNOW NIGO'

Fashion icon and innovator NIGO, who serves as the artistic director of KENZO as of September 2021, will release his first solo album 'I KNOW NIGO' on March 25, 2022. The first single from the album Arya features popular American rapper A$AP Rocky and is now available to stream. The album is being produced in collaboration with Stephen Victor, and Pharrell Williams is serving as the executive producer. A teaser trailer for the music video has also been uploaded to NIGO's official YouTube channel. 

 

Arya ft. A$AP Rocky Official Music Video Trailer: 

 

Steven Victor commented on the upcoming album in a new interview. "Originally, we were only going to do two songs featuring Pharrell and Pusha T, but once we started reaching out to other artists they all said yes! We decided to make a five-track EP, and it just evolved from there into a full album," he said.

 

In a comment regarding 'I KNOW NIGO,' rapper Pusha T called it the 'Album of the Year.' Expect more information in the near future!

Ai Higuchi Announces Album Title and Track List for Upcoming March Release

Ai Higuchi has officially released the title and tracklist for her upcoming fourth original album, scheduled for release on March 2, 2022.

The album will be titled 'Saiaku Saiai.' ('My Worst Beloved').  Since her indie days, Higuchi has been a fan of using four-character idioms as her album titles. Higuchi will also be performing in Tokyo and Osaka in March. 

A total of 11 tracks will be featured on the album, including Akuma no Ko, the ending theme song for Attack on Titan The Final Season Part 2. Other tracks include Massarana Daichi, Kanashii Uta ga Aru Riyuu, Kyouri, and Yamerunara Ima. The DVD included with the limited edition includes Ai Higuchi's 5th Anniversary Solo Rakugo performed last year. 

Earlier this month, Higuchi released the ending theme for Attack on Titan The Final Season Part 2, which has become a massive global hit. The non-credit ending theme video is now available on YouTube and was viewed more than 5 million times in only five days. Be sure to give it a watch!

Information

'Saiaku Saiai'

Release Date: March 2, 2022
Limited Edition [CD+DVD] / ¥4,950 (Tax Included)
Standard Edition [CD Only] / ¥3,300 (Tax Included)

Preorder: lnk.to/higuchiai_CD

Official Site: https://www.higuchiai.com/

Beloved 19-year-old singer Ado finally released her first album on January 26. 'Kyougen' is now available to stream on major platforms. The album includes the massively popular track Usseewa, which has nearly 75 million plays on Spotify alone. 

The album includes 14 tracks, including Giragira and Odo, which have been streamed over 100 million times, as well as Aitakute, Lady Maid, and Yoru no Pierrot. Seven new songs are also included. The album comes in four formats: the Complete Limited Edition includes a figure and book; the Limited Edition includes a book and DVD; the First Run Limited Edition comes with an acrylic charm; and the Standard Edition includes only the CD. The cover was created by ORIHARA. 

 

Those purchasing the album will be entered to win tickets to Ado's first solo concert to be held at Zepp DiverCity Tokyo on April 4, 2022!

Attack on Titan The Final Season Part 2 Opening Theme Surpasses 10 Million Steams in One Week

SiM's song The Rumbling, the opening theme song for Attack on Titan The Final Season Part 2, has surpassed 10 million plays on streaming sites worldwide in only one week since it's release. The final season of the popular anime series began airing on January 10, 2022. 

The non-credit opening video has been uploaded to YouTube and has garnered over 18 million views.

Non-credit Opening: 


The song made it to the top ten of the Apple Music Rock charts in 20 countries around the world, reaching #1 in Cameroon and Grenada, and the top 30 in the United States, Mexico, and France.

Only two episodes of the series have aired so far, and fans are hooked on the explosive finale of this long-running anime. One thing is certain–SiM is already having an incredible year.

Tokyo (VIVID Remix), a remixed version of AmPm's dance track Tokyo, was released on Friday, January 7, 2022.


 

AmPm / Tokyo (VIVID Remix)

 

The original song was released in March 2021 and was the first full-fledged dance track based on AmPm's roots in dance music. Inspired by the neon city of Tokyo, it was released on Sushi Muzik, an up-and-coming label based in Amsterdam and founded in 2020. The company has released tracks from dance music legends like Norman Doray, Roland Clark, Kryder, and Eddie Amador. 

The remix was done by DJ VIVID, who is from the United States but based in Tokyo. Leading the Asian club scene, he has released his original music on A-list labels like Armada and Enhanced Music and has reached #19 on the US Billboard Dance Chart and #8 on the US Radio Chart.

 

Message from VIVID

"AmPm's unique sound found in 'Tokyo' inspired me to bring a house-y vibe geared for the underground nightclubs in Japan."

 

Message from AmPm

"We're happy to have started 2022 with such a fast-paced song. The original song itself was pretty fast, but this more dense sound is something that only DJ VIVID can provide. I think listeners will enjoy the difference between this and the original track. 

I hope that this year, people from all over the world will be able to gather in Tokyo."

Boy Band INI to Star in Regular Television Show on MUSIC ON! TV

Japanese boy band INI, formed through the reality show Produce 101 Japan 2, will start their first regular TV program 'INI Road: The Road to Global Expansion' on January 30, 2022. Since their formation last year, the group has become increasingly popular in Japan, and the boys are now ready to start the challenge of taking their music global.

The theme of the first episode is 'Language.' This is an important subject for global expansion, and the members will learn to greet people in English, along with studying other phrases useful during award ceremonies overseas. 

Be sure to tune in to see how the members start their journey to become the world's most famous boy band!

Information

INI Road ~The Road to Global Expansion~

#1 Broadcast Date, Time

January 15, 2022 / 22:00-22:30

Rerun at January 30, 2022 at 17:30

#2 Broadcast Date, Time

Airing in February 2022

Campaign Details: https://www.m-on.jp/program/detail/rg-ini-road/