Yokohama Minato Mirai 21 will hold a summer festival from July 28th. Over 1500 Pikachus will take part in the festival, appearing in events such as "mikoshitogyo," "bonodori," and "ennichi."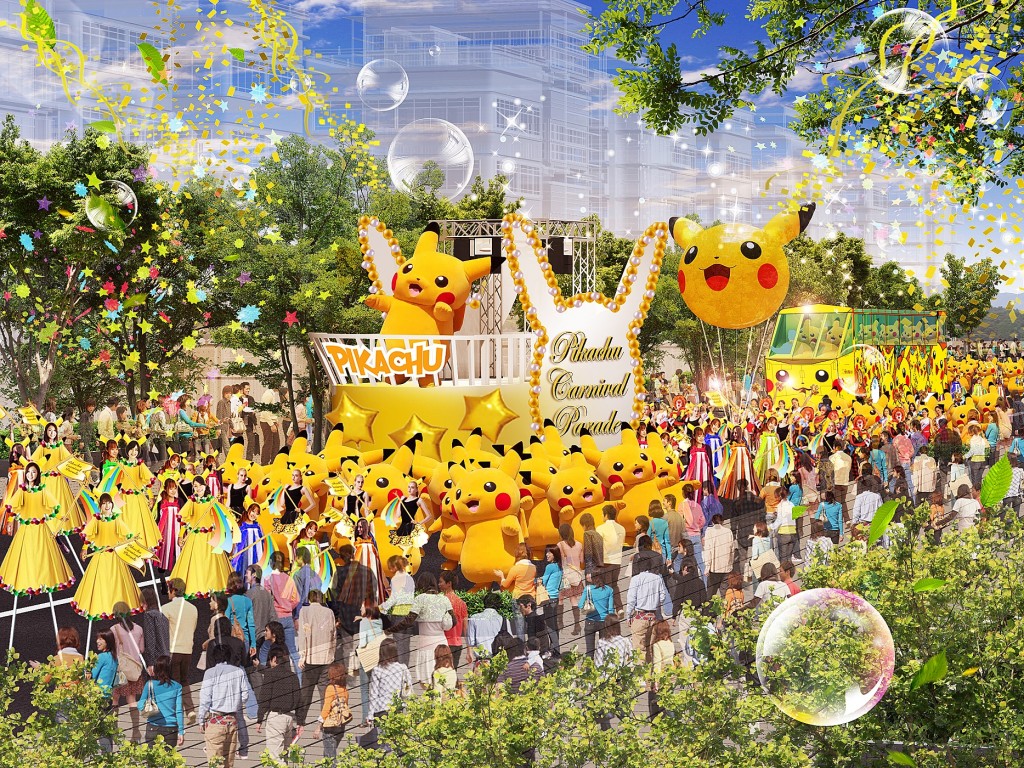 One of the events titled, "Pikachu dake janai, Pikachu tairyo hasseichu!"
(Not only one Pikachu but multitudes of Pikachus will appear!) will be held. The highlight of this event will be a "Pikachu carnival parade." On August 14th starting at 16:00 over 100 Pikachus will parade down the avenue. It will start from Zou no hana Park and the parade will make a U-turn at Yokohama Park and return to the starting point. You too can participate by wearing something yellow as you watch the parade go by. Don't miss this Pikachu parade!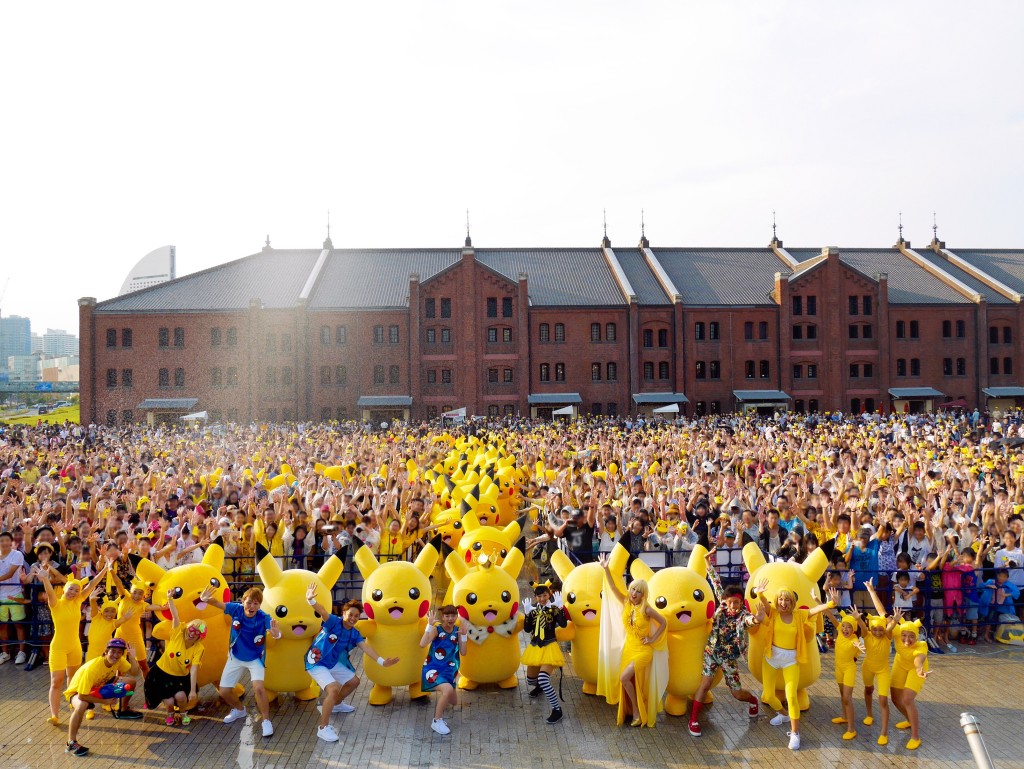 In addition, Pikachu will appear in the sky and on the sea. A first-time-ever event, multitudes of Pikachus will greet you from a boat and from an airship. Moreover, the events which were highly popular in 2016 titled,"Zubunure Splash Show"(soaking wet splash show) held in front of Yokohama Red Brick Warehouse, and "Pikachu no Osanpo" (Pikachu's walk) held in Queen Square Yokohama – Grand Mall Park will again be held this year. Come and join all these "Pikachu-galore" events at Yokohama Minato Mirai 2017 Summer Feestival!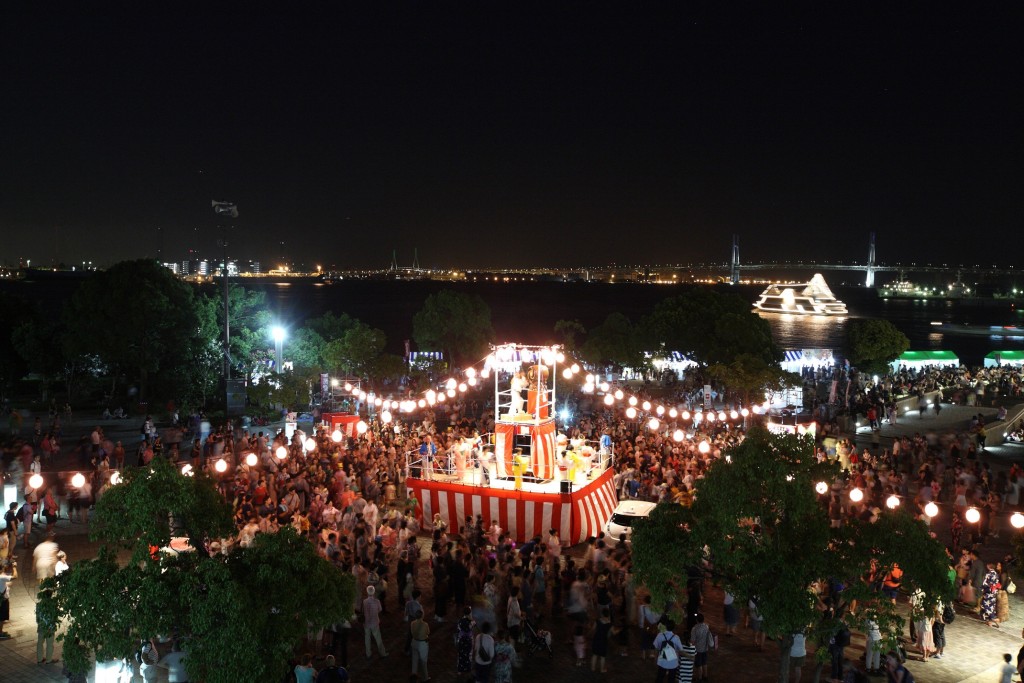 At the Grand Mall Park Festival the highlight of the summer festival is the "Mikoshi togyo" (carrying of a miniature shrine) and the "Kodomo Mikoshi Parade" (children's mikoshi parade). However, events where even small kids can enjoy like "Yo-yo tsuri" (fishing for a yo yo) and "Shateki" (cork bullet shooting) will also be held. At the 10th Minato Mirai every one can enjoy the Grand Bon Festival Dance along with some performances such as the "Yosakoi Dance Performance" and the "Wadaiko Performance/Workshop" The atmosphere of Yokohama Port is ideal for the holding of these summer festivals.
Why not join the Pikachus and liven up your summer vacation!
■Information
<Event details>
Event Name: "Pikachu dake janai, Pikachu tairyo hasseichu!"
Time: August 9th ~15th 2017
Venue: All of theMinato Mirai area
Participating Facilities: Nippon Maru・Nippon Maru Memorial Park, Queens Square Yokohama, Landmark Plaza, Yokohama Red Brick Warehouse, MARK IS Minato Mirai, JR Sakugaci-cho Station・Sakuragi-cho Station Square, Minato Mirai Line – Minato Mirai Station, NAVIOS YOKOHAMA (International Seamen's Club & Inn), ANNIVERSAIRE MINATOMIRAI YOKOHAMA, YOKOHAMA COSMOWORLD, Pokemon Center Yokohama.
Official website of event: http://www.pokemon.co.jp/ex/pika_event/
<Event Details>
Name: Grand Mall Park Summer Festival 2017
Time: July 28th (Fri.) 2017 11:00~16:30
Venue: Grand Mall Park "Bijyutsu no Hiroba"
Minato Mirai Grand Central Tower area
Official website of event: http://minatomirai21.com/55568
<Event Details>
Name: 10th Minato Mirai Dai Obon Odori (Obon Dance)
Time: August 18th (Fri.) 2017 16:30~20:30 and
August 18th (Sat.) 15:00~20:30
Venue: Rinko Park South Exit Square
Free of charge
Official website of event: http://minatomirai21.com/55570
Yokohama Minato Mirai 21: http://www.minatomirai21.com/
Related article:How to enjoy the appealing points of the Japan Music Festival which represents a brand new pop culture
Related article:Shibuya Hikarie ShinQs "DOKI DOKI Otona no Ennichi" festival for adults is packed with cuteness!
RELATED ENTRIES
Stylish Pokémon Bags and Accessory Line-Up Revealed by French Luxury Leather Goods Company Longchamp

Longchamp, a French luxury leather goods company which first opened in Paris back in 1948, is collaborating with Pikachu from the Pokémon series on a playful new collection which will be released worldwide on October 14, 2020. Pre-sales of the collection will launch in Japan on October 9, 2020 when it will be released at Longchamp in Omotesando and Ginza, as well as online.

LE PLIAGE® Collection

See Longchamp's iconic LE PLIAGE® collection turn kawaii with Pikachu designs. The line-up maintains the elegance of the brand while adding a chic touch of Japanese pop culture. The items also feature the Longchamp brand name written in an eye-popping monogram font.

LE PLIAGE® Cuir Pokémon (Limited-Edition Model)

This nylon bag features Pikachu wearing a jockey hat like Longchamp's iconic logo.

LE PLIAGE® Cuir Pokémon

Only 500 of these LE PLIAGE® Cuir Pokémon bags will be sold worldwide, each with its own unique serial number. The bags also have a Pikachu hidden on the back, and the strap too features a special logo.

"Our Le Pliage bag has become a platform where all the different aspects of Longchamp can be expressed and can also take us to unknown places," explains Sophie Delafontaine, Artistic Director at Maison Longchamp. "We hadn't explored entertainment and gaming before. It's a very inspiring world, particularly with Pokémon and its iconic mascot, Pikachu. Our two worlds, real and virtual, blend perfectly in this collaboration."

Pokémon GO players will also be able to get their hands on a Longchamp bag on the game's store to fashion up their avatars.

©2020 Pokémon. ©1995-2020 Nintendo/Creatures Inc./GAME FREAKinc.TM, ®, and character names are trademarks of Nintendo.

Information

Longchamp x Pokémon
Japan Pre-Sales: October 9, 2020 (Longchamp Omotesando/Longchamp Ginza/Online Store)

Worldwide Release: October 14, 2020

Official Website (Japan): https://www.longchamp.com/jp/ja/

SEGA's Pikachu Plush Toy Evolves When Washed

Sega Toys is releasing a new Pikachu lpush toy this autumn as part of its "WHO are YOU?" surprise toy series which reveals what character it is after being washed.

This fluff ball is one step away to becoming your new friend

Product is still in development, design subject to change

The WHO are YOU? series has plush toys taking the form of a fluffy ball to conceal the identity of the character. It must be washed to return it to its original shape.

The new Pikachu edition comes in three different variants, and their tails are all shaped like hearts.

It comes with Pokémon food

When you wash Pikachu, it will come holding 2 or 3 random pieces of Pokémon food from a possible five ingredients. Now you can feed your toy Pikachu a treat and earn its trust even more.

©2020 Pokémon. ©1995-2020 Nintendo/Creatures Inc./GAME FREAK inc. ©2019 Moose Group ©SEGATOYS

Information

WHO are YOU? Pokémon

Price: ¥3,800 (Before Tax)

Release Date: Autumn 2020

Available: Toy shops, online, and elsewhere in Japan

WHO are YOU? Official Website: https://www.segatoys.co.jp/whoareyou/

Pikachu Marriage Certificates Promote Pokémon the Movie: Coco in Japan

The October 2020 issue of Zexy, a wedding magazine produced by Recruit Marketing Partners, was hit shelves in Japan on August 21 and comes with a free Pikachu themed marriage certificate in collaboration with the upcoming film Pokémon the Movie: Coco which is set for release on December 25, 2020.

Zexy has released numerous themed marriage certificates in the past, and even released another Pikachu design back in 2017 to celebrate the 20th anniversary of the anime series. The new design features 90 Pikachu all of whom are happy to celebrate their Pokémon Trainer's wedding.

Zexy is also offering special Pikachu welcome boards for the wedding day which can have the bride and groom's names written on it along with the date, as well as another board that shows gratitude to the couples' parents—which ties in with Pokémon the Movie: Coco's theme of the love between parents and children. These are available in Japan by answering Zexy's quiz that they posted on Twitter—and will only be given to one lucky person. The magazine is also giving out tickets to 10 people to see the movie in Japan, also available by taking the quiz.

Pikachu Ice Lollies and Frappe to Arrive at Tokyo's Pokémon Cafe This Summer

The Pokémon Cafe in Ikebukuro, Tokyo is introducing some refreshing Pikachu sweet treats  to its menu this summer, beginning on August 1.

Pikachu Pineapple Ice Bar | ¥650 (Before Tax)

First up on the is the tropical pineapple flavoured ice bar which comes with four different variations of Pikachu's adorable face. There's also two different packaging designs which come in blue or pink.

Pikachu Tail Chocolate Banana Frappe | ¥700 (Before Tax)


Drink Sleeve | ¥550 (Before Tax)

For drinks, the Pokémon Cafe is serving up a chocolate banana frappe topped with Pikachu's tail made from chocolate. The drink comes with a free sleeve of Pikachu's chubby face.

© 2020 Pokémon.©1995-2020 Nintendo/Creatures Inc./GAME FREAK inc.

Information

Pikachu Sweets by Pokémon Cafe
Address: Sunshine City Alpa 2F, 3-1-2 Higashi-Ikebukuro, Toshima-ku, Tokyo
Opening Hours: 10:00-20:00

Official Website: https://www.pokemoncenter-online.com/cafe/pikachu_sweets/

Cautions
*Opening hours subject to change. Please check the official website before travelling.
*Duration of these limited-time menu items subject to change without notice.
*Available while supplies last.
*Photos are for illustrative purposes only. Actual products may differ in colour and design.

SCALP-D Collaborates With Pokémon to Release Pikachu Design Eyelash Serum

ANGFA will is collaborating with Pokémon to release Pikachu packaging in Japan for its SCALP-D Eyelash Serum on July 22, 2020.


This is the first time the brand has teamed up wit Pokémon, and sees both the packaging and bottles of the eye serums with cute Pikachu designs.

SCALP-D Beaute Pure Free Eyelash Serum Pokémon Design: ¥1,762 (Tax Included)

SCALP-D Beaute Pure Free Eyelash Serum Premium Pokémon Design: ¥3,524 (Tax Included)

The SCALP-D Eyelash Serum is a daily use product to make women's eyes beautiful, healthy, and supple so that they don't fall out as easy. The Pikachu collaboration concept is to make the user's eyes "as cute as Pikachu." There are two products to choose from: the regular eyelash serum and a premium version.

A social media campaign is also being held in Japan for 30 random people to win a bottle of the serum. All you need to do is follow SCALP-D on Twitter or Instagram and retweet/repost the following posts.

Campaign: July 13, 2020 @ 12:00 – July 20, 2020 @ 23:59 (JST)

SCALP-D Instagram: scalpd_eye

SCALP-D Twitter: @scalpd_eye

ANGFA is also selling sets of the serum with a limited-edition Pikachu towel. These are available while supplies last.

SCALP-D Beaute Pure Free Eyelash Serum Towel Set: ¥5,286 (Tax Included)


SCALP-D Beaute Pure Free Eyelash Serum Premium Towel Set: ¥7,048 (Tax Included)

Make your eyelashes Pika-Pika pretty with a cute bottle of Pikachu SCALP-D!

Pikachu Snack Collaboration Launched For Kara Mucho & Suppa Mucho Potato Chips

Japanese snack food manufacturing company KOIKE-YA has collaborated with Pokémon to release two Pikachu-inspired flavours for its Kara Mucho and Suppa Mucho potato chips, two of the most popular potato snack products in Japan. The packages were released across Japan on July 13, 2020.

Kara Mucho was first launched in 1984. Over 35 years on, both the spicy Kara Mucho and sour Suppa Mucho have become two of Japan's leading potato chip snacks. The new collaboration brings together the worlds of these nationally-loved snacks and Pokémon.

Pokémon Kara Mucho 10,000 Volt Pepper

10,000 volts of Pikachu strike your tongue with these hot potato chips which are sprinkled with electrifying kasho and kosho pepper.

Pokémon Suppa Mucho Denko Sekka Lemon

A sour, tangy combination of vinegar and lemon lend a refreshing bite to this flavour.

Both snacks also have their own unique packaging featuring a cute Pikachu. There is also a rare version of the packaging that people should be on the lookout for where a different Pokémon has taken on the appearance of Pikachu.

©Nintendo・Creatures・GAME FREAK・TV Tokyo・ShoPro・JR Kikaku
©Pokémon

Shockingly Cute Pikachu Designs Featured On Cola Flavoured Puré Gummies

Japanese confectionery company KANRO has joined pika-paws with Pikachu for the second time to feature the beloved Pokémon on the cola flavour their Puré gummies. They will be released in Japan from July 21, 2020 in limited quantities.

The collaboration brings together delicious Puré gummies, which are always by people's sides in Japan to support them, and Pikachu, your cute Pokémon partner. It is their second collaboration, following the one back in June.

The flavour in question is the "Electric Tropica," a mix of pineapple, mango and banana juice together with some Pikachu electricity which comes from the cola flavour. The combination of gelatin and pectin gives the gummies their satisfyingly chewy flavour. The candies themselves are Pikachu-shaped, while the packaging comes in four different Pikachu designs which scream summertime.

Additionally, the packaging of the regular lemon, grape, and muscat flavours of Puré will also feature Pikachu paw prints on them for a limited time.

©2020 Pokémon. ©1995-2020 Nintendo/Creatures Inc./GAME FREAK inc.

Information

Puré Gummy Pokémon Electric Tropica 2
Release Date: July 21, 2020 (date may differ from store to store)

Price: ¥150 (Tax Included)

Special Site: https://www.kanro.jp/pure/pure_pika/

McDonald's Japan's Pokémon Happy Meals Are Pika-Tastic

McDonald's Japan has joined hands with Pokémon and BorneLund and will begin serving themed Happy Meals at McDonald's branches across Japan from June 19, 2020 for a limited time.

There are six Pikachu toys to get your Pokémon Trainer hands on, all of which have Pikachu wearing his hat from the hit movie Detective Pikachu. The line-up includes everything a detective needs including a magnifying glass, a periscope which has moving parts which look different as you flip it, a real-working Pikachu compass, and more.

McDonald's BorneLund collaboration collection also features six toys, including a pencil and stencil kit, a puzzle block set, and more. These items are sure to draw out the imaginations and creativity of kids.

Additionally, for every Pokémon Happy Meal and BorneLund Happy Meal bought on June 20 and 21, customers will receive a maze and sticker book for each the respective series.

Information

Pokémon Happy Meal / BorneLund Happy Meal
Release Date: June 19, 2020

McDonald's Japan Official Website: https://www.mcdonalds.co.jp/

Tokyo's Pokémon Cafe Reveals Cherry Blossom Aloha Pikachu Cake & Latte

The Pokémon Cafe in Nihonbashi Tokyo is bringing two new "Sakura Aloha Pikachu" items to its menu this spring for a limited time. They will be served between March 14 and April 19.


The Pokémon Cafe previously served up a cherry blossom Aloha Pikachu-inspired dessert and latte last year too to celebrate one year since the cafe opened. This year, they've changed their designs.

Sakura Aloha Pikachu Fruit Sandwich Cake – ¥1,738 (Tax Included)

Sakura Aloha Pikachu Latte 2020 – ¥770 (Tax Included)

The fruit sandwich is filled with flurry strawberry cream and fruits, while the latte features cute latte art of Aloha Pikachu who has a fluffy cherry blossom afro.

Don't miss these seasonal picks at Tokyo's Pokémon Cafe this year.

© 2020 Pokémon.©1995-2020 Nintendo/Creatures Inc./GAME FREAK inc.
Pokémon, ポケットモンスター, and ポケモン are trademarks of Nintendo, Creatures Inc., and GAME FREAK inc.

Information

Pokémon Cafe (Nihonbashi, Tokyo)

Address: Nihonbashi Takashimaya SC East Bldg. 5F, Nihonbashi, Chuo Ward, Tokyo
Opening Hours: 10:30-22:00
Closed: When Nihonbashi Takashimaya SC East Bldg. is closed

Reservations: https://www.pokemoncenter-online.com/cafe/reservation.html

*Reservations can be made online only

Pokémon Shirts Adds 100 New Designs & Introduces Kid's Shirts

To celebrate one year since launching, Pokémon Shirts has announced its plans to add 100 new designs based on the Pokémon that appear in Pokémon Gold and Pokémon Silver. It is also introducing shirts to children, which can be enjoyed as gifts or for dressing up together with parents.

100 New Shirt Designs: Pokémon Gold and Silver

100 new original prints of Pokémon from the Gold and Silver games are being added to the stock, which customers have full customisation over including the collar, under collar, sleeve lining, main body, and pocket. These made-to-order shirts can also be combined with the 151 Pokémon from Pokémon Red and Pokémon Blue for even more customisation.

Custom Example (Smoochum)

Custom Example (Totodile & Dratini)

Custom Example (Skiploom & Jumpluff)

Online Pre-sales

Pokémon Shirts is also holding online pre-sales for 20 of the 100 new shirts being introduced. This pre-sale period is running from February 29 to March 2, where it will end at 11:00 (JST) on the final day. Those who purchase one of the shirts during this pre-sale period will receive a buttonhole handkerchief and a code for free shipping on their next order.

Kid's Shirts Arrive

To further spread the love of their customisable shirts, Pokémon Shirts is introducing kid's sizes.

Kid's shirts arrive in a Pichu box

Kid-size shirts also feature a Pichu tag

The same online pre-sale campaign is running for children's sizes too.

Adults who grew up playing Pokémon, and kids who are now growing up playing the games can coordinate their own Pokémon outfits together!

©2020 Pokémon. ©1995-2020 Nintendo / Creatures Inc. / GAME FREAK inc.

Pokémon, ポケットモンスター, and ポケモン are registered trademarks of Creatures Inc. and GAME FREAK inc.

Information

Pokémon Shirts

Online Pre-sales: February 29, 2020 at 8:00 A.M. (JST) to March 2, 2020 at 11:00 A.M. (JST)

Adults: From ¥10,000 (Before Tax) (Does not include shipping charge / +¥700 for every new customised part)

Children: From ¥8,000 (Before Tax) (Does not include shipping charge / +500 for every new customised part)

Official Website: https://pokemon.originalstitch.com/en/

Pikachu Meets Traditional Japan With Edo Kimekomi Doll

Mataro Doll released its new Pikachu Edo Kimekomi Ningyo doll on November 13. The doll is available in store and on the company's website while supplies last.

Mataro Doll was established in 1919. The company is a a creator of traditional Japanese dolls and is recognised by Kamigamo Shrine as the founder and only legitimate creator of the kimekokomi ningyo doll. It drew much attention in 2018 for creating a Hatsune Miku hina doll, and is about to get another wave of interest as it has created an official Pikachu kimekokomi doll, retaining the Pokémon's character and cuteness.

Pikachu is loved by kids and adults alike. This traditional Pikachu craft too can be enjoyed by people of all ages with its more sophisticated and high-quality appearance.

Mataro Dolls makes all of their items and wares by hand without the use of 3D printers or CAD. They studied Pikachu in great detail to create their new doll. Although the people working at Mataro Dolls are experts in their field, they explained how capturing the characteristic qualities of the character was no easy task.

Pikachu's yellow fur features a flowery design which is typical of traditional Japanese dolls. Catch your own one of these Pikachu dolls for a combination of traditional Japan and Japanese pop culture.

©Nintendo・Creatures・GAME FREAK・TV Tokyo・ShoPro・JR Kikaku ©Pokémon

Information

Pikachu Edo Kimekomi Ningyo
Price: ¥13,200 (Tax Included)
Set Includes: Doll/Stand/Folding Screen/Wooden Tag
*Limited quantity available while supplies last at Mataro Doll and their online store

Product Page: https://www.mataro-doll.com/products/detail/318325

Catch the Pikachu and Poké Ball Doughnuts at Mister Donut This Winter

Mister Donut has announced another collaboration with Pokémon following the success of last year's doughnut line-up. It will hold a campaign entitled "Let's Catch Pokémon at Mister Donut!" beginning on November 15. In the run up to Christmas, the doughnut chain will sell a range of products and merchandise that both kids and adults can enjoy.

The Pikachu doughnut was such a hit last year that they are bringing it back for 2019 together with two all-new doughnuts.

Mister Donut is also teaming up with the upcoming video games Pokémon Sword and Shield, which are also releasing on November 15 on the Nintendo Switch, to bring fans a range of new doughnuts themed on the new game. Details on the products and merchandise will be announced in the near future, so stay tuned.



©2019 Pokémon. ©1995-2019 Nintendo/Creatures Inc./GAME FREAK inc.
Pokémon, ポケットモンスター and ポケモン are registered trademarks of Nintendo, Creatures Inc., and GAME FREAK inc.

Information

Let's Catch Pokémon at Mister Donut! (Japanese Title: ミスドでポケモンに会おう!)

Start Date: November 15, 2019

Mister Donut Japan Official Website: https://www.misterdonut.jp/