Yashahime: Princess Half-Demon Collaboration Cafe Coming to Shinsaibashi and Nagoya
Originally held within Shibuya PARCO, the Yashahime: Princess Half-Demon cafe is hitting the road! Starting November 11 at Shinsaibashi PARCO and November 27 at Nagoya PARCO, guests can enjoy a variety of Yashahime-themed food and merchandise for a limited time. The Shibuya location finished its run on November 9, and the new visual shows the show's characters in front of a traditional tea house. 
Food at a Glance
Drinks at a Glance
Novelty Coasters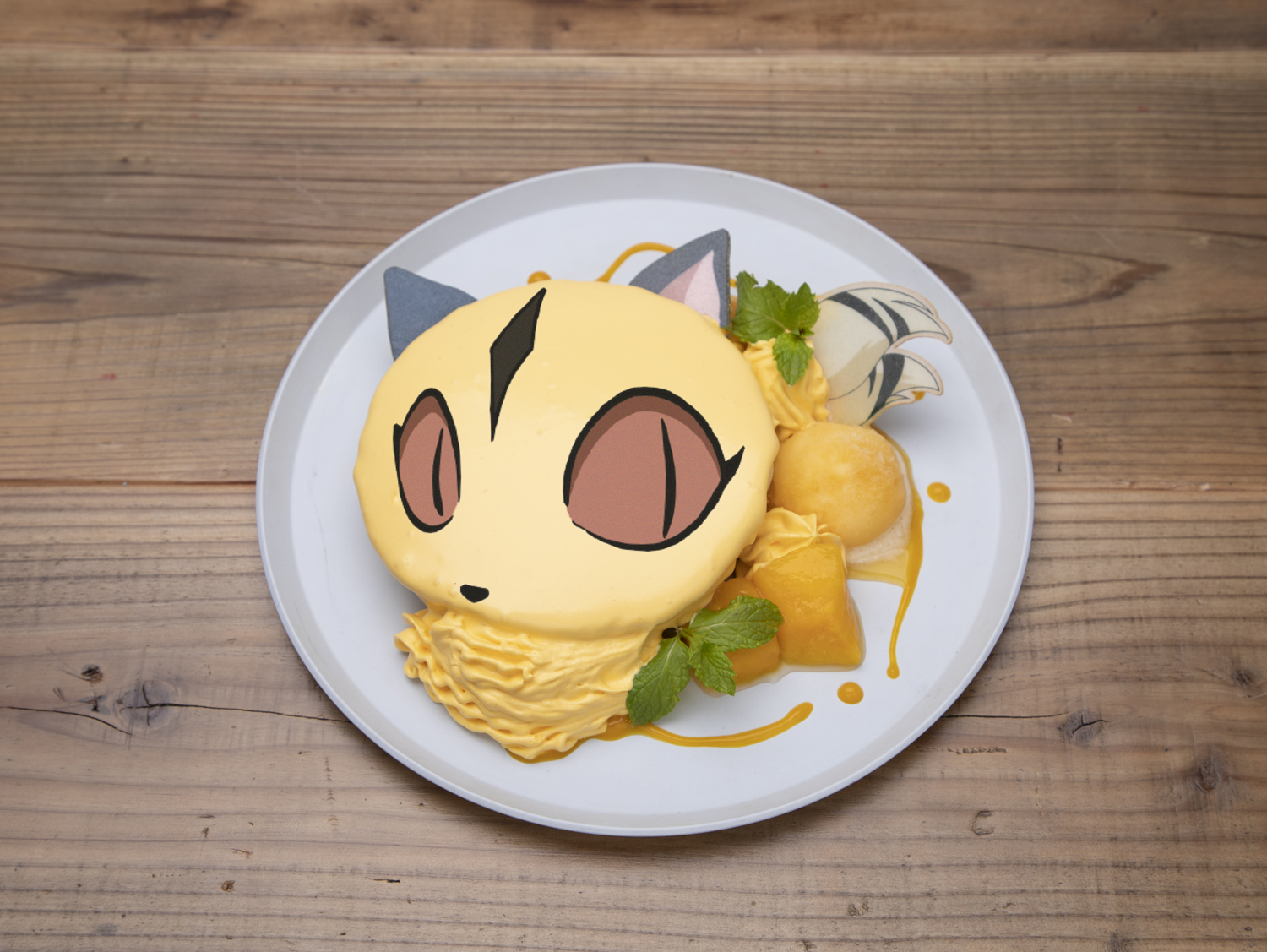 Kirara's Manga Pancakes
(Returning Dishes) Inuyasha's Beef Sandwich / Sesshomaru's Cold Pasta
Stickers
Four-Color Pen with Charm
Rainbow Pearl Candy Tin
Random Washi Pins (10 varieties)
Due to fan demand, certain dishes from the previous Inuyasha cafe will be returning for the Yashahime: Princess Half-Demon cafe. Exclusive merchandise will be sold at the cafe and online at the PARCO online store, so be sure to check it out!
RELATED ENTRIES
Gundam World Contrast Touring Event Starts at Nagoya PARCO

Nagoya PARCO will host the Gundam World Contrast event from December 24, 2021 until January 16, 2022. The event will feature a deep-dive of Mobile Suit Gundam and Mobile Suit Gundam SEED from various perspectives and will show the contrasts between the two popular series. The event will then travel nationwide after finishing in Nagoya.

Plastic Model for Advanced Ticket Holders

Bonus: Gundam World Contrast Limited Design Special Promo Card

Story Wall

Special Photo Spot

Exhibition of Katsumi Kawaguchi's Contrast Diorama

Conceptual Exhibitions

Limited-Edition Merchandise

Only at Gundam World Contrast

MG 1/100 RX-78-2 Gundam Ver 3.0 (Event Exclusive)

1/100 Aile Strike Gundam Ver.RM (Event Exclusive)

ENTRY GRADE 1/144 Strike Gundam (Event Presale)

Clear Folder (Set of 2, Gundam World Contrast Exclusive)

Pop Socket (Gundam World Contrast Exclusive)

Acrylic Stand (10 varieties, Gundam World Contrast Exclusive)

Choco Crunch (Gundam World Contrast Exclusive)

Mug (Gundam World Contrast Exclusive)

Visitors can enjoy the exhibition corner, which shows the history of both works including famous scenes and the emotional growth of the main characters. The merchandise corner will feature a number of goods only available at the event including Gunpla. Fans of the franchise shouldn't miss this, as visitors will get a promo card to use for Bandai's latest arcade card game Mobile Suit Gundam Arsenal Base, scheduled to release in spring 2021.

©創通・サンライズ

Art Group Mirrorbowler to Hold Mindblowing Exhibition at Shinsaibashi PARCO

Mirrorbowler will hold their first large-scale indoor solo exhibition at Shinsaibashi PARCO in Osaka from December 19, 2021, until February 13, 2022. 

Along with some truly massive pieces of artwork, the artists behind the creations will also hold workshops and release limited-edition goods at the venue to commemorate the event. Mirrorbowler is known for their expert use of light and reflection, and have participated in creating artwork for outdoor events, fashion shows, and CD jackets in the past. 

Past Works

Past Works

Beginner Origami Art (Star)

Intermediate Origami Art (Sphere)

Mockel

Space Plant

Original Merchandise

Mirrorbowler 2022 Calendar

Mirrorbowler Journey to the Stars Mirror

Mirror Ball Caricature Book

The theme for the exhibition is "to create something that does not exist anywhere, that has no proper name, that will never be the same twice, and that will never look the same to different people." 

Mirrorbowler's work features light and shadow as central themes, and guests are invited to look beyond what is in front of their eyes to find something deeper and more hidden. This imagery will be blended with sounds, scents, and hidden items just asking to be found.

While there is no set route to experience the exhibition, the creators hope visitors will wander back in forth to see things from different angles. Tickets are available to preorder now, so don't miss this memorable event!

Gyoza Festival 2021 Opens at Nagoya PARCO

Pan-fried dumplings, or gyoza, can be found all over Japan from fine restaurants to convenience stores. They're cheap, easy to consume, and incredibly tasty. Those able to make it to Nagoya PARCO by December 26 can experience this year's Gyoza Festival, bringing together some of the best examples of creative and mouthwatering gyoza in the country. 

A number of participating restaurants within Nagoya PARCO have developed unique gyoza-centric menus, including Kimchi Gyoza from Yansando, Chicken Wing Gyoza with spicy tartar sauce from Kyoto Shijo Kuon, and Spicy Gyoza from ANDY CURRY, participating in the event for the first time. Yummy Hawaiian Barbeque is also offering nine new menu items only found at Nagoya PARCO, including Gyoza Pie. 

Participating Shops

Yansando Ueno Honten

ANDY CURRY

Nagoya Chicken Noodle Shop

Longhu Patio

Kyoto Shijo Kuon

FUJIYAMA55 RAMEN STAND​

Okuyama Yasuzou Himonoterasu

Yummy Hawaiian Barbeque

Information

Gyoza Festival 2021

Running: November 26 – December 26, 2021

Location: Nagoya PARCO West Building 7F

Official Site: http://www.parco.co.jp

Manga Artist Macoto Takahashi Collaborates With Tsudanuma PARCO for Christmas Event

Legendary shojo manga artist Macoto Takahashi is collaborating with Tsudanuma PARCO in Funabashi, Chiba, for the 2021 Christmas event from November 19 until December 25, 2021. The creator recently released an art book featuring many of his works titled 'Macoto Takahashi's Jewelry Box.' An exhibition featuring mini-prints and mini-panels of works featured in the book will also be held, and merchandise will be on sale both on-site and online. 

Main Visual

Window

After his debut in 1953, Takahashi published the manga series Arashi wo Koete and Princess Anne. His signature style of depicting glittering stars in the eyes of his protagonists would have a lasting influence on other manga artists. In the 1960s and 1970s, he was at the helm of many magazine covers and illustrations for popular girls' manga magazines like Nakayoshi, Shojo Friend, and Margaret. Despite his classic style, his works are still largely popular today. The main visual for the event 'Lucky Star' features a girl in a red Christmas-themed costume surrounded by animals, blue snowflakes, and delicate lace.

Information

MACOTO CHRISTMAS 2021

Running: November 19 – December 25, 2021

Location: Tsudanuma PARCO 1F Entrances, Windows (Christmas Decorations) /

B Building 4F, In front of ACADEMIA Kumazawa Bookstore, Next to Escalators (Exhibition / Shop)

Online Store: https://kaeru.parco.jp/shop/detail/shop000027204/

Massive Life of Hamster Sukeroku Exhibition to Open at Nagoya PARCO

A huge exhibition featuring artwork and goods from Life of Hamster Sukeroku is coming to Nagoya PARCO from December 3 until December 20, 2021. The series is popular throughout Asia, and this exhibition is set to be the largest ever showing of related goods. 

Exhibition of Original Artwork

Reproduction of Sukeroku's Room

Entrance Bonus: Art Card

Purchase Bonus: Sticker

Merchandise Available at Nagoya Venue

Candy Tin

Block Memo Pad

Cushion

This will be the first major Hamster Sukeroku exhibition held in Japan. The hilarious and relatable series is drawn by illustrator GOTTE, who has become incredibly popular across social media. Over 300 pieces of art will be on display, including pieces drawn exclusively for the event. Guests can visit Sukeroku's room and can see videos of the artist at work. The venue's store will be selling a number of adorable hamster goods, with a limited number of reproduction paintings on sale. 

Information

Life of Hamster Sukeroku

Running: December 3 – December 20, 2021 

Hours: 11:00-20:00

Location: Nagoya PARCO South Building 7F Event Space

General Admission: ¥500 / Students: ¥400 *Free for pre-schoolers

Official Site: https://nagoya.parco.jp/

Up-and-Coming Artist Rei Nakanishi to Hold Exhibition at Shinsaibashi PARCO

Shinsaibashi PARCO in Osaka is celebrating its first anniversary. As part of the celebration, young contemporary artist Rei Nakanishi will be holding a solo exhibition, VESICA PISCIS, from November 20 until November 30, 2021. 

A number of artworks were made specifically for this showing, and each will show the unique style of this up-and-coming creator. Certain pieces will be sold by lottery at the venue as well.

Comment from Rei Nakanishi

My paintings always feature two conflicting themes. 

I create my works using both digital and analog techniques, and complete them with skull and flower motifs, reminding us of the reality of life and death. 

The theme of this exhibition is 'black and white.' 

For me, using only black and white in my works was a very meaningful challenge to take on. 

By not using any color, the essence of each painting comes through more strongly and more clearly. 

The exhibition's title, VESICA PISCIS, references two circles overlapping as you see at the very beginning of cellular division. 

I hope that people will take note of the refined shapes and fluid beauty of these works in comparison to those with color. 

 

– Rei Nakanishi

Information

Rei Nakanishi VESICA PISCIS

Running: November 20 – November 30, 2021

Hours: 10:00-21:00 (*Closing at 18:00 on November 30) 

Address: PARCO Pop Up Gallery, Shinsaibashi PARCO B1F (1-8-3 Shinsaibashisuji, Chuo-ku, Osaka)

Admission: Free

Official Site: http://www.parco.co.jp

Shinsaibashi PARCO Opens Mysterious P.O.N.D. mini Exhibition Inside SkiiMa Gallery

Skiima, a community workspace operated by PARCO, will hold a limited-time event, 'P.O.N.D. mini – Let's Meet at PARCO, in a New Dimension,' to celebrate the first anniversary of the Shinsaibashi PARCO location. The event will run from November 19 until November 30 in the SkiiMa gallery on the fourth floor of Shinsaibashi PARCO. 

Participating Artists

Fumika Endo, Photographer




Hana Watanabe, Filmmaker / Visual Artist

Taketo Kikuchi, Artist

 

Yuka Numata, Contemporary Artist

Shuzo Tajima, Artist / Musician

P.O.N.D. is a cultural festival featuring up-and-coming creators from all genres, including art, fashion, music, and food. First held at Shibuya PARCO in October, the event attracted over 5,000 visitors over 10 days.

Five artists from the Shibuya exhibition will make their way to Osaka for this event, with a theme of entering a new and unexplored dimension. The keyword for 2021 is 'Transfer,' and these creators hope to transfer the meaning behind their pieces to the audience. 

Information

P.O.N.D. mini – Let's Meet at PARCO, in a New Dimension

Running: November 19 – November 30, 2021

*On November 19, the artists will visit the gallery. 

Address: SkiiMa gallery, Shinsaibashi PARCO 4F (1-8-3 Shinsaibashisuji, Chuo-ku, Osaka)

Official Site: https://pond.parco.jp/

Capcom Cafe Ikebukuro Unveils Special Gintama Menu

Originally announced earlier this month, a Gintama collaboration cafe is coming to Capcom Cafe Ikebukuro from November 19 until December 23, 2021. The menu has finally been unveiled, and fans of the series won't want to miss out!

Food & Dessert Menu

Kagura's Chinese-Style Fried Chicken Burger Set / Eggs Benedict & Spicy Salad Shinsengumi Plate / Takasugi's Kiheitai Curry / Strawberry Milk Mille Crepes Made by Gin-san / Shinpachi's Fruit Sandwich Plate / Katsura's Soba-Style Mont Blanc Parfait

Drink Menu

Gintoki's Uji Gintoki Bowl Drink / Shinpachi's Crackling Blue Soda / Kagura's Cherry Cocktail / Hijikata's Special Iced Coffee / Okita's Cocktail-style Blackcurrant Ginger / Katsura's Three Tea Set with Dumplings / Takasugi's Grape Jelly Soda

Special Luncheon Mat with Purchase of Collaboration Food / Dessert

Original Drink Coaster (10 varieties, random) with Purchase of Drink

For every ¥3,000 spent on cafe items (including tax), guests will receive a bromide-style postcard (8 varieties, random)

©空知英秋/集英社・テレビ東京・電通・BNP・アニプレックス
©CAPCOM CO., LTD. ALL RIGHTS RESERVED.

Collaboration Between Designer Tomo Koizumi and Marc Jacobs to Release in Japan Only

Tomo Koizumi is one of Japan's most popular up-and-coming young designers. At a young age, he began creating custom outfits for his female friends, and eventually, the editor of Vogue Italia Sara Maino posted an image of his incredible work on Instagram, netting him instant fame. Now, the creator is collaborating with Marc Jacobs on a Japan-only collection scheduled to be released on November 17, 2021. 

At the 2019 New York Fashion Week, Koizumi was invited by Marc Jacobs to show his designs at the Marc Jacobs Madison Avenue store. The designer is known for his experimental and unique approach to clothing, always managing to shock audiences. This new collaboration will feature a number of colorful pieces featuring the signature stylings of Marc Jacob with Tomo Koizumi's incredible ruffles. To celebrate this new limited-edition collab, Koizumi himself appears in many of the campaign images. Actress Yumi Adachi will also appear as a model. 

Marc Jacobs' iconic bag 'The Snapshot' serves as the centerpiece of the collection, along with plenty of ruffles and hairbands. A special series of one-of-a-kind garments handcrafted from scrap stock fabrics laying around in Jacobs' atelier will be sold in limited quantities. 

Tomo Koizumi x Marc Jacobs pop-up stores will appear at Isetan Shinjuku and HANKYU Umeda for a limited time from November 17 until November 23, 2021. 

Information

Tomo Koizumi x Marc Jacobs

Release Date: November 17, 2021

Japan Only

Online Store: https://www.marcjacobs.jp

Shibuya PARCO 2F (15-1 Udagawa-cho Shibuya-ku, Tokyo)

Isetan Shinjuku Main Building 2F (3-14-1 Shinjuku, Shinjuku-ku, Tokyo)

Available: November 17 – November 23, 2021

HANKYU Umeda 3F (8-7 Kakuda-cho, Kita-ku, Osaka)

Available: November 17 – November 23, 2021

Code Geass Celebrates 15 Years With Themed Cafe in Shinjuku, Tokyo

Anime series Code Geass is celebrating its 15th anniversary in 2021. To celebrate, a winter-themed Code Geass Cafe will open in Shinjuku for a limited time, from December 2, 2021, until January 23, 2022. The cafe will feature a lineup of luxurious and stylish food and drink items to celebrate Lelouch's birthday. 

Bonuses

Menu

Food

[Lelouch] Chicken Steak

[Suzaku] Demi-glace Steak

Cream Pasta with Shrimp and Mushrooms

Dessert

Happy Birthday Plate

Student Council's Afternoon Tea Set

[Nunnally] Black Tea Whipped Cream Millefeuille

Christmas Glass Parfait

New Year Glass Parfait

Drink

Lelouch, Suzaku, Nunnally

Student Council's Tea Party (Black Tea, Coffee)

Original Goods

Pin (9 varieties, random)

Acrylic Keychain (9 varieties, random) 

Acrylic Stand (9 varieties, random) 

Clear Folder Set (2 included) 

Acrylic Stand (Lelouch, Suzaku, Nunnally) 

Acrylic Board

Muddler Spoon Set

Satin Pouch

Code Geass debuted in October 2006, and the series was recently re-aired in Japan with a new opening and ending theme. A new series, Code Geass: Z of the Recapture, is coming in the future. 

Lelouch's birthday is on December 5, so there will be plenty of treats to celebrate. Be sure to come give your well wishes!

©SUNRISE/PROJECT L-GEASS Character Design ©2006-2017 CLAMP・ST

Information

Code Geass Cafe -Winter Celebration-

Shinjuku, Tokyo

Address: BOX cafe&space Shinjuku Mylord Building 1 7F (1-1-3 Nishi-Shinjuku, Shinjuku-ku, Tokyo)

Running: December 2, 2021 – January 23, 2022

Reservations: https://cafe-cg.jp/

Online Shop Open: December 2, 2021 at 11:00 – January 23, 2022 at 23:59

Cafe Official Online Shop: https://cafe-cg.jp/online_store

Shibuya PARCO to Hold Godzilla vs. Hedorah 50th Anniversary Exhibition

To commemorate the 50th anniversary of Yoshimitsu Banno's 1971 film Godzilla vs. Hedorah, Shibuya PARCO is holding a special exhibition from November 12 until November 23, 2021. 

The venue will feature psychedelic imagery created by video artist Akiko Nakayama and a large-scale figure made by Chandelier artist Kim Songhe. Costumes and dioramas that were used to create the film in 1971 will be on show along with highly-treasured photos from the set.

Fans of Hedorah will also be able to buy unique merchandise including figures colored by artists such as Coin Parking Delivery and Keiji Ito. 

Have you seen this classic kaiju film? 

Information

Hedorah 50th Anniversary Exhibition

Running: November 12 – November 23, 2021

Address: Shibuya PARCO B1F GALLERY X (15-1 Udagawa-cho, Shibuya)

Hours: 11:00-20:00

Official Site: https://art.parco.jp/galleryx/detail/?id=800

Banana Fish Collaboration Cafe and Bar Coming to Tokyo and Osaka

While the Banana Fish anime series will make you cry, this new collaboration cafe will have guests smiling from ear to ear. This stylish New York-inspired cafe and bar will be open from November 25, 2021, until January 16, 2022, in Tokyo, and from December 2, 2021, until January 30, 2022 in Osaka. Guests can enjoy dishes and drinks inspired by the show's characters and can grab some limited merchandise too. 

Banana Fish began as a manga series in 1985 and was created by Akio Yoshida. Set in New York City, the series follows the teenage gang leader Ash Lynx as he tries to overcome his painful past and solve the mystery of 'banana fish,' a strange drug that drove his brother mad during the war in Vietnam. He is joined by Eiji Okumura, a Japanese college student and photographer's assistant who arrives in America to help with a story about gang violence. 

Menu

Tofu and Salmon Salad Bowl

His Main Dish for the Night

N.Y. Style Tacos

Grilled Banana Waffle

Chinese Sweets Plate

Chocolate Fondue

N.Y. Style Cheesecake with Caramel Nuts

Ash, Eiji, Shorter

Hot Cocoa, Hot Cafe Latte

Original Merchandise

Acrylic Pin (7 varieties, random)

Aurora Sticker (7 varieties, random)

Acrylic Stand (7 varieties, random) 

Acrylic Keychain (6 varieties, random)

Clear Folder Set (Includes two folders)

Acrylic Stand (Ash, Eiji, Shorter)

Acrylic Board

Cork Coaster (Ash, Eiji) / Cup Sleeve

Glass (Ash, Eiji) / Plate

Bonus for Advanced Reservation Holders: Paper Ornament (8 varieties, random)





How would you like to spend some time with these characters in a swanky New York-style cafe?

© 吉田秋生・小学館/Project BANANA FISH

Information

Banana Fish Cafe and Bar -New York Night-

Tokyo 

BOX cafe&space Omotesando Hills B3F (4-12-10 Jingumae, Shibuya, Tokyo)

Running: November 25, 2021 – January 16, 2022

Osaka

BOX cafe&space Umeda LOFT 1F (16-7 Chayamachi, Kita-ku, Osaka)

Running: December 2, 2021 – January 30, 2022

Reservations now open

Reservation Fee: ¥715 (Tax Included) *Includes reservation bonus

Official Site: https://bananafish-cafebar.jp/

Online Shop

Open: November 25, 2021 at 11:00 – January 30, 2022 at 23:59