Sanrio Starts First Multiprotagonist Manga Series 'Maimaimaigoen,' Focusing on Growing Pains
Sanrio has started an ambitious new manga project. 'Maimaimaigoen' is currently being serialized on the Young Ace UP website, and a special music video by Vocaloid producer Kairiki Bear has been released to celebrate the series start. A free game is also under development and is scheduled to be released during 2021. 

Nursery School Students: (From the Top Row, Left) Maria, Hikaru, Shinta, Kanata, Daigorou, Lion, Lime, Zoya (From the Bottom Row, Left) Madoka, Yuzuriha, Hayate, Mamoru, Rinrin, Wataru, Daiya, Aki
Teachers: (From the Left) Yuu Okada, Rumi
The Mysterious Lifeform, 'Froggy Egg'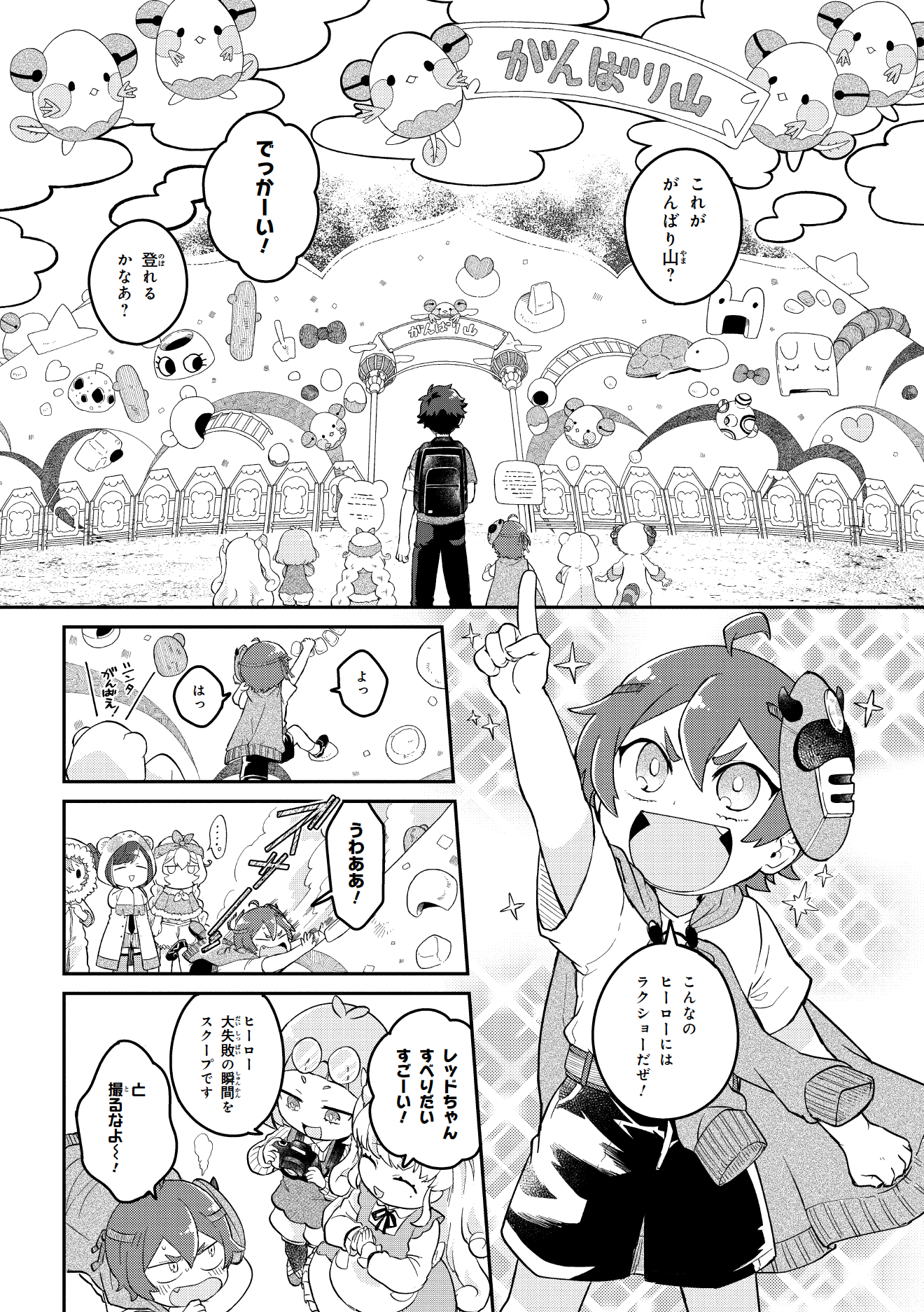 (c)Yakan Nabeya
(c)Yakan Nabeya
'Maimaimaigoen' is an ensemble drama series focusing on emotional growing pains. In an age where many people feel uncomfortable in their own skin, this story is sure to hit close to home, affirming that it's perfectly okay to be just the way you are. The story invites readers into the world of many diverse characters, each with incredible individuality. 'Maimaimaigoen' aims to team up with unique creators in the future, and with that in mind, Sanrio has released some guidelines for fan content. This is the first time Sanrio has ever directly offered support to fan creators. 
To commemorate the manga's release, a collaborative music video with popular Vocaloid creator Kairiki Bear is now available to watch on YouTube. The artist has over 560,000 subscribers. 
The latest information about the project will be released on pixivFANBOX, along with new creator content and behind-the-scenes stories. Don't miss it!
Synopsis

One day, a group of nursery school students and their teacher, Yuu, go on a field trip to Sanrio Puroland. Suddenly, they are swept away into a deserted amusement park called 'Yuuropia.' 
Froggy Egg, a mysterious creature from this strange world, explains that by completing the attractions in the park, the children can return to their world…
RELATED ENTRIES
Hilton Osaka to Hold Cinnamoroll and Sanrio Character Sweets Buffet

Folk Kitchen, a restaurant on the second floor of Hilton Osaka, will hold the Sanrio Characters Sweets Buffet ~Joyful Summer Festival~ from May 20 until September 11, 2022. The event is being held to celebrate Cinnamoroll, Pompompurin, and Pochakko coming in first, second, and third in the Sanrio Character Awards. A lineup of 25 different sweets will be available, including those filled with summer fruits like mango, peach, and watermelon! In addition, a "Zero Leftovers Campaign" will be implemented–so be sure to clear your plate!

Happy Festival Heart Mousse

Joyful Pink Cake / Lime & Raspberry

Fluffy and Crunchy Mango Pavlova

Decorated with chocolate and adorable character designs, the Happy Festival Heart Mousse is a scrumptious dish blending the flavor of banana, caramel, and rum. The Joyful Pink Cake will be a smash-hit with Sanrio lovers, featuring the soft taste of white mousse and raspberry compote with a fresh lime flavor. Tons of other original sweets will be available, including everything from gingerbread to orange tarts.

 

Visitors can also find plenty of vegan sweets. Summer Blue Sky Jello features contrasting colors of pineapple pulp and soymilk cream that look like clouds floating against a summer sky. Be sure to try the Almond & Watermelon Jello and Grapefruit and Lychee Jello too!

Soft and Adorable yoshikitty Pastel Moon Plushies Available for Preorder

Yoshikitty, a character formed in collaboration between Hello Kitty and rock legend YOSHIKI, is being featured in an adorable new collection! Items in the Moon Pastel collection are now available to preorder at the Asunaro Online Store and the yoshikitty Online Shop.

Yoshikitty first debuted in 2009 as a collaboration between YOSHIKI of X JAPAN and Sanrio's popular character Hello Kitty. These new plushies were inspired by YOSHIKI's hairstyle when he first debuted and his classic purple eyeshadow.

Since the character's creation, over 10 different designs have been released. The Pastel Moon Series is a first, showing a different side to the usual grungy rock 'n roll vibe. No one expected a fluffy unicorn yoshikitty with such soft colors!

Medium Plush : ¥5,800 (Tax Included) / Large Plushie: ¥8,800 (Tax Included)

Colorful Charm (Chain not included) : ¥1,100 (Tax Included)

The collection includes two plush toys, a mascot keychain, a colorful charm, and two reusable bags. Will you be snagging anything?

ⓒ 2022 SANRIO CO., LTD. APPROVAL NO. L630897   

ⓒ 2022 Japan Music Agency Co., Ltd.

Sanrio Inspired Touken Ranbu Collaboration Cafes to Open in Shibuya and Nagoya PARCO

Touken Ranbu has become a worldwide phenomenon over the past decade. The handsome characters are a hit with female fans, and now, PARCO is teaming up with Sanrio to reimagine everyone's favorite swords-turned-dudes into chibi, pastel versions of themselves. Fans can enjoy seeing the kawaii form of their favorite characters at a special collaboration cafe coming to Shibuya and Nagoya soon.

Lineup at a Glance

Menu

Kogitsunemaru's Lunch Plate for Kids

Oodenta Mitsuyo and Sohayanotsurugi's Mini Burger Plate

Izuminokami Kanesada and Horikawa Kunihiro's Berry Pancakes

Konnosuke's Fruit Parfait

Goods

Acrylic Pick A (20 varieties): ¥440 each

Acrylic Pick B (20 varieties): ¥440 each

Acrylic Magnet Round 2, Set A (Random, 20 varieties): ¥550 each

Acrylic Magnet Round 2, Set B (Random, 20 varieties): ¥550 each

The cafe will offer an original menu inspired by the characters from the free-to-play video game and anime series. A shop attached to the collaboration cafe will also be selling original merchandise, so fans won't want to miss stocking up.

Manga Group CLAMP to Release CLAMP PREMIUM COLLECTION Vol. 2

The second volume of the CLAMP PREMIUM COLLECTION will feature the popular series Tokyo Babylon! The manga group has begun re-releasing their most famous works in gorgeous new editions, so fans won't want to miss adding these to their shelves. 

Tokyo Babylon is one of CLAMP's masterpieces, serialized from 1990 until 1993. The volumes will be released in order starting June 3, and each will feature new cover art. Those purchasing a complete set will receive an acrylic stand inspired by the original release.




Recently, CLAMP has begun releasing original art reproductions from 32 of their most famous works. The second round of illustrations has been announced, pulling from Tokyo Babylon, X, Wish, Kobato, Clamp School Detectives, Man of Many Faces, and RG Veda. Preorders open June 1.



(C)CLAMP・ShigatsuTsuitachi CO.,LTD.

Shueisha's Haruman!! 2022 Festival Celebrates Manga this Spring

Shueisha is currently offering a ton of manga for free as part of Haruman!! 2022. The campaign is running until May 15 at participating locations and tons of digital manga series are available for download.

©Shueisha

During Haruman!! 2022, users can read over 305 digital titles for free. This year's theme is 'Manga Festival,' and manga fans can find both recent and classic titles. Why not catch up on some manga history while you can?

A collaboration with the popular VTuber agency Hololive is also underway. One of the group's manga-loving members will be chosen each day to serve as Editor-in-Chief of an original manga magazine.

Popular authors are also commemorating the occasion with new illustrations. Eleven artists from Shueisha's manga department have drawn popular VTubers, and these awesome images are available exclusively on the Haruman!! website.

Stream Date: April 23, 2022

Participants: Shueisha x Hololive Traveling Editorial Department

Streaming Channel: https://www.youtube.com/channel/UCJFZiqLMntJufDCHc6bQixg

©Shueisha

In collaboration with puzzle game creators RIDDLER, 'The Search for the Great Manga King's Treasure' will be held. Pulling inspiration from One Piece, which is currently celebrating 25 years of serialization, fans will have to find clues to solve a massive mystery.

Find your new favorite manga series during Haruman!! 2022.

Information

Haruman!! 2022

Running: April 11 – May 15, 2022

Official Site: https://haruman.jp

YOSHIKI x Hello Kitty Goods Now Available at the Yoshikitty Online Shop

Yoshikitty, a character formed in collaboration between Hello Kitty and rock legend YOSHIKI, now has an online shop!


Yoshikitty first debuted in 2009 as a collaboration between YOSHIKI of X JAPAN and Sanrio's popular character Hello Kitty. The character's first goods collection sold out immediately, with additional items also selling out online the same day. Yoshikitty's popularity isn't limited only to Japan, with global fans also anxious to snag some of this sought-after merchandise.



Since 2015, Yoshikitty has been nominated for the Sanrio Character Awards, rising in popularity year after year and keeping up with other beloved Sanrio personalities.

To commemorate the eighth consecutive year of her appearance in the Sanrio Character Awards, the Yoshikitty Online Shop has opened its doors. Fans can now purchase a number of exclusive items whenever they please!

Opening Announcement Video

https://www.youtube.com/watch?v=YFDArLVYAuw

Pouch (3 colors: Purple, Red, Blue): ¥2,600 each (Tax Included)

Cushion (3 colors: Purple, Red, Gray):  ¥4,400 each (Tax Included)

To celebrate the shop's opening, a new collection of lace goods is on sale now, featuring the character alongside roses and musical notes in elegant black lace. Items available include pouches, tote bags, and plenty of other goods perfect for both everyday use and formal occasions.

©️ 2022 SANRIO CO., LTD. APPROVAL NO.L630057    

©️ 2022 Japan Music Agency Co., Ltd.

Preliminary Rankings for the 2022 Sanrio Character Awards Announced

Sanrio has announced the top 10 preliminary rankings for the 2022 Sanrio Character Awards! These results reflect those votes cast between April 8 and April 10.

The 2022 SANRIO FES, a one-day special event for Sanrio fans, will be held both in-person and online on Sunday, June 12. This will be the first time the event has been held in three years, and it will feature special panels with Sanrio characters, booths where fans can interact with their favorites, and plenty of other content to look forward to this summer.

The first-place winner in the preliminary results is Cinnamoroll, who ranked #1 last year and is currently celebrating his 20th anniversary. Pompompurin, who ranked at #2 last year, is also coming in second this year, while Pochakko, who ranked at #3 last year, is in third. Sanrio dogs are absolutely dominating the competition! 

 

Kuromi, who managed to climb into the top five in 2021 for the first time in 11 years, is ranked fourth, while fan favorites Hello Kitty and My Melody also appear. Hangyodon, who ranked at #13 in 2021, is currently ranked at #7, signaling a major jump in popularity.

 

Who are you hoping rises to the top in 2022?


The voting period ends May 23, 2022. Be sure to stay tuned for the next interim announcement on May 12!

2022 Sanrio Character Awards Collaborate with Karin Fruit Juice for New Juice, Voting Stickers

AOKI Fruits has announced a collaboration with the 2022 Sanrio Character Awards! By purchasing qualifying products, customers will be able to cast their vote for their favorite Sanrio character at Karin Fruit Juice shops and 188 other stores nationwide from April 8 until May 22, 2022. During the 2022 Sanrio Character Awards, 80 characters will be selected from other 450, with the ranking decided by online votes and in-person events. 

Lineup

Cinnamoroll's Fluffy Banana Milk

Hello Kitty's Greedy Mixed Berry Smoothie

Pompompurin's Naptime Pineapple Drink  

Little Twin Stars' Dreamy Blueberry Milk

Pochacco's Exciting Melon Drink     

My Melody's Lovey-Dovey Strawberry Milk

Purchase Bonus: Exclusive Coaster

For each collaboration drink purchased, guests will receive one voting sticker. Voters can then place the sticker on the appropriate poster in-store to cast their vote. An exclusive coaster will be given as a purchase bonus. 

A total of six characters will be featured in the collaboration, and each store will sell two collab drinks. The teams are: Cinnamoroll & Hello Kitty, Pompompurin & Little Twin Stars, and Pochacco & My Melody.


Information

2022 Sanrio Character Awards x Karin Fruit Juice

Collaboration Period: April 8 – May 22, 2022
Where to Buy: Karin Fruit Juice, Fruits Bar AOKI, V2&M by FruitsBar AOKI, Wonder Fruits Locations
How to Vote: One voting sticker will be given with each eligible purchase. Guests can vote in the 2022 Sanrio Character Election by placing a sticker on specified posters in select stores.
Official Site: https://www.sanrio.co.jp/

Tapioca and Crepe Store 'Pearl Lady' Collaborates with Sanrio Character Cogimyun

Pearl Lady, a tapioca and crepe specialty shop, will begin selling a special crepe inspired by the Sanrio character Cogimyun starting April 8, 2022! These gorgeous treats will be available at participating Pearl Lady locations while supplies last.

Cogimyun's Sparkling Strawberry Crepe

Cogimyun's Sparkling Strawberry Crepe, topped with a Cogimyun cookie, includes sweet and sour strawberry cream. 

The dough, made with tapioca flour, offers a slightly chewy texture with a rich milk and butter flavor. Customers will also receive a special sticker as a purchase bonus. Be sure to enjoy the new Cinnamoroll drink available at Pearl Lady's sister shop CHABAR!

CHABAR x Cinnamoroll Collaboration Drink

Hello Kitty and the United Nations Reveal New Collaborative Products

Sanrio has announced the Hello Kitty SDG series of products, scheduled to release on March 25, 2022. The designs for the series were developed in collaboration with the United Nations with the aim of spreading knowledge about Sustainable Development Goals (SDGs) throughout the world. These items will be available at Sanrio stores, in department stores, and online.

The Hello Kitty SDGs series features a lineup of goods made from environmentally friendly materials. These items are perfect for daily use, and all were designed to raise awareness of SDGs and the global environment with Hello Kitty in the office, at school, and at home.

Merchandise at a Glance

Tote Bag: ¥2,750

Each Tote Bag is made of 100% organic cotton canvas.

Clear Folder: ¥594



Made of recycled polypropylene.

Mug: ¥1,980

Each mug is made of recyclable materials.

Neck Strap: ¥1,980

Recycled PET bottles were used to create this product.

In September 2018, Hello Kitty launched her own YouTube channel to promote peace and harmony around the world.

As of March 16, Hello Kitty has uploaded 27 videos, so be sure to watch them all!

©'21、'22 SANRIO 著作(株)サンリオ

Information

Hello Kitty SDGs

Release Date: March 25, 2022
Where to Buy: Sanrio Shops Nationwide, Department Store Sanrio Corners, Sanrio Online Shop

Hello Kitty Channel: https://www.youtube.com/channel/UCyof-1Ko_jy2sOtivyTpc4Q

Sanrio Character Group Hapidanbui to Collaborate with Popular Snack Pocky

Everyone's favorite Japanese snack Pocky is teaming up with the Sanrio Character group Hapidanbui for a special campaign! Starting March 29, the snack will be available in limited-edition packages featuring a special mini-game. A Pocky Spring Election will also be held, in which fans choose their favorite flavor.

Hapidanbui consists of Tuxedosam, Badtz-Maru, Hangyodon, Pochacco, Keroppi, and Pekkle. To bring everyone a little happiness this spring season, this adorable lineup includes six limited-edition packaging designs, each including one of these popular Sanrio Characters having fun.

Found a Hapi Pocky Mini-game

Pocky Spring Election

Hapi Pocky Present Campaign Prizes


 

The Found a Hapi Picky mini-game invites people to go on a scavenger hunt of sorts. This can be accessed by going to the special campaign website using the code on select Pocky packages,

Fans will also be able to participate in the Pocky Spring Election to vote for their favorite Pocky flavor. Each Hapidanbui character represents a particular flavor of Pocky, so you might end up voting for your favorite character instead. 

© 2022 SANRIO CO., LTD. APPROVAL NO. L625424

Pancake Restaurant Butter Opens Sanrio Character Collaboration Cafe

Pancake restaurant and cafe Butter is collaborating with Sanrio characters for a limited-time collaboration cafe from March 16 until May 31, 2022! Guests can also grab some adorable and tasty macarons for take-out only. 

Tea Party with Everyone! Sanrio Characters Afternoon Tea

Fluffy Cinnamon Roll Pancakes with Blue Sky and White Clouds

Pompompurin's Hamburger Plate

Pompompurin's Piping-hot Pancakes

Pochacco's Flower Garden Pancakes

Pochacco's Meat Pasta

Latte Art Drinks

At-home Macaroon Party (Take-out Only)

Menu Order Bonus: Special Coaster (4 varieties)

Chow down on tasty dishes inspired by your favorite Sanrio characters, from pancakes to pasta! What will you be ordering?

Information

Pancake Restaurant Butter x Sanrio Characters

Running: March 16 – May 31, 2022
Participating Locations: Butter LaLaport Toyosu, LaLaport Yokohama, LaLaport Koshien

Official Site: http://www.butter-pancake.com