Sanrio Starts First Multiprotagonist Manga Series 'Maimaimaigoen,' Focusing on Growing Pains
Sanrio has started an ambitious new manga project. 'Maimaimaigoen' is currently being serialized on the Young Ace UP website, and a special music video by Vocaloid producer Kairiki Bear has been released to celebrate the series start. A free game is also under development and is scheduled to be released during 2021. 

Nursery School Students: (From the Top Row, Left) Maria, Hikaru, Shinta, Kanata, Daigorou, Lion, Lime, Zoya (From the Bottom Row, Left) Madoka, Yuzuriha, Hayate, Mamoru, Rinrin, Wataru, Daiya, Aki
Teachers: (From the Left) Yuu Okada, Rumi
The Mysterious Lifeform, 'Froggy Egg'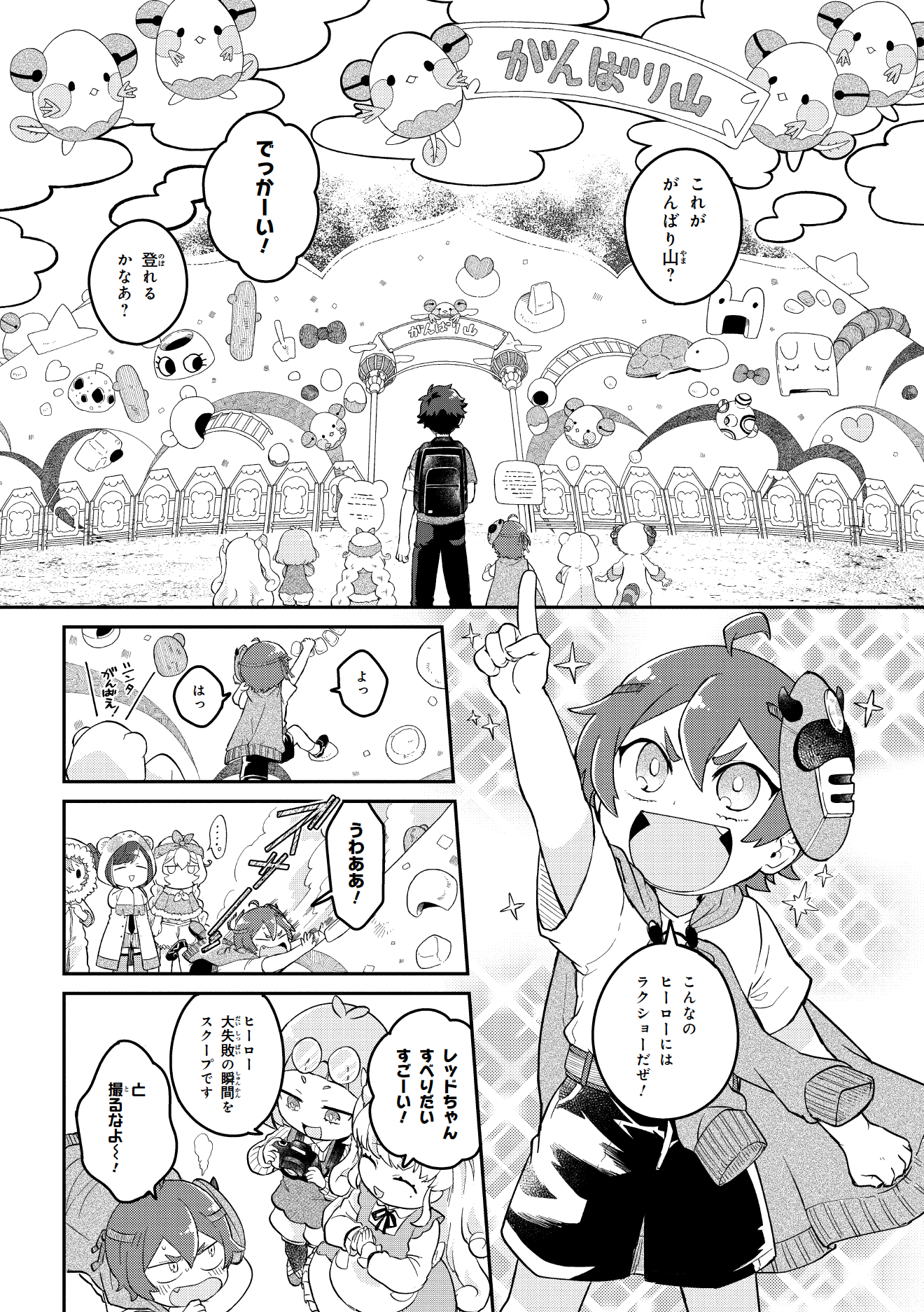 (c)Yakan Nabeya
(c)Yakan Nabeya
'Maimaimaigoen' is an ensemble drama series focusing on emotional growing pains. In an age where many people feel uncomfortable in their own skin, this story is sure to hit close to home, affirming that it's perfectly okay to be just the way you are. The story invites readers into the world of many diverse characters, each with incredible individuality. 'Maimaimaigoen' aims to team up with unique creators in the future, and with that in mind, Sanrio has released some guidelines for fan content. This is the first time Sanrio has ever directly offered support to fan creators. 
To commemorate the manga's release, a collaborative music video with popular Vocaloid creator Kairiki Bear is now available to watch on YouTube. The artist has over 560,000 subscribers. 
The latest information about the project will be released on pixivFANBOX, along with new creator content and behind-the-scenes stories. Don't miss it!
Synopsis

One day, a group of nursery school students and their teacher, Yuu, go on a field trip to Sanrio Puroland. Suddenly, they are swept away into a deserted amusement park called 'Yuuropia.' 
Froggy Egg, a mysterious creature from this strange world, explains that by completing the attractions in the park, the children can return to their world…
RELATED ENTRIES
Vocaloid Producer Balloon Releases Hatsune Miku's Image Song for Sony's 360 Reality Audio

Keina Suda, also known by his Vocaloid producer name Balloon, has been rising in popularity with the release of the music video for his new track Darling. On May 24, he'll release his second full album Ghost Pop, and his track Hana ni Kaze is being used to promote Hatsune Miku's 360 Reality Audio Experience at the Sony Store. This catchy track will be released on all major streaming services on February 10, 2023. In addition, the cover for the song, created by Avogado6,  has also been revealed.

The song was created exclusively as the campaign song for Sony Store's exclusive Walkman and accompanying headphones featuring exclusive Hatsune Miku designs by Avogado 6. These are available to order now, and starting January 27, Sony Store locations are offering a new listening experience, allowing guests to enjoy Hana ni Kaze with Sony's 3D Reality Audio.

In addition to this listening experience, a special viewing event was held in theater rooms, making guests feel as though they were at a live concert. Reservations were required to participate.

Visit the official Sony website for more information!

Chiikawa and Sanrio Characters Collaborate for Special Merch Collection

A collection of must-have goods featuring Chiikawa and Sanrio characters has been announced! The items will be available at the Sanrio Online Store on November 24  and Sanrio shops nationwide, including department stores, starting November 25. The popular character Chiikawa, created by illustrator nagano, has been invited into the world of Sanrio, and the results are perfectly adorable. The merch lineup includes 21 items from plush toys to acrylic keychains. Purchase bonuses will also be given to those snagging any of the items on offer.

Goods at a Glance

This marks the second collaboration between Sanrio characters and Chiikawa. Fans will want to grab these limited-edition goods, including fluffy plush toys, a mascot-style brooch set, pouches, tote bags, clear folders, and handy cases perfect for storing small items. These items feature completely original designs. Which one is your favorite?

Sanrio Virtual Festival 2023 in Sanrio Puroland to Bring Fans Into the Metaverse

The Metaverse event that was a smash hit in 2021 will be returning in 2023! Sanrio Virtual Festival 2023 in Sanrio Puroland, one of the world's largest music festivals blending both the real and virtual worlds, will be held starting January 13, 2023.

A lineup of high-profile performers has been announced, including Airi Suzuki, SKY-HI, Yabai T-Shirts Yasan, and Aoi Fuji. Popular Sanrio characters such as Hello Kitty, Cinnamoroll, and Kuromi will also appear, and visitors will be able to experience the virtual Puroland by utilizing unique avatars and taking part in a number of exciting events.

The 2021 event was incredibly popular, and the 2023 version will increase the duration and amount of content available. To do this, Puroland has joined forces with VRChat, a well-known US company and social platform. Artists, VTubers, and Sanrio characters will perform in a massive space on B5 of Virtual Sanrio Puroland, and fans can enjoy live performances while also communicating with other guests!

Highlights of SANRIO Virtual Festival 2023 in Sanrio Puroland

・Inspired by PURO VILLAGE at Sanrio Puroland, VIRTUAL PURO VILLAGE is now available in the Metaverse!

・The popular Sanrio Puroland parade will be performed in the virtual space with an original story!

・Starting January 13, 2023, visitors will be able to chat and play in an open space before the concert, and special events–like radio calisthenics–will be held.

・Guests can enjoy mini concerts featuring Sanrio characters every day from January 14 until January 20 (*Fee required.)

The event can be accessed via smartphone, PC, or other devices. Guests can have fun creating their own unique avatars and immersing themselves in the Sanrio Puroland atmosphere no matter where they are! Come experience this state-of-the-art Metaverse space while you can.

Experience Mini Live Shows Featuring Popular Sanrio Characters Every Day

A daily mini concert will be held daily from January 14 until January 20 with a different Sanrio character appearing each day. 

The mini-concert ticket allows guests to watch all seven mini-concerts and also includes digital items to use with your avatar, including a fan and a T-shirt. 

17 Artists Announced (So Far) to Perform During Virtual Music Festival!

Artists like Airi Suzuki, SKY-HI, and Yabai T-Shirts Yasan will take to the LUNA STAGE (*fee required), with virtual artists including Aoi Fuji appearing on the FUTURE STAGE (*fee required.)

Hello Kitty and other Sanrio characters will also appear at CHILL PARK, each giving a mini live performance. The second artist lineup and performance timetable will be announced in early December.

Free areas will be open to the public. More details and ticket information is available on the official website. 

Information

SANRIO Virtual Festival 2023 in Sanrio Puroland

Running: January 13 – January 22, 2023

Venue: Virtual Sanrio Puroland

Official Site: https://v-fes.sanrio.co.jp

60th Anniversary Sanrio Exhibition: The Beginning of Kawaii to Open at Hokkaido Museum of Modern Art in February 2023

The word 'kawaii' is now commonly used around the world. Sanrio is largely to thank for this, and the beloved company has announced that the 60th Anniversary Sanrio Exhibition will open at the Hokkaido Museum of Modern Art from February 11 until April 2, 2023. Advance tickets will include a discount and will be available until November 14 online. 

"Sanrio celebrated its 60th anniversary in 2020, and the company continues to share Japan's character culture with fans around the world," Sanrio said in a comment. "Kawaii is now a universal language, and this is very much thanks to the over 450 characters that are part of Sanrio's history, from Hello Kitty to My Melody. 

This exhibition traces the history of Sanrio and guests can enjoy seeing rare materials including merchandise, publications, and early designs from the company's founding. We want to continue to grow and develop our characters while valuing communication with our fans, ensuring that our adorable characters are loved by generations to come."

The Sanrio exhibition is something that generations of fans can enjoy, so come immerse yourself in this kawaii world! For more details, visit the official website. 

Information

60th Anniversary Sanrio Exhibition: The Beginning of Kawaii

Running: February 11 – April 2, 2023

Hours: 9:30 – 17:00 (Last entry at 16:30)

Venue: Hokkaido Museum of Modern Art (17-chome Kita 1 Jonishi, Chuo-ku, Sapporo, Hokkaido)

Official Site: https://stv.jp/event/sanrio

The #KuromifyTheWorld Project Celebrates First Anniversary with Special Week of Events

The #KuromifyTheWorld campaign is already one year old! Created to share the adorable Sanrio character Kuromi with the world, fans will be invited to celebrate this milestone from October 20 until October 31 with special events in Tokyo, Osaka, and Nagoya. 

Kuromi's Drink Stand will be open for a limited time in Tokyo and Osaka. Customers will be invited to choose the color of their drink according to their mood, and will also be able to customize it with tags, acrylic stands, and stickers! An original photo spot will also be set up beside each drink stand, and those wanting to attend can enter the lottery to win tickets now. 

Sanrio's first and largest Kuromi ad truck will also be driving through the streets of Tokyo, Nagoya, and Osaka during the event week. 

Kuromi will also be teaming up with (G)I-DLE, a popular five-member global idol group from South Korea. Campaigns are planned to appear in Hangzhou, Suzhou, Taiwan, Korea, North America, and Europe.

Kuromi ranked in the top three in this year's Sanrio Character Awards, and her popularity is steadily growing with Gen-Z. Keep an eye out for more Kuromi-inspired events in the future!

Information

#KuromifyTheWorld Week

・Kuromi's Drink Stand: 

Running: 

Shinjuku, Tokyo: October 20 – October 24, 2022

Shinsaibashi, Osaka: October 29 – October 31, 2022

・#KuromifyTheWorld Ad Truck:

Running:
Tokyo: October 20 – October 24

Nagoya: October 26 – October 27

Osaka: October 29 – October 31

Mecha-Ude Animation Project Gets Full Anime and Manga Series

Sae Okamoto's Mecha-Ude project has attracted worldwide attention, and now, a full anime and manga series have been announced! Okamoto's up-and-coming anime production company TriF Studio, located in Fukuoka, will work on the series, which follows Hikaru, a normal student, and Alma, a Mecha-Ude wielder who can be activated when he bonds with a human. 

Yoshino Koyoka has also started publishing a manga adaptation of the series on LINE Manga and other ebookjapan services. Three free chapters were published on September 15, and the series will run bi-weekly. TriF Studio will supervise and provide the story.

A documentary video teasing the anime series and giving more information about TriF Studio has also been uploaded to YouTube. The video shows that the pilot's theme song was written by Eve with a music video produced by Masayoshi Oishi. Hiroshi Matsuyama, the CEO of CyberConnect2, serves as the general supervisor of the series. Terumi Nishii, the chief animation director for the popular series Jujutsu Kaisen, worked on character designs for Mecha-Ude. 

The average staff age at TriF is 25, which is incredibly young for an animation studio. What can we expect from such a unique collection of creators? 

Be sure to keep an eye on this new anime and manga project!

(C)TriF/「メカウデ」製作委員会

Sanrio Releases New Collection Inspired by Gyaru from the 90s and 2000s

On September 14, Sanrio will release an adorable new collection of goods inspired by 90s gyaru fashion! Fans of Japanese pop culture may be familiar with the gyaru subculture, and now, you can grab your favorite Sanrio character all dressed up like a fashionable girl on the streets of Tokyo during the Heisei era. These items will be available at Sanrio stores nationwide, Sanrio corners in department stores, and Sanrio online. The lineup includes goods featuring Hello Kitty, My Melody, Kuromi, and Cinnamoroll. 

 

A total of 17 new items will be available, including mascot keychains, accessory cases, and plenty more to show off your gyaru side. Hair clips, which were very popular during the height of gyaru fashion, are perfect to either attach to your head or to your school bag. 

Along with the listed goods, secret straps featuring nostalgic 90s motifs will also be sold at random! These are perfect for hanging on your glove compartment, a mirror in your purse, or your bag.

 

New Products

Mascot Keychain (4 varieties): ¥1,980 each

Each mascot keychain shows a popular Sanrio character dressed in popular Gyaru fashion.

Accessory Case with Hole for Strap (4 varieties): ¥1,100 each 

Hair Clip (4 varieties): ¥990 (Set of 2)

Pouch: ¥2,420

Secret Strap (8 varieties): ¥880 each

Each comes with a strap. The Cell phone can be opened and closed.

*Secret Straps are sold in a blind box.

Pochacco and Pekkle Collaboration Donuts Coming Soon

The handmade donut shop Floresta will be offering some adorable Pochacco and Pekkle donuts from September 10 until September 30, 2022. Customers can snag them at Floresta locations and the online store.

Floresta specializes in donuts made from all-natural ingredients, and these adorable collaboration donuts are sure to put a smile on Sanrio fans' faces!

 

These donuts are made with Floresta's special white chocolate mixed with strawberry powder and pumpkin powder. Not overly sweet, these goodies will suit anyone's palate.

Although these sweet treats may be colorful, they were made with all-natural ingredients and are free of synthetic colors, fragrances, and preservatives. Many customers have said that the natural taste is totally different from that of standard donuts, so why not give it a try with family or friends?

Information

Pochacco & Pekkle Collaboration Donuts

Available: September 10 – September 30, 2022

Where to Buy: In-store or at the online shop (https://floresta-ec.jp/)

*Preorders begin on September 10 at 10:00 AM

*Items available in limited quantities. 

Sanrio Avatar Creation App Hello Sweet Days Celebrates 5th Anniversary with Collab Cafe

To commemorate the 5th anniversary of Sanrio's avatar app Hello Sweet Days, a cafe collaboration with Sanrio Characters Honey Toast Cafe in Yokohama, the Pompompurin Cafe in Harajuku, and the Cinnamoroll Cafe in Shinjuku will begin on August 20, 2022. This is the first collaboration to take place at all three stores at once.

Collaboration Cafe

Each location will offer a different collaborative drink for a limited time only. Those who purchase these tasty beverages or show the Hello Sweet Days app screen to the staff will receive exclusive goods while supplies last! Music from the app will be played in each cafe, so be sure to check it out!

Collaboration Drinks

Exclusive Merch

Limited-Time Event

The Sugoroku Event is a popular part of the Hello Sweet Days app. This year's event will begin on August 21 and will take a look at the history of the app, given that it is celebrating its 5th anniversary. Players will be able to take look back on past additions and earn a variety of special rewards!

Running: August 21 – August 30 at 23:59

The Smile Festival SNS Contest will also be going on, inviting fans to participate to win Sanrio goods. More details on how to submit an entry are available on the app. 

There will be many other special events and campaigns both inside and outside the app during the month of August to celebrate the 5th anniversary, so keep an eye out for more!

Ⓒ 2022 SANRIO CO., LTD. APPROVAL NO. L633389 Ⓒcocone

Hello Kitty and Wish Me Mell Inspire Dinner and Dessert Buffet at Keio Plaza Hotel

Starting September 3, Keio Plaza Hotel Tama will offer a special dinner and dessert buffet inspired by the Sanrio characters Hello Kitty and Wish Me Mell. The adorable event will take place at the Jurin restaurant on the 4th floor, and guests will be able to enjoy some cute dishes and desserts inspired by the character's gratitude. The event will run until October 30 and will only be held on weekends and holidays. 

The restaurant's patissier has designed a collection of sweet dishes based on the two characters, from strawberry shortcakes inspired by Wish Me Mell's outfit to pastel-colored cakes and rainbow jello. Cream-filled fruit sandwiches cut to look like Hello Kitty's face are sure to offer guests the perfect photo op! For those wanting something savory, over 15 dishes will be available, including roast beef, pasta and cheese, curry, and more.

Special seats including large stuffed animal versions of Hello Kitty and Wish Me Mell will be available, limited to two tables per day.

Come enjoy a relaxing meal with these two adorable characters!

Hachioji P to Release New Track 'RAD DOGS feat. Hatsune Miku, Rin Kagamine and Len Kagamine'

In 2009, Vocaloid producer Hachioji P posted his legendary song Electric Love on Nico Nico Douga. Still active on the music scene, the creator will begin streaming the new track RAD DOGS feat. Hatsune Miku, Rin Kagamine, and Len Kagamine on August 10. This comes ahead of the release of his new album HIDEOUT on August 31, 2022. A music video for the track will be uploaded to Hachioji P's YouTube channel at 20:00 on August 10.

RAD DOGS feat. Hatsune Miku, Rin Kagamine, and Len Kagamine – Hachioji P (Music Video)

RAD DOGS feat. Hatsune Miku, Rin Kagamine, and Len Kagamine is a Vocaloid cover written for the iOS/Android game Project SEKAI COLORFUL STAGE! feat. Hatsune Miku. The original song has over 9 million views on YouTube.

RAD DOGS – Music Video

The music video for RAD DOGS feat. Hatsune Miku, Rin Kagamine, and Len Kagamine was directed by Kento Mori, who has created ads for a number of companies. PizaCG was in charge of animating the Vocaloids while Penta Ashibuto was in charge of the choreography. The jacket photo has been uploaded, giving fans a hint of what they can expect when the video drops next week.

Hachioji P's new artist photo has also been unveiled.

 

Look forward to the album's release on August 10 along with the music video!

Information

HIDEOUT

Release Date: August 31, 2022

Limited First Edition (CD+DVD+2 Bonus Tracks): ¥3,500 (Tax Included)
Standard Edition (CD): ¥2,800 (Tax Included)

Hachioji P Official Homepage: http://hachiojip.net/

'Kiss xxxx Collectors Edition' Manga Release Celebrated with Collaboration Cafe

To celebrate the release of KISS xxxx Collector's Edition, the compilation of Maki Kusumoto's classic manga series, a collaboration cafe will be held at Ginza's Zikkai Library Bar from August 2 until September 28, 2022.

KISS xxxx, the second installment of the Kusumoto Maki Collection, a series of beloved editions of Maki Kusumoto's works published by Shogakukan Creative, includes illustrations that have never been included in the previous books, as well as spin-off works published or announced outside the serialized magazines, for a total of three volumes. An original postcard will also be included in each volume. 

KISS xxxx Collector's Edition Collaboration Menu

KISS xxxx Collectors Edition Volume 1 Cover

About KISS xxxx


Kameno and Kanon. These mysterious lovers live simple lives, and each day is standard. 

This landmark work tells an immortal love story, impacting a generation of readers. This reprint brings the story back to life in higher quality, so why not jump in?

Information

KISS xxxx Collectors Edition Volume 1 – Collaboration Cafe

Venue: Ginza's 'Zikkai' Library Bar

Running: August 2 – September 28, 2022

Official Site: https://www.zikkai.com/

KISS xxxx Collector's Edition <Maki Kusumoto Collection>
On Sale July 29, 2022 
https://www.shogakukan-cr.co.jp/book/b10012343.html


*Volume 2 will be released in late September 2022. Volume 3 will be released in late November 2022.