Report: Sebastian Masuda's 'Yes, Kawaii is Art' Exhibition at Kanda Myojin Shrine Goes Beyond 'Cute'
What does the word 'kawaii' mean to you? For most people overseas, it's a purely Japanese aesthetic combining colorful visuals with cutesy characters to make something so adorable it defies imagination. In recent years, however, 'kawaii' has become a kind of philosophy that transcends language, national borders, and even consciousness. It's a driving force behind people's lives and something that pulls people out of bed in the morning–it's something capable of instantly putting a smile on people's faces. For those wishing to study the philosophy behind the 'kawaii' movement, the Godfather of Kawaii Sebastian Masuda is currently holding an exhibition at Kanda Myojin Shrine in Tokyo until December 12, 2021. What is it about 'kawaii' that is so capable of inspiring so many different people and cultures around the world?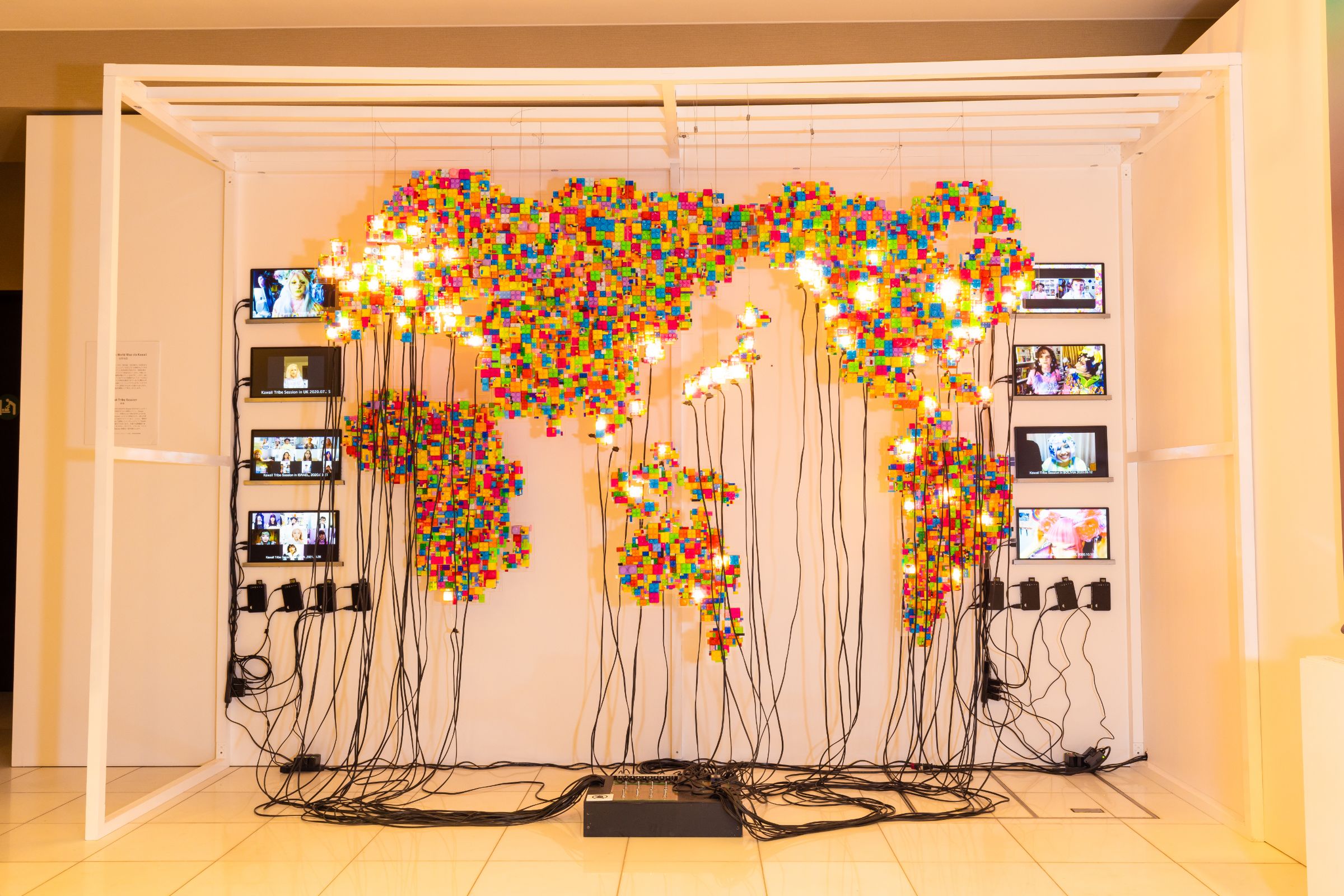 A correlation chart welcomes guests to the grounds. The 'Kawaii Archival Research,' a project on kawaii culture conducted with students from the Kyoto University of Arts, collected data on 'kawaii' trends from the post-war period to the present day. Through interactions with the worldwide 'kawaii' community, it's clear how much of an impact the aesthetic has had on people around the globe. 
In the midst of the pandemic in 2020, Masuda announced #KAWAIITRIBE, a way to encourage those coping with depression during the days of COVID-19. His followers were asked to use 'color' to bring the world together, and more and more, the 'kawaii' movement became a way to express and love oneself. Using #KAWAIITRIBE, more and more fans of the movements became connected–even if those users were countries apart. 
The hashtag #SPEAKUP was also utilized by Masuda to collect data from 'kawaii' lovers around the world, asking about hobbies, interests, and opinions on 'kawaii' culture. The data collected over the course of 12 days was incredibly meaningful to Masuda and led to plenty of new discoveries about the community as a whole. 
Masuda explains that each country has different types of 'kawaii,' and that the aesthetic is expressed in different ways around the world. One country may have people influenced mainly by 'kawaii' expressions in anime and manga, while another expresses it through fashion or music. 'Kawaii' is diverse, just as people are diverse. 
Sebastian Masuda has also held a Zoom meeting with people in 'kawaii' communities around the globe to discover how they became involved with the aesthetic initially, while also asking how it inspired them and gave them strength during these difficult times. Certain people claimed that 'kawaii' helped them in their personal growth, while others say it has brought out some of their potential in new and unexpected ways. While Masuda's artwork may simply seem visual, 'kawaii' has become a tool for new communication and personal healing and growth. Some may even call it a kind of therapy: a place where people can surround themselves with color and joy to heal from the difficulties of life. The bold colors of the 'kawaii' movement can inspire people to be bold in their daily lives. Individuality should be celebrated and self-confidence should reign supreme–that is yet another message of the 'kawaii' movement. 
Many people involved in the Zoom call had never met, and after the initial meeting, the room was left open to give people a place to communicate. Afterward, the 'kawaii' circle only became bigger, with a Facebook group bringing together more and more members of the community. 
The research done during the last year of the COVID-19 pandemic has given 'kawaii' lovers a reason to think deeply on how to overcome the many struggles born from the 'new normal,' and these forums are perfect places to share colorful messages of hope and strength. 
Inspired by Masuda's own struggles during his time in Manhatten in 2013, Colorful Rebellion -Seventh Nightmare- is on display at Kanda Myojin. The installation has previously appeared in locations around the world including New York City, Milan, and Amsterdam. This time, the exhibit was inspired by 'muro,' a basement room in Omotesando where amazake is fermented. The room was used as an air-raid shelter during the war, and walking along the dimly-lit path leading to Masuda's brightly-colored room, it's hard not to wish that those evacuees could have been surrounded by these beautiful colors instead of pitch darkness.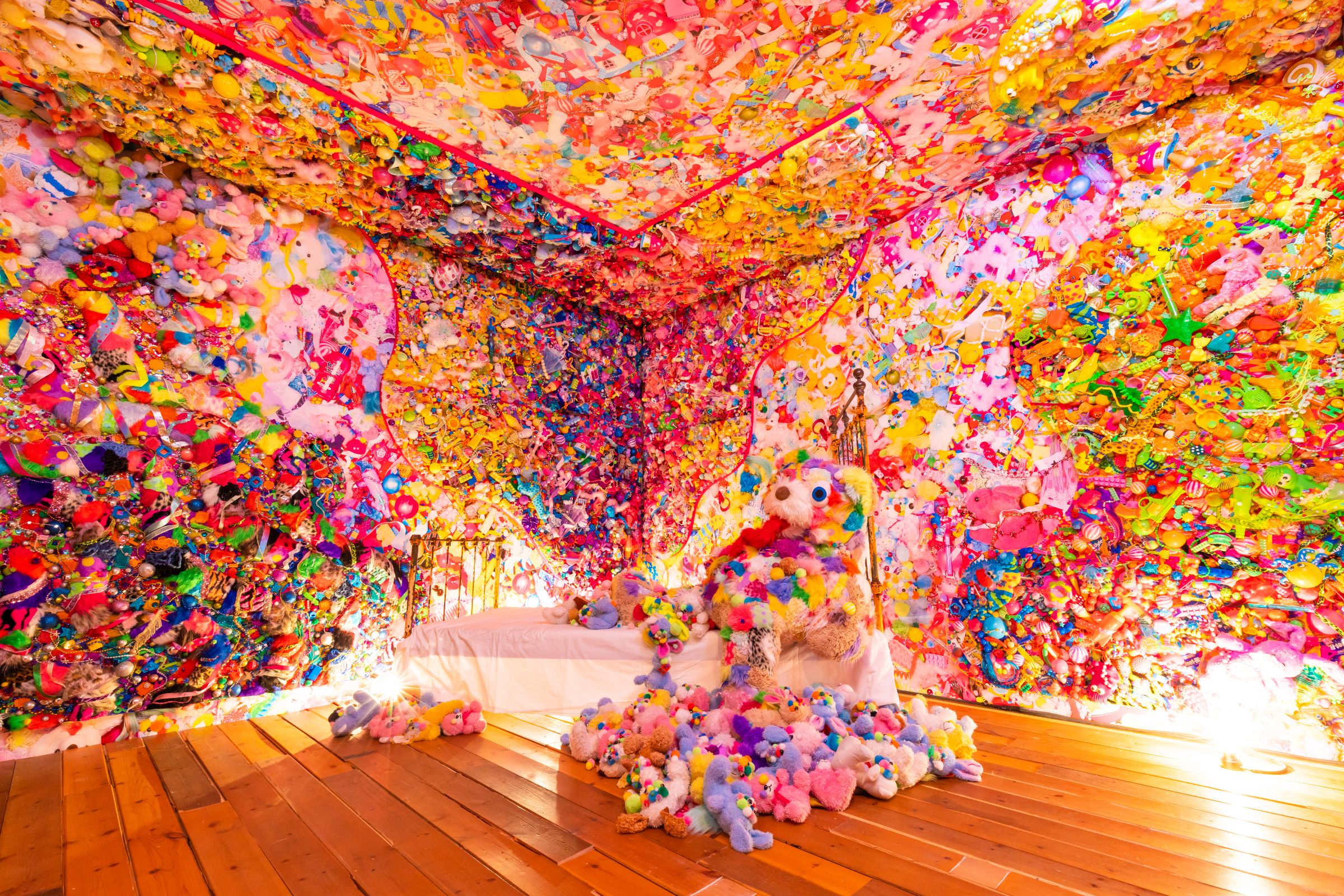 It is no exaggeration to say that this is Masuda's representative work. Created in the midst of the artist's own struggles, it has helped establish the philosophy of 'kawaii' culture and continues to help those dealing with their own problems.
The Time After Time Capsule Art Project, starting in 2014 and held in 12 cities around the world, is a massive time capsule filled with messages and wishes for the future. Shaped like the beloved Sanrio character Hello Kitty, the capsule is gradually changing color as it becomes heavier and heavier with wishes for peace and happiness from fans around the world. Originally planned to be exhibited at the 2020 Tokyo Olympics, this couldn't come to fruition due to the current pandemic. This is the first time it is being shown in Japan.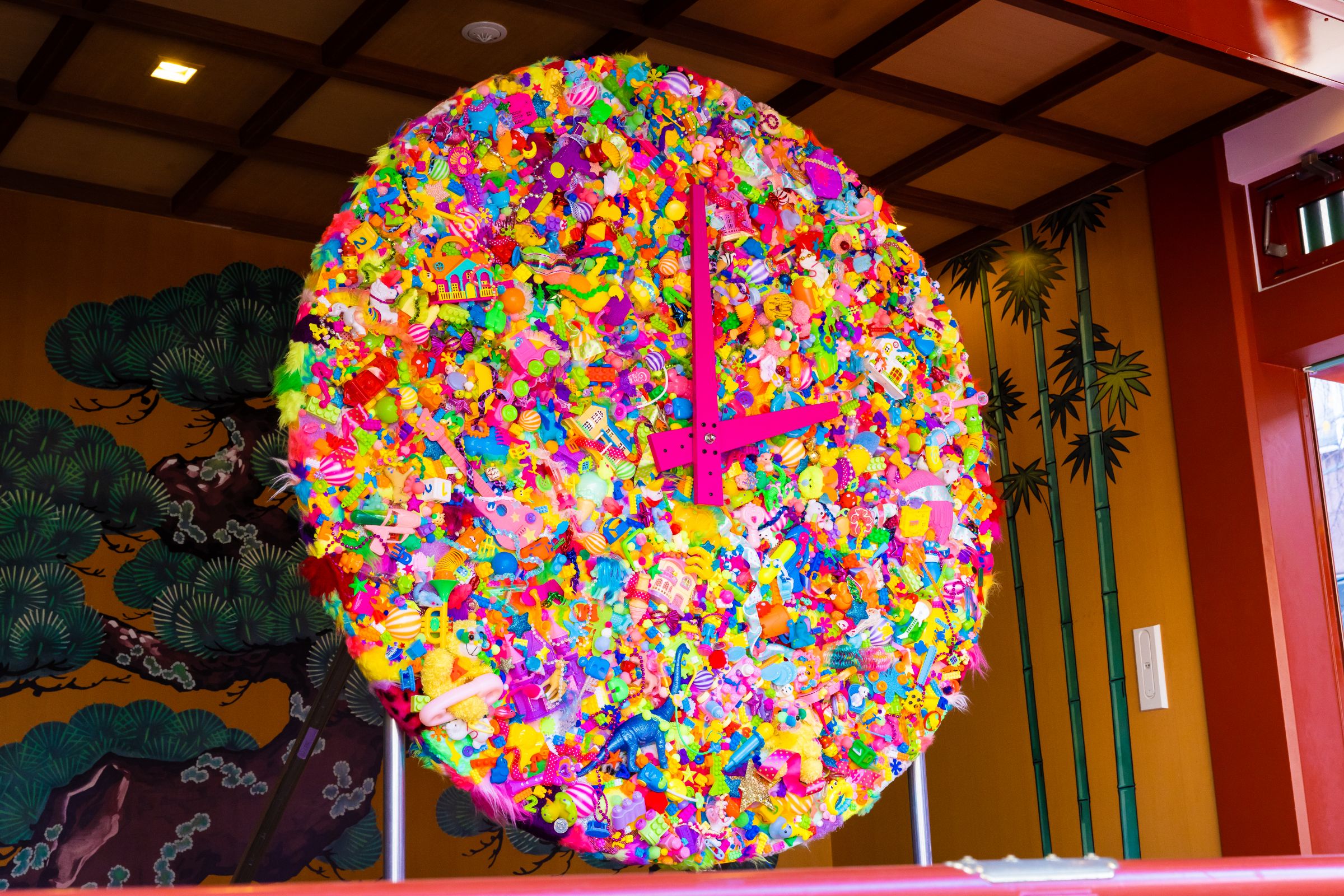 The WORLD TIME CLOCK, a once-famous landmark of Harajuku, has also been recreated and installed within Kanda Myojin. 
'Yes, Kawaii Is Art' at Kanda Myojin is a deeply emotional, personal, and inspiring exhibition allowing visitors to experience firsthand how 'kawaii' culture is capturing the hearts of people around the world. Sebastian Masuda isn't slowing down any time soon, and his works will continue to heal people and bring joy for many years to come. 
Sebastian Masuda's solo exhibition 'Primal Pop' will be held at Roppongi Hills A/D Gallery from December 11, 2021, until January 10, 2022.
TEXT:Natalie(MOSHI MOSHI NIPPON)
RELATED ENTRIES
Hikari Shibata to Open Photo Exhibition 'THROUGH THE WINDOW'

Model, DJ, and photographer Hikari Shibata will hold her first photo exhibition in five years, THROUGH THE WINDOW, at the FLOAT Gallery in Tokyo for four days starting September 8, 2023.

The exhibition's title was inspired by Shibata's shyness, which has always led her to photograph landscapes rather than people. Many photos were taken through windows, and both the view and reflections are meaningful and personal to Shibata herself.

This year's exhibition features photos of daily life taken in Copenhagen, Denmark's largest city, where Shibata stayed for a total of three weeks in March 2023. It will also feature photographs snapped in Berlin, Los Angeles, and New York City.

Shibata will visit the gallery in person to present her creations. In addition to the sale of exhibited photographs, guests will also be able to purchase T-shirts, hats, and Shibata's first photobook, the latter of which is available in limited quantities. The self-published 112-page hardcover book was entirely designed by Shibata herself. T-shirts will be available in two colors and feature the title of the exhibition, while hats will come in three colors with an embroidered graphic image of the sun reflected in a window.

Information

THROUGH THE WINDOW (Hikari Shibata Photo Exhibition)
Running: September 8-11, 2023 / 13:00-20:00
Venue: FLOAT (3-1-9 Megurohoncho, Meguro-ku, Tokyo)
*Please be aware that admission may be restricted in the event of crowding.

[Profile]
Hikari Shibata
Born in Kanagawa in 1997, Shibata is a model, DJ, and fashion director, known for sharing her life and unique fashion sense on social media. Her interest in photography dates to her high school days, and along with her work in Japan and abroad, she's handled visuals for apparel brands and CD jackets. This will be her fourth photo exhibition.

YouTube: https://www.youtube.com/@peepinsidehead5862
Instagram: https://www.instagram.com/shibatahikari/
PEEP INSIDE HEAD: https://peepinsidehead.com/

Sebastian Masuda to Open Colorful New York City Sushi Restaurant SUSHIDELIC in June 2023

Sebastian Masuda to open SUSHIDELIC, a new sushi restaurant in Soho, New York City. The location will open on June 28, 2023.

"King of Kawaii" Sebastian Masuda, creator of Harajuku's "KAWAII MONSTER CAFE," loved by celebrities around the world, has created a new restaurant concept  in New York City

 Sebastian Masuda is a multi-disciplinary artist whose unique sense of color transcends the boundaries of art, fashion, and entertainment. His restaurant "KAWAII MONSTER CAFE" opened in Harajuku in August 2015 and quickly became a popular spot in Tokyo, frequented by celebrities from around the world, including BLACK PINK's Jenny, Katy Perry, and Ariana Grande.

His next project will take place in New York City, where he is currently based. The restaurant will offer a completely new perspective on sushi, the most popular Japanese food in the U.S. and  an integral part of the American lifestyle.

Enjoy an Immersive Kawaii Experience

The new location is meant to be an "immersive Kawaii experience." Once you step into the restaurant, you'll find yourself in a psychedelic and one-of-a-kind space that will make you feel as if you've wandered into another world. Guest will be guided by employees clad in colorful custom-made costumes, and three rotating cats will be suspended by the ceiling, rotating to reveal a secret image. Guests sitting at the counter will enjoy a pink custom-made conveyor belt, a.k.a a sushi lane.The restaurant will offer artist Sebastian Masuda "Immersive Kawaii Experiences" that go beyond THE DINING EXPERIENCE.

Featuring a Menu Developed by Japanese Chefs and Supported by AUTEC, Inc.

Chef Hiroki Abe and Sebastian Masuda collaborated to create an unforgettable menu, fully supported by AUTEC. After moving to the United States in 2001, Abe worked as an executive chef at EN Japanese Brasserie in NYC. He now works as a private chef at corporate events and parties around the U.S. On the technical side, AUTEC, which boasts the number one share of the automatic sushi machine market in North America, is backing up the venture. The sushi is sure to be as tasty as it is kawaii!

Featuring Restaurant Music by RAM RIDER, the Music Producer Behind the Score at KMC

The in-store background music is essential when cultivating an immersive experience. Music producer RAM RIDER, who created the music for KAWAII MONSTER CAFE, has written an incredible 70-minute ambient track for SUSHIDELIC. Guests can look forward to losing themselves in the adorable ambiance.

Tons of New Yorkers Visit During Pre-Opening, SUSHIDELIC Trends on Social Media

During SUSHIDELIC's limited pre-opening, scores of New York-based celebrities and
influencers visited the shop. The unparalleled ambiance, food presentation, and experience have quickly become a hot topic on social media!

Opening in SoHo, the Trendiest Neighborhood in New York City

SUSHIDELIC is scheduled to open at 177 Lafayette St. in the heart of the SoHo area, where the latest fashions and trends are born and where many fashion brands have opened their flagship stores.

We will keep you updated with the latest information as it becomes available. Please look forward to the chemistry between "Sushi" and "Kawaii," two of Japan's proudest exports.

Sebastian Masuda

Information

Shop Overview
Name: SUSHIDELIC
Opening: June 28, 2023
Address: 177 Lafayette St, New York, NY 10013

【KAWAII LAB.】IDOLATER Releases New Single 'Aimai Silhouette'

On May 31, the idol group IDOLATER released its 11th single, Aimai Silhouette.

Unlike the group's more mature love songs released in the past, this new track is packed with cuteness and a fresh sound.

【KAWAII LAB.】IDOLATER Releases New Single 'Before the endroll'

IDOLATER, the idol group from KAWAII LAB., released their new single, Before the endroll.

IDOLATER is celebrating their 4th anniversary since their debut as a group. 

The group has been active as a five-member group consisting of Yukino Fushiki, Ayu Okuda, and Kurumi Tsukishiro, with the addition of Ririka Satsuki and Fuka Oishi, since April 2022.

This song is a powerful declaration of their determination to continue advancing towards the future, expressing the various emotions they have accumulated so far as their driving force, including the loneliness and frustration that they have shouldered while running as idols, as well as their gratitude towards those who have supported them.

City Pop TOKYO Collaborates with Idol Group FRUITS ZIPPER to Produce Member-Inspired Legendary NFTs

The NFT project City Pop TOKYO is inspired, fittingly, by City Pop, a music genre from Japan that is immensely popular worldwide, particularly among Gen Z. Now, the project is collaborating with the incredibly popular idol group FRUITS ZIPPER!

Starting at the end of April, Legendary NFTs inspired by the members of FRUITS ZIPPER will be released sequentially as part of the City Pop TOKYO NFT collection. These collaborative NFTs feature rare designs that are unique among the other characters in the City Pop TOKYO NFT collection and were drawn by Natsumi Sato, the illustrator who oversaw character design for the collection.

This collaboration will commemorate the release of City Pop TOKYO's main collection, which will be available starting at the end of April. City Pop TOKYO will allow both NFT holders and non-holders to participate in new character development through a series of Twitter posts after the main NFT collection is sold. Characters will level up by earning training points when they post on Twitter, which will also be reflected in their NFT properties. The final ranking will be based on level, and a subsequent audition will be held, with winners being invited to join ASOBISYSTEM as new talents.

For this collaboration, the wildly popular FRUITS ZIPPER is sure to bring some new excitement to this incredible project.

Information

<Collaboration Details>
●Seven FRUITS ZIPPER NFTs inspired by the group's members will be added to the City Pop TOKYO collection as Legendary NFTs.
● Legendary NFTs were created by Natsumi Sato, the illustrator behind City Pop Tokyo. Each special edition release has its own unique parts.
● Unlike standard collections, Legendary NFTs will be sold via auction.

Available: April 19 at 21:00 ~ April 20 at 21:00
Amount Available: 7
Price: To be determined at auction

Below are the NFT designs. Illustrations will be sent to auction winners as NFTs.

<Special Benefits for Legendary NFT Holders>
● One NFT airdrop from City Pop TOKYO's main NFT collection
● Easier to accumulate XP points when developing characters on Twitter
● A 3D model from the Gemie Metaverse (Design to be selected from airdrops from the main collection)
●NFT airdrops of future collections (details to be announced as soon as the collections are available)
*Legendary NFTs cannot participate in the promotional game or audition.
*The images and designs of the characters may be used by the FRUITS ZIPPER and its members during their activities.

About City Pop TOKYO
City Pop TOKYO plans to release 1984 original NFTs based on City Pop, a music genre from Japan that is immensely popular worldwide, particularly among Gen Z. The project's characters are featured in trendy outfits and makeup representing symbolic fashion styles in Japan, such as GAL, SHOWA, and REIWA. After the NFTs are sold out, they can be registered as talents with ASOBISYSTEM and entered into the METAVERSE'S GOT TALENT NFT talent audition using Twitter! Successful entries will be invited to have full-fledged virtual careers, appearing in ads and releasing music. Community members can participate in surveys and vote on songs and other releases, coming together to help develop new talent.

Through this project, City Pop TOKYO will work to reaffirm the usefulness of Web 3.0 technology and NFT and further promote Japanese culture to people worldwide.

・Website: https://www.city-pop.tokyo/
・Twitter: @CityPopTokyoNFT
・Discord: https://www.city-pop.tokyo/

<Participating Businesses>

Kingdom Labs
Kingdom Labs is a venture studio that aims to support and invest in projects in the gaming and toC areas within the Web 3.0 domain. The company provides consistent support to entrepreneurs building innovative business models across various industries, from planning to execution. One of the company's key strategies is to partner with large companies that are expanding their business to Web 3.0 or that exist in a different area but hope to create Web 3.0 services. Kingdom Labs takes a unique, multi-disciplinary approach to maximize the interests of investors and partners, leverage its global team, and to grow its global portfolio and investment experience. The company also operates the world-renowned NFT collection Monkey Kingdom.

Representative: CSO Maurice Ng
URL: https://www.kingdomlabs.com/

UPBOND Inc.
UPBOND offers Wallet, which easily allows customers to manage their assets and connect to many Web 3.0 services. Its non-custodial wallet enables general consumers to easily engage with Web 3.0 marketplaces and allows enterprises to obtain customer information with its decentralized identity solution. UPBOND works with top-notch Japanese corporates to bring their business into this new frontier while also updating customer relationships.

Representative: Director Takashi Mizuoka
Head Office: 6-31-15 Jingumae, Shibuya-ku, Tokyo (8F)
URL: https://www.upbond.io

GEMIE
GEMIE is an Asian entertainment-focused metaverse platform inspired by fan culture. The company aims to help artists achieve their full potential by providing them with the tools, resources, and opportunities they need to reach their goals and allowing them to interact with fans from all over the world without limitations.
Comment: "Instead of holding a talent show by region or country, why don't we do it in the metaverse so there won't be any geographical locations – you will be surprised how many talented artists who are worth a shot are scattered in our everyday life!"

Representative: Co-founder John Fung

FRUITS ZIPPER to Embark on First National Tour in September

Idol group FRUITS ZIPPER will embark on its first nationwide tour, FRUITS ZIPPER JAPAN TOUR 2023 -AUTUMN-, this September.

FRUITS ZIPPER has been climbing to the top of the idol scene at a breakneck pace. Their first overseas solo performance in Taiwan was recently a huge success, and tickets for their first anniversary live shows at Toyosu PIT in Tokyo and Namba Hatch in Osaka in May sold out immediately after going on sale.

The tour will begin with a concert in Osaka on September 3, followed by performances in Aichi, Fukuoka, Hiroshima, Hokkaido, and Kanagawa. Tickets for the presale lottery are now on sale for members of the KAWAII LAB fan club.

FRUITS ZIPPER's single Watashino Ichiban Kawaiitokoro, released last year, has inspired over 700 million related videos on TikTok, while the music video has been viewed over 10 million times. Keep an eye on their activities in the near future!

Information

FRUITS ZIPPER JAPAN TOUR 2023 -AUTUMN-

Date: September 3, 2023
Venue: Zepp Namba / Osaka
Time: Doors open at 16:00 / Show starts at 17:00
Contact: Kyodo Information – 0570-200-888

Date: September 5, 2023
Venue: Zepp Nagoya / Aichi
Time: Doors open at 17:30 / Show starts at 18:30
Contact: Sunday Folk Promotion – 052-320-9100 (12:00~18:00)

Date: September 8, 2023
Venue: Zepp Fukuoka / Fukuoka
Time: Doors open at 17:30 / Show starts at 18:30
Contact: Kyodo West Japan – 0570-09-2424 (11:00~15:00 / Closed on Sundays and Holidays)

Date: September 10, 2023
Venue: BLUE LIVE HIROSHIMA / Hiroshima
Time: Doors open at 16:00 / Show starts at 17:00
Contact: YUMEBANCHI (Hiroshima) – 082-249-3571 (Weekdays 12:00~17:00)

Date: September 13, 2023
Venue: PENNY LANE24 / Hokkaido
Time: Doors open at 17:30 / Show starts at 18:30
Contact: Mount Alive – 011-623-6555

Date: September 16, 2023
Venue: KT Zepp Yokohama / Kanagawa
Time: Doors open at 16:00 / Show starts at 17:00
Contact: HOT STUFF PROMOTION – 050-5211-6077 (Weekdays 12:00~18:00)

[Tickets]
VIP Standing: ¥16,500 (Including Tax, excluding drinks)
miniVIP Standing: ¥7,700 (Including Tax, excluding drinks)
General Standing: ¥5,500 (Including Tax, excluding drinks)
2F Reserved Seat: ¥5,500 (Including Tax, excluding drinks)
*Available tickets for Hiroshima and Hokkaido are VIP and General Standing only

KAWAII LAB. Fan Club Presale Tickets (Lottery)
Entry Period: April 10 at 21:00 ~ April 17 at 23:59
URL: https://kawaiilab.asobisystem.com/
*Up to 2 tickets available per person per show

New information will be announced on the official FRUITS ZIPPER social media pages when available.

[Event Report] CANDY TUNE, the Newest Idol Group from KAWAII LAB, Holds Debut Performance, FRUITS ZIPPER and IDOLATER Also Take the Stage

On March 14, ASOBISYSTEM's idol project KAWAII LAB. held a live event at Spotify O-EAST. The event, titled KAWAII LAB. SESSION ~CANDY TUNE~, saw the first-ever performance from CANDY TUNE, the newest idol group from KAWAII LAB, also known for creating the popular groups FRUITS ZIPPER and IDOLATER.

KAWAII LAB. is a new project by ASOBISYSTEM created to introduce Japan's growing idol culture to the world.

FRUITS ZIPPER is one of the most talked-about idol groups in recent memory, with their solo concert shows selling out instantly and their song Watashi no Ichiban Kawaiitokoro pulling in over 690 million views on TikTok. KAWAII LAB also produces IDOLATER, a group known for exploring the boundary of music, fashion, and other unique aspects of culture through an idol perspective.

In March, the seven-member idol group CANDY TUNE was announced. Its members include Rino Fukuyama, Mizuki Kirihara, Natsu Minami, Nanako Ogawa, Bibian Murakawa, Shizuka Miyano, and Kotomi Tachibana.

Tickets for this show were completely sold out in advance. The packed venue was filled with excitement, with fans looking forward to the live performance far before the show started.

To start, Misa Kimura, a model and talent who serves as the general producer of KAWAII LAB., appeared with FRUITS ZIPPER members Suzuka Chinzei and Runa Nakagawa. Despite the project only being active for one year, she seemed to be filled with incredible emotion at the addition of CANDY TUNE to the lineup, bringing the total number of idols signed to KAWAII LAB to 19.

IDOLATER was the first to take the stage, called out by Misa Kimura herself. Dressed in fashionable light blue outfits, the girls immediately grabbed the fan's hearts with their cool performance of Kesenai…before moving into Endless Summer, Vapor City, Kimi ni MuCHU♡XX, and Mahou no Kagi wo Te ni Iretara in quick succession. The girl's potential was on full display as they played hit after hit.

IDOLATER's stylish and clean live performance ended with DIAMOND and Endroll wo Mukaeru Mae ni.

When Misa reappeared on stage, she announced that IDOLATER would be holding its anniversary solo concert on April 22 at Spotify O-WEST. Member Fuka Oishi was delighted to be performing at the largest venue in IDOLATER's history. "I'm so thrilled," she said.

FRUITS ZIPPER took to the stage next, and the venue was immediately illuminated with colorful penlights. The members were greeted with loud applause as the starting track began to play.

The group performed RADIO GALAXY first, and the audience's enthusiasm was palpable as the songs jumped between various genres like a roller coaster ride, from EDM and hip-hop to idol pop and mellow tunes. Continuing into Sekai wa Kimikara Hajimaru, the sweet love song made the audience swoon as they heard the girl's incredible vocals.

Suzuka Chinzei also congratulated CANDY TUNE on its debut during the MC portion of the performance. FRUITS ZIPPER also promised to keep the stage lively until it was their turn to perform at their own debut show.

The group then performed Happy Chocolate, a popular song currently trending on TikTok. Their comical and cute choreography spread into the audience where fans mimicked their moves, making it a truly sweet and memorable moment.

As the girls began performing the fast-paced song Kanpeki Shugide☆, the mood in the venue took a turn, and things became much more lively. As expected, the group performed the massively-popular track Watashino Ichiban Kawaiitokoro as the finale, and just as Suzuka promised, the audience was all warmed up for CANDY TUNE to finally take the stage!

Just as was the case with IDOLATER, another major announcement was made during the MC portion. The first KAWAII LAB Official Fan Club event for FRUITS ZIPPER was announced to take place on April 10 at Shirokane Takanawa SELENE b2. The group's first live show was originally scheduled to take place at this venue on April 10 last year, but it was postponed due to the pandemic.

Finally, it was time for the new group CANDY TUNE to appear. Misa Kimura took to the stage first "I'm so nervous," she said to the audience. "Can we get some cheers?"

The fans erupted with loud applause, and soon after, the seven members of the group–Rino Fukuyama, Mizuki Kirihara, Natsu Minami, Nanako Ogawa, Bibian Murakawa, Shizuka Miyano, and Kotomi Tachibana–took their first steps onto the stage, ready to share the wonders of Harajuku with the world.

Dressed in colorful outfits, they first performed hanamaru, a song written to cheer up anyone who listens to it. The girls were clearly a little nervous, but they danced as hard as they could, obviously doing their very best. As the song blended into Kiss Me Patissier, the audience erupted–it was hard to believe that this was the first time that the song had ever been performed live. The song is one of the most popular tracks from the group's first album, and its flirty lyrics immediately melted fans' hearts.

During the MC, Murakawa, a former HKT48 member and veteran idol, spoke to the fans. "Isn't this venue too full," she said with a laugh. Each girl introduced herself, offering some insight into why they had become idols and what they hoped to achieve going forward. It seemed that their time chatting had cut through the tension, and they performed Nanairo Prologue in high spirits. As if in sync with the members, the fans' voltage also rose to a fever pitch, and following the performance of Mikan na Seishun, the audience exploded with thunderous applause.
After all four songs from the group's first album had been performed, it was revealed that, like the senior groups in KAWAII LAB, CANDY TUNE also had a surprise to reveal. On the big screen, it was announced that CANDY TUNE's first solo live performance would be held at Spotify O-WEST on June 27. The members immediately shouted with joy.

"Aren't you full yet," Murakawa asked the audience, before announcing one more song.

CANDY TUNE performed hanamaru again, but unlike the first time, a music video produced in secret for the occasion played on the screen. Sounds of surprise and excitement immediately erupted from those in the audience.

The audience's voltage was at its highest during this performance, which was synchronized with the music video featuring the members in cute cheerleader outfits and a picnic scene that their friendship with one other. Although it was their first time on stage together, the seven members showed as much poise and dignity as their seniors.

At the end, each member shared a message with their fans. "I have a bad habit of second-guessing my own happiness. There have been so many times in my life when I wonder if I should be as happy as I am–but right now, I'm so incredibly overjoyed," said Fukuyama.

"I was so nervous before we got here," said Kirihara. "But when I saw all of your faces, I knew from the bottom of my heart that I had made the right choice to become an idol!"

"Even if I'm reborn, I hope to stand on this same stage again," said Minami while crying.

"I didn't really feel like an idol until today, and I was so afraid to stand up here in front of a packed audience," said Ogawa. "I never thought I'd be an idol," echoed Tachibana. Both showed intense appreciation for the countless fans that had gathered at the venue.

"I will always cherish this moment," said Miyano. "I hope to make many more memories in the future!"

"I never thought I could care for people so quickly after meeting them," said Murakawa, shedding a few tears. "I have so much love and affection for everyone, and I want the seven of us to keep working hard to share Harajuku with the world. Standing here now, I know that we can become an idol group loved around the globe!"

After each group had finished their performances, all 19 idols from all three KAWAII LAB groups stood on the same stage together.

As a final surprise, Misa Kimura announced that KAWAII LAB. SESSION would be held on June 12 at Zepp Shinjuku, a venue scheduled to open in April. "I'm so excited that we get to perform at Zepp," said FRUITS ZIPPER member Yui Sakurai.

With excitement in the venue still building, the final performance and the long-awaited collaboration began. All 19 members formed a circle and began to perform FRUITS ZIPPER's breakout hit Watashino Ichiban Kawaiitokoro. Fans in the audience were permitted to record during this part of the concert, and after the show concluded, countless videos were posted to social media sites.

A project to shoot a TikTok video of Happy Chocolate with the audience also took place at the end of the event. FRUITS ZIPPER member Mana Manaka gave a brief explanation of the choreography before taking a video of the fans gathered at the venue. The night ended as the idols and fans danced together.

KAWAII LAB is continuing to produce cutting-edge idols ready to be shared with the world. With the addition of CANDY TUNE, the future is looking bright, and fans will want to watch out for what's coming next.

Text: Masatoshi Mayuzumi
Photo: Shinsuke Hayashi / Miki Higashi

■Setlist

[IDOLATER]
Kesenai…(short ver.)
Endless Summer
Vapor City
Kimi ni MuCHU♡XX
Mahouno Kagiwo Teniiretara
DIAMOND
Endrollwo Mukaeru Maeni

[FRUITS ZIPPER]
RADIO GALAXY
Sekaiwa Kimikara Hajimaru
Happy Chocolate
Kanpeki Shugide☆
Watashino Ichiban Kawaiitokoro

[CANDY TUNE]
hanamaru
Kiss Me Patissier
Nanairo Prologue
Mikanna Seishun
hanamaru (MV.ver)

[KAWAII LAB.]
Watashi no Ichiban Kawaiitokoro

Information

<FRUITS ZIPPER Fan Club Exclusive Concert 'FIRST CONTACT'>

Date: April 10, 2023

Venue: Shirokane Takanawa SELENE b2
Time: Doors open 17:30 / Show starts 18:30
General Admission Presale Tickets: ¥4,500 (Standing, Tax Included)
*Excluding drinks
*This event is for members of the KAWAII LAB. Official Fan Club only.
*Accompanying guests must also be Fan Club members. We will confirm if you are a fan club member upon entrance to the venue.

Details: https://kawaiilab.asobisystem.com/news/detail/10284

<IDOLATER Anniversary LIVE>

Date: April 22, 2023

Venue: Spotify O-WEST

Time: Doors open 17:30 / Show starts 18:30
VIP Admission: ¥10,000 (Tax Included)

VIP Bonuses:
・Access to the front area of the venue
・Commemorative goods

General Admission: ¥1,500 (Standing, Tax Included)
*Excluding drinks

Details: https://kawaiilab.asobisystem.com/news/detail/10283

<KAWAII LAB. SESSION>

Date: June 12,

Venue: Zepp Shinjuku (Tokyo)

Time: Doors open 17:30 / Show starts 18:30
Starring: IDOLATER, FRUITS ZIPPER, CANDY TUNE
Admission: ¥5,000 (Priority Standing, Tax Included) / ¥3,000 (General Standing, Tax Included)
*Excluding drinks

Details: https://kawaiilab.asobisystem.com/news/detail/10281

<CANDY TUNE First Solo Concert>

Date: June 27, 2023

Venue: Spotify O-WEST

Time: Doors open 17:30 / Show starts 18:30
Admission: ¥5,000 (Priority Standing, Tax Included) / ¥2,000 (General Standing, Tax Included)
*Excluding drinks

Details: https://kawaiilab.asobisystem.com/news/detail/10285

CANDY TUNE Releases First Album 'CANDY TUNE'

CANDY TUNE, the newest group from KAWAII LAB, released their first album on March 7. KAWAII LAB is continuing to introduce Japanese idol culture to fans around the world.

The seven-member group is comprised of members Rino Fukuyama, Mizuki Kirihara, Natsu Minami, Nanako Ogawa, Bibian Murakawa, Shizuka Miyano, and Kotomi Tachibana. Just like candy, which comes in tons of different flavors and shapes, the members will bring their own unique personalities and quirks to their pop tunes as they carry on KAWAII LAB's mission of sharing Harajuku style with the world.

Two songs on the group's first album CANDY TUNE were produced by Naoki Kubo and Suu, former members of SILENT SIREN–the sweet and playful Kiss Me Patissier and the inspiring song hanamaru. Hirotaka Hayakawa, who has produced hit songs for countless artists, also contributed. Nanairo Prologue tells the story of the seven members moving forward across a rainbow-colored bridge, andMikan na Seishun (Unfinished Youth) has a fast-paced sound sure to be a hit with new fans. The group's artist photo and the jacket art for the album were provided by Yuko Takayama (yenter).

CANDY TUNE will hold its debut concert titled KAWAII LAB. SESSION ~CANDY TUNE~ on March 14 at Spotify O-EAST. To commemorate the special occasion, IDOLATER and FRUITS ZIPPER will also perform. The three groups will perform the FRUITS ZIPPER hit track Watashi no Ichiban Kawaiitokoro together during the event, and tickets are now on sale.

Additionally, new interviews with the members and behind-the-scenes footage have been uploaded to CANDY TUNE's official YouTube channel.

Information

CANDY TUNE – CANDY TUNE (1st Digital Album)
Streaming: March 7, 2023
Streaming URL: https://kawaiilab.lnk.to/CANDYTUNE
Available to stream on all major subscription music streaming services

Tracklist:
M1 Kiss Me Patissier
M2 hanamaru
M3 Nanairo Prologue
M4 Mikan na Seishun
M5 Kiss Me Patissier -Instrumental-
M6 hanamaru -Instrumental-
M7 Nanairo Prologue -Instrumental-
M8 Mikan na Seishun -Instrumental-

[Debut Concert Details]
Event Title: KAWAII LAB. SESSION ~CANDY TUNE~
Venue: Spotify O-EAST
Date: March 14, 2023
Time: Doors open 17:30 / Show starts 18:30 / VIP Event Ends 22:30
Performers: IDOLATER / FRUITS ZIPPER / CANDY TUNE

[Tickets]
Admission: VIP ¥5,000 / General ¥3,000 / Day-of ¥3,500
Tickets: https://w.pia.jp/t/candy-tune/

<Profile>
The idol group CANDY TUNE consists of seven members: Rino Fukuyama, Mizuki Kirihara, Natsu Minami, Nanako Ogawa, Bibian Murakawa, Shizuka Miyano, and Kotomi Tachibana.

The group was formed by the KAWAII LAB project, started by ASOBISYSTEM to promote Japanese idol culture around the world. CANDY TUNE will make its debut in March 2023.

Just like candy, which comes in tons of different flavors and shapes, the members will bring their own unique personalities and quirks to their pop tunes as they carry on KAWAII LAB's mission of sharing Harajuku style with the world.

Twitter: https://twitter.com/candy_tune_
Instagram: https://instagram.com/candy__tune
TikTok: https://www.tiktok.com/@CANDY_TUNE
YouTube: https://www.youtube.com/channel/UCU0PgOXf0lxzVxN2TLzMJkw
note(Live Schedule):https://note.com/candy_tune

<What is KAWAII LAB?>

KAWAII LAB is a new project by ASOBISYSTEM aiming to promote Japanese idol culture to the world. The company works to discover, train, and produce idols with the potential to be active on the world stage.

KAWAII LAB is produced by Misa Kimura, a model and TV personality. A fan of idols for many years, Kimura was formerly the leader of the idol group Musubizm.

Other KAWAII LAB. groups include IDOLATER, a culture-holic idol group consisting of finalists from ASOBISYSTEM's first national audition in 2018, and FRUITS ZIPPER, a group transmitting NEW KAWAII from Harajuku to the world debuting in April 2022.

In March 2023, the project launched a new idol group.
KAWAII LAB. will continue to promote Japanese idol culture to the world, launching and developing new idol groups, not only in Tokyo but in other cities as well!

Twitter: https://twitter.com/kawaii__lab
YouTube: https://youtube.com/channel/UCW8Q9LBGGBgK6a-u0C0h95A
Fan Club: https://kawaiilab.asobisystem.com/

teamLab Forest Fukuoka to Introduce Spring Sakura Theme for a Limited Time

Starting March 4, the permanent museum teamLab Forest Fukuoka will transform its artwork into a stunning spring theme. Guests will be able to enjoy gorgeous cherry blossoms for a limited time, and starting March 24, the Catching and Collecting Forest will also be transformed in the same way.

TeamLab's works are created in real time by procedural generation, meaning that they are always changing and evolving. Each work changes depending on the season.

▼Starting March 4

Both Shifting Valley, Living Creatures of Flowers, Symbiotic Lives – A Whole Year per Year and Animals of Flowers, Symbiotic Lives II – A Whole Year per Year are only available to see during spring. Come and see animals made entirely of cherry blossoms as they roam through the museum!

The work titled Soft Terrain in Granular Topography shows multicolored grains of light pouring from the sky, while Flutter of Butterflies, Ephemeral Life surrounds visitors with brightly colored butterflies

▼Starting March 24

In the Catching and Collecting Forest, visitors can explore with their smartphones and catch various animals made entirely of cherry blossoms.

Information

teamLab Forest Fukuoka – SBI SECURITIES Co., Ltd.
Venue: BOSS E・ZO FUKUOKA 5F, Next to Fukuoka PayPal Dome
Address: 2-2-6 Jigyohama, Chuo-ku, Fukuoka
Official Site: http://forest.teamlab.art

Matsuzakaya Nagoya to Host Exhibition Honoring Mobile Suit Gundam Animator Kazuhiro Ochi

©永井豪/ダイナミック企画 ©ダイナミック企画・東映アニメーション ©ダイナミック企画 ©東映アニメーション ©松本零士/零時社・東映アニメーション

 

From March 21 until April 5, 2023, Matsuzakaya Nagoya will host The World of Super Robot & Hero: Kazuhiro Ochi Art Exhibition, celebrating the creator's 45th anniversary as an artist. Ochi is well-known for his work on Mobile Suit Gundam and dozens of other popular anime series, from Martian Successor Nadesico to Urusei Yatsura.

Ochi has personally selected over 100 items to be put on display at the exhibition, including illustrations from Mazinger Z and Devilman, both of which are celebrating their 50th anniversaries. Fans can also expect to see illustrations from the newly-announced UFO Robot Grendizer project along with original sketches, promotional materials, and much more.

Available merchandise will include an art book signed by Kazuhiro Ochi himself, prints, and character goods. New Cutie Honey and Cosmic Fantasy products will also be available for purchase.

The animator himself will also be in attendance on select days, so don't miss this rare opportunity to meet an anime legend!

Guests spending over ¥5,000 (including tax) at the exhibition during days in which Ochi is in attendance will receive an autographed illustration card only available at the Nagoya venue.

Exhibition Merch at a Glance

 

©Go Nagai/Dynamic Planning Illustration by K.Ochi

 ©KAZUHIRO OCHI

 

イラスト/越智一裕 ©永井豪/ダイナミック企画

Information

The World of Super Robot & Hero: Kazuhiro Ochi Art Exhibition

Running: March 21 – April 5, 2023

Hours: 10:00-18:00

Venue: Matsuzakaya Nagoya Main Buiding 7F, Large Event Hall

Details & Merchandise Information: https://edition-88.com/blogs/blog/ochikazuhiro-ten-nagoya_event-info

Purchase Goods:  https://edition-88.com/

 

Kazuhiro Ochi Attendance Schedule

Appearance Dates: March 21, March 25, March 26, April 1, April 2

Hours: 13:00-16:00

*The event will conclude promptly at the listed time.
*The attendance schedule is subject to be changed or canceled depending on various circumstances.

Hisashi Eguchi's Illustration Exhibition "Tokyo Girlfriend" Coming to Tokyo Midtown Hibiya, New Works to be Exhibited for the First Time

From March 14 until April 23, 2023, Tokyo Midtown Hibiya will hold Hisashi Eguchi's Tokyo Girlfriend illustration exhibition, set to show off the artist's unique perspectives on people and cityscapes. The exhibition will feature new illustrations of the titular girlfriend standing in the streets of Hibiya drawn especially for this exhibition, as well as various other girlfriends both large and small.

GING NANG BOYZ Kimi to Boku no Dai 3ji Taisen-teki Renai Kakumei CD Jacket (2005)

A LONG VACATION – Eiichi Ohtaki 40th Tribute Illustration (2021) ©2023 Eguchi Hisashi

Hisashi Eguchi, a manga artist and illustrator, continues to convey the charm of the city and its people by vividly depicting Tokyo and the many unique happenings within. As Tokyo Midtown Hibiya celebrates its 5th anniversary along with many other nearby businesses, the Tokyo Girlfriend exhibition of illustrations by Hisashi Eguchi is being held to celebrate.

The exhibition will feature a new painting of the mysterious girlfriend standing in the streets of Hibiya, newly created for the Tokyo Midtown Hibiya exhibition. A number of original pieces using Pantone overlay, Eguchi's favorite painting medium in the 80s and 90s, will also be on display for the first time.

During the exhibition period, guests can enjoy autograph sessions, live sketches in which Eguchi himself will draw a portrait of selected subject on the spot, and workshops where he will teach tips on how to be a better illustrator.

Don't miss your chance to meet one of the greatest illustrators of the modern era!

©2023 Eguchi Hisashi

【KAWAII LAB.】New Idol Group「CANDY TUNE」Debut Concert Planned for March 14 at Spotify O-EAST

A new idol group is coming in March 2023 from KAWAII LAB. , to promote Japan's growing idol culture to the world.

So far, four members have been announced ahead of the group's debut concert. The group name and details of their debut concert have just been revealed!

Following IDOLATER and FRUITS ZIPPER, the third idol group born from KAWAII LAB. has been announced as CANDY TUNE. The name is meant to evoke the image of both kindhearted girls and catchy melodies and harmonies.KAWAII LAB. will continue to focus on its concept of promoting Harajuku culture to the world.

The four members announced so far are Mizuki Kirihara, Rino Fukuyama, Natsu Minami, and Nanako Ogawa. More members will be announced in the near future.

Clockwise from top: Mizuki Kirihara, Nanako Ogawa, Rino Fukuyama, Natsu Minami

CANDY TUNE's debut concert titled KAWAII LAB. SESSION ~CANDY TUNE~ will be held on March 14 at Spotify O-EAST! IDOLATER and FRUITS ZIPPER, both created by KAWAII LAB., will also perform, with the members of CANDY TUNE performing on the same stage as their seniors for the first time.

Information

KAWAII LAB. SESSION ~CANDY TUNE~
Venue: Spotify O-EAST
Date: March 14, 2023
Time: Doors open 17:30 / Show starts 18:30 / VIP Event Ends 22:30
Performers: IDOLATER / FRUITS ZIPPER / CANDY TUNE
https://w.pia.jp/t/candy-tune/

[Tickets]
Admission: VIP ¥5,000 / General ¥3,000 / Day-of ¥3,500
Tickets: https://w.pia.jp/t/candy-tune/
VIP Admission Lottery: February 2 at 21:00 – February 15 at 23:59
General Sales: February 18, 12:00~

■CANDY TUNE Official Social Media
Twitter:@candy_tune_
Instagram:@candy__tune
TikTok:@CANDY_TUNE