Wakura Onsen in Ishikawa Prefecture to Hold Special Illumination, Luxurious Tea Time
The Wakura Onsen Tourist Association is sponsoring a new project to illuminate Seirinji Temple, a nationally registered cultural property. Along with this light show, guests can enjoy a luxurious tea time starting on January 8, 2022. This year, the pavilion and garden will be lit up again, and the entrance will be decorated with traditional local paper lanterns. 
The historic property was built in 1909 as a resting place for Emperor Taisho. Only two such buildings exist in Japan: one in Hamada City, Shimane Prefecture, and the other at Wakura Onsen. Both were registered as Tangible Cultural Properties of Japan in 2017. 
Last year, the area was photographed for posters and pamphlets as part of the 'Japanese Beauty Hokuriku' campaign organized by JR East, JR West, and the Central JR Railway.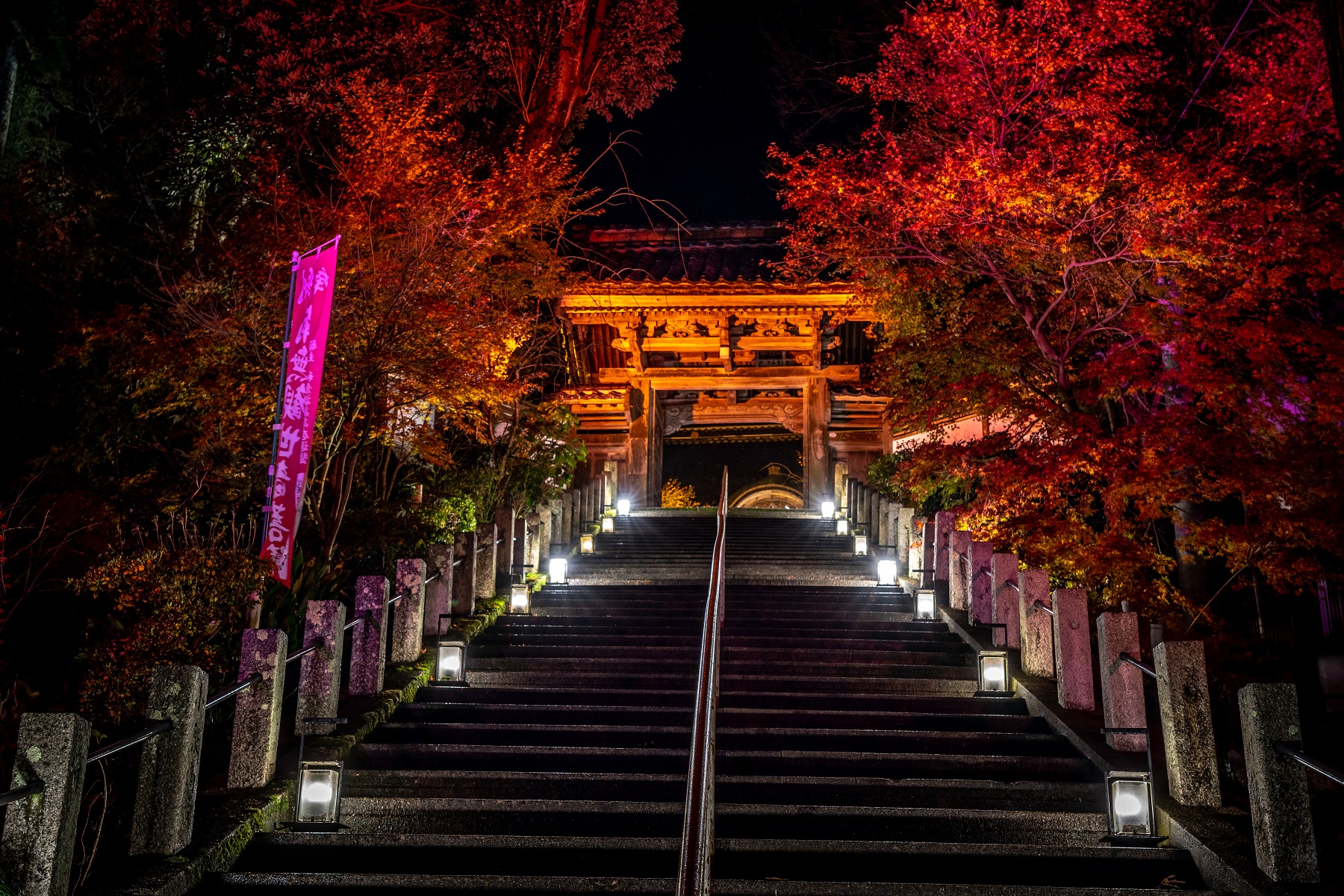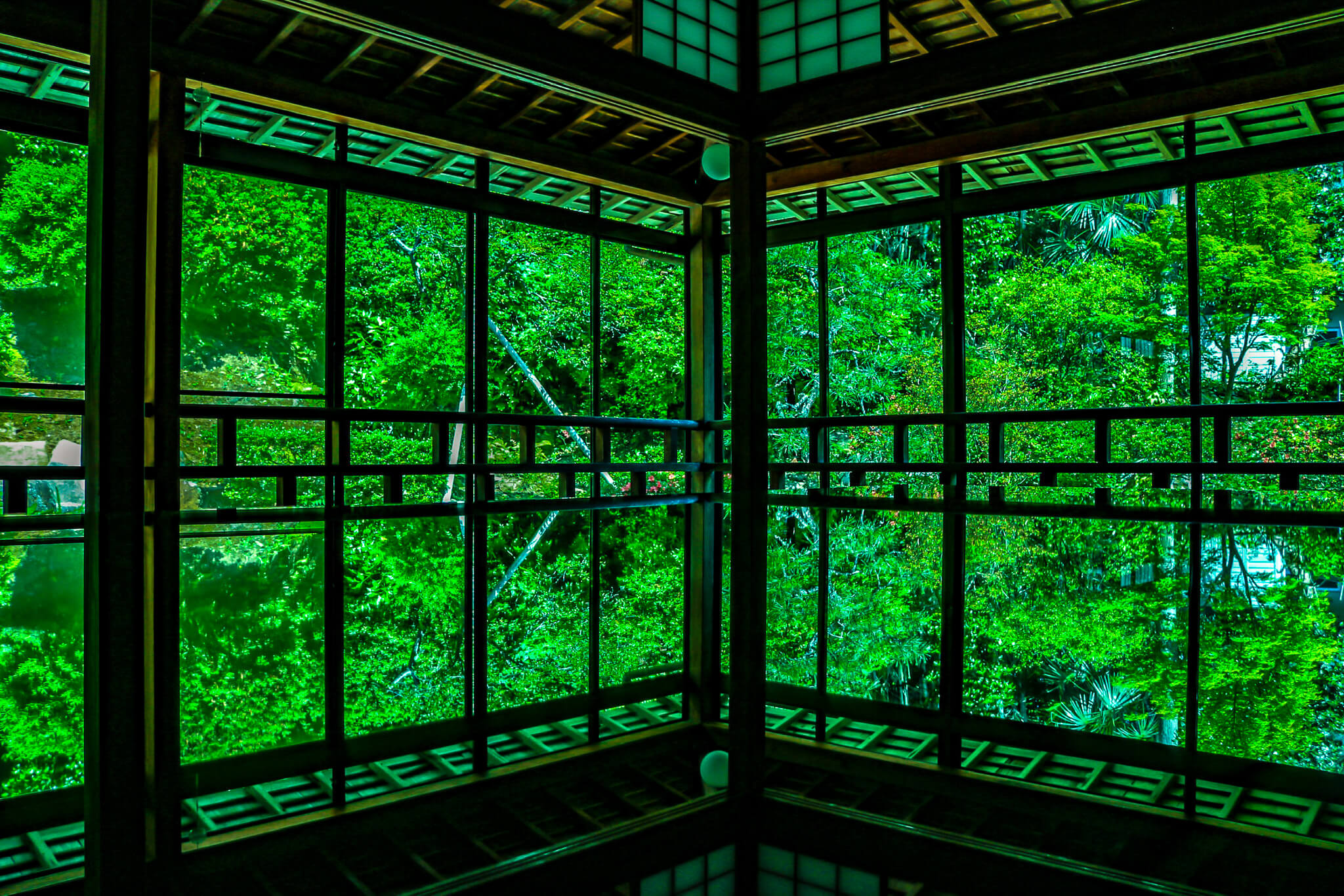 Each Saturday evening through February 26, guests will be invited to enjoy a different kind of atmosphere while enjoying a very fancy tea time. The program has been very well received by visitors, so it shouldn't be missed!

The light-up of the temple and garden, with its slowly changing colors, will transport guests to another world. The entrance to Seirinji Temple will be redecorated and lit up, and a pathway of lights will be created from the gate to the entrance of the pavilion using paper lanterns.
Information
Seirinji Temple Illuminations & Luxury Tea Time
Running: Saturdays from January 8 – February 26, 2022 
First Seating: 17:00  
Second Seating: 18:00
Address: Seirinji Temple, Wakura Onsen (61 Wakuramachi, Nanao, Ishikawa)
*Available for guests of Wakura Onsen
Official Site: https://www.wakura.or.jp
RELATED ENTRIES
Kansai's Largest Illumination Event to Start Third Phase on October 8

The third phase of the popular illumination event at the English Garden Rosa & Berry Tawada will be held from October 8, 2022 until February 12, 2023! One of the largest light-up events in the Kansai region, this year's theme is 'Evolutionary Lights!' 

Let Time Pass in The Golden Forest

Visitors will be welcomed into a glorious forest of golden lights as they arrive in the main area. 

The clock tower rises in the center, and the spectacular production begins at the start of nightfall when the tower itself begins to glow and 100 trees are enveloped in golden light.




The White and Silver Garden of the Fairies

The area has undergone a major transformation, from the warm European-inspired colors of last year's event to a mysterious silvery-white color scheme. Visitors can also enjoy the popular light-up experience Miraculous Blue Roses and the Seven-Colored Prayer Tree.

※Details: Lights and effects are triggered in response to the sound of bells rung by visitors and special pedals stepped on as they explore the event.

Shaun the Sheep Area

A special Christmas display inspired by the new Shaun the Sheep movie, releasing in December 2022, will be on display.

*Images of the special display will be available in mid-September.

​SHAUN THE SHEEP AND SHAUN'S IMAGE ARE ™ AARDMAN ANIMATIONS LTD. 2022

Galactic Express Milky Way

The Milky Way is said to be a magnificent shade of blue. The Milky Way Galaxy Railroad, which requires a separate fee, runs through the area, inviting guests to explore a sea of stars. Why not take a trip through this glittering world of lights while taking some incredible photos?

Why not visit this incredible sea of lights this winter?

Information

Rosa & Berry Illumination 2022-2023 – Evolutionary Lights

Running: October 8, 2022 – February 12, 2023 *Closed on Tuesdays
Hours: 17:30-21:00 *Subject to change depending on the season
Venue: English Garden Rosa & Berry Tawada (Maibara, Shiga)

Official Site: https://www.rb-illumi.com/

Sumikko Gurashi Characters Appear at Lake Sagami Pleasure Forest

From November 12, 2022, until April 2, 2023, visitors to Lake Sagami Pleasure Forest in Kanagawa Prefecture will be able to enjoy an incredible light-up event featuring Sumikko Gurashi characters! The outdoor resort is only an hour from Tokyo and won't disappoint.


A World First! Illuminated Sumikko Gurashi Area

Visitors can enjoy riding the 250-meter-long Rainbow Lift for an aerial walk above the millions of lights. The adorable Sumikko Gurashi characters will be waiting for guests in a special themed area.

Goods Featuring Original Illustrations Available–with a Collab Menu!

The event will also offer goods decorated with newly-drawn art inspired by the Lake Sagami lights, with Sumikko and her friends enjoying the show. Along with merchandise, guests will also be invited to sample collaboration food and drinks at the park's restaurant Wild Dining. Each dish will also come with a bonus!

Come enjoy these incredible lights along with everyone's favorite Sumikko characters! With 6 million lights on display, this is one of the largest in the Kanto area. More details will be coming soon, so keep an eye out!

Information

Sumikko Gurashi x Lake Sagami Illumination

Running: November 12, 2022 – April 2, 2023

Special Site:

NAKED Exhibition Inspired by Tea Master Sen no Rikyu Opens at 21st Century Museum of Contemporary Art in Kanazawa

NAKED's newest work, inspired by Sen no Rikyu, has opened at the 21st Century Museum of Contemporary Art in Kanazawa! The exhibition will run through September 3 and blends physical art pieces found in the museum with the Metaverse. 

NAKED's first exhibition at this popular Kanazawa Museum brings visitors a modern version of chanoyu, or the 'Way of Tea.' This year marks the 500th birthday of Sen no Rikyu, a historical figure who had a significant influence on the tea ceremony still found in Japan today. NAKED wants to honor his contribution to shaping this massive part of Japanese culture. Visitors are invited to a traditional tea ceremony room, but the experience itself has been modernized by NAKED. This unprecedented art exhibition allows both those who know nothing about Sen no Rikyu and those who know him well to experience his philosophy and aesthetics in an entirely new way.

Gate: Greetings from the Master

Open-air: The Crossroads of this Transient World

Wash Basin: Where the Four Seasons Float

Dry Landscape Garden: The Teachings of Rikyu

Tea Whisk: "Make a Good Tea for your Guest."

Hanging Scroll: The Master's Memories

Small Room: Evolution

Tearoom: The End and the Beginning

NAKED Fuji Canele

Tsukubai, or a low stone basin filled with water, is used to cleanse the hands before entering a tearoom. Using interactive art, the water's surface is covered in digital flowers that blossom when a guest's hands pass over the basin. 

In the 'Small Room: Evolution' area, guests will find the Sustainable Contemporary Golden Tearoom, which was created by NAKED staff together with sixth graders using golden trash collected at Kanazawa University Elementary School. The calligraphy on display in the tearoom was also done by children, with the best creations selected to be included in the exhibition. The scent was produced by EarthRing, an aroma brand located in Hakusan, Ishikawa Prefecture. The 'Tea Whisk' area offers a unique experience for all five senses, including the scent of matcha, which guests can smell when they mimic the act of prepping tea. 

In addition, guests can purchase special NAKED Fuji Canele and a Kutani ware Original Tumbler with special tea-inspired motifs. The Canele is a triple collaboration with Fukumitsuya, the oldest sake brewery in Kanazawa, so don't miss out!

Information

NAKED Meets Sen no Rikyu

Venue: 21st Century Museum of Contemporary Art, Kanazawa, Civic Gallery B
(1-2-1 Hirosaka, Kanazawa, Ishikawa)

Running: August 6 – September 3, 2022
*For more information about tickets, please visit the official website.
Tickets / Details: https://meets.naked.works/kanazawa21/

Light and Shadow 2022 Event at Hotel Gajoen Tokyo Attracts Over 10,000 Visitors

Hotel Gajoen Tokyo, which blends a hotel and a traditional Japanese museum, is celebrating summer in the spookiest way possible. From July 2 until September 25, guests can enjoy the 'Wa no Akari x Hyakudan Kaidan 2022 ~Light and Shadow: 100 Stories~' event, inspired by the tradition of telling ghost stories in summer to send a chill down your spine. Since opening, over 10,000 visitors have come to experience this once-in-a-lifetime event. 

Each of the seven exhibition areas is connected to the stairway, and each has its own theme pulled from the overarching theme of light and darkness. From Light of Passion to Midnight Light, guests will be surrounded on all sides. As you ascend the stairs, a festive atmosphere transforms into a more frightening one. Although the ghosts are out to play, guests are welcome to enjoy the many art pieces and crafts on display. 

Sokyu Room / Lights of Passion

This Kabuki stage is filled with the passion of women who are addicted to love, a common theme in many traditional plays. The eye-catching Japanese umbrellas and lanterns will no doubt leave an impression, and the wistful music is titled Red Thread. The tale depicted here tells the story of a woman who becomes a haunting specter clad in flames of passion, sobbing and laughing in time with the song. 

Still Water Room / Inverted Light

The three trees crowned with horse heads were created by the artist Eros Nakazato. Guests will feel as though they've been transported to the middle of a meadow as they explore this fantastical room covered in traditional paintings. In the work The Reverse of the Reverse, there are no wild horses on the earth, and those who have been tamed by humans sway in a beautiful and sad way. To make this scarier, the story has been reimagined as guests look through a crystal ball–now, humans are ruled by horses

Starlight Room / Midnight Light

Passing through a corridor of suspiciously flickering yokai lanterns, you will find that the clock has struck midnight. In the darkness, as most humans are asleep, specters are having a lively party. Playful cats dance and play and a number of artistic works by contemporary artists are on display. The music played fuses Japanese and ethnic instruments, some of which are interspersed with the voices of creatures of the night.

Experience this immersive art experience that will delight all five senses through light and shadows while you can!

Information

Wa no Akari x Hyakudan Kaidan 2022 ~Light and Shadow: 100 Stories~

Running: July 2 – September 25, 2022

Hours: 11:30-18:00 (Last entry at 17:30) *Closing at 17:00 on August 20 (Last entry at 16:30)

Venue: Hotel Gajoen Tokyo Hyakudan Staircase (Tangible Cultural Property Designated by the Tokyo Metropolitan Government)

Tickets/Details: https://www.hotelgajoen-tokyo.com/100event/wanoakari2022

Official Site: https://www.hotelgajoen-tokyo.com/

Nanao City in Ishikawa Prefecture Holds Kimi wa Hokago Insomnia Manga Event

In 2023, an anime adaptation of the manga series Kimi wa Hokago Insomnia will air on television. During the Nanao Port Festival held on July 17 in Nanao City, Ishikawa Prefecture, fans were treated to tons of artwork and collaboration visuals. After all, the series takes place in Nanao City! Over 1,500 flyers for the show were handed out in under two hours, and the local community was thrilled to know that such a popular anime series would bring more attention to the town.

As part of the collaboration between Kimi wa Hokago Insomnia and Nanao City, an exhibition will be held featuring 30 reproductions from the original manga manuscript and some original anime drawings!


The exhibition will be held from August 10 until September 25 at Patria, located directly in front of Nanao Station and prominently featured in the series. Admission is free and reservations are not required, so fans should consider coming to check it out!

 

Kimi wa Hokago Insomnia is the latest work by Makoto Ojiro. Set in Nanao City, the coming-of-age story follows Ganta Nakami, a high school boy suffering from insomnia, and Isaki Magari, a girl with the same issue. The manga is serialized in Weekly Big Comic Spirits.


Kimi wa Hokago Insomnia will receive an anime adaptation in 2023, and a live-action film is also in the works. The first trailer for the anime series has been released, so be sure to give it a watch!

©オジロマコト・小学館/アニメ「君ソム」製作委員会

Hotel Gajoen Tokyo Opens Artistic Summer Ghost Story Event

Hotel Gajoen Tokyo, which blends a hotel and a traditional Japanese museum, is celebrating summer in the spookiest way possible. From July 2 until September 25, guests can enjoy the 'Wa no Akari x Hyakudan Kaidan 2022 ~Light and Shadow: 100 Stories~' event, inspired by the tradition of telling ghost stories in summer to send a chill down your spine. The art illumination exhibition promises to be a once-in-a-lifetime experience.

Jounen no Akari (Lights of Passion)

Bamboo Lights

Without light, there are no shadows. In this exhibition, light and shadow complement one another, portraying the popular 100 ghost stories in a new way. Last year's event received critical acclaim as guests found themselves moving breathlessly from room to room, exploring the many incredible pieces put on display. Along the dusk-lit promenade, goldfish lanterns lead guests to the start of their mysterious adventure. The atmosphere changes from room to room, with bamboo lights and shadows surrounding you from all sides. 

An Immersive Light Art Space

Odawara Wind Chimes at Dusk

Luxurious Cherry Blossom Hairpins

Glass Lamp, Iroshita Studio

Flower Arrangement, Rikou Otsuka

As you ascend the stairs, a festive atmosphere transforms into a more frightening one. Although the ghosts are out to play, guests are welcome to enjoy the many art pieces and crafts on display, from flower arrangements by master ikebana artist Rikou Otsuka and sculptures by some of Japan's most influential traditional creators. 

Enjoy Traditional Summer Ghost Stories with Light Art

Ghost Lanterns

Born from the Earth, Yasumaro Ozawa

Byakko, Yuji Nishijima

Inverted Light, Eros Nakazato

Mysterious music will drift through the air, making guests feel as though they've been transported into another world. The eerie space is lit by Ghost Lanterns made by a 200-year-old company in Fukuoka, and the venue is decorated with art blending ukiyo-e with contemporary styles. 

Culture and Crafts from Around Japan

Paper Lanterns from Ise

Bamboo Lights, Akarinowa

3D Knit Lights

Paper Fireworks

Summer fireworks have been recreated in colorful paper form by an artist in Nagaoka, Niigata Prefecture, and materials found in a neglected bamboo grove in Shizuoka Prefecture were used to create the many iconic lights seen throughout the unique exhibition. Local craftsmen are at the heart of the event, with pieces brought in from areas all around Japan.

Wa no Akari Room

A concept room featuring gently flickering lights and lanterns is available to book for a limited time. Why not come spend your summer in this otherworldly atmosphere?

Information

Wa no Akari x Hyakudan Kaidan 2022 ~Light and Shadow: 100 Stories~

Running: July 2 – September 25, 2022

Hours: 11:30-18:00 (Last entry at 17:30) *Closing at 17:00 on August 20 (Last entry at 16:30)

Venue: Hotel Gajoen Tokyo Hyakudan Staircase (Tangible Cultural Property Designated by the Tokyo Metropolitan Government)

Tickets/Details: https://www.hotelgajoen-tokyo.com/100event/wanoakari2022

Wa no Akari Room

Available: July 2 – August 31, 2022 (1 room available per day)
Details/Reservations: https://www.hotelgajoen-tokyo.com/stay/plan

Laid-Back Camp Tea Now Available in Limited Quantities

Kimikura, a specialty tea shop in Shizuoka Prefecture, is collaborating with Laid-Back Camp Season 2! Fans will be able to purchase Kimikura's popular green tea in limited edition packaging showing Rin Shima enjoying a piping hot cup. This limited edition item will be available at the Kimikura online store and Kimikura's physical shops starting July 8, 2022. 

The high-quality Kakegawa tea is made from leaves picked after 88 nights and has a lovely mellow fragrance and a full-bodied flavor.


This is the third collaboration with Laid-Back Camp, and fans of the series or Rin won't want to miss it.

Why not rewatch Laid-Back Camp with a nice cup of this tasty tea?

Information

Kimikura's Retreat

Release Date: July 8, 2022

Green Tea (Produced in Shizuoka Prefecture)

Available in limited quantities

Where to Buy: Kimikura Online Shop (https://kimikura.online/item/7078)

Kimikura Main Store, Kimikura Shizuoka Gofukucho Shop, KIMURACAFE

Nissy (Takahiro Nishijima) Announces New Song, Tokyo Tower Collaboration

Nissy (Takahiro Nishijima) has announced that his new song, I Need You, will be released digitally on July 7, 2022. The jacket cover has also been revealed.

This love song depicts how it feels to warmly live each day with the person you care about. It's a relaxed mid-tempo number, a far cry from the cool sound heard on Nissy's third album HOCUS POCUS 3.

In addition, Nissy will also be collaborating with Tokyo Tower's popular summer event, the Milky Way Illumination. Approximately 21,000 LED bulbs found on the first floor of the main deck, a stunning 150 meters above Tokyo, will change color periodically to match the beat of the new song I Need You.

Along with the new track, Nissy will also be embarking on a five-dome tour, so keep an eye on his activities going forward!

ⓒTOKYO TOWER

Information

I Need You – Nissy
Streaming Release Date: July 7, 2022

Tokyo Tower Milky Way Illumination x Nissy Special Collaboration
Running: July 4 – August 16, 2022
*The Milky Way Illumination will take place from June 17 until September 4.
Address: Tokyo Tower Main Deck 1F North Floor (Towards the Imperial Palace/Marunouchi)
Light-up Hours: 9:30-22:00 (Until 22:30 on Saturdays) 

Details: https://www.tokyotower.co.jp/event/illumination/2022-amanogawa-illumination/

Official Site: https://nissy.jp

NAKED's Popular Night Walk Returns to Illuminate Jozankei Onsen in Hokkaido

The JOZANKEI NATURE LUMINARIE -WATER LIGHT VALLEY- event is coming back in 2022! The event, which shows off the natural beauty of Jozankei's rivers, valleys, and forests, from June to October. Guests can enjoy an illuminated walk along the Toyohira River in the Jozankei area of Hokkaido and wander across the picturesque Futami Suspension Bridge. 

 

This year, the park area at the entrance to the event has been redesigned with new lights. A 2.5-meter-high blue dome will welcome guests with an image of water, and the trees and wisteria trellises will be decorated with twinkling golden lights.

Welcome Light Lake *Image from 2021

River Road

Forest Water Ripple

Nature Projection

Futami Valley

Visitors will encounter a variety of unique light art as they stroll through the rich nature of Jozankei guided by the elusive kappa, known to be the guardian Gods of the region. As visitors approach, the river begins to glow while flowers bloom in this interactive art experience. By using projection mapping across the Futami Suspension Bridge and an all-encompassing light show within the canyon, the event hopes to remind visitors that nature is important and worth preserving. 

How would you like to spend your summer deep in the illuminated nature of Hokkaido?

Information

JOZANKEI NATURE LUMINARIE – WATER LIGHT VALLEY

Address: Jozankei Futami Park – Futami Suspension Bridge
(Jozankei Onsen Nishi 4-chome, Minami-ku, Sapporo, Hokkaido)

Running: June 1 – October 23, 2022
Hours:
June – August: 19:00-21:00
September – October: 18:00-21:00

*Tickets available for guests of Jozankei Onsen only
Official Site: https://jozankei.jp/jozankei-nature-luminarie

Tea Ceremony Brand Saron Launches Customizable Matcha Shaved Ice for a Limited Time

Nara-based tea ceremony brand Saron is serving up a tasty treat perfect for the warm weather! White shaved ice with dark matcha topping is now available until mid-September, and guests are invited to adjust the taste by altering the amount of tea added.

Lately, Nara has been experiencing a major shaved ice boom. Inspired by Himuro Shrine, known for housing a guardian deity of ice, the city introduces plenty of created recipes for the summer treats each year. The tea ceremony brand Saron was founded by Nakagawa Masashichi Shouten, in business since the Edo period–so it's safe to say that the company knows what they're talking about!

Guests can enjoy shaved ice made from pure Yamato ice, which is frozen for 72 hours, gently shaved, and topped with Nara's Kasiya sweet bean paste, shiratama, agar, and condensed milk that has been boiled for four hours. 

To finish off this luxurious dish, guests can add koicha, a thick matcha tea with concentrated flavor and incredible sweetness and depth. Polished twice as much as typical matcha, this is a taste you'll never forget.

Why not come enjoy this traditional Japanese sweet this summer?

Information

Saron – White Shaved Ice with Dark Matcha Topping

Available: May 11 – mid-September

Where to Buy: Saron Nara (31-1 Ganriincho, Nara)

Official Site: https://salon-tea.jp/

Yunohana Onsen Resort Reveals Contemporary Art-Inspired Guest Rooms

Sumiya Kihoan, a cozy inn at Yunohana Onsen in Kameoka City in Kyoto, opened a unique new guest room on April 28, 2022. The room's concept is "where guests can stay in the middle of contemporary art," and was inspired by the works of internationally-acclaimed contemporary artist Yukinori Yanagi. The new room, created as part of the Art Room Project, has been named 'Kofuu.'

The Icarus Corridor Connecting Heaven and Earth

Heavenly Bath Welcoming a Rainbow at Dusk

In-Ground Bath Featuring Oribe Glazed Ceramic

Concept Drawing of the Art Room Project by Yukinori Yanagi


The new room includes an open-air bath where guests can be transported into the world of Yanagi's contemporary art while gazing at the gorgeous Kyoto landscape. Upon entering the inn, guests are greeted by a long corridor leading to the bedrooms, dining room, and two creative open-air baths. The space was created in collaboration with Yanagi and local artists and craftsmen, such as potter Ishii Naoto, obi craftsman Yamaguchi Genbei X, plasterer Kusumi Akira, and Japanese paper craftsman Hatano Wakaru. A delicious menu is prepared by chef Hosoi Kunihiko.

The Royal Park Hotel Iconic Kyoto to Offer Immersive Meditation Rooms

The pandemic has caused problems for people all over the world. Mental health has taken a beating over the last few years, and in order to help people take back control of their mental wellness, The Royal Park Hotel Iconic Kyoto will begin offering immersive meditation rooms for guests only! These rooms will allow guests to enjoy a soothing private space and will be available starting April 1, 2022.

Blank meditation 

tea mediation 

The Medicha meditation rooms consist of two spaces: 'blank,' where guests are surrounded by mist, and 'tea,' where guests will immerse themselves in beautiful water patterns. An original program shown on in-room televisions at the hotel will also instruct guests in the art of meditation. 

In 'Blank Meditation,' guests will stand in a cool mist and immerse themselves in layers of diverse sounds and shifting colors of light. This will help quiet the mind and create a 'blank slate' mentally. 

The 'Tea Meditation' room invites visitors to spend time with themselves while getting lost in shimmering water patterns in a dimly lit space as they carefully brew their own tea. Two types of tea are on offer, each with distinct aromas and flavors.