Wakura Onsen in Ishikawa Prefecture to Hold Special Illumination, Luxurious Tea Time
The Wakura Onsen Tourist Association is sponsoring a new project to illuminate Seirinji Temple, a nationally registered cultural property. Along with this light show, guests can enjoy a luxurious tea time starting on January 8, 2022. This year, the pavilion and garden will be lit up again, and the entrance will be decorated with traditional local paper lanterns. 
The historic property was built in 1909 as a resting place for Emperor Taisho. Only two such buildings exist in Japan: one in Hamada City, Shimane Prefecture, and the other at Wakura Onsen. Both were registered as Tangible Cultural Properties of Japan in 2017. 
Last year, the area was photographed for posters and pamphlets as part of the 'Japanese Beauty Hokuriku' campaign organized by JR East, JR West, and the Central JR Railway.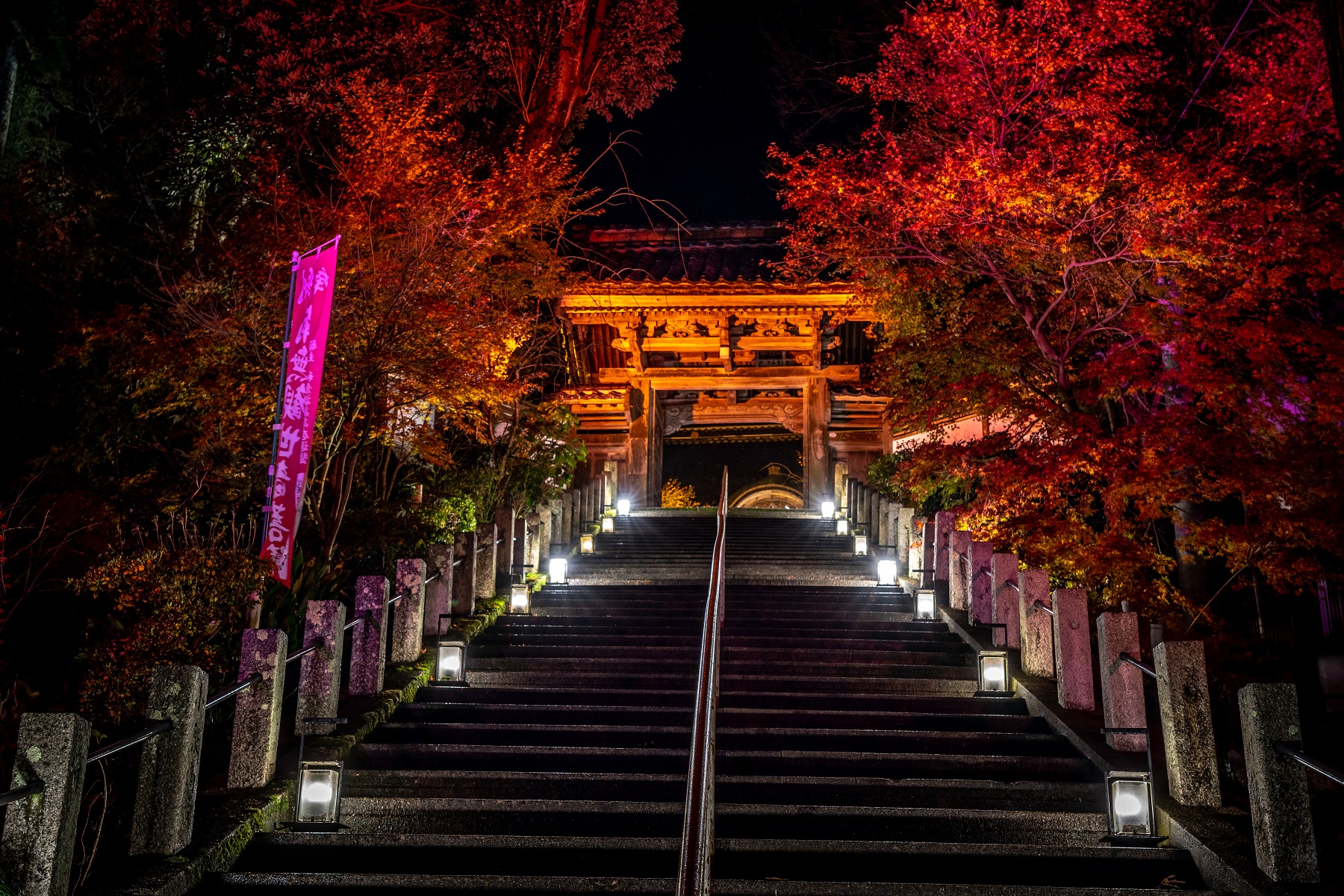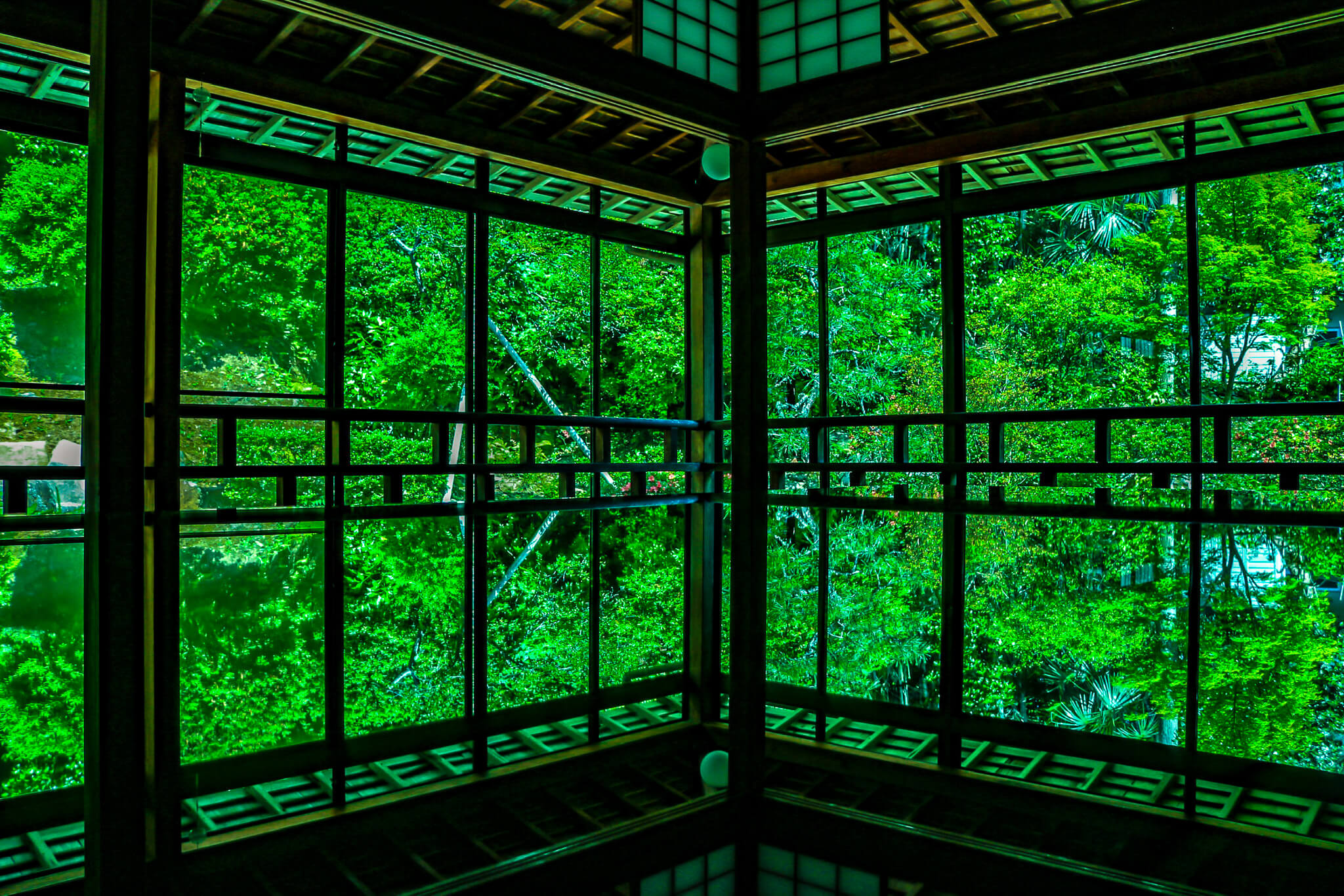 Each Saturday evening through February 26, guests will be invited to enjoy a different kind of atmosphere while enjoying a very fancy tea time. The program has been very well received by visitors, so it shouldn't be missed!

The light-up of the temple and garden, with its slowly changing colors, will transport guests to another world. The entrance to Seirinji Temple will be redecorated and lit up, and a pathway of lights will be created from the gate to the entrance of the pavilion using paper lanterns.
Information
Seirinji Temple Illuminations & Luxury Tea Time
Running: Saturdays from January 8 – February 26, 2022 
First Seating: 17:00  
Second Seating: 18:00
Address: Seirinji Temple, Wakura Onsen (61 Wakuramachi, Nanao, Ishikawa)
*Available for guests of Wakura Onsen
Official Site: https://www.wakura.or.jp
RELATED ENTRIES
Tea Ceremony Brand Saron Launches Customizable Matcha Shaved Ice for a Limited Time

Nara-based tea ceremony brand Saron is serving up a tasty treat perfect for the warm weather! White shaved ice with dark matcha topping is now available until mid-September, and guests are invited to adjust the taste by altering the amount of tea added.

Lately, Nara has been experiencing a major shaved ice boom. Inspired by Himuro Shrine, known for housing a guardian deity of ice, the city introduces plenty of created recipes for the summer treats each year. The tea ceremony brand Saron was founded by Nakagawa Masashichi Shouten, in business since the Edo period–so it's safe to say that the company knows what they're talking about!

Guests can enjoy shaved ice made from pure Yamato ice, which is frozen for 72 hours, gently shaved, and topped with Nara's Kasiya sweet bean paste, shiratama, agar, and condensed milk that has been boiled for four hours. 

To finish off this luxurious dish, guests can add koicha, a thick matcha tea with concentrated flavor and incredible sweetness and depth. Polished twice as much as typical matcha, this is a taste you'll never forget.

Why not come enjoy this traditional Japanese sweet this summer?

Information

Saron – White Shaved Ice with Dark Matcha Topping

Available: May 11 – mid-September

Where to Buy: Saron Nara (31-1 Ganriincho, Nara)

Official Site: https://salon-tea.jp/

Yunohana Onsen Resort Reveals Contemporary Art-Inspired Guest Rooms

Sumiya Kihoan, a cozy inn at Yunohana Onsen in Kameoka City in Kyoto, opened a unique new guest room on April 28, 2022. The room's concept is "where guests can stay in the middle of contemporary art," and was inspired by the works of internationally-acclaimed contemporary artist Yukinori Yanagi. The new room, created as part of the Art Room Project, has been named 'Kofuu.'

The Icarus Corridor Connecting Heaven and Earth

Heavenly Bath Welcoming a Rainbow at Dusk

In-Ground Bath Featuring Oribe Glazed Ceramic

Concept Drawing of the Art Room Project by Yukinori Yanagi


The new room includes an open-air bath where guests can be transported into the world of Yanagi's contemporary art while gazing at the gorgeous Kyoto landscape. Upon entering the inn, guests are greeted by a long corridor leading to the bedrooms, dining room, and two creative open-air baths. The space was created in collaboration with Yanagi and local artists and craftsmen, such as potter Ishii Naoto, obi craftsman Yamaguchi Genbei X, plasterer Kusumi Akira, and Japanese paper craftsman Hatano Wakaru. A delicious menu is prepared by chef Hosoi Kunihiko.

The Royal Park Hotel Iconic Kyoto to Offer Immersive Meditation Rooms

The pandemic has caused problems for people all over the world. Mental health has taken a beating over the last few years, and in order to help people take back control of their mental wellness, The Royal Park Hotel Iconic Kyoto will begin offering immersive meditation rooms for guests only! These rooms will allow guests to enjoy a soothing private space and will be available starting April 1, 2022.

Blank meditation 

tea mediation 

The Medicha meditation rooms consist of two spaces: 'blank,' where guests are surrounded by mist, and 'tea,' where guests will immerse themselves in beautiful water patterns. An original program shown on in-room televisions at the hotel will also instruct guests in the art of meditation. 

In 'Blank Meditation,' guests will stand in a cool mist and immerse themselves in layers of diverse sounds and shifting colors of light. This will help quiet the mind and create a 'blank slate' mentally. 

The 'Tea Meditation' room invites visitors to spend time with themselves while getting lost in shimmering water patterns in a dimly lit space as they carefully brew their own tea. Two types of tea are on offer, each with distinct aromas and flavors.


 

UNDER WATER SPACE in Yokohama Illuminated in Cherry Blossom Colors for Spring

UNDER WATER SPACE, a limited-time aquarium space event located at Yokohama World Porters, is lighting up a portion of the event space in gorgeous cherry blossom colors until April 10, 2022 to coincide with the 2022 cherry blossom season!

The pink-lit space and swimming fish give an entirely new feel to the UNDER WATER SPACE event. You won't want to miss experiencing this magical spring illumination! 

Information

Hanami Illumination

Running: April 1 – April 10, 2022

Aquarium Space Travel 'UNDER WATER SPACE'

Running until January 15, 2023

Hours: 10:30-21:00 (Last entry at 20:00)

Address: Yokohama World Porters 4F (2-2-1 Shinko, Naka-ku, Yokohama)
Tickets / Official Site: http://uws-yokohama.jp

Lake Biwa Canal's Cherry Blossoms to Come to Life During Spring Illumination 2022 Event

Lake Biwa Canal, one of the best places to see cherry blossoms in Shiga, will be completely illuminated each night from March 25 until April 10! The nearby Onjo-ji Temple will also be lit up during the duration of the event.

Lake Biwa, Otsu Spring Illumination – Cherry Blossoms on the Lake Biwa Canal

The Lake Biwa Canal carries water from the biggest lake in Japan to Kyoto and was built during the Meiji era using the best civil engineering technology of the time. Both sides of the bank are lined with almost 200 cherry trees, making it one of the most beautiful cherry blossom viewing spots with a spectacular view leading to Onjo-ji Temple.

Onjo-ji Spring Illumination 2022

Over 600 lights will be set up around the temple grounds to illuminate the cherry blossoms. The national treasures and designated cultural properties will be completely open to the public for nighttime viewing.


Information

Lake Biwa, Otsu Spring Illumination – Cherry Blossoms on the Lake Biwa Canal

Running: March 25 – April 10 (Dates may change depending on when cherry blossoms bloom)
Hours: 18:00 – 21:30
Location: Lake Biwa Canal
Sponsored by the Lake Biwako Otsu Tourism Association

Onjo-ji Spring Illumination 2022

Running: March 25 – April 10
Hours: 18:00 – 21:30 (Last Entry at 21:00)
Location: Onji-ji Temple
Admission: Adults ¥1,000 / Children ¥500
*Public transportation is recommended due to heavy congestion on surrounding roads during the event period.

HIBIYA BLOSSOM 2022 to Welcome Spring with Tokyo Midtown Hibiya Illumination

Tokyo Midtown Hibiya will hold HIBIYA BLOSSOM 2022 from March 25 until April 17, coloring the streets with luminescent spring flowers!

Massive floral decorations will be erected as part of the Hibiya Blossom Garden, and each will feature lights and music from classic films to bring the feeling of spring to the streets of Tokyo.

Running: March 25 – April 17, 2022
Light-up Hours: 18:00-23:00 (Special performances held every 10 minutes)
Location: Hibiya Step Plaza, Hibiya Step Plaza Grand Staircase

A selection of local stores will also participate in the Hibiya Blossom Flower Wagon project, which will take place on Sundays in April only.

As part of the Hibiya Blossom Gourmet project starting March 18, certain shops are also offering some tasty springtime treats. 

NAKED FLOWERS 2022 Cherry Blossom Exhibition to be Held at Nijo Castle in Kyoto

NAKED will open a new Cherry Blossom-inspired outdoor light-up event at Nijo Castle from March 18 until April 17, 2022!

The NAKED FLOWER interactive art exhibition has been held at Nijo Castle since 2018. In autumn, the leaves change color, and in spring, the cherry blossoms blooming at night around the castle combined with NAKED's art experience create a breaktasking experience like no other. 

This year, in addition to the projection mapping on the Karamon Gate, the largest-ever projection mapping of cherry blossoms will cover the entire 140-meter-long stone wall on the east side of the inner moat. Also, for the first time ever, the exhibition will add special effects that can only be seen in rainy weather. 

 

Information

NAKED FLOWERS 2022 Cherry Blossom Event at Nijo Castle
Location: Nijo Castle Imperial Villa
Running: March 18 – April 17, 2022
Hours: 18:00-21:00 (Grounds close at 22:00)
Official Site: https://flowers.naked.works/nijojo/

Enjoy an Open-Air Tea Ceremony with This New Collaboration Set

Established in 1716, Nara-based store Nakagawa Masashichi will release two types of open-air tea ceremony sets in limited quantities at its online store and select locations around Japan on April 6, 2022.

The last time the shop released these items in 2020, they sold out instantly. The set is a collaboration with Snow Peak, a manufacturer of high-quality outdoor goods, and Salon, a brand attempting to get more young people involved in tea ceremonies by injecting the tradition with a modern touch.

 

The coating around the light and strong titanium teacup is made of a sturdy cotton canvas often used in outdoor tools. Each of the eight items in the set were made with the ruggedness of nature in mind while also preserving traditional beauty. The double set is a new addition to the lineup and includes two tea bowls and two confectionary bowls to make entertaining others more simple.

Open-air tea ceremonies date back to the Muromachi period, and in the Sengoku period, it is said that tea was served in the mountains during the march of Toyotomi Hideyoshi. These ceremonies are traditionally less formal than the indoor version, so it's easier for those new to the experience to relax and enjoy!

Information

Single Open-Air Tea Ceremony Set / Double Open-Air Tea Ceremony Set
Release Date: April 6, 2022
Where to Buy:
Nakagawa Masashichi
Official Site: https://nakagawa-masashichi.jp/

Participating Stores: Sapporo Stellar Place / S-PAL Sendai / Shibuya / Tokyo Main Store / Terrace Mall Shonan / Futako Tamagawa Rise / Perie Chiba / OPA Takasaki / LUMINE Omiya / Nara Main Store / LUCUA 1100 /  Takashimaya Gate Tower Mall / Aeon Mall Okayama / AMU Plaza Hakata Citty / AMU Plaza Kumamoto

Snow Peak
Official Site: https://ec.snowpeak.co.jp/snowpeak/ja

Participating Stores: Snow Peak Headquarters / Snow Peak Land Station Harajuku / Snow Peak Land Station Hakuba / Snow Peak Land Station Kyoto Arashiyama


Matsumoto Castle Illumination Grand Finale Being Held for a Limited Time

The Matsumoto City Illumination 2021-2022 event will continue to run until the end of this month! Due to the popularity of the Matsumoto Castle Winter Illuminations, the Grand Finale will be held for seven days only from February 22 until February 28. Guests will enjoy eight different performances during this period!

Matsumoto City Illumination 2021-2022

Present

Past

Future

Christmas

New Year's

Ice Carving Festival

Valentine's Day

In addition to the past, present, and future effects, visitors will also be treated to four special seasonal effects: Christmas, New Year's, Valentine's Day, and an Ice Carving Festival-inspired illumination.

For the Christmas performance, Matsumoto Castle is lit up like a Christmas tree, with the lights flickering to the sound of bells. Fireworks light up the structure for the New Year, ice crystals dance for the Ice Carving Festival, and the color pink drenches the castle for Valentine's Day. Which effect do you like the most?

Information

Matsumoto City Illumination 2021-2022

Running until February 28, 2022
Location: Matsumoto Castle, Matsumoto Castle Gardens, Daimyomachi Street, Sensai Bridge
Free Admission
Official Site: http://matsumotoillumi.jp


Cherry Blossom Viewing Themed Café "Nintama Rantaro Chaya" to Open in Tokyo and Osaka

Two limited-time-offer collaboration cafés named "Nintama Rantaro Chaya" are coming to Tokyo and Osaka! The Tokyo location is now open, and the Osaka location is scheduled to open on February 18. Based on the long-running anime series Nintama Rantaro, this cafe invites guests to enjoy the falling cherry blossoms set to bloom in the spring. While the series hasn't found much popularity outside of Japan, it premiered in 1993, and continues to be a big hit with kids and adults alike!

Reservation Bonus: Original Sticker Sheet (3 varieties)

Drink Order Bonus: Original Coaster (20 varieties)

Menu

[Bento Team] Piping Hot Dashi Udon and Onigiri Bento Set

[Bento Team] Mountain & Seafood Bento

[Dumpling Team] Chicken Meatball Set

[Teahouse Team] Chouji & Isaku's Chazuke Set

Desserts

[Bento Team] Cherry Blossom Viewing Sweets Set

 [Dumpling Team] Two Peas in a Pod Anmitsu

 [Dumpling Team] Shaved Ice and Sweet Dango Set

 [Teahouse Team] Traditional Garden Plate

Drinks

Free Tea 

Shinbei's Dango Latte / Rantaro's Matcha Milk / Kirimaru's Shiny Lemon Soda

Fourth Grade Transforming Drink / Fifth Grade Purple Sweet Potato Milk Tea / Sixth Grade Matcha Lemonade

Original Merchandise

Pin (20 varieties, random)

Acrylic Keychain (20 varieties, random)

Acrylic Pin (20 varieties, random)

Acrylic Stand (Bento Team, Teahouse Team, Dumpling Team)

Clear Folder Set (Set of 3)

10-piece Sticker Set A, 10-piece Sticker Set B





The cafe menu has been divided into three 'teams': the Bento Team, the Dumpling Team, and the Teashop Team. Characters have been divided into these three teams, and many of the available dishes are based on everyone's favorite aspiring ninjas! Original merchandise and special offers will be available at the cafe as well, with the items featuring newly-drawn illustrations for the event.

©尼子騒兵衛/NHK・NEP

Information

Cafe Nintama Rantaro Chaya 2022

Location/Dates: 

Tokyo: 

BOX cafe&space Tokyo Solamachi / February 10 – April 3, 2022
Tokyo Skytree Town Solamachi 1F #8 (1-1-2 Oshiage, Sumida-ku, Tokyo)


Abeno-ku, Osaka:

Abeno contact / February 18 – March 27, 2022
Abeno Q's Mall 4F (1-6-1 Abenosuji, Abeno-ku, Osaka)

Reservations Now Available
Reservation Fee: ¥715 (Tax Included) *Includes bonus
Cafe Original Merchandise Available until April 3 at 23:59
https://nintama-cafe.jp/online_store 

Official Twitter: https://twitter.com/nntm_cafe (@nntm_cafe )

Official Site: https://nintama-cafe.jp/

Wako Tea Salon in Ginza Offering Seasonal Strawberry Parfait

Those familiar with the Ginza district of Tokyo will recognize the iconic Wako clock tower. The department store sells everything from watches to chocolates, and on the second floor of the Wako Annex, guests will find the Tea Salon. The bright and relaxing place invites adult shoppers to enjoy seasonal sweets, with its popular Strawberry Parfait constantly reinvented depending on the time of year.


This season's strawberry parfait includes pistachios and local fruit. For a limited time, guests can also enjoy the Lychee and Raspberry Parfait until the end of February. A Fruit Parfait is available in March and April, and the Chocolate Parfait is available year-round.

At the Wako Annex Tea Salon, visitors can also enjoy light meals alongside tea and coffee specially blended for Wako by Yoshiaki Kawashima, known as the 'coffee hunter.'

Strawberry Parfait

Lychee and Raspberry Parfait

Fruits Parfait

Chocolate Parfait


ティーサロンのメニューの中でも人気の高い、季節限定のパフェを堪能してみては?

Information

Wako Annex 2F Tea Salon

Address: 4-chome 4-8 Ginza, Chuo-ku, Tokyo
Open Year-Round (Except New Year holidays)
Hours: 10:30 – Last order at 19:00 (Last order at 18:30 on Sundays and holidays)
Access: Immediately in front of Ginza Station Exit B1 on Tokyo Metro
*Young children are not permitted in the restaurant.
Online Store: https://shop.wako.co.jp/
Official Site: https://www.wako.co.jp/


150-Year-Old Teahouse Releases Crayons Made from Discarded Tea Leaves

The domestic crowdfunding service Makuake has opened preorders for a unique new product: 'tea crayons,' made from tea leaves that would otherwise be thrown away. These will be available for purchase from January 31 until March 21, 2022, and a set of teas specially blended by tea masters will also be available to buy on the site. 

Hojicha (Roasted Green Tea): These leaves have a light brown color reminiscent of the color of a roasting fire.

Sencha (Green Leaf Tea): Asamiya, known as one of Japan's five most famous tea-producing areas, produces sencha exclusively. This yellow color is to be expected of the variety.

Kabusecha (Covered Tea): The pride of Tsuchiyama, these tea leaves are cultivated by covering the fields to produce a sweeter taste. Kabusecha is characterized by its vivid green color.

Gyokuro (High-Quality Green Tea): To produce this fine tea, the land is covered for more than 20 days in a very time-consuming process. Gyokuro has a strong, sweet flavor, and can be recognized by its darker green color.

Matcha (Powdered Green Tea): Matcha from Shiga Prefecture is not very well known throughout Japan, but it is extremely tasty and is popular in tea ceremonies. It also has a beautiful dark green color.

Yasuharu Maeno, a tea master, includes the names of each region and species of tea leaves used.