THE STRINGS Omotesando Offering Authentic Strawberry Afternoon Tea to Enjoy at Home
THE STRINGS Omotesando is now selling the 'STRINGS Take-out Strawberry Afternoon Tea' at the ZelkovA Cake Boutique until March 2, 2022.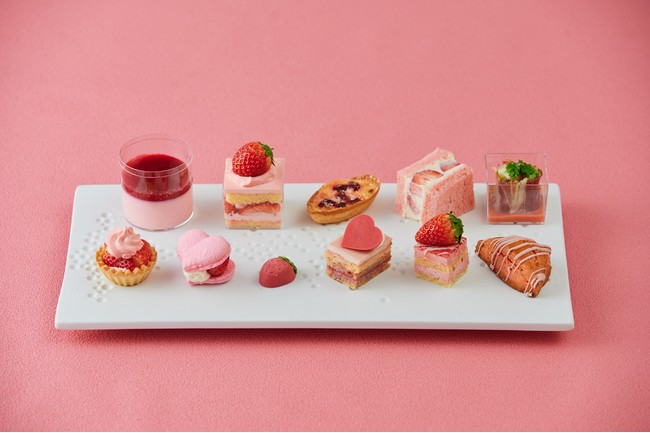 The original take-out box can be transformed into a three-tiered afternoon tea stand, featuring a gorgeous array of sweets studded with sweet and sour strawberries. Everything from strawberry shortcake with its cute pink cream, mousse, tarts, panna cotta, and sandwiches are included.

Each person will also enjoy two kinds of tea from TWG Tea, a luxury tea brand from Singapore.
RELATED ENTRIES
Unique Summer Afternoon Tea Available at Haute Couture Cafe in Tokyo

Located along the Meguro River, Haute Couture Cafe is known for serving up some of the best afternoon tea in Tokyo. The location is incredibly photogenic and often pops up on social media, covered in flowers welcoming guests to what feels like a fairy tale land. From July 1 until September 4, visitors to the cafe can enjoy a Peach and Shine Muscat Afternoon Tea set, perfect for summer and incorporating seasonal fruits. 

The fresh peaches and shine muscat (a type of luxurious grape found in Japan) are delivered from a nearby market daily. By using peaches without heating them, such as in the compote, guests can enjoy the juiciness of the raw fruit in a new way.

The lineup of delicately prepared and hearty savory dishes includes Peach and Prosciutto Cappellini, and guests wanting to enjoy more can order this as a lunch or dinner course as well. There are six courses in total, including the fresh-squeezed grape and muscat Mont Blanc plan and a Peach Cheesecake plan with a drink included. The cafe also offers anniversary plans, so why not bring your sweetheart?

The theme of this summer afternoon tea is 'an adorable purple space.' Guests will be surrounded by light purple wisteria as they enjoy this colorful spread.

Why not enjoy this summer treat as you look out over the river? 

Popular Snack Tabekko Doubutsu Inspires Collaboration Cafe in Omotesando

A new concept cafe for the popular snack Tabekko Doubutsu will be opening in Omotesando for a limited time, from July 5 until August 21. The snack is similar to animal crackers in the west, though these little creatures are a little cuter.

Korean-style Macaron Set

Tabekko Doubutsu Cafe – Omotesando Goods Set (4 varieties)

Tabekko Doubutsu Cafe – Omotesando Mini Drawstring Pouch (9 varieties)

Tabekko Doubutsu has been hugely popular with young children and adults alike since the snack was first released in 1978. Guests visiting the collaboration cafe can enjoy themed sweets and new merchandise along with a special photo spot perfect for social media!

Blue Afternoon Tea Ready to Bring Happiness to June Brides in Aoyama, Tokyo

The Vino Buono Restaurant, located just across the street from the Aoyama St. Grace Cathedral, will offer a special blue-themed afternoon tea set from June 1 until July 31, 2022. The blue theme is meant to bring happiness, and guests will be able to enjoy treats inspired by the deep blue sea.

The summer lineup includes a grapefruit-flavored ocean jelly topped with meringue coral, lemon-flavored macaroons in the shape of pearl oysters, coconut mousse, a galette resembling a mussel, and other ocean blue and crashing wave white-colored sweets with coral and shell motifs. Seafood-infused savory treats such as smoked salmon sandwiches on croissants and seaweed salt french fries will also be served. Guests can also enjoy two types of scones as well as unlimited black and herbal tea.



An old European legend claims that women getting married in June will always be happy. During this wonderful wedding season, why not come enjoy a romantic afternoon tea experience?

Conrad Tokyo Hotel to Offer Peach Afternoon Tea in Collaboration with Luxury Brand Wedgwood

Starting July 1, guests visiting the five-star Conrad Tokyo hotel can enjoy a new peach-filled afternoon tea menu for a limited time. Designed in collaboration with the British luxury brand Wedgwood, the lineup includes both savory and sweet items perfect for summer. The afternoon tea will be available on the 28th floor at the aptly named Twenty Eight Bar and Lounge.

In collaboration with Wedgwood, a 260-year-old porcelain and fine china brand used by the British royal family, this special service will feature an afternoon tea plate with a tempting array of sweets. The plate itself is from Wedgwood's world-renowned Gio collection and features a honeycomb pattern embossed on fine bone china. The contrast between the modern setting, the classic and refined shape of the white tableware, and the beautiful pink treats will come together to create the most memorable summer moment imaginable.

Coconut & Earl Grey Panna Cotta / Rose Jelly / Peach Compote

Wine and Peach Gelatin / Vanilla Mousse

White Peach Mousse / Raspberry Gelatin

White Peach and Soy Milk Sandwich

Apricot Tart / Peach Cream

Peach Soup / Lobster Consomme Jelly

White Peach and Chicken Mousse Tart

Pork Rillettes and Peach Slider

Highlights from the sweets menu include coconut & Earl Grey Panna cotta served with rose jelly and peach compote, peach gelatin infused with red wine and vanilla mousse, and a delectable white peach and soy milk sandwich. For those with less of a sweet tooth, the afternoon tea service also offers delectable dishes like a white peach and chicken mousse tart, a pork rillettes and peach slider, and more. Guests can also enjoy a selection of scones in either plain or coconut, each served with clotted cream and either peach or guava jam. Over 20 beverages will be on offer, including Wedgwood teas.

Fendi and Harajuku Omotesando Keyaki-kai Collaborate on #FendiTsunaguOmotesando Art Project

Italian luxury fashion brand Fendi has teamed up with Harajuku Omotesando Keyaki-kai on a new street art project! 'TSUNAGU – Omotesando Street Art Project' was unveiled on April 29, 2022.

 

The project, which aims to improve the city's scenery and share positive messages, is on display in Omotesando, a popular area with young people. The canvas is the formal site of the Oriental Bazaar, an iconic part of Omotesando for over four decades. Under the theme of 'hope,' three young artists will be displaying their artwork in a massive temporary enclosure on the site. Hopefully, Japan really will open tourism soon so that guests from around the world can enjoy these inspiring pieces!

The first piece of art was unveiled on April 29 and was drawn by Dai Tamura, a young Japanese artist who has attracted worldwide attention after becoming an illustrator for the NBA. The dynamic and powerful compositions vividly depict endangered animals and plants alongside delicate flowers to symbolize hope for the futures of these beautiful creatures. 



Be sure to keep an eye out for the next installation coming soon!

Information

TSUNAGU – Omotesando Street Art Project

Location: Oriental Bazaar Former Site

Address: 5-9-13 Jingumae, Shibuya-ku, Tokyo

Official Site: http://www.fendi.com

Shoujuin Temple and THE THOUSAND KYOTO Collaborate on Special Afternoon Tea

THE THOUSAND KYOTO hotel will begin selling a special afternoon tea set in conjunction with the Buddhist Temple Shoujuin on May 9, 2022. These scrumptious treats can be enjoyed at the hotel's second-floor cafe and bar TEA AND BAR until July 15.

This offering was made with the thought of escaping the summer heat in mind. Customers can enjoy eight kinds of sweet and savory dishes, from quiche and salmon sandwiches to scones with honey and sweet bean paste.

Souvenirs


Kanouhimo

Sange

The entrance to the cafe will also be transformed to reflect the majesty of Shoujuin Temple.

The early summer scenery will be captured with majestic hydrangeas, which will surround guests and prove the perfect background for photos.


Guests can also go home with two traditional souvenirs. Both the kanouhimo and sange are lucky charms typically available at Shoujuin on holidays.

Hydrangea Afternoon Tea Available at Art Grace Wedding Hills in Kyoto for a Limited Time

Art Grace Wedding Hills, a wedding venue in Kyoto, will offer a hydrangea-themed afternoon tea service from May 1 until June 24, 2022. Guests can enjoy this dreamy event each Friday, Saturday, and Sunday.

Top Tier

Middle Tier

Bottom Tier

Welcome Drink

Hydrangea Parfait

Come taste these delectable dishes to welcome the summer season.

Idol Group Shiritsu Ebisu Chugaku to Open One-Day 'Ebisen Cafe' in Omotesando

The popular idol group Shuritsu Ebisu Chugaku will open a one-day-only cafe in Omotesando on May 1, 2022! The location will open in conjunction with CookpadTV, which hosts the popular show 'Shiritsu Ebisu Culinary Institute.'

The members of Shiritsu Ebisu Chugaku are passionate about cooking, making this the perfect project. Since October 2021, the girls have streamed their cooking stories and ideas on CookpadLive, and now, they're ready to put their hearts and souls into each and every item on this cafe menu. Visitors will also be able to purchase original merchandise on-site and see some of the member's costumes! 


Reservations for the cookpadLive Ebisen cafe are required, and the lottery for reservations is open now. Some of the menu items and original goods offered at the cafe are also available for purchase on cookpadLive's official E-commerce site, so don't worry if you aren't able to attend in person on May 1!

The cookpadLive Ebisen Cafe will feature a special lunch time, dinner time, and cafe time. The nine members of Shiritsu Ebisu Chugaku will appear in three teams for each session.

W Osaka Reveals Special Menu Inspired by Fashion Duo AMIAYA

Luxury hotel W Osaka will be offering 'ICHIGO AFTERNOON TEA – Dressed up for Spring,' a special menu inspired by the fashion duo AMIAYA, from April 1 until May 31, 2022. The menu items will be available at the Living Room area on the hotel's third floor.

W Osaka Fashion Ambassador AMIAYA

ICHIGO AFTERNOON TEA – Dressed up for Spring

LIVING ROOM

The event will utilize some of the popular strawberry dishes currently popular at the hotel, but will also include some raspberries and orange sweets. Some dishes will be decorated with flower petals, inspired by the vivid fashion of W Osaka's fashion ambassador AMIAYA. The twins have attracted worldwide attention as models and DJs, and they celebrated their first anniversary on March 16. 

Savory options include a Quiche with Sakura Shrimp and Spring Cabbage and Caramelized Onion and Chevre Cheese plate. Guests can enjoy a total of 12 items prepared by the W Osaka chef team, all displayed on a beautiful afternoon tea stand. Each menu comes with a welcome drink and free refills for tea and coffee.

Kyo Hayashiya and Hayashiya Shinbei Offering Special Parfaits Perfect for Spring

Hibiya Hayashiya Shinbei in Tokyo Midtown Hibiya is now offering a scrumptious Strawberry Matcha Parfait until April 24, 2022! If that's not up your alley, four Kyo Hayashiya locations in Shinjuku, Omiya, Yokohama, and Ikebukuro will begin offering a Matcha and Berry Mascarpone Parfait from April 1 until May 8, 2022. 

Strawberry Matcha Parfait


The Strawberry Matcha Parfait is an eye-catching mix of green and pink, reminiscent of cherry blossoms and bright green grass. Green tea blends with rose jelly and lychee sorbet, offering a refreshing taste with a hint of bitterness. The sweet accent of crunchy chocolate feuillantine gives each bite a little kick.

Matcha and Berry Mascarpone Parfait


The Matcha and Berry Mascarpone Parfait mixes the deep, bitter taste of Uji matcha, the sweet and sour taste of berries, and the gentle sweetness of mascarpone cream. The berry sauce is blended with crunchy chocolate feuillantine, a layer of whipped cream, green tea jelly, green tea ice cream, and milk panna cotta. To finish, it's garnished with refreshing raspberry sorbet, bittersweet matcha ice cream, and fresh strawberries.

Information

Strawberry Matcha Parfait

Price: ¥1,650 (Tax Included) / with Tea: ¥2,090 (Tax Included)

Available: March 18 – April 24, 2022

Available at Hibiya Hayashiya Shinbei (Tokyo Midtown Hibiya 2F)

Matcha and Berry Mascarpone Parfait

Price: ¥1,430 (Tax Included) / with Tea: ¥1,870 (Tax Included)

Available: April 1 – May 8, 2022

*Available until April 30 at the SOGO Yokohama location.

Available at the following 4 Kyo Hayashiya locations. 

・Takashimaya Times Square (Shinjuku Takashimaya Times Square Main Building 2F)

・Seibu Ikebukuro (Seibu Ikebukuro Main Building 8F)

・SOGO Omiya (SOGO Omiya Main Building 9F) 

・SOGO Yokohama (SOGO Yokohama 10F)

Nagoya Tokyu Hotel Now Offering Limited-Time Easter Tea Set

Nagoya Tokyu Hotel's lounge Grindelwald is now selling offering an Easter-themed afternoon tea set through April 30, 2022! This new twist on the traditional set features plenty of pastels and spring touches. 

Top Row: Sweets

Middle Row: Scones

Bottom Row: Sandwiches

Easter Bunny Parfait (Available in April)

This fun tea set includes a tasty chocolate mousse in the shape of the Easter Bunny, a carrot-filled sandwich, and a panna cotta with a flower on top. Keep an eye out for the Easter Bunny Parfait coming in April!

St. Regis Hotel Osaka Offering Updated Strawberry Afternoon Tea Menu

The St. Regis Hotel Osaka's current strawberry-themed afternoon tea set has been updated as of March 7, 2022!

The Fifth Avenue Collection, a strawberry afternoon tea set inspired by the hottest trends in New York fashion, is now available at the St. Regis Bar. The St. Regis New York Hotel was founded in 1904, and is located on 5th Avenue, one of the most famous shopping streets in the world. This new afternoon tea set features a gorgeous three-tiered array of colorful savory and sweet dishes inspired by the many fashion items that line the shop windows of the NYC street.

The Spring Collection features brand new items, including six sweet items, four savory items, two scones, and three pass-around glass desserts. 

 

The legs extending from the Strawberry Heels glass dessert give a nod to the classiest scenery in New York, while the Strawberry & Mango Shortcake adds a vibrant touch of yellow, popular on the runway this season.





The desserts include lime and strawberry macaroons and plenty of chocolate for cocoa lovers. Those wanting something savory can enjoy meat-filled crepes and the spring vegetable and smoked salmon rolls. This bright and colorful set is sure to brighten up anyone's mood!


Information

Strawberry Afternoon Tea 'Fifth Avenue Spring Collection'

Available: March 7 until May
Location: The St. Regis Bar, 12F
Reservations/Official Site: https://www.stregisbar.stregisosaka.com/