Readers Asked to Vote on 'Strongest' Scene in Baki Series for 30th Anniversary, Crossfaith x ralph Collaboration Announced
Akita Shoten has launched a special project celebrating the 30th anniversary of the popular fighting manga series Baki the Grappler. Following a fan contest and the free release of the entire series, the new project is asking readers what they think was the 'strongest' scene in the series. The 30th-anniversary project will continue through 2022 and will include the largest ever Baki exhibition in spring.
Baki's 'Strongest' Scene Site
OCR Processing of Dialogue from All 1,248 Chapters to Catalog Dialogue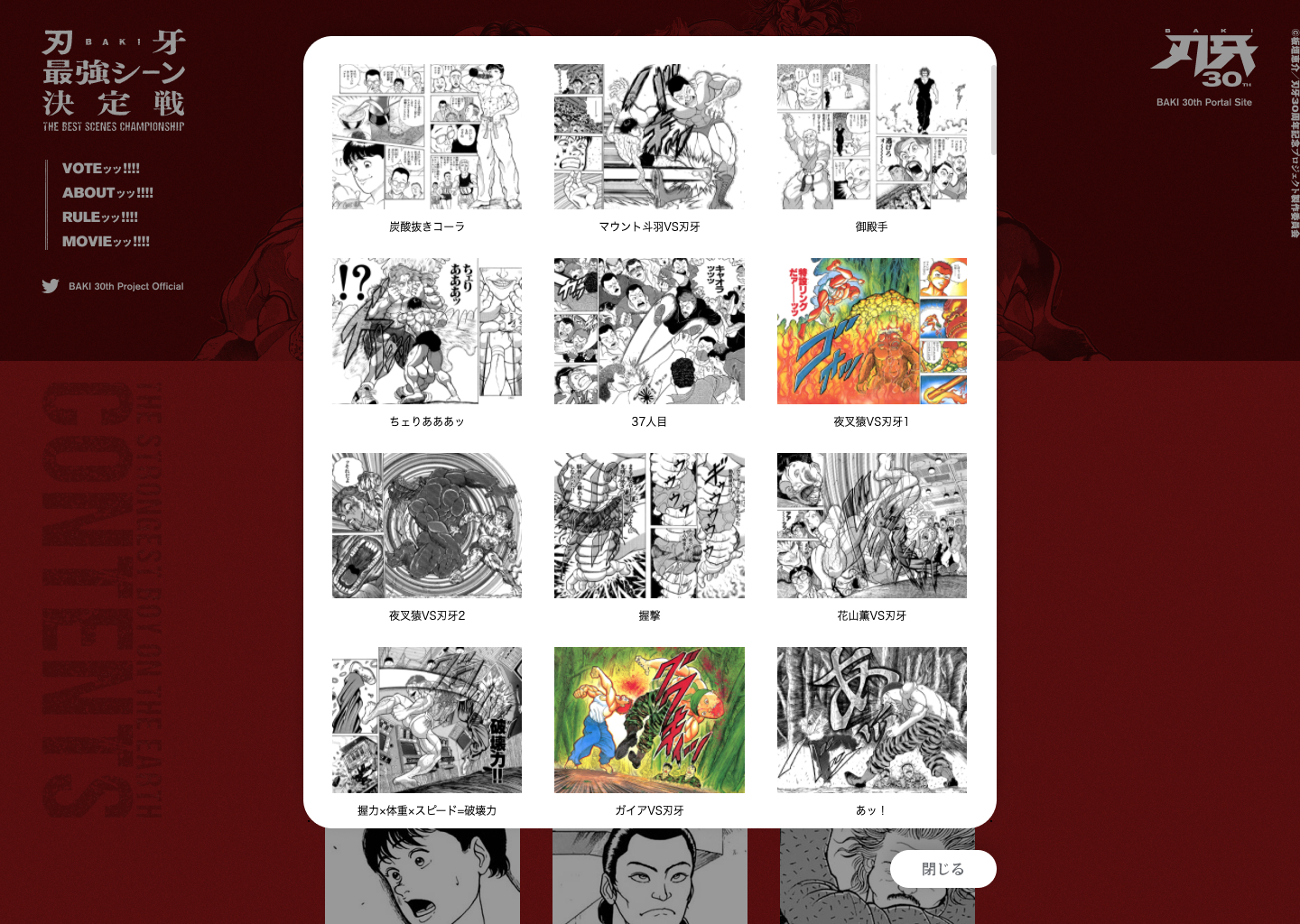 Visitors can search for their favorite from over 150 scenes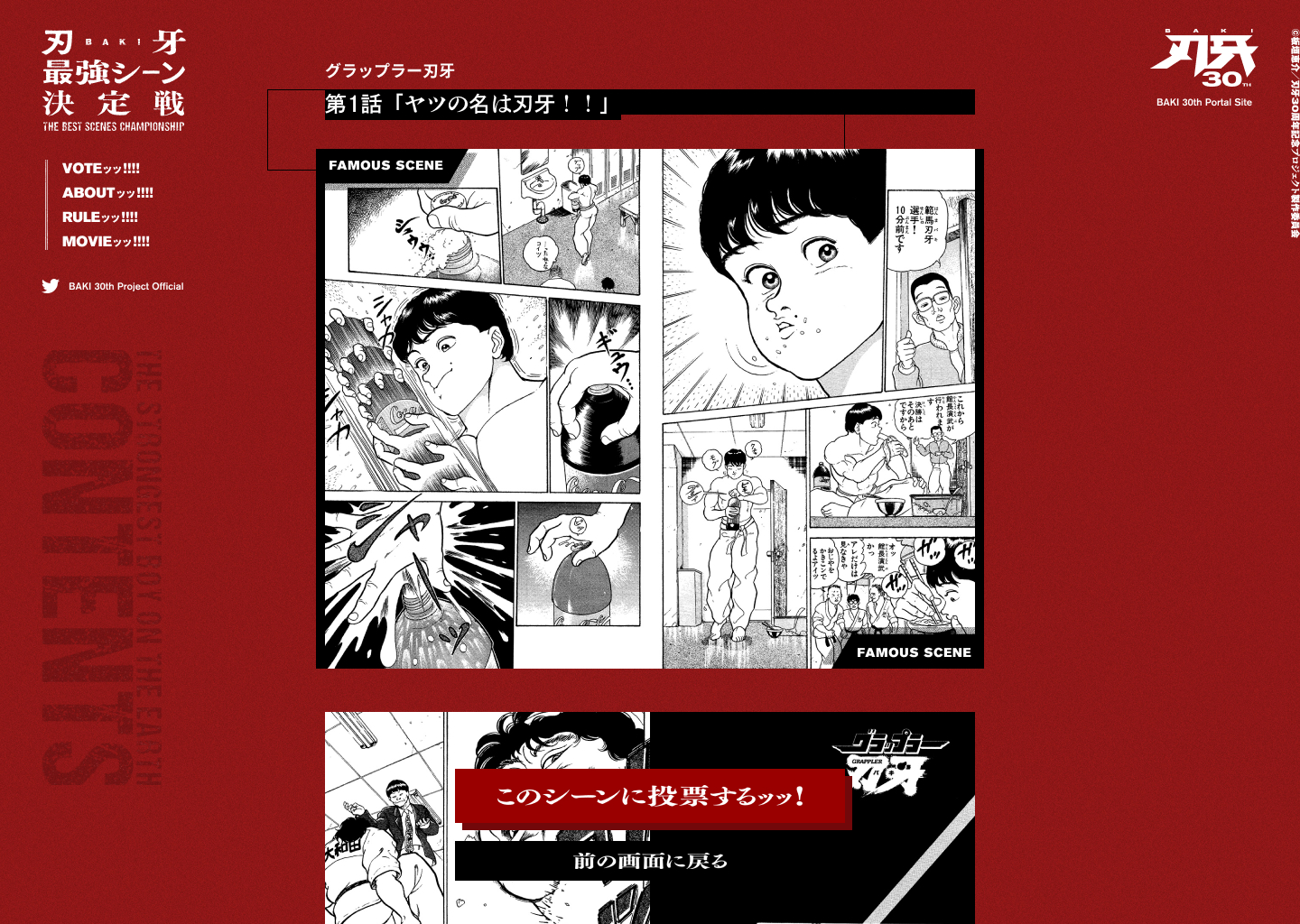 Select the episode that contains your favorite scene and click 'Vote!'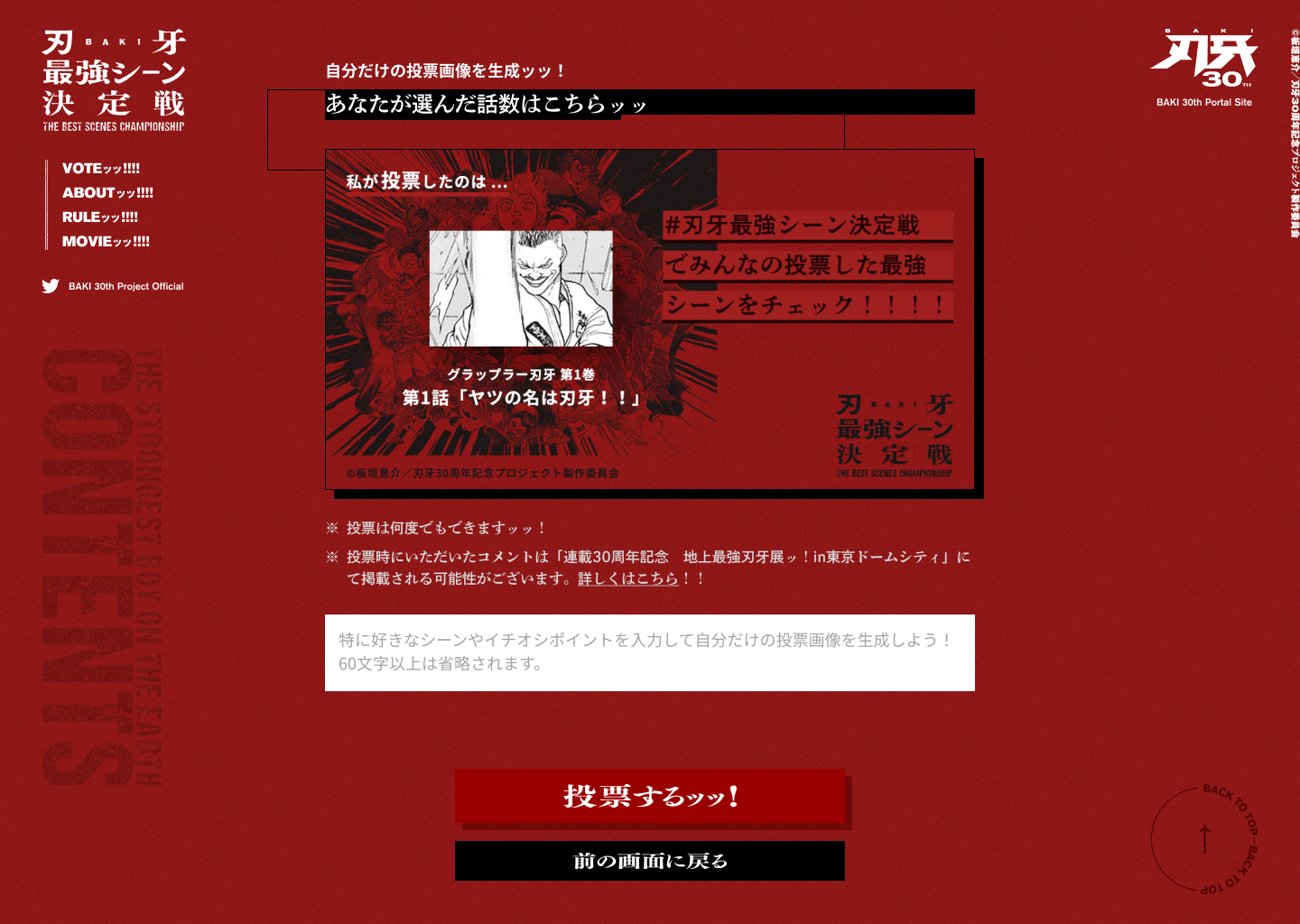 An image generator will allow voters to create their own image featuring their favorite quote.

When voting, fans can leave their comments, and the winning scene's comments will be displayed at the upcoming exhibition at Tokyo Dome City. 

Where to Vote: https://baki-saikyoscene-tournament.com/
Voting Period: December 23, 2021 – January 15, 2022 at 23:59
​The winning scene will be announced on January 27, 2022 on the special website and in Weekly Shonen Champion. 

Future Plans
・The comments posted at the time of voting will be screened by organizers and may be published at the Baki Exhibition at Tokyo Dome City from March 5 until April 17, 2022. 
・Comments may be edited or omitted. 
 
Crossfaith x ralph 'Different Species Collaboration' -The Strongest Scene Special Movie-
A key visual collage video featuring famous scenes from Baki the Grappler has been posted to the special website and Akita Shoten's YouTube channel. 
The song featured in the short film is Gimme Danger, a collaborative track between world-renowned metalcore band Crossfaith and rapper ralph. 
Baki the Grappler 'Strongest' Scene Special Movie

Comment from Crossfaith
"It's a great feeling to be able to contribute our music to the Baki the Grappler 'Strongest' Scene contest. We've loved this series for a long time, and it contains so many important messages–not just about martial arts, but about being a person and being a man. Since this is a different kind of battle, we welcomed rapper ralph as our opponent and ended up creating the incredible track that is Gimme Danger. Please enjoy this track that will shake you to your core along with Baki."

Crossfaith's 'Strongest' Scene
The Big Tournament Battle: Hanma Baki vs. Retsu Kaioh
A scene where 4,000 years of history awakens the blood of Hanma
Comment from ralph
"Congratulations on 30 years. I'm so thankful to be able to contribute to this special event. I'd like to train at least three hours a day to become worthy enough for this honor."

ralph's 'Strongest' Scene
Kaoru Hanayama's Chivalrous Scene
What do you think is the 'strongest' scene in the series? 
RELATED ENTRIES
Baki the Grappler-Inspired Sake Available on Online Sake Shop KURAND

KURAND, an online sake store, is now selling a limited quantity of Ogre, inspired by Baki the Grappler. 

Ogre is an original sake created in collaboration with the popular series, and the product's label features an original drawing of Hanma Baki's father. Each bottle will also come in a special box. 

For this sake, Keisuke Itagaki, the author of Baki the Grappler, wanted a product with a stronger taste to fit in with the powerful characters in the series. Those buying a bottle will also receive a themed glass and coaster!

Information

Son of Ogre – Ogre Sake

Release Date: December 22, 2021
Scheduled to Ship in Mid-February 2022 or later
Retail Price: ¥6,600 (Tax Included)

Purchase Bonus: Baki the Grappler Glass with Logo / Stone Coaster
Buy Here: https://kurand.jp/products/hanmabaki

*Due to the limited quantity, sales may be suspended as soon as the product is sold out. 

Baki Hanma Ending Theme Music Video Released, Performed by GENERATIONS

Baki the Grappler is one of the most recognized manga series in recent history, serialized in Weekly Shonen Champion from 1991 until 1999. A new 12-episode Netflix anime series Hanma Baki is set to release on September 30, and the ending theme Unchained World, performed by GENERATIONS from Exile Tribe, is now available to stream! 

The music video for the track has also been uploaded to the group's official YouTube channel and features an intense and fast-paced performance sure to have you on your feet! The song's title and major theme revolve around being unbound, and that comes through in this manly and powerful vocal performance and freestyle choreography. 

Unchained World Music Video

 

The album jacket is incredible, featuring characters from the series and members of GENERATIONS illustrated in Baki Hanma style! 

Will you be catching this new Baki the Grappler series on Netflix?

Grappler Baki Anime Series Creates Original Characters in Collaboration With Pip

Japanese wellness company Pip launched its new Pip Magneloop MAX magneto-therapeutic device on Monday (March 8). In promotion of the product, it is collaborating with the Grappler Baki anime.

Baki Original Characters

PC Concentration Fighter

Housework & Childcare Fighter

Customer Servicer Fighter

Stress Fighter

Special Video Series

The Pip Magneloop MAX is a magneto-therapeutic device containing powerful magnets which improve blood circulation and relieve muscle stiffness. The Grappler Baki collaboration shines light on four of the biggest daily stresses for people: desk work, housework/child-rearing, manual labour, and stress. The series created four original characters to capture how these stresses can manifest.

©板垣恵介(秋田書店)/バキッッ製作委員会

TV Anime Series Fist of the Blue Sky: Regenesis Opening Theme 'Soul Seeker' to be Performed by Crossfaith

Having only just released their first album in three years EX_MACHINA in August 2018, some new news has arrived from Japanese heavy metal band Crossfaith.

Their new song Soul Seeker will be used as the main theme song for season two of the upcoming anime series Fist of the Blue Sky: Regenesis which is set to begin airing in October. The song is completely brand new and not featured on their recently-released album. It will be available for digital download this autumn.

You can get an early listen of the song in the series trailer above, so be sure to check it out.

■Information

"EX_MACHINA"

Released: August 1, 2018

Limited Pressing Edition (2CDs+2DVDs): ¥11,000 (Pre-Tax)
First Press Limited Edition (CD+DVD): ¥4,500 (Pre-Tax)
Regular Edition (CD): ¥2,990 (Pre-Tax)

Tour Schedule
<Japan>
OSAKA HAZIKETEMAZARE FESTIVAL
09/17 @ Izumiotsu Phoenix

Crossfaith World Tour 2018: Japan
10/27 @ Koriyama HIP SHOT
10/28 @ Yokohama Bay Hall
11/8 @ Niigata LOTS
11/10 @ Zepp Sapporo
11/14 @ Takamatsu Olive Hall
11/16 @ Namba Hatch
11/20 @ Hamamatsu Madowaku
11/22 @ Zepp Nagoya
11/25 @ Sendai PIT
11/30 @ Shinkiba Studio Coast
12/8 @ Hiroshima Club Quattro
12/9 @ Fukuoka Drum Logos
12/15 @ Koza Music Town

<Overseas>
CONCRETE & GRASS MUSIC FESTIVAL
09/15 @ Shanghai, China

Crossfaith World Tour 2018: UK/EU
9/26 @ Clubzal, St. Petersburg, Russia
9/27 @ RED Club, Moscow, Russia
9/28 @ BelEtage, Kiev, Ukraine
10/1 @ Arena Wien, Vienna, Austria
10/2 @ Naumann's, Leipzig, Germany
10/3 @ Logo, Hamburg, Germany
10/6 @ Bi Nuu, Berlin, Germany
10/8 @ Gebaude 9, Cologne, Germany
10/9 @ Backstage, Munich, Germany
10/10 @ La Laiterie, Strasbourg, France
10/13 @ Marble Factory, Bristol, England
10/15 @ The Garage, Glasgow, Scotland
10/16 @ Rock City, Nottingham, England
10/17 @ Manchester Academy, Manchester, England
10/19 @ Electric Ballroom, London, England
10/20 @ The Plug, Sheffield, England
10/21 @ Academy, Dublin, Republic of Ireland

Crossfaith Official Website: http://www.crossfaith.jp/

Fist of the Blue Sky: Regenesis Official Website: www.souten-regenesis.com

Fist of the North Star Official Website: http://www.hokuto-no-ken.jp/35th

©Tetsuo Hara・Buronson/NSP 2001, ©Fist of the Blue Sky 2018

Crossfaith's New Song 'The Perfect Nightmare' to Premiere on Metal Injection

It has been announced that Crossfaith's new song The Perfect Nightmare will premiere on US heavy metal music magazine Metal Injection.

The song is the first piece of new material from the 5-member Japanese heavy metal band since they dropped Wipeout back in January. It will release across digital streaming platforms on June 14 including Spotify and Apple Music.

An official video was also released. It was directed by up-and-coming Australian creator EGO and packs as much punch as the song itself. A new artist photo was also released taken by Polish photographer Maciej Kucia, and the band even featured on the front cover of GQ.

Crossfaith is currently touring Europe and will head to Japan in July. They will subsequently return overseas for a UK and European tour beginning in September.

■Tour Information
Japan
06.09 @ BLAZE UP NAGASAKI 2018 in HUIS TEN BOSCH, Huis Ten Bosch – 9:00/11:00

07.28 @ WILD BUNCH FEST. 2018, Yamaguchi Kirara Haku Memorial Park – 9:30/11:00
08.05 @ ROCK IN JAPAN, Hitachi Seaside Park
08.25 @ TRIANGLE, Momochi Seaside Park
08.26 @ RUSH BALL, Izumiotsu Pheonix
08.27 @ Crossfaith presents NITROPOLIS vol.1, Osaka BIG CAT – Open 18:00/ Start 19:00
08.29 @ Nagoya Diamond Hall – Open 18:00/ Start 19:00
08.30 @ Ebisu LIQUIDROOM – Open 18:00/ Start 19:00
08.31 @ Ebisu LIQUIDROOM – Open 21:00/ Start 22:00
09.08 @ TREASURE05X, Gamagori Laguna Beach
09/17 @ Osaka Haziketemazare Festival
OSAKA HAZIKETEMAZARE FESTIVAL, Izumiotsu Pheonix

Melkweg w/ Bullet For My Valentine、Asking Alexandria
06.12 @ FZW, Amsterdam, Netherlands
06.12 @ Schlachtof, Dortmund, Germany
06.15 @ Wiesbaden, Germany
06.16 @ Download Festival Paris, Paris, France

Kiff w/ Modern Life Is War、Cancer Bats
06.17 @ Aarau, Switzerland

Zona Roveri Music Factory w/ Underoath
06.19 @ Bologna, Italy

Magazzini Generali w/ Underoath
06.20 @ Copenhell, Milan, Italy
06.22 @ Graspop Metal Meeting, Copenhagen, Denmark
06.23 @ Dessel, Belgium

clubCANN w/ Bury Tomorrow
06.24 @ Stuttgart, Germany

Dürer Kert w/ Underoath
06.28 @ Aerodrome Festival, Budapest, Hungary
06.29 @ Vainstream Rockfest, Prague, Czech Republic
06.30 @ Download Festival Madrid, Spain
06.30 @Download Festival Madrid

Crossfaith World Tour 2018: UK/EU
09.26 @ Clubzal, St. Petersburg, Russia
09.27 @ RED Club, Moscow, Russia
09.28 @ BelEtage, Kiev, Ukraine
10.01 @ Arena Wien, Vienna, Austria
10.02 @ Naumann's, Leipzig, Germany
10.03 @ Logo, Hamburg, Germany
10.06 @ Bi Nuu, Berlin, Germany
10.08 @ Gebaude 9, Cologne, Germany
10.09 @ Backstage, Munich, Germany
10.10 @ La Laiterie, Strasbourg, France
10.13 @ Marble Factory, Bristol, England
10.15 @ The Garage, Glasgow, Scotland
10.16 @ Rock City, Nottingham, England
10.17 @ Manchester Academy, Manchester, England
10.19 @ Electric Ballroom, London, England
10.20 @ The Plug, Sheffield, England
10.21 @ Academy, Dublin, Republic of Ireland

Crossfaith Official Website: http://www.crossfaith.jp/

2018 Summer: Japanese artists who will perform overseas

Summer is coming soon, and no doubt you are looking forward to going to summer festivals! In this article, I will introduce to you some recommended Japanese artists who are going to perform at summer festivals that will be held in foreign countries.

Kyary Pamyu Pamyu

THE GREAT ESCAPE is a music festival held in Brighton, England which was started in 2006.

Many events will be held, not just live concerts and many up-and-coming artists, people who are working in the music industry and music lovers from all over the world gather at this festival. Many alternative UK rock bands perform at this festival but big-name artists such as ADELE, ELLIE GOULDING, ED SHHERAN and CHARLIE XCX have performed at this festival too, before or right after they debuted.

World Tour 2018:https://www.moshimoshi-nippon.jp/94229

Wednesday Campanella

She will also perform at Les Eurockéennes for the first time, a music festival held in Belfort, France. Les Eurockéennes has been held at a protected nature reserve in Belfort since 1989. In 2012, it was awarded Best Overseas Festival in the UK Festival Awards. It is one of France's biggest music festivals. Wednesday Campanella's appearance at Les Eurockéennes comes after enthusiastic demand from the people in charge of bookings.

Detail Information:https://www.moshimoshi-nippon.jp/103258

 "crossfaith" is a solo unit who is gathering much attention all over the world for his unique music which is the mixture of strings and electronica and fresh ideas. He combines many kinds of genres such as metalcore, hard core, screamo and catchy pops to create his unique works. He is going to perform at many festivals this year, so let's check out his official website.

Cornelius

"Cornelius" is a solo unit of Keigo Oyamada from Tokyo which is gaining high reputation for its high-quality pop music and unique stage performance using various kinds of videos.

So far, it has been decided that he is going to perform at Field Day Festival and Sonar Festival which will be held in June. Please refer to his official website with regards to detailed information.

BABYMETAL

BABYMETAL are a fusion of the metal and idol genres and are a band active across the globe. Their mix of authentic metal music with their cute singing and dancing continues to captivate fans worldwide. They have also opened their own apparel brand, 'BMD FOX APPAREL.' The three of them are also set to perform at many festivals this summer.

How did you like our recommendations?

Don't miss these chances to witness the live performances of popular Japanese artists!

Popular Character Cafes in Japan: May 2018 – Part 2

The character cafe is a unique experience in Japan where a cafe collaborates with a well-known character from an anime series, games and so on and themes the decor and menu on that character. Here are some of the collaborative cafes open in May this year.

This part two. Click here for part one:https://www.moshimoshi-nippon.jp/106286

Little Twin Stars × Voice Actress Shouta Aoi
A café in collaboration with voice actress Shouta Aoi and Sanrio mascots Kiki and Lala, aka the Little Twin Stars, will open at Omotesando Box Cafe & Space on May 11, 2018. With pastel coloured food and desserts that'll have you reaching for your camera over and over, why not dive into the world of the Little Twin Stars yourself?

Full Details: https://www.moshimoshi-nippon.jp/103772

Popular Manga 'Grappler Baki' × Village Vanguard
A café themed on the popular manga series Grappler Baki is now open at the Village Vanguard Café in Lumine EST Shinjuku until June 3. Baki is a famous manga with a second anime season adaptation slated for summer this year. There are 19 items on the menu in total, all of which are inspired by the original manga, including the 14 Kilo Satoumizu. There's also original merchandise on sale to commemorate the café.

Full Details: https://www.moshimoshi-nippon.jp/102844

The Greatest Showman × Tower Records Café
The Tower Records Café is paying homage to the hit musical The Greatest Showman with a collaborative café running from May 9 to 27. There you will find costume displays of characters that appear in the story such as Barnum, a specially crafted menu inspired by the film, and even a 360° VR experience where you can watch the performers rehearsing.

Additionally, special promotional videos will play each day, and there'll even be events you can participate in on weekends. This café truly captures the world of The Greatest Showman!

Crayon Shin-chan Movie × CHEZ MADU TV Asahi
CHEZ MADU has partnered up with the Crayon Shin-chan movie Crayon Shin-chan: Burst Serving! Kung Fu Boys ~Ramen Rebellion~ and opened a café at Roppongi TV Asahi for a limited period. There, you can enjoy the black panda ramen which appears in the film, as well as a curry inspired by the 'burst' part of its title that comes with karaage, gyoza, steamed dumplings and more. This one's a must-see for fans of Crayon Shin-chan.

My Little Pony × Sweets Paradise
Roll up to the My Little Pony Pinkish Cafe which is open at Sweets Paradise in Shijo Kawaramachi until May 15 and Shinjuku Mylord until May 21. At the Kyoto branch they're serving 'Pinkie Pie's Matcha Cupcakes,' a flavour representative of Kyoto. The matcha green is decorated with colourful sugar which brings to mind the vibrant world of My Little Pony, as well as strawberries, to make a 'pop-like' kind of matcha. There's also 'Twilight's Magical Ice Parfait' which features the purple pony on top of some ice cream, as well as drinks. Enjoy any of the 13 items on the collaborative menu.

There are so many collab cafes open this month, so if you're in Japan right now, then why not take a trip with a friend?

Check out part one here:https://www.moshimoshi-nippon.jp/106286

Village Vanguard Café in Shinjuku Collaborates with Popular Manga Series 'Grappler Baki'

A café themed on the popular manga series Grappler Baki is opening at the Village Vanguard Café in Lumine EST Shinjuku on April 17 and will run until June 3.

Baki is a famous manga with a second anime season adaptation slated for summer this year.

There are 19 items on the menu in total, all of which are inspired by the original manga, including the 14 Kilo Satoumizu (sugared water).

A Hearty Breakfast with a Heap of Cabbage! – ¥1,580

Large Serving Handmade Baki Napolitan Pasta – ¥1,580

14 Kilo Saitoumizu – ¥680

Kindai Budou no Saikouhou: Shibukawa Bravery Drink – ¥780

Each menu item also comes with a novelty with a Baki illustration on it.

Original merchandise will also be sold for this collaboration. This includes a tumbler, t-shirts and more, all of which can only be bought at the café. And if you head on over to Village Vanguard Freaks, they're also now selling limited edition Baki merchandise.

Limited Edition Café T-Shirts – ¥3,000

Limited Edition Café Tumbler – ¥1,500

The café is open for a limited time only, so immerse yourself in the world of the original work with Baki inspired food!

A video literally powered by your headbanging! Crossfaith have crossed the line with a new release project!

After approximately 2 years since returning from their Australia tour, the news hit that Crossfaith will be releasing their new single "FREEDOM" on Wednesday 2nd August along with their live video "LIVE IN JAPAN- AT MAKUHARI MESSE". Using the latest technology, they will also be releasing a new website feature called "Make It Metal" – this world has never seen something quite like this before!

How do you "Make It Metal"? Face the camera in your PC and keep headbanging for the video and music to play. This new music experience of "metal interaction" is something that only Crossfaith can offer! Marketing Communication Company Ogilvy & Mather Japan acted through collaboration to create the "Make It Metal" project as a method of new music promotion. For the collaboration, Ogilvy & Mather Japan singled out Crossfaith to take part, acknowledging their worldwide status.

The song used for "Make It Metal" is "Diavolos" from the album "FREEDOM", which will be released for sale on 2nd August. Besides the album artwork for the new single, there is a CD booklet that includes illustrations and photos from the band's live performances.

The artistic illustration in the CD booklet that comes with the album "FREEDOM" was designed by the same Australian designer who designed the CD jacket. This was also used for the "Make It Metal" video, which is a must-see for fans all over the world. Don't stop headbanging and enjoy the video and music! If you successfully reach the end, a certificate will appear onscreen, allowing you to use it to boast on SNS websites and compete with other Crossfaith fans worldwide!

■Information

Make It Metal

Release information
Release date: 2nd August 2017
New Single "FREEDOM"
First-run limited edition:(Disc 2 – Includes 3 remix songs)SRCL-9470~9471 ¥1,600-(price with tax included)

10th ANNIVERSARY TOUR ONE MAN SHOWS – FAITH LASTS FOREVER –

Related article:Crossfaith Announce Simultaneous Release of New Single "FREEDOM" & Live DVD!

Related article:Analysis of Crossfaith's attraction which is dramatically popular in the world!

Crossfaith Announce Simultaneous Release of New Single "FREEDOM" & Live DVD!

Crossfaith have become an immense international success having played and held tours worldwide across 40 countries, as well as continuing to play the main stage at numerous festivals around the globe. The 5-member Japanese heavy metal band have just announced a long-awaited new single entitled "FREEDOM".

"FREEDOM" is set for release on August 2nd and comes as Crossfaith's first new single in almost a year. The single will feature 3 songs, while the First Press Limited Edition will include a second disc of remixes by "New Age Warriors" of the three tracks. Rou, the vocalist of Enter Shikari, a British band who Crossfaith have become good friends with, features as the guest vocalist on the lead track "FREEDOM". The song is described as fine-tuned and as having a 'hard' sound. It's a track that will show just how far Crossfaith have come as a band.

The second track on the single goes by the name of "Rockstar Steady" and features JESSE from "RIZE / The BONEZ" whom Crossfaith has also performed with at numerous festivals. The third and final track is "Diavolos," which has been called a new masterpiece at their live shows.

Crossfaith will also release the final show of their "New Age Warriors" tour in Japan, which was held at Makuhari Messe, on DVD.

Crossfaith are set to embark on their "10th Anniversary Tour" starting from October this year to celebrate 10 years since the band formed. Advance Tickets went on sale mid-day on June 26th. This tour will also feature the "NEW AGE Discount," a student discount for under-18s. Advance Tickets and NEW AGE Discount Tickets will have their own special original designs.

The new single is out just before the start of the festival season, so pick yourself up a copy in advance and rock out!

■Information

"FREEDOM"

On Sale: August 2nd, 2017
First Press Limited Edition (w/Disc 2 featuring remixes of all 3 songs) – ¥1,600 (tax included) [SRCL-9470~9471]
Regular Edition ¥1,300 (tax included) [SRCL-9472]

"10th ANNIVERSARY TOUR" Homepage: http://www.crossfaith.jp/10th/tour/

Related Article:15 bands join MIYAVI to celebrate his 15th anniversary at his special live tour "NEO TOKYO 15"

Related Article:Analysis of Crossfaith's attraction which is dramatically popular in the world!

Analysis of Crossfaith's attraction which is dramatically popular in the world!

Crossfaith is a metalcore/deathmetal/electronicore band which is leading the new generation of metal bands. Their performance is eagerly sought after at music festivals not only in Japan, but all over the world. Their popularity has spread over the border of Japan! Let's look back at the history of Crossfaith and see why they attract so many people.

Five members who kept moving on

Their history began in 2006, in the city of Osaka. They successfully increased popularity with their unique vocals, world-class level screaming, hard and metallic guitar riff, and very catchy lyrics.

The band consists of five unique members who are extremely talented. Koie is the vocalist. His appearance is scary at first sight, but he just calls himself optimistic. Kazuki plays the guitar with a very high-level technique, and he writes music as well. The newest member Hiroki, whose trade mark is long hair, plays the bass guitar. Tatsuya is the drummer; he won the championship in the circuit festival "Van wrapped Tour." Lastly, Teru does vision programing and plays characteristic electro sounds as well.

In 2009, they released their first studio album. The members were only 19 years old, when they appeared on the stage in "LOUD PARK," which is one of the biggest metal music festivals in Japan. In 2011, the band played the "Summer Sonic" festival. Gradually, they built a high status as a metal band.

The sound that the world respects

The band signed a contract with one of the biggest management companies, Raw Power Management, and started to broaden their activities world-wide.

In 2012, their second studio album was not only released in Japan, but also in the U.S and was a big hit. In 2013, they released a world debut studio album "APOCALYZE" to break into a bigger market. Also in 2013, the band toured in more than 30 countries including Japan. This was first time they had toured in Japan.

Live performance is very important in the genre of Metalcore music and Crossfaith hits accurate notes no matter how fierce of head banging they do which excites the audience. No wonder their conspicuously intense and edgy performance style attracts people from all over the world.

Growing the legend

They continue being successful not only in Japan but also in the world, and it never seems to end. They released a new single "New Age Warriors" on July 27th, 2016, which was about 2 years after their previous single. Furthermore, they will start a tour called "New Age Warriors Tour 2016" on September 14th. In the same month, they will hold a voluntary planning event "ACROSS THE FUTURE 2016" which will include guest bands: Enter Shikari, Beartooth and NOISEMAKER. They are also scheduled to go touring in Japan and many other countries. They are expected to be viewed as the birth of the new music scene.

It has been just 10 years since the band started. They keep progressing, but the path as a band is sure to have been tough for them with one of the members, Kazuki, being apart from the band because of a brain hemorrhage. Despite adversity, Crossfaith keeps attracting many people by creating a unique performance with a superb balance of both electronicore and hard core metal trends. There is no doubt that Crossfaith will be the leader of the new generation of metal core and death metal music not only in Japan but also in the world.

Crossfaith official website: http://www.crossfaith.jp

Harurun (SHUTTER)