AVANCE×Doraemon's mascara & eyelash serum is now on sale at Roppongi Hills
"TV Asahi・Roppongi Hills Summer Festival SUMMER STATION" is now being held at Roppongi Hills. The makeup company "AVANCE" and "Doraemon's" collaborative items, a color mascara "Rush Serum in Mascara Doraemon" and an eyelash serum, "Rush Serum N Doraemon" are now on sale.
The "Rush Serum in Mascara Doraemon" can be used as two colors and consists of high quantity cosmetic ingredients. You can take care your eyelashes even when you have make up on. "Rush Serum N Doraemon" is one of AVANCE's popular items. It also consists of high quantity cosmetic ingredients.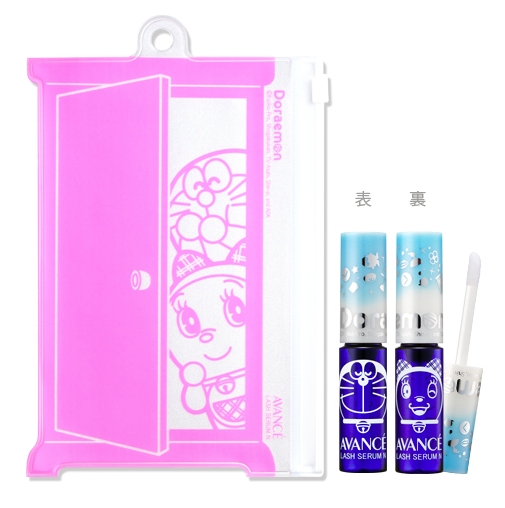 It will protect your eyelashes and keep them in a healthy condition. Both items are in special collaborative bottles with Doraemon. You can also get a glitter pouch made of plastic. This cute pouch will for sure interest people.
Both items can be bought at Tereasa Shop located on the first floor of TV Asahi's building. These items are very popular and it is expected that they will be sold out soon! So, don't miss this change to purchase these items!
■Information
AVANCE×Doraemon
Selling place: Tereasa Shop, others
Price: each \1,600
"Rush Serum in Mascara Doraemon" blue&black/pink&black ¥1600
"Rush Serum N Doraemon" 6ml ¥1200
(both prices tax excluded)
AVANCE online shop: https://avance-online.jp/
Related article:Cute Doraemon Stationary With Original Illustrations on Sale This Summer!
Related article:Now you can walk like a robot cat from the future with Doraemon Reebok shoes
RELATED ENTRIES
Cute Pikachu, Mew, Eeevee and Snorlax Blush & Powder Release in Pokémon Cosmetic Series

The next set of beauty items in the popular Pokémon Cosmetic Series has finally been revealed: the Pokémon Cheek and Pokémon Pressed Powder will be released on September 10. The line-up includes Pikachu, Eevee, Mew, and Snorlax.

Pokémon Cheek – ¥1,300 (Before Tax)

The Pokémon Cheek is a cream-type blush that spreads smoothly on your skin without any stickiness. It's comfortable on the skin and is durable. It also contains micropearls and so gives your skin a natural shine.

It comes in four colours: Pikachu Milky Pink, Eevee Rose Pink, Snorlax Coral Pink, and finally Mew Pearl White which brightens your natural skin tone. The blush comes as a stick and so is ncie and easy to apply and carry around.

Pokémon Pressed Powder – ¥1,500 (Before Tax)

The pressed powder comes with its very own powder puff featuring a cute original design. The powder is mixed with minerals that are gentle on the skin as well as collagen. It leaves your face looking smooth and natural without any unwanted shiny patches.

Pick from four different colours: Pikachu Pink which brightens natural skin colour, Eevee Mint which elevates transparency, Snorlax Yellow which conceals blemished, and Mew Purple which brings out transparency and shimmer.

When out there in the wild catching Pokémon, why not look good at the same time? Be sure to check out the Pokémon Cosmetic Series, and stay tuned for any new products that are released.

Information

Pokémon Cosmetic Series – Pokémon Cheek / Pokémon Pressed Powder

Release Date: September 10, 2019

Available: Pokémon Center,  ITS'DEMO, Tokyu Hands, Village Vanguard, and elsewhere

Official Website: https://lovisia.jp/pokemon/

Cute & Shiny Doraemon Cookies & Dango Tin Are Kyoto Souvenirs You Can't Leave Without

If you're looking for must-buy souvenirs while in Kyoto then look no further. Heso Production are set to begin releasing Doraemon cookies and a cookie tin early this month at that are exclusive to souvenir shops and variety stores in Kyoto.

The cute printed cookies feature not only familiar faces from the Doraemon series, including the adorable cat robot himself, but illustrations of sights that are quintessential to traditional Kyoto culture including the five-story pagoda and the Daimonji bonfire.

Another must-grab is this shiny Doraemon tin. Also exclusive to Kyoto, the tin features a way-too-cute shiny design of Doraemon who is holding some dango.

The tin is filled with lemon flavoured ramune candy, a perfect nibble to have while travelling.

©Fujiko Pro・Shogakukan・TV Asahi・Shinei・ADK

Information

Dokodemo Doraemon Kyoto Exclusive Printed Cookies

Contains: 20

Price: ¥800 (Before Tax)

Release Date: Early September 2019 (Date may differ from store to store)

Location: Souvenir shops and variety stores in the Kansai region

Dokodemo Doraemon Kyoto Exclusive Shiny Tin

Contains: 2 bags (8g each) of lemon flavoured ramune candy

Price: ¥600 (Before Tax)

Release Date: Early September 2019 (Date may differ from store to store)

Location: Souvenir shops and variety stores in the Kansai region

Heso Production Official Website: https://www.heso-pro.com/

Japanese Cosmetic Picture Book #2: Brightening Oil & Beauty Essence by AGILE COSMETICS PROJECT

Japan is home to an abundance of top-class, high quality cosmetic items. Knowledge about these cosmetics is slowly becoming widespread outside the country, with travellers stuffing their suitcases with everything they can to take back home with them.

Our featured series Japanese Cosmetic Picture Book is all about us here in the MOSHI MOSHI NIPPON team recommending products to you, our readers, that are made in Japan and that we use ourselves. Look forward to learning about the latest in cosmetics from the land of the rising sun.

Left: Clock G.e.n.e / Right: White Oil

The products we are taking a look at today are the White Oil and Clock G.e.n.e by AGILE COSMETICS PROJECT. The White Oil is an indispensable partner for the summer season while the Clock G.e.n.e is an essence that conditions the skin throughout the day.

AGILE COSMETICS PROJECT is a Japanese skincare brand that launched in November last year. They use completely natural ingredients in their products that are safe and good for your skin. What's characteristic about them however is that they update their products based on the demands of customers. To make products that their customer base will want to continue using, they focus on how an item feels on the skin, the functionality of its visual aspect, and its palatability amongst other things, all while making speedy improvements.

Has there ever been another brand that has listened to the desires of its users?

White Oil – ¥6,400 (Before Tax/Free Shipping) / Repeat Purchase – ¥5,500 (Before Tax/Free Shipping)

The White Oil is a two-layer product and so is to be shaken first before being used. Mixing two separate layers makes it easier for the oil to come together, down to the smallest corners of the outer layer. Ensure you mix it well before use.

When applied to your skin, it has a smooth texture despite being oil and does not become sticky. It feels very comfortable and natural on the skin and never becomes sticky even after applying, all while ensuring it stays moist. Since it's fairly smooth it means you can use it in summer and before you put on any makeup.

It's a personal favourite of mine. It makes a skincare routine super simple: after applying skin lotion you use the oil and you're done. It even comes in a stylish bottle and has a pleasant herb fragrance. I also have sensitive skin, so the fact that it's free from petroleum-based oils, mineral oil, parabens, UV absorption, and synthetic colouring is a huge plus.

I have used it for a week so I can't feel any change to my skin tone yet, but it has been incredible for keeping my skin in good condition. There are a lot of people on social media who have used it and have said that their skin tone has become brighter, so I will wait and continue using it!

Clock G.e.n.e – ¥7,000 (Before Tax/Free Shipping)

The second product to showcase is Clock G.e.n.e which was developed to create and maintain a "daily rhythm" in your skin. This liquid essence will treat one's tired skin, whether it be from your body clock being off, stress or the like. It adds moisture to the skin throughout the day and also protects it from damage and repairs at night.

It comes in a pipette-type bottle. It is added to your skin after applying moisturiser and makes it super soft. This too is made from 98% natural ingredients and is free from silicon, parabens, mineral oil, synthetic fragrances, and synthetic colouring, meaning people with sensitive skin can use it freely without worry.

If you use skin lotion, Clock G.e.n.e and White Oil in that order, your skin is going to feel completely different the next year. When you start using these items, people are going to complement how smooth your skin looks, so for me the effects are outstanding.

Even now, with the high level of satisfaction people have with these two products, the company are continuing to update them based on feedback buyers can give via the QR code that is coupled with the products. I feel strongly AGILE COSMETIC PROJECT's desire to create products that they want consumers to continue using means that they are making good products. Both items are sold online, but the first production batch for Clock G.e.n.e is currently sold out. They are set to release more in the near future, so be sure to peruse their website.

Writer: Sayuri Mizuno (MOSHI MOSHI NIPPON)

Translator: Joshua Kitosi-Isanga

Sebastian Masuda And Other Phenomenal Artists Create Outstanding Doraemon Exhibition

28 artist groups and individuals have created artistic pieces to represent Japan's favourite animated character Doraemon. From July 12 to September 23, 2019, you can see these magnificent creations at the Doraemon Exhibition Osaka 2019 which will take place at Osaka Culturarium at Tempozan.

The Doraemon Exhibition Osaka 2019 features a range of artists who exhibit their works in Japan and even in foreign countries. This is a fantastic chance to meet a range of new Doraemon that the world has never seen. This event covers a range of genres through modern art that is overflowing with creativity and dedication for the anime character that has grasped the nation. 

On July 11, the day before the opening of the exhibition, there was a special opening ceremony and private viewing event held exclusively for staff and the press, which was a massive success. 

Press releases of the event reveal that artists Yasumasa Morimura and Sebastian Masuda were present at the ceremony for photos and greetings. 

Yasumasa Morimura commented with deep emotion: "I am so happy to have finally taken part in the Doraemon Exhibition. For this creation, I used lots of paper to make the costumes. I collaborated with Junko Koike, collecting lots of Doraemon manga as raw materials for the dress. As Doraemon has the power to manipulate time and space, and has the ability to create a door that leads to anywhere he desires, I thought a grey dress would be appropriate. In fact, the entire exhibition venue is just like the inside of Doraemon's pocket ー it is packed with the work of 28 solo artists and groups. What a fun experience it is. I hope that many people in the Kansai region come see this," he explained.

Sebastian Masuda commented: "I'm actually the same age as Doraemon and I share the same birthday as Noby; the main character from the series. I was born with a love for Doraemon."

He then commented on his art piece: "I actually wanted to make it as big as the Budha statue at Todaiji Temple in Nara, but we wouldn't be able to fit it in the venue so I made it two metres tall instead", he laughed. "I collected materials from markets from all around the world, so the final piece is literally made up of the colours of the world," he continued. 

His message to the people of Osaka is: "I would love it if lots of children came to see this. It would really make my day to hear reactions from them like "whoa, it's huge" or "that's so cool!""

Please come stop by to visit your favourite Doraemon!

Information

The Doraemon Exhibition Osaka 2019

Running: July 12, 2019  ー September 23, 2019 (74 days) 

※ No closed days.

Venue:  Osaka Culturarium at Tempozan (next to the Osaka Aquarium Kaiyukan) 

Address: 1-5-10, Kaigandori, Minato Ward, Osaka

Open: 10:00 ー 17:00 ※ Last entries: 30 mins before closing time 

Entry prices

General:¥1,500

Middle/High School: ¥1,200

4 y/o ー Elementary School: ¥800

Enquiries: (Hello Dial)  TEL: 050-5542-8600 (8:00 ー 22:00, no holidays)

Japanese Cosmetic Picture Book: #1―Skin Care & Moisturisation With RMK

Japan is home to a plethora of top-class, high quality cosmetic items. Japanese cosmetics are slowly becoming in-the-know outside the country, but there is still an abundance of products that are unknown to people.

In this new featured article series, we here in the MOSHI MOSHI NIPPON editorial team will showcase products made in Japan that we use. The brands and prices are unrelated to our picks, they are simply items we want to recommend for you to try.

The first items I've chosen are two moisturising products by RMK. RMK's skin care items cater to a variety of skin types and have been enjoyed by Japanese people of all generations for many years. The company renewed their skincare products on April 5 of this year. I tried out the update items for myself, so let's take a look.

The concept of the new items is "First Sense." Not only do they ensure your skin stays moist, they also "tailor" your skin to how you want to look.

I'm concerned about the outer part of my nostrils, and so I used the First Sense Hydrating Lotion Fresh, a moisturiser that balances water and oil content of your skin.

The lotion is a new combination of pear extract and sage leaf extract. Using cotton, the first use removes old keratin from the nose, and on the second and third uses it completely soaks into the skin. The white gel spreads well across the skin so feels comfortable. Its orange scent gives you a feeling of freshness in those tired and early mornings. I personally really like the smell, so I use it to relax before I sleep too.

Another item that was renewed was another moisturising item: the Balance Skin Conditioner for sensitive skin. It's alcohol free and contains hyaluronic acid. The texture makes your skin feel super gentle, moisturising it nice and deep. It contains ingredients that combat dry skin so is good to use when the season changes or to strengthen your skin barrier. It has a citrus and ginger fragrance which is extremely refreshing like the First Sense Hydrating Lotion Fresh. I have used this item when my skin has been drier than usual and when the pollen count has been high in the run up to spring.

RMK items are sold in the cosmetic section of department stores in Japan. They are also sold in Hong Kong, Taiwan and South Korea too, so be sure to check them out.

Writer: Sayuri Mizuno (MMN Editorial Team)

Information

RMK Official Website

LuLuLun Face Mask: A Beautifying Souvenir From the Japanese City Ise

When travelling abroad, I find myself buying and taking back lots of different souvenirs for myself and my family. I look for those items that are made with each region's particular materials and ingredients. By handing them out to people, I'm also sharing a little bit of that place with the people around me too.

Today I introduce to you the "Ise LuLuLun" face mask, a souvenir from the Japanese city of Ise that's perfect for that one person we all know who's into beauty and cosmetics.

The Ise LuLuLun is part of the popular "Tabi Suru LuLuLun" face mask series which sees limited edition face masks sold in different regions. The masks are made from an assortment of ingredients and plants. They are sold not just in Japan but around the world. Some of the variants to hit Japan have included Okinawa Shequasar and Shōdoshima Olive.

Ise Lululun is the first product in Japan to include extract of sakaki leaf which moisturises the skin. Sakaki is a flowering evergreen tree native to several Asian countries including Japan and is used as a symbol of longevity and vitality. The extract was made in cooperation with Ise City's manufacturing and tourism department, making this a very special product indeed. The sakaki is used in various Shinto activities such as offering them to altars and household shrines. Ise itself is home to many sasaki trees from which the extract in the Ise Lululun is made. Its moisturising effect ensures the skin stays nice and moist.

Let's get onto talking about what it's like to use this product. I've used Lululun packs in the past, but the feature of the Ise Lululun is absolutely the fragrance it gives off. The instant you bring the mask to your face your nose is filled with a smell akin to a forest of trees. If you close your eyes it's like you're enveloped in nature. It gives you a feeling of peace and tranquillity. And the way it relaxes you is nothing short of incredible… It's truly a gift and souvenir from Ise, bound with the air and scent of the city.

My face felt so smooth the day. I think I'll definitely be using this again for special occasions.

The Ise Lululun is a fusion of the Ise spirit of "being thankful for and treasuring every day" and Lululun's own spirit of being in high spirits and sound health. At the end of the day it made me hold my head high and say "thank you" to today. I was also warmed by the message written on the packaging (which you can see above).

If you plan a trip to Ise be sure to check out this exclusive beautifying item and maybe pick one up as a souvenir.

Writer: Sayuri Mizuno (ASOBISYSTEM)

Translator: Joshua Kitosi-Isanga

Information

Ise Lululun

Price: 2 Packs of 7 – ¥1,000 (Before Tax) / 4 Packs of 7 – ¥1,700 (Before Tax)

Available: At souvenir shops in Mie Prefecture, Aichi Prefecture and select parts of the Kansai region

Official Website: https://lululun.com/oise/

Help Me Choose! Japan's Trending Makeup #2: Yurippa's Repeat Cosmetic Pickups♡

This is my first ever series I've ever been put in charge of as a writer and model.

As long as you're stocked up on these items, you're good to go. In this special edition, I will showcase cosmetics that I'm a repeat buyer of and would definitely buy again.

▽Skincare

The first thing I should mention is my skin type.

・I have tough skin and so it doesn't blemish easily

・It becomes dull when I have lack of sleep

・With my combination skin, it's easy to spot oily areas (T Zone) and dry areas (around the eyes, U Zone)

Like this.

Using my knowledge of various cosmetics and methods I have tried I would like to showcase my recommendations. (Don't worry if you don't have the same skin type as me as some of the items I have picked can be used with other types too, so be sure to take a look.)

Finally, you'll be happy to know that these can be used during all seasons.

So, ready to give it a go?

▶︎Dior Capture Youth Series

Quickly and actively delays the appearance of signs of ageing. This series was created to retain youthful looking skin. There are six serums to choose from which cater to different skin conditions. Each can be used on their own or in combination with your own serum products. I've made a custom serum for myself by combining two different types.

1. Intense Rescue Oil (30ml) – ¥12,420 *Photo is my own. Price shown is as was on the day of purchase.

(Effective against dry skin and helps maintain moisture. Supplements lipids.)

2. Glow Booster (30ml) – ¥12,420 *Photo is my own. Price shown is as was on the day of purchase.

(Rich in Vitamin C. Leaves skin glowing and feeling invigorated.)

For face lotion, I use 3.Enzyme Solution. It has a refreshing water-like texture and leaves skin moist. Good to use on skin that favours serums in this series.

Enzyme Solution (150ml) – ¥7,452 *Photo is my own. Price shown is as was on the day of purchase.

For cream, I use 9.Capture Youth Creme. It doesn't remove the face lotion or the serum and doesn't feel sticky.

Capture Youth Age-Delay Advanced Creme (50ml) – ¥12,420 *Photo is my own. Price shown is as was on the day of purchase.

It's safe to say that after using this series, I don't even know what dry skin is anymore. It really is that effective!

▶︎FEMMUE

5. Lumière Vital C  (30ml) – ¥8,000 (Before Tax) *Photo is my own. Price shown is as was on the day of purchase.

6. Ideal Oil (30ml) – ¥6,000 (Before Tax) *Photo is my own. Price shown is as was on the day of purchase.

FEMMUE is a really popular brand right now from the hub of beauty, South Korea. Firstly, it's steeped in fragrance. It's rich in floral scents like perfume. Simply holding the bottles fills you with a feeling of satisfaction. It leaves your skin feeling clear, smooth and glowing. And though it's a thick oil, the skin absorbs it extremely well. 10/10 from me!

I might recommend it to girls who've just stepped into adulthood, girls who want to look sexy, and those who want to be popular! It's perfect for skin that blemishes easily.

▶︎dear mayuko

7. Innocent Skin Serum (20ml) – ¥8,424 *Photo is my own. Price shown is as was on the day of purchase.

This serum contains sericin which comes from silkworm cocoons. Sericin ensures your skin is moist and is gentle on the skin. Despite being a beauty product the texture of this serum is really silky (like water!) and will leave your skin soft and healthy.

Personally, I recommend using it as a booster serum! It's an easy way to nourish the skin before putting on any makeup. It will also help things like face lotions and milky lotions soak in better. The serum itself soaks into your skin nice and quickly so it won't ruin your makeup. Its warm matte texture and colour will leave you looking soft♡

▶︎Kiehls

4. Kiehl's Ultra Face Cream (49g) – ¥4,000 (Before Tax) *Photo is my own. Price shown is as was on the day of purchase.

This cream spreads lightly on the skin. It's also very clear to see that it lets no moisture escape…! That's how dense this cream is, it's like it adds a cover to your face. It also doesn't clear away face lotion or any beauty essences. It reaaally moisturises your skin. This is my 5th or 6th time buying it.

8. Kiehl's Ultra Face Cleanser – ¥2,800 (Before Tax) *Photo is my own. Price shown is as was on the day of purchase.

This can be used on any skin time. (It's also good for people with eyelash extensions!)

It's a gel-type cleanser. What's good about it being gel-type is that cleans off better than oil and yet doesn't take in unnecessary moisture from the skin. You also don't get that stretched feeling after you wash your face. This can really be used all season and by anyone. I haven't used any other cleansers the past three or four times. It's one I can trust.

▽Cosmetics

Be sure to check out my recommended lipsticks from last time too!

https://www.moshimoshi-nippon.jp/183569

▶︎CANMAKE

8. Quick Lash Curler (Transparent Type) – ¥680 (Before Tax) *Photo is my own. Price shown is as was on the day of purchase.

I often use this as a top coat. It makes it harder for your eyelashes to sag and can be used with any kind of mascara. You get a great product for a cheap price, so there's no need to feel guilty about picking up something cheap. You'll end up picking it up multiple times a day, and the cosmetic pouch one stick comes with is sure to come in handy too!

▶︎BIODERMA

2. Sensibio H2O – ¥1,200 (Before Tax) *Photo is my own. Price shown is as was on the day of purchase.

This is a cleansing water to be used with sensitive skin. Pour some onto a cotton pad and simply wipe to remove your makeup without any unwanted excess being left on. It's a super convenient product to have during those times when your makeup need a quick fix up. It's often used in makeup shoots too! They have both small and large bottles, so try starting from the handy mini size first ☺

▶︎M.A.C

1. Strobe Cream Peachlite – ¥4,500 (Before Tax) *Photo is my own. Price shown is as was on the day of purchase.

A glittery pink cream that feels comfortable on the skin. When used as a base for your makeup it will brighten your skin, or when used as a highlight it will glimmer in the light on your shiny skin. It might be nice to add to the décolleté or when you are exposing skin too to add a little something. This item has many different uses!

▶︎Primavista

3. Long Keep Base UV – ¥2,800 (Before Tax) *Photo is my own. Price shown is as was on the day of purchase.

This product can won't blemish skin at all even if it's been working all throughout the day. It goes on gently and soaks up quickly. This means it can be used when you don't have much time, such as when you're in a hurry in the morning. It feels so light it makes you wonder whether you've even put any on! It also holds up well against sweat and oil so I highly recommend it for the coming season! (It's been a No. 1 best seller for 9 years in a row.)

As a footnote, I'll just add that I'm actually a model for Primavista's products and I'm really glad I discovered them.

▶︎YSL

5. TOUCHE ÉCLAT BLUR PRIMER 1 – ¥6,300 (Before Tax) *Photo is my own. Price shown is as was on the day of purchase.

This is a makeup base that has gold pearls in it. It fixes the uneven parts of the skin to make it uniform making it perfect for foundation. It has a semi-matte consistency and the goal pearls give your skin a gorgeous gloss.

10. LE CUSHION ENCRE DE PEAU B30 – ¥7,500 (Before Tax) *Photo is my own. Price shown is as was on the day of purchase.

This is the covering power, moisturisation and texture I wanted! It feels very light on the face, so much so that it feels like you have none on, but it's the opposite of useless―it covers the face completely. As expected of them. It's easy to put on too, just pat it onto your face with a sponge. It's very durable too!

▶︎MIMURA

4. Smooth Skin Cover – ¥4,200 (Before Tax) *Photo is my own. Price shown is as was on the day of purchase.

This too is a makeup base and evens out the odds of your face. It's silky and makes you look extremely beautiful so it's the perfect accompaniment to makeup. It also thankfully contains SPF20 and PA++ and is free from ethanol, colouring agents and synthetic fragrances, making it kind to skin. I would also recommend it to people with weak skin. This is my second pot ♡

▶︎LANCOME

6. Grandiôse Mascara (Volume Type) BK – ¥4,200 (Before Tax)

The rose design of the cap is so cute! This is the No. 1 easiest product to coat. The shape of brush has been carefully calculated to curve with your eyelashes. It does nothing short of bolstering the volume of them. It has also received high praise for how easy it comes off with hot water. But it doesn't blot either. This one's for those who want to emphasise their gaze♡

▶︎CLINIQUE

7. Lash Power Mascara Long-Wearing Formula BK – ¥3,780

We can all relate to mascara becoming clumpy. This formula entwines with each eyelash hair to give big, beautiful eyes. It makes you feel good when applied. Though this is my third time buying it it never fails to make me say out loud to myself, "Wow, how beautiful." You don't have to worry about sweat or oil either, plus it comes off easily with hot water♡

▶︎MAYBELLINE

9. Hyper Sharp Liner BK – ¥1,200 (Before Tax) *Photo is my own. Price shown is as was on the day of purchase.

I have loved and used MAYBELLINE since I was a high school student. I've used many different eyeliners but always end up returning to the same place. The Hyper Sharp Liner is easy to draw with, doesn't smear, and the tip of the brush is thin and soft, so drawing on cat eyes is so much easier now. It's perfect! Get it ASAP!

What do you think of my list? The categories are a bit jumbled, but I have listed all the items I highly recommend.

A lot of the items I've presented are expensive, but even if they are pricey, the quality is good and the effects they have really work! I wonder if the reason for people in their teens and 20s focus so much on skin care is because they have seen the speed at which you can revitalise your skin, or have the power to 'rebirth' oneself.

My skin is changing entirely now compared to back when I thought it was okay to not take care of it. I want to make more recommendations to people at my age and invest in my future self.

Be sure to reference this last, and thank you for reading! Until next time ☺

Writer / Model  Yuri Suganuma
Photographer  / Hikari Shibata

Translator / Joshua Kitosi-Isanga

TALENT PROFILE

Yuri Suganuma

Yuri Suganuma is a model with a high fashion sense that has been picked up by various magazines. She receives much love and support from girls of the same generation as her to whom she is known by her nickname "Yurippa." She has a huge influence across her social media. Recently, she has stepped into other fields outside of modelling, such as appearing in TV shoots and in music videos. She is skilled in make-up and involved in the development of cosmetics.

Pyokotama♪ Releases Doraemon, Hello Kitty, Pikachu & Shin Chan Soft Balls

Sega Toys Co., Ltd. will launch a new lineup of large, round character-themed balls called Pyokotama♪ Character series! The lineup includes four designs; Crayon Shin Chan, Doraemon, Hello Kitty, and Pikachu! These characters are famous in Japan and all over the world! The lineup will reach stores on Thursday 26th September 2019.

The cloth ball is approximately 13 cm in diameter. The faces of Crayon Shin Chan, Doraemon, Hello Kitty and Pikachu decorate the surface of the cushions…but what's on the other side…? Make sure you take a look! Turn on the switch on the ball and and then throw it around as much as you like! When you do, it will play the character's theme song or a famous song when you throw it!

Crayon Shin Chan

Make sure to check out the "backside" of the ball! As you throw the ball around, it will play the nostalgic melody of the Shin Chan theme song I'm Popular (Ora wa ninkimono).

Doraemon

His four-dimentional pocket is on the front of the ball and on the back is his small, red, circular tail! As you throw him around, he will play the anime opening song Yume o Kanaete Doraemon.

Hello Kitty

Her left ear is decorated with her signature large ribbon. When you throw this ball, a famous melody by Tchaikovsky will fill the air!

Pikachu

This ball is especially cute because of the ears! Throw this ball, and Pikachu will sing his own anime ending theme song"

These cute and round balls are perfect to enjoy the outdoors with your family and friends!

Ⓒ Yoshito Usui/ Futabasha, Shinei, TV Asahi, ADK Ⓒ Fujiko-Pro, Shogakukan, TV Asahi, Shinei, ADK

Ⓒ1976,2019 SANRIO CO.,LTD. APPROVAL NO.S600788 ⒸNintendo・Creatures・GAME FREAK・TV Tokyo・ShoPro・JR Kikaku ⒸPokémon

Information

Pyokotama ♪ soft balls (4 character designs)

Prices: ¥2,500 + tax each
Release date: Thurs 26/09/2019

Available at: Toy stores, volume retailers, general goods stores, online shops etc

Sega official website: http://www.segatoys.co.jp/

Kirby-themed cosmetics lineup "Ichiban Coffret" is coming to Lawson stores!

A character lottery where you are always a winner?! A new Kirby-themed cosmetic goods lottery will arrive at Lawson convenience stores across Japan on Saturday 25th May 2019! The Ichiban Coffret collection consists of goods themed around the game Kirby's Dream Land.

A flower-themed Kirby original design! This is not available anywhere else. Whether you're a fan or not, you must see it!

Prize A:Dream cosmetics palette (only one type available), approx. size: 18cm

This cosmetics palette contains six different eyeshadow colours and two different blush colours. Not only is this the perfect colour scheme for the start of summer but the range of colours also makes it easy and suitable for anyone to use! The palette colour scheme is the same as that of the game! Upon opening it, you'll realise just how cute it is and you're bound to make use of it every day.

Prize B:Boyoboyo compact (only one type available), approx. size: 7.5cm

This compact takes on the shape of Kirby's face! This will give a cute, soft and even colour to your cheeks!

Prize C:Dazzling rouge (Two colours available), approx. size: 7cm

Kirby and Waddle Dee ー You can choose from two varieties of rouge lipstick. These easy-to-use lipsticks come in coral and pink ー choose one to brighten up your lips! ♪

Prize D:Kirarin lipgloss (three colours available) , approx. size: 10cm

These lipgloss containers have original designs. The three lipgloss colours are; glossy pink with a reddish tinge, clear pearl, and elegant pink pearl.

E prize:Mildly fragranced hand cream (three varieties available), approx. size: 5cm

There are three types of hand cream: pink floral, blue botanical, and orange garden. Now you have three different hand creams to choose from to suit your daily mood!

Prize F:Multipurpose colourful compacts (5 different colours available), approx. size: 4cm

This is a collection of cute round compacts! Each has a unique colour that is both simple and trendy! The five colours are pink, orange, red, pearl and brown! Each of the colours is a unique blend and has a creamy texture. Depending on the colour, you can also them as eyeshadow, blusher, lipstick, face highlighter and much more!

Last One prize:Coffret pouch, approx size: 25cm

You can fit all the items from the lineup into this bag! There's also an inside pocket ー what a useful item!

There are just so many cute goods as part of this line up so please check them out!

(C)Nintendo / HAL Laboratory, Inc.

Information

Ichiban Coffret: Kirby's Dream Land COFFRET COLLECTION
Available at:Lawson convenience stores (and many other places)
Available from: Sat 25th May 2019

More information:https://bpnavi.jp/t/kirby_c

※ Some stores may not have some/all of these items in stock. The lineup availability period may vary depending on the shop. The series of goods will no longer be available once stock runs out.
※ The goods may look different from the photos.
※ The details on the lottery and goods lineup are subject to change without notification.
※ "Last One" and "Double Chance" are registered trademarks.

Noborito Station Transforms Into a Doraemon Dream World

Hi, everybody. I'm Midori from MMN's editorial department.

Right now, the Odakyu section of Noborito Station in Kanagawa is all Doraemon coloured! It is the closest station to the Kawasaki City Fujiko F Fujio Museum―a museum for the manga duo who created Doraemon―and so the station has been transformed into all things Doraemon to immerse fans in his bright blue world before they head to the museum. I heard that the station looked super cute so I took no time at all to pay a visit!

You can arrive at Noborito Station is 16-minutes from Shinjuku Station via the Odakyu Line. There may be some people unfamiliar with the area but it's surprisingly close! Recently the Rapid Express trains have started stopping there making it easier to commute to. The JR Nambu Line also rides to Noborito Station so you can leave from Tachikawa or Mizunokuchi too.

As soon as you step off the train the platform signs are all Doraemon coloured! And if you look closely you can see his bell too.

These little details are everywhere―they're even on the pillars!

The platform garbage bins too!

And the bigger waste and recycling bins.

The staircase leading down to the platform and up into to the station features illustrations of Doraemon flying with his friends in the clouds.

The elevator design is based on Doraemon's Anywhere Door♡

And if you look closely at the toilet doors you can see cute designs of Doraemon for the men's and Dorami-chan for the women's! The section in the middle hadn't been changed.

There's also a Doraemon to the side holding a small light. He's pretty big so he's perfect for taking a picture with!

Walking a little further along there was an Anywhere Door, which when you approached…

opens up! You'll get to see many different sights through the door.

They went all out with the little details even putting Doraemon's colours and bell on this big sign too.

A little further along…

was a bronze Doraemon statue! He's surprisingly small but really stands out.


He has a shiny nose.

I then descended the escalator to the bus terminal…

…and found a statue of Dorami-chan too. In front of this statue is a shuttle bus that takes you to the Kawasaki City Fujiko F Fujio Museum.

The bus design is really special! So cute!

It was so much fun just walking around the station and seeing all the carefully placed details. There might be even more that I didn't see too, so you should head to the station and seek them out!

ⒸFujiko-Pro・2011 Fujiko-Museum

Information

Odakyu Station
Address: 2417 Noribito, Tama Ward, Kawasaki, Kanagawa Prefecture
Access: 1 stop from Shinjuku Station via the Odakyu Line
Trains: Rapid Express / Express / Commuter / Semi Express / Local

Kawasaki City Fujiko F Fujio Museum
Address: 2-8-1 Nagao, Tama Ward, Kawasaki, Kanagawa Prefecture
Business Hours: 10:00-18:00
Closed: Tuesdays & New Year's Holiday
Website: http://fujiko-museum.com/

Pokémon Cosmetic Series: Pokémon Mirrors & Point Pack Released

We have seen five items release in the Pokémon cosmetic series up to now: the face mask, lip cream, hand cream, lip gloss and body gel.

In total over 470,000 items have shipped in the series. They have gained much attention online not only for their cute designs but for the considered ingredients they contain. The series has been also been sold in Japanese airports and enjoyed as a souvenir from Japan. It was even released in Taiwan this month.

Two new Pokémon have been added to the series for the newest product―Slowpoke and Mew―for a total of six Pokémon. The new items in the line-up are mirrors and the point pack.

Cute pastel colours and designs decorated the six mirrors which include Eevee, Slowpoke, Mew, Jigglypuff, Pikachu and Snorlax. Their petite 76mm size makes them compact and convenient to carry around. But don't be put off by their small appearance as they are plenty big enough to fix your makeup on the go. The mirrors also come with a clear case meaning they won't get dirty.

The cute designs also make them a perfect idea as a gift♡

Also released is the point pack which is sure to be a hit on social media.

The point pack includes adorable Pokémon stickers you can put on your face and body. They are made by the cosmetic brand Lovisia and contain collagen, hyaluronic acid and shea butter for beautiful skin care. They are also scented with sweet soap.

One point pack comes with 11 sheets so you can enjoy them with friends and family or hand them out at sleepovers!

Information

Pokémon Mirror
Price: ¥650 (Before Tax)
Designs: 6

Available: At variety shops in Japan

Release Date: Will begin rolling out at stores from April 13, 2019

Pokémon Point Pack
Price: ¥500 (Before Tax)
Contains: 11 mini sheets

Available: At variety shops in Japan

Release Date: Will begin rolling out at stores from April 17, 2019

Doraemon's 40th Anniversary Celebrated With Re-Recordings of 2 Famous Songs

The Doraemon anime series first hit the air on April 2, 1979 with its 40th anniversary having just passed on the same date this year. To celebrate this major milestone, two famous songs from the series―Doraemon no Uta and Boku Doraemon―both of which have been very well known since it first aired have been re-recorded.

The former was the first ever opening song of the series. Originally performed by Kumiko Osugi with lyrics written by Takumi Kusube, the track has been performed by several different artists across the show's long run. Now, with the series hitting the 40 year mark, the song has once again been re-recorded, this time by music producer and one half of the J-pop band Sukima Switch Shintarō Tokita. Tokita has written many songs for projects and artists. artists and has worked as a sound producer. The song is performed by the regular cast including Wasabi Mizuta who provides the voice of Doraemon in the 2005 series. The seamless recording makes each of their singing parts like a relay race.

In charge of the other song Boku Doraemon is hit maker ha-j who is well known for having written songs for boy band Arashi and female idol group Nogizaka46. Wasabi Mizuta provides her energetic singing once more for this track.

Both re-recordings maintain the same level of nostalgia while having a fresh spin added to them. Shintarō Tokita commented on the joy and pressure he embraced while working on his rearrangement: "I never imagined I would have the opportunity to be involved with the TV series so I was simultaneously taken aback and filled with happiness. But the song is also tied to the creator so it was also a challenge to reach the height of those emotions."

ha-j also talked about his version of Boku Doraemon and the respect he has for the series which he put into the song: "I put everything that Doraemon raised me with into the song. I threw down the gauntlet and squeezed everything in there."

The regular cast for the anime series participated in the recordings including the already-mentioned Wasabi Mizuta (Dorameon), Megumi Oohara (Nobita), Yumi Kakazu (Shizuka), Subaru Kimura (Takeshi) and Tomokazu Seki (Suneo). Their teamwork spans 15 years, and that harmony was carried with them to the recording room.

These two songs debuted the new opening and ending themes respectively on Doraemon on April 5, 2019 and serve to commemorate 40 whole years.