atmos and PINKS Collaborate on Classic Sneaker-Inspired 'SNEAKER PINKS' Collection
atmos, a shop sharing Tokyo's sneaker culture with the world, has collaborated with the mysterious character PINKS, created by Acky Bright, for an intense new collection. Blending the classic and the futuristic, SNEAKER PINKS and atmos have begun selling the new items at atmos-Tokyo.com
Sola-031
Personality: The leader of the PINKS, she easily combines both power and kindness.
Her megaton kick can destroy any armor with ease.
She can also freely control her long blue hair.
Hanna-700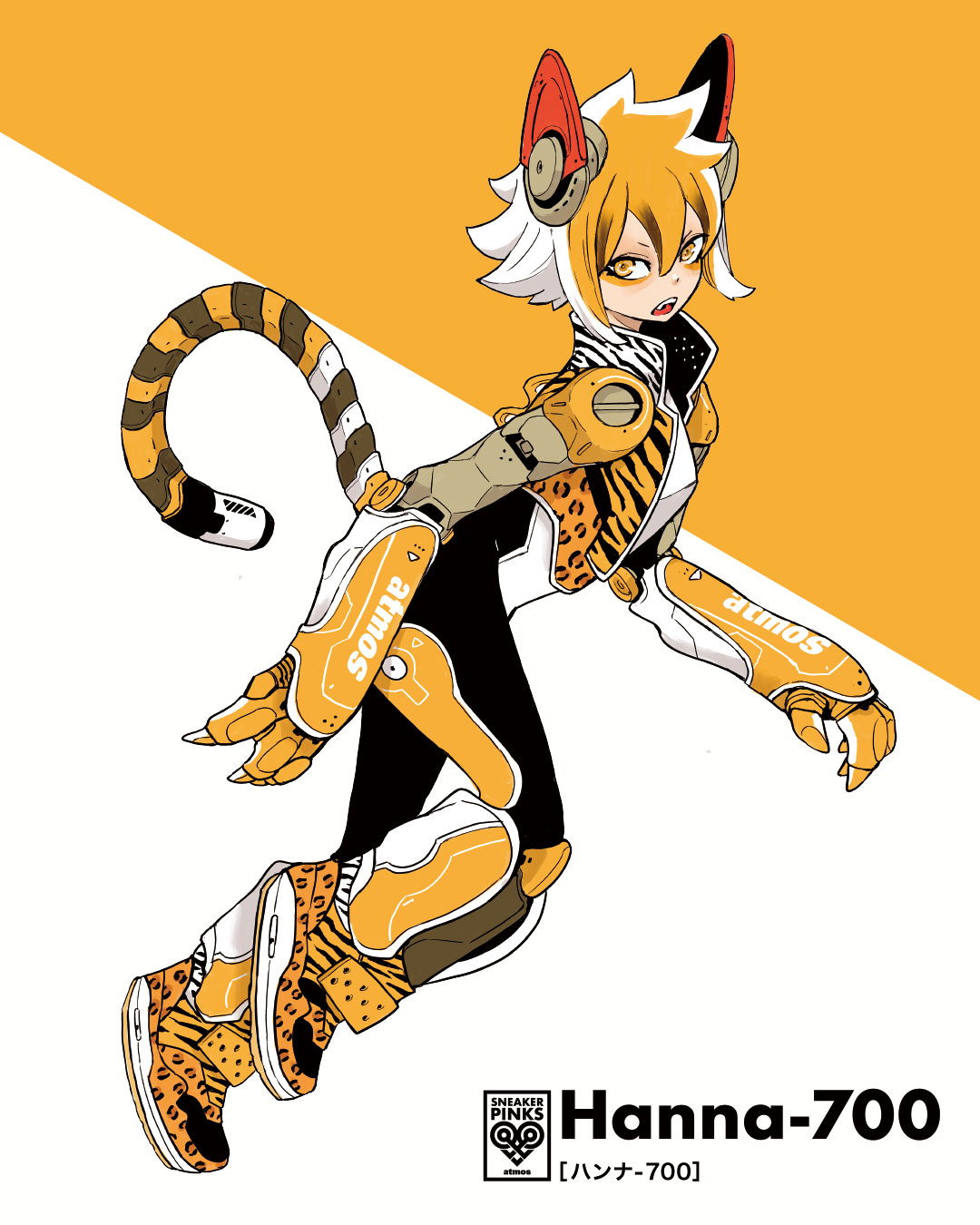 Personality: The speediest member of PINKS. Using her overwhelming agility, she easily tosses her opponents and tears them apart with her sharp claws. She always goes for the gold.
Pauley-800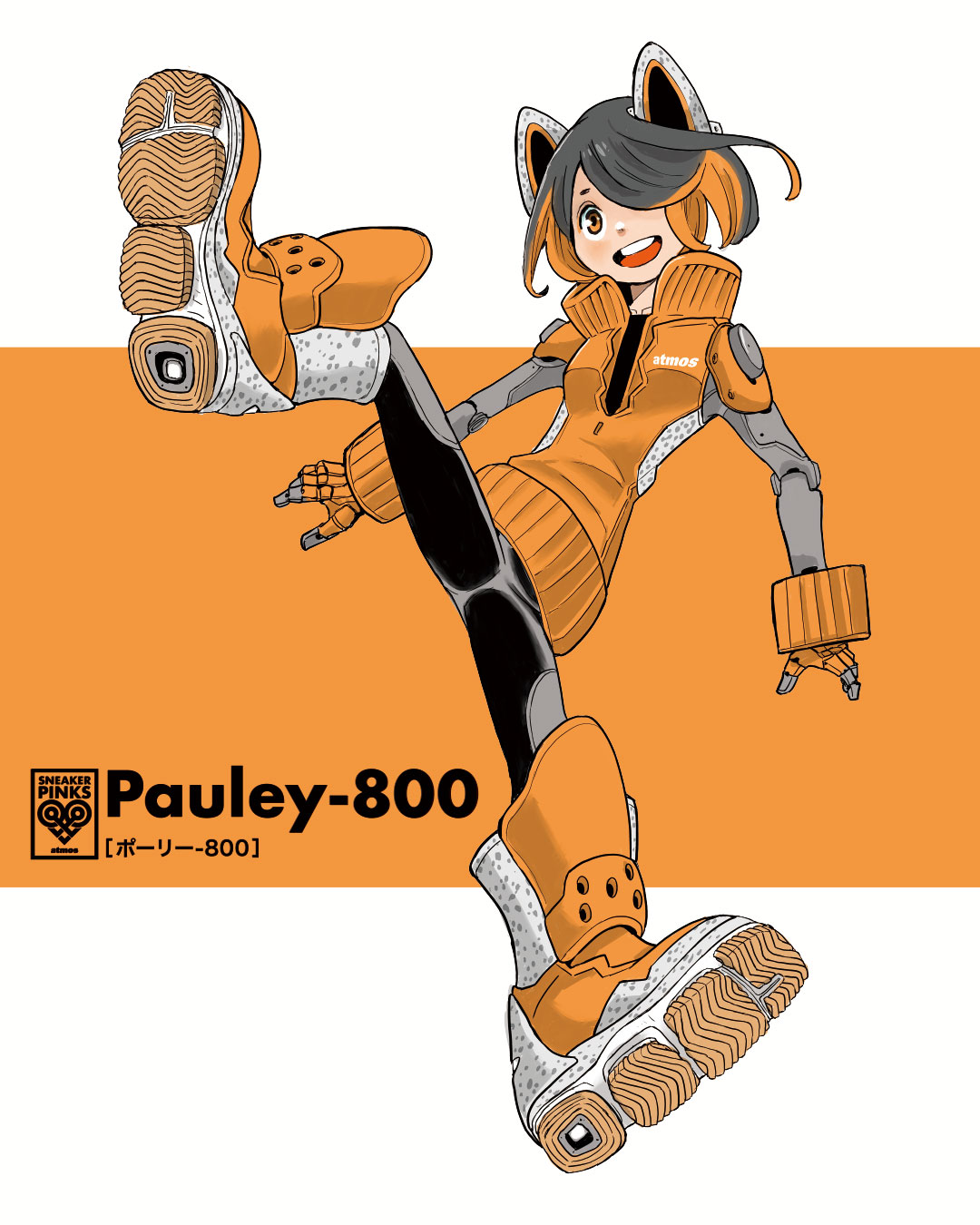 Personality: The mood maker of the group, she's full of energy and always smiling. She can jump over a building in a single leap. Even when things are tough, she can turn the situation around with her natural positivity.
Sui-025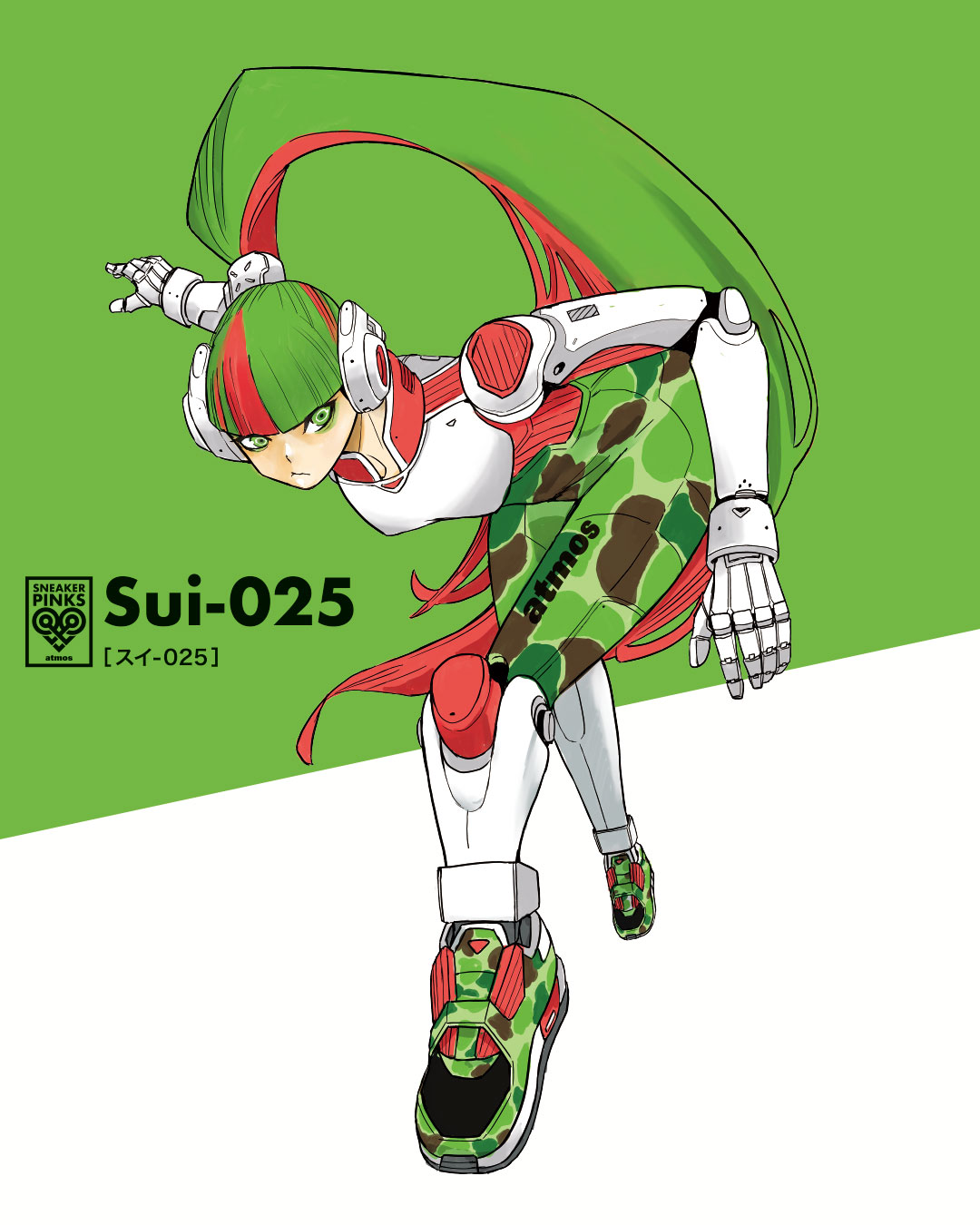 Personality: Quiet and calm, she's the group's chief strategist. 
With plenty of combat experience, unparalleled intelligence, and ample physical strength, she's admired by the other members.
Aoi-401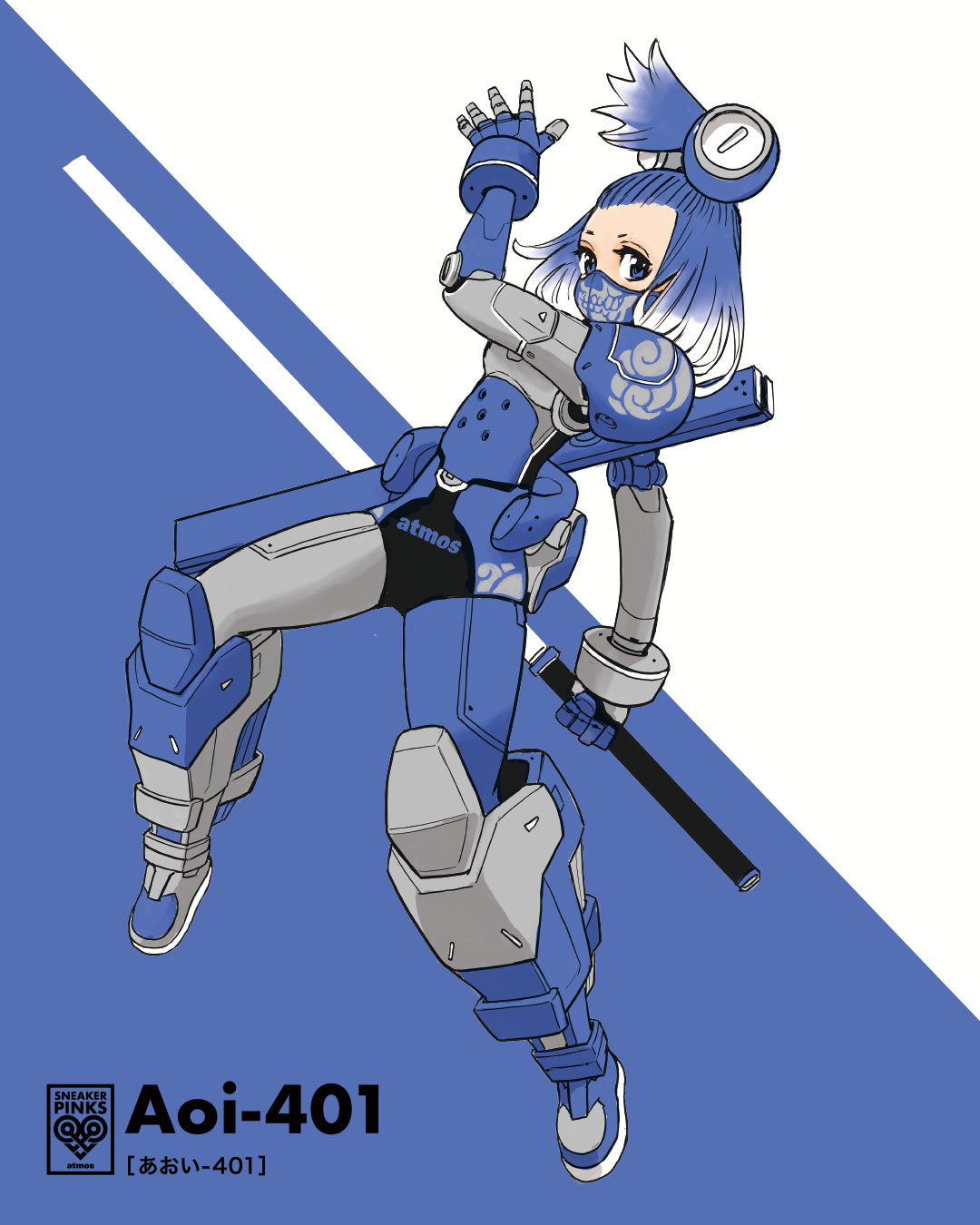 Personality: Although she's the smallest member of PINKS, she makes up for it with her blunt tongue and powerful personality.
A maniacal warrior, she cuts her enemies down with her laser blade.
En-040
Personality: The most mysterious of the group, En-040 is like everyone's little sister.
Always aiming for top marks, she's tough and dependable, but also moody and sometimes unpredictable.
Vivi-071
Personality: With a consistent poker face, she always gets her work done without hesitation or complaint.
She can fire powerful laser beams from the palms of her hands and is able to fly, making her the best at aerial combat.
Lily-111
Personality: The idol character of PINKS, she has amassed plenty of male fans. With a calm personality, she's always smiling. 
Nico-100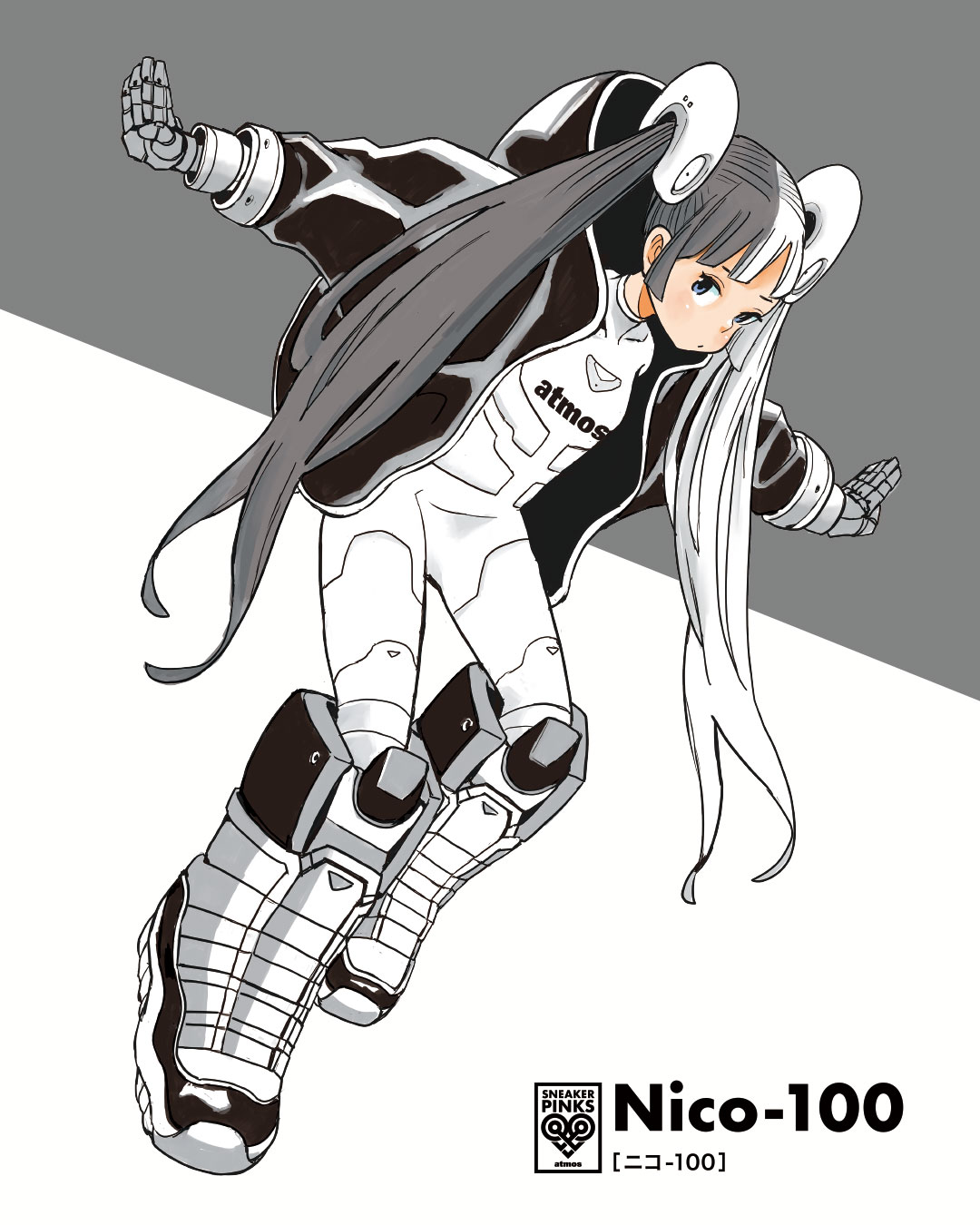 Personality: The group's secret weapon, she's packed with the latest technology.
Her ability to bury her enemies with ease has earned her the respect of the other members of the group.
Mona-125 / Mone-101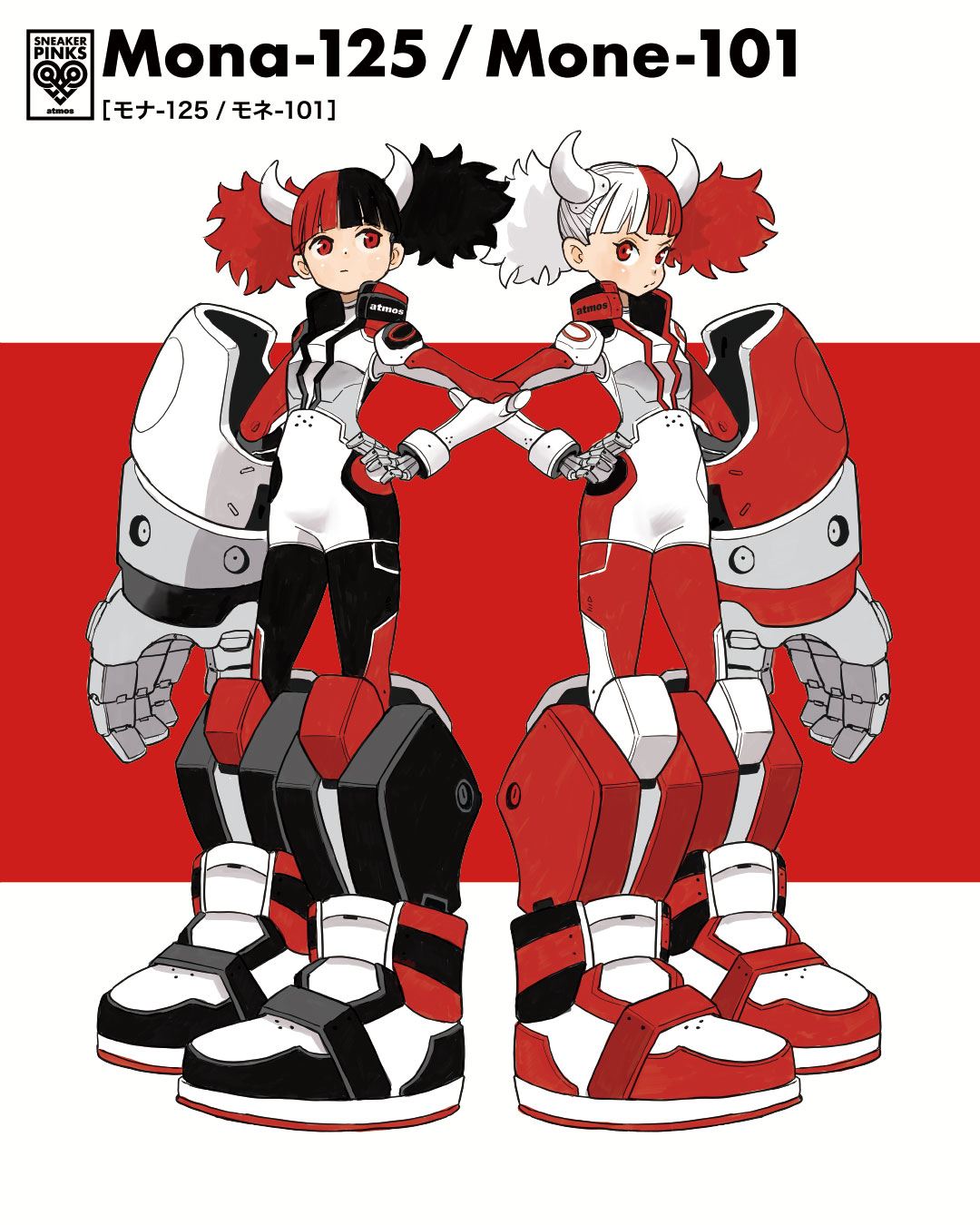 Personality: These twins have been around since the early days of the group.
With strong legs and massive arms, they're as tough as they look.
Acky Bright has worked across a number of genres and mediums, including character design, concept art, and live painting. He has also provided cover art for DC Comics. For the third installment of this collaboration, 10 different sneakers were designed as 'prototypes,' with each being based on a specific mecha suit. 
These unique characters and concept are still shrouded in mystery. Their identities and future developments will be posted on social media, so be sure to follow the official atmos account! Which girl is your favorite?
RELATED ENTRIES
Nike Opens First Installment of the Sneaker Museum at Hankyu Men's Tokyo

Everyone loves a nice pair of kicks, and no one makes sneakers quite like Nike. For 50 years, sneakerheads have coveted everything the brand creates, and a new museum project is leading fans down memory lane. The first phase of this sneaker museum is now open at Hankyu Men's Tokyo until April 7, 2022, and focuses on sneakers produced from 1972 until 1980. 

A group of curators knowledgeable about various sneaker models and historical backgrounds have gathered to handpick items by era and theme, and guests are welcome to brush up on their shoe history. 2022 marks 50 years that Nike shoes have been manufactured in Japan, and this exhibition will take place for several months over several installments. 

 

The first installment of the exhibition will highlight many different materials used to create Nike sneakers such as leather, suede, and nylon. Fans will also get to see shoes from different countries over the years! This is a rare opportunity, so please come and visit if you can!

Sneakers and Art Come Together at artrA Season 2 in Tokyo, Nagoya, Kyoto

Street culture is ever-evolving, and sneakers play a big part in street fashion. Combining sneakers and art, the artrA project finished up its first 7-city tour last year, and is now ready to start Season 2!

 

Season 2 will also be sponsored by ASOBISYSTEM. The shoe store atmos, on a mission to promote Tokyo's sneaker scene to the world, and the news app SmartNews are also contributing to the project as content partners to bring the event to Tokyo, Nagoya and Kyoto.

A total of 16 up-and-coming creators are participating in the exhibition. Illustrators, graphic designers, and painters will display their unique artwork based on the simple theme of one famous pair of sneakers. The original art will be sold and also transformed into artrA original merchandise. A sneaker lottery will be held, and 10 pairs of sneakers (100 pairs in total during the event) will be given away at the venues each day.

Participating Creators

an / Illustrator 
https://www.instagram.com/aooooo1995/ 

BEY / Illustrator 
https://www.instagram.com/beytaro_0912/ 

BANBU / Artist 
https://www.instagram.com/banbu.daishi/ 

hitotsume / Illustrator 
https://www.instagram.com/hitotsume/ 

Jeremy Yamamura / Artist 
https://www.instagram.com/jeremy_yamamura/ 

KENTOO / Artist 
https://www.instagram.com/k2rocker/ 

kousuke Shimizu / Artist, Art Director
https://www.instagram.com/kousuke_kou/ 

KRAP / Artist 
https://www.instagram.com/krap_sae/ 

Morita Manabu by WOOD / Artist 
https://www.instagram.com/wood_dw/ 

MOYA / Painter 
https://www.instagram.com/moya_mk16/ 

SHIOTSU (Cartoon Mafia) / DJ, Illustrator 
https://www.instagram.com/djshiotsu/ 

tarou2 / Animator, Illustrator 
https://www.instagram.com/tarou2/ 

T.D BRUDER / Artist
https://www.instagram.com/t.d.bruder/

TM paint / Artist 
https://www.instagram.com/tmpaint/ 

itui / Illustrator 
https://twitter.com/it_ui 

Shouko Nagamine / Illustrator
https://www.instagram.com/sn___illust/

Information

artrA -SEASON 2-

atmos KYOTO
Running: March 18 – March 21, 2022
Address: 420 Sakuranocho, Nakagyo-ku, Kyoto


atmos Sendagaya
Running: March 25 – March 27, 2022
Address: 3-16-9 Sendagaya, Shibuya-ku, Tokyo

atmos Nagoya
Running: April 1 – April 3, 2022
Address: Nagoya PARCO West Building 1F (3-29-1 Sakae, Naka-ku, Nagoya)

Official Site: https://www.atmos-tokyo.com

Cedar Crest Collaborates with Tokyo Revengers Anime Series for Sneaker Collection

Shoe brand Cedar Crest has released three unique sneakers based on the Tokyo Revengers anime series at Shoe Plaza locations nationwide and online. The new lineup includes designs featuring popular characters and famous scenes from the series. 

Special Edition with Shoe Box and Clear Folder  (3 designs)

Lineup

TR-PRIDE ~Kamikaze Clothing~

TR-BOND ~Character Motif~

TR-CRYBABY ~Animation~

Each sneaker comes in a special shoebox and comes with a clear folder and themed shoe bag. These are must-have kicks for Tokyo Revengers fans–which pair are you eager to wear around town?

(C)和久井健・講談社/アニメ「東京リベンジャーズ」製作委員会

ANNA SUI and atmos Announce First Collaboration with a Street Fashion Theme

Popular sneaker shop atmos is collaborating with one of New York's most beloved brands ANNA SUI starting on December 11, 2021. 

The new items being released were created with 'street style' in mind, and plenty of new merchandise will be on sale including casual hoodies, underwear, and cosmetic items. A special logo was also created exclusively for this unusual crossover. 

Items in the collaboration will be sold at pop-up shops from December 11 until December 20 at atmos pink flagship Harajuku, atmos pink Shinsaibashi, atmos Shinjuku, atmos Kyoto, and the Hanshin Umeda Main Store. They will also be available at atmos online, so don't miss out!

Information

atmos x ANN SUI

POP UP

Running: December 11 – December 20, 2021

Participating locations: 

atmos pink flagship Harajuku
atmos pink Shinsaibashi Store
atmos Shinjuku

atmos Kyoto
Hanshin Umeda Main Store 1F South Terrace

Official Site: https://www.atmos-tokyo.com

HENSHIN by KAMEN RIDER Sneakers Now Available in Limited Edition of 100 Pairs at atmos

HENSHIN by KAMEN RIDER, a company that develops sneakers featuring Heisei era Kamen Riders, has released its long-awaited new "Kamen Rider Genm Sneaker" and "Wolf Orphnoch Sneaker" on the official website of atmos and HENSHIN by KAMEN RIDER.

Line-up

atmos × HENSHIN by KAMEN RIDER TYPE EX-AID SNEAKERS T-SHIRT atmos original ve

atmos × HENSHIN by KAMEN RIDER TYPE RYUKI SNEAKERS T-SHIRT atmos original ver.

BANDAI HENSHIN by KAMEN RIDER Kamen Rider Genm Sneaker

BANDAI HENSHIN by KAMEN RIDER Wolf Orphnoch Sneaker

BANDAI HENSHIN by KAMEN RIDER Kamen Rider Ex-Aid Sneaker

BANDAI HENSHIN by KAMEN RIDER Kamen Rider Ryuki Sneaker

The long-awaited new release of these two pairs are inspired by the characters that play an important role in each story, and not only the backbone of the character, but also the details of the character have been designed with great care. An original T-shirt commemorating the collaboration has also been released.

The sneakers are produced using an original atmos body with a comfortable fit, featuring unreleased illustrations of "Kamen Rider Ryuki" and "Kamen Rider Ex-Aid" on the front. The back of the sneakers features the logos of both atmos and HENSHIN by KAMEN RIDER.



This time, the looks depicted the scenes in which each character appeared, making it a must-have look for any fanatic.

These sneakers are available until December 19, 2021. The collaboration tee shirt is available only at atmos online. The sneakers are limited to the first 100 pairs of each type, so don't miss out on these products which are sure to be a hit with Kamen Rider fanatics and sneakerheads alike!

Shoe Brand atmos to Open Limited-Time Pop-Up Shop in Collaboration With BLUE HAMHAM

BLUE HAMHAM, the adorable character designed by animator Arimura Taishi, is teaming up with popular sneaker shop atmos for the two brand's first-ever collaboration collection! Merchandise will include a T-shirt and hoodie, both unisex, and both available in three sizes. These will be on sale from November 19 until November 28 at the atmos online store and the atmos x BLUE HAMHAM Pop-Up Store being held at the atmos pink flagship store in Harajuku.

Lineup

atmos x BLUE HAMHAM Long Sleeved T-Shirt

atmos x BLUE HAMHAM Hoodie

AR Filter

BLUE HAMHAM are four music-eating space hamster brothers from a planet called 'Proxima b.' Their animations on Twitter, TikTok, and other social media platforms have garnered over 300 million views worldwide. Bringing Tokyo sneaker culture to the world, atmos derived its name from the word 'atmosphere,' and aims to be a shop as natural as the air around you. This is sure to be a collab unlike any other!

Guests to the pop-up store can enjoy a photo booth, allowing visitors to take photos with BLUE HAMHAM. A special AR filter on Instagram will also let guests transform into one of these space hamsters!

Information

atmos x BLUE HAMHAM

Collaboration Merch on Sale: November 19, 2021

Details: https://www.atmos-tokyo.com/lp/atmos-blue-hamham-pop-up

atmos x BLUE HAMHAM Pop-Up Store

Running: November 19 – November 28, 2021

Address: atmos pink flagship store Harajuku (Iberia Building 1F, 6-5-3 Jingumae, Shibuya)

Sneaker Art Project artrA to Hold Final Exhibition in Osaka and Tokyo

Street culture is ever-evolving, and sneakers play a big part in street fashion. Combining sneakers and art, the artrA project is about to wrap up its first successful season. SNKRDUNK, Japan's premier sneaker selling app and popular shoe shop atmos have teamed up for this exhibition, which will feature the famous AIR JORDAN 1. These exhibitions have taken place in seven cities across Japan since July. The final exhibitions will be held in Osaka in November and in Tokyo in December. 

A total of 26 up-and-coming illustrators, graphic designers, and even ukiyo-e artists have come together for this unique event. The artwork in this exhibition will incorporate the AIR JORDAN 1 brand, and merchandise featuring this street-styled artwork will be available at the venue.

Those who purchase a T-Shirt on-site will be entered into a raffle to win a pair of AIR JORDAN 1 sneakers. In addition, a special lottery will allow winners to purchase a pair of sneakers to take home. 

Be sure to keep an eye out for the second season of the artrA project brought to you by ASOBISYSTEM!

Information

artrA – SEASON 1 FINAL –

"artrA Vol.8" in OSAKA

Running: November 19 – November 23, 2021

Hours: 10:30-20:00

Address: atmos SHINSAIBASHI (2-7-6 Shinsaibashisuji, Chuo-ku, Osaka) 

Admission: Free

"artrA Vol.8" in TOKYO

Running: December 24 – December 26, 2021

Hours: 11:00-19:00

Address: A.F GALLERY (3-21-8 Jingumae, Shibuya, Tokyo)

Admission: Free

Official Site: http://asobisystem.com/

SSS by applibot Illustrator Sevnzel Opens Second Solo Exhibition at atmos Kyoto

The Kyoto location of Japanese sneaker shop atmos will begin hosting a solo exhibition by Sevnzel, an illustrator associated with the creative group SSS by applibot! The event will take place between October 30 and November 7, 2021. 

Lineup

Sevnzel #424D99-BLISTER PACK GOSPEL 01 atmos Ver.

Sevnzel #424D99-BLISTER PACK GOSPEL 01

atmos × Sevnzel Collaboration L/S TEE NAVY

atmos × Sevnzel Collaboration L/S TEE WHITE 

Sevnzel has worked on character designs for Pokemon Sun & Moon and Tensai TV Kun hello, and also created the animated mascots for the NEC LAVIE VEGA laptop. The artist has been posting pages from a new full-art comic titled #424D99 on his Twitter page for some time, and the long-awaited first paperback volume has just been released. 

At Sevnzel's first solo exhibition in September, the artist displayed and sold oversized printed panels of each page of the new comic. A performance at the atmos Sendagaya store also utilized projectors and monitors, with the artist completely taking over the space. 

During the exhibition at the atmos Kyoto location, unique blister packs featuring the first volume of his comic will be on sale. These will come in two versions: a standard version and an atmos collaborative version, which has only been produced in limited quantities. Collaborative T-shirts will also be available during the event period. 

Guests can also enjoy oversized posters of pages from the manga, as well as newly drawn works of characters from the series from other SSS by applibot members including representative Masafumi Takagi, Mai Yoneyama, BUNBUN, Taiki, PALOW., ISSSAI, and NAJI Yanagida. 

Information

atmos x #424D99 EXHIBITION GOSPEL 01 JAPAN TOUR

Running: October 30 – November 7, 2021

Address: atmos Kyoto (420 Sakuranocho, Nakagyo-ku, Kyoto)

Hours: 11:00-19:00

Official Site: https://www.atmos-tokyo.com

New Balance 327 Web Commercial Features AKB48 Performing New Single

AKB48's new single Nemohamo Rumor has been making waves with its catchy beat and incredible choreography. The group's first new single in a year and a half, members Nana Okada, Yui Oguri, Hitomi Honda, and others are performing the track in a new web commercial for New Balance 327 sneakers! The CM is available on ABC Mart's official website, as well as AKB48's official YouTube channel. 

To commemorate the release of the new commercial, 48 lucky people will receive a purchase bonus, including an original photo card and snapbook in a new app lottery campaign. A special pop-up will also be held on the second floor of ABC-MART GRAND STAGE Ginza starting September 23, 2021. 

ABC-MART GRAND STAGE Ginza 2F Special Pop-Up

Participating AKB48 Members

Behind-the-Scenes

While the choreography for Nemohamo Rumor is incredibly complex and demanding, the members didn't show a single sign of exhaustion or fatigue during shooting, instead happily chatting with each other and commenting on each other's performance the entire time. As we checked the footage, we were incredibly impressed by how the shoes looked as they performed. 

Adidas Originals and atmos Collaborate to Release Sneakers Based on Shibuya's Hachiko

A new pair of kicks based on the iconic symbol of Shibuya, Hachiko, will be released for round three of the SHIBUYA PACK! This collaboration between Adidas Originals and sneaker shop atmos will be sold at A.T.A.D, atmos stores and atmos Online on September 18, with lottery registration open now. The sneakers will also be available from the Adidas App and the Adidas Online Shop starting September 25. 

Adidas Originals SUPERSTAR DOG atmos "HACHI": ¥15,400 (Tax Included)

These exclusive Superstars, a timeless pair of sneakers from the Adidas Originals brand, will feature a unique texture that expresses the character of the dog Hachiko. The shoe's tongue features a silver Trefoil logo, while the midsole has the address of where Hachiko's statue is located. Of course, there's a special Hachiko design on the insole! 

Hachiko is a famous symbol of Shibuya, with his statue being a popular meetup point for friends and couples. Known for his loyalty to his owner, the dog waited for over nine years for the man to return after his death. 

Proceeds from the sale of these sneakers will be used to support the YOU MAKE SHIBUYA souvenir program, which is helping to revitalize the local community by selling products marked with the special YOU MAKE SHIBUYA logo!

Information

Adidas Originals SHIBUYA PACK – Round 3

Release Dates/Where to Buy: 

September 14: Lottery Opens

September 18: A.T.A.D, atmos stores, atmos Online Store Pre-orders open

September 25: Adidas App, Adidas Online Shop

Official Site: https://www.atmos-tokyo.com/

New 237 Color from New Balance, DISH// Appear in New Visual

A new color has been added to the New Balance 237 collection, a modern sneaker which debuted in 2021, inspired by the 1980s New Balance models 420, 1300, and Gator. The 237 was released following the release of the popular 327 in 2020. The fresh and modern design is combined with a retro twist – The upper combines a variation of materials, while the tongue is cut and the outsole is rolled. The design also features the same 70s motifs as the 327, with a large N logo and notched eyelets making a huge impact on the sneaker. The retro design is versatile and easy to style.

Plus, dance-rock band 'DISH//,' a band that continues to grow and refine their activities, have featured in a must-see new visual wearing the brand-new 237 shoes! Be sure to check it out.

Information

New Balance 237

Availability:

New Balance Official Online Store

New Balance Official Store

Available at some New Balance stockists

*Color variation may depend on the store

New Balance 996 Model Sneakers to be Redesigned, Relabeled

Since their creation in 1988, the 996-model sneaker has been one of New Balance's most popular models. This month, the 996 will be reborn as the New Balance Standard, with the same comfortable feel and some minor changes to the logo.

In the new campaign, Natsume Mito, Saki Shibata, Fumiko Aoyagi, and Shiho Takechi will be modeling the new shoes, each in a sleek new color. The photos are meant to depict women living their daily lives with positivity, as they did in 1988 and as they do today.

The 996 model sneakers are the third model in the 99X series. Released in 1988 as a running shoe meant to be used on paved surfaces, its comfort and design has made it a best-seller among both men and women.

Will you be grabbing a pair of these updated kicks?