Japanese Music Artists to Perform Live "At Home" in New Airbnb "Music×Travel" Collaboration Campaign
Space Shower TV, managed by Space Shower Networks, Inc., is one of Japan's biggest music channels, and they have just started their very first collaborative campaign. On August 3rd, Space Shower TV launched THE LIVE HOUSE ~Ouchi wa, Saikou no Live House.~, a collaboration with Airbnb, a popular accommodation booking service used by travelers all over the world.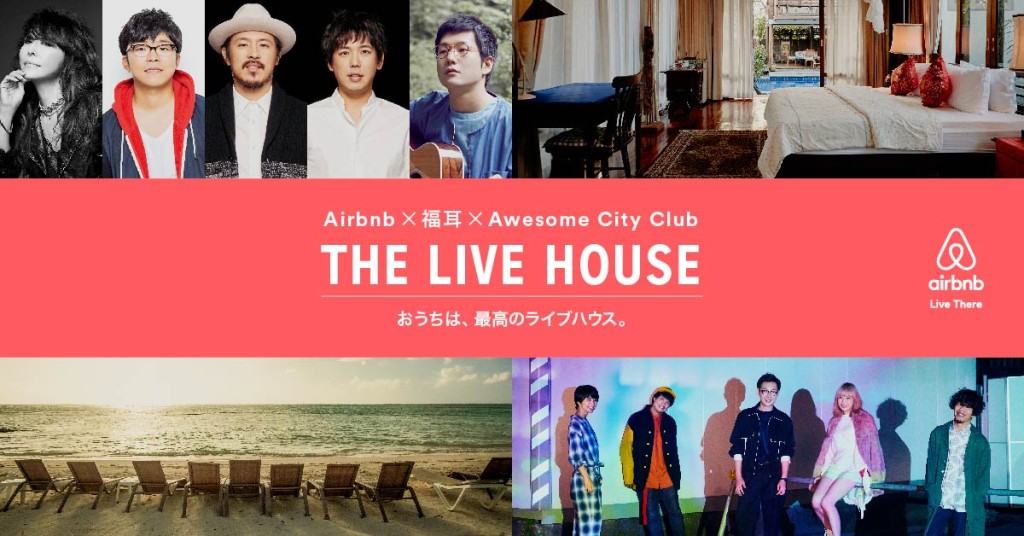 The aim of this collaboration is to have music artists use Airbnb to travel and get away from the hustle and bustle of the busy city. By heading out to different locations and tasting the local food, coming into contact with the locals and such, the project hopes to have the artists express the inspiration they have acquired through music.
Two artists from Office Augusta will be in "THE LIVE HOUSE" – Fukumimi and Awesome City Club. As part of the first installment, select members of Fukumimi (Kyoko, Sukima Switch, Yuu Sakai, Seiya Matsumuro) will hold a live concert on August 20th at a location in Nagano on Airbnb which will be streamed live. The video will be available to watch live on YouTube.
This live performance will see the artists performing in much more at-home environments as offered by Airbnb, something much different from their usual routine of playing a big venue. It's an opportunity to see their faces up close as they perform, something you can't normally do at a live show.
In addition, Awesome City Club will be performing a secret live show at an Airbnb location in Kagawa. It will fall on September 4th and 3 lucky groups of 6 people will be invited via a lottery draw. It's a dream chance to enjoy a live performance right at home in your staying quarters.
Fukumimi will perform at the end of August and Awesome City Club in mid September. A movie documenting each of their travels will be shown on Space Shower TV, so people who miss the live stream can catch up with everything from there. Full details can be found by keeping up to date via the official Airbnb Twitter (@Airbnb_jp) and Facebook (@AirbnbJapan) pages as well as via Spacer Shower TV (@spaceshowertv). You can also check the campaign website.
Don't miss out on this unique occasion to see a concert much different from any summer festival or show you would normally attend.
Related Article:Airbnb recommends 3 kinds of overnight stays and 4 experiences to take in this cherry blossom season
Related Article:SKY-HI, Fischer's & Taiiku Okazaki Sing Japanese Nursery Rhyme "Momotaro"!
RELATED ENTRIES
Airbnb Announces Olympian and Paralympian Online Experiences Summer Festival

Airbnb, the International Olympic Committee (IOC), and the International Paralympic Committee (IPC) have announced a five-day summer festival which will see more than 100 Olympian and Paralympian Online Experiences hosted virtually by some of the world's best athletes. The festival will begin on July 24, when the Olympic Games Tokyo 2020 were originally scheduled to begin, and is a way for athletes to earn an income while they share their passion for the Olympic and Paralympic Games and their individual sport with guests.

The five-day line-up, which will take place across multiple time zones, will showcase a variety of interactive Online Experiences that guests can book on Airbnb from July 22. Spectators can also watch select Online Experiences live or on replay on the Airbnb Olympic and Paralympic YouTube channels. While many hosts will continue to offer their activities after the event ends, several will be once-in-a-lifetime Online Experiences available exclusively during the festival. These exclusive experiences are the following:

25 July: Build resilience to overcome obstacles with Yusra Mardini (swimming, IOC Refugee Olympic Team Rio 2016); learn about returning to sport after motherhood with Allyson Felix (athletics, USA); and work up a sweat in an inclusive session with Tatyana McFadden (athletics, USA)

26 July: Cook up a storm with legend Colin Jackson (athletics, Great Britain); join a scenic training ride with Jonny Brownlee (triathlon, Great Britain); discover velodrome secrets with Elia Viviani (track cycling, Italy)

27 July: Chat mind, body and spirit with Jackie Joyner-Kersee (athletics, USA); push through boundaries and level up in life with Meb Keflezighi (marathon, USA); get vulnerable to unlock greatness with Kerri Walsh Jennings (beach volleyball, USA); and Zumba beachside in paradise with Tom Hintnaus (athletics, Brazil)

28 July: Get a glimpse into quarantine training with two-time Grand Slam-winning Naomi Osaka (tennis, Japan); run, breathe and connect with a sprinter Zhenye Xie (athletics, China); learn a Grand Slam-inspired training regime with Sania Mirza (tennis, India); and master perseverance with Pita Taufatofua (taekwondo and cross-country skiing, Tonga)

29 July: Fall in love with sneaker culture with Rui Hachimura (basketball, Japan); get up close and personal at home with Jordy Smith (surfing, South Africa); see beyond the boundaries of vision with blind champion Lex Gillette (athletics, USA)

Rui Hachimura | Comment

"Representing Japan in the Olympics is one of my biggest dreams. I had trained and prepared to participate in the Games this year, but Tokyo 2020 was unfortunately postponed due to COVID-19. The world is facing tough challenges right now, but I believe the Tokyo Olympics in 2021 will be a wonderful chance to celebrate everyone's determination through this time. I'm looking forward to celebrating together with my teammates in front of fans in my home country. The Olympics as I know them won't have an effect on motivation to perform, even if they're hold a year later. As an athlete, I want to see the happy figures of my fans around the world. Let us come together and keep on fighting. I'm looking forward to seeing everyone in Tokyo next year." *Comment translated from Japanese by MMN.

Olympian and Paralympian Online Experiences will provide economic opportunities for athletes to help support them.

Experience Shibuya Online With Airbnb and PLAY! DIVERSITY SHIBUYA's Special Website

PLAY! DIVERSITY SHIBUYA and Airbnb launched a new website on July 2 which lets people experience Shibuya tourism and all things Shibuya online.

The online project comes in response to the economic slump that Shibuya has faced as a result of COVID-19 which has meant less tourism. The website will feature a host of unique content that captures the essence of the Shibuya experience.

The first entry to the website will see KABA taking users on a virtual walk through the city of Shibuya. KABA, an activist for the LGBTQ community in Japan, was appointed as an official Tourism Ambassador of Shibuya this year. As well as this, the energetic Akkun, another Shibuya Tourist Ambassador and influencer amongst Shibuya's youth, will also be hosting a "Shibuya Sake School." There is much more content to enjoy right now too, and the website is set to expand even more.

Other features include the "WANDER COMPASS" which lets users learn about Shibuya's history and visit local spots through a virtual tour, and Shibuya TSUTAYA O-EAST's own DJ Bar "AZUMAYA" is showcasing how to make Japanese cocktails using various Japanese ingredients and spices.

Visit Shibuya from the comfort of your own home using Airbnb and PLAY! DIVERSITY SHIBUYA's special new website.

Airbnb to Offer Olympic Experiences With Olympians and Paralympians

The International Olympic Committee (IOC), International Paralympic Committee (IPC), and Airbnb announced in December last year a major long-term partnership to support the Olympic Movement which will run from 2020-2028. During this period, Airbnb will offer unique accommodation and experiences, and experience tours hosted by Olympians and athletes will also take place.

The IOC, IPC, and Airbnb are currently actively recruiting hosts to offer these services. These Olympic and Paralympic hosts include not only those who have participated in previous Olympic games, but those set to compete in the 2020 Summer Olympics (henceforth Tokyo 2020) too.

 

Olympians and Paralympians will not only share their wisdom about the games and their sports, but their skills, knowledge, and experiences with things other than sports that they are also passionate about, e.g. the best way to brew delicious coffee, useful business self-motivation tips for setting goals and building confidence, and so on. Athletes will also be able to freely pick the dates and times they can offer these experiences that best align with their schedules.

 

Daichi Suzuki, Sports Director and the President of the Japan Olympians Committeeーwho also has experience as an Olympic athlete himselfーsaid: "I think it's a really wonderful thing that athletes in Japan are helping to grow the value of the Olympics and Paralympics through sports with the support of Airbnb while using the opportunity to think about their careers to give rise to new experiences. I expect Olympians and Payalympians will use the Tokyo 2020 games as a framework to carve a second career for themselves, and that it will be part of the legacy of the games." *Translated from Japanese

To date, Airbnb's 'Experience' service in Japan has provided new careers for people and has been an opportunity for people to earn an income. This is done by people opening up their houses to travellers, or vacant properties being shared by travellers, to teach them a new skillーall of which is done under the support of Airbnb. The Experience service has garnered huge popularity around the world from foreign travellers for the diversity activities offered; there is something for everyone, no matter their age nor gender. Airbnb's collaboration with IOC will provide the opportunity for people to experience interacting with athletes, while also providing a second career for Japanese Olympians and Paralympians, whether they are competing this year or have retired.

Information

Airbnb Olympian & Paralympian 'Experience' Host Summary

How to Apply: ①Fill out the IOC's Athlete 365 details via the official Airbnb website, or ②Apply via the Airbnb's OLYHOUSE booth at the Olympic Village

Application Page (Japanese): https://www.airbnb.jp/d/olympicgames

Application E-mail: JP-olympians@airbnb.com

Aimed At: Japanese Olympians and Paralympians (Whether retired or competing)

Application Conditions: For all Olympians and Paralympians who have competed in games and new competitors competing at Tokyo 2020. Must be aged 18+ and be an Airbnb user or have an Airbnb account.

IOC and Airbnb Announce Global Olympic Partnership & Olympian Experiences

The International Olympic Committee (IOC) and Airbnb have announced a major long-term partnership to support the Olympic Movement which will run from 2020-2028. During this period, Airbnb will offer unique accommodation and experiences, and experience tours hosted by Olympians and athletes will also take place.

The partnership will create hundreds of thousands of new Airbnb hosts over the the nine-year period from July next year, allowing for visitors to enjoy longer stays, accommodating families, and more. This will enable community residents to generate extra income while accommodating overseas visitors and proving them with local experiences. In turn, it means those visiting from overseas will be able to engage more with the local culture and community. Both occupied and vacant homes will be utilised.

The IOC and Airbnb will also launch Airbnb Olympian Experiences which will provide direct earning opportunities for athletes by promoting sports, allowing for people to train together with elite athletes and Olympians.

At the press conference for the announcement of the partnership, gold medalist Saori Yoshida said: "A lot of athletes today devote themselves completely to the games, so a lot of them struggle to find their next career after retiring. These Athlete Experiences will widen the activities of all athletes; not only retired competitors, but those who weren't able to make it as far as the Olympics too. I'm very thankful for that. I believe it will raise the standard of the games for kids, and will serve to brighten and bring excitement to the whole of Japan. I hope that these efforts bring a tremendous boost to the sports world and will have everyone taking an interest in sports."

Tokyo 2020 will officially launch next summer, and with this partnership, people may just be able to enjoy the Olympic Games together with the athletes themselves, allowing for fans to feel closer to the games and the Olympians.

Airbnb's involvement also gives visitors from overseas to enjoy Japan and the Olympics in an unprecedented way. If you're travelling to Japan for Tokyo 2020, be sure to book with Airbnb.

Lolita Singer Luna Haruna Announces Surprise Solo Live Performance at Most Recent Concert

Tokyo singer and lolita fashion model Luna Haruna finished her premium solo summer concert at SHIBUYA TAKE OFF7 on August 4. The concert title Lupa and Aries no gastronomie was named after her single Lupa to Aries which was released earlier this year in June and is so far only available on streaming services. Haruna performed once in the afternoon and once in the evening with a live band. She performed a total of 28 songs, including some brand new hits.

 She launched into her concert with her hit songs Stertear, Kimi Iro Signal, Stella Breeze and Overfly. She then performed her two new fairytale-themed songs Lupa to Aries and Kaiten Mokuba live for the first time. 

Afterwards, she turned to her fans and said:

"I challenged myself to something completely new this time. I want to show you all a side of me you have never seen before."

What the fans heard next was an unexpected surprise. 

She announced that she will be performing at Mt.RAINIER HALL SHIBUYA PLEASURE PLEASURE, Tokyo on November 16. The venue, packed with fans, could not contain their excitement, responding to the glorious news with cheers of joy that echoed throughout the entire room. 

Her recent release Kaiten Mokuba follows the same fairytale theme as Lupa to Aries. The beautiful harmonies created by the strings pierce through the strong and pressing beat of the song. This gothic fairytale song is appropriately titled Kaiten Mokuba (Carousel) to further emphasise the distorted feeling of being spun around in endless circles. Luna is an artist who represents the lolita scene for lolita fans worldwide. This fairytale video is where her true self comes alive. Her new, mysterious visuals are a fusion of lolita fashion and Alice in Wonderland themes. 

Luna Haruna Music Video: Kaiten Mokuba 

The head-spinning music video shows Luna in different lolita fashion outfits. Each outfit explores the depths of a different character from Alice in Wonderland. Watch Luna spin her way through five Alice in Wonderland-themed lolita dresses including the White Rabbit, the Cheshire Cat, the Mad Hatter and of course, Alice.  

Luna will also be singing the theme song for the upcoming anime film Saekano: How to Raise a Boring Girlfriend Fine, which will premiere on October 26. This isn't the first time Luna has been involved in the Saekano anime series. She performed the theme songs Kimi Iro Signal and Stella Breeze, which were the TV anime's first and second anime openings respectively. 

The anime film opening will be written by Miku Sawai, who wrote the lyrics for the TV anime's first and second ending theme songs Colourful and Sakura Iro Diary respectively. Miku Sawai and Luna Haruna have become massive sensations in the news for their anime hits. Just what kind of chemical reaction will unfold when these two heroines collaborate on the anime film's opening theme song? Please keep your eyes peeled for future updates. 

Photos: ©美澄

Information

Luna Haruna 2019 Autumn Solo Concert (Title to be confirmed)

Date/Time: November 16, 2019 Doors Open: 16:30 Start: 17:00

Venue: Mt.RAINIER HALL SHIBUYA PLEASURE PLEASURE, 

Address: Shibuya PRIME (6th floor), 2 Chome-29-5 Dogenzaka, Shibuya City, Tokyo

http://www.pleasure-pleasure.jp/index.php

Ticket Prices: ¥6,480 (after tax, designated seating only).

* You can order a maximum of four tickets per concert.

*There is also a compulsory one drink fee that you must pay upon entry into the venue. 

* Entry is not permitted for those under school age. 

Fan Club Member-limited preorder period: August 4th (21:00) ー 19th (23:59)

Luna Haruna Official Fan Club "L-67 Luna☆Station"

・General Ticket Sales period: To be confirmed.

Queries: (Sunrise Promotion Tokyo) 0570-00-3337(10:00-18:00)

Kaiten Mokuba

Available on most streaming services:  https://harunaluna.lnk.to/OWrKt0ME

Lupa to Aries

Available on most streaming services: https://harunaluna.lnk.to/ro4yd5wD

Saekano: How to Raise a Boring Girlfriend Fine

Premiere: October 26, 2019 across Japan. 

Anime Film Website: https://saenai-movie.com

Luna Haruna Official Website:  http://www.harunaluna.jp/

Sailor Moon Show Restaurant To Open in Azabu Juban, Tokyo

Dining on Sailor Moon-themed food while being entertained by a live Sailor Moon musical is a dream come true for many. On August 15, 2019, a show restaurant called Sailor Moon-SHINING MOON TOKYO will open in Azabu Juban, Tokyo. 

Japan has already surprised many with the release of a Sailor Moon 2.5D Musical. This is a type of modern Japanese musical theatre based on anime where the characters are brought into the real world. This new show restaurant is aiming even higher, offering a completely new form of live entertainment. 

There isn't a better place for the restaurant to open than Azabu Juban, where the Sailor Moon characters are often seen in the anime. In fact, Azabu Juban is a holy land for all Sailor Moon fans, attracting fans from all over Japan and even from overseas. Once fans heard the news of the show restaurant, excitement spread like wildfire.

There is no doubt that this original show is a fantastic opportunity to delve deep into the world of Sailor Moon. There will also be the opportunity to try meals and drinks that are based on the anime which is not sold anywhere else. Of course, there will also be an area dedicated to the sale of original goods. 

The official website was published ahead of the grand opening of the restaurant. General ticket sales will be launched at 10 am on July 21. Enjoying Sailor Moon-themed meals and drinks while being entertained by a Sailor Moon stage show is a completely unique experience that many are curious about.

©️Naoko Takeuchi

©️Naoko Takeuchi, PNP, Sailor Moon  –SHINING MOON TOKYO –

Information

Sailor Moon  –SHINING MOON TOKYO –

Location: Basement Floor 1, Joule A, 1 Chome-10-10 Azabu Juban, Minato City, Tokyo 

Grand Opening: August 15, 2019 

※ Ticket sales start at 10 am on July 21, 2019

General Ticket Enquiries: info@sailormoon-shiningmoontokyo.com 

Official Website: https://sailormoon-shiningmoontokyo.com/ 

Eir Aoi Just Dropped The Music Video For Granbelm Anime Opening Tsuki wo Ou Mayonaka

Eir Aoi's LIVE TOUR 2019 Fragment oF took her on a journey across the country, performing at eight different locations to approximately 10,000 wild fans. She saw her final tour performance at Kanagawa Kenmin Hall on July 15.  

The overpowering digital rock song UNLIMITED sent an instant surge of energy through the crowd. Her heart-throbbing setlist included a range of big hits that were used as theme songs for the anime Sword Art Online including Iris, INNOCENCE, Cynthia no Hikari, Ryusei and IGNITE . Her strong vocals and the passion etched onto her face enthralled the crowd. 

For the encore, she performed Tsuki wo Ou Mayonaka, which is the new opening theme song for the anime Granbelm. The urgent beat of the song energised the audience, who were dancing and singing as one. For the last song, she performed AURORA, which she especially prepared for this day only. 

"There are times that I just cannot sing this song, but seeing the encouraging and excited faces of my fans gave me the support I needed to sing," she said.

Eir Aoi: Tsuki wo Ou Mayonaka Music Video

After the encore was over, there was a surprise for the fans. The music video for Tsuki wo Ou Mayonaka, the new theme song for the anime Granbelm, was played before the crowd. Fans could not contain their wild joy at being the first people to watch the video. The music video was just released on July 16 at 8pm, so please check it out. 

Kyary Pamyu Pamyu, Yasutaka Nakata & CRAZYBOY to Perform at QTAQUEST LIVE in Los Angeles

The biggest names in Japanese pop music are set to take over Los Angeles at QTAQUEST LIVE and OTAQUEST KICK OFF PARTY which is set to take place at THE NOVO by Microsoft on July 3, 2019.

With support from LDH JAPAN and LDH USA, the event is a celebration of Japanese pop culture that brings together a lineup of some of the most famous names in the industry.

Both OTAQUEST LIVE and OTAQUEST KICK OFF PARTY serve as the opener to Anime Expo, the biggest anime convention in the US, which will run from July 4 to 7.

Kyary Pamyu Pamyu

OTAQUEST LIVE begins at 6:30pm and will see CRAZYBOY, HIROOMI TOSAKA, m-flo, CAPSULE, Kyary Pamyu Pamyu take to the stage to deliver American fans the ultimate J-pop entertainment experience.

CAPSULE

OTAQUEST KICK OFF PARTY will begin later at 22:00 which will welcome to the stage ☆Taku Takahashi, TeddyLoid, and Yasutaka Nakata (CAPSULE) for a late-night extravaganza of Japanese dance music.

Tickets go on sale March 28, 2019 at 10:00am (US Time).

Information

OTAQUEST LIVE

Date: July 3, 2019

Time: OPEN 17:00 / START 18:30

Location: THE NOVO by Microsoft, Los Angeles, California, US

Line-Up: CRAZYBOY / HIROOMI TOSAKA / m-flo / CAPSULE / Kyary Pamyu Pamyu

OTAQUEST KICK OFF PARTY

Date: July 3, 2019

Time: OPEN/START 22:00

Location: THE NOVO by Microsoft, Los Angeles, California, US

Line-Up: ☆Taku Takahashi / TeddyLoid / Yasutaka Nakata (CAPSULE) / …and more

Event Website: https://live.otaquest.com/

Tickets: https://www.axs.com/events/372261/otaquest-live-tickets?skin=novo

ASOBISYSTEM and Airbnb Join Up to Bring Models as Tour Guides to MMN Festival 2018

ASOBISYSTEM Co., Ltd and Airbnb Japan, Inc. have joined up to promote the expansion of the appeal of Japan's multilayered culture and regional communities. Firstly, to further interest in Harajuku's unique culture, the two companies are offering numerous experience-based services.

ASOBISYSTEM is centered around promoting more "fun" (asobi) to today's age. They focus on Harajuku culture, something distinctive of Japan. In doing so they have supported and helped grow the culture that is born on the streets of Harajuku including fashion, music and lifestyle. In the beginning, it was just in Japan, but since then they have continued to be active in promoting Harajuku culture worldwide. Harajuku is a town steeped in fascination, and ASOBISYSTEM are focused on it becoming a melting pot cultural area recognised by the people of the world.

Airbnb was established in 2008. They have interacted with a multitude of regional communities and offer a unique travel experience that enables people to connect with the culture of their place of destination. Airbnb aims to realise a world where you can travel to live life.

The first plan of action for ASOBISYSTEM and Airbnb is offering official tours with popular models who will serve as tour guides for MOSHI MOSHI NIPPON FESTIVAL 2018 in SHIBUYA which will take place on March 24 and March 25! There are 3 models who will work as tour guides: Saki Shibata, Ayumi Seto and Yuri Suganuma. To experience each of their special tours you must book in advance, so be sure to check them out ASAP.

Full details: https://www.moshimoshi-nippon.jp/ja/96761

Experience the ever-growing culture of Harajuku with Airbnb.

■Information

MOSHI MOSHI NIPPON FESTIVAL 2018 in SHIBUYA

Locations: SHIBUYA CAST. / Tower Records Shibuya / Laforet Museum Harajuku / Onden Shrine

Dates: Saturday 24 March – Sunday 25 March

Time: 11:00-21:00 *Times differ at each area

Official Event Website: https://fes18.moshimoshi-nippon.jp/ja/

Free Pre-Registration: http://mmnf2018.peatix.com

Japanese artists that are active overseas are attracting attention every year. Let's take a look at some Japanese artists (together with some music videos) who are preparing to embark overseas on tour.

Kyary Pamyu Pamyu

Kyary Pamyu Pamyu held her first ever Halloween themed solo concert "THE SPOOKY OBAKEYASHIKI ~PUMPKINS STRIKE BACK~" at the Tokyo Metropolitan Gymnasium on October 28th and 29th last year. The show was inspired by Japanese haunted houses, known as obakeyashiki, and saw 15,000 fans creep up to the venue. The horror movie-esque trailer that was released to advertise the concert, as well as the stage performance at the show itself, became the talk of the town in Japan. Now, Kyary's Halloween show is heading overseas on a world tour! Kyary will deliver an original performance for her international fans who have been awaiting her return!

Full Details: https://www.moshimoshi-nippon.jp/94229

Kyary Pamyu Pamyu – "Ninja Re Bang Bang"

Jin Akanishi

Jin Akanishi received "Asian Most Popular Japanese Artists" at the 20th China Music Award (CMA) in April 2016. He also ranked in at 31st place in "The 100 Most Handsome Faces of 2015" by TC Candler, a US Independent Critics movie website, in 2016. It has been announced that his performance at Makuhari Messe Hall in Chiba Prefecture set for 30 March 2018 as part of his JIN AKANISHI LIVE TOUR 2018 "Blessèd" will be screened live at theatres across Japan as well as Vie Show Cinemas Taipei Hsin Yi in Taipei and FESTIVAL GRAND CINEMA and GH Citywalk in Hong Kong.

 Full Details: https://www.moshimoshi-nippon.jp/93041

Jin Akanishi – Fill Me Up (Official Music Video)

amazarashi×Aimer

amazarashi, who released their fourth album Chihou Toshi no Memento Mori in December last year, and Aimer, who recently released her fourteenth single Ref:rain / Mabui Bakari, are teaming up to head on tour together. amazarashi × Aimer Asia Tour 2018 will take the two artists to Shanghai, Taiwan and Singapore. This dream collaboration between two original and unique artists comes in response to the burning desire emitted from people for them to play in Japan, garnering them much attention from fans of both artists.

 Full Details: https://www.moshimoshi-nippon.jp/85769

Amazarashi – "Monday" Trailer

Aimer – "Mabui Bakari"

LiSA

LiSA is an international rock heroine who has earned a reputation both in Japan and overseas. In addition to dates in Japan, her LiVE is Smile Always~ASiA TOUR 2018~ will take her to Singapore on July 21st, Hong Kong on August 11th, and Taipei on August 18th. More dates are scheduled to be announced. Nobody can contain their excitement for more news!

 Full Details: https://www.moshimoshi-nippon.jp/80914

LiSA – "Thrill, Risk, Heartless" -YouTube EDiT ver.-

FLOW

Five-member rock band FLOW will hold a tour titled FLOW 15th Anniversary TOUR 2018 "Anime-Shibari" ―Latin America Tour― which will take them to Brazil, Mexico, Brazil, Argentina and Chile for 9 performances starting in July. FLOW have been working actively in foreign countries since they started working in Dallas, U.S.A. in 2006. They have been held shows in numerous countries and in 2015 they held a world tour in 8 countries around South America. So far, they have visited 18 countries and played 43 concerts. Full details for FLOW's overseas tour can be seen via their official Facebook page, so don't forget to check it out.

Full Details: https://www.moshimoshi-nippon.jp/89887

FLOW – "GO!!! ~15th Anniversary ver.~" (Music Video Full Ver.)

Cornelius

Cornelius performed his first nationwide tour in Japan in almost 9 years back in November. The "Mellow Waves Tour" saw the Shibuya-kei artist tour across 8 cities for 8 performances. The curtains closed for the final date of a hugely successful tour last year. But Cornelius announced a "Mellow Waves Tour 2018″ which will see him embark across Mexico and North America between March 3rd and March 20th. This will be his first overseas tour since releasing his latest album "Mellow Waves" on June 28th. Cornelius will first perform as a headliner at Festival NRMAL in Mexico City before making his way to North America where he will also have CDs and LPs for sale.

 Full Details: https://www.moshimoshi-nippon.jp/76634

Cornelius – The Spell of a Vanishing Loveliness

SCANDAL

In 2016, SCANDAL toasted to ten years since their formation, and this autumn, they will celebrate their 10th anniversary since their major debut. The band released their eighth album HONEY last month which peaked at number one on Japan's iTunes album charts on the day of release and ranked number one in iTunes J-pop charts across the globe including Hong Kong, Thailand, Singapore, Malaysia and Peru. SCANDAL will held on their SCANDAL ASIA TOUR 2018 "HONEY" in June. Anticipation is high for Japan's representative all-female band.

 Full Details: https://www.moshimoshi-nippon.jp/91560

SCANDAL – "Platform Syndrome"

Look forward to these internationally active Japanese artists coming to a city near you in 2018!

Celebrate Christmas with Kyary Pamyu Pamyu and other unBORDE artists at their Christmas live!

Kyary Pamyu Pamyu, Shinsei Kamattechan, and RIP SLYME are all members of unBORDE. This year, the artists of unBORDE will be delivering an omnibus live event called "unBORDE Xmas Party 2017".

There are six music acts taking part for the Christmas live, one of whom is AIMYON – a singer-songwriter from Nishinomiya, Hyogo, who released her first full album in September. She will be joined by Stardust Promotion's Nagoya idol group Team Syachihoko, who will release their first best album on 18th October, and the girl band yonige, who are from Neyagawa, Osaka and released their first major full album in September. The stage will also be occupied by RöE, the new music sensation that is planning their major debut with unBORDE next year, the three-person ensemble WANIMA from Kumamoto who will join unBORDE from March next year, and the world famous Harajuku icon Kyary Pamyu Pamyu!

The first round of tickets to be released will be issued to celebrate 7 years of unBORDE. The "lucky seven" extremely rare tickets will be launched for sale from noon of Saturday 21st October through "WIZY". This ticket comes with the benefit of obtaining an unBORDE Xmas official T-shirt that cannot be purchased anywhere except for at this event. Those who possess the rare lucky seven tickets will be given priority entrance into the venue. There are only 777 of these rare tickets available!

Get your hands on a special ticket and enjoy Christmas!!

■Information
unBORDE Xmas Party 2017
Venue:Zepp Tokyo
Date:23rd December 2017(Saturday, national holiday)Doors open: 14:00/ start: 15:00(planned finish time: 20:30)

Performers(alphabetical order): AIMYON, Kyary Pamyu Pamyu, RÖE, Team Syachihoko, WANIMA, yonige,

<Advanced tickets (released from 21st OCtober)>
Ticket type:Lucky Seven ultimate rare tickets: ¥8,000(price including tax)+ postage charge
unBORDE Xmas official T-shirt(WIZY-limited)(includes 1st floor standing)
※ Separate drink fee

※ Includes Christmas present
※ 4 T-shirt sizes: S, M, L, XL
※ Priority entry
※ Original design ticket
Number of tickets:777 (limited number) (One customer can purchase up to two tickets)
Ticket sales period:21st October(Sat)noon ~ 31st (Tues) 23:59(Sales will discontinue once all 777 tickets have been sold).
Ticket website: http://recochoku.com/wizy/unborde/

From Wednesday 1st November, the official website will be releasing advanced sales for 2nd floor family seats.
Ticket type:Standard ticket ¥5,500 (price including tax)  ※ Does not include drink price ※ includes Christmas present

1st floor – standing /2nd floor seating/ 2nd floor family seating/2nd floor standing  
Some 2nd floor seating/family seating options:
1 adult & seating for 1 child(purchase of 2 tickets)
1 adult, seating for 2 children(purchase of 3 tickets)
2 adults, seating for 1 child(purchase of 3 tickets)
2 adults, seating for 2 children(purchase of 4 tickets)

Family ticket terms and conditions:

※ Primary school children(aged 12)must be accompanied by a parent or guardian.

※ You will not be permitted to enter the venue without your accompanying child/children. Likewise, children must be accompanied by their responsible adult.
※ Those above primary school age (12 years old) must purchase a ticket.
※ Those below preschool age are not required to purchase a ticket and may sit on the lap of their parent or guardian. In the case that a seat for the child is necessary, a ticket must be purchased.

※ You cannot stand and watch the performance. All spectators will be allocated seats with their tickets.

● You will be asked for ID at the entrance to the venue. Please ensure that you bring sufficient official identification that shows your name and date of birth as it is stated when you purchased the tickets. ID could include your driver's license, passport, student ID card, insurance card or certificate of residence. Please remember that not all countries include both your name and date of birth on the above listed forms of identification, so if you are a foreigner please check beforehand.
●Your ticket is valid for one venue, one day, one entry, and for one person.

● Please be aware that you will not be able to replace your ticket if it is lost, stolen or damaged under any circumstances.
● The ticket will become invalid if you tear along the dotted line and remove it from the stub before inspection.
● Once you receive your ticket(s), please check the venue, date and time carefully so that you do not miss the performance.
● If the ticket details are changed due to a change of the performers, you will not be able to receive a refund. We ask for your cooperation.
● Please listen to the personnel working at the venue and follow their instructions. Those who do not conform to the rules and instructions may be denied entrance to the venue or asked to leave. Those who are injured as a result of not following the rules or instructions given by personnel will be completely responsible for their own injury.
● Entry will be restricted for those who enter the venue after the performance has begun.
● Items that you cannot take into the venue include devices that record sound, video or take photos, foods and drinks containing alcohol, and dangerous items. If you bring something that falls into the above category, the film tape or other storage device on which the recordings lie will be confiscated and not returned.
● Due to certain circumstances, please acknowledge that parts of the performance are subject to change.
●You cannot exchange your ticket for another one or for your money back unless the performance is cancelled.
● In the event that the performance is cancelled or postponed, you will not be able to claim on travel expenses. Only the price of your ticket(s) will be refunded.

●In the case that the performance is postponed or cancelled and you choose to get a refund, the payment will be made to you within a predetermined period of time and at a predetermined place.
※ Please note that you will not be refunded in full if your ticket is severely damaged, lost or stained to the extent that it cannot be read.
●We will not accept any tickets that are resold. Tickets that are resold for a profit will also be declined.
●Any trouble caused to those who obtain tickets by illegal means and tickets purchased through resale are solely responsible for this themselves.
● If the face of your ticket cannot be read due to falsification, or if it changed, you may not be able to purchase it.
● If you are given an invitation to purchase these tickets, sponsors may contact you using the information you provided to purchase the tickets.

● Any personal valuables and belongings are solely the responsibility of the person who brought them along.
● Any accidents that occur inside and outside the venue such as theft are not the responsibility of the sponsors, organisers or the performers.
● Please use public transport (trains or buses) to reach the venue on the day of the performance.
● Filming and photography will be taken inside the venue during the performance. Please acknowledge that this means that footage containing you may be accessible to the public.

Spend some quality relaxation time at an old Japanese residence—4 lodging rooms recommended by Airbnb

Autumn will soon be upon us as we gradually approach the end of summer. Today, we will take a look at several private rooms recommended by Airbnb located in old Japanese residences where you can stay and spend some leisurely time while immersing yourself in the tail end of summer.

Kyoto: Step back in time to the Taisho and Meiji periods to a 100-year-old townhouse

This townhouse was build 100 years ago and was renovated back in 2013. It is located in the heart of Kyoto and is conveniently accessible during a sightseeing trip.

This traditional townhouse was built by Japanese artisans and is a very impressive-looking building indeed! Part of the charm can also be accredited to the small garden which you can view from the 1st floor.

Fukushima: Reserve a registered tangible cultural property 330m2 Japanese-style house

"Nihon Kaoku Hibiki no Yado" is a reconstructed lodging that was officially selected as a tangible cultural property. The grounds have spanned 13223m2 since the end of the Edo period and are home to trees that are more than 300 years old, allowing you to truly feel the history of the place.

There is no doubt that your soul will grow warm if surrounded by lots of people around a saucepot at the hearth.

Gunma: Moments away from hot springs! A house hidden away in the boundless expanse of mountains

 

"MAYUDAMAHOUSE" was built 134 years ago at the prefectural boundary of Gunma and Nagano. It is surrounded by many hot springs, including Shima Tamura which became the model for Kusatsu Onsen and Spirited Away.

 The back of the house is dotted with edible wild plants which you can eat as they are with things like tempura. Another highlight of this locations is the freedom to enjoy as much nature to your heart's content.

Saitama: A former rice dealing townhouse situated in Kawagoe aka "Little Edo"

 

Located in Kawagoe, also known as "Little Edo," this townhouse is a designated important scenic structure of the city. It's a long-standing machiya-zukuri, or traditional wooden townhouse.

 You can kick back and relax under the hori-gotatsu, an earlier version of the modern kotatsu, or unwind in a bathtub made from granite and cypress.

It's the perfect lodging to destress and remedy fatigue. There's also a room tucked away upstairs, meaning you can sneak off for a while on your own little adventure.

How about spending your trip discussing your summer memories while feeling like you're living in an old time Japanese house?