Wako Tea Salon in Ginza Offering Seasonal Strawberry Parfait
Those familiar with the Ginza district of Tokyo will recognize the iconic Wako clock tower. The department store sells everything from watches to chocolates, and on the second floor of the Wako Annex, guests will find the Tea Salon. The bright and relaxing place invites adult shoppers to enjoy seasonal sweets, with its popular Strawberry Parfait constantly reinvented depending on the time of year.

This season's strawberry parfait includes pistachios and local fruit. For a limited time, guests can also enjoy the Lychee and Raspberry Parfait until the end of February. A Fruit Parfait is available in March and April, and the Chocolate Parfait is available year-round.
At the Wako Annex Tea Salon, visitors can also enjoy light meals alongside tea and coffee specially blended for Wako by Yoshiaki Kawashima, known as the 'coffee hunter.'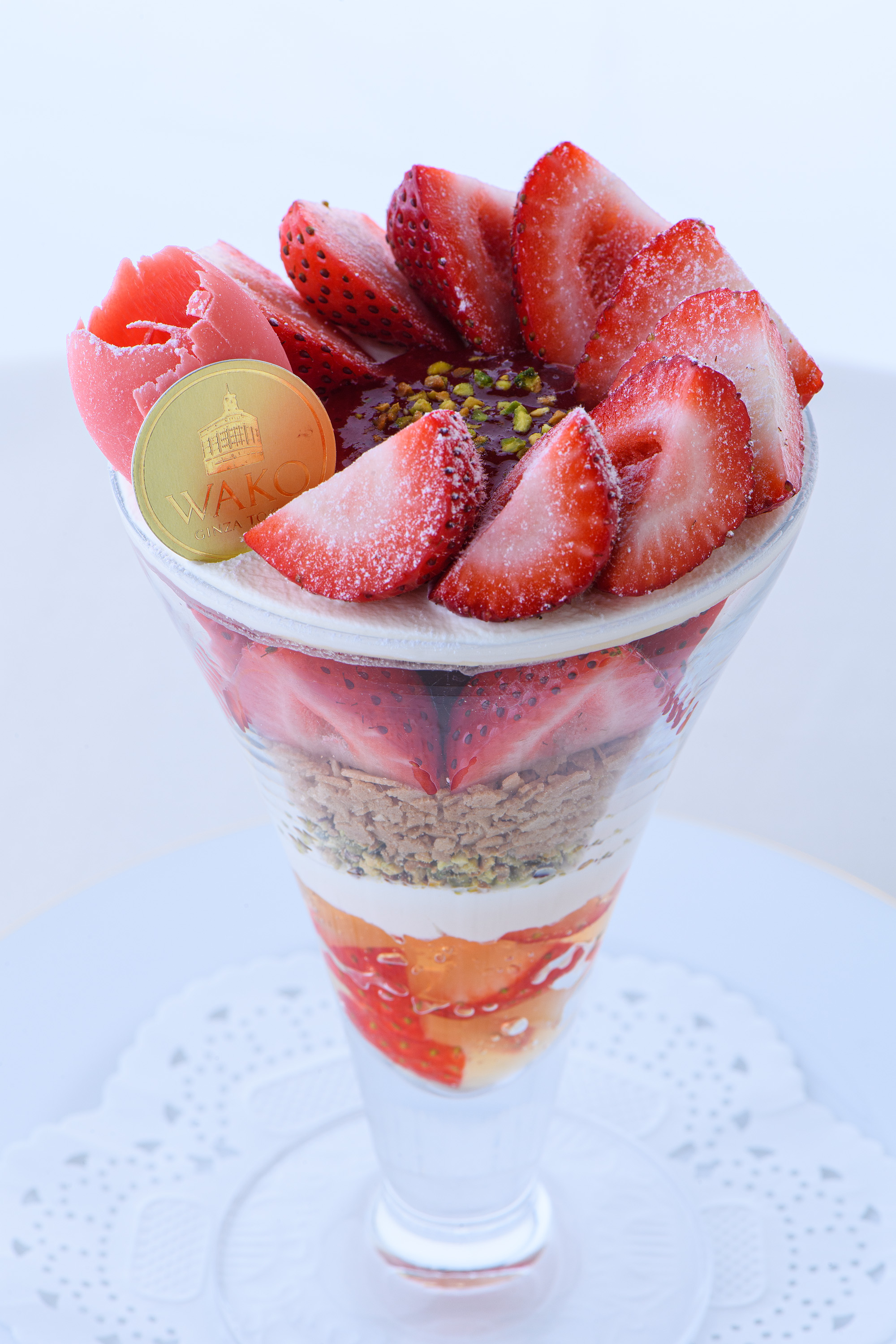 Strawberry Parfait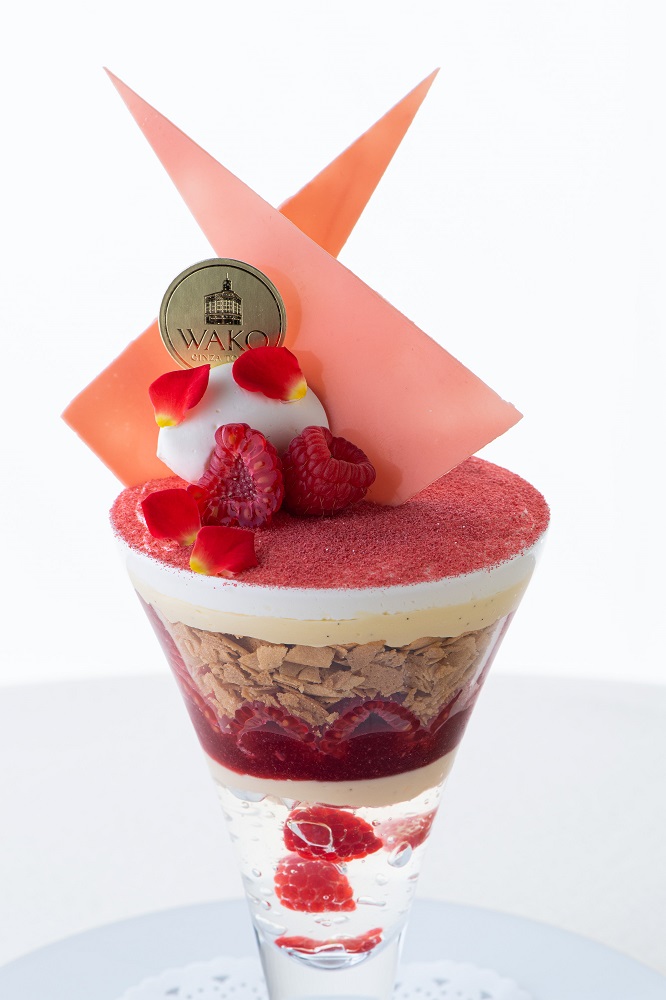 Lychee and Raspberry Parfait
Fruits Parfait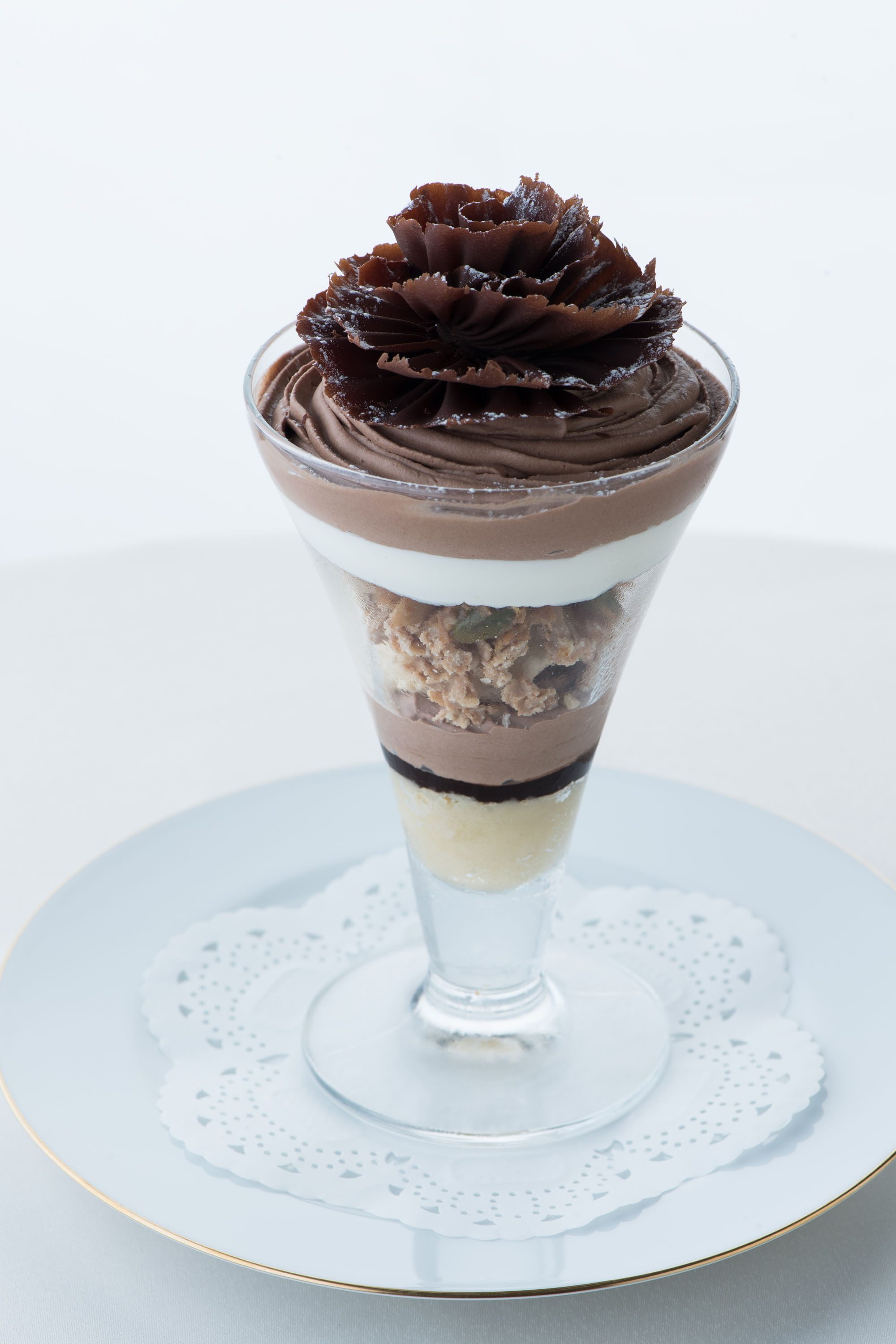 Chocolate Parfait

ティーサロンのメニューの中でも人気の高い、季節限定のパフェを堪能してみては?
Information
Wako Annex 2F Tea Salon
Address: 4-chome 4-8 Ginza, Chuo-ku, Tokyo
Open Year-Round (Except New Year holidays)
Hours: 10:30 – Last order at 19:00 (Last order at 18:30 on Sundays and holidays)
Access: Immediately in front of Ginza Station Exit B1 on Tokyo Metro
*Young children are not permitted in the restaurant.
Online Store: https://shop.wako.co.jp/
Official Site: https://www.wako.co.jp/

RELATED ENTRIES
Hyatt Centric Ginza to Display Christmas Tree Made by Social Advocacy Group HERALBONY

From December 1 until December 25, guests at Hyatt Centric Ginza will be able to see the first-ever Christmas tree designed by the social advocacy group HERALBONY. The Light-Hearted ART TREE will welcome guests to the 4F library and lounge area, and the tree lighting ceremony will be streamed on Instagram live.

It's no surprise that the hotel is collaborating with HERALBONY again–from May to November of this year, the HERALBONY ART ROOM was open for guests to enjoy. This is the first time that the unit is designing a Christmas tree, and the piece is inspired by one of their most iconic pieces of art–Yukihito Okabe's Hoo! Hey! Visitors of all ages can enjoy this beautiful piece, filled with color and sure to bring joy.

Along with the tree, the showcase and lounge will also be decorated in a number of HERALBONY pieces. Come enjoy the Christmas season in this one-of-a-kind space!

Information

Hyatt Centric Ginza x HERALBONY

On Display: December 1 – December 25, 2022

Venue: 4F Library / Lounge

Official Site: http://hyattcentricginza.jp

Doraemon's Official Store Launches Limited Edition Dorayaki-Flavored Black Tea

Doraemon's Mirai Department Store, Doraemon's official shop, has announced a limited edition black tea flavored with the character's favorite food: dorayaki! The tea and four special themed plates will be available starting November 11, 2022. The tea itself is provided by the tea specialty shop LUPICIA. 

Doraemon's Mirai Department Store Black Tea (Dorayaki Flavor)

Doraemon's Mirai Department Store is now offering this special tea in an adorable themed tin.

The flavor of the tea is inspired by Doraemon's favorite food, dorayaki, a sweet Japanese pastry filled with red bean paste. The gorgeous blue and red toppings blended into the tea leaves were inspired by Doraemon himself, and fans will want to enjoy a cup as they lose themselves in the classic manga or anime series.

Doraemon's Mirai Department Store Tasty Plate (4 varieties)

These 14cm square plates are perfect for snacks with tea. Dishwasher-safe, fans can pick from four designs, each showing Doraemon enjoying some tasty treats. 

©Fujiko-Pro

Snoopy Tea Brand SNOOTEA Launches Chocola Tea for the Holidays

Since its start in 2007, the Snoopy tea brand SNOOTEA has remained popular with Peanuts fans and tea fans alike. Typically, the brand has sold black tea in cute tins featuring Snoopy and his friends.

Starting November 7, fans can purchase a special Chocola tea made by tea blender Shuntarou Kumazaki. Blended to suit Japanese water and inspired by the world of Peanuts, it promises to be the perfect flavor for the holidays.

Made with cacao nibs, the flavor of standard black tea is punctuated with a chocolate aroma. The tea leaves themselves come from India, Sri Lanka, and Kenya, and are blended together in a balanced way to create an appealing taste that will have tea lovers coming back again and again. This blend is also perfect for making milk tea, and fans can even add whipped cream and marshmallows. This tea also goes well with strawberries, oranges, bananas, and other fruits, as well as nuts!

Snoopy and his friends dressed in winter attire will appear on each tin, adding to the festive holiday spirit. On the online store, customers can also find Darjeeling, Earl Grey, Apple Tea, and other varieties.

© 2022 Peanuts Worldwide LLC

Limited Time Shinbashi-iro Parfait Available at Shiseido Parlour

The special Shinbashi-iro Parfait will be available from October 1 until October 31 at Shiseido Parlour Nihonbashi, Yokohama Takashimaya, Yokohama Sogo, Shiseido Parlour Nagoya, and Salon de Cafe Lazona Kawasaki Plaza.

Shibashi-iro is a bright greenish-blue color that is known to be traditionally Japanese. It was named after the color of kimono worn by Shinbashi geisha, who were known to be at the forefront of fashion during the late Meiji period.  In 1902, at the soda fountain–later renamed Shiseido Parlour–many Shinbashi geisha would take a break to enjoy some tasty soda water. This parfait was designed to conjure images of these chic and glamorous ladies. 

The Chic and Stylish Shinbashi-iro

Shibashi-iro is a greenish-blue color that is traditionally Japanese. The name was derived from the color of kimono worn by Shinbashi geisha between 1868 and 1912. 

The parfait is made with traditional vanilla ice cream, green apple filling, and blue jelly with decorative flourishes. Why not come enjoy this unique treat? 

Information

Shiseido Parlour's Limited Time Shinbashi-iro Parfait

Available: October 1 – October 31, 2022

Where to Buy: Shiseido Parlour Nihonbashi, Yokohama Takashimaya, Yokohama Sogo, Nagoya, Salon de Cafe Lazona Kawasaki Plaza

Official Site: https://parlour.shiseido.co.jp/

Kyoto's Itohkyuemon Offering Uji Green Tea Mont Blanc Parfait & Chestnut Sweets Plate for a Limited Time

Uji, Kyoto is known for its tasty matcha. Founded in 1832, Itohkyuemon offers up some of the most delicious green tea sweets in Japan. Starting on September 1, several locations are serving up an Uji Green Tea Mont Blanc Parfait and a tasty Chestnut Sweets Plate!

Uji Green Tea Mont Blanc Parfait and Chestnut Sweets Plate

The Uji Green Tea Mont Blanc Parfait is decorated with a beautiful chestnut skin on top and served with yellow candied chestnuts and baked meringue with a dazzling white color. The inside includes cookie dough, homemade Uji green tea jelly, crunchy agar, two kinds of ice cream, and Uji green tea honey. This autumn-only parfait allows guests to enjoy the taste of Uji green tea while also sampling the delicate flavor of Japanese chestnuts. The Chestnut Sweets Plate offers eight kinds of sweets in one go, including the autumn-only Chestnut Green Tea Roll Cake and Chestnut Green Tea Daifuku, Uji Hojicha Cheesecake, Uji Green Tea & Hojicha Raw Chocolate, Uji Green Tea Mini Parfait, and Uji Green Tea & Chestnut Ice Cream.

Uji Green Tea Mont Blanc Parfait

Chestnut Sweets Plate

Information

Uji Green Tea Mont Blanc Parfait and Chestnut Sweets Plate

■Uji Green Tea Mont Blanc Parfait

Available: September 1 – Early October

Where to Buy: Uji Main Store, JR Uji Station Store, Shijo-dori Store

■Chestnut Sweets Plate

Available: September 1 – Late November

Where to Buy: Uji Main Store, JR Uji Station Store, Shijo-dori Store

Official Site: https://www.itohkyuemon.co.jp/corporate/

Matsuzaki Shoten to Hold First Collaboration Between Ginza's Matsuzaki Senbei and Cat's ISSUE

Matsuzaki Shoten will hold a special collaboration event between Ginza's Matsuzaki Senbei and Cat's ISSUE starting on August 6, 2022. The Cat's Festival 2022 will be an incredible event for cat lovers, and guests will be able to grab some special hand towels and bowls produced exclusively for the festival. In addition, there will be an exhibition of works by Ayako Ishiguro, a picture book artist associated with Cat's ISSUE.

Ginza's Matsuzaki Senbei x Cat's ISSUE

This Japanese-style hand towel features illustrations of unique cats based on the concept color of Matsuzaki Shoten, the main Matsuzaki Senbei shop in Ginza.

Ginza's Matsuzaki Senbei x Cat's ISSUE

Matsuzaki Senbei's flagship product has been decorated with cat illustrations, each painted by hand. During the event, customers can choose four of their favorite pieces from a total of nine different patterns and pack them in a box wrapped with beautiful paper with a special design.  Guests can also purchase these goods separately. 

Collaboration with Ayako Ishiguro, a Picture Book Artist Specializing in Monster Art

This comical cat scroll created by Ayako Ishiguro will be on display during the exhibition. Hand towels made in collaboration with Ishiguro will also be on sale. These have previously been sold to huge fanfare.


If you love cats and classic Japanese art, this is the event for you!

Information

MATSUZAKI Cat's ISSUE – Cat Festival 2022
Running: August 6 – August 21, 2022
Venue: Matsuzaki Shoten (4-13-8 Ginza, Chuo-ku, Tokyo)
Details: https://cats-issue.com/

Teppanyaki and Yakiniku Restaurant Honten Yamashina Opens in Ginza

On July 18, the upscale teppanyaki and yakiniku restaurant Honten Yamashina opened a new location in Ginza! The hybrid restaurant has taken over the entire top floor of GINZA PLACE, which is directly connected to Ginza Station. Overlooking the Ginza 4-chome intersection, it's a gorgeous place to enjoy some authentic Japanese cuisine. 

Honten Yamashina mainly uses fully-matured Omi beef, the highest grade available among Shiga Prefecture's top-tier beef, from Okazaki Farm. The cows are allowed to fatten for a considerable amount of time and live stress-free lives for over 40 months. Less than 1% of all Wagyu cattle are shipped after 24 months of age, and this delectable meat is characterized by its sharp taste and fattiness. 

Luxurious Wagyu and Sea Urchin Sushi

Early Summer Plate to Enjoy with Seasonal Flowers

Selected Extra-thick Beef Tongue Steak Made with Refined Attention to Detail

Grilled Spiny Lobster Made on a Charcoal Grill

The Playful Yamashina Wagyu Slider

Melt-in-your-mouth Sweet Amala Tomato (Vegetable of the Day)

Hand-selected Omi Beef Steak

Truffle Omurice

Japanese-style Teppanyaki

Guests can enjoy authentic Japanese teppanyaki cuisine with a modern twist. While sitting at the contour, visitors will enjoy a live performance by Taku Osada, a teppanyaki chef with over 20 years of experience.  

The wide variety of meat can be enjoyed in a number of different ways, whether it be raw, grilled, stewed, or properly cooked. From tongue and rump to filet and sirloin, you won't leave hungry. Visitors can also enjoy seafood and seasonal Japanese vegetables along with their meat, and the flowers and leaves that adorn each plate will change depending on the time of year.

In addition to rare teppanyaki dishes like skirt steak and 3cm-thick beef tongue, Honten Yamashina also offers some playful dishes such as sliders. As the temperature differs on different parts of the steel cooking plate, each item can be cooked to a temperature that maximizes its specific flavor. Honten Yamashina also has a massive cellar housin over 1,000 bottles of wine and hard-to-find spirits. 

Japanese-style Yakiniku

For those looking for a more private experience, guests can enjoy yakiniku in a completely separate room. Each private room has a grill that will cook meat to the perfect temperature, and only at Honten Yamashina can you enjoy fully-matured Omi beef. The signature cutlet sandwich is made with chateaubriand cooked at a low temperature and deep-fried in a thin batter, then served on crispy bread with a soft, fluffy interior.

Teppanyaki and yakiniku are typically thought of as meat-based dishes, but the restaurant can accommodate vegetarian guests if contacted in advance. 

When Japan opens up to tourism, will you be visiting this incredible restaurant in the heart of Tokyo?

That Time I Got Reincarnated as a Slime Exhibition 2 in Tokyo to Show Footage from Upcoming Film

The second exhibition for the popular manga, novel, and anime series That Time I Got Reincarnated as a Slime will open at Matsuya Ginza on July 21. With over 30 million copies in print, the series has become massively popular both in Japan and abroad, and an anime film is scheduled to release this November. 

The exhibition will be open until August 9, 2022, and is then scheduled to begin a regional tour.

Certain scenes from the highly-anticipated upcoming film will be shown exclusively at the exhibition. Those who are having trouble waiting until November won't want to miss this rare chance!

During the previous exhibition, guests were able to enter a lottery to win a signboard autographed by Miho Okasaki, the voice of Rimuru. Due to the large number of entries, prizes for the second lottery are even more incredible!

The following autographs, which were previously displayed during the last exhibition, will be given away to some lucky fans. More details are available on the official Twitter page!

Signboard autographed by That Time I Reincarnated as a Slime author Fuse / Signboard autographed by Tenchura! That Time I Reincarnated as a Slime author Fuse / Signboard autographed by That Time I Got Reincarnated as a Slime: Trinity in Tempest artist Tae Tono / Signboard autographed by That Time I Got Reincarnated as a Slime: The Ways of the Monster Nation author Sho Okagiri / Signboard autographed by That Time I Got Reincarnated (Again!) as a Workaholic Slime illustrator Shizuku Akechi / Signboard autographed by The Slime Diaries: That Time I Got Reincarnated as a Slime artist Shiba

*Prizes are awarded at random. 

Information

That Time I Got Reincarnated as a Slime Exhibition 2
Running: July 21 – August 9, 2022
Venue: Matsuya Ginza 8F Event Square
Official Site: https://sp.ten-sura.com/tensuraten2/


Laid-Back Camp Tea Now Available in Limited Quantities

Kimikura, a specialty tea shop in Shizuoka Prefecture, is collaborating with Laid-Back Camp Season 2! Fans will be able to purchase Kimikura's popular green tea in limited edition packaging showing Rin Shima enjoying a piping hot cup. This limited edition item will be available at the Kimikura online store and Kimikura's physical shops starting July 8, 2022. 

The high-quality Kakegawa tea is made from leaves picked after 88 nights and has a lovely mellow fragrance and a full-bodied flavor.


This is the third collaboration with Laid-Back Camp, and fans of the series or Rin won't want to miss it.

Why not rewatch Laid-Back Camp with a nice cup of this tasty tea?

Information

Kimikura's Retreat

Release Date: July 8, 2022

Green Tea (Produced in Shizuoka Prefecture)

Available in limited quantities

Where to Buy: Kimikura Online Shop (https://kimikura.online/item/7078)

Kimikura Main Store, Kimikura Shizuoka Gofukucho Shop, KIMURACAFE

SPYxFAMILY Pop-Up Store Opens at Matsuya Ginza

The SPYxFAMILY pop-up shop, first held inside Tokyo Station's Character Street in April, will be coming to Matsuya Ginza from June 29 until July 12, 2022. 

Limited edition merchandise will be making a return, each featuring exclusive illustrations that saw huge popularity at the Tokyo Station event. Guests will also be able to purchase eight new items!

The lineup includes a rubber coin case (3 varieties, random), a clear multi-use pouch (3 varieties, random), an acrylic keychain featuring Anya, a Peanuts T-shirt with a new Anya illustration, and a mug. Each item is accented with Anya's pink hair, adding to the cute factor.


Bonus Sticker

Bonus Cooling Towel

Goods

Customers spending ¥3,300 or more at the pop-up shop will receive a bonus sticker. Those spending ¥5,500 can choose between a mug or a cooling towel!

©遠藤達哉/集英社・SPY×FAMILY製作委員会  

TOOTH TOOTH TOKYO in Ebisu Releases New Evening Parfait for Adults

TOOTH TOOTH TOKYO, a French bistro located in Ebisu, will offer three unique parfaits perfect for adult palates starting June 1, 2022 for a limited time.

These three sweet treats are perfect for an after-meal snack or a reward for a hard day's work. As delicious as they may be, they're also delightful to look at, each made with care and filled with seasonal fruits. An evening at TOOTH TOOTH TOKYO will be a luxurious and colorful experience this summer.

White Peach Fromage Parfait with Honey Tuile: ¥2,000 (Tax Included)
The melt-in-your-mouth parfait includes sweet peach covered with Earl Grey tea leaves, homemade apricot pound cake, lemon mousse, and a crispy honey tuile for a touch of luxury.

Parfait Exotica ~Mango Quenelle and Coconut Blancmange & Pistachio: ¥1,900 (Tax Included)
This mango treat with a dollop of coconut blancmange is made extra delicious with a pairing of pistachio ice cream. Dried pineapple and lotus flowers garnish this mature summer dessert. Enjoy the rum-soaked dried fruits!

Caramelized Figs & Red Wine Spiced Chocolat: ¥1,600 (Tax Included)
Juicy caramelized figs doused with spiced sangria make up the heart of this dish. The Belgian chocolate ice cream is served with a light cheese tuile, an accent with just the right amount of texture and saltiness.

Information

TOOTH TOOTH TOKYO

Venue: Tre di Casa Ebisu 1F/B1 (3-17-12 Higashi Shibuya-ku, Tokyo)
Hours:

Monday-Thursday, Saturday: Lunch 11:30-15:00 / Cafe & Dinner 15:00-23:30 (Last Order at 22:30)

Sunday: Lunch 11:30-15:00 / Cafe & Dinner 15:00-23:00 (Last Order at 22:00)

Friday: Lunch 11:30-15:00 / Cafe & Dinner 15:00-28:00 (Last Order 23:30)
*Closed from 15:00-16:00 

Official Site: http://www.toothtooth.com/restaurant/tooth-tokyo/

Tea Ceremony Brand Saron Launches Customizable Matcha Shaved Ice for a Limited Time

Nara-based tea ceremony brand Saron is serving up a tasty treat perfect for the warm weather! White shaved ice with dark matcha topping is now available until mid-September, and guests are invited to adjust the taste by altering the amount of tea added.

Lately, Nara has been experiencing a major shaved ice boom. Inspired by Himuro Shrine, known for housing a guardian deity of ice, the city introduces plenty of created recipes for the summer treats each year. The tea ceremony brand Saron was founded by Nakagawa Masashichi Shouten, in business since the Edo period–so it's safe to say that the company knows what they're talking about!

Guests can enjoy shaved ice made from pure Yamato ice, which is frozen for 72 hours, gently shaved, and topped with Nara's Kasiya sweet bean paste, shiratama, agar, and condensed milk that has been boiled for four hours. 

To finish off this luxurious dish, guests can add koicha, a thick matcha tea with concentrated flavor and incredible sweetness and depth. Polished twice as much as typical matcha, this is a taste you'll never forget.

Why not come enjoy this traditional Japanese sweet this summer?

Information

Saron – White Shaved Ice with Dark Matcha Topping

Available: May 11 – mid-September

Where to Buy: Saron Nara (31-1 Ganriincho, Nara)

Official Site: https://salon-tea.jp/