【Harajuku Lunch】RedRock Harajuku – Japan meets U.K.?! Grubbing a meaty meal at the much-hyped store
Hi everyone! Hope you guys have been spending a great summer so far!
I, Babukabon, reppin' Harajuku's one and only information center MOSHI MOSHI BOX, will be taking you through some of the best dishes and stores that can be found in the Harajuku area on my column.
For my first entry, I decided to visit "RedRock," a store that's been getting an increasing amount of attention by the day. I'd heard about the hype on this store, and how hungry kids wait in line for hours to get a bite of their popular Roast Beef bowl. They're originally based in Takadanobaba, but they'd recently opened up a store in Harajuku which was a perfect occasion for me to find out what this hype was all about!
Moo says the cow ♪ If you spot this cow, you've safely arrived:
Make sure you purchase a food ticket from the machine outside of the store first, then get in line. I heard there's a one to two hour wait at the store in Takadanobaba, but here in Harajuku, I was able to sneak in in about 10 minutes! (We started lining up a little before 2PM)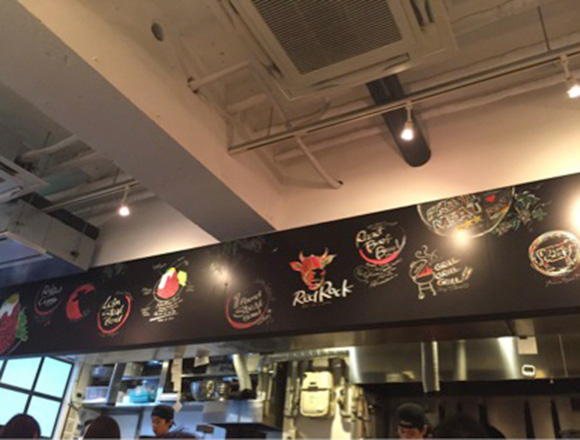 The moment you enter the restaurant, you can sniff all the greatness that'll soon make its way to your hungry stomachs. The interior is quite fancy, they even have a bar counter at the far corner of the store.
Since it's my first time here, I had to have the most popular RedRock Roast Beef bowl.
While we wait for my food to arrive, let me supply you with some Japanese food knowledge…
-What's a "don" (bowl)?-
Usually with a "don," you'll find rice on the bottom, and various ingredients on top that covers up the rice. We also call it "don-mono." We have various types of "don"s – place tempura (deep fried vegetable/seafood) on top and you've got a "Ten-don," place a chicken tucked inside fried egg and you've got an "Oyako-don." More often than not these "don"s are styled with Japanese-styled toppings, but here at RedRock, they've gone and done an East-meets-West-don placing roast beef, (an English dish,) on top of rice!
I handed my ticket over to the staff and waited a couple of minutes in excitement…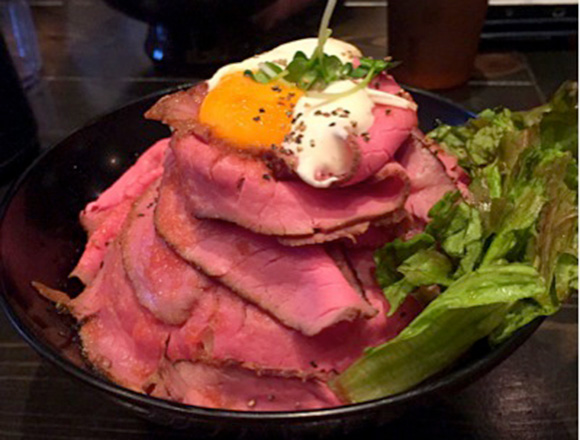 OH MY GOODNESS! Look how gorgeously they've piled a roast beef on top of another…and another!
So let me go ahead and devour this…"Itadakimasu!"
※In Japan, to express gratitude towards the food we eat, we say "Itadakimasu." Bring your palms together if you want to look more proper.
"This is delicious! These slices are huge! The sweet and spicy sauce on the rice also has a nice twist."
It's a little difficult to eat, so if you're not too good with chopsticks, I suggest you get yourself a spoon.
"Gochisousamadeshita!"
※As we started off with "Itadakimasu," this is a phrase that ends the meal.
In Japan, there's a saying that tells you to eat only until you're 80% full (hara hachibunme), because that's the sweet spot, but this one fills you up to at least 90%. But mixing the meat with the raw egg and their original mayo sauce didn't get me bored while digging into the bowl.
Babukabon rates RedRock!
……………………………………
Exterior ★★★☆☆ → The exterior was kept simple, which made the cow stand out and in turn making it easy to spot
Interior ★★★★★ → Fancy, and has a relaxed atmosphere
Food ★★★★☆ →Presentation ◯、Taste ◯、Easy to eat? △
It was a little difficult to eat with chopsticks though I'm pretty skilled with chopsticks! The sweet and spicy sauce on the rice was delicious. I could eat two bowls of rice if I had that sauce on top.
Service ★★★★★ → Extremely fast. They didn't make me wait at all!
……………………………………
Overall rating for today…
★★★★☆
Four stars!!!!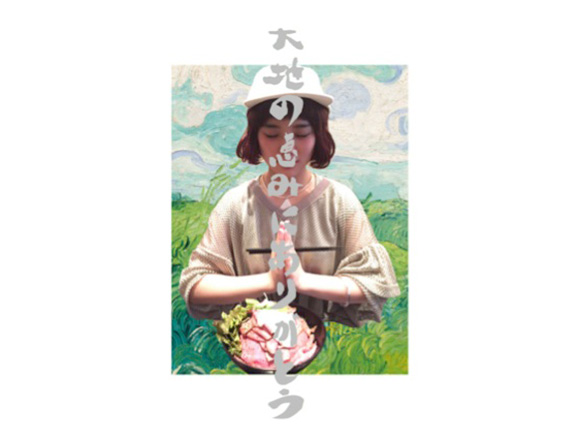 Go and try out the amazing roast beef bowl at RedRock! I think I'll have a go at the steak bowl on my next visit ♪
《Information》
■RedRock Harajuku
Address: Fuji Building B1F, 3-25 12, Jingumae, Shibuya-ku, Tokyo
Access:6 min. walk from Meiji Jingu-mae (Tokyo Metro Fukutoshin Line), 8 min. walk from Harajuku station (JR Yamanote line)
Hours:10:00~22:00
Call:03-6721-1729
Credit card:×
Official site:http://www.rb-syuhari.com/
RELATED ENTRIES
FRUITS ZIPPER Valentine Pop-Up Shop to Open at Laforet Harajuku

Laforet Harajuku will host a pop-up shop inspired by the up-and-coming idol group FRUITS ZIPPER from February 1 until February 14! The FRUITS ZIPPER Valentine Pop-Up Shop will be found on the 5th floor MAKE THE STAGE area.

FRUITS ZIPPER debuted in April 2022 and embodies a simple concept: "From Harajuku to the World." The group's second single Watashino Ichiban Kawaiitokoro exploded in popularity on TikTok, pulling in over 600 million views. In February, the girls will embark on their first solo concert tour in Tokyo, Nagoya, and Osaka. This is the first FRUITS ZIPPER-inspired limited-time shop, and during the event, visuals of the group's members will be displayed in the show windows found on the first floor of Laforet Harajuku.

◆About the FRUITS ZIPPER Valentine Pop-Up Shop

When entering the venue, fans will be greeted by a 5-meter-wide board where visitors can write and attach their messages to the FRUITS ZIPPER members on heart-shaped cards. Costumes that the members have worn on stage will also be on display, allowing fans to see each stitch up close.

Exclusive items featuring new photos of the members will be on sale at the pop-up shop. Fans can enjoy seeing the girls in their own personal style, and these items will only be available during the event! Starting February 4, tour merch for the group's upcoming solo concert series will also be available for purchase.

◆Collaboration with Fruit Sandwich Specialty Store 'Fruits Box Daikanyama'

Last year's popular collaboration with Fruit Box Daikanyama, a well-known fruit sandwich shop, is happening again in 2023! Fans can find the Collaboration Gift Box for sale, including seven baked meringue goods each featuring one of the member's colors. The box also comes with snapshots of the members, and for a few lucky fans, these snaps might be signed! The idol group and sandwich shop have also teamed up to create the Collaborative Lucky Grab Bag Lottery, including popular FRUITS ZIPPER goods and original items from Fruits Box Daikanyama. The lucky first-prize winner will receive a special set of all available February tour merchandise in all sizes.

◆Member Appearance Planned on Valentine's Day

On February 14, the final day of the pop-up shop, the members of FRUITS ZIPPER will make an appearance! Guests will be able to participate in the first-ever hands-on event with the members, so keep an eye out for more details!

Stay up to date with the latest FRUITS ZIPPER news at the official Twitter page (@FRUITS_ZIPPER).

FRUITS ZIPPER Pop-Up Shop Exclusive Goods


Random Photo – Valentine pop-up ver. (21 varieties): ¥330 (Tax Included)


Random Pin – Valentine pop-up ver. (7 varieties): ¥500 (Tax Included)


Random Purikura Stickers – Valentine pop-up ver. (14 varieties): ¥600 (Tax Included)

Information

FRUITS ZIPPER Valentine POP-UP SHOP
Running: February 1 – February 14, 2023
Venue: Laforet Harajuku 5F MAKE THE STAGE
*Closed on February 7 and February 8

[Fruits Box Daikanyama Collaboration Goods]
Collaboration Gift Box: ¥3,500 (Tax Included)
Collaborative Lucky Grab Bag Lottery: ¥1,500 per try (Tax Included)

Check out more details about the pop-up below!
https://www.laforet.ne.jp/pop_up_shop/fruitszipper_2301/

Stay up to date:
FRUITS ZIPPER Official Twitter
https://twitter.com/FRUITS_ZIPPER/

<Tour Information>
FRUITS ZIPPER 1st LIVE TOUR 2023 WINTER

Date: February 3, 2023
Venue: ReNY limited
Time: Doors open 17:30 / Show starts 18:30
Contact: Sunday Folk Promotion (052-320-9100) *Open daily 12:00-18:00

Date: February 5, 2023
Venue: Nanba Hatch
Time: Doors open 16:30 / Show starts 17:30
Contact: Kyodo Information (0570-200-888)

FRUITS ZIPPER 1st LIVE TOUR 2023 WINTER 〜FRUITS DAY〜
Date: February 9, 2023
Venue: Shibuya WWW X
Time: Doors open 18:00 / Show starts 19:00
Contact: HOT STUFF PROMOTION (03-5720-9999) *Open weekdays 11:00-19:00

FRUITS ZIPPER 1st LIVE TOUR 2023 WINTER 〜ZIPPER DAY〜
Date: February 10, 2023
Venue: Shibuya WWW X
Time: Doors open 17:30 / Show starts 18:30
Contact: HOT STUFF PROMOTION (03-5720-9999) *Open weekdays 11:00-19:00

FRUITS ZIPPER 1st LIVE TOUR 2023 WINTER -TOUR FINAL –
Date: February 12, 2023
Venue: LINE CUBE SHIBUYA
Time: Doors open 17:00 / Show starts 18:00
Contact: Sunrise Promotion Tokyo (0570-00-3777) *Open weekdays 12:00-15:00

Buy tickets for all shows here: https://l-tike.com/artist/000000000899959/

Zipper Magazine's 2022-2023 Winter Issue on Sale Now

The Winter 2022-2023 issue of the revived fashion creator magazine Zipper went on sale on December 23.

This issue focuses on this winter's must-know trends and is packed with coordination tips, outfit plans through spring, snapshots, hair and makeup tips, and much more.

Zipper ended its 24-year history in December 2017. In March 2022, ASOBISYSTEM teamed up with DONUTS Inc. to revive the magazine as a quarterly release. The fashion magazine, popular with Gen Z, is known for sharing details aspects of Harajuku culture and will continue to share more from the creative center of Tokyo for years to come.

Standard Edition (Cover: Nagisa Saito)

Another Edition (Cover: FRUITS ZIPPER)

Information

Zipper 2022-2023 Winter Issue
Release Date: December 23, 2022
Price: ¥700
Publisher: DONUTS
Publishing Company: Shodensha

Available at bookstores nationwide and online

Amazon
・通常版
・anotehr edition

Official Site
https://www.zipper.jp/

Popular EC Brand SHEIN Opens First Permanent Brick and Mortar Store in Harajuku

The global online fashion brand SHEIN has become wildly popular, shipping goods to over 150 countries. The world's first permanent brick-and-mortar SHEIN store will open in Harajuku, Tokyo on November 13, 2022, displaying popular styles and items perfect for the Japanese market. All items on display will be available for purchase on the official SHEIN app simply by scanning the QR code on the tag. While items won't be available to purchase in-store, the location will be a place where curious customers can try things on and explore new trends. The store has two floors and carries women's and men's wear, as well as kids' wear, pet goods, and accessories. In addition to standard fitting rooms, there will also be a photo booth and SHEIN gacha machine!

This summer, the brand held its first pop-up event in Japan, traveling to five cities over two days. In October 2022, the three-month-long SHEIN POPUP OSAKA event invited customers could try on clothes and discover new styles.

 "SHEIN TOKYO is planning to hold a number of events to make the SHEIN brand more familiar to new customers. Please visit us and enjoy perusing our reasonably priced but high-quality items," an official comment reads. 

Information

SHEIN TOKYO

Open: November 13, 2022

Address: b-town Building C, 1, 2F (4-25-9 Jingumae, Shibuya-ku, Tokyo)

Hours: 11:00-19:00 (Closed during New Year's holiday)

Official Website: https://jp.shein.com

Popular Character Coji-Coji Inspires First Baby Brand COJI-COJI BABY

Momoko Sakura's popular series Chibi Maruko-chan is filled with beloved characters, and Coji-Coji has remained a fan favorite for decades. Starting in October 2022, fans will be able to grab goods from the new COJI-COJI BABY brand. 

The made-for-babies merchandise line will feature new artwork. The first theme is 'outer space,' and little ones will love the pastel colors and playful illustrations. A promo video has also been posted to the official Coji-Coji YouTube channel.

About COJI-COJI BABY

"A snooze on the moon…

From childhood to the faraway future, 

Coji-Coji is always cozy-cozy.

Such a valuable life.

Grow together with your baby.

Snuggle up with your family. 

Be there to relax with those you love. 

Spend irreplaceable time together.

After all of these desires and thoughts came together,

COJI-COJI BABY was born."

Product Release Information

Sales of COJI-COJI BABY products began on October 12, 2022 on the official Eightex Japan online store.

Coji-Coji Costume Romper: ¥9,900

COJI-COJI BABY Fair Now Open!

Starting on October 15, the COJI-COJI BABY Fair is being held at Kiddy Land Harajuku and Kiddy Land Osaka Umeda.

During the event period, those who purchase over ¥4,000 (including tax) on COJI-COJI BABY products will receive an original mini shikishi. This is a perfect frame for your baby's handprint or footprint!

Information

COJI-COJI BABY

Official Online Store: https://eightex.com/pages/cojicoji

COJI-COJI BABY Fair

Running: October 15, 2022 ~

Venue: Kiddy Land Harajuku, Kiddy Land Osaka Umeda

*Bonus goods are only available while supplies last

*COJI-COJI BABY products will be available starting October 15. 

COJI-COJI BABY Promo Video: https://youtu.be/QyGTaz8geT0

Old-School Burger Shop Jennifer Seven Opens Location in Harajuku, Tokyo

LDFS Co. Ltd., which operates six cafes and brands in Tokyo, has opened a new location! The company currently operates THE GREAT BURGER, a gourmet burger shop in Harajuku, The Little BAKERY Tokyo, and GOOD TOWN DONUTS. Now, they've brought the old-school burger store Jennifer Seven to Harajuku!


Jennifer Seven is a combination general store and burger store that sells apparel, kitchen items, and groceries. While it may seem like a general store with a coffee stand at first glance, the back door opens to reveal a secret burger shop! The innovative location will serve simple burgers, not the hearty and massive gourmet burgers available next door at THE GREAT BURGER.

General stores are found in rural America and carry a wide range of daily necessities, much like a yorozu-ya in Japan. Jennifer Seven sells original apparel, sundries, and goods with a vintage flare, as well as tableware and other items from the U.S. In addition, guests can find unique food items like handmade jellies and jams, fresh fruits and local veggies, natural wines, small gifts, and plenty more.

 

The drive-thru coffee stand attached to the store sells GOOD TOWN COFFEE, and Chinese-American steamed buns are also available at the Harajuku location!

Each classic burger will come with simple and tasty ingredients, including the beef patty, ketchup, mustard, original burger sauce, pickles, and onions. The restaurant's simple interior features white and vintage wood with blue-grayish green accents and was designed by the owner himself, inspired by diners and school cafeterias in rural America.

Come enjoy a classic burger at this secret burger joint!

Information

Jennifer Seven

Location: Jennifer Seven

J-cube C Building 1F (6-12-6 Jingumae, Shibuya-ku, Tokyo)

Hot Topic and Studio Ghibli Collab Project HARAJUKU COLLECTIVE Gets Pop-Up Store in Harajuku

HARAJUKU COLLECTION, a Studio Ghibli-inspired apparel collection by popular American counterculture chain Hot Topic, is offering licensed Ghibli goods for fans in the U.S. and Canada. The collection opened its online store for those in Japan on August 10, and a limited time pop-up store has been opened in Harajuku to celebrate the release of this incredible apparel!

Japan Original Items

American Original Items

The store has a colorful exterior that shows Totoro and the Susuwatari playing together. Once inside, guests will be greeted by a massive rainbow Totoro! The shop blends the world of Ghibli with the style of Harajuku.

"If there were colorful and kawaii mushrooms in Totoro's forest, and if it rained acorns one day, maybe he'd need a mushroom umbrella!" This colorful Totoro was inspired by this adorable thought.

The walls are decorated with artwork drawn by the creators of the original Japanese items, and guests are able to see and purchase the products in this special space. Why not visit?

© 1988 Studio Ghibli
© 1989 Eiko Kadono – Studio Ghibli – N
© 1997 Studio Ghibli – ND
© 2001 Studio Ghibli – NDDTM
© 2004 Studio Ghibli – NDDMT

Official Chiikawa Shops in Harajuku and Osaka to Hold 1st Anniversary Fair

Last year, Chiikawa Land, the first official Chiikawa shop, opened at the Harajuku and Osaka Umeda branches of KIDDYLAND. Both locations will celebrate the 1st anniversary of the shop's opening with a special fair on August 5, 2022.

Chiikawa is a popular character first revealed by Japanese illustrator Nagano on Twitter. In December 2020, the official online store Chiikawa Market opened, and Nagano released a book compiling the manga panels they drew and posted on Twitter. The characters have become massively popular, with the artist's social media accounts racking up over 1.1 million followers. From collaboration cafes and exhibitions to a recent anime series, the sky's the limit for these adorable characters!

Purchase Bonus

「Holographic Sticker (Not for Sale) *Designs will differ between the Harajuku and Osaka Umeda locations.

Holographic Pin (Not for Sale) / For guests spending ¥3,300 or more (including tax)

Picnic Blanket (Not for Sale) / For guests spending ¥5,500 or more (including tax)

Mug (Not for Sale) / For guests spending ¥8,800 or more (including tax)

Limited Edition Chiikawa Land Harajuku x Marion Crepes Collab

Limited Edition Chiikawa Land Harajuku x Marion Crepes Goods

Chiikawa Land Osaka Umeda Limited Edition Goods


Both the Harajuku and Osaka Chiikawa Land locations are visited by fans each day, and each store has developed unique products to celebrate the first anniversary.

 

The Chiikawa Land Harajuku location will offer products in collaboration with Marion Crepes, while the Osaka Umeda location will sell limited edition products featuring the characters in cute traditional costumes. Special bonuses will also be handed out to guests spending particular amounts, so why not come out and grab some new goods?

©nagano / chiikawa committee

Manga Series 'Eren the Southpaw' Hijacks Reebok Harajuku and Shibuya Stores

Reebok has appointed a number of popular artists in Japan and abroad to take part in their new campaign titled 'Life is Not a Spectator Sport -Move, Move!-' This collaboration started in March 2022.

 

As a part of this collaboration, Reebok is teaming up with the manga series Eren the Southpaw. Kappa's popular ensemble drama highlights a number of creators, and has a very poignant tagline: "To all those who couldn't become geniuses." Reebok's brand message matches this and is meant to be a manifesto for life, telling people to never give up, act on their own convictions, and find their own path. 

Reebok Classic Store – Harajuku Interior

Stickers / Pins

Original Scene from Eren the Southpaw 

To commemorate the release of Reebok's flagship model INSTAPUMP FURY 95 in Sax Blue, a huge piece of window art was redrawn by Kappi. The artist also provided an original manga featuring an entirely new story. Fans can find this at the Reebok Classic Store Harajuku and on the official Reebok Twitter page. The Reebok stores in Harajuku and Shibuya have also been completely taken over by Eren the Southpaw, completely decorated from top to bottom in images from the series. 

KAWAII LAB. Report #1: IDOLATER Welcomes Two New Members

KAWAII LAB. is a project spearheaded by ASOBISYSTEM with the aim of introducing the world to popular Japanese idol culture. The idol group IDOLATER was born from this idea, and in April, the girls welcomed two new members, transforming it into a fresh new 5-member group. Announced at the group's solo concert 'New IDOLATER' on April 24, Fuuka Oishi and Ririka Satsuki joined the lineup consisting of Ayu Okuda, Kurumi Tsukishiro, and Yukino Fushiki.

A typical idol group is peppy and filled with energy, but IDOLATER is doing things a little differently. What is their appeal? How do they want to shake things up? 

A Group Formed by Finalists from ASOBISYSTEM's First National Audition

IDOLATER debuted in April 2019. In the spring of 2018, ASOBISYSTEM, the management company behind Kyary Pamyu Pamyu and a number of other popular talents, announced its first large-scale nationwide audition, ASOBISYSTEM THE AUDITION 2018. IDOLATER's history began with five audition finalists–Fushiki, Okuda, Tsukishiro, and two others. The catchphrase for the audition was fitting for the group: "Seeking the next generation of talents to shape Japanese pop culture and share it with the world."

IDOLATER Welcomes Solo Singer Ririka Satsuki & Model Fuuka Oishi

Following the departure of two members and intense restrictions imposed on the group's activities due to the pandemic, IDOLATER continued to operate with only three members. Although they didn't manage to get a ton of media coverage or appeal in large-scale events, the group continued to pull in new fans and gain recognition in the idol community. After a while, Fuuka Oishi and Ririka Satsuki joined the group, giving a much-needed boost to IDOLATER's activities and energy.

Ririka Satsuki is a solo artist based in Fukuoka with an incredible husky voice. Fuuka Oishi has previously worked as a model and is popular with creators for her sweet yet listless atmosphere. Despite their incredible confidence, this is the first time either has worked as an idol!

IDOLATER and the Concept of 'Idols' 

The word 'idol' can conjure plenty of images to mind, but what does the word mean to the members of IDOLATER?

The group's music blends together elements of city pop, future funk, and house, while still keeping true to traditional J-pop roots. The familiarity of their music makes it easy to approach, and Yukino Fushiki's powerful voice alongside Ririka Satsuki's melodies shower fans with some of the best vocals in the idol world. 

The group's choreography is provided by YU-KA, formerly of TEMPURA KIDZ. Her experience as both a dancer and an idol makes her an asset, and her refreshing moves are a highlight of each IDOLATER show.

A former pattern maker for a Japanese fashion brand designed the group's costumes. 

If this sounds like the idol group for you, come and check out an IDOLATER event to see the girl's incredible appeal for yourself.

On June 19, IDOLATER will hold their second regular performance, 'Camel,' at Ebisu CreATO. (The title of the show was chosen because it sounded fun, not for any other specific reason.)

Stay tuned for the next report, where we'll delve a little deeper into the life of each member of IDOLATER!

From Harajuku to the world! Chasing the bright future of a rising star, FRUITS ZIPPER

FRUITS ZIPPER is a group quickly rising to stardom, debuted from "KAWAII LAB." KAWAII LAB is a new project to introduce Japanese idol culture from "Harajuku", a fashion town where various cultures and personalities gather, to the world. Members of the group include Amane Tsukihashi, Suzuka Chinzei, Yui Sakurai, Runa Nakagawa, Manaka Mana, Karen Matsumoto, and Noel Hayase.

Even before their debut, the group garnered attention for their breathtaking visuals. Their performances are so powerful, you would never expect such refined skill from such an adorable aesthetic, which is known to captivate the hearts of their fans. The group is produced by Misa Kimura, a model and TV personality who is also the general producer of "KAWAII LAB. She will utilize her experience and creativity as the leader of the idol group "Musubizm" to introduce idol culture to the world.

Expressing FRUITS ZIPPER's world through collaborations with creators

Furthermore, even before their debut, the group drew a lot of attention because of their collaborations with many different renowned creators. Among the collaborations includes the artist photos created by video director/art director/3DCG artist YUKARI. She uses a cutting-edge trend of CG-moving techniques, in addition to still-images. The mysterious colors of bright light that embraces the girls are definitely eye-catching.

Catchy and cute choreography of FRUITS ZIPPER

Followed by the debut song "Kimino Akaruimiraiwo Oikakete," a song with a positive message for the future, "Watashino Ichiban Kawaiitokoro," with its cute choreography and lyrics, won the hearts of people and was selected as one of the "TikTok Hot Songs in Japan" and charted on the Billboard. More than 13,000 videos using "Watashino Ichiban Kawaiitokoro" have been posted on TikTok with the hashtag "#わたしの一番かわいいところ (Watashino Ichiban Kawaiitokoro)." The long-awaited third single "Kanpeki Syugide☆", which was released on May 20, is an energetic tune created by music producer Manaka Suzuki.

Performances that reach into people's hearts and minds

A pop-culture event presented by Asobisystem "ASOBE!!," was held at Spotify O-EAST on May 26th. In addition to FRUITS ZIPPER, fellow Asobisystem members Atarashii Gakko! and IDOLATER, who is also a member of "KAWAII LAB.", performed at the event. Many other remarkable idol groups also took part in the event, enlivening the venue.
Alongside their regular performances, they are scheduled to participate in a number of events, including the "LEADING PALETTE! and "HYPE IDOL! vol. 20" at Nihonbashi Mitsui Hall both June 12th. Make sure to come and see their live performance, it's sure to steal your heart!

Additionally, KAWAII LAB. will be serialized on "Moshi Moshi Nippon," a website that provides the latest news of Japan to the world. The articles will be published in hopes of sharing the charm of IDOLATER and FRUITS ZIPPER with people not only in Japan, but also around the world. Details will be announced soon. Stay tuned for more from KAWAII LAB.!

HARAJUKU App Launches Collaboration with Love Live! Super Star!! at Famous Takeshita-dori

From May 20 until June 5, 2022, AppBank is bringing fans of Love Live! Superstar!! a special treat in collaboration with the HARAJUKU app! By launching the app at a check-in spot in Harajuku, users can win a limited-edition Love Live! toy at random, such as acrylic keychains or pins.

App Splash Page

HARAJUKU Map

Random Toy Screen

For those winning a toy, the item can be picked up in front of the CUTE CUBE HARAJUKU Love Live! Superstar!! Wall Panel or at YURINAN Harajuku Takeshita-dori Yu-rin An. In celebration of the event, CUTE CUBE HARAJUKU will be featuring Love Live wall panels during this period, so be sure to go get some great pictures!

Fendi and Harajuku Omotesando Keyaki-kai Collaborate on #FendiTsunaguOmotesando Art Project

Italian luxury fashion brand Fendi has teamed up with Harajuku Omotesando Keyaki-kai on a new street art project! 'TSUNAGU – Omotesando Street Art Project' was unveiled on April 29, 2022.

 

The project, which aims to improve the city's scenery and share positive messages, is on display in Omotesando, a popular area with young people. The canvas is the formal site of the Oriental Bazaar, an iconic part of Omotesando for over four decades. Under the theme of 'hope,' three young artists will be displaying their artwork in a massive temporary enclosure on the site. Hopefully, Japan really will open tourism soon so that guests from around the world can enjoy these inspiring pieces!

The first piece of art was unveiled on April 29 and was drawn by Dai Tamura, a young Japanese artist who has attracted worldwide attention after becoming an illustrator for the NBA. The dynamic and powerful compositions vividly depict endangered animals and plants alongside delicate flowers to symbolize hope for the futures of these beautiful creatures. 



Be sure to keep an eye out for the next installation coming soon!

Information

TSUNAGU – Omotesando Street Art Project

Location: Oriental Bazaar Former Site

Address: 5-9-13 Jingumae, Shibuya-ku, Tokyo

Official Site: http://www.fendi.com