Kyary Pamyu Pamyu Announces Collaboration with 165-Year-Old Confectionary Shop 'Koeido'
Celebrating the 10th anniversary of her major-label debut, Kyary Pamyu Pamyu is back in the news. The artist will perform at this year's Coachella, one of the largest music festivals in the United States, and recently released her first full-length album in three years 'Candy Racer' in October 2021.  On January 16, Kyary embarked on the largest tour of her career, 'Kyary Pamyu Pamyu 10th ANNIVERSARY JAPAN TOUR 2022 CANDY WAVE,' which will see the singer performing 30 shows across Japan. In conjunction with the nationwide tour, the "LOCAL POWER JAPAN Project" was launched to energize Japan through the appeal of regional towns and cities. Following a T-shirt collaboration with a 156-year-old kamaboko shop in Kanagawa, Kyary has teamed up with Gunma-based ekiben maker Oginoya to release her own bento box!
On February 6, Kyary held a concert in Okayama–the next stop on the LOCAL POWER JAPAN Project. This time, the singer is collaborating with a 165-year-old Japanese confectionary shop named Koeido. The store is famous for its original kibidango, a type of sweet mochi dumpling.
As part of the 'Collaboration Logo' project, partner companies see their traditional logos transformed as a tribute to Kyary Pamyu Pamyu's works. This time, the motif was inspired by 'KPP BEST,' an album released in 2016.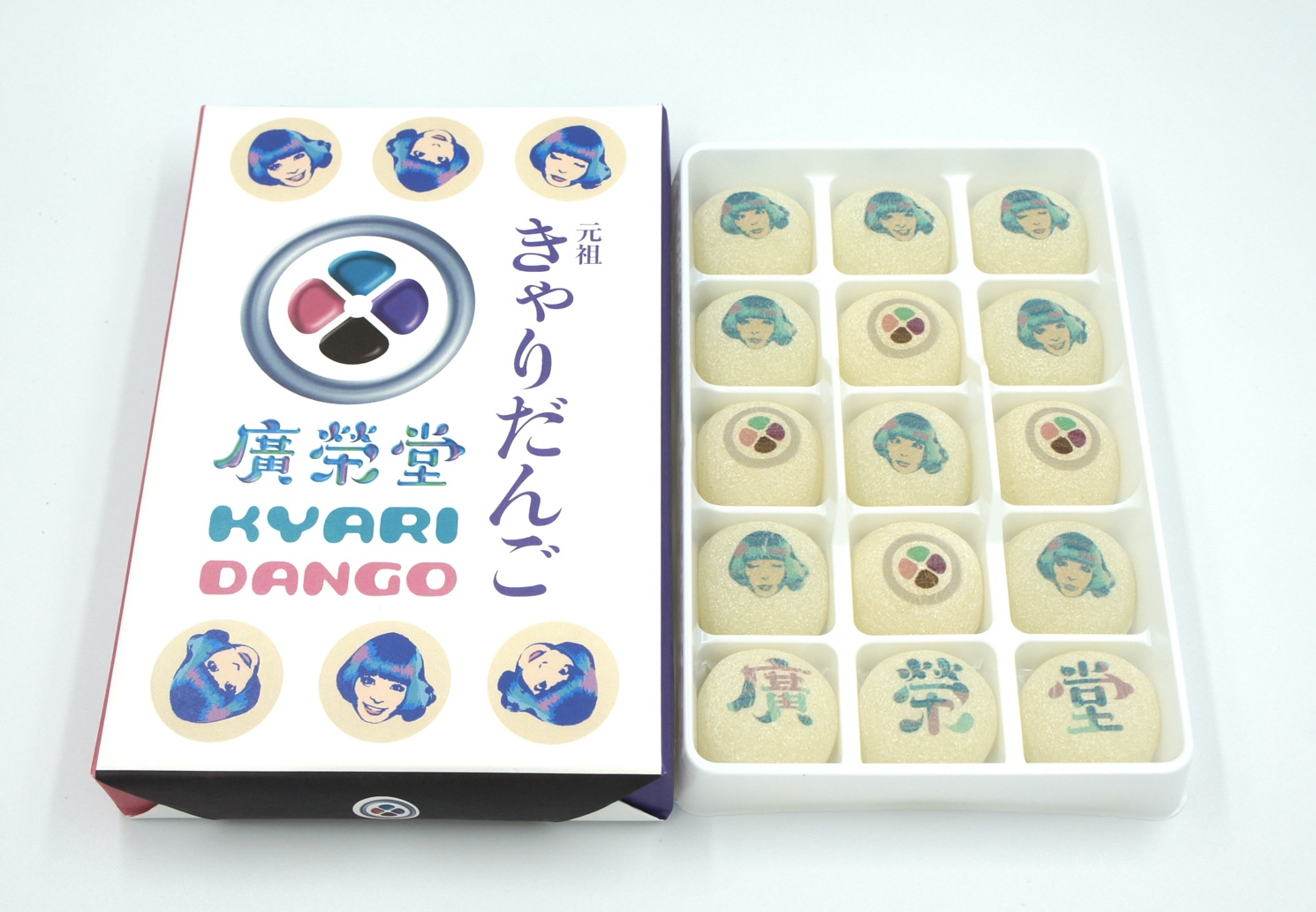 Original Kyaridango: ¥1,300 (Tax Included) / 15 pieces 
These tasty 'Original Kyarydango' have the same taste as traditional kibidango, but feature Kyary's face printed in edible ink. These sweet sets were sold in limited quantities at the Okayama Civic Hall, and are now available to purchase on the LOCAL POWER JAPAN Project website until February 20.
A T-shirt featuring the collaboration logo has also been revealed. The front features the Original Kyarydango and the updated logo, while the back is decorated with the Kyary 10th Anniversary logo and project logo. The shirt is also available on the LOCAL POWER JAPAN Project website. 
Information
Koeido (Okayama) x LPJP Collaboration Kibidango 'Original Kyaridango'
Price: ¥1,300 (Tax Included) / 15 pieces
Address: Okayama Civic Hall (2-2-1 Marunouchi, Kita-ku, Okayama)
Online Sales
Running: February 6 – February 20 at 23:59
LOCAL POWER JAPAN Project Online Shop: https://store-localpowerjapan.com/ 
*These products are made to order. Shipping is scheduled for the end of February.
Koeido (Okayama) LPJP Collaboration T-shirt
Price: ¥3,300 (Tax Included)
Available: February 6 – February 20 at 23:59
LOCAL POWER JAPAN Project Online Shop: https://store-localpowerjapan.com/ 
*Please allow two weeks to one month from the time your order is placed for item to ship. Part of the proceeds from the sales of these T-shirts will be donated to selected recipients for local development and social contributions.

RELATED ENTRIES
KAWAII LAB. Report #4: FRUITS ZIPPER Group Interview②

FRUITS ZIPPER, a new idol group from ASOBISYSTEM, has a simple concept: "From
Harajuku to the World." Ready to transmit what they call 'NEW KAWAII' from Harajuku, an area known for fashion and individuality, to their soon-to-be global fanbase, the group
consists of seven members: Amane Tsukiashi, Suzuka Chinzei, Yui Sakurai, Luna
Nakagawa, Mana Manaka, Karen Matsumoto, and Noel Hayase.

Four members of FRUITS ZIPPER sat down with us for an interview about their overseas
aspirations. 

Could you introduce yourself?

-Luna Nakagawa

"Hi, everyone, I'm Luna Nakagawa! My talent is having perfect pitch. I absolutely love to
sing, and lately, my favorite song to sing is Celine Dion's It's All Coming Back to Me Now.

My dream is to become a Living National Treasure and to become the Alicia Keys of the idol world!" 

–Amane Tsukiashi

"I'm Amane Tsukiashi, 22 years old from Okayama Prefecture. My blood type is O and my
favorite foods are ramen and Motsunabe. 

My hobbies are watching movies and dramas, collecting makeup, solo karaoke, flower
arranging, idol appreciation, and eating!"

–Yui Sakurai

"Everyone reading this on Moshi Moshi Nippon, it's nice to meet you! I'm Yui Sakurai, and my member color is mint green!

My favorite things are tea, ramen, strawberries, fashion, and makeup research. I also have two professional nail certifications!
In my photos, I might come off as really cool and stoic, but to be honest, I'm usually
smiling. A fan told me that my smile makes me look like one of the Seven Gods of Fortune, so now I have the brilliant nickname 'Seven Gods of Fortune Smile♡'"

–Karen Matsumoto

"I'm Karen Matsumoto, and my color is baby pink! I'm 20 years old and my special skill is
piano! I have no experience singing and dancing, but I'll do my best to keep up with the
other members!"

To get started–when you think about other countries, what pops into your head?

 

–Yui Sakurai

"I imagine incredible scenery! The last time I went abroad for work, I did my best to
communicate with fans. Even though I couldn't speak their language, they were so friendly and they seemed to understand my thoughts. They smiled at me so much, so I think I'll get along with foreign fans right away!" (laugh)

-Luna Nakagawa

"I think of broadening my horizons, learning about other cultures, and meeting new people. 

In my experience studying abroad, I could really feel the difference in values and ways of
thinking when communicating with people my age.

I was amazed when I could experience things I had never seen in Japan. I thought that
another country's culture was amazing and I wanted to imitate it. At the same time, it
made me realize that I was proud to be Japanese too. When you travel abroad, you
discover so much and become a more empathetic and kind human. It made me realize that there were plenty of things that I didn't even know about myself, so I hope that by
traveling more, I can learn more." 

–Amane Tsukiashi

"I imagine the unknown.
The only foreign country I've ever been to is Korea. I know that there are so many cultures, landscapes, and worlds out there that I've never seen before." 

–Karen Matsumoto

"When I went to Taiwan on a school trip, I loved the tapioca and the rice so much. It made me wonder what other delicious food is waiting for me out there!" 

Imagine you end up going abroad as FRUITS ZIPPER. What do you think you'd do better than the other members?

–Amane Tsukiashi

"I'd be good at keeping the mood going and taking on challenges. 

I want to experience cultures that don't exist in Japan, so I want to actively try new things–not just food, but local attractions and even skydiving!" 

-Luna Nakagawa

"I've studied abroad but I don't speak English fluently. 

When I go abroad, for some reason, I become a much stronger communicator with much more confidence. I feel like I'll be best at communicating with the locals in the spirit of "it'll work out somehow." (laughs)

–Yui Sakurai

"I've been trying to figure out what I could do best…

This is a tough question! (laugh)

People don't know most of what's going on in the world, 

and I've been told that my reaction to things abroad is pretty huge. 

Since we'll have a ton of first-time experiences abroad, 

I want to keep my big reactions coming. 

That way, even fans who aren't with us can watch from wherever they are

and get a taste of what we're experiencing! (laugh)

That counts, right? 

Or maybe I just want to go sightseeing." (laugh)

–Karen Matsumoto

"The other members tell me that I'm a good communicator. Even when I was a student,
my grades in English weren't great, but I still had the top grades in communicative English, so I feel like I can speak it somehow!" (laugh)

While abroad, you're told that you can do anything you want for a whole day. What would you do?

–Yui Sakurai

"I'd eat good food, explore some beautiful places, do some shopping, and get a massage
under the stars before I went to sleep! (laugh) 

I'd like to see the ocean too! 

The last time I went abroad for business, I didn't get to do much sightseeing, so I want to
do lots of things unique to wherever I'm visiting."

-Luna Nakagawa

"I want to try out some extreme attractions, like some of those huge roller coasters they
only have overseas. In some places, I want to experience the local culture too, of course. 

If I go to Hollywood, I wanna meet Dwayne Johnson." (laugh)

–Amane Tsukiashi

"I want to rent a car so I can drive around and see all sorts of different landscapes. 

I've always loved driving, nature, beautiful scenery, and going to places I've never been
before, so I'd like to combine all of those things into one."

–Karen Matsumoto

"I'd want to go shopping with my friends!" 

What do you think would happen if you traveled abroad with the FRUITS ZIPPER members?

–Amane Tsukiashi

"The group is filled with super energetic members who give their all during every event, so I think that if an event takes place on Halloween, they'd do something great with costumes and things like that. Just imagine how fun that would be!" 

-Luna Nakagawa

"Someone will definitely end up causing trouble, like losing their passport or wallet. To be
specific, I feel like Mana will lose her passport and Karen will lose her wallet. Suzuka's always eating weird food so she'll probably get food poisoning." 

–Yui Sakurai

"Luna and Noel both speak English, so I'm sure they'll have great conversations with the
locals and become good friends, high-fiving and hugging! (laugh)

Even in Japan, the two talk to each other in English a lot and seem to have a lot of fun!

I usually try to listen to their conversations, but I have no idea what they're saying. I'll
probably end up making friends with the locals through gestures and facial expressions!" 

–Karen Matsumoto

"I think I'll end up getting lost!" 

Thank you so much for chatting with us. Is there anything you'd like to say before we wrap up?

–Yui Sakurai

"Thinking of going abroad and traveling the world is such a huge concept, it's hard for me
to imagine, but it makes me so happy to think that the number of people who will be happy to see us will expand beyond our borders. I believe that idols have the power to make
people happy even if they can't speak your language, and that's the kind of idol I want to
be. We'll do our best to live up to our concept, "From Harajuku to the World!" 

-Luna Nakagawa

"Someday I want to go on an overseas adventure with FRUITS ZIPPER and have a real-life meet and greet with fans!!!

I hope to create many wonderful memories with my fans in the future!" 

–Amane Tsukiashi

We'll do our best to expand the activities of FRUITS ZIPPER globally as soon as we can so
that we can all see lots of new things together! I'm so excited for what the future holds–
just imagining it has me so thrilled!"

–Karen Matsumoto

"I want to be able to perform overseas as often as possible, like Kyary Pamyu Pamyu!!" 💪🏻

The next KAWAII LAB Report will focus on IDOLATER!

Be sure to check it out!

The official Facebook page of FRUITS ZIPPER is now open!

Picture Book 'The Bear Who Lost the Moon' Inspires Fair, Collaboration Pancakes

Tonomori Taniguchi has an adorable new picture book on the market, and it's time to celebrate! Bibliotheque, a cafe and bookstore with locations in Tokyo, Osaka, Fukuoka, and Kumamoto, will hold a fair to celebrate the new publication The Bear Who Lost the Moon from July 1 to August 31, 2022. 

Bear and Crescent Moon Pancake with Honey Lemon Vanilla Sauce

Bear's Pancake Mix

Taniguchi is known for books like 100 Santa Clauses and Chameleon's Shaved Ice. The special fair for his new book The Bear Who Lost the Moon will feature collaboration pancakes inspired by the sweet story, as well as a limited-edition pancake mix. In addition, live painting and autograph sessions have been planned for Fukuoka and Kumamoto.

Information

Celebratory Fair for Tonomori Taniguchi's New Picture Book The Bear Who Lost the Moon

Running: July 1 – August 31, 2022

Venue: Cafe & Books Bibliotheque Tokyo / Osaka / Fukuoka / Kumamoto

Live-Painting & Autograph Session

Dates: 

August 20 / Cafe & Books Bibliotheque Tenjin, Fukuoka

August 21 / Cafe & Books Bibliotheque Tsuruya, Kumamoto

Official Site: http://www.bibliotheque.ne.jp/

One OK ROCK and Monster Energy Open Limited-Time Pop-up in Shibuya

Japanese rock band ONE OK ROCK has become massively popular worldwide, leading them to an exciting new partnership with Monster Energy. For one week only starting June 28, the ONE OK ROCK x Monster Energy pop-up shop is open in Shibuya. 

At the venue, guests can follow the official Monster Energy Twitter account (@MonsterEnergyJP) to get an exclusive collab sticker and a Monster Energy drink or Monster Pipeline Punch, a tropical fruit juice version. 

A campaign to win some amazing collaboration goods is also underway. By taking a picture of the pop-up space and posting it on Twitter with the hashtag #MonsterOOR, 10 lucky winners will receive a collab poster signed by the members of ONE OK ROCK.

Fans of the band or the energy drink won't want to miss visiting this shop! The band's new song Save Yourself will be playing at the venue, so be sure to head over to Shibuya for a listen. 

Information

ONE OK ROCK x Monster Energy

Running: June 28 – July 4, 2022

Venue: ZeroBase Jingumae

Address: 6-4-1 Jingumae, Shibuya-ku, Tokyo

Official Site: http://www.monsterenergy.com

CA4LA Releases SPY x FAMILY Hats Inspired by Loid and Anya

Hat brand CA4LA is taking preorders for two unique hats inspired by Loid and Anya Forger from the popular series SPYxFAMILY! Whether you want Loid's Trilby or Anya's Beret, be sure to place your orders before July 27, 2022.

Loid Ver. Trilby

Antique Silver Pin with Organization Motif

Lining with Loid Forger Embroidery

Adjustable Size using Velcro

Anya Ver. Beret

A Stella Star Pin, Merits at Eden Academy

Original Lining with the Eden Academy and CA4LA Logos

Adjustable Size using Velcro

Loid Forger is an undercover spy who acts under the codename Twilight. The hat he often wears in the series has been perfectly reproduced by CA4LA, with a slick design featuring an antique silver pin with the logo of his organization and his name stitched inside the lining. 

Anya's adorable beret is based on her Eden Academy uniform. This hand-stitched hat is available in either child or adult sizes! The Stella Star pin, considered a merit at Eden Academy, accents the side of the hat. The inner lining features a unique pattern perfect for fans!

Enjoy being fashionable while also showing off your love for SPYxFAMILY!

©遠藤達哉/集英社・SPY×FAMILY製作委員会

Information

SPYxFAMILY x CA4LA

Preorders Open: June 22 – July 27, 2022

*Items must be reserved.
*Each product is made to order. Products are available while supplies last.
Expected Delivery Date: Early December 2022 or after
*The estimated delivery date may change.
Where to Buy: ShoProMall Selection: https://mall.shopro.co.jp/c/selection
Official Site: https://www.shopro.co.jp/

Rilakkuma Teams Up with SpoGOMI to Sponsor National Cleanup Competition

In an effort to clean up areas around Japan, everyone's favorite lazy bear is teaming up with the Social Sports Initiative's SpoGOMI! Rilakkuma is currently on his own nationwide tour, traveling from the northernmost to the southernmost points in Japan over 18 months. Guests visiting each event will be able to find unique prefecture-based environmentally-friendly merchandise. 

SpoGOMI is an entirely new sport started in Japan, combining a traditional sport with trash pickup! It's always more fun to turn a chore into a game, and participants compete to see who can pick up the most garbage. 

Merchandise at a Glance

Mug

Pin

Fan

Round Coin Purse

Merchandise (Exclusive to the Hokkaido Area)

T-Shirt

Canvas Tote Bag (S)

Hand Towel (M/L)

Along with the standard rules, a new version of the game inspired by Rilakkuma will be introduced, perfect for both children and adults to enjoy.

After helping to clean up, why not enjoy some delicious local food and sightseeing? Join Rilakkuma in his efforts to clean up Japan and connect local communities. 

©2022 SAN-X CO., LTD. ALL RIGHTS RESERVED.

Information

Ensemble Tour ~Let's Share the Leisurely SDGs Together~
Running: July 13, 2022 – Fall 2023
Venue: To open sequentially at event sites in each prefecture
Participation Fee: Free Entry into Venue
Official Site: https://sdgs-events.com/

KAWAII LAB. Report #3: Introducing Two New Members of IDOLATER–a Long-Haired Model and a Gambler who Sings Too Well

KAWAII LAB. is a project spearheaded by ASOBISYSTEM with the aim of introducing the world to popular Japanese idol culture. Announced at the group's solo concert 'New IDOLATER' on April 24, Fuuka Oishi and Ririka Satsuki joined the lineup consisting of Ayu Okuda, Kurumi Tsukishiro, and Yukino Fushiki.

Today, we're introducing the two newest members–Fuuka Oishi and Ririka Satsuki.

Fuuka Oishi

▼Social Media Accounts

Twitter https://twitter.com/idolater_fuka

Instagram https://www.instagram.com/idolater_fuka/

▼Birthday

July 25, 1999

▼Height

163cm

▼Blood Type

B

▼Birthplace

Chiba Prefecture

▼Favorite Foods

Cheesecake, High Cocoa Chocolate (86~95%), Beef Tongue, Skirt Steak, Yakitori (Gizzards, Gristle)

▼Favorite Musical Artists

SEKAI NO OWARI, SKY PEACE

▼Favorite Manga/Anime/TV Shows/Radio Shows

One Piece, Naruto, Kotaro Lives Alone

▼Best Way to Spend a Day Off

Netflix、YouTube、Hanging out at a cafe

▼Favorite Phrase

Different Strokes for Different Folks! Everyone is different and everyone's great. 

▼Places She'd Like to Visit

Wherever I can see the beautiful ocean!

Korea, France

▼Favorite Part of Herself

The fact that I laugh a lot–and everything else!

▼Color

Light Blue

Born in 1999. With her characteristic long black hair and dainty yet listless atmosphere,
she's a model who has been attracting attention from all sides. Supported by creators and
having appeared as a model for fashion brands, she has also starred in TV commercials and in music videos. 

I Want to Die – Centimillimental

Although she has no experience singing or dancing, Fuuka brings her natural cheerfulness
to the group.

Ririka Satsuki

▼Social Media Accounts

Twitter https://twitter.com/idolater_ririka

Instagram https://www.instagram.com/idolater_ririka/

▼Birthday

August 17, 2000

▼Height

158cm

▼Blood Type

AB

▼Birthplace

Fukuoka Prefecture

▼Favorite Foods

Ramen, Gingko, Gyoza

▼Favorite Musical Artists

Avril Lavigne

Lady Gaga

Namie Amuro

▼Favorite Manga/Anime/TV Shows/Radio Shows

Tokyo Revengers, Attack on Titan, Demon Slayer: Kimetsu no Yaiba, Haikyu!!

▼Favorite Way to Spend a Day Off

Sleep, go to the movies alone, play slot machines (Juggler machines are my favorite!)

▼Favorite Phrases

・There is always light beyond the clouds.

・Stick to your guns. 

▼Places She'd Like to Visit

Hokkaido, Guam, Dubai, London

▼Favorite Part of Herself

Opening my big mouth, my smile.

▼Goal for the Year

Performing live at Zepp!

▼Color

Yellow

With a powerful and husky voice, Ririka previously appeared on TV Tokyo's 'The Karaoke
Battle U-18 Utauma Koshien.' In 2019, she appeared on AbemaTV's 'Koisuru Shuumatsu
Homestay' and became incredibly popular with middle and high school students. Recently,
she appeared on Nippon TV's 'Monomane Grand Prix,' and is active in a number of other
activities. 

Ririka Satsuki's strength lies in her singing ability. 

Be sure to check out her song covers on TikTok!

https://www.tiktok.com/@satsuki_ririka

Ririka also enjoys gambling, preferring the Juggler line of slot machines. She'd like to keep
it up in the future, if she's able. 


Her powerful, husky voice has created a kind of chemical reaction in IDOLATER. 

Stay tuned for the next installment of the IDOLATER series!

Next week's KAWAII LAB report will focus on FRUITS ZIPPER. 

FRUITS ZIPPER Releases Music Video for Popular TikTok Track 'Watashino Ichiban Kawaii Tokoro'

FRUITS ZIPPER, a new idol group from ASOBISYSTEM, has a simple concept: "From Harajuku to the World." The girls have just released the music video for their 2nd digital single Watashino Ichiban Kawaii Tokoro (The Cutest Thing About Me).

The group is ready to transmit what they call 'NEW KAWAII' from Harajuku, an area known for fashion and individuality, to their soon-to-be global fanbase.

Watashino Ichiban Kawaii Tokoro – FRUITS ZIPPER 

FRUITS ZIPPER has been going strong since its launch in April this year, appearing at numerous idol events and selling out tickets to its solo shows immediately after they went on sale.

The song Watashino Ichiban Kawaii Tokoro has exploded in popularity on TikTok, racking up over 200 million plays.

The song also ranked on the TikTok HOT SONGS list and charted on Spotify's viral chart for three weeks in a row.

 

Initially, no music video for this song was planned, but due to fan response and the track's huge popularity, the decision was made to produce one after all. The video is filled with the 'NEW KAWAII' that FRUITS ZIPPER wants to be known for, so check it out!

To commemorate the release of the music video, a playback campaign is currently underway on Spotify from June 23 until June 29. Fans will be able to see a different member on Spotify Canvas for each day of the campaign.

Don't miss the share campaign! Seven winners will be chosen by random drawing to win an autographed Polaroid snapshot of the FRUITS ZIPPER members.

FamilyMart Starts Pokemon Campaign, Pikachu Pineapple Frappe Now Available

FamilyMart stores nationwide have started a campaign in collaboration with the free-to-play mobile game Pokemon Cafe ReMix! From June 21 until July 18, visitors will be able to pick up some special treats and exclusive merchandise.

Pikachu Frappes

A new addition to the Frappe series, customers will be able to enjoy Pikachu's Pineapple Frappe starting June 21, featuring Pikachu in a cute cafe uniform. Made with golden pineapple pulp, the drink is perfect for summer, offering a refreshing sweet and sour taste. There are three cup designs available–one with Pikachu in red, one in blue, and another in green.

Original Merchandise Campaign

Part I: June 21, 10:00~ / Original PP Coaster (4 varieties)

Part 2: July 5, 10:00~ / Cafe Menu Design Original Memo Pad (4 varieties)

*Sample Images

A goods campaign is also underway. Customers purchasing three qualifying products will receive exclusive merchandise–while supplies last, of course! The event will run from June 21 at 10:00 through July 18.

Stamp Campaign

Left: 5 stamps, Original Lunch Bag / Right: 10 stamps, Original Plates (Set of 3)

Collecting stamps on the FamilyMart app can also net fans some special prizes! At the same time, Pokemon fans can use the app to win tickets to Pokemon GO Fest 2022 Sapporo.

© 2022 Pokémon. © 1995-2022 Nintendo/Creatures Inc./GAME FREAK inc.
Developed by Genius Sonority Inc.
ポケットモンスター・ポケモン・Pokémonは任天堂・クリーチャーズ・ゲームフリークの
登録商標です。Nintendo Switchのロゴ・Nintendo Switchは任天堂の商標です。

©2022 Niantic, Inc. ©2022 Pokémon. 
©1995-2022 Nintendo/Creatures Inc. /GAME FREAK inc. 
ポケモン・Pokémonは任天堂・クリーチャーズ・ゲームフリークの登録商標です。

Japanese Artist VERDY Releases Minions Collaboration Collection

To commemorate the upcoming film Minions: The Rise of Gru, a new apparel collection has been unveiled! The new items were made by VERDY, the artist behind popular projects like Girls Don't Cry and Wasted Youth, both of which have been noticed by celebrities overseas. Prior to the collection's launch online on July 1, fans can buy items from the limited-edition collection at Universal Studios in Los Angeles starting June 17 and at Universal Studios Japan starting June 24. 

VERDY is an incredibly popular artist who has garnered attention around the world, and his products are often seen with celebrities and big names in Japan and abroad. He has collaborated with a number of top brands in the past.

Collection

The first collaboration between the two, Minions x Vick, was released in 2020 to huge popularity, selling out within one minute of release. This second collaboration was created to satisfy huge fan demand, offering up tons of items featuring Otto, a Minion who will appear in the new film, and VERDY's signature character Vick. Fans can purchase T-shirts, hoodies, long sleeve shirts, hats, keychains, skateboards, and more. 

This is the only time you'll be able to snag these unique items, so don't miss out!

WIZARDING WORLD and all related trademarks, characters, names, and indicia are © & ™ WBEI. Publishing Rights © JKR. (s22)
Minions and all related elements and indicia TM & © 2022 Universal Studios. All rights reserved.TM & © Universal Studios & Amblin Entertainment
Universal Studios Japan TM & © Universal Studios. All rights reserved.
© Nintendo

Information

Minions x VERDY

Where to Buy: Universal Studios Japan, Studio Style

Available: June 24 – June 30, 2022
*Items only available while supplies last.
Available Online starting July 1

Available at Universal Studios Hollywood starting June 17

Attack on Titan Inspires Collaboration Folding Bike from DAHON

The world's largest folding bike brand DANON has revealed a new collaboration with the popular series Attack on Titan! This bike features unique branding and coloring perfect for fans of the long-running manga and anime series. 

Dahon is the world's largest manufacturer of folding bicycles with a two-thirds market share in 2006. The company was founded in 1982 by David T. Hon, a former laser physicist, and is headquartered in Los Angeles, California, with assembly factories in China, Macau, and Bulgaria. Full-scale production started in 1984.

Attack on Titan Bike: ¥89,100 (Tax Included)

The bike will go on sale at the PCPSHOP on June 20 at 17:00. Only 139 units are available, and fans of the Scout Regiment will be happy to see its color and badge displayed proudly on the bike's body. A special bag is also included. 

Grab one as soon as possible if you're interested!

Ⓒ諫⼭創・講談社/「進撃の巨⼈」The Final Season製作委員会

Information

Attack on Titan Bike

MARiA from GARNiDELiA and luz Release Duet Track, Music Video

GARNiDELiA vocalist MARiA released the music video for Cafe Latte no Uta, her duet track with luz, on June 15, 2022.

The track will be included in the singer's second solo album Memories, which will go on sale on June 22 and is now available on streaming services. Cafe Latte no Uta was composed by PENGUIN RESERACH's kemu with lyrics written by both Horie and luz.



Cafe Latte no Uta feat. luz


A release event has also been announced, scheduled to take place on June 22 at Tower Records Shibuya. The singer will hold a solo concert at Toyosu PIT on July 3. In exciting news, MARiA will be performing in an upcoming stage play, Quantum, which will be performed in Tokyo and Osaka for 23 total shows.

Although still very active in her work with GARNiDELiA, MARiA has been breaking new ground in her solo work, collaborating with a number of artists and creators. Keep an eye on what she does in the future!



Comment from MARiA

"I had a meeting with luz and kemu, and when we started chatting, we decided that since our voices are more adult, it would be perfect if we made a more sexy song. 

All three of us have lived our lives as part of internet culture, so this song really shows off our history with all of its strengths!

This is a song best listened to with headphones on–we really used our breath a lot, especially in the gaps between the music.

Be sure to enjoy the perfect harmony between me and luz!"

Information

Moments

Release Date: June 22, 2022

Limited Edition (CD+Blu-ray): ¥4,950 (Tax Included)

Standard Edition (CD Only): ¥3,300 (Tax Included)

GARNiDELiA Official Site: https://www.garnidelia.com/

UNIQLO Releases UT Collection Inspired by the Great Museums of the World

UNIQLO's graphic T-shirt brand UT has launched an artful new collection! The Museums of the World collection of men's shirts features beloved museums like the Tate Modern, the Louvre, the Museum of Fine Arts Boston, and more. This valuable collection was made possible by UNIQLO's continued art initiative, as the company has continued to work with museums around the world to share the wonders of art with as many people as possible.

A Collection Allowing Customers to Enjoy the World's Best Museums as Part of Their Daily Lives

This collection brings together some of the world's most beloved museums, with designs inspired by the exteriors of these well-known homes of art. The Louvre design fully captures the iconic pyramid, while the contemporary MoMA is expressed with simple lines. The name of each museum is also printed on one sleeve for extra style.

UNIQLO's Art Initiative


UNIQLO has partnered with some of the world's leading museums over the years. Through free admission programs, sales of collaborative products and various events, these museums aim to provide opportunities for more people to experience and deepen their understanding of art.

May 2013 – Present / The Museum of Modern Art (New York, USA) 

March 2016 – Present / Tate Modern (London, England) 

September 2017 – Present / Museum of Fine Arts (Boston, USA) 

March 2018 – Present / Barcelona Museum of Contemporary Art (Barcelona, Spain)

February 2021 – Present / Louvre Museum (Paris, France)

Don't miss this unique collection! Which museum would you like represented in your wardrobe?