Experience the Michelin Guide's specially selected restaurants all at one venue at "Michelin Guide Food Festival 2017 in Yokohama". This will be Japan's first ever food fest of the sort and will be held at Yokohama Red Brick Warehouse for a four day period from Thursday 17th to Sunday 20th August.
Last year, Japan celebrated its 10th anniversary of being extremely highly ranked in the Michelin Guide. Tokyo became home to a grand total of 227 Michelin-starred restaurants and is still the city with the highest number of Michelin-starred restaurants in the world. Kyoto comes in second place with 99 Michelin-starred restaurants, followed by Paris in third place with 97. Osaka and New York are next in the rankings.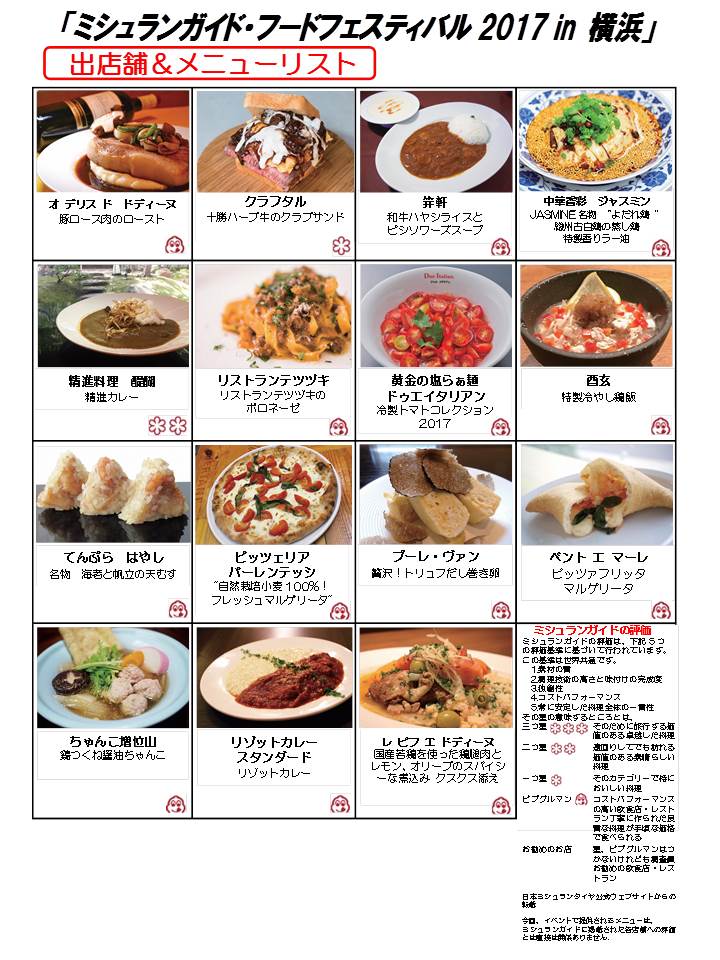 Make your way around 15 Michelin-approved restaurants and enjoy the numerous delicious dishes at your own pace. This event is the perfect opportunity to experience a range of specially selected restaurants from a wide range of locations, such as Tokyo, Yokohama, Kawasaki and Shonan. From traditional Japanese food to French and Italian, this one venue is the assembly point for a large range of dishes.   
There is a lineup of dishes from each restaurant, so please check out the official website. Don't miss out on the opportunity to encounter delicious dishes at Yokohama Red Brick Warehouse.
Restaurants list:Aux delices de dodine/ CRAFTALE/ Kogaiken/ Chuukakousai Jasmin/ Shoujinryouri Daigo Ristorante Tsuzuki/ Golden Shio Ramen Due Italian/ Torigen/ Tempura Hayashi Pizzeria Parentesi/ POULET VIN/ Vento e Mare/ Chanko Masuiyama Risotto Curry Standard/ Les pif et dodine
■Information
Michelin Guide Food Festival:
Limited event period:Thursday 17th ~ Sunday 20th August
Event hours:10:00 ~ 21:00(Exceptions: Begins at 12:00 on the first day and finishes at 20:00 on the last day)
※ Last orders accepted 30 minutes before closing time
※ The event will only close in the case of a storm, but will remain open during rainy weather
Venue:Yokohama Red Brick Warehouse Event Plaza B (http://www.yokohama-akarenga.jp/)
Tickets:No entry fee
※ Visitors must purchase food tickets from inside the venue in order to obtain food. The price of one ticket is ¥1,000 (including tax).
※ Visitors cannot be refunded for food tickets
※ Visitors cannot purchase food with money
Official website: mgff.jp
Related article:Organic Produce Market Open in Tokyo Midtown—Fresh Fruit & Vegetables!
Related article:Luxurious Warming-Up Bar "MEZZO" to Open in Roppongi!