Hatsune Miku & 39Culture Collaboration Shop Release New Art by Popular Illustrators
The merchandise brand Cocollabo will be opening a special shop featuring Hatsune Miku and other Vocaloid goods, 39Culture 2022, at Shibuya LOFT starting March 4, 2022!
Illustration by Mo
Illustration by Hechima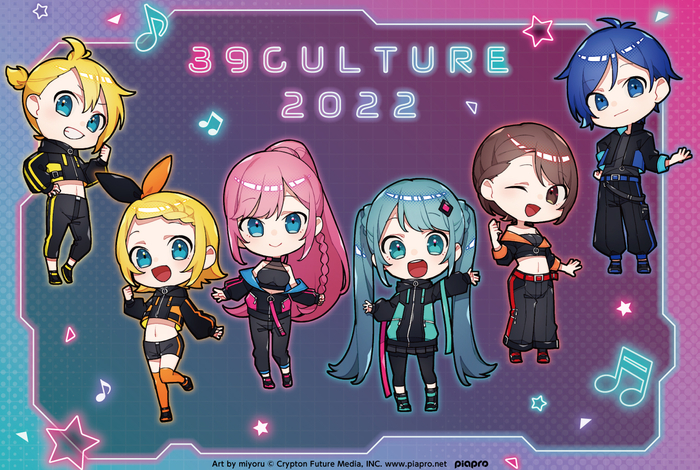 Illustration by miyoru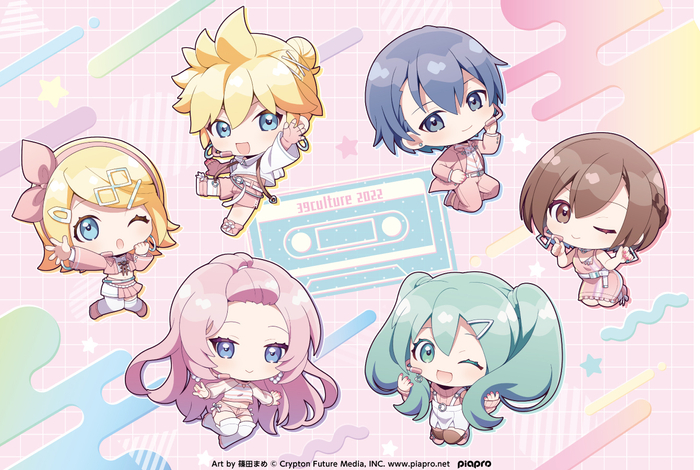 Illustration by Mame Shinoda
Merchandise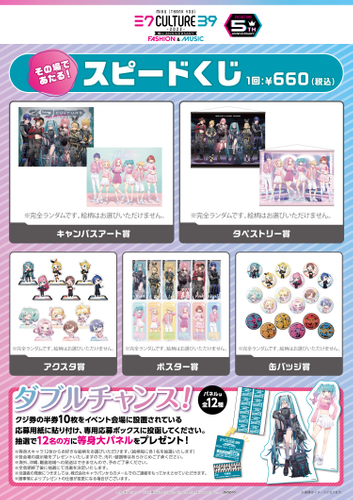 Speedy Lottery
The theme for this year's 5th-anniversary event is 'fashion and music,' a throwback to the first event. Four illustrators–Mo, Hechima, miyoru, and Mame Shinoda–have contributed illustrations for the shop's goods, while koya and shu have written a theme song to liven up the venue! Miku fans, don't miss out!
Art by 藻/へちま/miyoru/篠田まめ (C) Crypton Future Media, INC. www.piapro.net
Information
Hatsune Miku x 39Culture 2022
Address: Shibuya LOFT 6F Art & Culture Floor
Dates: March 4 – March 20, 11:00-21:00 *Closing at 18:00 on March 20
Admission: Free
Event Theme Song: Yoru Uneru Koro Ni – koya/shu
Additional Venues:
Tenjin LOFT 5F General Sales Area: March 25 – April 10
Umeda LOFT 4F Event Space: April 14 – May 8
Sakae LOFT 4F General Sales Area: May 13 – May 25
Sapporo LOFT ESTA 6F Special Event Space: June 1 – June 14
RELATED ENTRIES
Hachioji P to Release New Track 'RAD DOGS feat. Hatsune Miku, Rin Kagamine and Len Kagamine'

In 2009, Vocaloid producer Hachioji P posted his legendary song Electric Love on Nico Nico Douga. Still active on the music scene, the creator will begin streaming the new track RAD DOGS feat. Hatsune Miku, Rin Kagamine, and Len Kagamine on August 10. This comes ahead of the release of his new album HIDEOUT on August 31, 2022. A music video for the track will be uploaded to Hachioji P's YouTube channel at 20:00 on August 10.

RAD DOGS feat. Hatsune Miku, Rin Kagamine, and Len Kagamine – Hachioji P (Music Video)

RAD DOGS feat. Hatsune Miku, Rin Kagamine, and Len Kagamine is a Vocaloid cover written for the iOS/Android game Project SEKAI COLORFUL STAGE! feat. Hatsune Miku. The original song has over 9 million views on YouTube.

RAD DOGS – Music Video

The music video for RAD DOGS feat. Hatsune Miku, Rin Kagamine, and Len Kagamine was directed by Kento Mori, who has created ads for a number of companies. PizaCG was in charge of animating the Vocaloids while Penta Ashibuto was in charge of the choreography. The jacket photo has been uploaded, giving fans a hint of what they can expect when the video drops next week.

Hachioji P's new artist photo has also been unveiled.

 

Look forward to the album's release on August 10 along with the music video!

Information

HIDEOUT

Release Date: August 31, 2022

Limited First Edition (CD+DVD+2 Bonus Tracks): ¥3,500 (Tax Included)
Standard Edition (CD): ¥2,800 (Tax Included)

Hachioji P Official Homepage: http://hachiojip.net/

Hatsune Miku Stars as Model in New SPINNS and Gugenka Digital Fashion Project

Apparel brand SPINNS is teaming up with Gugenka, a digital goods company utilizing VR and AR to bring anime to life! A new collection of goods featuring Hatsune Miku and the official member of SPINNS virtual staff team Tsumugi Hinata will be available on ZOZOTOWN starting June 18, 2022.

SPINNS is a popular Japanese apparel brand amongst teenagers and those in their early 20s, with items available in stores nationwide. In 2020, the company announced that it would be employing 'virtual staff,' introducing the adorable Tsumugi Hinata. SPINNS is actively planning and releasing digital fashion items for users' avatars.

Models

Tsumugi Hinata (Official SPINNS Virtual Staff) / Hatsune Miku

Lineup

Regular Color

Polo Shirt

T-Shirt

Exclusive Hatsune Miku Color

Polo Shirt

T-Shirt

Hatsune Miku Digital Figure

Project iconic combines Gugenka's technology with SPINNS' fashion to introduce digital fashion to a wider audience and to encourage people to enjoy fashion both in real and digital life.

Each real clothing item sold comes with a digital figure that can be downloaded and enjoyed on XMarket. Come take part in this project and discover a new version of yourself in the Metaverse!

© Crypton Future Media, INC.

Hatsune Miku Symphony 2022 Yokohama Reveals Main Visual, keeno Provides New Song

More details about the Hatsune Miku Symphony 2022 in Yokohama have been announced! The main visual, drawn by illustrator Rella, celebrates the 15th anniversary of Hatsune Miku, Kagamine Rin, and Kagamine Len. Megurine Luka, MEIKO, and KAITO also make appearances!

Vocaloid producer keeno has also been chosen to write a song for Hatsune Miku exclusively for the performance in Yokohama. Tickets will go on sale soon, with some seats also including original merchandise. Seats for guests under the age of 18 will also be available. Head to Pia on June 12 to snag your seats!

 

Additional tickets for the earlier Tokyo nighttime performance to be held at Suntory Hall are now on sale. Details for the Osaka performance will be announced at a later date.

The Tokyo and Osaka performances will feature live music performed by a full orchestra, while the Yokohama performance will be hosted by Hatsune Miku and include a massive screen behind the orchestra with footage for the audience to enjoy!

 

Comment from keeno

"I'm so honored to have been asked to write a piece for the Hatsune Miku Symphony 2022 Yokohama concert. 

I hope to bring the audience music that will touch their hearts and minds as it is played by a spectacular orchestra. 

The music isn't finished quite yet, so I'll continue doing my best!"

© Crypton Future Media, INC. www.piapro.net

Global Music Event HATSUNE MIKU EXPO Rewind Details Revealed

Crypton Future Media Inc. has released more details about the upcoming online music event HATSUNE MIKU EXPO Rewind, scheduled to take place on June 5, 2022. An online guidebook with a time schedule, musician interviews, and additional information is also available in English and Japanese.

Time Schedule

Fans from around the world will be able to tune in to 'HATSUNE MIKU EXPO Rewind,' featuring tons of past content from the virtual idol's trips overseas. This will include foreign language songs unique to the world tour, and admission to the event is free. As the title suggests, the event will compile the best moments from seven years of MIKU EXPO history. 

As the event will be available to audiences worldwide, three performances will be held, allowing everyone–regardless of time zone–to enjoy the show.

As with past MIKU EXPO events, fans will be able to participate in workshops, exhibitions, and other unique experiences. One of the sub-events, 'MIKU EXPO Digital Stars 2022 Online,' will serve as the opening of each performance.

Be sure to mark your calendars for HATSUNE MIKU EXPO Rewind on June 5!

Virtual Hanami Event MIKU LAND 2022 YOSAKURA Invites Guests to the Metaverse with Hatsune Miku

MIKU LAND is Hatsune Miku's official VR amusement park. The locale opens sporadically on the Virtual Cast platform, inviting fans of the virtual singer to interact with the star herself and other music lovers from around the world. From April 28 until May 1, the MIKU LAND 2022 YOSAKURA event will invite Vocaloid lovers to the metaverse to enjoy the cherry blossoms and a number of unique experiences. 

Guests can visit Senbonzakura World, Miku's Detective Agency, Rin & Len Kagamine's Post Office in the Sky, and even a virtual haunted house during the event. VTubers Megu Shinonome, Tokino Sora, and Mirai Akari have been chosen as the official ambassadors of the event.

Senbonzakura World

Hatsune Miku's iconic track Senbonzakura, written by Kurousa-P, turns 10 this year. What better way to enjoy it than beneath virtual cherry blossom trees? Even if you can't visit Japan quite yet, enjoy the Japanese shrine atmosphere as you spend time with friends in this gorgeous virtual space.



Miku's Detective Agency

This puzzle-solving attraction invites guests to become assistant detectives by passing a test handed out by Detective Hatsune Miku! Those able to complete the challenge will also receive a limited-edition item.


Rin & Len Kagamine's Post Office in the Sky

This post office in the clouds isn't just a quiet place to relax. Visitors can take on a few different challenges, from mazes to more physical tasks.



Official Ambassadors


Megu Shinonome Comment
"I've been chosen as an ambassador for MIKU LAND! My name is Megu Shinonome, and I'm so excited to work with Miku! MIKU LAND keeps getting bigger and bigger, so I'm wondering what it will look like this spring…I'm looking forward to it! I'll do my best along with my fellow ambassadors Tokino Sora and Mirai Akari to convey the many charms of MIKU LAND to as many people as possible. We can't wait to see you!"

Tokino Sora Comment
"I'm so excited to visit MIKU LAND again! I'll do my best to make this another incredible event, and I'll be sure to enjoy myself as much as possible!"

Mirai Akari Comment
"I've been invited to MIKU LAND to act as the MC for this awesome event! During the SUMMER VACATION event, everyone on Virtual Cast was so kind to me. It was a blast, so I'm really looking forward to this too! I'll be sure to bring some extra excitement, so don't miss it!"

Information

Dates: April 28, 19:00 – May 1, 21:00
Location: Virtual Cast

Official Site: https://mikuland.com/

History of OSAMU GOODS to be on Display in 'OSAMU GOODS 45th Anniversary Exhibition'

Palette Club, a school for illustrators located in Tsukiji, will be holding a 45th Anniversary exhibition for OSAMU GOODS! The characters were created in 1976 by Osamu Harada, who is from Tsukiji, and Dusty Miller. Items featuring these adorable characters are still incredibly popular to this day.

Exclusive Merchandise

Rare original drawings, prints, and goods from the 1970s to the 1990s, as well as Dusty Miller store bags and fan club newsletters, will be on display during the event. Those more nostalgic about these characters and those new to them will both find something to enjoy!

Information

OSAMU GOODS 45th Anniversary Exhibition

Running: April 12 – May 22, 2022

Hours: 13:00-19:00 (Last Entry at 18:30)
*Closed Mondays
Admission: Free

Venue: Palette Club School (4-11-10 Tsukiji, Chuo-ku, Tokyo)

Information: https://www.osamugoods.com/

Nostalgic and New Neo-Retro Illustrations to be Featured in New Book

Pie International will release Neo-Retro Illustrations: A Creator's Guide to Blending the New and Nostalgic on April 22, 2022.

In recent years, blending both nostalgic prints with modern sensibilities has become a popular trend in art, especially among young people. This "retro boom" has become a genre in itself, and this tome compiles some of the most incredible examples of this genre from 40 popular illustrators.

The book contains over 250 pieces of "neo-retro" art, blending past eras with futuristic colors and highlights.

 

The new book also includes interviews with the featured artists, providing a glimpse into their creative roots and personalities.  The cover illustration was done by NAKAKI PANTZ.

Featured Artists


AiLeeN / an / itousa / Inata / Inoue Noi / Oliwa / Sawako Kageyama / Kamin / Kisumi Rei / Guugorou / Kano Komori / Natsumi Sato / Michi / Sanho / Haruna Sudo / Soreeeeyu / tabi / Choo / TV♡CHANY / NAKAKI PANTZ / NANCYSNAKE / Nekopota. / noco / hachika / Hana Chatani / Hanabushi / Harawata Chanko / PHI / Catherine Hitachi / HOHOEMI / mawawiz / Mannen Mofuku / Hiro Mizuno / Monyochita Pomichi / Yoko / Rasuku / Rikku / RING / Rorurari / wacca

Sakura Miku Pop-up Shop Volume 2 in AMNIBUS Store to Open at MAGNET by SHIBUYA109

The second Sakura Miku pop-up shop will be held at AMNIBUS STORE at MAGNET by SHIBUYA109 from April 8, 2022 for a limited time!

The special shop will feature exclusive illustrations of Sakura Miku and her friends by illustrator kuro. The AMNIBUS STORE will also exclusive purchase bonuses as well, so don't miss these spring-inspired items!

Information

Sakura Miku Pop-up Shop Vol.2 in AMNIBUS Store

Running April 8 – April 24, 2022
Location: MAGNET by SHIBUYA109 4F / AMNIBUS STORE
Official Site:https://magnetbyshibuya109.jp/

Hatsune Miku Symphony 2022 Main Visual Unveiled

Given the intense popularity of the Hatsune Miku Symphony 2022, an additional evening performance has been added after the afternoon performance sold out! Tickets are now on sale. Additionally, to celebrate the new event, the performance of Daughter of Evil ~ Servant of Evil from the 2020 Hatsune Miku Symphony has been uploaded to YouTube!

Hatsune Miku Symphony 2020 ~5th Anniversary ~ September 21, 2022 at Suntory Hall / Daughter of Evil ~ Servant of Evil(mothy_Akuno P)

The complete main visual for the event, drawn by illustrator Rella, has been unveiled, showing Hatsune Miku, Kagamine Rin, and Kagamine Len! 

Information

Hatsune Miku Symphony 2022 ~Hatsune Miku, Kagamine Rin, Kagamine Len 15th Anniversary~

Tokyo Concert

July 2, 2022

Suntory Hall

Afternoon Performance: Doors Open 13:00 / Curtain Rises 14:00 (SOLD OUT)

Evening Performance: Doors Open 17:30 / Curtain Rises 18:30 (*Additional Performance)

Official Site: https://sp.wmg.jp/mikusymphony/

Vocaloid Producer Balloon Releases New Song with Hatsune Miku for Project Sekai: Colorful Stage!

Keina Suda, also known as the Vocaloid producer Balloon, is ready to contribute music to the popular mobile game Project Sekai: Colorful Stage!  The creator initially began making Vocaloid music back in 2013, and his hit song Charles has been covered by many other singers.

The song will be added to the game in a future update, and more details will be revealed soon.

 

One of Balloon's best-known songs, Rain and Petra, will also be added to the rhythm game. The artist will hold a solo concert in both Tokyo and Osaka as well, with presale tickets now available on the official homepage.

The artist will hold a solo concert in both Tokyo and Osaka as well, with presale tickets now available on the official homepage. The Osaka show will be held on May 6 at the Orix Theater, and in Tokyo on May 14 at the Nakano Sun Plaza Hall. 

Comment from Balloon

I'm Balloon. My new song for the unit 25:00 at the Night Code is coming soon. I wrote the music while thinking of the group's story and combining that with my own feelings. I hope you listen and interpret it in your own way.

© SEGA / © Colorful Palette Inc. / © Crypton Future Media, INC. www.piapro.net

Project Sekai Colorful Stage! feat. Hatsune Miku to Collaborate with Eve

SEGA and Colorful Palette are bringing popular musician Eve to the mobile rhythm game Project Sekai Colorful Stage! feat. Hatsune Miku! Known for performing the opening theme for Jujutsu Kaisen, some of the artist's tracks will be available to play in-game. In addition, emon (Tex.) will be joining the team to create new music for the title.

Nonsense Bungaku

Kokoroyohou

Bokura Mada Underground

 

Eve's songs Nonsense Bungaku, Kokoroyohou, and Bokura Mada Underground will be available in the game. A Follow and Retweet Campaign is also behind held to commemorate the new collaboration, and five random winners will be selected by lottery to win a postcard signed by Eve!

Also, emon (Tes.) has joined the project to create new music for the game, providing the unit track for MORE MORE JUMP! Be sure to keep an eye on Project Sekai for more tracks coming in the near future!

© SEGA / © Colorful Palette Inc. / © Crypton Future Media, INC. www.piapro.net All rights reserved.

Eve Releases First Vocaloid Album 'Eve Vocaloid 01' on Streaming Services

On February 9, popular singer Eve released his first Vocaloid album on all popular streaming services! A special website has also been opened to accompany the exciting release.

A music video for 'Eve Vocaloid 01' was posted to Niconico and reached a million views in 45 days. Popular tracks included on the album include Gunjo Sanka–featured in Project Sekai Colorful Stage–and Yadorigi. The album has a total of twelve songs, including 8 Vocaloid songs that have never been properly released and 2 tracks that have never been heard before, Bokura Mada Underground and Kokoroyohou. 

On the special website, fans can check out some key visuals provided by Kukka, the illustrator of the music video for Gunjo Sanka. To celebrate the album's release, a LINE MUSIC playback campaign will be held, with 100 winners selected to win a special sticker signed by Eve!