This will for sure be delicious! A "McFlurry" and "Black Thunder" collaborative food item!
One of Japan's most popular chocolate bars, "Black Thunder" and McDonald's Japan's "McFlurry" have collaborated to make a limited-edition food item titled, "McFlurry Black Thunder." This item will go on sale starting from August 16th at all McDonald's stores throughout Japan.
McFlurry which celebrates its tenth years since the start of sales is a soft serve with various toppings and mousses which are swirled together at a high speed to makes for a unique smooth sweets item. This year McFlurry has debuted two other collaborative food items, Morinaga's caramel and Pokemon.
McFlurry's unique texture blends well with the chocolate of Black Thunder which has been selling its chocolate bar at a very reasonable price.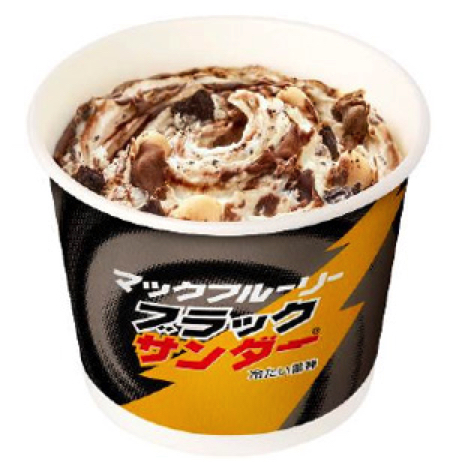 In "McFlurry Black Thunder," the cocoa cookie and plain biscuit mixes well with the chocolate sauce added to the soft serve, making Black Thunder come alive in a McFlurry base.
The contrast between the smooth soft serve and the crunchiness of the Black Thunder is exquisite. In both taste and texture, this is a new Black Thunder experience.
This summer, why not try this cool Black Thunder at all McDonalds stores throughout Japan.
■Information
 McFlurry Black Thunder
Selling period: August 16th – middle of September
Selling place: McDonald's stores throughout Japan(except some shops)
Selling time: 10:30-closing (10:30-1:00 –some shops opening for 24 hours)
Price: ¥290(tax included)
Source:Macdonalds news release: (http://www.mcd-holdings.co.jp/news/2017/promotion/promo0810a.html)
Related article:New Delicious Looking Ice Bar Released from Confectionary and Cake Company Morozoff!
Related article:ICE MONSTER and Lawson will collaborate together and release two new desserts! "Uchi café SWEETS×ICE MONSTER 
RELATED ENTRIES
McDonald's Japan to Release Ramune Flavoured McShake

McDonald's Japan is teaming up with confectionery company Morinaga & Company to release the "McShake® Morinaga Ramune" at all McDonald's branches in Japan. This is the first time McDonald's Japan has collaborated with the product.

Morinaga Ramune is a candy soda, and the perfect match to McDonald's sweet and creamy to cool down during spring and early summer.

The mixed beverage maintains the same refreshing taste as the original McShake® while drawing out the full flavour of the Ramune. It's available in a small size only while supplies last and is the same light blue colour as Morinaga Ramune. It's also served in an original cup.

McDonald's Japan Reveals New Peach Smoothie and Frappe

McCafé by Barista branches of McDonald's in Japan are releasing two new limited edition drinks on May 20: the "Goro Goro Peach Smoothie" and "Fuwa Fuwa Peach Creamy Frappe."

The "Peach Smoothie" first appeared at McDonald's Japan in 2015 and has been popular every year since. But these two new drinks are taking the peachness to the next level. Until now, the Peach Smoothie has been made with only white peaches, but the new beverages add yellow peaches to that for double the peach goodness.

Goro Goro Peach Smoothie: Regular ¥440 / Large ¥480

The Goro Goro Peach Smoothie uses the juice of white and yellow peaches to create its smoothie base. It's also topped with a sauce made from the juice of white peach. The sweetness of this yellow and white peach combination makes for an even deeper level of flavour, and the fresh white pieces on top elevate it even more.

Fuwa Fuwa Peach Creamy Frappe: Regular ¥490 / Large ¥530

The frappe uses the same smoothie base and sauce, but adds whipped cream into the mix, resulting in a deliciously creamy texture and flavour.

And for an extra ¥60, you can add more sauce to your Goro Goro Peach Smoothie if you feel it isn't peachy enough!

Information

Goro Goro Peach Smoothie / Fuwa Fuwa Peach Creamy Frappe
Serving: May 20, 2020 – Late July 2020 (subject to change)
Available: At McCaféby Barista branches of McDonald's in Japan
McDonald's Japan Official Website: http://www.mcdonalds.co.jp

McDonald's Japan: Chicken Tatsuta Mentai Cheese & Other Japanese Flavoured Foods Coming to the Menu

McDonald's Japan is introducing some mouth-watering new foods to its menu including two which incorporates chicken tatsuta: the "Chicken Tatsuta Mentai Cheese" which is made with walleye pollack roe, and the bite-sized "Hitokuchi Tatsuta"ーthe latter of which is arriving to the side menu.

It is also introducing the "Rice Chicken Tatsuta" burger following the success of the "Rice Burger" which was released at stores for the first time earlier back in February of this year.


These new menu items will be released on May 13, 2020 at all McDonald's branches in Japan for a limited time.

Chicken Tatsuta Mentai Cheese

Chicken tatsuta is a popular Japanese dish which combines a soft, soy ginger-soaked chicken patty with spicy sauce and stuffs it inside a bun. McDonald's new "Chicken Tatsuta Mentai Cheese" adds spicy walleye pollack roe mayo and smooth white cheddar cheese to the equation. It will be available all day round, including for the morning menu.

Hitokuchi Tatsuta

Rice Chicken Tatsuta

The "Rice Chicken Burger" will be available in the evenings only.

Japanese actor Toshiyuki Nishida is appearing in the TV commercials to promote the "Hitokuchi Tatsuta" while comedian Nobuyuki Hanawa and actor Katsumi Takahashi appear in the "Rice Chicken Tatsuta" commercials which feature a re-recording of the song SWEET MEMORIES ~Amai Kioku~ by Seiko Matsuda.

McDonald's Japan to Release Custard Pudding Flavoured McShake

McDonald's Japan is teaming up with Ezaki Glico to bring Glico's popular "Pucchi Purin" custard pudding dessert to McDonald's McShake®. The "Pucchin Purin McShake" will be released at all McDonald's branches around Japan for a limited time starting on April 13, 2020.

The collaboration comes at the right time as Glico has revamped its popular Pucchi Purin dessert.

The new Pucchin Purin McShake incorporates everything that's delicious about McShake, including its creamy texture and subtly sweet taste, and combines it with the milky Pucchi Purin pudding with all its caramel goodness, creating a drinkable dessert.




It also comes with some additional caramel sauce (available while supplies last) which only adds to the tempting sweetness of the drink. Add as much or as little as you like.



Pucchin Purin McShake is available in a small only, with cups featuring an original design. This is a must-try for fans of McShake and Japanese custard puddings, known as purin.

McDonald's Japan Reveals New Matcha Lattes & Frappes Releasing at McCafé by Barista

McDonald's Japan is releasing four matcha drinks at McCafé by Barista cafes in Japan from April 8: the "Strawberry Rice Flour Dumpling Matcha Frappe," "Matcha Latte Frappe," "Iced Matcha Latte," and "Matcha Latte."

The Strawberry Rice Flour Dumpling Matcha Frappe is a new drink by McDonald's which combines the bitter flavour of matcha powder with sweet-tasting strawberries. It's topped with a creamy strawberry whipped cream and mixed with tasty milk to create a matcha frappe. It's also topped with almonds, sliced strawberries, and shiratama, which are Japanese rice flour dumplings. It's an explosion of flavours that bring together the refreshing taste of the strawberries with the full bodied flavour of the matcha.

  

The base of the cool Matcha Latte Frappe beverage is matcha powder made using famous Uji matcha from Kyoto and milk which brings sweetness and richness to the drink. It's finished with whipped cream and a generous sprinkling of matcha powder. The contrast between the white whipped cream and deep green matcha powder makes for a delicious frappe with a Japanese taste.

The Iced Matcha Latte and Matcha Latte too are made with Uji matcha powder and are made with cold milk and hot foamed milk respectively. The milk brings out the richness of the drinks, while the whipped cream with the iced beverage makes for a perfect match with the matcha.

Information

Strawberry Rice Flour Dumpling Matcha Frappe

Matcha Latte Frappe

Iced Matcha Latte

Matcha Latte

Release Date: April 8, 2020

Available: McCafé by Barista branches in Japan

McDonald's Japan Official Website: http://www.mcdonalds.co.jp/

McDonald's Japan Reveals New Samurai Mac Burgers Covered in Charred Soy Sauce

McDonald's Japan is set to release two hearty new thick-cut beef burgers under the name "Samurai Mac" at all branches in Japan on April 8, 2020.


The two new Samurai Mac burgers are crafted so the bellies of both kids and adults alike will be satisfied after they chow it down. The burgers mix together Japanese flavours, like charred soy sauce, which is lathered over thick-cut beef burgers.

The "Charred Soy Sauce Thick-Cut Double Beef Burger" is piled with two fat juicy patties made from 100% beef, the taste of which is elevated by the addictive charred soy sauce.

The "Charred Soy Sauce Bacon & Tomato Thick-Cut Beef Burger" is made with a single 100% beef burger and a generous and balanced serving of veggies. The soy sauce once again brings all the flavours together.

McDonald's Japan has appointed award-winning Japanese actor Masato Sakai as the campaign ambassador to promote the Samurai Macs on social media and the McDonald's website to help cheer on those working hard every day.

McDonald's Japan Releases Citron and Pistachio Flavoured Macarons at McCafé by Barista Branches

McCafé by Barista branches of McDonald's in Japan released two new flavours in their macaron series on Wednesdayーpistachio and citronーwhich will be served for a limited time until the end of August this year.

 
The pistachio and citron flavours join McCafé by Barista's colourful macaron series alongside vanilla, raspberry, and chocolate, which cost just ¥150 each.

The pistachio flavour is filled with a pistachio powder-dusted pistachio cream, giving the crunchy macaron a deliciously nutty flavour and fragrance.


The citron macaron is filled with a refreshing and sour lemon cream. Both of the new flavours are the perfect treat for the start of spring and going into the summer season. They're even better with one of McCafé by Barista's high quality coffees.



McCafé by Barista is also serving the "Special Macaron Set" for ¥500 which comes with any two macarons of your choice and a medium hot or iced latte.

Information

Macaron Pistachio / Macaron Citron

Serving: March 25, 2020 – Late August 2020 (subject to change)

Available: McCafé by Barista in Japan

McDonald's Japan Official Website: http://www.mcdonalds.co.jp/

McDonald's Japan Reveals White Chocolate Strawberry Latte and Frappe

McCafé by Barista branches of McDonald's in Japan are set to release three new drinks on February 26, 2020, for a limited time: the "White Chocolate Strawberry Frappe," "White Chocolate Strawberry Latte," and "Iced White Chocolate Strawberry Latte."

White Chocolate Strawberry Frappe – ¥490

The White Chocolate Strawberry Frappe is built up of a sauce made using fresh slices on strawberry and whipped cream, on top of which rests a refreshing milk base also mixed with strawberry sauce. Topping it all off is a squirt of fluffy whipped cream, a drizzle of strawberry sauce, and a sprinkling of white chocolate nibs. The aftertaste of this tasty dessert beverage leaves you feeling refreshed while satisfying your taste buds with its sweet flavour.

Iced White Chocolate Strawberry Latte – ¥390

White Chocolate Strawberry Latte – ¥390

The strawberry sauce and strawberry syrup used in the hot and iced versions of the White Chocolate Strawberry Latte are mixed together with fluffy foamed milk and cold milk to create a succulent strawberry milk. This is finished with whipped cream, more strawberry sauce, and plenty of white chocolate bits. Containing no coffee, these drinks enjoy the subtle sweetness of the white chocolate and the tangy-ness of the strawberry milk.

Refresh yourself this spring in Japan with a cup of McDonald's new White Chocolate Strawberry drinks.

McFlurry and KitKat Come Together in Long-Awaited Collaboration at McDonald's Japan

McDonald's Japan has teamed up with Nestlé Japan to release a KitKat® McFlurry®. It was released on Wednesday at all McDonald's branches in Japan.

It has been seven years since McFlurry® and KitKat® came together in their delicious chocolatey ice cream combination. It was such a hit back in 2007 that it has finally made its fabled return to the delight of sweet-tooth McDonald's customers.

The KitKat® McFlurry® is a simple combination of smooth soft serve ice cream and crushed KitKat®. It's also drizzled in a special sauce made from rich couverture chocolate.

The mix of the wafer-like chocolate KitKat® with the soft serve ice cream is a combination to die for, and the sauce only adds to the mouth-watering flavour.

The dessert will be served in limited-edition cups as pictured above. These cups are limited in stock and will discontinue once all are sold.

Information

McFlurry® KitKat®

Running: February 12, 2020 – Early March 2020 (subject to change)

Available: McDonald's in Japan (Select branches not participating)

Serving: All Day

Price: ¥290 (Tax Included)

*KITKAT and キットカット are registered trademarks of Nestlé Group.

McDonald's Japan Official Website: http://www.mcdonalds.co.jp/ 

McDonald's Japan McCafé by Barista Releases Oreo®︎ Drink Series You Can't Resist

In Japan, McDonald's McCafé by Barista will soon be releasing a new drink series that you won't be able to resist. The new series includes the Oreo®︎ Choco Frappé, Oreo®︎ Hot Café Mocha and Oreo®︎ Ice Café Mocha and it will be released on January 15 for a limited time only.

Mc Café by Barista has developed three new drinks based on their popular Choco Frappé and Café Mocha, to which they have added crunchy Oreo®︎ cookies. The series includes both hot and cold drinks, catering for a range of moods.

Oreo®︎ Choco Frappé

The Oreo®︎ Choco Frappé is back with a rich chocolatey flavour and mellow aroma. This high-quality sweet drink is accented by crunchy Oreo®︎ cookies. With your first sip, the bitter Oreo®︎ flavour will spread through your mouth.

Oreo®︎ Hot Café Mocha


Oreo®︎ Ice Café Mocha

The Oreo®︎ Hot and Ice Café Mochas are brand new drinks. Using their Café Mocha as a base, the drinks are topped with whipped cream, drizzled with a sauce made from high-quality Belgium couverture chocolate, and sprinkled with chocolatey Oreo®︎ cookie pieces. This enhanced Café Mocha is sweet and enjoys the crunchy and bitter goodness of Oreo®︎ cookies.

 If you're in Japan, pop into your nearest McDonald's and try one for yourself!

Information

Oreo®︎ Drink Series

Release Date: January 15, 2020

Prices:

Oreo®︎ Choco Frappé: ¥410 (M), ¥450 (L)

Oreo®︎ Hot Café Mocha: ¥320 (S), ¥360 (M)

Oreo®︎ Ice Café Mocha: ¥360 (M), ¥400 (L)

 

Official Website:http://www.mcdonalds.co.jp/coffee/top.php

McDonald's Japan Releases Their First Ever Dessert Pies Aimed at Adults

McDonald's Japan will release a creamy Belgian chocolate pie and creamy sweet fromage pie aimed at adults at McDonald's restaurants across Japan from Japan 15 for a limited time.

McDonald's Japan's pie series has proven to be very popular over the years. Other pie flavours in the series include the Hot Apple Pie from the regular menu, their limited-period Sankaku Choco Pie and Bacon Potato Pie. Now, McDonald's is set to crown their first pie of the year to be "made for adults". Both pies are packed with delicious and carefully made cream – the perfect petit treat.

The Belgian chocolate cream pie is made from a crunchy pie shell that was kneaded with cocoa powder. The hollow shell is stuffed tightly with Belgian chocolate and is bursting with chocolatey goodness. There is a perfect balance of sweetness and bitterness. 

The sweet cream fromage pie is made from a crunchy shell that was kneaded with parmesan cheese. The pie shell is then filled with cream cheese. In just one delightful bite, enjoy the flavour of parmesan and cream cheese as they blend together. The aftertaste of the parmesan perfectly balances out with the sweet and salty touch of the cream cheese. 

For the first time, McDonald's is even presenting these desserts in packaging that looks like it is aimed at adults. 

The desserts look just as good as they taste so hurry down to your nearest McDonald's for a delicious and crunchy adventure.

Information

Otona no Cream Pie: Belgian Chocolate 

Otona no Cream Pie: Sweet Fromage

Selling: January 15, 2020 – Early February (Subject to Change) 

Selling throughout restaurant operating hours

Price: ¥150 (After Tax)

Available at most McDonald's restaurants across the country 

McDonald's Japan Official Website: http://www.mcdonalds.co.jp/

McDonald's Japan to Release Premium Raspberry White Chocolate Frappe at McCafé by Barista Branches

McDonald's Japan has revealed its new "Premium Raspberry White Chocolate Frappe" beverage which will go on sale at McCafé by Barista branches of McDonald's from December 18 for a limited time.

The drink is part of McCafé by Barista's hugely popular "Premium Chocolate" beverage series, featuring a red and white contrast as part of the holiday season.

A cup of this frappe contains a a specially made frappe sauce which is a mix of white chocolate sauce and milk. Added to that is a raspberry sauce. It's topped with creamy whipped cream and thin and crunchy white chocolate shavings and finished with two chocolate sticks made from a mix of cocoa beans from West Africa including Ghana. The milky white chocolate frappe goes deliciously well with the sweet and sour raspberry. A fitting drink for the holiday season.

Information

Premium Raspberry White Chocolate Frappe

Running: December 18, 2019 – Mid January 2020 (Subject to change)

Price (Tax Included): Regular ¥490 / Large ¥530

Available: at McCafé by Barista branches of McDonald's in Japan

McDonald's Japan Official Website: http://www.mcdonalds.co.jp/