Moominmamma's Rose Fair to Celebrate Mother's Day with Moomin Style
The Moominmamma Rose Fair is ready to brighten the spring season from April 16 until May 8, 2022!
Moominmamma always brings happiness to those around her and warmly looks after those in need. The adorable mother figure will play a leading role in this event, which is also being held in conjunction with the Spring Festival.
Fruits Sandwich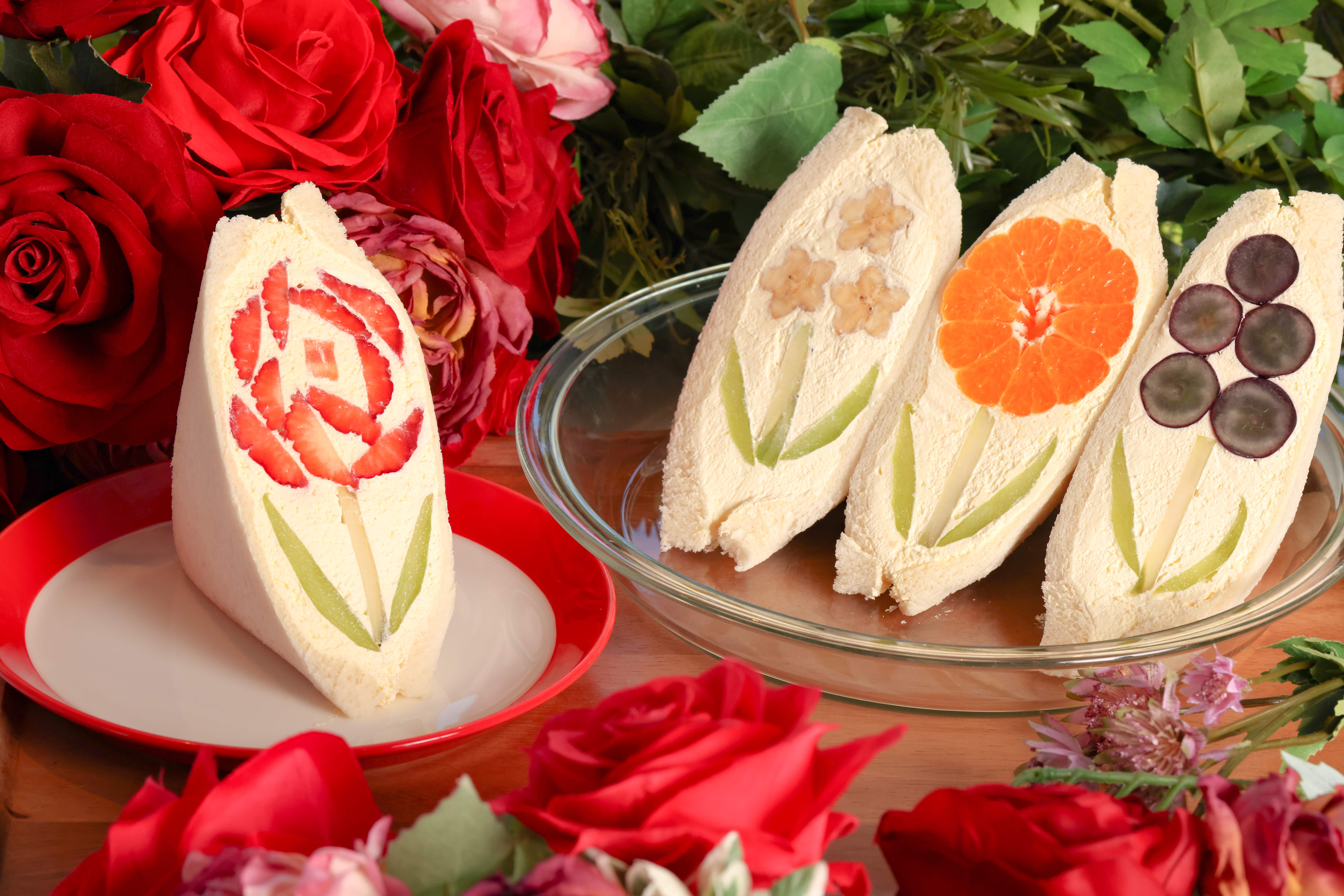 Latte Art

Original Pin Making
Limited-Edition Goods (Selection) / Pancake Mix
Limited Design Goods Purchase Bonus: Original Card

Guests can enjoy washing their hands with rose-scented water at the Floating Flower Walk, and a selection of limited-time food items will be sold during the event. Visitors can also take place in unique workshops where they can make their other Mother's Day gifts.
RELATED ENTRIES
Moomin Market 2022 to Open at Hiroshima PARCO for a Limited Time

Hiroshima PARCO is currently hosting Moomin Market 2022, an exhibition offering special merchandise inspired by the Finnish character Moomin. The event is open now at PARCO FACTORY in the facility's main building until May 8, 2022. 

Selected Goods Lineup

The Moomins have continued to be loved by audiences around the world since the release of Tove Jansson's novel The Moomins and the Great Flood in 1945. The event is offering a number of new goods, including those from the Moominmamma's Rose series, which are perfect for Mother's Day. Guests should also look forward to the Moomin House on display at the venue!

Odakyu Department Store Shinjuku to Open MOOMIN POPUP STORE by Small Planet

From March 30 until April 12, fans of Moomin will want to visit the Odakyu Department Store in Shinjuku for a special pop-up store!

Lineup

Odakyu Preorder Items 


Toto Bag

Synthetic Leather Coaster

Masking Tape

Event Exclusives

T-Shirt

Acrylic Keychain

Stainless Steel Tumbler

Purchase Bonuses

(March 30 ~) Bonus for purchases of ¥6,600 or more

Pocket Thermos Bottle, Joxter Cloud Design (Not for Sale)

(April 2 ~) Bonus for purchases of ¥3,300 or more

Sea Orchestra Acrylic Keychain (Not for Sale)


(April 9 ~) Bonus for purchases of ¥5,500 or more

Snufkin & Joxter Acrylic Stand Set (Not for Sale)

The pop-up store, which was very well-received last year, focuses on Snufkin, one of the most popular Moomin characters. This year, Snufkin's father, Joxter, will also be making an appearance. The venue will be decorated with original artwork, and a wide variety of Moomin merch will be available, including plush toys, sundries, apparel, and much more.

Information

MOOMIN POPUP STORE by Small Planet

Running: March 30 – April 12, 2022
Address: Odakyu Department Store Shinjuku Main Building 1F (1-1-3 Nishi-Shinjuku, Shinjuku-ku, Tokyo)
Access: Shinjuku Station West Exit
Official Site: https://www.odakyu-dept.co.jp/

Moomin Cafe to Offer Afternoon Tea for a Limited Time

Select Moomin Cafe locations in Japan are now offering Moominmama's Afternoon Tea for a limited time!

This afternoon tea fully expresses the hospitality of Moominmamma, who always warmly welcomes guests. Each set comes on a two-tiered tea stand with wooden plates with a Scandinavian feel, and features desserts and light meals with two different themes: the upper tier being 'Friends of Moomin Valley' and the lower tier being 'Nordic Finland.'

The upper tier will feature sweets such as five-tiered mini pancakes and Snufkin's hat-inspired tarts, while the lower tier will feature a potato and anchovy gratin pie based on Jansson's Temptation,  a familiar Scandinavian home-style dish. In addition, there is a choice of seven types of tea available, including the aromatic Scandinavian Söder tea and Earl Grey, as well as Moomin Café's original flavor of blueberry pancake milk tea.

 

Information

Moominmamma's Afternoon Tea

Available Now After 14:00

Location: Moomin Bakery & Cafe Tokyo Dome City LaQua, Moomin Cafe Tokyo Skytree Town Solamachi, Moomin Cafe Canal City Hakata

Reservations: https://moomincafe.jp/

Official Site: https://benelic.com/moomin_cafe/

Moomin Stand Releases Tasty New Items for a Limited Time Only

Moomin Stand, a drink stand chain based on the popular Finnish fairy tale, is now holding a 'Sweet Chocolate' fair. Two new products–Chocolate Mint Milk and Strawberry Ruby Chocolate–are now on sale for a limited time.

Chocolate Mint Milk

Strawberry Ruby Chocolate

The refreshing Chocolate Mint Milk drink is topped with whipped cream, chocolate chips, and a bitter cocoa cookie perfect for balancing the sweetness of the beverage. The Strawberry Ruby Chocolate drink is made from ruby chocolate, a naturally occurring substance with a bright red color, and is topped with whipped cream and sweet and sour strawberry pulp. 



Which of these drinks would you be grabbing for Valentine's Day?

Limited-Time Autumn Harvest Event Comes to Moominvalley Park

As the summer heat begins to wane and the cool and comfortable autumn air arrives, why not celebrate the season with Moomin? The Moominvalley Park Harvest event is coming for a limited-time only, starting on September 4, 2021 and continuing through October 24, 2021. 

Moominvalley Park is a theme park centered on the popular Swedish comic The Moomins. Announced in 2013, the complex opened on Lake Miyazawa in Hanno, Saitama Prefecture in March 2019. Moominvalley Park has two specific zones: the Metsä area, free to visitors, features lakefront dining and shops, while the Moomin zone contains different attractions, such as Moomin's house and an art museum. 

Images of Last Year's Balloon Art

The creatures who live in the Moominvalley enjoy the bounty of all four seasons, and the harvest from summer to autumn is particularly tasty, filled with berries and mushrooms ripe for the picking. Nutritious blueberries, raspberries, lingonberries and cloudberries spring from the bushes, and the Moomin family would love to welcome you with some of these tasty snacks! Limited-time menu items and workshops will be available, so visitors can have their fill of the autumn season. 

Last year's balloon art event was hugely popular, and will be making a comeback in 2021. Berries are a symbol of the harvest throughout Scandinavia, and guests are welcomed by these sweet treats floating in the sky. Beneath the autumn sky and surrounded by lush trees beside the lake shore, the Moominvalley feels like a storybook brought to life. Don't miss this colorful and joyous event!

Moomin Comic Strips Exhibition Showcases 280 Items at Hiroshima Museum of Art This Summer

The Moomin Comic Strips Exhibition is set to run at Hiroshima Museum of Art from July 17 to September 5, showcasing approximately 280 comic drawings and sketches by Tove and Lars Jansson which have never been shown in Japan before.





The comics by Tove Jansson (1914-2001) began publication in the British newspaper The Evening News in 1954. With the help from her younger brother Lars Jansson (1926-2000), the series continued to be published for more than 20 years. At its peak, Moomin comics were published in over 40 countries, 120 newspapers, and read by 20 million people.

The Moomins are immensely popular in Japan and have enjoyed numerous exhibitions up and down the country. Fans will be delighted to lay their eyes upon artwork from Moomin Characters' collection which have never been displayed in Japan until now.

Japan is home to many official Moomin establishments including the Moomin Shop, Moomin Cafe, and Moomin Stand. Located up and down the country, each brand began the Snufkin Fair on Friday last week.

 

Moomin Cafe: Snufkin Fair Menu

Camping Feast: Hot Skillet Chicken on the Bone | ¥1,700 (Tax Included)

Camping Feast: Hot Skillet Grilled Salmon | ¥1,700 (Tax Included)

Northern Europe Blueberry Coffee Jelly | ¥550 (Tax Included)

Snufkin Hat Cream Soda | ¥1,100 (Tax Included)

Snufkin Coffee Smoothie | Regular ¥580 – Large ¥700 – 2 Hattifattener Cookies +¥70 (Tax Included)

Snufkin Fair: New Merchandise

Kalita Coffee Mill | ¥9,020 (Tax Included) – Kalita Hasami Ware Dripper | ¥3,850 (Tax Included)

Kalita Vintage Snufkin & Moomin Mugs | ¥1,540 Each (Tax Included)

Kalita Measuring Spoon | ¥1,650 (Tax Included)

Kalita Stock Bag | ¥3,300 (Tax Included)

Wall Mug (Mustard Moomin – Red Little My – Olive Snufkin) | ¥2,200 Each (Tax Included)

Robert Bowling Coffee (Coffee Beans – Coffee Powder) | ¥2,036 Each (Tax Included)

Harmonica Charm (Ivory – Red – Black) | ¥2,310 Each (Tax Included)

Embroidered Handkerchiefs (Snufkin – Hattifatteners – Moomin) | ¥1,100 Each (Tax Included) *Moomin Shop exclusive

Outdoor Snufkin Hat | ¥3,520 (Tax Included) *Moomin Shop exclusive

Polo Shirts (Navy Moomin & Shadow – Black Moominpappa) | Sizes: S, M, L, XL | ¥4,290 Each (Tax Included) *Moomin Shop exclusive

Bonus Items | Left: Moomin Shop, Right: Moomin Cafe (Limited Stock)

The Snufkin Fair is centred on Snufkin, a character who appears in the Moomin series. He's a wanderer, explorer, and philosopher. The fair is being held at six Moomin Shop branches, three Moomin Cafe branches, 11 Moomin Stand branches, and the Moomin Japan online shop.

At the Moomin Cafe, fans can tuck into one of two camping-style skillet dishes along with some coffee desserts and more. Over at the Moomin Shop, there's plenty of items to get your hands on including apparel such as polo shirts and hats. There's even a cafe mill, dripper, vintage mugs, measuring spoons, and more all made in collaboration with Katila which are all available both at Moomin Cafe and Moomin Shop. Roll up to the Moomin Stand for Snufkin and Hattifattener inspired drinks. Have your coffee smoothie topped with some Hattifattener cookies. And if you spend over ¥4,400 on select Snufkin Fair items, you'll get a free bonus item: a coffee bag-style jute pouch. There are two designs available depending where you spend – at Moomin Shop and Moomin Cafe.

Don't miss your chance to enjoy some Moomin goodies at the Snufkin Fair this spring.

Royal Park Hotel Begins Serving Limited-Time Desserts For Golden Week

For this year's Golden Week, Royal Park Hotel in Tokyo is serving up a limited-time selection of two desserts on its first floor cafe and bakery IKI: the Koinobori Roll Cake and Animal Sweets & Pastries, both of which are available now until May 5. It's also selling two different mont blancs for Mother's Day and Father's Day.

Carp streamer-inspired roll cake and animal pastries

Koinobori Roll Cake – ¥2,160 (Tax Included)

Animal Sweets & Pastries: Sheep Cheesecake, Bear Tiramisu, Rabbit Mousse – ¥540 Each / Piglet Pastry, Dog Pastry, Chick Pastry – ¥324 (Tax Included)

This line-up of takeout desserts and pastries are made at the hotel's own cafe and bakery IKI, all of which have been made to celebrate Children's Day which falls on May 5 every year. This includes a moist chocolate and strawberry carp streamer roll cake which is popular at IKI every year. There's also a cute selection of animal delights including the light and fluffy Sheep Cheesecake, mascarpone cream and coffee Bear Tiramisu, and a sweet and tangy Rabbit Mousse made from assorted berry mousse and jelly, as well as three pastries made to look like a chick, dog, and piglet.

Serving: April 29, 2021 – May 5, 2021

Happy Father's Day & Happy Mother's Day Specials

Mother's Day Mont Blanc / Father's Day Mont Blanc – ¥1,944 Each (Tax Included)

The Mother's Day Mont Blanc is a wonderfully light combination of strawberry jelly, fresh strawberries, white chocolate mousse, and strawberry cream. The Father's Day version is made with a fresh mascarpone cream, a mont blanc base that's made from chestnut and blackcurrant jam, chocolate cream, and caramelised nuts.

Mother's Day Mont Blanc: May 7, 2021 – May 9, 2021

Father's Day Mont Blanc: June 18, 2021 – June 20, 2021

 

Monthly Breads: May & June

Each mother, IKI releases limited-time breads or pastries. For May, customers can enjoy the rich Edamame & Bacon Parmesan France and the bitter Chocolate Cream Cornet. In June, there's an Orange Cream Cornet made with sliced orange peel, and the Tomato Rustic which is crunchy on the outside and soft in the middle, combining tomato and cheese. There's also Shokupan made with matcha and large-grained adzuki beans.

Edamame & Bacon Parmesan France / Chocolate Cream Cornet (Dark Chocolate) – ¥302 Each (Tax Included)

Orange Cream Cornet – ¥302 / Tomato Rustic – ¥302 / Shokupan (Matcha & Adzuki Bean) – ¥648 (Tax Included)

May Monthly Bread: May 6, 2021 – May 31, 2021

June Monthly Bread: June 1, 2021 – June 30, 2021

Information

Royal Park Hotel Golden Week Desserts

Start Date: April 29, 2021

Where: IKI

Address: royal Park Hotel, 2-1-1 Nihonbashikakigarachō, Chuo-ku, Tokyo

Official Website: https://www.rph.co.jp/event/GWevent2021.html

The Moomin Cafe at Tokyo Dome City Begins Serving Breakfast Menu

The Moomin Cafe at Tokyo Dome City LaQua introduced a breakfast menu on April 1.

Hot Ham & Cheese Sandwich: One – ¥510 (Tax Included) / Two – ¥800 (Tax Included)

Hattifatteners Hot Dog: ¥600 (Tax Included)

Northern Europe Breakfast Plate | ¥1,500 (Tax Included)

Open Fruit Sandwich | ¥700 (Tax Included)

Five fun and delicious items arrive at the Moomin Cafe for the spring season, each with a reference or design inspired by the beloved Moomins.

Information

Moomin Cafe

Breakfast Menu: Released April 1, 2021

Where: Tokyo Dome City LaQua

Official Website: https://moomincafe.jp/

These Mother's Day Gifts by Kyoto Brands Offer Well-Deserved Relaxation Time

Japanese company Maruhisa has released a new collection of Mother's Day gift items which will make for perfect relaxation presents to well-deserving mothers, whether you live with them or have been unable to meet with them for a long time.

 

A collection of four items from Kyoto

The set includes three sweet treats from Kyoto as well as a premium face mask made by a Fushimi-based brewery.

The Set at a Glance

 

Strawberry Flower Chocolate Cookies (Contains 6)

These chocolate cookies are a staple Kyoto souvenir. They're made by buckwheat producer Marutamachi Kawamichiya and are shaped to look like cute flowers.

 

Matcha Strawberry Chocolate (3 Bags)

These matcha strawberry chocolates are made using authentic matcha from a tea shop in Kyoto. They're stuffed with whole freeze-dried strawberries which add a fruity tang.

Chocolate Senbei Rice Cracker Bouquets (Contains 5)

A tasty delight made by Sekiseika, a maker of Japanese senbei rice crackers that has been around since 1922. This perfect bouquet is made with chocolate cream and topped with crushed almonds.

Fushimi Bijin Premium Face Mask (Contains 1)

This face mask contains a range of plant-based ingredients such as junmaishu sake made without added alcohol or sugar and coconut water. The junmaishu is provided by Tsukinokatsura, one of the oldest Japanese breweries that was first established in 1675.

Have you bought your Mother's Day gift yet?

Japan's Moomin Stand Takeout Drinks Chain Releases New Beverages For Spring 2021

The Japanese Moomin-themed drinks chain Moomin Stand released two new seasonal drinks on Friday (March 12) for the spring season as part of its "Spring Arrives in Moominvalley" event. The two drinks feature a cute cup with a Moomin looking out the window as well as a straw with Moomin, Snufkin, and Little My walking together.

Moomin House Blue Raspberry Smoothie | Regular Size ¥630, Large Size ¥750 (Before Tax)

A refreshing blue raspberry smoothie made with yogurt and mixed berries. The cup comes with a cute Moominhouse lid.

Moominvalley Spring Soda | Regular Size ¥550, Large Size ¥670 (Before Tax)

Spring has arrived in Moominvalley, so the locals are out for a stroll together as featured on the straw design. This drink is made with springtime pineapple and nata de coco.

The Moomin Shop located inside Nagoya's stylish retail centre LACHIC launched an anniversary fair last Friday (March 5) to commemorate the store's 7th anniversary.

New Merchandise Launching March 2021

KAKSI Tote Bag (Medium Size) With Pass Case | ¥4,000 (Tax Included)

Jetstream Little My Tea Blue Pen/Moomin Blood Orange Pen | ¥2,420 Each (Tax Included)

Laptop Case (Greige/Pink) | ¥3,960 Each (Tax Included)

Tablet Case (Greige/Pink) | ¥2,970 Each (Tax Included)

Multi-Case (Greige/Pink) | ¥2,530 Each (Tax Included)

Flat Pouch (Greige/Pink) | ¥1,980 Each (Tax Included)

Spacious Multi-Pouch (Greige/Pink) | ¥2,200 Each (Tax Included)

Bonus Items

Original Design Cup

Anniversary Logo Shop Card

Moomin Shop Nagoya LACHIC opened back in 2014. The anniversary fair sees the arrival of new and exclusive merchandise including a tote bag with pass case as part of the shop's popular KAKSI bag series, Little My and Moomin pens, and more. And for every ¥4,180 spent including tax, customers will receive a free cup and shop card.

Information

Moomin Shop Nagoya LACHIC 7th Anniversary Fair

Start Date: March 5, 2021

Where: Moomin Shop Nagoya LACHIC

Address: LACHIC Floor 6F, 3-6-1 Sakae, Naka-ku, Nagoya, Aichi

Moomin Shop: https://benelic.com/moominshop/

Moomin Shop Merch Site: https://moomin-shop.jp/