Kyary Pamyu Pamyu Collaborates with America's Largest Japantown 'Little Tokyo' for LOCAL POWER JAPAN Project
Kyary Pamyu Pamyu recently performed at Coachella, one of the largest music festivals in the U.S. Keeping the momentum going, the singer gave her first solo performance in four years at the Fonda Theater in Los Angeles on April 18, 2022. 

The LOCAL POWER JAPAN Project, launched alongside Kyary's current Japan tour to help energize rural Japanese locales, made its first appearance in America on April 19. Little Tokyo in Los Angeles has the largest number of Japanese people in the United States, making it the perfect place to hold a commemorative event. During the celebration, panels of each participating company and region were on display, and Kyary herself explained the project to the visitors in person.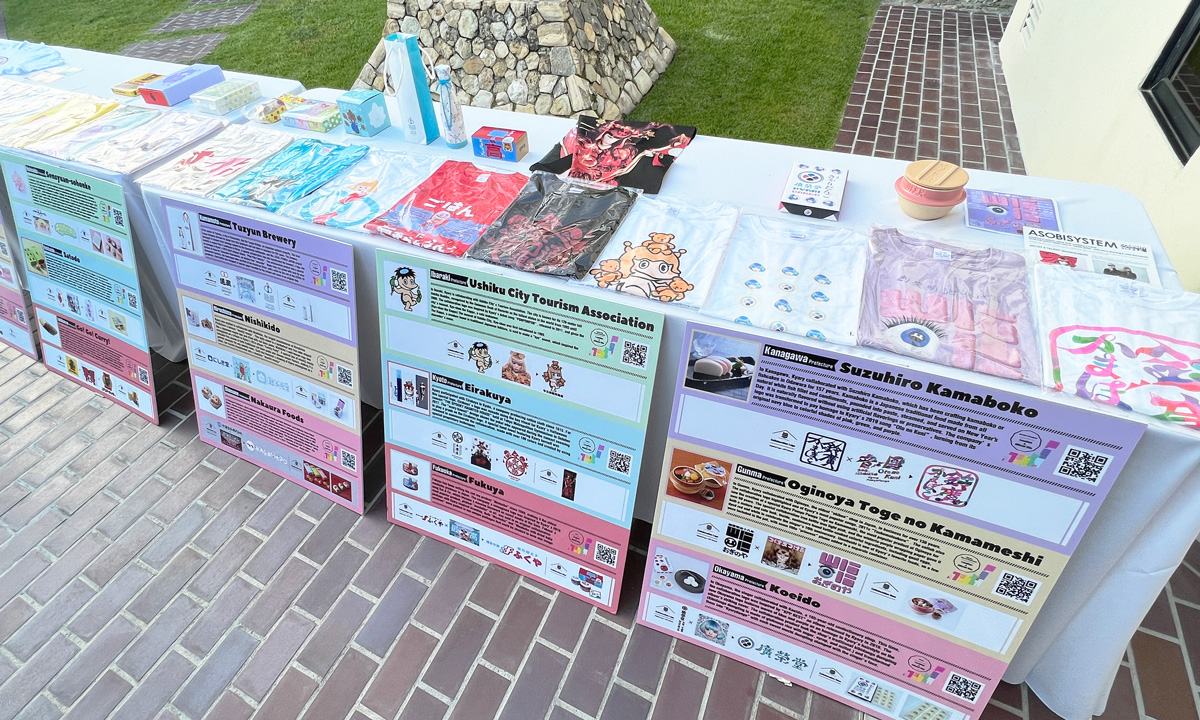 This initiative aims to bring attention and support to local industries and to inspire more tourism to rural areas. The 30 stops on the new tour include many that Kyary has not visited before, and were chosen based on the singer's desire to perform for fans who may not typically be able to attend one of her shows.
Little Tokyo, the largest Japanese town in the U.S., is located in downtown Los Angeles and was established at the end of the 19th century. The collaboration logo with Little Tokyo features a colorful retro theme and is an homage to Kyary's first album Pamyu Pamyu Revolution. Products made in collaboration with the LOCAL POWER JAPAN Project are now on sale for a limited time at several Little Tokyo stores.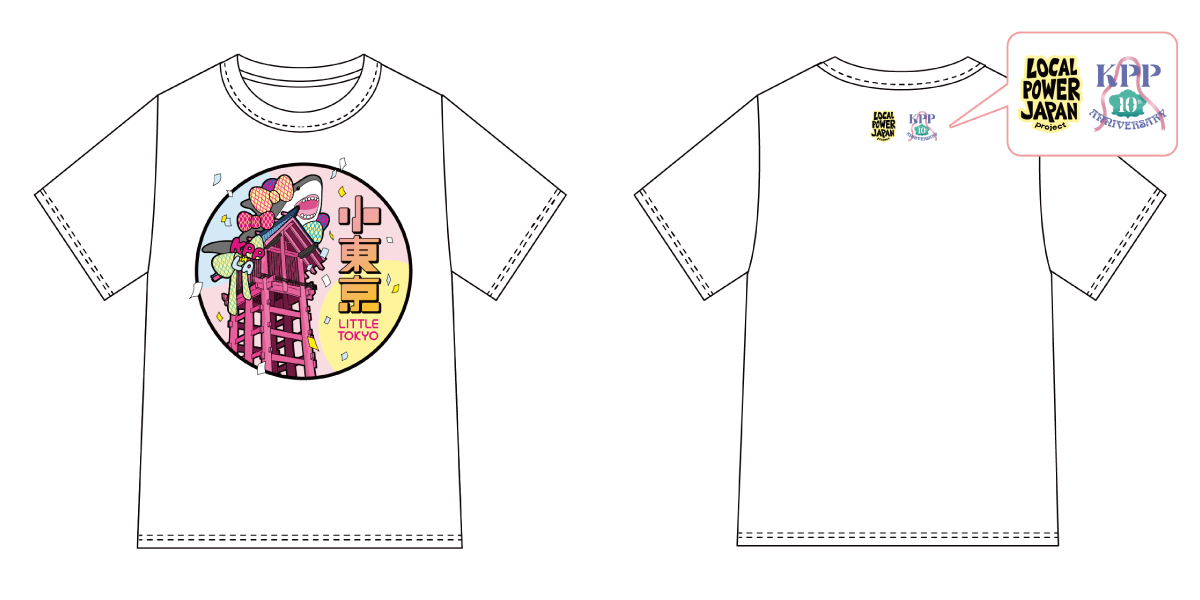 A collaboration T-shirt is also on sale, featuring the new logo on the front and Kyary's 10th-anniversary logo and project logo on the back. These are available on the LOCAL POWER JAPAN Project for two weeks starting April 20, so get one before they're gone!
RELATED ENTRIES
PAC-MAN Celebrates 42nd Birthday with Theme Song, Music Video, and Fortnite Collaboration

PAC-MAN is one of the most important characters in video game history, so celebrating his birthday is a given! Bandai Namco has announced a number of projects to take place in 2022 based on the theme of 'Be PAC-TIVE!!'

PAC-MAN Official Theme Song, We are PAC-MAN!

The 'Be PAC-TIVE' initiative wants to inspire people to eat well and live well, and to place more importance on cultivating a healthy body and mind. PAC-MAN's circular shape is also symbolic of a circle of friends, harmony, the spirit of cooperation, and the shape of the planet we all inhabit. Who knew that a simple character and game like PAC-MAN could be so deep?


We are PAC-MAN! (Japanese ver.):  https://youtu.be/JKque0N2bww
We are PAC-MAN! (English ver.): https://youtu.be/5_JzxszEpmc
We are PAC-MAN! (Chinese ver.): https://space.bilibili.com/287390748

PAC-MAN MUSEUM+ Commemorative T-Shirt

The PAC-MAN MUSEUM+, which includes 14 classic and modern titles from the PAC-MAN universe, will soon be available. New T-Shirts commemorating the release will be available on Amazon starting May 23. The birthday version of the shirt will be released on June 23, and will feature the key visual alongside a festive newly-drawn illustration. 

Collaboration with Popular Online Game Fortnite

PAC-MAN will also be teaming up with the globally-popular online game Fortnite starting June 2! Players will be able to purchase items with a PAC-MAN motif.

It's likely that you haven't played a PAC-MAN game in a while, so why not pick one up for old times' sake?

PAC-MAN MUSEUM™+ & ©BANDAI NAMCO Entertainment Inc.
"PlayStation"および"PS4"は、株式会社ソニー・インタラクティブエンタテインメントの登録商標または商標です。
Nintendo Switchは任天堂の商標です。
STEAM および STEAM ロゴは、米国およびまたはその他の国の Valve Corporation の商標およびまたは登録商標です。

Tokyo Revengers and Rascal the Raccoon Collaboration Goods Coming in August

This August, collaboration merchandise between the popular series Tokyo Revenger and the character Rascal the Raccoon will be available at anime and hobby shops nationwide and Chugaionline. Preorders are open now!

Pin (12 varieties)

Acrylic Stand – Mini Character Ver. (6 varieties)

Acrylic Figure Stand (6 varieties)

Stuffed Animal Phone Strap (6 varieties)

Masking Tape

Stickers

Rubber Heart Keychain (6 varieties)


The new collection includes adorable items featuring newly-drawn illustrations of everyone's favorite characters spending time together. Fans won't want to miss grabbing items with their favorite Tokyo Revengers character dressed up as Rascal!

©和久井健・講談社/アニメ「東京リベンジャーズ」製作委員会
©NIPPON ANIMATION CO.,LTD.

Kyary Pamyu Pamyu Collaborates with 123-Year-Old Iwashita New Ginger for LOCAL POWER JAPAN Project

Kyary Pamyu Pamyu made a splash with music lovers around the world last month when she performed at Coachella, one of the largest music festivals on Earth. On May 21, Kyary performed in Tochigi, and the artist has released details about another collaboration as part of the LOCAL POWER JAPAN Project, launched to energize Japan through the appeal of regional towns and cities.

In Tochigi, the singer will collaborate with Iwashita Foods, a staple in the prefecture for over 123 years. Locals recognize the company for its ginger and spicy pickled shallots, but they also keep coming back because of the worker's sincerity and kindness. The Iwashita New Ginger has been a best-seller since 1987, and through active collaborations with local companies and the Iwashita New Ginger Museum, this popularity continues. Ginger can be enjoyed by men and women of all ages and all ethnicities in countless ways. 

The collaboration logo made as part of the LOCAL POWER JAPAN Project combines the Iwashita New Ginger mascot with Kyary Pamyu Pamyu from the super-pink Kimino Mikata music video released in 2018.


The collaboration has also introduced an Iwashita New Ginger and LPJP collaboration set, including five popular ginger products and two collaboration pins in a special gift bag. The pins feature designs of both the official Iwashita New Ginger character and the Kyary 10th Anniversary version created for the collaboration. The set will be available at the Iwashita New Ginger Online Shop and the Iwashita New Ginger Museum starting on May 25.


A collaborative T-shirt is also on sale featuring the new logo and the singer's 10th-anniversary logo. It will be available for two weeks only starting May 19, so grab one while you can!

During the Tochigi performance, the popular collaboration Toge no Kamamaeshi from Gunma-based ekiben maker Oginoya was available again for a very limited time! The tasty dishes sold out immediately at the Gunma and Tokyo shows, and this new release will incorporate Iwashita New Ginger. As it turns out, the pink quail eggs in the original release were pickled using Iwashita New Ginger pickling liquid! This collab was clearly meant to be. 

The triple-collaboration Toge no Kamameshi was sold in a limited quantity of 200 at the Tochigi venue on May 21. 

Information

Iwashita New Ginger (Tochigi) x LOCAL POWER JAPAN Project

Collaboration Set

Price: ¥1,800 (Tax Included)

Where to Buy:
Iwashita New Ginger Online Shop
Available: May 25 – June 20, 2022
https://www.shinshoga.shop/shopbrand/ct103 

Iwashita New Ginger Museum
Available to Buy: May 25 – June 20, 2022
https://shinshoga-museum.com/

Collaboration T-shirt
Price: ¥3,300 (Tax Included)

Where to Buy:
LOCAL POWER JAPAN Project Online Shop
Available until June 1, 23:59
https://store-localpowerjapan.com/


*Please allow two weeks to one month from order completion to product shipment.
*A portion of T-shirt sales will be donated to local projects and social programs.

[LIVE REPORT] Atarashii Gakko! Performs at Zepp DiverCity

On May 20, the indescribably unique four-member dance and vocal group Atarashii Gakko! performed Zepp DiverCity in Tokyo! Given their performance at such a well-known venue, the name of their solo concert was fittingly 'Wha–?! Graduating from Obscurity ~AG! FRIDAY AFTER SCHOOL~.'

The group signed with American multi-media company 88rising in January 2021. The label is attempting to introduce more unique Asian music to the US, and it doesn't get much more unique than Atarashii Gakko! The girls have over 3.8 million TikTok followers, and their April single WOO! GO! was released as a tie-in with NIKE Juku, amassing praise from audiences worldwide.

 

As fans of the band have come to expect, the concert began with the sound of chimes, leading into the first song, Toumei Boy. Followed by an intense dance performance, fans were captivated by the show, which was performed overseas last month to an audience of 25,000 fans. Following the song Final Humanity, a bizarre video began playing, leading into the fan-favorite CANDY from the group's EP SNACKTIME. For the first time in the group's solo performance history, backup dancers joined them during the track Night Before the Exam.

Starting with Otona Blue, the members appeared clad in colorful decorations, making it seem as if they were singing on TV. The girls have an unprecedented stage presence that has helped them catapult their career forward, from obscurity to performing one of the most well-known venues in Tokyo. Happy Hormones shoed a cuter side to the girls, offering fans a glimpse beyond their usual hardcore dance moves. The audience joined in, waving their hands from side to side and flashing peace signs.

The Italian disco tune Fantastico began with slow-motion movements and added limbo dancing into the choreography, giving the members a chance to show off their comedic skills. Anyone who follows them on social media is well aware of how hilarious they can be!

 

Suddenly, a man dressed as a construction site security guard emerged on stage, performing an impressive rendition of the robot. This man turned out to be DJ Morley Robertson, who joined the girls in Intergalactic, starting with the members calling out "We are Bestie Girls!" As Atarashii Gakko! danced to this classic Beastie Boys tune, Robertson addressed the audience, shouting "The night is just getting started!" 

Pineapple Kryptonite shows off the girl's dancing skills, but the Pineapple Kryptonite REMIX treated fans to an acrobatic performance that brought the energy in the venue to the max.

Member MIZYU spoke to the audience about the choreography in WOO! GO!, the girl's newest track, calling on them to join in. The members also performed the Spanish version of Free Your Mind, cementing their place as one of Japan's most global acts. Towards the end of the live show, the members hugged and showed the audience how close they are as friends, bringing everyone to tears.

 

The Zepp DiverCity concert was a whirlwind of excitement and energy. Those in the audience could see how Atarashii Gakko! has improved since their debut, and everyone is excited to see how much higher they can soar going forward. 

The archived video of the performance is officially available until May 29 at 23:59. Check out a comment from the group immediately after the concert below!

Comment from Atarashii Gakko!

"This was the best live performance we've ever done! With our past shows, the four of us have designed everything ourselves. This time we had a lot of other people involved, and we could really feel the love from both the staff and the audience. During the show, I felt like I was having a conversation with the audience without words. I could see everyone's faces from the beginning to the end, and it made me so happy. Each day, we interact with so many fans through social media, but being on stage in front of them is so different. We can feel how much they love us and we can really be ourselves. Just before the show started, we reminded ourselves to just have FUN! That's why this became our best concert ever. I hope we can share all of this love and happiness on an even bigger stage next time!"

Rhythm Game BlackStar ~Theater Starless~ Gets Collaborative Event at Toei Kyoto Studio Park

Toei Kyoto Studio Park will be holding a special collaboration with the rhythm game BlackStar ~Theater Starless~ for a limited time, from June 4 until July 10, 2022.

Goods Lineup

Newly-drawn Illustrations

Mini Characters

The Theater Starless Uzumaki Branch will be open inside the park during the event period. 26 themed cast members will even be greeting guests! 


A stamp rally will be taking place along the Keifuku Randen Tram Line and during the event, a special train featuring a newly-drawn illustration of the five main characters and 26 mini-characters will be running through the streets of Kyoto!

Limited tickets will be sold for a number of collaborative events being held in the park, so be sure to grab yours while you can!

©DOUNUTS

Information

BlackStar ~Theater Starless~ in Uzumaki

Running: June 4 – July 10, 2022

Venues: Toei Kyoto Studio Park, Arashiyama Station, etc.
Official Site: https://blackstar-uzumasa.jp/
Official Twitter: @Blackstar_uzms

Sanrio Characters Inspire Limited Edition Sweets at Ministop Convenience Stores

Japanese convenience store chain Ministop has just released some original sweets inspired by Sanrio's most popular characters! The sweets are served up in adorable glasses and are only available while supplies last.

Sanrio Characters Black Tea Brownie

Design: Kerokerokeroppi, Hello Kitty, Tuxedo Sam, Marroncream

Sanrio Characters Chocolate Brownie

The pastel-colored glasses have a retro feel and can be reused as drinking glasses or containers for homemade sweets. Sustainable and adorable, come grab these brownies while you can!

Ⓒ 2022 SANRIO CO.,LTD

Information

Ministop x Sanrio Characters

Black Tea Brownie / Sanrio Characters Chocolate Brownie  

Price: ¥465 (Tax Included)

Available: May 19 – June 2, 2022 

Kyary Pamyu Pamyu Rides Her Own Collaboration Train on Chiba's Choushi Electric Railway

On May 18, Kyary Pamyu Pamyu traveled to Chiba to take a ride on the Kyary Train, a collaborative train currently in operation on the Choushi Electric Railway! The collaboration is part of the LOCAL POWER JAPAN Project, launched to energize Japan by marketing the appeal of regional towns and cities. The singer also attended a special event celebrating the redesigned Kannon Station with Choshi mayor Shinichi Koshikawa and Choshi Electric Railway president Katsunori Takemoto in attendance. 

In January, Kyary began the largest tour of her career, 'Kyary Pamyu Pamyu 10th ANNIVERSARY JAPAN TOUR 2022 CANDY WAVE,' with the artist performing 30 shows across Japan. In conjunction with the nationwide tour, the LOCAL POWER JAPAN Project was launched, which aims to bring attention and support to local industries and to inspire more tourism to rural areas impacted negatively by the pandemic. In April, Kyary announced a collaboration with Chiba's Choushi Electric Railway. The railway President is known for his self-deprecating jokes, noting that the railway has seen a serious lack of ridership over the last decade. Fittingly, the collaboration is based on Kyary's hit song Mondai Girl (Problem Girl). The Kyary Train began operations on the first day of Golden Week, attracting a huge crowd. Surprisingly, the singer herself took time out of her tour to ride the train herself!

Upon arrival at the Choshi Dentetsu platform, the Kyary Train appeared, decorated with the collaboration design on the first car. Kyary, seeing the train in person for the first time, greeted it with a happy wave. Upon boarding, the interior was decorated with pink, yellow, and blue balloons inspired by the music video for Mondai Girl. "It's so cute," Kyary exclaimed. Other decorations placed in the train also pull from the video, including triangular accents based on Kyary's outfit and spikes inspired by the male dancer's hairstyles. The in-train ads feature "problematic" confessions from riders, citizens of Choushi, and Kyary herself. After a while, the departure sound plays, incorporating the phrase Mondai Girl, and the train departs. During the 21-minute ride, Kyary guided riders through the many stations, with announcements playing as the train passed by notable locales. 

After the trip, the 'Mondai ga Aru' (There are Problems) event took place to show off the new interior of Kannon Station. Broken glass has been replaced and the interior features a light pink paint job, complete with an image of Kyary. Choshi mayor Shinichi Koshikawa and Choshi Electric Railway president Katsunori Takemoto expressed their gratitude. 

"Choshi Electric Railway is often the butt of jokes, but I think it takes courage to make those jokes. It's because the railway is so honest that people are willing to come out and help," Kyary said. "I'll do my best so that my music and this railway will both be loved for 100 years." 

A photo booth pulling inspiration from the press conference scene in the Mondai Girl music video has been also been added. Kyary took a seat to share details of a certain moment during Coachella that made a huge impact on her. During the second weekend performance, Kyary performed alone for the first time in her decade-long career after her dancers suffered from a sudden illness.

President Takemoto also spoke about a "problem"–too many people showed up to ride the Kyary Train during Golden Week, and the company ran out of its popular products halfway through the week! He also announced a new song, Choushi Mondai Girl, which he performed on guitar.

"If there's a problem, this is a good opportunity to solve it. If we can overcome our problems, we can move on to the next stage. I hope that Choushi Electric Railway will continue to do its best," Kyary said at the end of the event, inspiring warm applause from the crowd.

Be sure to check out the collaboration this spring and summer!

Mondai Girl Music Video

Information

LOCAL POWER JAPAN Project x Choushi Electric Railway

Choushi Electric Railway 'Problem' Pass (1-day Ticket including Special Sticker)

Where to Buy: 

Choushi Electric Railway Online Shop
Tickets are available through August 31, 2022.
http://chodenshop.com/

Choushi Electric Railway Nakanocho Station, Inubo Station
Available through August 31, 2022
*Each pass is sold separately. Sales will end once passes sell out.

Choushi Electric Railway Official Site:  https://www.choshi-dentetsu.jp/

Kyary Pamyu Pamyu
Tour Details: https://kpp10.jp/japantour2022/
10th Anniversary Website: http://kpp10.jp
Official Site: http://kyary.asobisystem.com

LOCAL POWER JAPAN Project: https://localpowerjapan.com

Gelato Pique Announces Collaboration with Twin Pandas Xiao Xiao and Lei Lei

The Japanese loungewear brand gelato pique has launched a new series inspired by the twin pandas Xiao Xiao and Lei Lei living at Ueno Zoo! The adorable new items went on sale on May 12, 2022. 

The Ueno Zoo is the oldest zoo in Japan. Located in Taito-ku, it was first opened in March 1882.

To commemorate Xiao Xiao and Lei Lei's first birthday, gelato pique has created an incredible collection of loungewear and sundries. A portion of the proceeds will be given to the Giant Panda Conservation Support Fund to support education regarding pandas and conservation activities at the zoo.

Xiao Xiao & Lei Lei Collaboration

Roomwear Set

Panda Blanket

Panda Multi-use Cover

gelato pique Original Panda Series

Panda Hoodie & Shorts Set

Panda Print T-Shirt / Shorts / Dress

Panda Glass

Small Panda Reuseable Bag

Online Exclusives

3-piece Panda Set

gelato pique Sleep

3-piece Panda Print Bed Set (Single) / Pillow Case with Panda Ears / Panda Nightcap / Panda Rug

The Panda Series celebrates both the cute twin pandas at Ueno Zoo and all other pandas around the world. Still an endangered species, gelato pique wants to help these big animals however they can. The new collection's theme is "happy time at home."

Panda lovers shouldn't miss grabbing something cozy from this new collection!

Touhou Project and One Night Werewolf Collaboration Items Now Available

ARMA BIANCA, an online store specializing in original goods, is now taking orders for limited-time collaboration items between Touhou Project and One Night Werewolf!

Lineup

One Night Werewolf Collaboration – Pixel Art Ver.

Acrylic Stand

Preorder Purchase Bonus

Acrylic Keychain

Preorder Purchase Bonus

Pin

Preorder Purchase Bonus

T-Shirt

Hoodie

Clear Folder

Mug

Pen

 

One Night Werewolf is a card game where players take on the role of a Villager, a Werewolf, or a number of special characters with unique abilities. The goal is to figure out who the Werewolves are and to kill at least one in order to win!

The Touhou characters featured in the collaboration include Reimu Hakurei, Marisa Kirisame, Cirno, Youmu Konpaku, Sakuya Izayoi, Satori Komeiji, Koishi Komeiji, Remilia Scarlet, Flandre Scarlet, and Kagerou Imaizumi. 

A BATHING APE Releases Dragon Ball Z Majin Buu Collection

Japan's top streetwear brand A BATHING APE is releasing a new collection inspired by Dragon Ball Z! The two first collaborated in 2016 starting with imagery inspired by Son Goku's childhood. In June 2020, the company released a collection themed around the Cell arc.

Lineup

The newest collection was inspired by the final arc of the series, the Buu Saga, expressed in the style of BABY MILO.


The main characters from the series–Goku, Vegeta, Majin Buu, and Piccolo–are all depicted in BABY MILO style. In addition, characters such as Mr. Satan and Uub appear, perfect for more hardcore fans wanting to see lesser-known characters represented.


The lineup includes a coach jacket and hoodie featuring newly-drawn illustrations inspired by the final episode. Don't miss this special collaboration!

Information

A BATHING APE x Dragon Ball Z

Release Date: May 21, 2022
Where to Buy: A BATHING APE Authorized Retailers, BAPE.COM Web Store

For Preorder
Coach Jacket

Preorders start May 21, 2022 (Preorders will end when the item is sold out.)
Item to ship in early July
*Regular items and preorder items cannot be purchased in one order.

Official Site: https://bape.com/pages/dragon-ball-z

Ariake Garden at Izumitenku Bathhouse in Tokyo Collaborates with Love Live! for the Third Time

Ariake Garden at the Izumitenku public bath facility in Tokyo will be teaming up with Love Live! Nijigasaki High School Idol Club for the third time! The new collaboration will begin on June 6, 2022, and will include towels decorated with brand-new illustrations of the girls in yukata. Special drinks will also be for sale.

Original Merchandise

Love Live! Nijigasaki High School Idol Club Towel

Izumitenku Bathhouse Original Bath Salts (Set of 2, Yukata version) / Includes random sticker (Yukata version)

Original Drawstring Bag

Collaboration Drinks

Why not come enjoy the world of Love Live while relaxing in a natural hot spring?

Kyary Pamyu Pamyu's 10th Anniversary Site Wins Global Web Award

Kyary Pamyu Pamyu's 10th-anniversary website, created by IN FOCUS studio, is now an award winner! The website won the 'Site of the Day' award for the best website of the day worldwide at the FWA and CSS Design Awards, the world's leading awards for web design.

The site was created to celebrate the 10th anniversary of ASOBISYSTEM artist Kyary Pamyu Pamyu. When visiting the site, fans are greeted with a slot machine created from images of the artist over the years, resulting in 1,000,000 different patterns. Filled with Kyary's typical humor, the website was made to show gratitude to the millions of fans who have supported the artist over the years.



Last month, Kyary performed at Coachella, the world's largest music festival. This marked her first US tour since the pandemic began in 2020. Upon her return to Japan, the artist began the second half of her 10th-anniversary tour, which will culminate in a solo performance at Nippon Budokan in October.


Comment from Kyary Pamyu Pamyu

"…I'm shocked!!

I'm so happy that my 10th-anniversary website received such amazing awards! I just started the second half of my tour in Japan, and having received this awesome news, I'm even more excited to get out there and do my best on stage! To everyone at IN FOCUS–thank you so much for all the hard work you put into the site!"


Awards Won
FWA – FWA of the Day
CSS Design Awards – Site of the Day

Winning Site
KPP 10th Anniversary Special Website
https://kpp10.jp/