Popular Swiss claymation character Pingu has inspired some tasty crepes! The Sense of Pingu collaboration has begun, with the first crepe available to grab now at Taito Stations. Limited edition prizes are also available at Taito Stations and Taito Online Crane.
Sense of PINGU is a new art series based on a "sense of wonder." Focusing on Pingu's funky charm, the art collection features popular scenes selected by fans from episodes of the claymation series.
First Run – Overflowing Popcorn Crepe
Bonus Pin (3 varieties)
Second Run – Antarctica Crepe

Bonus Sticker (3 varieties)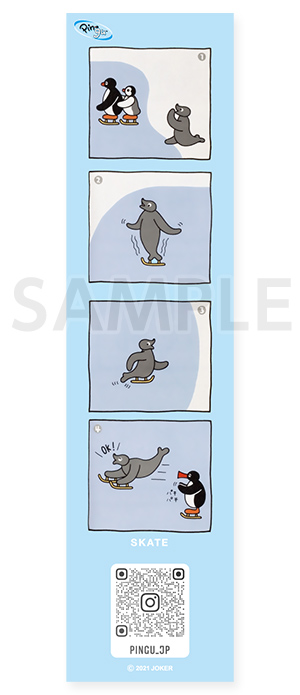 First Guest Bonus – Clear Pingu Bookmark

During the event's first run, guests can enjoy a tasty crepe inspired by a popcorn-themed episode of the show. Overflowing with puffy kernels, the dessert is the perfect combination of salty and sweet. Each purchase will come with a random pin!
The event's second run begins on June 11 and will feature a crepe based on Pingu's home of Antarctica. The cookie on top of the crepe is decorated with an illustration of Pingu and Pinga's fun everyday life, and fans of the characters should be sure to snap a picture for social media! Each purchase will come with a random sticker.
(C) 2022 JOKER
Information
Sense of Pingu Collaboration Crepes
Running: 
First Run: May 14 until Sold Out
Second Run: June 11 until Sold Out
Where to Buy: Taito Station Crepe Shop
Details: https://www.taito.co.jp/event/001181
RELATED ENTRIES
Tapioca and Crepe Store 'Pearl Lady' Collaborates with Sanrio Character Cogimyun

Pearl Lady, a tapioca and crepe specialty shop, will begin selling a special crepe inspired by the Sanrio character Cogimyun starting April 8, 2022! These gorgeous treats will be available at participating Pearl Lady locations while supplies last.

Cogimyun's Sparkling Strawberry Crepe

Cogimyun's Sparkling Strawberry Crepe, topped with a Cogimyun cookie, includes sweet and sour strawberry cream. 

The dough, made with tapioca flour, offers a slightly chewy texture with a rich milk and butter flavor. Customers will also receive a special sticker as a purchase bonus. Be sure to enjoy the new Cinnamoroll drink available at Pearl Lady's sister shop CHABAR!

CHABAR x Cinnamoroll Collaboration Drink

Pingu Clothing Collection Releases at Graniph

Japanese fashion brand Graniph is set to release a new PIngu collection on June 1 as part of its 'Design T-Shirts Store Graniph' line. Orders are open until May 28 at 12:00 (JST).

Pingu is perhaps the most famous penguin in the world. He is known from the beloved British-Swisss claymation series. The collection features a fun line-up of Pingu, Pinga, Robby, and other familiar faces from the show.

The Line-Up

T-Shirts | ¥2750 Each (Tax Included) 

Middle Sleeve T-Shirt | ¥3,520 (Tax Included)




Socks | ¥880 Each (Tax Included)


One Pieces | ¥3,300 Each (Tax Included)

Kids T-Shirts | ¥2,750 Each (Tax Included)
Kids One Pieces | ¥3,300 Each (Tax Included)

Check out Graniph's YouTube channel to see more on this collection as well as their other releases.

©2021 JOKER

Japan's Pingu 40th Anniversary Exhibition Heads to Sapporo

Last year marked the 40th anniversary of the Swiss claymation children's television series Pingu which first hit the air in 1980. Japan has been celebrating the milestone with the Pingu Exhibition, and now it's heading to Sapporo Factory in Hokkaido where it will run from April 23 to May 30.

Original material for Pingu by the show's creator Otmar Gutmann will be exhibited, as well as the actual clay figures, dioramas, storyboards, and more that were used during the filming in Switzerland. Until last year's exhibition, many of the 400 or so items on display have never been shown in Japan before.

There is a Pingu Market at the exhibition where fans of the noot-nooting penguin can get their hands on a range of exclusive items, pre-orders, and more. The exhibition also sees the return of the popular Pingu Egg capsule toy which has a mini Pingu figure inside.

Pingu Market Exclusive Merchandise

The market shelves are lined with limited-edition exclusives, pre-orders, items made in collaboration with popular brands, and more. Please note that a ticket to the exhibition is required to enter the shop.

 

Pingu Egg (5 Possible Prizes) | ¥300 Per Turn (Tax Included)

Have a turn at the capsule toy gacha where the figure you receive in your Pingu Egg is completely random. Each comes with an accessory.

Pingu 40th Figure (Robby) | ¥17,600 (Tax Included)

The Robby figure captures a scene taken from the 7th episode of the Pingu series titled Hide and Seek in English. Only 100 of these figures are available to buy and is limited to one per person.

Information

40th Anniversary Pingu Exhibition

Running: April 23, 2021 – May 30, 2021

Where: Sapporo Factory Floor 3F

Address: 4 Chome Kita 2 Johigashi, Chuo Ward, Sapporo, Hokkaido 060-0032, Japan

Opening Hours

[Weekends, National Holidays, Golden Week] 10:00-19:30 (Last Entries 19:00)

[Weekends & Weekdays From May 10th Onwards] 13:00-19:30 (Last Entries 19:00)

Price: General ¥900 / High School & Junior High School Students ¥900 / Elementary School Students ¥600

Tickets: Available at the exhibition or at Ticket Pia using the P-Code 685-572

TEL: 011-272-9302

Official Website: http://pingu.jp/40th/

Pingu Says Noot Noot to These Delicious Drinks and Desserts Serving in Ikebukuro PARCO

atari CAFE&DINING at Ikebukuro PARCO in Tokyo is now serving up a Pingu-inspired menu of drinks and desserts until May 31. Each one definitely has the noot-of-approval from everybody's favourite penguin.

Pingu's Menu

Strawberry Fruit Milk | ¥858 (Tax Included)

The line-up includes three milk beverages each flavoured with a different fruit and all topped with a cute Pingu marshmallow

Mango Fruit Milk | ¥858 (Tax Included)

Banana Fruit Milk | ¥858 (Tax Included)

Pingu's Snowy Mountain Milk Strawberry Pancakes | ¥1,320 (Tax Included)

This pancake dish is inspired by Pingu and Pinga sliding down the snowy mountain on their sled. The Pingu and Pinga 'picture' is actually an edible wafer.

Pingu Drinks Coaster

Get a free Pingu coaster with your order of any of these menu items.

©2021 JOKER

Information

Pingu Collab Menu

Serving: March 26, 2021 – May 31, 202

Where: atari CAFE&DINING Ikebukuro PARCO

Address: 1-28-2 Minami-Ikebukuro, Toshima-ku, Tokyo

Opening Hours: 11:00-21:00

TEL: 03-5985-4118

atari CAFE&DINING Ikebukuro PARCO Official Website: http://www.sld-inc.com/atari_ikebukuro.html

Japan's Pingu Exhibition to Take Place in Ginza Showcasing Lots of Noot Noot Treasures

This year marks the 40th anniversary of the Swiss claymation children's television series Pingu. Japan is celebrating the milestone with the "Pingu Exhibition" which will take place on the 8th floor of Matsuya Ginza in Tokyo from August 12 to 24.

Original material for Pingu by the show's creator Otmar Gutmann will be exhibited, as well as the actual clay figures, dioramas, storyboards, and more that were used during the filming in Switzerland. Many of the 400 or so items on display have never been shown in Japan before.

There will also be a recorded interview with Seishi Kattou, the only Japanese animator that was working in the Pingu studio at the time. But the fun doesn't end there, as there will even be an AR attraction made using CG and original animations from the Pingu in the City 3D CG film.

A peek into the exhibition

The secret story behind Pingu's creation

Visitors will be able to learn about the author Otmar Gutmann as well as see production materials, storyboards, and other treasured items that give insight into how the creator and studio gave rise to Pingu.

Exhibits: Notes from Otmar Gutmaan, storyboards, clay figures, dioramas, pilot episode screening, and more

The Clay Room

Pingu's iconic exaggerated elastic movements are made possible through the use of clay. These movements play an important part in conveying characters' emotions and are one element of the show's storytelling. These movements will be exhibited in the event's Clay Room where you'll get to see different models morphing into different shapes. These clay figures are all handmade by the Pingu studio staff themselves.

Exhibits: Clay figures, tools, Pingu studio videos, and more

3DCG Animation and Pingu in the future

Pingu in the City is a Japanese 3D CG animated series which used the same style of the original series but instead opted for computer animation, adding a different layer of charm to the internationally adored series. Visitors will be able to enjoy this digital Pingu in a variety of ways.

Exhibits: Digital videos, AR, and more.

There will also be exclusive Pingu exhibition merchandise on sale, as well as pre-sales of Pingu merchandise yet to go on sale.

Shin Sobue (Pingu Exhibition Art Director) | Comment

"This will be the first all-out exhibition for Pingu, a series which has transcended borders from Switzerland and the UK to Japan. This will be a happy exhibition that neatly divides everything for people to enjoy, from its mysterious language to its comical movements, story, and laid-back humour." (Translated from Japanese by MMN)

©2020 JOKER

Information

Pingu 40th Anniversary Exhibition
Running: August 12, 2020 – August 24, 2020
会場: 松屋銀座 8階 イベントスクエア 東京都中央区銀座3-6-1
時間:営業日、開場時間は松屋ウェブサイトをご覧ください。
*最終日は17:00閉場 *入場は閉場の30分前まで
電話番号:03-3567-1211(松屋銀座 大代表)

Official site:http://www.pingu.jp/40th
*展示内容等は変更となる可能性があります。

ピングーアニメ公式サイト:http://www.nhk.or.jp/anime/pingu/

Japanese Tea Crepe Cafe OCHABA Opens Second Branch in Asakusa

OCHABA opened its first branch in Shinjuku in March last year as the first cafe in Japan specialising in Japanese milk tea. The cafe has announced that it will open its second branch in Asakusa on February 22, 2020. The new cafe will introduce a new item to the menu: crepes. The chewy wraps are made with matcha and Japanese tea and filled with mascarpone and fresh cream.

Plain Tiramisu – ¥600


Kogashi Houjicha Puree – ¥650

Strawberry Daifuku – ¥730

The cafe will also serve OCHABA's famous Japanese milk tea topped up with warabimochi, made using carefully-selected tea leaves from Maruzen Tea, a Shizuoka-based tea company with a history spanning more than 70 years.

If you love Japanese tea, you'll love OCHABA's desserts made using all different kinds of teas.

Information

OCHABA Asakusa

Address: Asakusa Orange Street, 1-39-14 Asakusa, Taito Ward, Tokyo

Opening Hours: 11:00-19:00

Official Website: https://ochaba.net

Play With Pingu At Aqua World Oarai, Ibaraki!

Aqua World Oarai, Ibaraki is collaborating with the world's favourite childish penguin Pingu. This summer, Pingu will feature in the special event: Penguin-tachi no fushigina sekai Pingu summer festival (Pingu summer festival: Enter the curious world of penguins). The event will run from July 13 to September 1.

Located just a 1.5 hour bus/train ride away, Aqua World Oarai, Ibaraki is in easy reach from Tokyo. It takes just 1 hour 15 minutes to reach by car. 

Pingu Photo Spots

Enter the aquarium and you will find numerous Pingu-themed photo spots. Take a photo next to statues of Pingu and friends, or with an original design photo panel. This is the perfect place to create lots of good summer memories with your family or friends and take lots of fun pictures.

Chat with Pingu

You can also enjoy a fun conversation with Pingu by watching fun videos. Come play with the characters and enjoy their cute animations and unique voices. This venue is full of unique and fun experiences.

Uchiwa Fan Stamp Rally (Weekday-limited)

Explore the aquarium to locate the three stamp spots. There is a Pingu, Pinga and Robby stamp spot where you can collect your stamps to complete the picture on your uchiwa fan. Completing the picture on your fan will be as fun as completing a colouring book!

Running: Weekdays (Not running between August 13 ー 16)

※ This event will finish early if all Uchiwa fans are given away before the end of the event. 

Pingu Greeting

Pingu will visit the aquarium himself, so enjoy interacting with him!

Running: July 14, 15, 20, 21, 27, 28, August 3, 4 (8 days total).

Times: 11 am, 1:30 pm, 3:30 pm, (lasts approx. 30 mins).

Besides the above, there is so much Pingu-tastic fun to be had. Come create some special summer memories with Pingu at Aqua World Oarai, Ibaraki 

© 2019 The Pygos Group / (C)MATTEL, NHK, NEP, PPI

Information

Penguin tachi no fushigina sekai Pingu summer festival

(Pingu summer festival: Enter the curious world of penguins)

Running: July 13 ー September 1, 2019 

Location: Event space on floor 4 (4階企画展示室)

Aqua World Oarai, Ibaraki 

Address: 8252-3 Isohamacho, Oarai machi, Higashiibaraki District, Ibaraki

Website: http://www.aquaworld-oarai.com

Pingu Character Website: http://www.pingu.jp/

Kaori's Easy Recipe: Learn to Make Hello Kitty crêpes

Today we'll be looking at a recipe for Hello Kitty-themed crêpes ー perfect for White Day! You can make these using ingredients usually found at home. This recipe is easy and so is recommended for children and for those of you who aren't used to making desserts!

1:Ingredients 

20cm frying pan (makes 2 large and 1 small crêpes.)

Egg White 1

Wheat flour 25g

Sugar                  1 tbsp

Vegetable oil       1/2 tbsp

Milk                     50cc

Chocolate pen (black and yellow colours)

You can fill the crêpe with whatever you like. Today's filling is strawberries and cream because the outside of the crêpe will be decorated with a Hello Kitty ribbon made from strawberries.

2:Make the batter

① Thoroughly mix the egg whites.

② Add the contents of ① to the flour and sugar and mix thoroughly.

③ Add ② to the milk and mix thoroughly even more!

④ Filter the contents of ③.

If you forget to filter then you will not get a smooth, beautiful batter when you fry your crêpes so be careful!

3:Fry

We recommend you use a Teflon frying pan. As you want to make the crêpe into Hello Kitty's face, do not cook the crêpe too much or it will become too dark! Therefore, keep it on a low flame. This can also be done well using a hot plate!

Please refer to the above video to learn how to fold and decorate the crêpe.

Before spreading out the crêpe and filling it with cream, cut a small piece of crêpe and place it in the centre of the larger crêpe. After this, you can put the cream on top. This ensures a smooth finish for Hello Kitty's face as it is otherwise slightly translucent.

And…finished!

Kaori-san plans to continue to release articles on how to create character-themed desserts! Kaori-san has already posted loads of character bento lunches on Instagram so please check it out!

Information

■Profile
Kaori Kubota (@kaopan27)
I live in Hokkaido and I love to make character themed foods, desserts and pastries♡

I want to see my family smile, so I enjoy putting in a bit of effort to make character foods and changing food into something cute♡

You can see more of my character foods and character bento boxes on my Instagram page→@kaopan27

YORKYS BRUNCH Kobe Transform Their Famous Pancakes into Crepes at New Establishment in Osaka

Hugely popular Kobe café YORKYS BRUNCH is opening a new establishment called YORKYS Creperie at UMEDA FOODHALL in Umeda Hankyu Sanbangai, Osaka on March 28, 2018.

The YORKYS BRUNCH is popular for its pancakes. The owner and bakers came up with the idea to sell crepes due to customer in wanting to take out pancakes. Now you can order your pancakes to go in the form of a crepe!

The crepe batter is actually a type of pancake batter. When it comes to pancakes, YORKYS know all there is to know. They have created a chewy crepe with a texture the likes of which you have never eaten♡

Make sure to make a trip to try YORKYS' famous pancakes when you're in Japan.​

■Information

YORKYS Creperie
Address: Hankyu Sanbaigai North Wing B2F, 1-1-3 Shibata, Kita-ku, Osaka-shi, Osaka Prefecture
TEL: 06-6292-5622

YORKYS BRUNCH Shukugawa Honten
Address: Vintage Shukugawa 2F, 5-44 Kasumicho Nishinomiya, Hyogo Prefecture
TEL: 0798-42-8289

YORKYS BRUNCH Kobe Motomachi
Address: 32 Akashimachi, Chuo-ku, Kobe-shi, Hyogo Prefecture
TEL: 078-599-8616

Website: http://yorkys-brunch.com/

"MOMI & TOY'S" will release a latte-art like crape

"MOMI&TOY'S" will release their first latte-art like crape, "Chocolate Heart Dark/White" from the 22nd of January to 14th of February to liven up this Valentine's season.

Latte art-crape is a crape which uses smooth-textured premium whip cream with illustrations drawn on the top using a sauce. The thick flavor of milk matches well with the dough of the "melty crape."

"Chocolate Heart Dark"

A product that uses chocolate whipped cream, original whipped cream, mixed berries, sliced chocolate and cocoa biscuits. An illustration of a heart is drawn on top of the premium whipped cream and strawberries are placed on top of the crape. The flavor of the chocolate and the sourness of the strawberries goes very well.

"Chocolate Heart White"

A product that uses chocolate whipped cream, original whipped cream, jam with diced strawberries, sliced white chocolate and cocoa biscuits. An illustration of a heart is drawn on top of the premium whipped cream and strawberries are placed on top of the cute crape.

Let's enjoy these cute crapes which will be sold for a limited time offer♡

■Information

Product name: Chocolate Heart – Dark/White

Price: 550 yen

Release date: 2018,01,22 (Mon.) to 2018,02,14 (Wed.)

Available stores: MOMI&TOY'S throughout Japan (except at certain stores)

MOMI&TOY'S:http://www.momiandtoy.com

The crepe shop, "MOMI&TOY'S" collaborates with Sanrio characters!

The "melting crepe" shop "MOMI&TOY'S" has been selling collaborative items with Sanrio's popular characters, "Hello Kitty", "My Melody" and "Cinamonroll."

MOMI&TOY'S was opened by its founding president who was a pastry chef. It is made with the concept of " tasty crepes beyond common sense."

One of the big differences of these crepes compared to you every day crepe is the dough.

It uses almond flour instead of gluten to avoid having a sticky texture. The crepe is made so that it has a "melting" texture like that of a milk crepe.

For the collaborative menu items, some fruit which match the image of each characters and a "character monaka"is placed on top of the crepe. In each of these items it looks like the character is peeking at you from the edge of the crepe. They are all truly cute items.

Each menu item is rapped with a special paper. The paper is designed with an illustration of the character. There is a fall version and a winter version of the wrapping paper.

Hallo Kitty no torokeru crepe ¥750(tax included)

Ingredients:original whipped cream, custard cream, apple jam, yellow peaches, strawberries, mint

My Melody no torokeru crepe ¥750円(tax included)

Ingredients:original whipped cream, cheese cream, strawberry milk crape, strawberries, mix berries

Cinamonroll no torokeru crepe ¥750円(tax included)

Ingredients:original whipped cream, chocolate mint whipped cream, cocoa biscuits、chuel, chocolate sauce, cherries, chocolate spray

Let's enjoy these "kawaii" collaborative crepes!

■Information

Selling period:October 16th to December 15th

Selling place:MOMI&TOY's throughout Japan(not offered at some stores)

MOMI&TOY's Japan:62 shops, overseas:30 shops

Detailed information: http://www.momiandtoy.com