Toyokawa Inari to Bring Back Popular Naked YORU MO-DE Event in 2022
One of Japan's Three Great Inari Shrines, Toyokawa Inari in Aichi Prefecture, will be decorated in summer-themed lights from July 22 until August 8! The popular Naked YORU MO-DE event is coming back for 2022 after attracting over 40,000 visitors last year. 
Starting in 2021, Toyokawa Inari has held the Naked YORU MO-DE event monthly on the 22nd, the founding date of the shrine's founding. Using technology, Naked's artwork is updating the worship experience to fit into the 'new normal,' keeping social distancing in mind. 
Jihoukan Projection-Mapping – Summer Festival ver. 
Socially Distanced Art – Naked Distanced Lanterns, Summer Festival ver.
Naked Tsukubai – Summer Festival ver.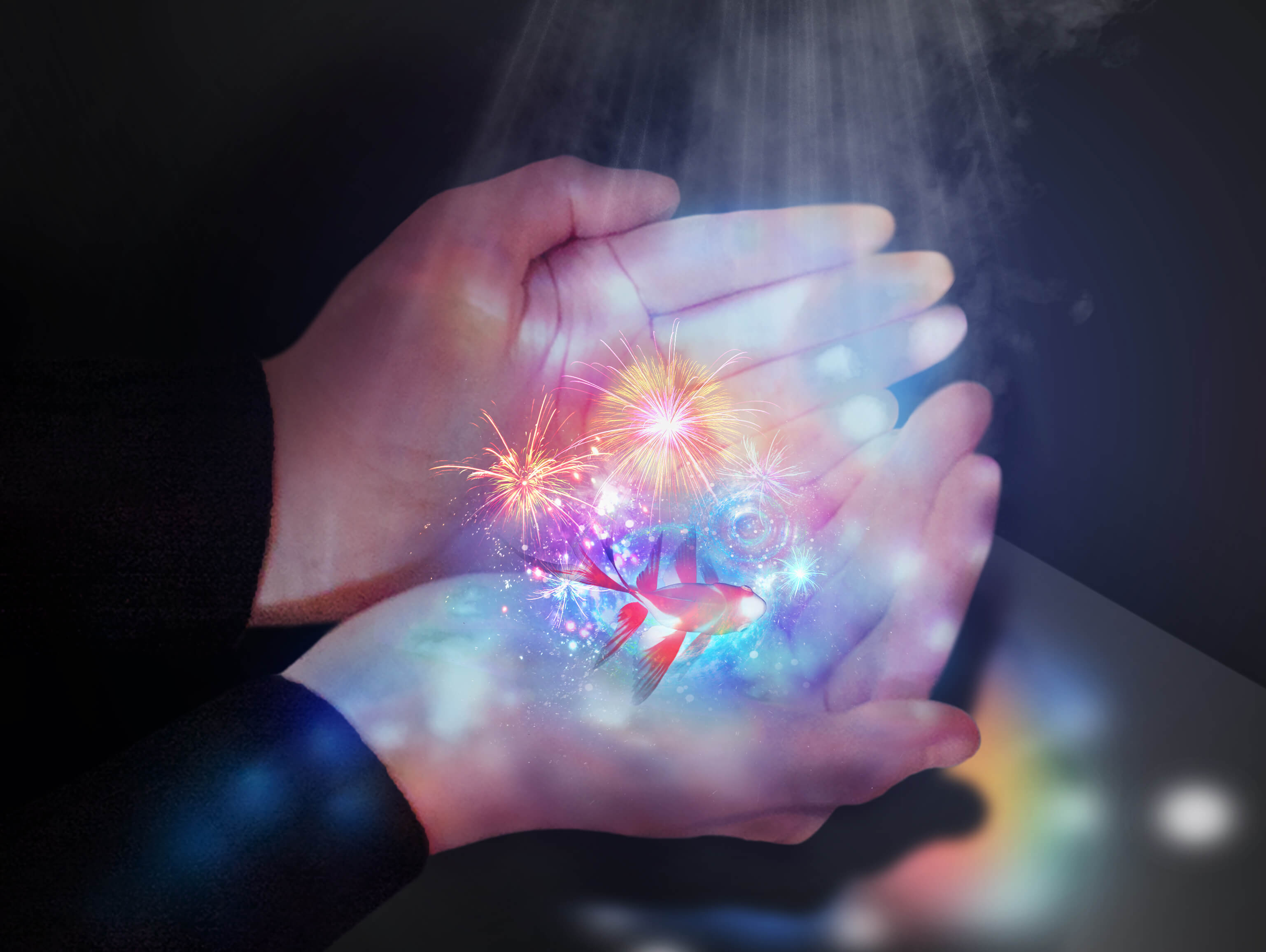 The theme for this new event is 'a summer festival for a new era.' Many of Toyokawa City's annual festivals, such as the Oiden Festival and the Mitama Festival, have been canceled since the spread of the coronavirus. This new kind of festival will pull inspiration from other local events and will feature handheld firework displays, a collection of gorgeous wind chimes, and tons of night stalls for guests to enjoy alongside Naked's digital artwork. The local handheld fireworks will be shown using projection mapping, and all of the fan-favorite Naked social distancing art projects will be transformed to suit the summer festival theme. The Naked Tsukubai hand sanitizing art project will show goldfish and fireworks in the palm of your hand, and the Naked Distanced Lanterns will be decorated with a summer firework pattern.
Information
Toyokawa Inari, One of Japan's Three Great Inari Shrines x Naked YORU MO-DE
Venue: Toyokawa Inari (1 Toyokawacho, Toyokawa, Aichi Prefecture)
Running: July 22 – August 6, 2022
*Held throughout the year starting on the 22nd of every month
Hours: 19:00-22:00
Official Site: https://event.naked.works/yoru-mo-de/
RELATED ENTRIES
Tomakomai Mirai Fest 2022 to be Held in September

On September 17 and September 18, the Tomakomai Urban Renewal Project Committee will hold Tomakomai Mirai Fest 2022, inviting guests to celebrate the area around Tomakomai in Hokkaido. 

The purpose of this event is to promote the appeal of the Tomakomai region, not only to those living in Japan but to those living abroad. In addition to music, the event will also feature art, food, technology, and more content that can be enjoyed by kids, families, and people of all ages and genders.

The main venue of the event will be the Tomakomai Civic Hall. Musical acts announced so far include Awesome City Club, Kyary Pamyu Pamyu, and Little Glee Monster.

In the Tomakomai Civic Hall parking lot and the nearby Kirakira Park, guests can enjoy free DJ performances, mini-concerts, art and technology installations, food trucks, picnic areas, and more. In addition, the Nishikimachi and Omachi areas will be decorated with digital art, and food and beverages will be available.

Advanced 2-Day tickets are available now on Ticket Pia by lottery. More performers and additional content will be announced soon, so keep an eye on social media and the official website.

Information

Tomakomai Mirai Fest 2022

Dates: September 17 and 18, 2022

Venue: Tomakomai Civic Hall, Large Hall

Hours: 

September 17 / Doors Open 16:30, Event Starts 17:30

September 18 / Doors Open 14:30, Event Starts 15:30

*More detailed event times and locations will be announced at a later date.
Locations: Tomakomai Civic Hall, Large Hall / Parking Lot / Kirakira Park / Around Omachi, Nishikimachi

Tickets: https://w.pia.jp/t/tomakomaimiraifest22/

Official Site: http://miraifest-tomakomai.jp/

Next-Generation Town-Walking Project NAKED GARDEN -ONE KYOTO- to Begin this Fall

The creative team at NAKED is teaming up with Kyoto City, Uji City, and Otsu City in Shiga Prefecture for a one-of-a-kind project. This fall, guests will be able to experience NAKED GARDEN -ONE KYOTO, a next-generation town-walking project blending the real world and the Metaverse together. Visitors will be able to experience Kyoto's shrines, temples, and history in a whole new way.

NAKED has been working with the city of Kyoto since 2017, creating new cultural outreach and tourism programs. A number of nighttime events have taken place at Nijo Castle, including 'virtual flower viewing' in the midst of the pandemic. Last year, the DANDELION PROJECT began at Kamigamo Shrine, a World Heritage Site. The project brings guests around the world together virtually to pray for peace. Events have also taken place at Kiyomizu-dera, Heian Shrine, and Ninna-ji.

In 2022, NAKED will collaborate with Kyoto City, Uji City, Otsu City, and their respective tourism associations to create a Metaverse where visitors can enjoy Kyoto not only in the real world but also virtually. Art being experienced by visitors in real life can be reflected in the Metaverse, and experiences in the Metaverse can be enjoyed in a way that is unique to real events. As hard to describe as it may be, more details will be available on the NAKED GARDEN website when it opens this summer. 

Information

NAKED GARDEN -ONE KYOTO-

Coming Fall 2022

NAKED, INC. Official Site: https://naked.co.jp

NAKED's Popular Night Walk Returns to Illuminate Jozankei Onsen in Hokkaido

The JOZANKEI NATURE LUMINARIE -WATER LIGHT VALLEY- event is coming back in 2022! The event, which shows off the natural beauty of Jozankei's rivers, valleys, and forests, from June to October. Guests can enjoy an illuminated walk along the Toyohira River in the Jozankei area of Hokkaido and wander across the picturesque Futami Suspension Bridge. 

 

This year, the park area at the entrance to the event has been redesigned with new lights. A 2.5-meter-high blue dome will welcome guests with an image of water, and the trees and wisteria trellises will be decorated with twinkling golden lights.

Welcome Light Lake *Image from 2021

River Road

Forest Water Ripple

Nature Projection

Futami Valley

Visitors will encounter a variety of unique light art as they stroll through the rich nature of Jozankei guided by the elusive kappa, known to be the guardian Gods of the region. As visitors approach, the river begins to glow while flowers bloom in this interactive art experience. By using projection mapping across the Futami Suspension Bridge and an all-encompassing light show within the canyon, the event hopes to remind visitors that nature is important and worth preserving. 

How would you like to spend your summer deep in the illuminated nature of Hokkaido?

Information

JOZANKEI NATURE LUMINARIE – WATER LIGHT VALLEY

Address: Jozankei Futami Park – Futami Suspension Bridge
(Jozankei Onsen Nishi 4-chome, Minami-ku, Sapporo, Hokkaido)

Running: June 1 – October 23, 2022
Hours:
June – August: 19:00-21:00
September – October: 18:00-21:00

*Tickets available for guests of Jozankei Onsen only
Official Site: https://jozankei.jp/jozankei-nature-luminarie

NAKED's Projection Mapping Show at Tokyo Tower Illuminates the City at Night

Digital art collective NAKED has announced a new projection mapping show taking place at Tokyo Tower starting May 24! Welcome summer with the 'Tokyo Tower City Light Fantasia ~Summer Landscape 2022~ event on the second floor of the 150-meter-high main deck of the classic landmark.

In 2019, the company introduced the 'Tokyo Tower City Light Fantasia ~Cool Japanese Summer~ event, which has now been upgraded to a new version. Guests will now be treated to a colorful show highlighting the transition of the seasons in Japan from the rainy season to early summer to midsummer, filled with hydrangeas, sunflowers, and fireworks. Colorful flowers bloom in the rain giving way to a bright summer day complete with the sound of cicadas and bright white clouds in the sky. After the sun sets over the sunflower fields, fireworks light up the Tokyo sky.

The 'Tokyo Tower City Light Fantasia' nightscape event was planned, directed, and produced by NAKED, and began in 2014. By combining the night view from the observatory with projection mapping, guests can experience something one-of-a-kind.

Following the original launch of the event, it has traveled to towers and observatories around Japan including Abeno Harukas and the Nagoya TV Tower, playing off the particular characteristics of each locale.
 

This event isn't the only thing going on at Tokyo Tower this summer. Guests can also enjoy the DANDELION PROJECT by NAKED and Ryotaro Muramatsu in the northwest section of the second floor of Tokyo Tower's main deck. The project is based on the concept of world peace and harmony and was unveiled at Miyashita Park, Tokyo Tower, Gardens by the Bay in Singapore, and Nijo Castle in Kyoto in 2020. The networked art project invites guests to send their wishes for world peace on digital dandelion fluff to other locations where DANDELIONs are planted around the world, and these messages are delivered in real-time. 

Come enjoy this incredible night view while you can!

Information

CITY LIGHT FANTASIA ~Eternal Lights in TOKYO~

Venue: Tokyo Tower Main Deck (Height: 150m) 2F Facing North

Running: May 24 – September 4, 2022
Periods:
May 24 – June 5, 19:00 – Close
June 6 – July 18, 19:30 – Close

July 19 – August 21, 19:00 – Close

August 22 – September 4, 18:30 – Close
Fee: The event is included in the price of observation deck admission. 

Official Site: https://naked.co.jp

NAKED FLOWER AQUARIUM -Bring You Happiness- Event Opens at Maxell Aqua Park Shinagawa

Tokyo's Maxell Aqua Park Shinagawa has opened its seasonal event NAKED FLOWER AQUARIUM -Bring You Happiness- until June 19, 2022.

 

The aquarium has been continuously developing entertaining exhibits and events based on the beauty of each season. The creative company NAKED uses projection mapping to transform the space with cherry blossoms in spring and fireworks in summer, allowing guests to enjoy a special atmosphere indoors.

Welcome Flower Gate 

Marine Forest 

Blooming Street 

Jellyfish Ramble 

Floral Café Bar 

 

For spring, the Aqua Park has been decorated with gorgeous flowers and lush greenery. The new event uses state-of-the-art technology to surround visitors with a spectacular view of early summer. Each area of the aquarium was inspired by the subtheme of 'bringing happiness,' with seven different Happiness Experiences for guests to enjoy. These experiences offer things like healing sound effects and scents made to calm the mind and offer additional immersion.

The popular dolphin performance has both a day and night show. The day version offers guest participation, in which the dolphins will show off their choreographed moves. The night version was inspired by the early summer sea and uses projection mapping to bring the underwater world to life in a spectacular way.

Information

NAKED FLOWER AQUARIUM-Bring You Happiness-

Venue: Maxell Aqua Park Shinagawa
Address: Shinagawa Prince Hotel (4-10-30 Takanawa, Minato-ku, Tokyo)
Official Site: www.aqua-park.jp

Panasonic LUMIX and NAKED Team Up for Exhibition at LUMIX BAE TOKYO in Aoyama, Tokyo

Art collective NAKED is teaming up with Panasonic LUMIX digital cameras for a new version of the NAKED BIG BOOK. The new work is on display at LUMIX BASE TOKYO in Aoyama until May 29, 2022. 

LUMIX BASE TOKYO is a gallery inspired by the LUMIX brand of digital cameras. The location is meant to serve as a base for the next generation of creators and strives to bring tons of creative energy to those looking to hit it big as artists in the future. 

Naked and LUMIX have come together to make LUMIX BASE TOKYO not only a showroom but also a place where guests can experience creativity in a new way. The NAKED BIG BOOK," the brand's most famous work, has been decorated with seasonal flowers and will be exhibited for a limited time. 

NAKED BIG BOOK invites visitors to enter a storybook world with each turning page. The work uses projection mapping on a giant book sculpture to inspire audiences and wow guests with the wonders of technology. The book has appeared at FLOWERS BY NAKED and other locations throughout Japan in the past. 

The exhibition will also feature original artwork inspired by LUMIX's marketing campaign for 2022, 'COLORS OF LUMIX.'

Information

NAKED BIG BOOK – LUMIX Collaboration Version
Venue: LUMIX BASE TOKYO (2-chome-11-17 Minamiaoyama, Minato-ku, Tokyo)
Running: April 26 – May 29, 2022
Hours: 11:00-19:00 / Closed on Mondays, New Years holiday
Admission: Free
Official Site: https://lumix-base.jpn.panasonic.com/

Shueisha's Haruman!! 2022 Festival Celebrates Manga this Spring

Shueisha is currently offering a ton of manga for free as part of Haruman!! 2022. The campaign is running until May 15 at participating locations and tons of digital manga series are available for download.

©Shueisha

During Haruman!! 2022, users can read over 305 digital titles for free. This year's theme is 'Manga Festival,' and manga fans can find both recent and classic titles. Why not catch up on some manga history while you can?

A collaboration with the popular VTuber agency Hololive is also underway. One of the group's manga-loving members will be chosen each day to serve as Editor-in-Chief of an original manga magazine.

Popular authors are also commemorating the occasion with new illustrations. Eleven artists from Shueisha's manga department have drawn popular VTubers, and these awesome images are available exclusively on the Haruman!! website.

Stream Date: April 23, 2022

Participants: Shueisha x Hololive Traveling Editorial Department

Streaming Channel: https://www.youtube.com/channel/UCJFZiqLMntJufDCHc6bQixg

©Shueisha

In collaboration with puzzle game creators RIDDLER, 'The Search for the Great Manga King's Treasure' will be held. Pulling inspiration from One Piece, which is currently celebrating 25 years of serialization, fans will have to find clues to solve a massive mystery.

Find your new favorite manga series during Haruman!! 2022.

Information

Haruman!! 2022

Running: April 11 – May 15, 2022

Official Site: https://haruman.jp

Midland Square Sky Promenade Digital Art Museum Crystal: Hanging Garden of Light Now Open

Hitohata has opened an incredible new experience in Nagoya! The Midland Square Sky Promenade Digital Art Museum Crystal: Hanging Garden of Light is open to visitors until May 17, 2022.


The event takes place at night at the Sky Promenade, an outdoor observatory on the 44th to 46th floors of Midland Square, the tallest building in the Tokai region. Using projection mapping, digital art inspired by jewelry covers the walls and floors, taking guests on a sensory adventure high above the Nagoya streets. Why not come enjoy this 360-degree night view of the city as the walls around you glitter like jewels?

Information

Midland Square Sky Promenade Digital Art Museum Crystal: Hanging Garden of Light

Dates: April 23 – May 17, 2022 / 19:00-22:00 (Last entry at 21:30)
Venue: Midland Square Observation Deck Sky Promenade
Official Site: https://www.hitohata.jp

NAKED Collaborates with Uta no Prince-sama Game for Special Art Installation

Creative company NAKED is bringing the world of Uta no Prince-sama to life! From April 16 until April 24, fans will want to come to Ikebukuro Sunshine Plaza to see MAJI LOVE KINGDOM MEMORIES, a sensory photo booth decorated with floral art.

The first Uta no Prince-sama game was released in 2010, with an anime series following in 2011. In 2019, the first Uta no Prince-sama film, Maji LOVE Kingdom, was released.

NAKED's project mapping and digital art are being used to create unique photo booths where guests can take pictures with their favorite idols as seen in the 2019 film.

Each photo booth was created using a variety of techniques, combining video, sound, scent, and even wind. The flowers included in each booth were inspired by the flowers that members of ST☆RISH, QUARTET NIGHT, and HE★VENS wear on their chests. How often do you get to experience a 3D photo booth with your favorite fictional boys?

Guests can also enjoy a unique AR experience at the venue by using NAKED INC PLAY!

©︎UTA☆PRI-MOVIE PROJECT

Information

Uta no Prince-sama on Stage: MAJI LOVE KINGDOM MEMORIES

Location: Ikebukuro Sunshine City World Import Building 4F Event Hall A

Running: April 16 – April 24, 2022
Hours: 10:00-20:00 (Last admission 60 minutes prior to closing)
*Open 10:00-17:00 on April 24

Official Site: https://ml-kingdom-memories.com/

Global Creators to Screen Films for Peace at Huis Ten Bosch Theme Park in Nagasaki

Huis Ten Bosch, a theme park in Nagasaki, will be screening 'ENLIGHTENMENT,' a film series for world peace from April 1 until April 28, 2022.


The event is taking place as a way to show support for the people of Ukraine and to pray for world peace by blending together short videos expressing love and compassion from video creators around the world. These videos are being projected on buildings and signage in countries around the world amidst the concerning current situation in Ukraine. 

The film has already been shown in more than 16 countries around the world and is now coming to Huis Ten Bosch, which boasts the world's largest illumination event with 13 million light bulbs.

Information

ENLIGHTENMENT

Running: April 1 – April 28, 2022

Screening Times: Twice a day at 20:00 and 21:00
Location: Jardim da Arte 'Waterfall of Light'

NAKED's Popular Sakura Artwork Transformed into Company's First NFT

The NFT platform 'Adam by GMO' will offer the creative company NAKED's first piece of NFT art. Sakura Ousai has been featured in the hands-on art exhibition NAKED FLOWERS held in Nihonbashi, Nijo Castle, Hong Kong, and Korea. The NFT will be available in late March and a portion of the proceeds will be donated to support Ukraine.

Since its establishment in 1997, NAKED has constantly produced incredibly unique art installations to fit with the times. Starting with the projection mapping of Tokyo Station in 2012, the company has created unprecedented art and entertainment experiences by combining real space with virtual experiences. The current theme is 'borderless creativity,' and creating NFT art fits into this vision.


NAKED FLOWERS, one of NAKED's signature events, has been held since the New Year 2016. The NAKED FLOWERS experience has now been converted into a piece of NFT art for the first time, and buyers can enjoy these cherry blossoms no matter their location!

NAKED Sakura Pilgrimage Event Comes to Kanda Myojin Shrine in Tokyo

People flock to Kanda Myojin to pray for good luck at the start of the new financial year, surrounded by beautiful pink blooms. The shrine offers beautiful sights during the day, and this year, it's collaborating with digital art collective NAKED to host a beautiful light-up event every evening from March 26 until April 10, 2022.

Kanda Myojin is a hidden cherry blossom viewing spot in Tokyo. This spring-only event is held in the hope that people will pray at Kanda Myojin, one of the most popular power spots in Tokyo, for a great start to the new year.



Guests will be able to see cherry blossom trees lit up in iridescent lights with pink petals projected on the ground. Some of the digital sakura are interactive and change shape and color when you're nearby. Digital art is even incorporated at the hand sanitizing station, where you'll see vivid pink sakura projected onto your palms. Visitors will also be handed a special Naked Distance Lantern, which naturally creates distance between others as you hold it up.

Information

NAKED Sakura Pilgimage

Location: Kanda Myojin Shrine
Running: March 26 – April 10, 2022
Hours: 18:00-20:30
Admission: Free

Official Site: https://myoujin-sakura.com/