Experience Japanese Culture from Anywhere with Kanda Myojin Shrine's Virtual Space
Kanda Myojin Shrine dates back over 1,270 years, making it one of the most well-known religious sites in Tokyo. Dai Nippon Printing is now making it possible for interested visitors to experience the site from anywhere in the world, unveiling the Kanda Myojin CG Space this week. Developed with approval from the shrine, the virtual space faithfully reproduces the structure and design of the location using 3D laser measurement technology and CG techniques developed by DNP over many years. The space will be open online to all audiences.
A portion of the work from the Masayuki Kojo 10th Anniversary Exhibition currently behind held on-site at Kanda Myojin from June 4 until July 10 will also be available to view in the CG space. The space will also be linked to 'Virtual Akihabara,' developed by DNP in conjunction with the AKIBA Tourism Council. Using XR (Extended Reality), the company hopes to develop a wide variety of new communication styles.
The Kanda Myojin CG Space was created by using DNP's laser measurement technology to recreate three-dimensional objects. By using high-definition photography and photogrammetry technology, images of objects are taken from many angles, creating a realistic 3DCG space to explore. The structure of the shrine, which was rebuilt in 1934 after being damaged in the Great Kanto Earthquake, has been faithfully reproduced in every way.

In conjunction with events held at the Kanda Myojin Museum, the Kanda Myojin CG Space will make the history of Kanda Myojin and its collection of materials, including rare ukiyo-e prints, available online for anyone to access. Through these exhibits, people both in Japan and abroad can experience Edo culture through their web browsers!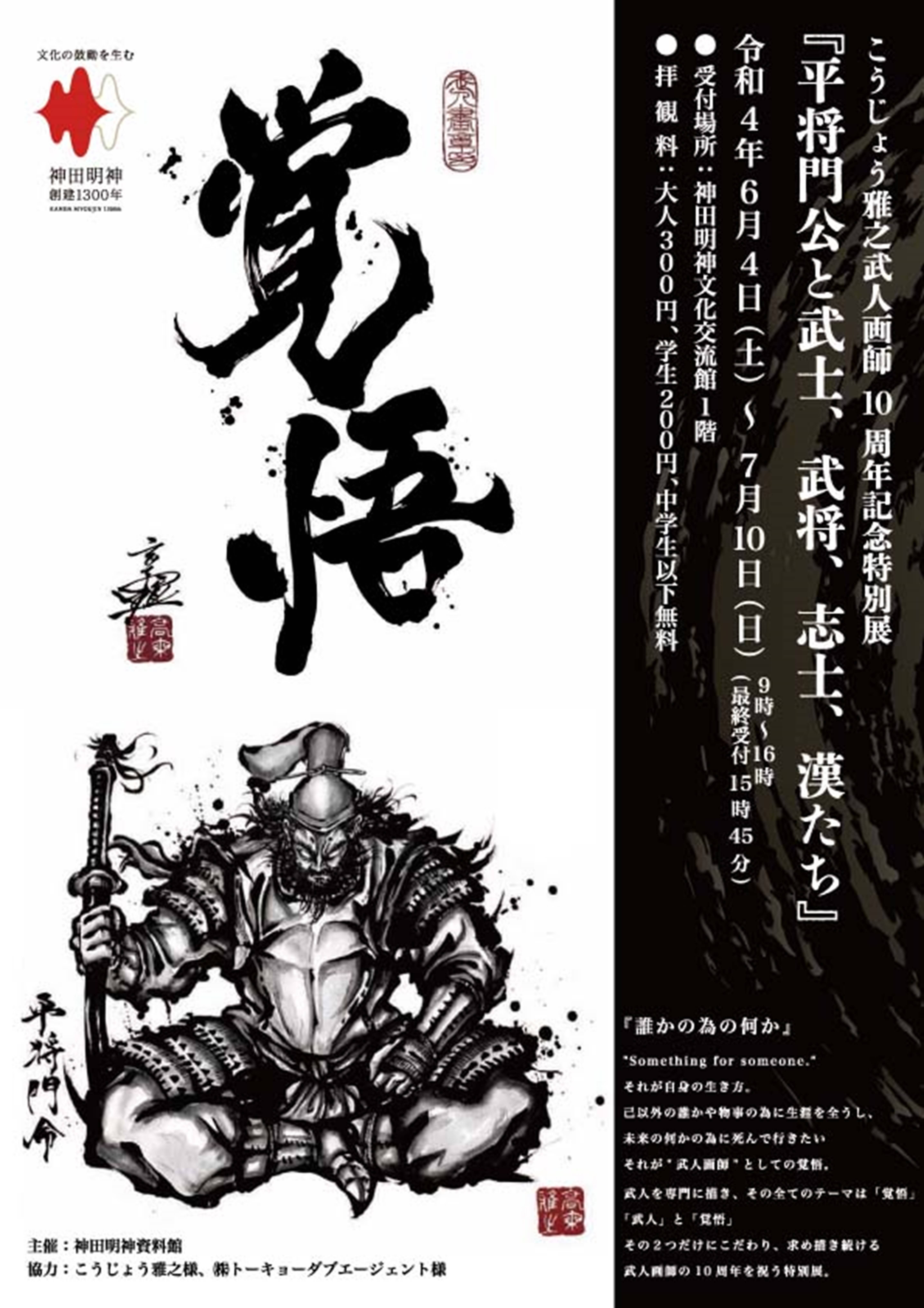 RELATED ENTRIES
'Edo Punk! The Dynamic World of Ukiyo-e' Released in Japanese and English

Ukiyo-e paintings became popular during the Edo Period of Japanese history. For those weaning to see some of the most rad ukiyo-e paintings around, the new book Edo Punk! The Dynamic World of Ukiyo-e is now available at bookstores nationwide and online. Luckily, the book is also bilingual in English and Japanese!

Kuniyoshi Utagawa, popular in Japan and abroad and known for his unique perspective, and Yoshitoshi Tsukioka, the inspiration for many modern manga series, are both featured in this tome. The many pieces featured combine elements of fantastical beauty and harsh realities, and fans can read commentary by Shoko Haruki. Haruki worked at the Hokkaido Museum before becoming a curator at the Edo-Tokyo Museum in 2017. She specializes in Japanese art history.

The book is now available at bookstores nationwide and online.

Information

Edo Punk! The Dynamic World of Ukiyo-e

Release Date: November 24, 2022

Price: ¥2,400 (Excluding Tax)

Author: Shoko Haruki

Official Site: https://pie.co.jp/book/i/5414/

Craft Beer Service Otomoni Releases Tsundere-themed IPA

Craft beer subscription service Otomoni opened orders for a new Tsundere-themed Hazy IPA on November 15, 2022. The beer has a sweetness level that changes on its temperature and was brewed as part of the 15th installment of the JAPANESE BEER ODYSSEY, which aims to share aspects of both traditional and modern Japanese culture through craft beer.

For better or worse, Japan's otaku culture is now a major part of the country's appeal to people around the world.

Japan's video game and anime market is now legendary around the globe, and millions flock to the country each year to become more immersed in its popular culture. Just look at the annual Comiket event–over 700,000 visitors attend each year!

 

To celebrate the upcoming Comiket, a new beer has been brewed that pays homage to modern otaku culture. The Tsundere Hazy IPA is perfect for otaku who love a little challenge when it comes to their love life.

Brewed with NOMCRAFT Brewing in Wakayama Prefecture, the Tsundere Hazy IPA features two distinct flavors, each coming out more strongly depending on the beer's temperature. 

 

When poured, the beer has a very tropical aroma, and when ice-cold, it's more refreshing and less sweet. 

 

As the temperature of the beer rises, the smell becomes more fruity and strong, with the smell of hibiscus certain to make your mouth water. Whether you like bitter or sweet, this may be the perfect beer for you. 

Would you try this tsundere-themed beer? 

The Sumida Hokusai Museum Opens Hyakunin Isshu Exhibition Featuring 105 Unique Works

The Sumida Hokusai Museum in Sumida-ku, Tokyo, will be holding the 'Hokusai at Play with the 100 Poems' exhibition from December 15, 2022 until February 26, 2023. The exhibition will focus on the Hyakunin Isshu, a famous collection of 100 poems integral to Japanese traditional culture.

Hyakunin Isshu Uba ga Etoki – Sojo Henjo / Katsushika Hokusai, The Sumida Hokusai Museum.

Hyakunin Isshu Uba ga Etoki – Ariwara no Narihira / Katsushika Hokusai, The Sumida Hokusai Museum. (Phase 2)

The Five Great Poets, Tsuki – Katsushika Hokusai, The Sumida Hokusai Museum. (Permanently on Display)

By the middle of the Edo period, the Hyakunin Isshu, or 100 classical poems, had become an established part of Japanese culture. Hokusai, an ukiyo-e artist of the period, painted a total of 27 of these famous poems, incorporating his own ideas and views to create unique pieces still beloved so many years later. This exhibition features 24 paintings from the museum's Hyakunin Isshu collection along with dozens more items pertaining to this legendary collection of writings. Don't miss it!

Information

Hokusai at Play with the 100 Poems

Running: December 15, 2022 – February 26, 2023

*Certain exhibits will be changed between the first and second phases. 

Phase 1: December 15, 2022 – January 22, 2023

Phase 2: January 24 – February 26, 2023

Hours: 9:30-17:30 (Last entry at 17:00)

Official Site: https://hokusai-museum.jp

Hotel Gajoen Tokyo to Hold Tours of Historic Hundred Stairs

The historic Hotel Gajoen Tokyo, which blends a hotel and a traditional Japanese museum, will offer a tour of the Hyakudan Kaidan (Hundred Stairs) from December 3 until December 25, 2022. This Tangible Cultural Property of Tokyo is an incredible sight, and those with an interest in Showa-era architecture won't want to miss it.

In 1988, part of the old Gajoen structure was torn down to make way for new structures along the Meguro River basin,  and the hotel underwent a large-scale renovation over a period of three years. The Hundred Stairs were originally built in 1935 and designated as a Tangible Cultural Property by the Tokyo Metropolitan Government in 2009.

Over the years, the Gajoen has served as a restaurant and gathering place for visitors from both the Showa-era and Heisei-era. Filled with traditional Japanese aesthetics, the location is now filled with art and pieces of cultural significance. A number of special exhibitions are held throughout the year. 

 

Why not come enjoy this tour of a piece of Japanese history?

Information

Winter Tour: Hyakudan Kaidan 2022
~Architecture, Beauty, and Tales of Tradition~

Running: December 3 – December 25, 2022
Hours: 12:30 – 18:00 (Last entry at 17:30)
Venue: Hyakudan Kaidan (Hundred Stairs)
Tangible Cultural Property of Tokyo, Hotel Gajoen Tokyo
Details: https://www.hotelgajoen-tokyo.com/100event/tour2022

Nagoya Castle to Hold Special Autumn Night Art Viewing for a Limited Time

The historic Nagoya Castle will hold a special nighttime viewing event for 14 days only, from November 25 until December 8, 2022. During this period, Honmaru Palace will be open to the public at night, and the Chrysanthemum Corridor inside will be open to visitors for the first time. 


The Ninomaru Garden will also be illuminated and will transport guests to a different place and time by showing a space only possible during dark hours.

Inspired by the relationship between light and shadow, this event focuses on changes that occur over time and the creation and emergence of new ideas and things.

Honmaru Palace, Typically Closed to the Public, to be Open at Night

Nagoya Castle's Honmaru Palace was completed in 1615 and served as the primary residence of the Lord of the Owari Domain and as the Domain's government office. The interior of the palace was lavishly decorated with paintings and other art pieces and was praised as a masterpiece. Sadly, it was destroyed by an air raid in 1945. Restoration work began in 2009 and was completed in 2018 with unparalleled accuracy. The Honmaru Palace gives off a completely different aura at night. 

First Public Viewing of the Jodan-no-ma in the Joraku-den

The Joraku-den was added to Nagoya Castle to accommodate the third Shogun, Iemitsu, on his way to Kyoto. It is the most luxurious of all the Honmaru Palace buildings, and this event marks the first time that the Chrysanthemum Corridor on the north side will be open to the public. Visitors are welcome to admire the golden-blue paintings as they stroll through the historic site.

See Spectacular Paintings when Entering the Tsugi-no-ma Room

During this period, visitors can enter the Tsugi-no-ma room to view classical period paintings, giving a more clear idea of how people acted and dressed during this time in history.

[Ninomaru Garden Special Viewing] 


~Witness a Never-Before-Seen Feudal Lord's Garden through a Spacial Presentation~

Scenography for this unique show was provided by the creative label PERIMETRON. In order to show another side of the Ninomaru Garden at night, the company focused on light's characteristics, from reflection and transmission to refraction and absorption. Light and shadow intertwine in various ways, and guests will be transfixed by this curious showing.

Information

Nagoya Castle: Autumn Night Special Viewing ~KEI~

Running: November 25 – December 8, 2022

Viewing Hours: 9:00-19:30 (Gates close at 20:00)

Official Site: https://www.nagoyajo-kei.jp/

Naruto Anime Series Celebrates 20th Anniversary With New Gallery Featuring Collaborations With Five Animators

To celebrate the 20th anniversary of the globally popular Naruto anime series, NARUTO THE GALLERY will be held at AKIBA_SQUARE inside Akihabara UDX from December 10, 2022 until January 31, 2023. The gallery will feature collaborations with five animators. 

This will be the first Naruto exhibition held since 2015. The event will focus on the growth of the characters, the bonds they share with their friends, and the many fights that have taken place over the past two decades. 

 

Iconic scenes from the Naruto anime series will be on display in collaboration with five up-and-coming animators: Ai Niina, Kohei Kadowaki, que, Kosuke Sugimoto, and Kohta Morie. This will give fans the chance to see an unprecedented and unique view of the world of Naruto which can only be seen at the event. 

Admission Bonus: Gemaki-style Card

Goods

An original Gemaki-style Card featuring a newly-drawn visual will be handed out to those visiting the exhibition. 

 

The first lineup of exclusive event-only merchandise has been revealed and longtime fans of the series won't want to miss adding some of these goods to their collection. 

Participating Artists / Episode

Ai Niina / Sasuke's Ninja Way

Kohei Kadowaki / Naruto's Path

que / The Land of Waves

Kosuke Sugimoto / Sasuke's Vessel

Kohta Morie / Naruto and Kurama

©NARUTO THE GALLERY実行委員会

Information

NARUTO THE GALLERY (Naruto 20th Anniversary Project)

Running: December 10, 2022 – January 31, 2023
Hours: 10:00-20:00 (Last entry at 19:30)
Venue: AKIBA_SQUARE (Inside Akihabara UDX)
Official Site: https://naruto-20th.jp

Sana Natori and Sanrio Characters Open Second Collaboration Store in Akihabara

A new collaboration store is now open in Akihabara, bringing together the popular YouTuber Sana Natori and everyone's favorite Sanrio characters. The shop will be open until October 19, and this second collaboration features Halloween-inspired goods.

 

This time around, seven new goods are available, with 21 designs available in total. The illustrations were drawn exclusively for the collaboration.

Goods at a Glance

Pin (3 varieties)

Acrylic Keychain (3 varieties)

Acrylic Card (7 varieties)

Acrylic Figure Plate (3 varieties)

Sana Natori x Kuromi

Sana Natori x Pompompurin

Sana Natori x Lloromannic

Sticker (Set of 3)

Clear Case

Long Sleeve T-shirt

Purchase Bonus – Postcard (2 varieties)

Sana Natori is a VTuber who has become popular with audiences of all ages. Her aim is to live a proper life online, and she's known largely for her livestreams, gaming, and music.

 

Following the well-recieved first collaboration, these spooky designs are sure to be a hit this holiday season. Which goods are you after?




(C) Sana Natori (C) 2022 SANRIO CO.,LTD. APPROVAL NO. L634678

Results of Second Japanese Cultural Grand Prix Announced

The five winners of the second Japanese Traditional Culture Grand Prix have been announced! The contest was spearheaded by the Japan Traditional Culture Promotion Project, established in May 2020 as a collaborative effort among companies, associations, and local governments to establish a sustainable framework for the continued development of Japanese traditional culture.

The project is headed by Seiichi Kondou, the Former Commissioner of the Agency for Cultural Affairs. United Arrows Honorary Chairman Osamu Shigematsu serves as Vice-Chairman. Along with Nobuo Yoshida, the 14th generation head of the 400-year-old traditional paper fan store Ibasen, the Japan Cultural Promotion Project began this Grand Prix as a way to honor outstanding works of Japanese culture by companies, organizations, and individuals. Anyone can enter, regardless of nationality, residence, or age. The jury consists of 11 people from various fields, including Richard Collasse, the Chairman of Chanel LLC, and popular model Kozue Akimoto.

Grand Prix Winner

Dustpan x Broom

Luo Qi

Each dustpan is shaped by hand to match the special shape of the Matsumoto broom, which is then dyed with natural Tokushima indigo dye. The broom is the only one in the world made from home-grown broomcorn, and each is made by a third-generation craftsman with years of experience.

Runner-up Prizes

Japanese Lacquer Art – Ether

Takehito Sasaki

[Critique]


Both traditional and innovative. The spirit of Japanese culture and the meaning of this award seem to have taken shape in this work. The zippers do not open. The surface looks like leather, but it isn't. When the lid is opened, the glossy lacquer seems to spread out. My expectations were surpassed. Anyone who sees it or uses it will find themselves lost in imagination, and I'm sure that thinking about that will bring a smile to the creator's face. This beautiful craftsmanship was born from plenty of care and attention. What a pleasant surprise. (Risa Tanaka)

Sake Drinking Set – Japanese nagomi Sake Cups


Nagomi Fujita

[Critique]


There's something about this piece that shares a spirit with Art Nouveau. The delicate plants superimposed on the bright transparent glass are a powerful image. In traditional Japanese nagomi art, the linear appearance of the plants is painted a bit more lightly, but these overlapping layers and shapes resonate and make an impact. The artist used traditional techniques such as lacquer and foil in a subtle manner, while still making the plants look alive. I'd consider this as a modern take on ecology. (Yuko Hasegawa)

Excellence Award


Floating Boat Counter


Masafumi Kodama (Registered Architect with a First-Class License) / Taiki Ishikawa (First Class Carpenter/Registered Architect with a Second-Class License)

[Critique]
The motif that inspired this piece is the traditional Japanese architectural technique of funahijiki. It's an outstanding piece that utilizes practical architectural practices to create a piece of furniture at the center of a home, somewhere that the family relaxes. It brings the beauty of Japanese wood into the modern age. Funahijiki is a technique that has been used in incredible places, such as the Kyoto Imperial Palace and Kojoin Temple. It's graceful and elegant, and not often seen in the current age. (Hidetsugu Horikoshi)


Folding Chair to Assist in Seiza
patol stool SEIZA

Hirayama Daily Goods Shop, Makiko & Kazuhiko Hirayama

[Critique]


The judges liked this folding chair for assisting seiza sitting, as it's something that could be put to practical use right away. It's sure to help people enjoy tatami culture, and will be a big help for people who seldom sit on the floor in this traditional way. The height and size of the chair, as well as its ability to be folded for easy storage, are nice touches. I'd consider this a masterpiece with incredible potential. (Yuji Akimoto)

These pieces of artwork managed to connect traditional Japanese culture with future sensibilities, so give them a look!

Cure Maid Cafe in Akihabara Starts Collab with Anime Series 'Luminous Witches'

Gee! Store, a popular series of shops specializing in anime character goods, has announced a collaboration with the series Luminous Witches! From September 9 until September 19, Cure Maid Cafe in Akihabara will be serving up tasty treats inspired by characters from the series. 

Collaboration Menu

Exclusive Collaboration Character Cards (9 varieties)

Preorder Goods

The cafe will offer a number of snacks and drinks, including Eggplant Cheese Pasta, Aira & Eleonore's Curry, and Moffy's Parfait. A special drink will be available to order by posting with a special hashtag on social media, so be sure to check back for more information!

©2021 島田フミカネ・KADOKAWA/連盟空軍航空魔法音楽隊
©TABLIER MARKETING INC., ALL RIGHTS RESERVED.

Information

Luminous Witches Cafe

Running: September 9 – September 19, 2022

Venue: Cure Maid Cafe (Gee! Store 4F, Onoden Main Store, Akihabara)

Japanese Painter Uemura Shoen and Others to be Featured at Shohaku Art Museum in Nara

Shohaku Art Museum in Nara will be exhibiting works by Uemura Shoen, Shoko, and Atsushi from September 6 until November 27. This will include sketches and rare works by these classical Japanese artists, many of which will be shown for the first time in two years.

Hanagatami. Uemura Shoen, 1915

Hanagatami (Rough Sketch) Uemura Shoen, 1915

Yang Guifei. Uemura Shoen, 1922

Tsudumi no Oto. Uemura Shoen, 1940

Flowers and Birds of the Four Seasons. Atsushi Uemura, 2010. 

 

The museum has a large number of valuable materials in its collection, including drafts, miniatures, and drawings by Shoen and Shoko. Even the drafts by Shoen are meticulously crafted, down to each and every crease in the kimonos. By viewing the original sketches with the final paintings, guests can feel the emotion that went into them. The exhibition also provides a glimpse of how Shoko and Atsushi deepened their understanding of their subjects through sketching. Fans of Japanese artwork shouldn't miss this valuable exhibition!

Information

Shohaku Art Museum Collection 2022: Uemura Shoen, Shoko, and Atsushi

Running: September 6 – November 27, 2022
Venue: Shohaku Art Museum

Hours: 10:00-17:00 (Last Entry at 16:00)

Official Site: https://www.kintetsu-g-hd.co.jp/culture/shohaku/

The Rising of the Shield Hero Season 2 Gets Pop-Up Store in Akihabara

To celebrate the second season of The Rising of the Shield Hero, a special pop-up store will open on August 19 inside GiGO Akihabara!

2L Chara Fine Mat (4 varieties): ¥1,980 (Tax Included)

Mini-Character Pin (6 varieties): ¥440 (Tax Included)

New items include character mats with newly-drawn illustrations and mini-character pins. 

During the event period, for every purchase of ¥3,000 or more (including tax), customers will receive a random postcard as a bonus. Be sure to grab yours before they're gone!

Anime Series 'Uncle from Another World' to Get Take-Out Collab Cafe in Akihabara

A take-out collaboration cafe inspired by the anime series Uncle from Another World is now open at CURE MAID CAFE in Akihabara! The event is running until August 28, 2022.

Exclusive Collaboration Character Cards (6 varieties)

The take-out collaboration cafe features a lineup of collaboration drinks inspired by characters from the series. Special bonuses will be given to those who order from the collaboration menu, and photos from the series will be displayed at the eat-in space Entas Cure Terrace on the same floor.

Enjoy these otherwordly collab drinks that can only be found here!

(C)殆ど死んでいる・KADOKAWA刊/異世界おじさん製作委員会 (C)SEGA
(C)TABLIER MARKETING INC.,ALL RIGHTS RESERVED.