Experience Japanese Culture from Anywhere with Kanda Myojin Shrine's Virtual Space
Kanda Myojin Shrine dates back over 1,270 years, making it one of the most well-known religious sites in Tokyo. Dai Nippon Printing is now making it possible for interested visitors to experience the site from anywhere in the world, unveiling the Kanda Myojin CG Space this week. Developed with approval from the shrine, the virtual space faithfully reproduces the structure and design of the location using 3D laser measurement technology and CG techniques developed by DNP over many years. The space will be open online to all audiences.
A portion of the work from the Masayuki Kojo 10th Anniversary Exhibition currently behind held on-site at Kanda Myojin from June 4 until July 10 will also be available to view in the CG space. The space will also be linked to 'Virtual Akihabara,' developed by DNP in conjunction with the AKIBA Tourism Council. Using XR (Extended Reality), the company hopes to develop a wide variety of new communication styles.
The Kanda Myojin CG Space was created by using DNP's laser measurement technology to recreate three-dimensional objects. By using high-definition photography and photogrammetry technology, images of objects are taken from many angles, creating a realistic 3DCG space to explore. The structure of the shrine, which was rebuilt in 1934 after being damaged in the Great Kanto Earthquake, has been faithfully reproduced in every way.

In conjunction with events held at the Kanda Myojin Museum, the Kanda Myojin CG Space will make the history of Kanda Myojin and its collection of materials, including rare ukiyo-e prints, available online for anyone to access. Through these exhibits, people both in Japan and abroad can experience Edo culture through their web browsers!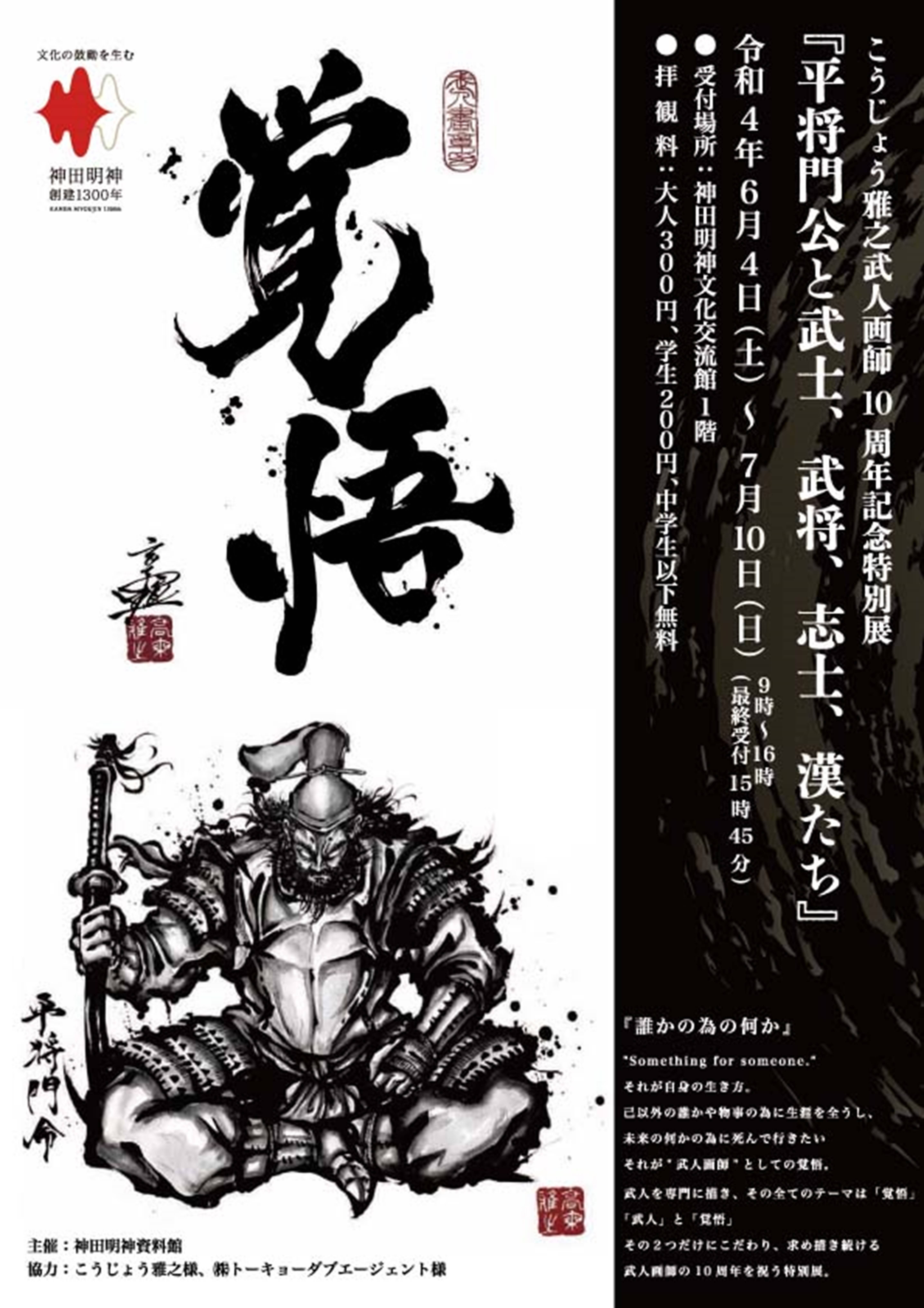 RELATED ENTRIES
BL Mystery Game Hashihime of the Old Book Town Inspires Collaboration Cafe at Akihabara Nagomido

Starting on June 17, romantic Taisho-style cafe Akihabara Nagomido began a special collaboration with the BL mystery game Hashihime of the Old Book Town. The special event will run through July 4, 2022. 

Collaboration Cafe Original Menu

Menu Order Bonus: Bookmark

Collab Goods

Acrylic Stand (6 varieties)

Clear Folder 

Collaboration Castella 


Pin Gacha (6 varieties, random)


Fortune Gacha (7 varieties, random) 

Goods Available to Order

Canvas Art (6 varieties)

Large Panel

Goods Purchase Privilege: Original Postcard

During the event, fans of the series can enjoy dishes, desserts, and drinks inspired by the game. Special collaboration merchandise will only be available here, and special prizes can be won by playing the on-site gacha! A bookmark will be given to guests who order any original collaboration food or drink items, and an original postcard will be given to those spending at least ¥3,000 on merchandise. Those visiting between June 29 and July 4 will receive a limited-edition postcard.

Come enjoy this unique atmosphere while surrounded by your favorite characters!

What is Hashihime of the Old Book Town?

The location? Jinbocho, Tokyo, during the rainy season, 1922.
A young writer named Tamamori moves to Tokyo with the hopes of getting into a prestigious university–but he fails the exams and is kicked out of his place.

In an amazing stroke of luck, Tamamori begins working at a bookstore with a mysterious owner who never shows his face. This stranger also lets him live there and pays for his necessities. Living at a bookstore with only a few customers leaves Tamamori tons of time to work on writing.

Suddenly, a series of suicides and mysterious deaths begin. Tamamori's best friend dies–and no one knows why.

Tamamori notices that the same three rainy days are repeating over and over. Yes, he can time travel–but only three days into the past.
What is real and what is an illusion?
A pop-occult Taisho BL mystery is waiting for you. (From the game's homepage)


Information

Hashihime of the Old Book Town x Akihabara Nagomido

Running: June 17 – July 3, 18:00

Hours: 12:00-21:00 (Last order at 20:30)
Venue: Akihabara Nagomido

Address: Sakai Suehiro Building B1F (6-14-2, Sotokanda, Chiyoda-ku, Tokyo)

Online Store: https://akiba753do.theshop.jp/ (Orders now open)

Official Site: https://www.nagomi-cafe.com/

CulZone in Akihabara Begins Limited-Time Anime T-Shirt Festival

CulZone, inside ACZ and operated by Ichigo Animation, has expanded and reopened! To commemorate, the Anime T-Shirt Festival will be running from June 17 until July 10. Dozens of shirts will be on sale featuring both new and old anime titles. 

Lineup

©Negi Haruba, Kodansha /The Quintessential Quintuplets ∬ Production Team ®KODANSHA

 

©Koyoharu Gotouge / Shueisha・Aniplex・ufotable

©2016 Natsume Akatsuki, Kurone Mishima / KADOKAWA / Konosuba Production Committee

 

©BANDAI NAMCO Entertainment Inc.

©Tappei Nagatsuki, KADOKAWA / Re: Zero Production Committee

©Sotsu / Sunrise

 

©1995 Masamune Shirow / Kodansha, Bandai Visual, MANGA ENTERTAINMENT



Character shirts and logo shirts will be available and every fan will find something perfect! Items will be changed regularly throughout the event, so be sure to stop by and find something perfect for your summer wardrobe.

Information

Anime T-Shirt Festival
Running: June 17 – July 10, 2022
Venue: AKIBA Cultures ZONE 4F 'CulZone'

Official Site: https://www.ichigo.gr.jp/

Ryusenji Temple Offering Gorgeous Paper-Cut Summer Goshuin Shrine Seals with a Wish for Peace

Ryusenji Temple in Saitama is offering some exclusive summer goshuin! Goshuin are stamps or seals given to worshippers at shrines and temples around Japan, where somebody will stamp your goshuin-cho (stamp book) with the site's unique seal along with the temple's name and the day you visited handwritten in ink.

The two new goshuin feature summer fireworks and a cooling fan design. These will be available from June 1 until August. They might sell out, though, so be quick!

Summer Exclusive Paper-Cut Overlaid Goshuin: Fireworks and a Wish for Peace


The Fireworks and a Wish for Peace goshuin use five kinds of paper to depict fireworks in the summer night sky.


Fireworks are a popular summer tradition in Japan. It's said that fireworks were born following the discovery of gunpowder and its use in guns when some decided to use the substance to make something beautiful rather than use it as a weapon. 


Because of this, many see fireworks as a symbol of peace. The current war between Russia and Ukraine has seen gunpowder used as a horrific weapon used to end the lives of many innocent people, and this special goshuin was made in the hopes that the war will come to an end as soon as possible. Gunpowder should be used in fireworks to bring people happiness instead.

Summer Exclusive Paper-Cut Overlaid Goshuin: Refreshing Good Luck Charm

The Refreshing Good Luck Charm shows a traditional Japanese summer scene with a fan and goldfish swimming in clear blue water.

Fans are used by many Japanese to keep cool during the summer months, and some are even said to have the power to ward off illness and evil spirits. Goldfish are often seen during summer festivals, where visitors try to scoop them up using an easily-breakable net in a fun game with family and friends.

 

Goldfish became popular during the Edo period and were considered to be lucky creatures capable of bringing happiness into one's home and bringing financial fortune. 

If you're heading to Saitama, why not add these intricate goshuin to your book?

Hong Kong and Virtual Exhibition to Reimagine Japanese Contemporary Art, Fashion as NFTs

From April 21 until May 15, 2022, Startbahn is holding the 'Made in Japan 3.0: Defining a New Phy-gital Reality' exhibition at a pop-up venue in Hong Kong! A virtual showroom by VIRTRIX is also open for those who can't attend in person.

'Made in Japan 3.0: Defining a New Phy-gital Reality' utilizes blockchain technology and NFTs to showcase cutting-edge Japanese creativity in the worlds of fashion, art, and crafts, bringing the physical and virtual worlds together. The lineup was brought together by Startbahn, a leader in blockchain and Web3 infrastructure in Japan. Participating artists include fashion stars Tomo Koizumi and Anrealage, ceramic artist Takahiro Koga, and Yumi Kishi, known for creating digital portraits using artificial intelligence. The latter has appeared in Vogue and worked with Nike.

Participating Fashion Brands / Designers, Artists


Fashion Brands / Designers
ANREALAGE
HIRUME
Masaya Kushino
TOMO KOIZUMI
YUIMA NAKAZATO

Ceramist
B-OWND / Takahiro Koga

Artist
Yuma Kishi

SBINFT Market Artists:
Tsuki
NauGhtEd
AURORA
NY_
gamacho
galcid
Haioka
mera takeru
marimosphere

Information

Made in Japan 3.0: Defining a New Phy-gital Reality
Running: April 23 – May 15, 2022
Hours: 12:00-20:00
Venue: Shop Go1, K11 Art Mall (K11 Car Park, 18 Hanoi Rd., Tsim Sha Tsui, Hong Kong)

Virtual Showroom / Official Site: https://www.virtrix.io/startbahn/madeinjapan3.0

Felissimo Nekobu Teams Up with Akihabara Nagomido for Limited Time Cat-themed Cafe

Romantic Taisho-style cafe Akihabara Nagomido and Felissimo's Nekobe, a company that loves all things to do with cats, are teaming up for a collaboration cafe! Open until March 20, guests will be greeted at the door by an original cat illustration by Arisa Shimoda, a popular illustrator for Nekobe. Enjoy a special photo spot and a collaboration coffee shop menu complete with cat-themed dishes. Exclusive merchandise will be on sale at the goods corner and online, and 1% of all proceeds will be donated to a charity finding forever homes for cats and dogs. 

Collaboration Menu

Swordfish Tuna Steak Cutlet

Catwalk Tiramisu

Hide and Seek with Fluffy Cream! Mini Cat Parfait

Flying Fish?! Kitty Soda

Cafe Latte with Cat Design

Yoshino-chan's Anmitsu with Marshmallows

Akihabara Nagomido Limited-Edition Collaboration Merchandise

Chocolate Rusk

Sweets in Tin

Sugar Cats

Japanese-style Marshmallow

Yoshino-chan, a tortoiseshell cat wearing a lovely kimono against a backdrop of Taisho-era stained glass, was created by Arisa Shimoda, a well-known illustrator.

Which of these dishes would you order?

Information

Akihabara Nagomido x Nekobu Parlor
Running until March 20, 2022
Open 24 Hours

Food Available from 11:00 – 20:00 (Last Food Order at 19:00 / Last Drink Order at 19:30) *Seating limited to 90 minutes when busy.
Address: Akihabara Nagomido, Sakai Suehiro Building B1F (6-14-2, Sotokanda, Chiyoda-ku, Tokyo)
Official Site: https://nagomi-cafe.com/

NAKED Opens Traditional Craft Workshop in Saga Prefecture

Creative company NAKED has begun producing a collection of workshops on traditional crafts found in Saga Prefecture. Along with local creators, the event will continue through February 2022. 

NAKED, together with Saga Prefecture, started a project called the 'Saga Art Prefectural Government Project' in 2016, which focuses on promoting the night economy in Saga. From the fall of 2021 until winter 2022, visitors to Saga will be able to enjoy a night walk surrounded by lanterns and local pieces of artwork.

 

During this event, workshops led by Saga's top creators will invite visitors to create a number of unique, personalized items, from lanterns to hand lotion. Certain workshops are for both adults and children, making this a fun event for the entire family. 

Workshops

aroma*aroma Fragrance School Seminar House: Aromatherapy Soap Making for Parents and Children

Arita Porcelain Lab Painting Experience

Ogi Akari Project Bamboo Lantern Making Experience

Making Magatama at Yoshinogari Historial Park

Balloon Museum: Paper Balloon Making Experience for Parents and Children

full of flowers hyakka Flower Swag Making Experience

aroma*aroma Fragrance School Seminar House (with aroma lecture) Hand Cream Making Experience

Bubbleman Store for Adults: Saga Lotion Making Experience/ Bubbleman Store Candy Soap Making Experience for Parents and Children

Ureshino Warmth Festival Lantern Making Experience

Tokyo Revengers Daruma Now Available from Shirakawa Daruma

Shirakawa Daruma Souhonpo in Fukushima Prefecture, which has been in business since the end of the Edo period, is now selling seven Tokyo Revengers-themed daruma. These good luck items are available both at Daruma Land on the second floor of S-PAL Koriyama in Shirakawa City and at the Shirakawa Daruma online store. 

Some characters available in Daruma form are Takemichi, Mikey, and Draken. Shirakawa Daruma Souhonpo, which has been in business for 300 years, makes use of Japanese traditional techniques to form each doll by hand. These palm-sized dolls are only 45mm long and are perfect for decorating any room. 

Let these Tokyo Revengers-themed good luck charms make this the best year ever!

Biwako Hotel in Otsu, Shiga Prefecture Introduces the Hyakunin Isshu Cocktail

Biwako Hotel in Shiga Prefecture is now selling two original cocktails inspired by the Hyakunin Isshu poem anthology until March 4, 2022. Originally created in 2021, these drinks will be available at the Bel Lago Bar. 

Biwako Hotel began selling a series of Hyakunin Isshu-inspired cocktails starting in 2017 to commemorate the 1350th anniversary of the relocation of the capital to Otsu. In 2019, the location opened a 100-person sweets buffet, and in the spring and fall of 2021 the hotel offered an afternoon tea set based on the 100 famous poems. By 2021, the hotel had come up with 35 cocktails, but due to the spread of COVID-19, this was put on hold. Two of the best cocktails are now back for a limited time.

Menu

Minano-gawa
"Feel the love deepen over time, like the stream widening into a river as it descends Mount Tsukuba."

Poem 13, Retired Emperor Yozei
This poem compares the poet's ever-deepening and melancholic love to the course of the Minano River. 
This drink includes layers of colorful liqueurs. The delicate color of the border reminds guests of the complexity of love.

Osaka no Seki
"Truly, this is where travelers who go or come over parting ways–Friends or strangers–all must meet: The gate of "Meeting Hill."


Poem 10, Semimaru
This poem speaks of the Osaka Barrier, which was located on the boundary between present-day Kyoto and Omi, now known as Shiga Prefecture. 


The author, Semimaru, had a hermitage near this famed border. The mellow green color of the beverage evokes the image of a traveler passing by on a mountain road in early spring.

What is the Hyakunin Isshu? 

Those who have seen the anime series Chihayafuru will be very well acquainted with the Ogura Hyakunin Isshu, a collection of 100 famous poems in Japanese history collected from the early tenth to the early thirteenth century. These poems are said to have been selected by Fujiwara no Teika, a poet and critic of his day. In the Edo period, these poems were illustrated and became popular among the general public. Students in Japanese schools memorize many of these poems at a young age. 

Scandinavian Artist Lisa Larson Opens Preorders for JAPAN Sekku Series

Lisa Larson, a beloved Scandinavian artist, has turned two of her most popular characters from the JAPAN SERIES into Hina dolls! Introducing Ohina-kun and Ohina-sama. 

The original character Pelle was first introduced in 'Larson's Children's Series,' created between 1964 and 1980. Stina is also an original character, created as a prototype in Lisa's studio in 1957.

Lisa Larson's Vintage Prototypes

While the cheerful impression of the original works is still intact, Pelle and Stina have been transformed into traditional Japanese dolls. 

Ohina-kun and Ohina-sama

Just in time for the Doll's Festival! Larson worked with a creative kokeshi doll studio in Gunma Prefecture to design this duo, and each piece is handcrafted from local wood. These are perfect for seasonal celebrations.

Pelle-kun

This dignified young warrior shows off his magnificent helmet and how he has grown up just in time for the Dragon Boat Festival. His cat has been replaced by a Japanese war fan, and the tiger signifies a healthy and honorable life for boys. 

The Museum of Japanese Art Yamato Bunkakan Opens Japanese Ceramics Exhibition

From January 5 until February 13, 2022, the Museum of Japanese Art Yamato Bunkakan in Nara will feature a large exhibition of Japanese pottery, spanning from the Jomon period to the present day. 

Important Cultural Property – Painted Platter (Imari Ware) / Yamato Bunkakan Collection

Celadon Porcelain Vase – By Soubei Kinkouzan (Taisho Period) / Privately Owned

The exhibition will feature both potteries from the museum's collection and those held by private individuals. The history of pottery in Japan began in the Jomon period around 14,500 BCE, and this earthenware eventually evolved into Sue ware, formed on a potter's wheel. The Nara period saw the emergence of glazed ceramics. During the Momoyama period (1573-1603), the world of pottery was revitalized with the popularity of the tea ceremony. During the Edo period (1603-1868), porcelain was first successfully fired in Arita, and these pieces became popular throughout Japan. Painting on ceramics also became popular during this period, and although pottery saw less popularity after the Meiji Restoration, it has since evolved in different ways with more modern technology. 

Information

Japanese Pottery: From the Jomon Period to Today

Running: January 5 – February 13, 2022

*Closed on Mondays (Open on January 10, closed on January 11)

Hours: 10:00-17:00 (Last Entry at 16:00)

Admission:

General: ¥630 / High School, College Students: ¥420 / Elementary, Middle School Students: Free

Official Site: https://www.kintetsu-g-hd.co.jp/culture/yamato/

Actor Chafurin Performs Special Reading of 'Hoichi the Earless' at Ukiyo-e Theater from Paris'

The Kadokawa Musashino Museum in Saitama is currently holding the 360-degree experimental exhibition Ukiyo-e Theater from Paris to continuously promote Japanese culture to the world. Actor Chafurin, known for his voice work in popular anime series like Detective Conan and Chibi Maruko-chan, is the owner of 'Shurindo,' a group of popular actors devoted to storytelling with sake. The recitation group will be holding a special event at the museum on January 16, 2022, where a group of personalities will perform the classic story 'Hoichi the Earless,' a popular piece of Japanese folklore. 

Ukiyo-e from Paris Design

Starring: Chafurin, Ryota Osaka, Mutsumi Tamura, Mai Nakahara, Satoshi Tsuruoka, Kafu Ohmine (Biwa Player) 

Danny Rose Studio has helped create a giant video space for the new exhibition, combining the old and the new. The Dreamed Japan – Images of the Floating World exhibition has been experienced by over 2 million people in France, and was brought back to Japan with enhancements in October 2021. Twelve unique works of art are dynamically projected on a massive space, transporting visitors into an entirely new world based on ukiyo-e pieces. 

This performance will be a special one-time event bringing together a selection of famous actors and a traditional biwa player. Hoichi the Earless tells the tale of an extremely skilled blind biwa player and his experiences with the samurai and a terrifying ghostly retainer. 

After the show, guests can enjoy the afterparty in which visitors and the performers can mingle and have a cocktail. More details will be announced on social media soon!

Participants are yet to be determined. There will be no archive of the afterparty. Those purchasing alcohol will be asked for ID. Please note that the schedule is subject to change. 

Information

Reading at Ukiyo-e in Paris Exhibition, 'Hoichi the Earless' 
Date: January 16, 2022 at 18:00 (Doors Open at 17:30)
Address: Tokorozawa Sakura Town Kadokawa Musashino Museum 1F Grand Gallery
(3-31-3 Higashitokorozawawada, Tokorozawa, Saitama)
Admission: ¥10,000 (Tax Included) 
Tickets: https://tix.kadcul.com/

Show URL: https://live.nicovideo.jp/watch/lv335023330
Archive Viewing Period: Available until April 10, 2022 at 23:59 / Watch as many times as you like during the viewing period. For more details, visit the Niconico website.
Price: ¥3,000 (Tax Included) 


Starring: Chafurin, Ryota Osaka, Mutsumi Tamura, Mai Nakahara, Satoshi Tsuruoka, Kafu Ohmine (Biwa Player) 

Shurindou Society: http://www.syurindou.com/
Ukiyo-e from Paris: https://kadcul.com/event/50
Kadokawa Musashino Museum: https://kadcul.com/
Official Site: https://kadcul.com/event/60

Lifestyle Shop KEYUCA Releases Nature-Inspired Hagi Ware for the Holidays

Lifestyle shop KEYUCA is known for its eclectic collection of original clothing, food, and home goods. On December 24, the company will release the new 'Saiun' series to its popular Hagi ware line, which will include new cups and plates perfect to use during the New Year's holiday!

[Hagi ware] Colored Cloud Cup: ¥1,650 (Tax Included)

[Hagi ware] Colored Cloud Plate: ¥2,350 (Tax Included)

KEYUCA's colorful new items remain classy while offering a different take on traditional tableware. Hagi ware is a type of Japanese pottery that originated from the town of Hagi, Yamaguchi, and these pieces usually feature natural and subdued colors. This made them popular with feudal lords, but modern audiences are looking for something a little more chic.

Simple Color Chopsticks, 5-piece Set:  ¥1,760 (Tax Included)

[Mino ware] Small Dish: ¥429 (Tax Included)

Along with these new Hagi ware pieces, a number of other items are also available at reasonable prices, such as colorful small dishes perfect for kaiseki and festive chopsticks.