BL Mystery Game Hashihime of the Old Book Town Inspires Collaboration Cafe at Akihabara Nagomido
Starting on June 17, romantic Taisho-style cafe Akihabara Nagomido began a special collaboration with the BL mystery game Hashihime of the Old Book Town. The special event will run through July 4, 2022. 
Collaboration Cafe Original Menu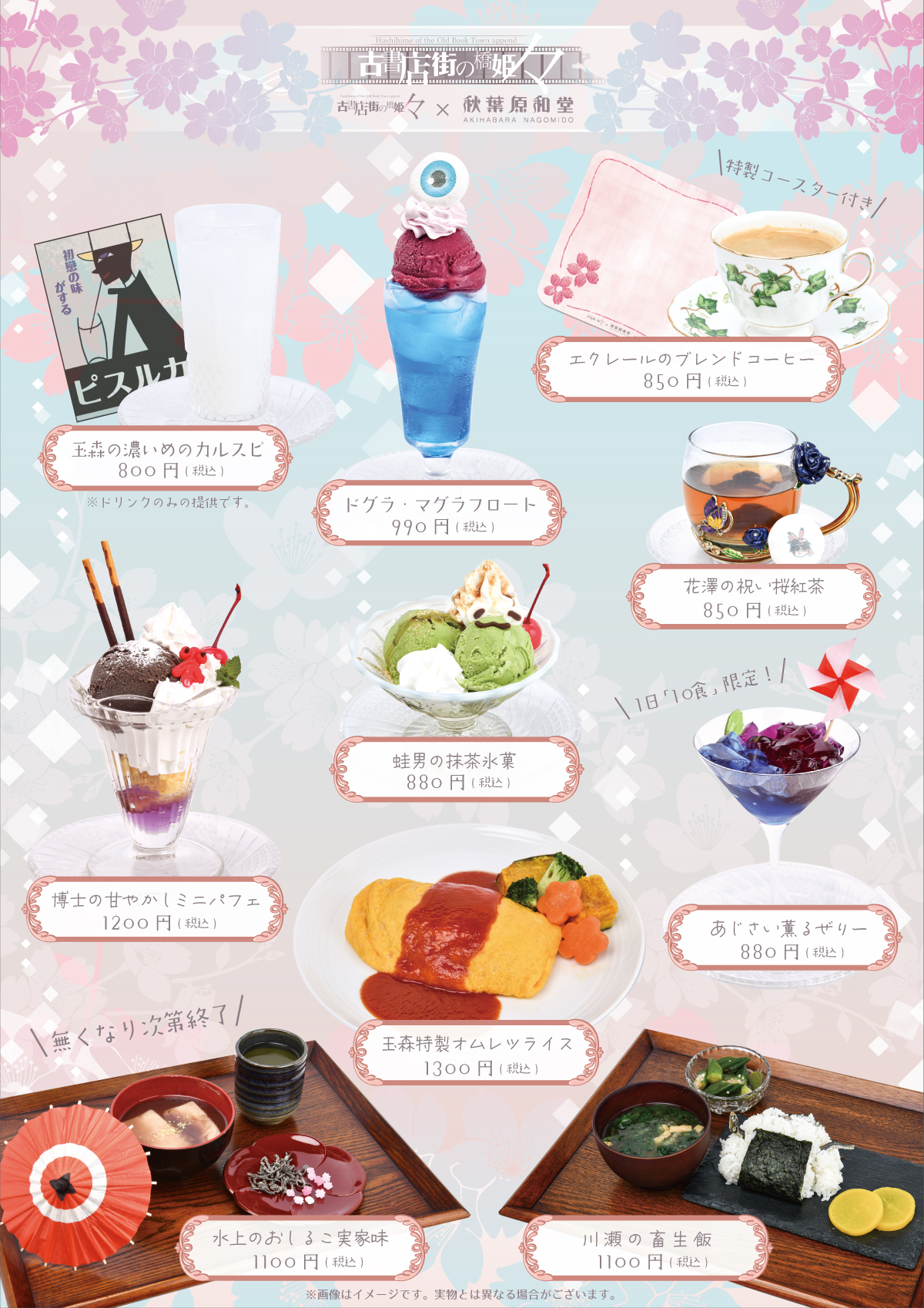 Menu Order Bonus: Bookmark
Collab Goods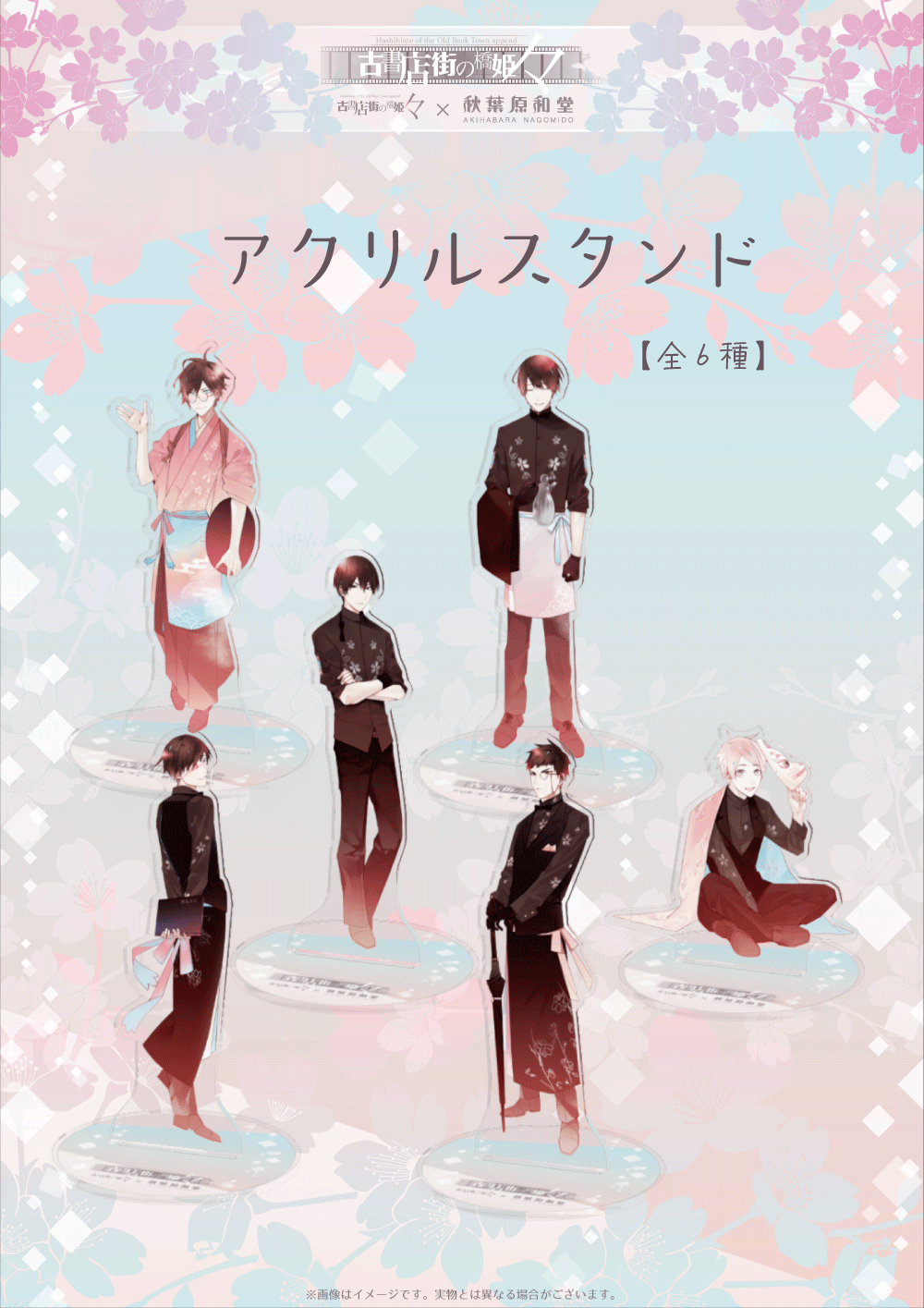 Acrylic Stand (6 varieties)
Clear Folder 
Collaboration Castella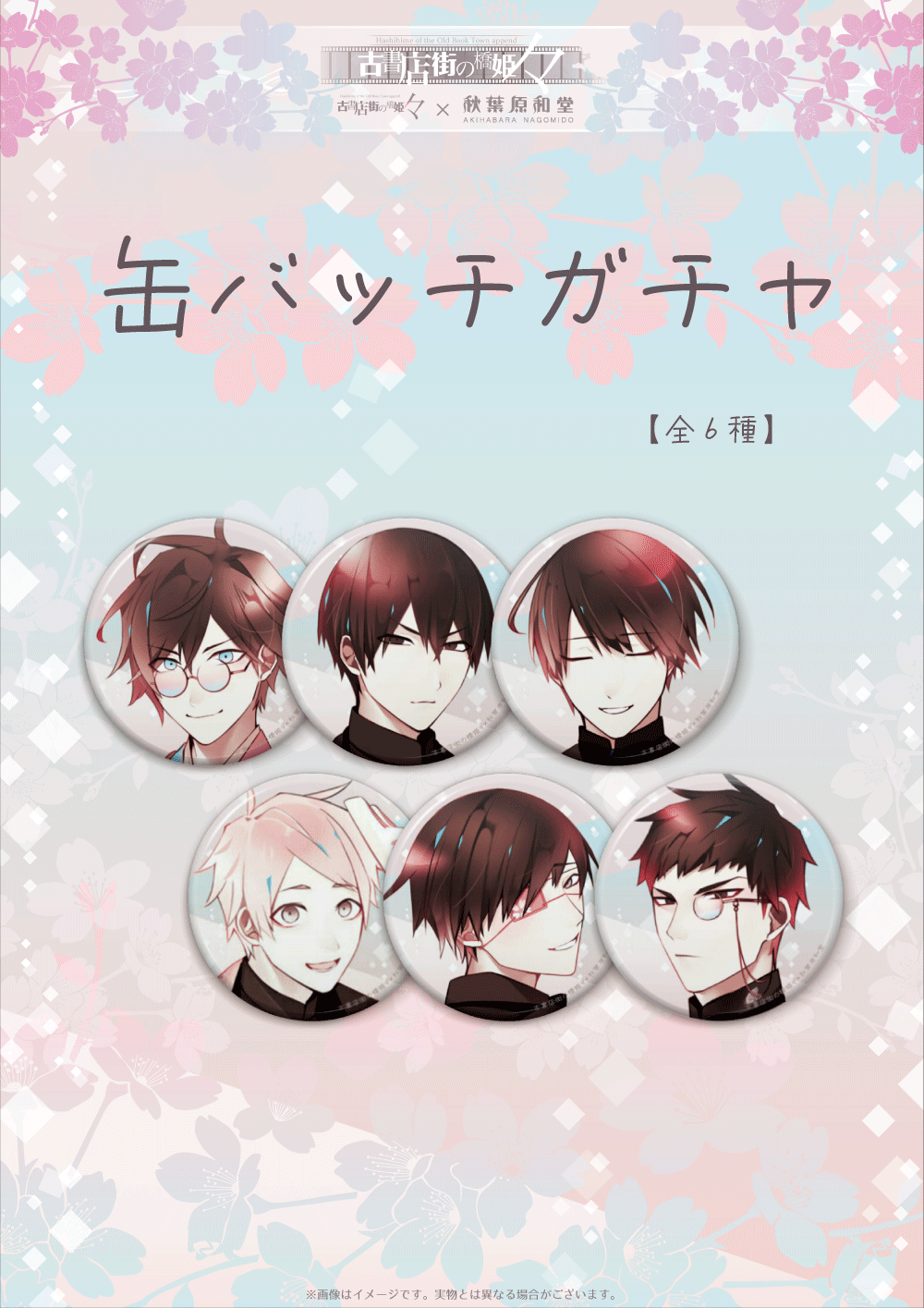 Pin Gacha (6 varieties, random)

Fortune Gacha (7 varieties, random) 
Goods Available to Order
Canvas Art (6 varieties)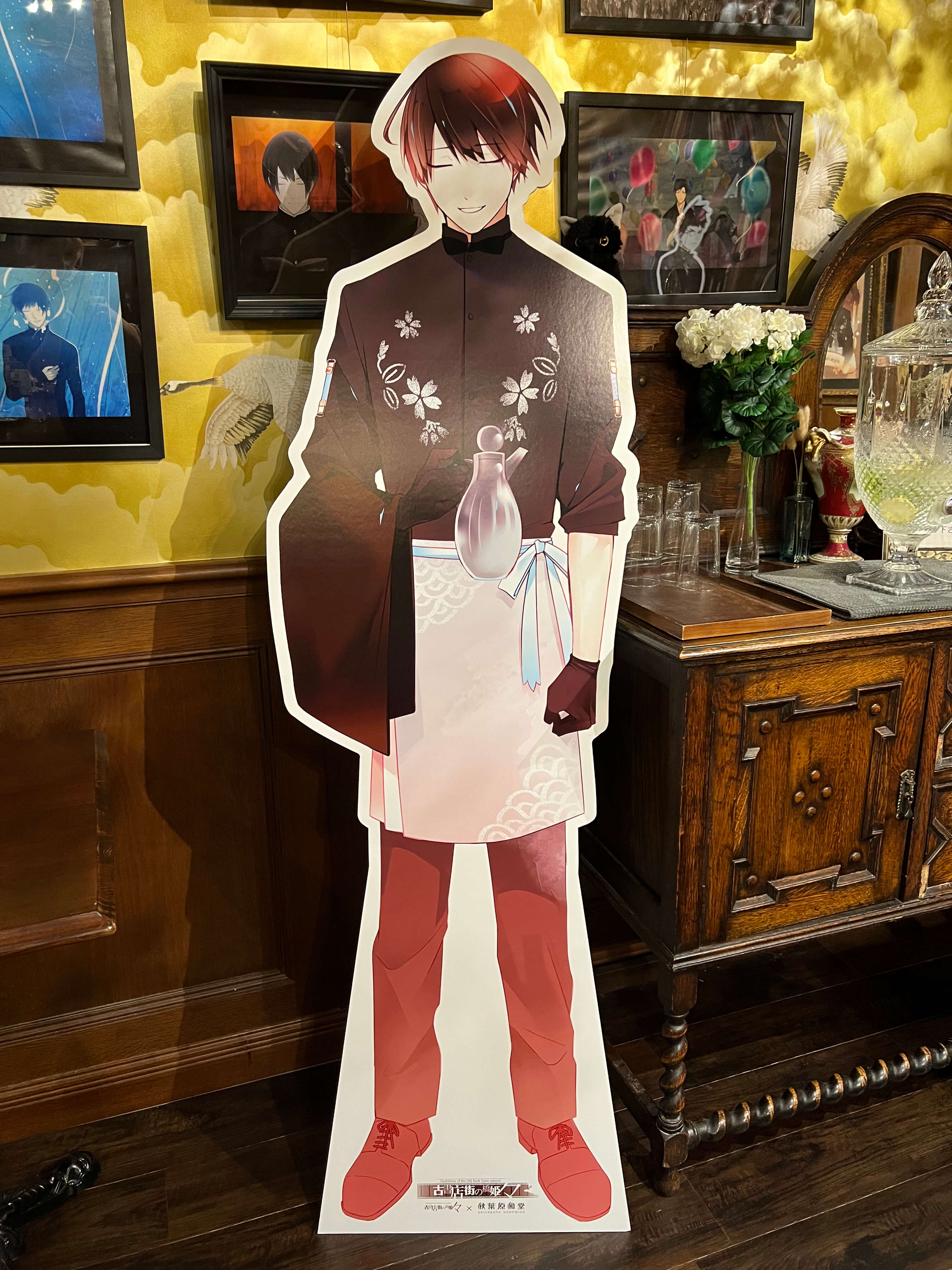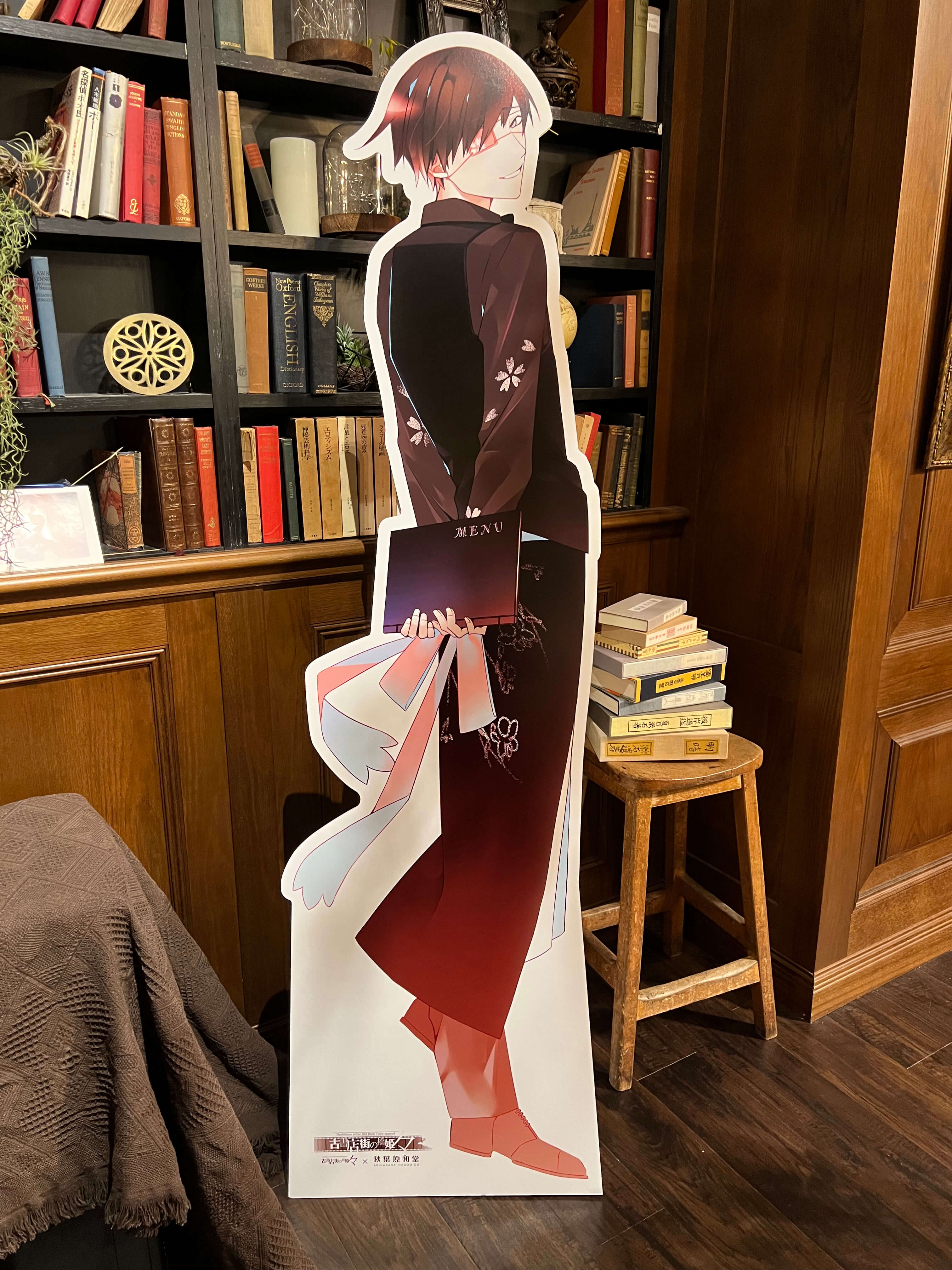 Large Panel
Goods Purchase Privilege: Original Postcard
During the event, fans of the series can enjoy dishes, desserts, and drinks inspired by the game. Special collaboration merchandise will only be available here, and special prizes can be won by playing the on-site gacha! A bookmark will be given to guests who order any original collaboration food or drink items, and an original postcard will be given to those spending at least ¥3,000 on merchandise. Those visiting between June 29 and July 4 will receive a limited-edition postcard.
Come enjoy this unique atmosphere while surrounded by your favorite characters!
What is Hashihime of the Old Book Town?
The location? Jinbocho, Tokyo, during the rainy season, 1922.
A young writer named Tamamori moves to Tokyo with the hopes of getting into a prestigious university–but he fails the exams and is kicked out of his place.
In an amazing stroke of luck, Tamamori begins working at a bookstore with a mysterious owner who never shows his face. This stranger also lets him live there and pays for his necessities. Living at a bookstore with only a few customers leaves Tamamori tons of time to work on writing.
Suddenly, a series of suicides and mysterious deaths begin. Tamamori's best friend dies–and no one knows why.
Tamamori notices that the same three rainy days are repeating over and over. Yes, he can time travel–but only three days into the past.
What is real and what is an illusion?
A pop-occult Taisho BL mystery is waiting for you. (From the game's homepage)

Information
Hashihime of the Old Book Town x Akihabara Nagomido
Running: June 17 – July 3, 18:00
Hours: 12:00-21:00 (Last order at 20:30)
Venue: Akihabara Nagomido
Address: Sakai Suehiro Building B1F (6-14-2, Sotokanda, Chiyoda-ku, Tokyo)
Online Store: https://akiba753do.theshop.jp/ (Orders now open)
Official Site: https://www.nagomi-cafe.com/
RELATED ENTRIES
CulZone in Akihabara Begins Limited-Time Anime T-Shirt Festival

CulZone, inside ACZ and operated by Ichigo Animation, has expanded and reopened! To commemorate, the Anime T-Shirt Festival will be running from June 17 until July 10. Dozens of shirts will be on sale featuring both new and old anime titles. 

Lineup

©Negi Haruba, Kodansha /The Quintessential Quintuplets ∬ Production Team ®KODANSHA

 

©Koyoharu Gotouge / Shueisha・Aniplex・ufotable

©2016 Natsume Akatsuki, Kurone Mishima / KADOKAWA / Konosuba Production Committee

 

©BANDAI NAMCO Entertainment Inc.

©Tappei Nagatsuki, KADOKAWA / Re: Zero Production Committee

©Sotsu / Sunrise

 

©1995 Masamune Shirow / Kodansha, Bandai Visual, MANGA ENTERTAINMENT



Character shirts and logo shirts will be available and every fan will find something perfect! Items will be changed regularly throughout the event, so be sure to stop by and find something perfect for your summer wardrobe.

Information

Anime T-Shirt Festival
Running: June 17 – July 10, 2022
Venue: AKIBA Cultures ZONE 4F 'CulZone'

Official Site: https://www.ichigo.gr.jp/

Experience Japanese Culture from Anywhere with Kanda Myojin Shrine's Virtual Space

Kanda Myojin Shrine dates back over 1,270 years, making it one of the most well-known religious sites in Tokyo. Dai Nippon Printing is now making it possible for interested visitors to experience the site from anywhere in the world, unveiling the Kanda Myojin CG Space this week. Developed with approval from the shrine, the virtual space faithfully reproduces the structure and design of the location using 3D laser measurement technology and CG techniques developed by DNP over many years. The space will be open online to all audiences.

 

A portion of the work from the Masayuki Kojo 10th Anniversary Exhibition currently behind held on-site at Kanda Myojin from June 4 until July 10 will also be available to view in the CG space. The space will also be linked to 'Virtual Akihabara,' developed by DNP in conjunction with the AKIBA Tourism Council. Using XR (Extended Reality), the company hopes to develop a wide variety of new communication styles.

The Kanda Myojin CG Space was created by using DNP's laser measurement technology to recreate three-dimensional objects. By using high-definition photography and photogrammetry technology, images of objects are taken from many angles, creating a realistic 3DCG space to explore. The structure of the shrine, which was rebuilt in 1934 after being damaged in the Great Kanto Earthquake, has been faithfully reproduced in every way.

In conjunction with events held at the Kanda Myojin Museum, the Kanda Myojin CG Space will make the history of Kanda Myojin and its collection of materials, including rare ukiyo-e prints, available online for anyone to access. Through these exhibits, people both in Japan and abroad can experience Edo culture through their web browsers!

Felissimo Nekobu Teams Up with Akihabara Nagomido for Limited Time Cat-themed Cafe

Romantic Taisho-style cafe Akihabara Nagomido and Felissimo's Nekobe, a company that loves all things to do with cats, are teaming up for a collaboration cafe! Open until March 20, guests will be greeted at the door by an original cat illustration by Arisa Shimoda, a popular illustrator for Nekobe. Enjoy a special photo spot and a collaboration coffee shop menu complete with cat-themed dishes. Exclusive merchandise will be on sale at the goods corner and online, and 1% of all proceeds will be donated to a charity finding forever homes for cats and dogs. 

Collaboration Menu

Swordfish Tuna Steak Cutlet

Catwalk Tiramisu

Hide and Seek with Fluffy Cream! Mini Cat Parfait

Flying Fish?! Kitty Soda

Cafe Latte with Cat Design

Yoshino-chan's Anmitsu with Marshmallows

Akihabara Nagomido Limited-Edition Collaboration Merchandise

Chocolate Rusk

Sweets in Tin

Sugar Cats

Japanese-style Marshmallow

Yoshino-chan, a tortoiseshell cat wearing a lovely kimono against a backdrop of Taisho-era stained glass, was created by Arisa Shimoda, a well-known illustrator.

Which of these dishes would you order?

Information

Akihabara Nagomido x Nekobu Parlor
Running until March 20, 2022
Open 24 Hours

Food Available from 11:00 – 20:00 (Last Food Order at 19:00 / Last Drink Order at 19:30) *Seating limited to 90 minutes when busy.
Address: Akihabara Nagomido, Sakai Suehiro Building B1F (6-14-2, Sotokanda, Chiyoda-ku, Tokyo)
Official Site: https://nagomi-cafe.com/

Akihabara Maid Cafe Idol Group Maidin! to Release Major Debut Single

One of the most popular maid cafes in Akihabara, @home cafe is celebrating 17 successful years. With eight stores in both Tokyo and Osaka, a collection of maids have come together to form a new idol group, Maidin! The girls have announced that they will make their major music debut under the Purple One Star label on December 22, 2021. 

First Edition

Regular Edition

Archived Livestream

Maidin! Debut Single – Kimi to Hareruya!




The group's first track Kimi to Hareruya is available on streaming platforms now, and the girls announced their major debut during a live stream on October 23. They also let fans know that the CD will include three songs, and a huge 51-day release event will also be taking place!

Kimi to Hareruya is a bright and cheerful song, and the music video features the members dancing in their maid outfits while showing off their skills. The First Edition single will include a Blu-ray featuring the making-of video for the music video, as well as one random trading card (17 varieties) featuring one of the members. 

Snow White with the Red Hair Celebrates 15th Anniversary with Akihabara Cafe

The popular manga series Snow White with the Red Hair is celebrating 15 years with its first-ever collaboration cafe, opening October 22, 2021. The series began serialization in 2006 and has sold over 5.4 million copies to date, also inspiring a two-season anime series released in 2015 and 2016. 

Reservations will be open on October 8 at 19:00, and visitors can expect a fully-themed menu and a number of original items only available at the cafe during the event period!

Cafe Bonuses

For each food or dessert order, guests will receive a random original postcard (3 varieties) 

15th Anniversary Snow White with the Red Hair Collaboration Cafe Original Postcard

15th Anniversary Snow White with the Red Hair Collaboration Cafe Original Postcard

15th Anniversary Snow White with the Red Hair Collaboration Cafe Original Postcard

For each drink order, guests will receive a random original coaster (5 varieties) 

15th Anniversary Snow White with the Red Hair Collaboration Cafe Original Coasters

*All bonuses will be given at random. 

*Available while supplies last. 

Menu at a Glance

Fancy Briouat: ¥650 (Tax Included) 

Meat Dumplings and Mochi Soup from Lilias: ¥1,000 (Tax Included) 

Shirayuki's Special Quiche: ¥1,000 (Tax Included) 

Lilias-style Grilled Tomatoes on Bread: ¥1,100 (Tax Included) 

Crepes from Lilias: ¥1,000 (Tax Included) 

Apple Parfait:  ¥1,000 (Tax Included) 

Delicious-looking Sweets from Lata: ¥850 (Tax Included) 

Snow White's Apple Pie: ¥1,000 (Tax Included) 

Original Merchandise

Clear Folders, Set of 2: ¥880 (Tax Included) 

Framed Magnets (5 varieties): ¥880 (Tax Included) 

Character Board: ¥6,600 (Tax Included) 

Acrylic Diorama: ¥4,400 (Tax Included) 

Postcard Set: ¥2,640 (Tax Included) 

Tapestry: ¥3,300 (Tax Included) 

Premium Art Reproductions (10 varieties): 24,200 each (Tax Included) 

©あきづき空太/白泉社

Information

15th Anniversary Snow White with the Red Hair Collaboration Cafe

Running: October 22 – December 28, 2021

First Run: October 22 – November 24, 2021

Second Run: November 25 – December 28, 2021

Address: Hakusensha Cafe, B1F (1-4-1, Kanda Awaji-cho, Chiyoda-ku, Tokyo)

Reservations for First Run Open on October 8, 2021, at 19:00. 

Where to Reserve: https://app.collabocafe.tokyo/tabs/cafe/detail/63d9d007-08d2-4311-a016-61048dd8d14f

*If open seats are available, guests without a reservation will be seated on a first-come, first-served basis.

Official Twitter: https://twitter.com/hakusensha_cafe

Official Site: https://clarines-kingdom.hakusensha-cafe.com/

Cafe Opens to Celebrate 10th Anniversary of Hatsune Miku's Song 'Senbonzakura'

Manga cafe Akihabara Nagomido will hold a limited-time collaboration cafe to celebrate the 10th anniversary of Vocaloid Hatsune Miku's popular song Senbonzakura! The event will run from September 30 until November 7, 2021. 

Menu at a Glance

Drinks (with coaster and muddler) *Muddler can be taken home. 

Senbonzakura Rice Curry: ¥1,390 (Tax Included) 

Full-Bloom Sakura Parfait: ¥1,390 (Tax Included) 

Collaboration Cafe Limited Gacha Goods

Limited-edition Pins (8 varieties): ¥400 per spin (Tax Included) 





Gacha Lottery Prize: B2 Poster

Goods

Senbonzakura Mug: ¥1,500 (Tax Included) 

Senbonzakura Bag: ¥1,500 (Tax Included) 

Senbonzakura B2 Tapestry: ¥3,000 (Tax Included) 

 

Senbonzakura Acrylic Stand: ¥1,900 (Tax Included) 

Senbonzakura Light-Up Acrylic Stand: ¥2,500 (Tax Included) 

Senbonzakura x Akihabara Nagomido Castella (Plain): ¥1,000 (Tax Included)

Senbonzakura x Akihabara Nagomido Castella (Cherry Blossom): ¥1,000 (Tax Included) 

Kurousa-P Acrylic Keychain: ¥700 (Tax Included) 

Kurousa-P Acrylic Stand: ¥800 (Tax Included)

Lacquered Chopsticks: ¥3,300 (Tax Included) 

Lacquered Bookmark: ¥770 (Tax Included) 

WAKUPITA Mask (2 varieties, Miku Crest & Butterfly and Sakura): ¥1,000 each (Tax Included)

Guests can enjoy various cherry blossom displays throughout the event space, so be sure to stop by if you're in the area!

Kuroko's Basketball Pop-Up Shop in Akihabara to Features New Illustrations

BANDAI NAMCO Amusement is hosting a character pop-up store for anime 'Kuroko's Basketball,' featuring new illustrations of the characters dressed in trad style. The shop will be open from September 16 2021 at the Atre Akihabara Store, stocking original goods using the new artwork.

Kuroko's Basketball Acrylic Stand trad style ver. (7 types): ¥1,980 each (Tax Incl.)

Kuroko's Basketball Can Badge trad style ver. (7 types): ¥540 each (Tax Incl.)

Kuroko's Basketball A4 Acrylic File trad style ver.: ¥550 (Tax Incl.)

Kuroko's Basketball Cloth Poster trad style ver.: ¥1,800 (Tax Incl.)

Kuroko's Basketball Spoon trad style ver. (7 types): ¥1,200 each (Tax Incl.)

Kuroko's Basketball Fork trad style ver. (7 types): ¥1,200 each (Tax Incl.)

Kuroko's Basketball Acrylic Board trad style ver. (7 types): ¥530 per lottery ticket, A Prize

Kuroko's Basketball Jacket Style Acrylic Keychain trad style ver. (7 types): ¥530 per lottery ticket, B Prize

Kuroko's Basketball Can Badge trad style ver. (7 types): ¥530 per lottery ticket, C Prize

Kuroko's Basketball Die-cut Illustration Sheet trad style ver. (7 types): ¥530 per lottery ticket, D Prize (random)

Be sure to check out this limited shop to immerse yourself in the world of Kuroko's Basketball!

©Fujimaki Tadatoshi / Shueisha, Kuroko's Basketball Production Committee 

SEGA Taiyaki Ikebukuro, Akihabara Stores Reveal Second Collaboration with Chiikawa

GENDA SEGA Entertainment's SEGA Taiyaki Ikebukuro and Akihabara stores have announced a second Chiikawa collaboration, the 'ChiiKawayaki' Taiyaki.  The series will feature a Bunny and ChiiKawa design, in addition to the reversible Tuxedo design from the first collaboration. Customers who purchase any of the 'ChiiKawayaki' products will receive a free collaboration badge! (※Random design)

 

ChiiKawayaki

Front: Bunny

Back: ChiiKawa

ChiiKawayaki: Premium Cream or Chocolate:¥600 each (Tax Incl.)

※Shown images are samples.

Novelties

Original Can Badge 2nd Series: 6 Designs (Random)

※Limited in quantity.

※Shown images are samples and may differ from the final product.

ChiiKawa is a popular manga that is serialized on Twitter by illustrator NAGANO. The comic depicts the daily life of the ChiiKawa's and has become known for its soft artwork, heartwarming story, and occasionally, some contrasting darkness.

SEGA Taiyaki stocks popular food products from the Taiyaki brand Yokohama Kuriko-An, which has 31 stores throughout the Kanto region. They also collaborate with games and characters to produce Collaboration Taiyaki.

The second ChiiKawayaki collaboration will satisfy both your eyes and your stomach!

©nagano

Miss Kobayashi's Dragon Maid to Collaborate with At Home Maid Cafe

Maid cafe At Home in Akihabara is collaborating with Kyoto Animation's new anime series Miss Kobayashi's Dragon Maid S for a limited-time crossover cafe starting September 1. Original menu items and special merch will be on sale during this month-long period.

Food Menu

I love you, Miss Kobayashi! Tohru's Omurice: ¥1,400 (Tax Included)

 

Let's play together! Mogu Mogu Lunch: ¥1,200 (Tax Included)


Eat while you game! Jet-black Sweet Curry: ¥1,200 (Tax Included)

The more we fight, the closer we get? Let's have seconds Parfait: ¥1,100 (Tax Included)

 

Magic power up?! Secret Apple Pie: ¥1,100 (Tax Included)

 

Classic Candies a la mode: ¥1,100 (Tax Included)

Special Drinks: Tohru/Kanna/Elma/Lucoa/Ilulu: ¥800 each (Tax Included)

Bonuses

Original Placemat

Coasters

 

Shop Decorations

Entrance Tapesty

Interior Tapestries

Original Collaboration Uniforms

Miss Kobayashi's Dragon Maid S Uniform (Tohru Color)

Kanna and Elma Color Uniforms

Special Merchandise

First Release: September 1, 2021

B2-size Tapestry: ¥5,500 (Tax Included)

 

Luggage Tag: ¥1,430 (Tax Included)

Second Release: September 18, 2021

 

Tote Bag: ¥4,400 (Tax Included)

At Home Cafe, celebrating its 17th anniversary this month, has been collaborating with a number of characters and properties. Kyoto Animation's Miss Kobayashi's Dragon Maid S began airing in July, and has amassed legions of fans both in Japan and abroad with its collection of adorable characters and hilarious universe.

For this new maid cafe collaboration, Kyoto Animation provided new illustrations of the show's five main characters: Tohru, Kanna, Elma, Lucoa, and Ilulu. World-famous designer Keita Maruyama designed the staff's new uniforms, inspired by the characters!

Customers who order a special food and drink set during the event period will get a limited-edition placemat. Those who order a character's drink will receive a coaster featuring that character's face. The shop will feature various tapestries and visuals from Miss Kobayashi's Dragon Maid S throughout the space.

All goods will be sold at the At Home Cafe Shop Akihabara and the At Home Web Shop. Maids at the cafe will wear one of three special uniforms each day–Tohru, Kanna, and Elma–so guests will want to come back to see them all!

(C)Coolkyousinnjya・Futabasha/Dragon Maid Production Committee

Information

At Home Cafe x Miss Kobayashi's Dragon Maid S

Running: September 1 – September 30, 2021

Location: At Home Cafe Main Store (7F)

Address: 7F Mitsuwa Building, 1-11-4 Sotokanda, Chiyoda-ku, Tokyo

Hours:

Weekdays 11:00 – 22:00

Weekends: 10:00 – 22:00 (Last orders at 21:20)

*Hours of operation are subject to change. Please check the official website for details.

Hololive x Atre Akihabara Merchandise Collection Revealed

Virtual YouTuber talent agency Hololive Production is set to release a new exclusive collection at Atre Akihabara in Tokyo on August 1.

The Line-Up

Acrylic Panel / B2 Tapestries / Acrylic Chibi Figures

Big Silhouette T-Shirts / Holostars T-Shirt / Key Visual Graphic T-Shirt

Key Visual Acrylic Panel

Chibi Character Illustration Acrylic Figures

B2 Tapestries

hololy Photo Contest

Hololive fans can get their hands on merchandise of all their favourite VTubers with this collection that will be sold exclusively at Atre Akihabara. To promote the collection, giant poster will be plastered up outside and around Atre Akihabara, with a giant one at the north entrance 3D illustrations at the south entrance. And for every ¥500 spent in a single transaction on the items, fans will receive a free character card.

Information

Hololive Summer Festival x Atre Akihabara

Running: August 1, 2021 – August 15, 2021
Locations: Atre Akihabara 1 (1-17-6 Soto-Kanda, Chiyoda-ku, Tokyo) / Atre Akihabara 2 (1-9 Kanda Hanaokucho, Chiyoda-ku, Tokyo)

Book Slot: http://hololive-summerfes.com/

Touken Ranbu -ONLINE- Themed Cafes Open in Akihabara and Osaka Nipponbashi

Two branches of Animate Cafe, Good Smile x Animate Cafe Akihabara and Good Smile x Animate Cafe Osaka Nipponbashi, are collaborating with Touken Ranbu -ONLINE- from June 23 to August 2, serving up food, drinks, and desserts inspired by the game as well as selling exclusive merchandise.

The Menu

Utage no Maku no Nai Bento | ¥1,100 (Tax Included)

Kasyuu Kiyomitsu's Stylish Tomato Stew w/Focaccia | ¥1,100 (Tax Included)

Kasen Kanesada's Elegant Sea Bream Chazuke | ¥1,100 (Tax Included)

Honmaru Elegance ~Everyday Garden~ | ¥900 (Tax Included)

Honmaru Elegance ~Spring Garden~ | ¥900 (Tax Included)

I Discovered a New Sword! | ¥800 (Tax Included)

Kebiishi Subjugation | ¥650 (Tax Included)

Special Investigation: Tenpou Edo | ¥650 (Tax Included) | Suishinshi Masahide & Kyomaro Minamoto Versions

Fully Bloomed Cherry Blossoms ~Touken Ranbu~ | ¥650 (Tax Included)

Special Investigation Jurakudai | ¥650 (Tax Included)

Freebies for ordering from the menu

Coasters (42 Designs) | Available: June 23-July 13

Coasters (43 Designs) | Available: July 14-August 2

Exclusive merchandise

Acrylic Keyrings (42 Designs) | ¥700 Each (Tax Included)

Pins (42 Designs) | ¥700 Each (Tax Included)

Acrylic Stand Keyrings (43 Designs) | ¥700 Each (Tax Included)

Pins (43 Designs) | ¥700 Each (Tax Included)

©2015 EXNOA LLC/Nitroplus

Character Chiikawa themed pop-up store at JR Akihabara station opens

The Chiikawa pop-up store, a pop-up store themed on the Japanese character Chiikawa, literally means 'something small and cute', illustrated by Nagano opens until June 21 at Japan Rail Akihabara Station Denki-Gaiguchi ticket gate.

Chiikawa POP UP STORE exclusive goods

New products 

Purchase benefit

Chiikawa manga has been serialised from 2020 on Twitter that depicts the casual everyday life of Chikawa and others. The gap between heartwarming story and adorable drawing style with occasional depiction of fear and severe reality of life is popular.

The store line-ups a selection of Chiikawa themed merchandise goods such as porch, plush doll, tableware and more. Don't miss out a wide variety of exclusive products that makes your daily life more enjoyable.  Available for purchase at official Chiikawa online store Chiikawa Market. 

©️nagano