Hololive Meet to Bring Popular VTubers to Anime Expo 2022 in Los Angeles
Massively popular VTubers from Hololive Productions will appear at Anime Expo 2022 in Los Angeles from July 1 until July 4, 2022. The contention is one of the largest anime events in North America.
Fans will be able to purchase exclusive merchandise featuring the Hololive Meet ambassadors: Gawr Gura, Tokino Sora, and Ayunda Risu. The three represent Hololive English, Hololive, and Hololive Indonesia, respectively. Everything from shirts to wall scrolls will be on sale, so if you're in the LA area, be sure to come out and support your favorite streamer!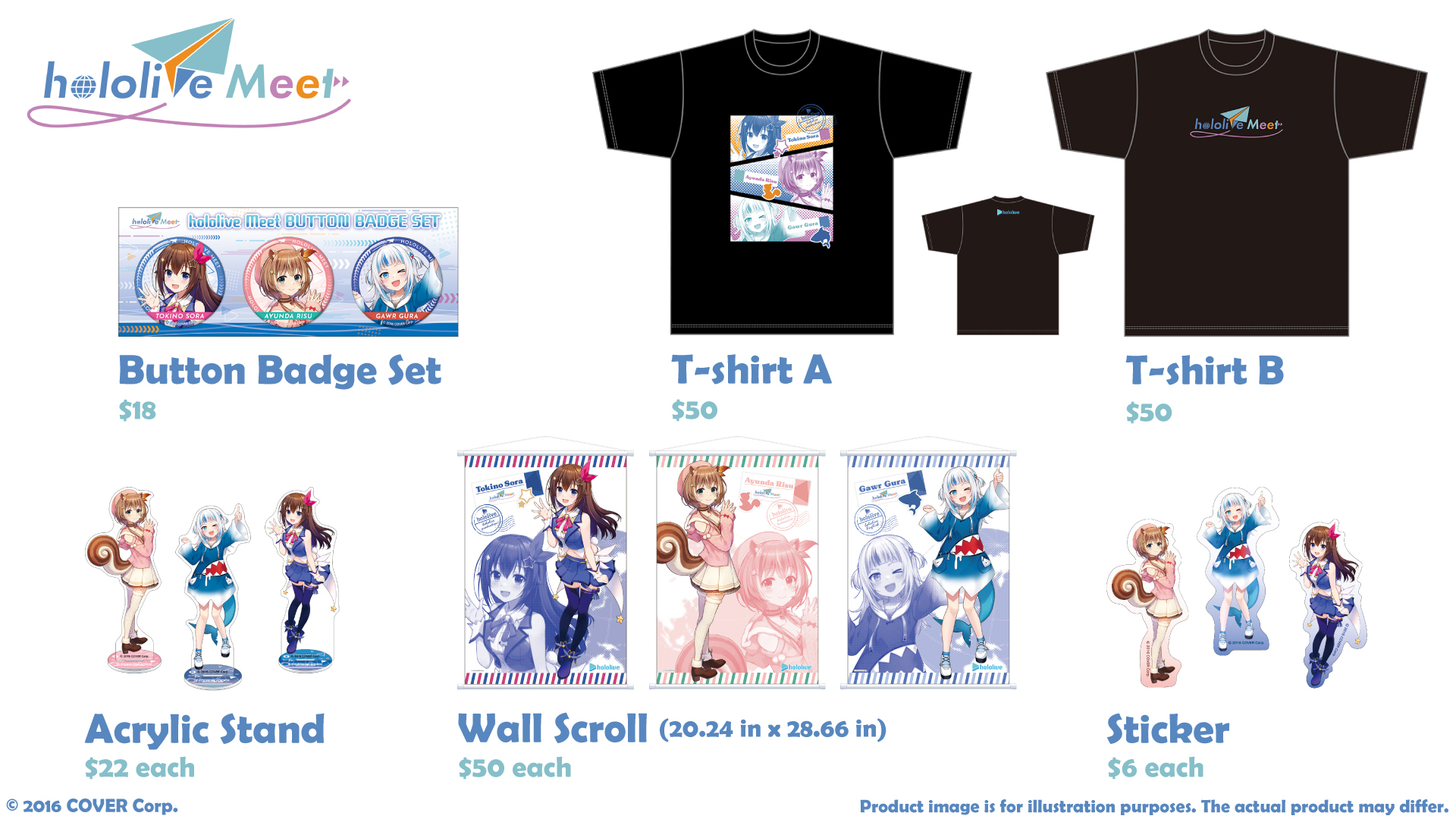 Information
Anime Expo 2022
Booth Number: Exhibit Hall #4606
Dates: July 1 – July 4, 2022
Hours: 10:00-18:00 (Closing at 15:00 on July 4)
Location: Los Angeles Convention Center
Official Site: https://www.anime-expo.org/
RELATED ENTRIES
'My Master Has No Tail' Anime Series Reveals Second Key Visual

A new visual for the upcoming anime series My Master Has No Tail has been revealed! The image features Mameda, the main character, as well as Bunko Daikokutei, Byakudanji Tsubaki, Enshi Kirino, Utaroku Ebisuya, Shirara Tsubaki, and Buncho Daikokutei.

The visual has a retro feel, fitting for the series. The story follows Mameda, a tanuki born in the wrong era. A rakugo master decides to make Mameda his apprentice. 

The series will begin airing on September 30, 2022, and more information will be released in the coming weeks.

2nd Trailer

My Master Has No Tail began as a manga series in 2019. Written and illustrated by TNSK, it's serialized in Kodansha's seinen magazine good! Afternoon. The anime will be directed by Hideyo Yamamoto, known for his work on Cells at Work and Strike the Blood.

ⒸTNSK・講談社/春来亭活動写真部

 

Chained Soldier Anime Series Coming in 2023, Production Video Narrated by Yuya Hirose Released

Premiering in Shonen Jump+ in January 2019, Chained Soldier (Mato Seihei no Slave) has been a certified hit, selling over 1.5 million copies. Takahiro and Yohei Takemura's series will be getting an anime series in 2023, and more information is starting to appear regarding the highly-anticipated adaptation.

 

Yuya Hirose, the voice actor behind Yuki Wakura, is featured in a new on-site behind-the-scenes video. In it, fans can see the animation team at Seven Arcs hard at work on the series as they discuss their passion for the show and what viewers should watch out for. Give it a watch!


Chained Soldier Anime Series On-site Behind-the-Scenes Production Report


Chained Soldier is currently being serialized in Shonen Jump+. In the series, otherworldly spaces known as "demon cities" begin appearing in various parts of Japan, and those who partook in the peaches growing there gain unique abilities–but only if they're girls. One day, a down-in-the-dumps high school boy named Yuuki Wagura (Yuya Hirose) suddenly gets lost at the entrance of a demon city. There, he meets Kyoka Uzen (Akari Kito), the beautiful leader of the seven programs of the Magical Defense Corps, who orders him to become her slave. This fantasy series sees Yuuki fighting terrifying demons as a slave channeling Kyoka's abilities.



Chapter 88 of the manga series is now available on Shonen Jump+, so be sure to give it a read!

Ⓒタカヒロ・竹村洋平/集英社・魔防隊広報部

'Dark Gathering' Horror Manga Gets Anime Adaptation in 2023, Teaser Trailer and Visual Released

Kenichi Kondo's Dark Gathering manga series will get an anime adaptation in 2023! The manga is currently serialized in Shueisha's Jump SQ, and the announcement was made on Ghost Day in Japan which falls on July 26.


The series will be directed by Hiroshi Ikehata, known for his work on FLCL Progressive and Space Battleship Tiramisu. Filled with horror, it will be interesting to see what is in store for us from OLM studios, famous for the Pokemon and Beyblade Burst series.


The teaser visual shows Yayoi Hozuki standing in a dimly lit tunnel, while the teaser trailer shows the many spirits that will appear in the adaptation. The manga tells the story of Keitaro Gentoga, who has the ability to communicate with spirits. After becoming a shut-in after a difficult incident, he meets a genius girl named Yayoi Hozuki who can see Keitaro's ability. The two start on a journey to capture evil spirits.

Teaser Trailer



Keep an eye out for more details coming soon!

Ⓒ近藤憲一/集英社・ダークギャザリング製作委員会

Hololive VTubers Announce Hololive Summer Event and Comiket Appearance

The Hololive Summer event, first held in the summer of 2019, will return this year! 


A ton of new content and special panels will be shown at the 2022 event, so check the official Hololive Production Twitter account often for more information!

Hololive will also have a booth at this year's Comiket on August 13 and 14! A number of exclusive commemorative Hololive Summer 2022 goods will be on sale.

The back cover of the Comiket 100 catalog, on sale July 16, shows the official Hololive Summer 2022 key visual. Be sure to keep an eye out for more details!

Information

Comiket (Comic Market) 100

Booth Name: Hololive Production

Booth Location: Company Booths, South Hall 2, #511

Running: August 13 – 14

Hours: 10:30-16:00

Address: Tokyo Big Sight (3-11-1 Ariake, Koto-ku, Tokyo)

Tickets: https://www.comiket.co.jp/

Official Site: https://www.hololive.tv/

Trailer, Stills Released for Netflix's 'Drifting Home' Anime Film

Studio Colorido, the animation studio behind the award-winning 2018 anime film Penguin Highway and the 2020 film A Whisker Away, is getting ready to release a new movie on Netflix worldwide. 

The studio's long-awaited film Drifting Home will be available to stream on Netflix on September 16, 2022. It will also open in select theaters in Japan on the same day.

The film follows sixth-graders Kosuke and his childhood friend Natsume. One day during summer vacation, they visit an apartment building that is about to be demolished, where the two of them used to live. Suddenly, Kosuke, Natsume, and their friends find themselves overtaken by a strange phenomenon, and the whole building is suddenly surrounded by an ocean. The group must find their way home from the drifting building.

A new trailer for the film has been unveiled, along with some gorgeous new stills. 

The popular group ZUTOMAYO has been chosen to perform the film's theme song Kieteshimai Sou Desu (It Seems I'm Fading Away). 

 

The group also performs the insert song Natsugare (Summer Slump), which has already been released. The nostalgic and refreshing track is sure to bring back memories of summer. 

Trailer  

Be sure to watch the film when it appears on Netflix in September!

Information

Drifting Home

Streaming on Netflix worldwide on September 16 (In select theaters in Japan on the same day)

Official Site: https://www.hyoryu-danchi.com/

Kin no Kuni Mizu no Kuni Manga Series Inspires Anime Film Starring Kento Kaku, Minami Hamabe

Nao Iwamoto's romance fantasy manga Kin no Kuni Mizu no Kuni (Gold Country, Water Country) will receive an animated film adaptation in the spring of 2023. The manga was voted No. 1 in the female section of the 'This Manga is Amazing! 2017' guidebook and was nominated for the 10th Manga Taisho, coming in second out of 13 nominees. 

The story involves two constantly bickering neighboring countries that eventually go to war, causing God to intervene. Country A is commanded to offer its most beautiful girl as a bride, while Country B is told to send its wisest young man as a groom. While this is going on, the princess of Country A has a chance encounter with a young man from Country B. 

Actor Kento Kaku will play Naranbayar, while Minami Hamabe will play Sarah.

 

Kaku previously played Simba in the Japanese dub of The Lion King. "I was fascinated by the wonderful world of the original manga and the richness of the characters," he said in an interview. "The clumsiness and straightforwardness of Naranbayar and Sarah will surely touch the hearts of everyone who sees the film. I couldn't stop my heart from pounding during recording." 

 

Hamabe previously played Ruri Ichigyo in Hello World and Ellie Ishioka in Detective Conan: The Scarlet Bullet. "My heart was wrapped up in the warm story, and I felt as though I'd been given a share of the character's tender feelings," she said. "What cheered me up when I was stuck was the humanity of Sarah and Naranbayar, the presence of Kento Kaku, and above all, the cuteness of Lukman the dog and Odontchimeg the cat, who appeared in the film. They're so adorable that they made me squirm!"



The new 45-second trailer shows the accidental encounter between Naranbayar and Sarah. The tagline is "What we fell in together was a love that could move nations." 

The trailer is narrated by Soma Saito, a popular voice actor and singer known for his work in Idolish Seven and Hypnosis Mic. He has been an avid fan of Iwamoto's manga since his college days. 

©「金の国 水の国」製作委員会

Anime Series Bocchi the Rock! to Air in October 2022

Rock 'n roll anime series Bocchi the Rock! is scheduled to air in October 2022. 

Along with the broadcast announcement, character visuals have also been released!

The story follows Hitori Goto, a lonely high school girl who loves playing the guitar at home alone. While not very sociable, after uploading a video of her playing guitar online, she's recruited into the 'Kessoku Band' by its drummer, Nijika Ichiji. 

Teaser Trailer

 

The anime series is based on the 4-panel manga series by Aki Hamaji currently serialized in Manga Time Kirara MAX. Will you be tuning in?

©はまじあき/芳文社・アニプレックス

Information

Bocchi the Rock!

Airing October 2022

Official Site: bocchi.rocks 

Parallel World Pharmacy Ending Theme to Hit Streaming Services on July 18

Singer-songwriter Little Black Dress will begin streaming the track Haku'u on July 18, 2022. The song is being used as the ending theme for the anime series Parallel World Pharmacy. 


The lyrics were written by Little Black Dress herself, while the track was arranged and composed by Koichi Ikekubo, who wrote the music for the anime series.

 

"I was so captivated by the original work. Writing the lyrics was easy," Little Black Dress said. The song will be performed live for the first time on TBS's Music Day 2022, scheduled for an eight-hour block on July 16. Be sure to tune in to the anime series as well!

©2022 高山理図/MFブックス/「異世界薬局」製作委員会

Kuroko's Basketball 10th Anniversary Event Coming to Tokyo and Osaka This Summer

A special event is coming to Tokyo and Osaka this summer to celebrate the 10th anniversary of the Kuroko's Basketball anime series. Fans will want to visit Tokyo in July and Osaka in September.





Kuroko's Basketball is a manga series by Tadatoshi Fujimaki which was serialized in Weekly Shonen Jump until 2014 and tells the story of a high school basketball team trying to make it to the national tournament. The anime adaptation began airing in April 2012.

Kuroko's Basketball ~A Miracle One Day in the City~

Kuroko's Basketball ~ Kyoto Exhibition

Gallery Corner

Voice Guide

Admission Bonus – Invitation Card (9 varieties)

Exclusive Goods – F6 Character Board

Goods

Acrylic Stand (9 varieties)

Mini Acrylic Charms 1 (Random)

Mini Acrylic Charms 2 (Random)

Pin (9 varieties, random)

 

Purchase Bonus – Shopping Bag

 

The event will feature exhibits highlighting the history of the series and will feature a special voiceover. Exclusive merchandise will be on sale and guests will be welcomed by Kuroko and his friends at the entrance, all wearing special costumes drawn for the event.

Are you a Kuroko's Basketball fan?

© 藤巻忠俊/集英社・黒子のバスケ製作委員会
© 「黒子のバスケ」アニメ10周年プロジェクト

Information

Kuroko's Basketball 10th-Anniversary PARTY!

Tokyo Venue
Venue: Ikebukuro Sunshine City World Import Mart Bldg. 4F, Exhibition Hall A
Running: July 16 – July 31, 2022
Hours: Weekends and Holidays, 10:00-20:00
Weekdays: 12:00-20:00
*Closing at 17:00 on July 31.
*Last entry until 30 minutes prior to closing.

Osaka Venue
Venue: Hirakata Park Event Hall I
Running: September 16 – November 6, 2022
Event Details: https://kurobas-ap.com/


Tickets

On Sale: July 16, 0:00 – July 31, 16:00
Where to Buy: Loppi at Lawson / Ministop locations
Online Reservations: https://l-tike.com/event/kurobas_ap/

Aniplex Online Fest 2022 to Stream Worldwide on September 24

Aniplex Online Fest 2022 will be available to stream worldwide on September 24, 2022! This is the third such event, with the first streaming in 2020. The large-scale online festival will share the latest information on Aniplex's anime works and a number of live performances are planned. Participating artists will be announced soon, so keep an eye out for more information. 

Last year's Aniplex Online Fest featured information on 11 anime series and had a lineup of incredible musical artists, DJs, and live drawing events. The festival was streamed on YouTube worldwide in both English and Japanese for over six hours and recorded a total of 850,000 viewers.

To commemorate the upcoming event, the main visual has been revealed. The illustration was done by Kerorira, the character designer for Bocchi the Rock!


Comment from Kerorira

"It's not often I get to create an original image from scratch, so I've been given a very rare opportunity! Please enjoy it!"

Stay tuned for more Aniplex Online Fest 2022 information!

QUEENDOM Releases Music Video for Ya Boy Kongming! Opening Theme

QUEENDOM has unveiled the music video for Chikichiki Banban, the catchy opening theme for the anime series Ya Boy Kongming!

QUEENDOM is a special music unit composed of hibiki and moca from lol, Akina and Taki from FAKY, and Maria Kaneya from GENIC. Chikichiki Banban has been a smash hit, and the anime series Ya Boy Kongming becoming a hot topic over the past few months.

The anime's opening movie featuring the song has already surpassed 10 million views on YouTube, and many fans have posted videos of themselves singing and dancing along.

Chikichiki Banban – QUEENDOM MV (Opening Theme for Ya Boy Kongming!)

Many comments on YouTube and social networking sites began popping up begging QUEENDOM for a full music video, and the long-awaited release is incredibly impactful, with a loud party-like worldview that will make you want to dance.

The Special Anime MV was released prior to the QUEENDOM music video and uses footage from the series, so fans should give it a watch!

Chikichiki Banban – QUEENDOM (Special Anime MV)

Have you been watching one of the grooviest anime series of the season?

©️四葉夕卜・小川亮・講談社/「パリピ孔明」製作委員会

Golden Kamuy x Sanrio Characters Collaboration Cafe to Open in Shibuya

Characters from the popular anime series Golden Kamuy will team up with beloved Sanrio characters for a new collaboration cafe! Fans should visit Chugai Grace Cafe in Shibuya by July 18 to try some themed dishes and grab some exclusive merchandise.

Menu

Eat the Great North! Cream Stew Plate

Almond Pound Cake with Lingonberry Sauce

Matagi's Stump Birthday Cake

Monkichi the Monkey and Shiraishi's Banana Soda

Cola Float and Strange Juice

Goods

Pin – Cafe ver. (7 varieties, random)

Acrylic Stand (7 varieties)

Acrylic Frame Keychain (7 varieties)

Acrylic Block – Cafe ver.

Let's Go to the Cafe! Curry (2 varieties)

Pouch (10 varieties)

Genjirou Tanigaki Birthday Set

Collab Menu Order / Advanced Reservation Bonus Coaster (17 varieties)

Matagi's Stump Birthday Cake Order Bonus – Bromide

Goods Preorder Bonus Bromide (17 varieties)

The collaboration menu will include a tasty Almond Pound Cake with Lingonberry Sauce and Matagi's Stump Birthday Cake to celebrate Tanigaki's birthday! Don't miss out on these exclusive menu items and goods. 

©野田サトル/集英社・ゴールデンカムイ製作委員会
© 2022 SANRIO CO., LTD. TOKYO, JAPAN(L)