KAWAII LAB. Report #6: FRUITS ZIPPER's Newest Track Hits #1 on Spotify Japan's Viral Chart
FRUITS ZIPPER, a new idol group from ASOBISYSTEM, has a simple concept: "From
Harajuku to the World." Ready to transmit what they call 'NEW KAWAII' from Harajuku, an area known for fashion and individuality, to their soon-to-be global fanbase, the group
consists of seven members: Amane Tsukiashi, Suzuka Chinzei, Yui Sakurai,
Luna Nakagawa, Mana Manaka, Karen Matsumoto, and Noel Hayase.
The group's second single, Watashino Ichiban Kawaiitokoro, was released on April 29,
2022, and has been played more than 200 million times on TikTok in the two months since its release. 
Watashino Ichiban Kawaiitokoro was created to affirm all idols and the countless fans who
support them. Both popular Japanese idols and everyday girls across the country have
posted videos of themselves dancing to the song, and its positive lyrics shine through,
oozing self-confidence while also praising the listener over and over. The track reached #1 on Spotify's Viral Chart on June 28.
Today, we're sitting down with three members of FRUITS ZIPPER–Karen Matsumoto, Yui Sakurai, and Mana Manaka—to discuss the incredibly popular song Watashino Ichiban
Kawaiitokoro. 
This question is for Karen Matsumoto and Yui Sakurai–what kinds of reactions have you had from fans regarding your vocals on this track?
-Matsumoto
"A lot of people have said that some of the lyrics are really quotable. That makes me so
happy, I keep practicing singing the track as cutely as possible when I'm at home!" 
-Sakurai
"The track is called The Cutest Thing About Me, so a lot of fans will quote the song, telling me that I'm the cutest and that they "love, love, love it!" ♡♡ 
On TikTok, I've seen a lot of comments asking who sings the "love, love, love it" line, and it blows my mind that so many people would talk about my singing! It was such a huge surprise and it makes me so, so happy. 
I think that my fans are the best, but obviously, that's something I really can't say out loud…(laughs)
But through music, I can express that feeling, so I'm incredibly grateful for that. ♡ (laughs)
This was such an influential song for me, and I'm so glad that so many people loved the
title and the lyrics!" ♡
Tell us a story related to

Watashino Ichiban Kawaiitokoro

that we haven't heard yet.




Something that you haven't told fans either!
-Manaka
"When we were shooting the music video, there was a moment when the other members
were all standing behind the camera and praising me like they were taking photos of their
kids during graduation or something. They just kept saying how cute I was, I was so
embarrassed! (laughs)
Everyone was so cute that day, but they were so focused on me throughout the entire
shoot. I feel like the word 'cute' was said on set so many times that day it could have
broken a world record!" (laugh)
What exactly is "Super Karen Time?"
-Matsumoto
"I have a solo line in the song that goes "even when we can't meet up, I can't stop thinking about the expression on your face." After I sing that, I squint while I look out at the
audience, and one fan gestured to me before shouting "Super Karen Time!""
What do you want fans to really pay attention to when they're listening to the song?
-Matsumoto
"During the part that goes 'do you like going out with me,' I always make a heart with my
fingers at the fans in the middle who are watching me, so keep an eye out for that!" ♡
-Sakurai
"There are many different types of 'cute,' but this song, in particular, is the very fluffy and soft kind of cute. When I'm performing on stage, I flip a switch and go into 1000%
sugary-sweet mode! (laugh)
I'd appreciate it if the men out watching imagine that I'm being sugary-sweet just for them though!" (laugh)
-Manaka
"As a member of the group, I'm usually not the one acting too cutesy, but this music video was shot to be as cute as possible. I went all out and even wore my hair in high pigtails,
which is something I'd never done live before. I've gotten so many compliments on it, it's
actually become my favorite hairstyle now!" ♡
To conclude, tell us anything you'd like about

Watashino Ichiban Kawaiitokoro!
-Matsumoto
"I really, really love this song, and I hope you will too!!!!" ♡
-Sakurai
"I'm so glad that so many people are loving this song! So many people are listening on
TikTok, watching the music video, and subscribing to our channel…thank you so much! 
We'll do our best every day to become a group that everyone loves and to make songs that everyone enjoys!" ♡
-Manaka
"Watashino Ichiban Kawaiitokoro is a song that's packed with so much. The song, the
dance, and the music video are all filled with so much cuteness, so if you feel like you need some of that in your daily life, please listen to it as much as you can!" ❤️
Next week's KAWAII LAB report will focus on IDOLATER. 
Be sure to stay tuned for the next report on FRUITS ZIPPER!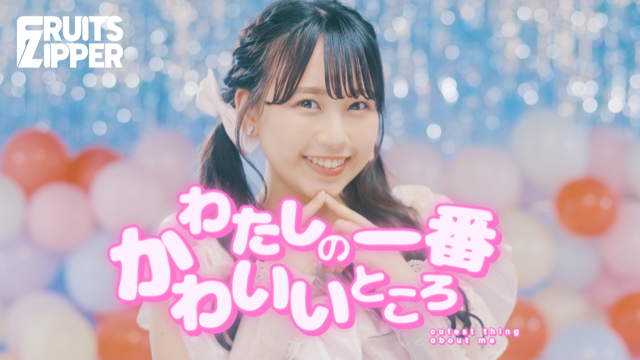 RELATED ENTRIES
KAWAII LAB. Report #9: IDOLATER's Birthday Celebrations

KAWAII LAB. is a project spearheaded by ASOBISYSTEM with the aim of introducing the
world to popular Japanese idol culture. The idol group IDOLATER was born from this idea
and the five members–Aya Okuda, Kurumi Tsukishiro, Yukino Fushiki, Ririka Satsuki, and
Fuuka Oishi–continue to take Japan and the world by storm.

 

In this report, we'll take a look at how the members celebrate their birthdays from the
staff's point of view!

 

On an idol's birthday, that member takes center stage.

Fans of birthday members are always excited for these days to roll around, as they get to
see their favorite idol featured as the star of the show.

 

Understandably, fans prepare for every birthday celebration.

Fans also help each other to make birthdays more exciting by providing flowers to decorate the venue and distributing special glowsticks to visitors to use during the live performances.


Below are some impressive pictures from Fushiki Yukino's birthday celebration on July 17,2022!

We also have some pictures from Fuuka Oishi's birthday event on July 24!

Additionally, a birthday celebration for Kurumi Tsukishiro was held on August 11.

Each event is a memorable day for the birthday girl and fans alike, as each venue is
decorated in the celebrant's member color! We'd like to give our thanks to everyone who
came to celebrate!

On August 21, Ririka Satsuki will celebrate her special day.

As you can see below, IDOLATER is filled with summer birthdays. 

IDOLATER Member's Birthdays: 

January 7 – Aya Okuda

July 17 – Fushiki Yukino

July 25 – Fuuka Oishi

August 9 – Kurumi Tsukishiro

August 17 – Ririka Satsuki

A celebration for the only winter-born member, Aya Okuda, will be held on January 7,
2023, so be sure to plan accordingly!

Next week's KAWAII LAB report will focus on FRUITS ZIPPER. 

Stay tuned for the next installment of the IDOLATER series!

KAWAII LAB. Report #8: FRUITS ZIPPER Members Discuss Their Hot New Track 'RADIO GALAXY'

FRUITS ZIPPER, a new idol group from ASOBISYSTEM, has a simple concept: "From Harajuku to the World." Ready to transmit what they call 'NEW KAWAII' from Harajuku, an area known for fashion and individuality, to their soon-to-be global fanbase, the group consists of seven members: Amane Tsukiashi, Suzuka Chinzei, Yui Sakurai, Luna Nakagawa, Mana Manaka, Karen Matsumoto, and Noel Hayase.

On July 29, FRUITS ZIPPER released their 4th single RADIO GALAXY. The music video makes full use of CG to express the group's worldview and is sure to attract attention for its immense creativity, which breaks through the borders of the idol industry. 

Today, we're sitting down with four members of FRUITS ZIPPER–Amane Tsukiashi, Suzuka Chinzei, Luna Nakagawa, and Noel Hayase–to chat about the release of RADIO GALAXY.

When you first heard RADIO GALAXY, what did you think? 

ーHayase

"I thought it really shined, and it was like every single part of the song was totally
different!! The rhythm changes and the overall atmosphere changes too, but that's
something that has become typical of FRUITS ZIPPER. Personally, I love it."

ーNakagawa

"It's an incredible song! I love songs that change the rhythm and tone throughout, so I was super happy to be able to sing this one!" 

ーChinzei
"It blew me away like no other song ever has. I could tell from the intro that it would
become our signature song." 

ーTsukiashi

"It's so fun how the tune changes throughout. I really wanted to try rapping, so I'm glad
that we could include that too!"

What have fans been saying about RADIO GALAXY? What have their impressions been?

ーHayase

"I've heard a lot of our fans say that they love this track. During our live shows, fans love to dance along and shake their penlights in tune with the rhythm while doing our moves, you know? I've heard a lot of people say that keeping up with this song will be way too difficult. (laugh)"

ーNakagawa

"I've heard a lot of different comments! People have said it sounds fresh, it sounds cool, it's satisfying…one person said that they'd never heard an idol song like it!" 

ーChinzei

"Everyone around me is a RADIO GALAXY fan. They've only seen it performed live so far, so I've heard a lot of fans say that they love the moment the curtain opens and we're doing the pose. (laugh)"

ーTsukiashi

"A lot of fans have said that it's super fun and that they don't get sick of listening to it since the tune changes so much!" 

Tell us a story about RADIO GALAXY. Maybe something that hasn't been shared yet. 

ーHayase

"When we recieved this song, one thing hadn't been decided–who was going to rap. We ended up all working together with our voice coach and we'd perform the rap part one by one like we were auditioning. We had so much fun taking turns rapping, and we ended up praising each other's specific way of doing it and what we'd each bring to the song. (laugh) Finally, Misa (Kimura) each assigned us our parts, but she also listened to our thoughts and our wishes, which was wonderful." 

ーNakagawa

"We all held an audition for the rap part since we all wanted to do it. Noel was definitely the best, so she got the part by a landslide. (laugh)" 

ーChinzei

"Right before the final chorus, there's some neat choreography (in slow motion) as a meteor flies overhead, and the other members support me as I reach up to catch it. It's like our hearts become one at that moment. Sometimes, if I'm really hungry, I'll eat a meteorite." 

ーTsukiashi

"The first line in the song is "Let's go!" During recording, we said it over and over in all kinds of ways and they picked the best take. When I heard the finished product, I was surprised! When you see us perform this song live, I want you to compare those small nuances."

Leave us with one last comment, please!

ーHayase

"RADIO GALAXY has become a group favorite, and it's a song that's incredibly important to us. I hope everyone will cherish this song along with us, and I hope that you'll listen to it over and over and really enjoying to the max when you see us live!" 

ーNakagawa

"After only being able to hear RADIO GALAXY live, now that the music video is out, I'm happy that the fans will be able to hear it whenever they like. We also say "FRUITS ZIPPER" in the lyrics at the beginning of the song, so I really hope this will become our representative track."

ーChinzei

"I personally love this song so much, and I want everyone else to love it too. I love it so much that I want aliens to hear it."

ーTsukiashi

"I really think that only FRUITS ZIPPER could sing this song. I'll sing it with care, so please listen to it as much as you can!"

Next week's KAWAII LAB report will focus on IDOLATER. 

Be sure to stay tuned for the next report on FRUITS ZIPPER!

Idol Group FRUITS ZIPPER Releases 4th Single 'RADIO GALAXY,' Music Video Revealed

FRUITS ZIPPER, a new idol group from ASOBISYSTEM, has a simple concept: "From Harajuku to the World." Ready to transmit what they call 'NEW KAWAII' from Harajuku, an area known for fashion and individuality, to their soon-to-be global fanbase, the group consists of seven members: Amane Tsukiashi, Suzuka Chinzei, Yui Sakurai, Luna Nakagawa, Mana Manaka, Karen Matsumoto, and Noel Hayase.

This spring, the group released the song Watashino Ichiban Kawaiitokoro, which exploded in popularity on TikTok racking up over 200 million plays. The song also ranked on the TikTok HOT SONGS list and ranked at #1 on Spotify's viral chart. Fans requested a music video, and after its release, it pulled in over 1.1 million views in one month.

The group's long-awaited new single RADIO GALAXY was released on July 29, 2022.

This is FRUITS ZIPPER's 4th single, created in collaboration with trackmaker, singer, and producer YUC'e, who has provided songs for numerous artists and idols in the past.

YUC'e is known for her dance music inlaid with 'KAWAII' elements, and the artist has become incredibly popular both in Japan and abroad. It's no surprise that she chose to work with the adorable members of FRUITS ZIPPER, who are aiming to bring Harajuku culture to fans around the world.

A music video for RADIO GALAXY was posted to YouTube ahead of the song's streaming release.

FRUITS ZIPPER's artist photos were created by YUKARI, a video director, art director, and 3DCG artist from the digital creative company OFBYFOR TOKYO.

RADIO GALAXY – FRUITS ZIPPER (Music Video)

A special campaign to celebrate the release of the new song is ongoing on a number of music streaming sites. In addition, FRUITS ZIPPER will hold their first solo concert at Ebisu LIQUIDROOM on September 12.

For a long time, RADIO GALAXY was only known to fans in the in-crowd who saw it performed at FRUITS ZIPPER live shows. Now, everyone can dance along! 

KAWAII LAB. Report #7: Highlighting the Phenomenal Music of IDOLATER

KAWAII LAB. is a project spearheaded by ASOBISYSTEM with the aim of introducing the world to popular Japanese idol culture. The idol group IDOLATER was born from this idea, and in April,the original three members–Aya Okuda, Kurumi Tsukishiro, and Yukino Fushiki–welcomed two new faces, Ririka Satsuki and Fuuka Oishi.
In this report, we're taking a look at IDOLATER's incredible music. These are three of the staff's favorite tracks, so be sure to give them a listen!

1. Swipin' Flickin'

IDOLATER's first original song, this track has been performed at nearly every event since its release in April 2019.
It can be tough to break it down into one genre, but we'd call it 'digital funk.'
Since the original track only includes the original lineup, check out this live video of Swipin' Flickin' performed by all current members!

Swipin' Flickin' – IDOLATER (Live at Ebisu CreAto, April 24, 2022)

2. Kesenai…

This was the title track of the first single CD released by IDOLATER in November 2021.
This song highlights the cool side of the group and was the last song released by the original three members alone. The track is the culmination of the group's hard work, and hearing it sung by five members embodies an even more powerful and expressive IDOLATER. This was also the first Japanese title given original IDOLATER song. In English, it translates to 'unfading.'

3. DIAMOND

This track was released by IDOLATER in June 2021. The first song released by the original three members, it was a fitting start for the group, and its powerful sound is best experienced at a live concert. With the addition of two new members, the song has leveled up and become the most emotional of IDOLATER's lineup. A video filmed and edited by member Kurumi Tsukishiro has
been posted to YouTube.

IDOLATER / DIAMOND (Making of "IDOLATER" Video)

These are three of the best IDOLATER songs as chosen by our staff. But just because they're our favorite doesn't mean that you shouldn't listen to the rest of IDOLATER's incredible lineup! The group's music is available on most music streaming services, so be sure to check them out!

Stay tuned for the next report, where we'll be highlighting FRUITS ZIPPER.

Be sure to stay tuned for the next report on IDOLATER!

KAWAII LAB. Report #5: The Original Members Behind IDOLATER

KAWAII LAB. is a project spearheaded by ASOBISYSTEM with the aim of introducing the world to popular Japanese idol culture. The idol group IDOLATER was born from this idea, and in April, the original three members–Aya Okuda, Kurumi Tsukishiro, and Yukino Fushiki–welcomed two new faces, Ririka Satsuki and Fuuka Oishi. These five girls are taking the idol world by storm!

Today, we're introducing Yukino Fushiki, Aya Okuda, and Kurumi Tsukishiro. 

Check out the previous introductions here:https://www.moshimoshi-nippon.jp/ja/606964

Yukino Fushiki

▼Social Media Accounts
Twitter / Instagram

▼Birthday
July 17, 1997

▼Height
148cm

▼Blood Type
O

▼Birthplace
Himi, Toyama Prefecture

▼Favorite Foods

Ramen, Yukhoe, Offal, Tako Wasabi, Donburi

▼Favorite Musical Artists

YUI, Mao Abe, Zutomayo, Momoe Yamaguchi, yonige, BiSH, IDOLATER

▼Favorite Manga/Anime/TV Shows/Radio Shows

Love Live!, K-On!, Kuroko's Basketball, The Laughing Salesman

Todaiou, Wednesday's Downtown

▼Best Way to Spend a Day Off

Eating alone, Singing karaoke alone, Watching horror movies

▼Favorite Phrase
Put your heart and soul into everything you do.
Food tastes better when someone else is paying.

▼Places She'd Like to Visit
San Francisco, Saturn


▼Favorite Part of Herself
My uniqueness

▼Goals for 2022
To perform a concert in my hometown!
An ad for IDOLATER to be posted in Harajuku!
To cook for myself as much as possible!
To write a song!

▼Color
Purple

Standing at only 4'10'', the petite Yukino has an incredibly dynamic and powerful singing voice that's essential for IDOLATER's live performances. While the new member Ririka Satsuki uses her singing technique to make an impact, Yukino relies on pure power. 

The singer has recently begun appearing on variety shows, and fans are welcome to check out her work on YouTube!

[The Legendary Project is Back!] Fake Hypnotist Nishida Sends Itakura into Tears of Laughter

[Inspection] Ranjatai and Jessica Shinkuu Mess with People and it Goes too Far

As the 'little giant' of the group, Yukino Fushiki is continuing to appear on variety shows while performing live as a proud member of IDOLATER.

Aya Okuda

▼Social Media Accounts
Twitter / Instagram

▼Birthday
January 7, 2001

▼Height
170cm

▼Blood Type
O

▼Birthplace
Fukui Prefecture

▼Favorite Foods

Rice, Bread, Sweets, Salmon Roe Bowl

▼Favorite Musical Artist
BiSH

▼Favorite Manga/Anime/TV Show/Radio Show

Chibi Maruko-chan

▼Best Way to Spend a Day Off
Cleaning the house

▼Favorite Word
Happy

▼Place She'd Like to Visit
Yukino Fushiki's house

▼Favorite Part of Herself
My face, my height

▼Goal for 2022
To get 100,000 Instagram followers!

▼Color
White

IDOLATER's fashion icon, she was chosen as a model for the newly-renewed Harajuku-focused magazine Zipper, receiving massive acclaim. 

Her followers on Instagram are varied, with both domestic and international audiences taking an interest. Fans both young and old, male and female are paying attention to her account, which is approaching 100,000 followers. 

Okuda studied fashion in high school and specializes in remaking clothing and creating costumes.

Aya Okuda truly is the fashion icon of IDOLATER. 

Kurumi Tsukishiro

▼Social Media Accounts
Twitter / Instagram / TikTok

▼Birthday
August 9, 2001

▼Height
158.8cm

▼Blood Type
O

▼Birthplace
Saitama Prefecture

▼Favorite Foods

Sukiyaki, Eel, Ramen, Oyakodon, Kakuni, Chocolate


▼Favorite Musical Artists
=LOVE, ≠ME, PinocchioP

▼Favorite Manga/Anime/TV Shows/Radio Shows 
A3!, My Hero Academia, Shugo Chara!, SPYxFAMILY, Kajiyarou!!!, Monday Late Show

▼Best Way to Spend a Day Off

Visiting cafes, Doing otaku things

▼Favorite Phrases
Today is sure to be a good day.
Apologem. 


▼Places She'd Like to Visit

Hokkaido and Okinawa! I haven't been to either!

▼Favorite Part of Herself

I like that I'm the cutest in the universe and that I work as hard as I can on things I love! I love my black eyes and my dark hair, and I eat a little faster than other people!

▼Goals for 2022

I want to spend more time focusing on the little things that make me happy. I also want to become more proactive.

▼Color
Red

Who is the youngest but most reliable member of IDOLATER?

Kurumi loves to socialize and often asks for the other member's help selling limited-time merch. 

She says that IDOLATER is the best group. 

Kurumi is an idol lover herself and very knowledgeable about the idol world.

Fans should always remember her greeting: "I love you more than anything in the universe!" 

Stay tuned for the next installment of the IDOLATER series.

Next week's KAWAII LAB report will focus on FRUITS ZIPPER! 

KAWAII LAB. Report #4: FRUITS ZIPPER Group Interview②

FRUITS ZIPPER, a new idol group from ASOBISYSTEM, has a simple concept: "From
Harajuku to the World." Ready to transmit what they call 'NEW KAWAII' from Harajuku, an area known for fashion and individuality, to their soon-to-be global fanbase, the group
consists of seven members: Amane Tsukiashi, Suzuka Chinzei, Yui Sakurai, Luna
Nakagawa, Mana Manaka, Karen Matsumoto, and Noel Hayase.

Four members of FRUITS ZIPPER sat down with us for an interview about their overseas
aspirations. 

Could you introduce yourself?

-Luna Nakagawa

"Hi, everyone, I'm Luna Nakagawa! My talent is having perfect pitch. I absolutely love to
sing, and lately, my favorite song to sing is Celine Dion's It's All Coming Back to Me Now.

My dream is to become a Living National Treasure and to become the Alicia Keys of the idol world!" 

–Amane Tsukiashi

"I'm Amane Tsukiashi, 22 years old from Okayama Prefecture. My blood type is O and my
favorite foods are ramen and Motsunabe. 

My hobbies are watching movies and dramas, collecting makeup, solo karaoke, flower
arranging, idol appreciation, and eating!"

–Yui Sakurai

"Everyone reading this on Moshi Moshi Nippon, it's nice to meet you! I'm Yui Sakurai, and my member color is mint green!

My favorite things are tea, ramen, strawberries, fashion, and makeup research. I also have two professional nail certifications!
In my photos, I might come off as really cool and stoic, but to be honest, I'm usually
smiling. A fan told me that my smile makes me look like one of the Seven Gods of Fortune, so now I have the brilliant nickname 'Seven Gods of Fortune Smile♡'"

–Karen Matsumoto

"I'm Karen Matsumoto, and my color is baby pink! I'm 20 years old and my special skill is
piano! I have no experience singing and dancing, but I'll do my best to keep up with the
other members!"

To get started–when you think about other countries, what pops into your head?

 

–Yui Sakurai

"I imagine incredible scenery! The last time I went abroad for work, I did my best to
communicate with fans. Even though I couldn't speak their language, they were so friendly and they seemed to understand my thoughts. They smiled at me so much, so I think I'll get along with foreign fans right away!" (laugh)

-Luna Nakagawa

"I think of broadening my horizons, learning about other cultures, and meeting new people. 

In my experience studying abroad, I could really feel the difference in values and ways of
thinking when communicating with people my age.

I was amazed when I could experience things I had never seen in Japan. I thought that
another country's culture was amazing and I wanted to imitate it. At the same time, it
made me realize that I was proud to be Japanese too. When you travel abroad, you
discover so much and become a more empathetic and kind human. It made me realize that there were plenty of things that I didn't even know about myself, so I hope that by
traveling more, I can learn more." 

–Amane Tsukiashi

"I imagine the unknown.
The only foreign country I've ever been to is Korea. I know that there are so many cultures, landscapes, and worlds out there that I've never seen before." 

–Karen Matsumoto

"When I went to Taiwan on a school trip, I loved the tapioca and the rice so much. It made me wonder what other delicious food is waiting for me out there!" 

Imagine you end up going abroad as FRUITS ZIPPER. What do you think you'd do better than the other members?

–Amane Tsukiashi

"I'd be good at keeping the mood going and taking on challenges. 

I want to experience cultures that don't exist in Japan, so I want to actively try new things–not just food, but local attractions and even skydiving!" 

-Luna Nakagawa

"I've studied abroad but I don't speak English fluently. 

When I go abroad, for some reason, I become a much stronger communicator with much more confidence. I feel like I'll be best at communicating with the locals in the spirit of "it'll work out somehow." (laughs)

–Yui Sakurai

"I've been trying to figure out what I could do best…

This is a tough question! (laugh)

People don't know most of what's going on in the world, 

and I've been told that my reaction to things abroad is pretty huge. 

Since we'll have a ton of first-time experiences abroad, 

I want to keep my big reactions coming. 

That way, even fans who aren't with us can watch from wherever they are

and get a taste of what we're experiencing! (laugh)

That counts, right? 

Or maybe I just want to go sightseeing." (laugh)

–Karen Matsumoto

"The other members tell me that I'm a good communicator. Even when I was a student,
my grades in English weren't great, but I still had the top grades in communicative English, so I feel like I can speak it somehow!" (laugh)

While abroad, you're told that you can do anything you want for a whole day. What would you do?

–Yui Sakurai

"I'd eat good food, explore some beautiful places, do some shopping, and get a massage
under the stars before I went to sleep! (laugh) 

I'd like to see the ocean too! 

The last time I went abroad for business, I didn't get to do much sightseeing, so I want to
do lots of things unique to wherever I'm visiting."

-Luna Nakagawa

"I want to try out some extreme attractions, like some of those huge roller coasters they
only have overseas. In some places, I want to experience the local culture too, of course. 

If I go to Hollywood, I wanna meet Dwayne Johnson." (laugh)

–Amane Tsukiashi

"I want to rent a car so I can drive around and see all sorts of different landscapes. 

I've always loved driving, nature, beautiful scenery, and going to places I've never been
before, so I'd like to combine all of those things into one."

–Karen Matsumoto

"I'd want to go shopping with my friends!" 

What do you think would happen if you traveled abroad with the FRUITS ZIPPER members?

–Amane Tsukiashi

"The group is filled with super energetic members who give their all during every event, so I think that if an event takes place on Halloween, they'd do something great with costumes and things like that. Just imagine how fun that would be!" 

-Luna Nakagawa

"Someone will definitely end up causing trouble, like losing their passport or wallet. To be
specific, I feel like Mana will lose her passport and Karen will lose her wallet. Suzuka's always eating weird food so she'll probably get food poisoning." 

–Yui Sakurai

"Luna and Noel both speak English, so I'm sure they'll have great conversations with the
locals and become good friends, high-fiving and hugging! (laugh)

Even in Japan, the two talk to each other in English a lot and seem to have a lot of fun!

I usually try to listen to their conversations, but I have no idea what they're saying. I'll
probably end up making friends with the locals through gestures and facial expressions!" 

–Karen Matsumoto

"I think I'll end up getting lost!" 

Thank you so much for chatting with us. Is there anything you'd like to say before we wrap up?

–Yui Sakurai

"Thinking of going abroad and traveling the world is such a huge concept, it's hard for me
to imagine, but it makes me so happy to think that the number of people who will be happy to see us will expand beyond our borders. I believe that idols have the power to make
people happy even if they can't speak your language, and that's the kind of idol I want to
be. We'll do our best to live up to our concept, "From Harajuku to the World!" 

-Luna Nakagawa

"Someday I want to go on an overseas adventure with FRUITS ZIPPER and have a real-life meet and greet with fans!!!

I hope to create many wonderful memories with my fans in the future!" 

–Amane Tsukiashi

We'll do our best to expand the activities of FRUITS ZIPPER globally as soon as we can so
that we can all see lots of new things together! I'm so excited for what the future holds–
just imagining it has me so thrilled!"

–Karen Matsumoto

"I want to be able to perform overseas as often as possible, like Kyary Pamyu Pamyu!!" 💪🏻

The next KAWAII LAB Report will focus on IDOLATER!

Be sure to check it out!

The official Facebook page of FRUITS ZIPPER is now open!

KAWAII LAB. Report #3: Introducing Two New Members of IDOLATER–a Long-Haired Model and a Gambler who Sings Too Well

KAWAII LAB. is a project spearheaded by ASOBISYSTEM with the aim of introducing the world to popular Japanese idol culture. Announced at the group's solo concert 'New IDOLATER' on April 24, Fuuka Oishi and Ririka Satsuki joined the lineup consisting of Ayu Okuda, Kurumi Tsukishiro, and Yukino Fushiki.

Today, we're introducing the two newest members–Fuuka Oishi and Ririka Satsuki.

Fuuka Oishi

▼Social Media Accounts

Twitter https://twitter.com/idolater_fuka

Instagram https://www.instagram.com/idolater_fuka/

▼Birthday

July 25, 1999

▼Height

163cm

▼Blood Type

B

▼Birthplace

Chiba Prefecture

▼Favorite Foods

Cheesecake, High Cocoa Chocolate (86~95%), Beef Tongue, Skirt Steak, Yakitori (Gizzards, Gristle)

▼Favorite Musical Artists

SEKAI NO OWARI, SKY PEACE

▼Favorite Manga/Anime/TV Shows/Radio Shows

One Piece, Naruto, Kotaro Lives Alone

▼Best Way to Spend a Day Off

Netflix、YouTube、Hanging out at a cafe

▼Favorite Phrase

Different Strokes for Different Folks! Everyone is different and everyone's great. 

▼Places She'd Like to Visit

Wherever I can see the beautiful ocean!

Korea, France

▼Favorite Part of Herself

The fact that I laugh a lot–and everything else!

▼Color

Light Blue

Born in 1999. With her characteristic long black hair and dainty yet listless atmosphere,
she's a model who has been attracting attention from all sides. Supported by creators and
having appeared as a model for fashion brands, she has also starred in TV commercials and in music videos. 

I Want to Die – Centimillimental

Although she has no experience singing or dancing, Fuuka brings her natural cheerfulness
to the group.

Ririka Satsuki

▼Social Media Accounts

Twitter https://twitter.com/idolater_ririka

Instagram https://www.instagram.com/idolater_ririka/

▼Birthday

August 17, 2000

▼Height

158cm

▼Blood Type

AB

▼Birthplace

Fukuoka Prefecture

▼Favorite Foods

Ramen, Gingko, Gyoza

▼Favorite Musical Artists

Avril Lavigne

Lady Gaga

Namie Amuro

▼Favorite Manga/Anime/TV Shows/Radio Shows

Tokyo Revengers, Attack on Titan, Demon Slayer: Kimetsu no Yaiba, Haikyu!!

▼Favorite Way to Spend a Day Off

Sleep, go to the movies alone, play slot machines (Juggler machines are my favorite!)

▼Favorite Phrases

・There is always light beyond the clouds.

・Stick to your guns. 

▼Places She'd Like to Visit

Hokkaido, Guam, Dubai, London

▼Favorite Part of Herself

Opening my big mouth, my smile.

▼Goal for the Year

Performing live at Zepp!

▼Color

Yellow

With a powerful and husky voice, Ririka previously appeared on TV Tokyo's 'The Karaoke
Battle U-18 Utauma Koshien.' In 2019, she appeared on AbemaTV's 'Koisuru Shuumatsu
Homestay' and became incredibly popular with middle and high school students. Recently,
she appeared on Nippon TV's 'Monomane Grand Prix,' and is active in a number of other
activities. 

Ririka Satsuki's strength lies in her singing ability. 

Be sure to check out her song covers on TikTok!

https://www.tiktok.com/@satsuki_ririka

Ririka also enjoys gambling, preferring the Juggler line of slot machines. She'd like to keep
it up in the future, if she's able. 


Her powerful, husky voice has created a kind of chemical reaction in IDOLATER. 

Stay tuned for the next installment of the IDOLATER series!

Next week's KAWAII LAB report will focus on FRUITS ZIPPER. 

FRUITS ZIPPER Releases Music Video for Popular TikTok Track 'Watashino Ichiban Kawaii Tokoro'

FRUITS ZIPPER, a new idol group from ASOBISYSTEM, has a simple concept: "From Harajuku to the World." The girls have just released the music video for their 2nd digital single Watashino Ichiban Kawaii Tokoro (The Cutest Thing About Me).

The group is ready to transmit what they call 'NEW KAWAII' from Harajuku, an area known for fashion and individuality, to their soon-to-be global fanbase.

Watashino Ichiban Kawaii Tokoro – FRUITS ZIPPER 

FRUITS ZIPPER has been going strong since its launch in April this year, appearing at numerous idol events and selling out tickets to its solo shows immediately after they went on sale.

The song Watashino Ichiban Kawaii Tokoro has exploded in popularity on TikTok, racking up over 200 million plays.

The song also ranked on the TikTok HOT SONGS list and charted on Spotify's viral chart for three weeks in a row.

 

Initially, no music video for this song was planned, but due to fan response and the track's huge popularity, the decision was made to produce one after all. The video is filled with the 'NEW KAWAII' that FRUITS ZIPPER wants to be known for, so check it out!

To commemorate the release of the music video, a playback campaign is currently underway on Spotify from June 23 until June 29. Fans will be able to see a different member on Spotify Canvas for each day of the campaign.

Don't miss the share campaign! Seven winners will be chosen by random drawing to win an autographed Polaroid snapshot of the FRUITS ZIPPER members.

KAWAII LAB. Report #2: FRUITS ZIPPER Group Interview ①

FRUITS ZIPPER, a new idol group from ASOBISYSTEM, has a simple concept: "From Harajuku to the World." Ready to transmit what they call 'NEW KAWAII' from Harajuku, an area known for fashion and individuality, to their soon-to-be global fanbase, the group consists of seven members: Amane Tsukiashi, Suzuka Chinzei, Yui Sakurai, Luna Nakagawa, Mana Manaka, Karen Matsumoto, and Noel Hayase.

Three members of FRUITS ZIPPER sat down with us for an interview. 

"Could you introduce yourself?" 

–Noel Hayase

"Hi, everyone! I'm the youngest member of FRUITS ZIPPER, Noel Hayase, and I'm 18 years old. I'm half-German and half-Japanese, but I attended an international school, so I'm pretty good at languages. I speak Japanese, English, German, and a little French! I like to play games, watch videos, and just hang out with friends, but I also love dancing and moving my body. I also like to work with technology, and edit my own videos and songs." 

–Suzuka Chinzei

"Everyone reading this on Moshi Moshi Nippon, it's nice to meet you! 

My name is Suzuka Chinzei, but you can call me Osuzu!

I spend about ⅓ of my waking hours thinking about food, especially gyoza 🥟and fried tofu. I'd prefer my gyoza with a thin skin and filled with veggies. I'm a big fan of pairing alcohol with my food too!

I grew up in Nishinomiya in Hyogo Prefecture. Fans of the anime series The Melancholy of
Haruhi Suzumiya will be familiar with the town–I used to do the dance from that show all the
time. I've loved dancing since I was a kid. My mom told me that once when I was young, I
started dancing to the song Kawaii Kakurenbo, but I was crying because I didn't WANT to dance–I just couldn't help it. I guess I just want to dance on a cellular level. 

I started appearing on NHK Educational TV's Tensai Terebi-kun MAX when I was in 5th grade.
Since then, I've started appearing on different variety shows, and I'm currently working on
Nyanchuu! Uchuu! Housou Chu-! and German for Travel. 

–Mana Manaka

"Nice to meet everyone!

I'm Mana Manaka–nicknamed Manafy–and my member color in FRUITS ZIPPER is light blue!

Previously, I worked at KAWAII MONSTER CAFE HARAJUKU, and I did my best to transmit 'KAWAII' from Harajuku to the world❤️

This is my first time working as an idol, but I'm going to work hard to embody the idea of 'KAWAII' and to create the 'NEW KAWAII' that FRUITS ZIPPER has to offer through music, dance, and by sharing Japanese idol culture!"

"A question for Mana–what is KAWAII MONSTER CAFE HARAJUKU?"


–Mana Manaka

"KAWAII MONSTER CAFE HARAJUKU is part-restaurant, part-entertainment venue, part-art installation. It was directed by Sebastian Masuda, the 'king of kawaii,' and guests can order really unique and colorful dishes in an amazing space designed to look like the inside of a monster's belly!"

"Nice to meet you! Here's a question from readers: why did you decide to become an idol?"

–Noel Hayase

"Since I was a kid, I've always wanted to be center stage. When I saw an artist performing live, I started to think "wow, I'd love to see what they're seeing," so I decided to pursue a career in the music industry. Thanks to some of the connections I've made over the years, I'm now able to pursue the idol life! I'm glad that I chose this path because I love being on stage with the other members of FRUITS ZIPPER."

–Suzuka Chinzei

"I decided I wanted to be an idol a long time ago when I ended my time on Tensai Terebi-kun MAX. Right after, I was photographed in a school uniform for Shueisha's Aoharu Magazine. The problem was that I was already in my mid-teens at that point. I thought it was too late to become an idol, so I just put those feelings away.

After that, I had so many different opportunities to appear in different plays and variety shows, but there was always this nagging feeling in my chest. It's hard to describe, but I just felt like something was missing. 

During that period of stress and confusion, there was a lot of discussion about my joining ASOBISYSTEM. When I looked at their website, I saw that they were recruiting members for a new idol group. I started freaking out, and my mom–who was standing next to me at the time–
said that I should talk with them about it. I went to the person in charge and asked them about what it would take to be an idol. I realized, in that moment, that I didn't want to go the rest of my life without trying it out. Now I can say that I made the right decision, I guess. (laugh)

–Mana Manaka

"Harris, the content director of KAWAII MONSTER CAFE and the current manager of FRUITS ZIPPER, contacted me out of the blue and asked if I was interested in idols. When he brought up the subject, I followed my gut. I instantly knew it would be fun, so I decided to just take a leap of faith!" 

"Moving on, tell us about what you've worked on the hardest up until this point in your life."

–Noel Hayase

"When I was a student, I tried to balance my studies with my performing arts activities. I had done a little modeling work before I started working as an idol, but once I joined FRUITS ZIPPER I got incredibly busy. My final exams coincided with my prep period and my idol debut! Once I
overcame all of that and successfully graduated, I felt so much stronger. (laugh)

–Suzuka Chinzei

"In my teens, I wanted to find a balance between being 'normal' and being 'special.' 

From a young age, I had been working in a space where I was surrounded by adults. I think that made me feel special, compared to my peers. 

But living in that world was difficult as well. There were so many things that I felt I was missing out on–things that I felt I couldn't catch up to. 

One day, I was riding the bullet train alone. I lived in Hyogo Prefecture, but I commuted to Tokyo at least three days a week. When I passed by Nagoya, I suddenly got really sick with a fever, and my parents rushed me to the hospital. 

I remember wondering how adults dealt with things like that. There were so many days that I would call my mom from Yamagata as a fifth-grader, crying my eyes out.

The world of entertainment is so vastly different from the real world, and I desperately wanted a sense of normalcy. I needed that comfort. I'm not sure what the definition of 'normal' is, but I
guess I didn't want anyone to take away that innocent childishness from me. Looking back, I worked so incredibly hard to protect it."

–Mana Manaka

"During my time as a poster girl for KAWAII MONSTER CAFE HARAJUKU, I worked hard to create a space that people could enjoy. I wanted everyone to leave satisfied and smiling and I wanted them to come back again. Looking back on those days, every day was so happy and the space was just so welcoming. I don't think that the KAWAII MONSTER CAFE could have been successful without the team members who worked so hard to create the best possible experience. Every moment was heaven." 

"Thanks for sharing. FRUITS ZIPPER's concept is "From Harajuku to the World." If you end up
going abroad, what would you like to do?" 

–Noel Hayase

"I'd love to do a special concert in each of the countries I've been to. Each concert would be created for each country–we'd wear unique costumes and have unique sets. At the same time, I feel like we can bring Japanese idol culture to the world by staying true to ourselves. I can dream. I want to do something really spectacular!"

–Suzuka Chinzei

"Right now, I'm working on an educational program called German for Travel. I've learned so many phrases, so I'd like to try them out in real life–things like ordering a meal and explaining my thoughts about the food to the waiter. I do a cute dance on the show too, so I'd like to do that with the waiter too! I'm still a little too nervous to try it alone, so I'd ask our half-German member Noel Hayase–who speaks 3.5 languages!–to be next to me the whole time. 

I'd also like to lay down in the middle of the Sedona desert and see a UFO!"

–Mana Manaka

"I want us to appear in a major festival! 

After that, I'd love to represent Japan on the world stage at something like Japan Parade or Japan Expo. I want to spread Japanese idol culture to the world through 'KAWAII,' something that's so universally loved! 

Personally, I love musicals and theme parks, so I'm hoping to travel a lot in the future." 

"Last question. What is the most important thing about being an idol to you?"

–Noel Hayase

"Being an idol means always having a goal. It's more fun and more useful to keep thinking about where I want to go and how I want to be. If I were to take part in idol activities without a goal, I'd lose sight of why I'm doing what I'm doing. I started down this path because I had a goal in mind, and I intend to keep doing so."

–Suzuka Chinzei

"I think the most important thing is to make everyone happy and to increase the Earth's
vibrations! Human beings can't be happy-go-lucky every day–we all have our own problems and negative feelings. But I hope that our music, our videos, and our live performances can support everyone during those difficult times. 

I also think that 'fun' is something that spreads from person to person. When I'm performing
live, I'm truly enjoying myself from the bottom of my heart. The other members can sense
those honest feelings, and they carry them home to their families, to their friends at school, and maybe to their grandparents who they haven't seen in a while. That sense of 'fun' is contagious–it lets us connect with people. I want everyone to have fun more than anything. Maybe we can make the entire world happy, in time. (laugh)

–Mana Manaka

"FRUITS ZIPPER wants to give everyone strength and happiness through our activities. Above all else, I value always being energetic and positive, and I always want to have fun!" 

"Thank you so much for chatting with us. Is there anything you'd like to say before we
conclude?"

–Noel Hayase

"It's only been a short time since I debuted and I have zero experience as an idol, so there's a
ton that I don't know. Even still, I have a dream that I want to achieve and I will do my best to achieve it. Because I want to show everyone my dream, I'll do my best to make it come true
with energy and a smile. I hope you'll come along with us and support us as much as you can!"

–Suzuka Chinzei

"FRUITS ZIPPER will keep spreading 'NEW KAWAII' around the world in all kinds of ways!

I hope that we can awaken the 'NEW KAWAII' that's been inside of you all along!" 

–Mana Manaka

"We're just getting started, but we're going full speed ahead! I can't wait until we can travel and meet fans around the world. Through Japanese idol culture and our 'NEW KAWAII,' we hope to
connect the world and bring happiness to everyone we meet!

From Harajuku to the world!!!"

KAWAII LAB. Report #1: IDOLATER Welcomes Two New Members

KAWAII LAB. is a project spearheaded by ASOBISYSTEM with the aim of introducing the world to popular Japanese idol culture. The idol group IDOLATER was born from this idea, and in April, the girls welcomed two new members, transforming it into a fresh new 5-member group. Announced at the group's solo concert 'New IDOLATER' on April 24, Fuuka Oishi and Ririka Satsuki joined the lineup consisting of Ayu Okuda, Kurumi Tsukishiro, and Yukino Fushiki.

A typical idol group is peppy and filled with energy, but IDOLATER is doing things a little differently. What is their appeal? How do they want to shake things up? 

A Group Formed by Finalists from ASOBISYSTEM's First National Audition

IDOLATER debuted in April 2019. In the spring of 2018, ASOBISYSTEM, the management company behind Kyary Pamyu Pamyu and a number of other popular talents, announced its first large-scale nationwide audition, ASOBISYSTEM THE AUDITION 2018. IDOLATER's history began with five audition finalists–Fushiki, Okuda, Tsukishiro, and two others. The catchphrase for the audition was fitting for the group: "Seeking the next generation of talents to shape Japanese pop culture and share it with the world."

IDOLATER Welcomes Solo Singer Ririka Satsuki & Model Fuuka Oishi

Following the departure of two members and intense restrictions imposed on the group's activities due to the pandemic, IDOLATER continued to operate with only three members. Although they didn't manage to get a ton of media coverage or appeal in large-scale events, the group continued to pull in new fans and gain recognition in the idol community. After a while, Fuuka Oishi and Ririka Satsuki joined the group, giving a much-needed boost to IDOLATER's activities and energy.

Ririka Satsuki is a solo artist based in Fukuoka with an incredible husky voice. Fuuka Oishi has previously worked as a model and is popular with creators for her sweet yet listless atmosphere. Despite their incredible confidence, this is the first time either has worked as an idol!

IDOLATER and the Concept of 'Idols' 

The word 'idol' can conjure plenty of images to mind, but what does the word mean to the members of IDOLATER?

The group's music blends together elements of city pop, future funk, and house, while still keeping true to traditional J-pop roots. The familiarity of their music makes it easy to approach, and Yukino Fushiki's powerful voice alongside Ririka Satsuki's melodies shower fans with some of the best vocals in the idol world. 

The group's choreography is provided by YU-KA, formerly of TEMPURA KIDZ. Her experience as both a dancer and an idol makes her an asset, and her refreshing moves are a highlight of each IDOLATER show.

A former pattern maker for a Japanese fashion brand designed the group's costumes. 

If this sounds like the idol group for you, come and check out an IDOLATER event to see the girl's incredible appeal for yourself.

On June 19, IDOLATER will hold their second regular performance, 'Camel,' at Ebisu CreATO. (The title of the show was chosen because it sounded fun, not for any other specific reason.)

Stay tuned for the next report, where we'll delve a little deeper into the life of each member of IDOLATER!

Idol Group FRUITS ZIPPER Announces First Solo Concert

FRUITS ZIPPER, a new idol group from ASOBISYSTEM, has a simple concept: "From Harajuku to the World." On May 3, the girls held a free solo concert titled "Find my Cutest Part," attracting tons of new fans and lighting up social media.

Tickets for the group's first concert on April 10 at Shirokane-Takanawa SELENE b2 sold out instantly, and the girls have been looking for a way to give back to their incredibly passionate fans. Sadly, the April 10 performance was postponed after the members and staff tested positive for COVID, so the content was changed and admission was free!



During the show, FRUITS ZIPPER announced that their introductory live show will now be held on July 16 at the same venue. The girls also announced that their first solo concert will be taking place on September 12 at Ebisu LIQUIDROOM.

Stay tuned to see what FRUITS ZIPPER does next!

FRUITS ZIPPER, the New Idol Group from ASOBISYSTEM, Reveals 7 Members

ASOBISYSTEM's recent KAWAII LAB project seeks to introduce Japan's growing idol culture to the world. The new group FRUITS ZIPPER was born from this idea, and the girls will hold their debut concert at Shirokane-Takanawa SELENE b2 on April 10, 2022.

The group's concept is 'from Harajuku to the world.' FRUITS ZIPPER will transmit what they call 'NEW KAWAII' from Harajuku, an area known for fashion and individuality, to their soon-to-be global fanbase.

Although the name seems strange, it has a meaning–FRUITS, to bear fruit, and ZIP, meaning 'to give energy,' is the perfect title for such a young and exciting group. The girls hope to 'grow through idol activities, starting as seeds and growing into something more.' They also hope to bring some happiness to those around the world. The producer of the group is model and celebrity Misa Kimura, who is also the general producer of KAWAII LAB. A lover of idols for years, Kimura previously served as the leader of the idol group Musubizm. This will be her first time acting as a producer. 

Images of the seven members of FRUITS ZIPPER have been unveiled. Rather than being still images, they are dubbed as CG 'moving art photos.' A style that has been trending overseas in recent years, these images were created by YUKARI, a video director, art director, and 3DCG artist from the digital creative company OFBYFOR TOKYO.


The lottery for VIP tickets to the first FRUITS ZIPPER concert will open on February 26. 

Keep your eyes on FRUITS ZIPPER and get ready for their exciting debut!

FRUITS ZIPPER Member Profiles

Amane Tsukiashi

Suzuka Chinzei

Yui Sakurai

Luna Nakagawa

Mana Manaka

Karen Matsumoto

Noel Hayase