VTuber Group NIJISANJI EN Inspires Collaboration Cafes in Ikebukuro and Nagoya
From August 3 until August 30, VTuber group NIJISANJI EN fans won't want to miss two unique collaboration cafes coming to Ikebukuro and Nagoya! The cafes are being held at Animate Cafe and a number of themed dishes and goods will be available for purchase.
Menu
Pomu, Selen, and Reimu's Favorite Things Plate
Ike, Shu, and Luca's Favorite Things Plate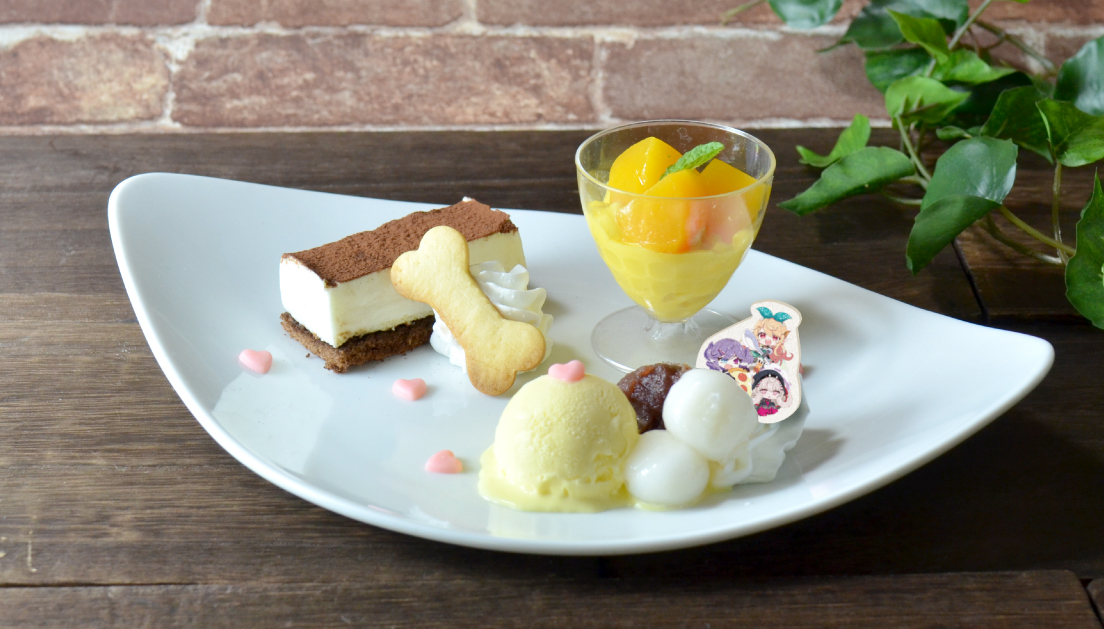 Pomu, Selen, and Reimu's Favorite Sweets Set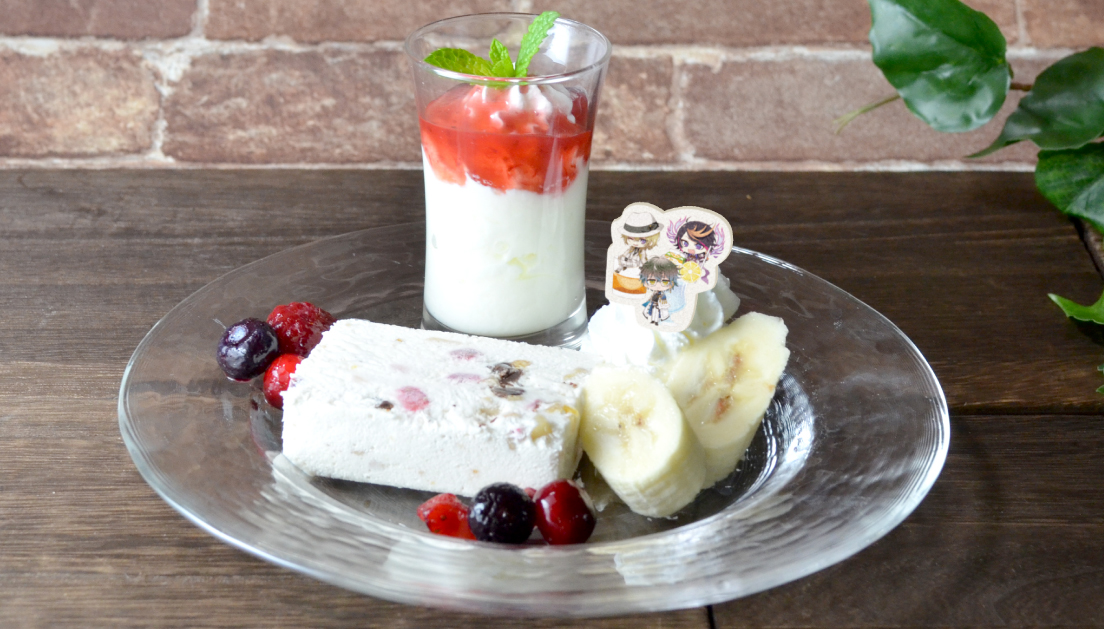 HOW CAN I WORK PLEASE! Cake Set by seisoxiem
Big Powerful Pomu Energy Drink
Mango Cider That Won't Make You Blackout
Miso Soup & Toast
fika time
Super Popular Taiyaki Drink
C&C (Cookies & Cream) Frozen Drink with Cheddar Cheese Flavored Thing
Goods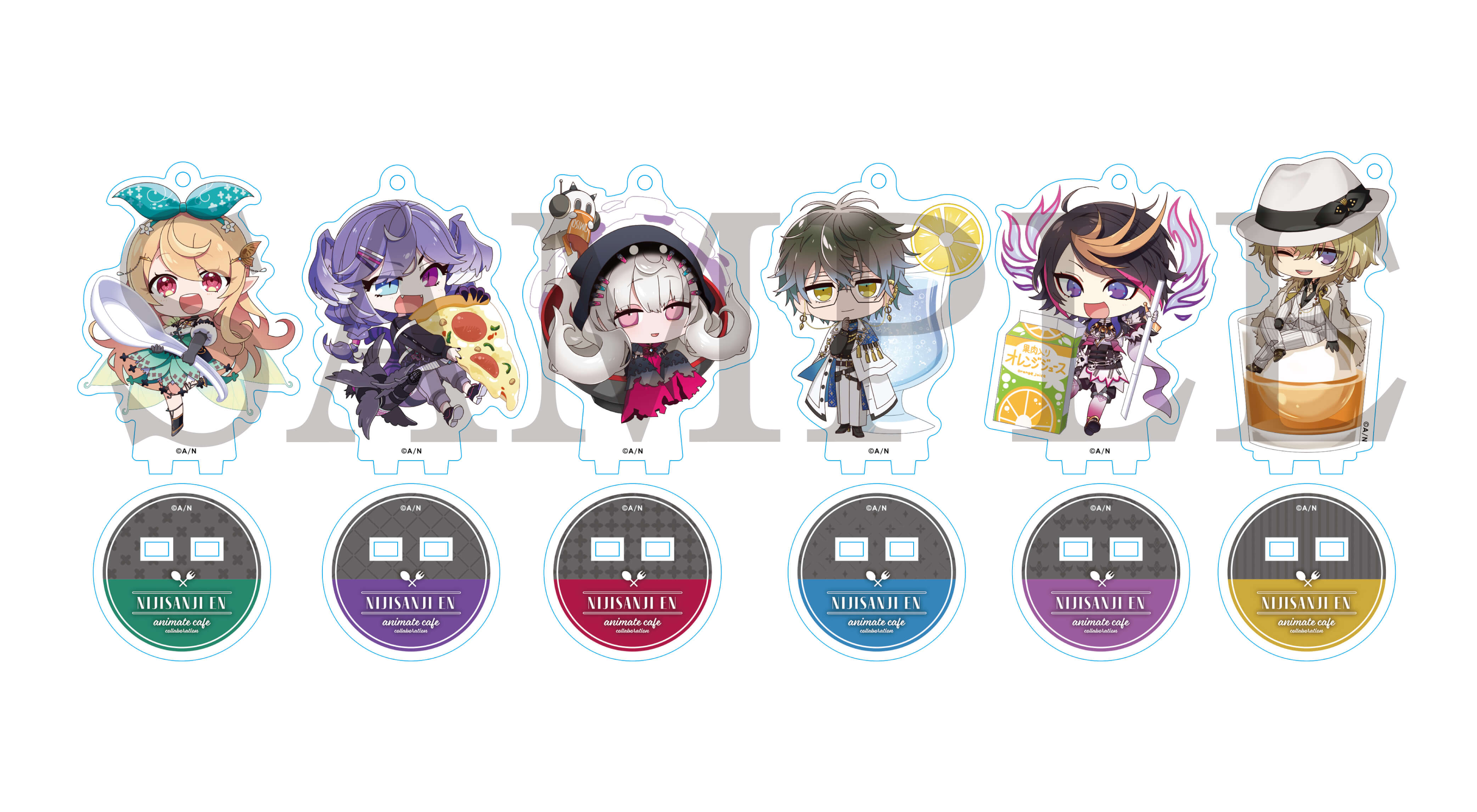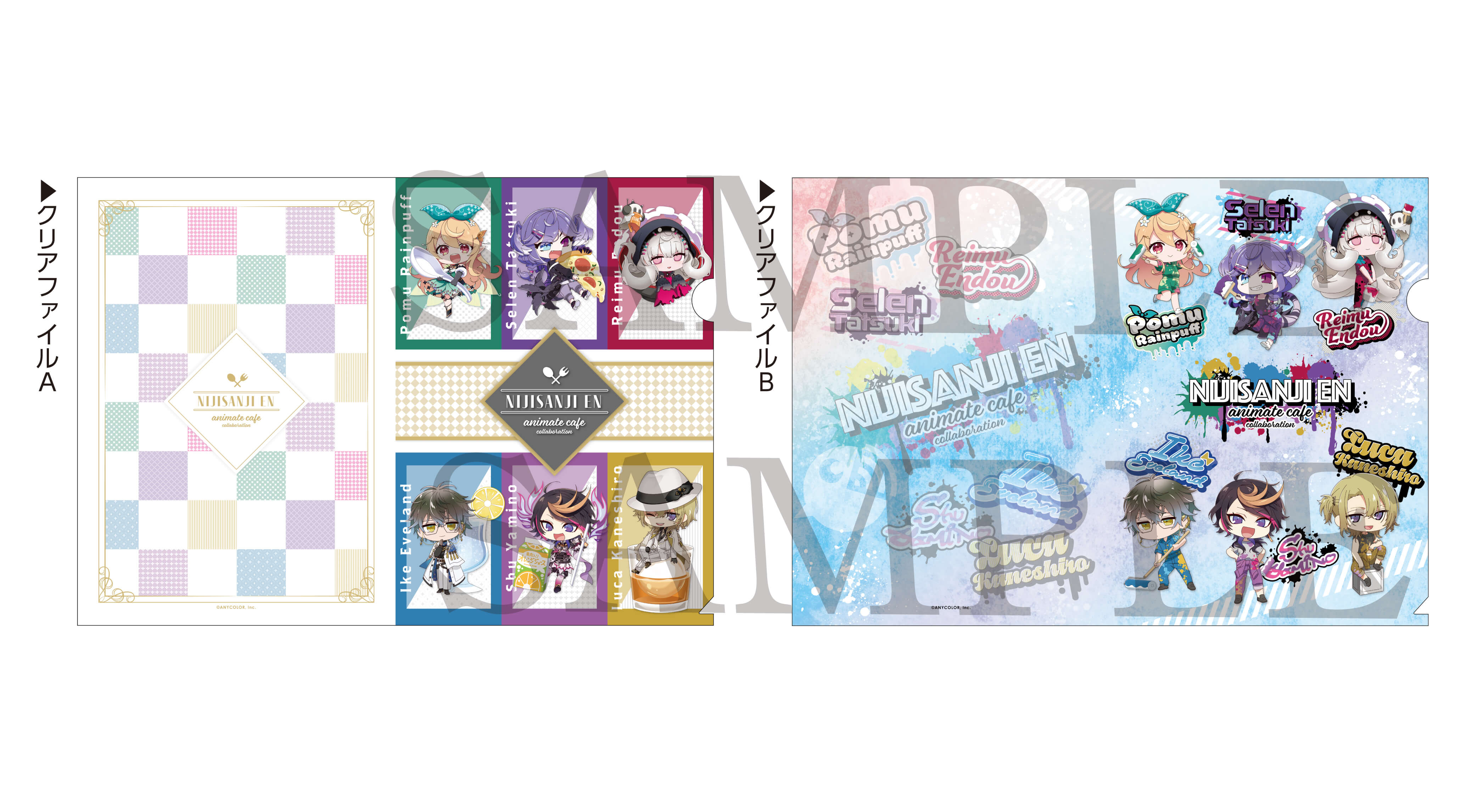 At the collaboration cafe, limited-edition goods featuring entirely new illustrations of the members will be on sale. Pomu Rainpuff, Selen Tatsuki, Reimu Endou, Ike Eveland, Shu Yamino, and Luca Kaneshiro are waiting for you!
©ANYCOLOR, Inc.
Information
NIJISANJI EN x Animate Cafe
Running: August 3 – August 30, 2022
Venue: Animate Cafe Ikebukuro #3 / Nagoya #2
How to Visit:
  
Animate Cafe Ikebukuro #3
Reservations by lottery for all dates (Online)

Animate Cafe Nagoya #2
August 3 – August 5, Weekends & Holidays: Reservations by lottery (Online)
*All other dates feature first-come-first-served seating. If the shop becomes too crowded, numbered tickets may be handed out.
Details: https://cafe.animate.co.jp/event/nijisanji-en2208/

RELATED ENTRIES
Popular Manga Series Chihayafuru Celebrates Finale with Exhibition in Nagoya

Matsuzakaya Nagoya will hold an exhibition for the popular manga series Chihayafuru from August 10 until August 29. The manga concluded on August 1 after 15 years of serialization and tells the story of Chihaya, a girl aiming to become the greatest competitive karuta player in Japan. Karuta is a Japanese card game, requiring players to memorize a collection of 100 classical poems in order to play. Generations of readers have been sucked in by the inspiring and romantic tale, and the series has grown to include an anime adaptation and a live-action film. The story has now reached its inevitable climax, and fans are saying farewell to Chihaya, Taichi, and Arata. 

Works on Display

Original Exhibition Goods

Daddy Bear Plush / Snow-maru Plush

Maki-e Nail Clippers by Hashimoto Lacquerware

Goshuin-cho (Shrine and Temple Stamp Book) Set

The exhibition will feature over 500 original drawings and will offer a look back at the series as a whole. Guests will also be able to see new drawings made exclusively for the event. In addition to valuable setting materials and research notes, the exhibition will also go behind the scenes, and a video of the elaborate production process and the creator Yuki Suetsugu's thoughts on the work will be shown. If you're a fan, you shouldn't miss it!

©末次由紀/講談社

The Devil is a Part-Timer! Anime Series Teams Up with AMOCAFE Ikebukuro for Collaboration Cafe

From July 22 until August 7, AMOCAFE Ikebukuro is holding a special collaboration cafe with the anime series The Devil is a Part-Timer!

A number of unique menu items inspired by the show's characters are available, and new original goods featuring illustrations of the cast in beach house costumes are on sale.

Priority for admission is given to those with reservations, so make yours now!

Special Collaboration Menu

Serious Office Worker's Dinner: ¥1,100 (Tax Included)


Emi is serious about her job, and her dinner is filling and simple.

The Devil's Experiment (Honey Cucumber & Konnyaku): ¥990 (Tax Included)


Using the wits of the Demon King's army, this tasty Konnyaku features a delicious melon and miso flavor. 

[AMOCAFE x Chiho] Special Omurice: ¥1,210 (Tax Included)


Of course, Chiho loves to draw a heart on her tasty Omurice. 

Urushihara's Hard-earned Crystals / Daikokuya's Shaved Ice: ¥880 (Tax Included)


This menu will make you excited to watch–or rewatch–the anime series!

Guests can expect even more themed menu items along with drinks and exclusive merchandise!

In addition, new illustrations of Mao and Chiho working at the beach house with Emi on surveillance are available from the AMOCAFE webshop. A number of products are on sale, including acrylic stands and water-resistant tapestries. Check the AMOCAFE Ikebukuro and AMOCAFE webshop Twitter accounts for more details soon!

©2021 和ヶ原聡司/KADOKAWA/MAOUSAMA Project

Chainsaw Man Manga Series Collaborates with Tasaki Jewelry, Pop-up Event to Open in Nagoya

Matsuzakaya Nagoya will hold a special collaboration pop-up between the popular manga Chainsaw Man and the fine jewelry brand Tasaki from July 27 to August 2, 2022. Fans of the series won't want to miss seeing these exquisite pieces in person! The event is also celebrating the launch of 'danger,' one of Tasaki's new iconic items. 

At the venue, guests can peruse a selection of Tasaki's fine jewelry, including the new 'danger' collection which was inspired by the beauty of insectivorous plants. This is a perfect mix with Chainsaw Man, which has captivated audiences around the world with its unique plot, savage content, and one-of-a-kind characters. Fans won't want to miss out on these manga-inspired pieces perfect for everyday wear. A special visual for the pop-up was drawn by the original author of the series Tatsuki Fujimoto. 


Also on display at the venue will be a special Pochita figure, whose chainsaw will be lavishly set with pearls.

Chainsaw Pendant & Ear Cuff (One Ear)

Chainsaw Man Pendant

Pochita Pendant

Pochita Pendant

Power Necklace

These collaboration jewelry pieces inspired by characters and motifs from Chainsaw Man will be available in limited quantities at the venue, so don't miss it!

©TASAKI

Information

Tasaki x Chainsaw Man Pop-up

Running: July 27 – August 2, 2022

Venue: Matsuzakaya Nagoya

Mystery Manga Series 'The Summer Hikaru Died' to Get Pop-up Shop in Ikebukuro This Autumn

A limited-time pop-up shop for the manga series The Summer Hikaru Died will be held at TLC RECORDS at Sunshine City in Ikebukuro from October 8 until October 23, 2022.

Manga Synopsis


Yoshiki and Hikaru are two boys who live in a certain village. They're the same age and have always been together growing up. But one day, Yoshiki noticed that "something else" has taken Hikaru's place. Even after learning of this, Yoshiki still wants them to be together. And so, his life with the "something" that looks like his friend begins.

The first volume of The Summer Hikaru Died was released this year by Kadokawa and managed to sell over 200,000 copies in under three months. The series has also been nominated for the Next Manga Awards 2022.


Fans of mystery and boys' love won't want to miss out on this series. The pop-up shop will feature new merchandise including newly-drawn images by the manga's creator Ren Mokumoku.

©モクモクれん/KADOKAWA

Information

The Summer Hikaru Died Limited-Time Pop-up Shop

Running: October 8 – October 23, 2022
Venue: Sunshine City alpa B1, TLC RECORDS (3-1-2 Higashiikebukuro, Toshima-ku, Tokyo)
Official Site: https://web-ace.jp/youngaceup/contents/1000183/

Toy Story Aliens Cafe to Open in Tokyo, Osaka, and Nagoya

The Toy Story Aliens Cafe will be opening for a limited time in Tokyo starting July 23, in Osaka on July 27, and in Nagoya on August 4. Fans of the film series will remember the adorable Alien characters, originally shown as prizes in a crane game. This pop-up cafe will feature themed dishes and merchandise, and Pixar fans should be sure to attend!

Menu

Food

Space Curry

Green Pasta

Alien Burger A (Teriyaki Soy Meat) / Burger B (Tomato Soy Meat) / Burger C (Chicken & Potato)

Moon Landing?! Potato & Bread

Kids Plate

Fruit Bread

Drinks

Alien Smoothie

Space Soda

Melon Milk

Space Crane Game Cider / Grape Juice

Hot Tea / Hot Milk

Goods

The food menu includes a tasty black curry, a green pasta featuring broccoli, edamame, spinach, and snap peas, and three types of alien burgers featuring either teriyaki soy meat, tomato soy meat, or chicken and potato. Even the drinks stick to the Alien theme, and the menu includes an Alien Smoothie with a tasty banana yogurt flavor. 

Guests will also be able to purchase event-exclusive merchandise from keychains and stickers to tote bags and letter sets. 

©Disney/Pixar

Information

Toy Story Aliens Cafe at OH MY CAFE

Venues/Dates: 

Tokyo: OH MY CAFE TOKYO

Running: July 23 – September 25, 2022

Tokyu Plaza Omotesando Harajuku Mall 3F (4-30-3 Jingumae, Shibuya-ku, Tokyo)


Osaka: OH MY CAFE OSAKA

Running: July 27 – October 3, 2022

1-6-1 Shinsaibashisuji, Chuo-ku, Osaka (2F)

Nagoya: kawara CAFE&KITCHEN

Nagoya PARCO

Running: August 4 – October 10, 2022

Nagoya PARCO South Building 5F (3-29-1 Sakae, Naka-ku, Nagoya)

Details: https://planet.ohmycafe.jp/

Online Store

July 23, 12:00~

NIJISANJI Debuts New 4-Member VTuber Group VOLTACTION

VTuber Group NIJISANJI has debuted four members as part of the new group VOLTACTION. Twitter accounts for each new VTuber were launched on July 13, and the member's first broadcasts will take place in a relay format on July 16, 2022 on each VTubers channel. On the official NIJISANJI YouTube channel, the members will take part in a special broadcast on July 16 at 21:00 with Green Rouge, comprised of Joe Rikiichi and Hanabatake Chaika. 

Music Video


VOLTACTION's debut song, Inlaid, premiered on July 13. 

To celebrate the new group, station advertisements will appear in two locations at Shibuya Station from July 11 until July 17, 2022. 

Be sure to keep an eye on VOLTACTION!

VOLTACTION


The four new members–who all attended boarding school together–are Fura Kanato, Watarai Hibari, Shikinagi Akira, and Seraph Dazzlegarden. While working undercover to hone their special abilities, they spend each day trying to make people happy.

Members

Fura Kanato


The son of a Mafia family.
He has a gentle disposition and doubts about the family business, but they say his talents as a leader is unmatched.
He currently operates as a young businessman, operating cafes and restaurants.

Birthday: March 25
Age: 20
Height: 177cm

First Stream: July 16, 19:00~
Twitter: https://twitter.com/KNTFR2434
YouTube: https://www.youtube.com/channel/UCC7rRD6P7RQcx0hKv9RQP4w

Watarai Hibari

Last member of a family of phantom thieves.
He longs to be a Robin Hood kind of character, a thief of justice that charisma that captivates others.
Since he doesn't actually steal for money, he works part-time at a cafe.

Birthday: September 23
Age: 21
Height: 183cm

First Stream: July 16, 19:30~
Twitter: https://twitter.com/watarai_hibari
YouTube: https://www.youtube.com/channel/UC4l9gz3q65lTBFfFtW5LLeA

Shikinagi Akira


A young man born into a long line of intelligence officers, following in their footsteps as the latest in the generation.
He decides to leave his organization, and move into a small office taking odd jobs from exterminating beehives, to taking care of thugs. 


Birthday: December 12
Age: 21
Height: 174cm

First Stream: July 16, 20:00~
Twitter: https://twitter.com/Shikinagi_2434
YouTube: https://www.youtube.com/channel/UCcDDxnoQcezyTUzHg5uHaKg

Seraph Dazzlegarden



The youngest in a long line of assassins, having been refined in the craft at a young age.
Little is known about Seraph if that's even his real name among his many aliases.
He quit being an assassin and now takes on jobs as a freelance agent. 


Birthday: May 12
Age: 20
Height: 186cm

First Stream: July 16, 20:30~
Twitter: https://twitter.com/SerAph_DazZ
YouTube: https://www.youtube.com/channel/UC5dJFf4m-mEcoyJRfhBljoA

Information

VOLTACTION

The First Trial of your Debut?! #VOLTACTION vs. Green Rouge

Stream Date: July 16, 21:00~
Stream URL: https://youtu.be/4o_JNNc3J28
Official Channel: https://www.youtube.com/c/nijisanji

Station Advertisement
Display Period: July 11 – July 17, 2022


Advertisement Locations:
Shibuya Station, Dogenzaka Happy Board B
Tokyu Denentoshi Line, Shibuya Station (Near Exit A0 and A1 on Floor B1)


Official Site: https://www.anycolor.co.jp

Dr. Stone THE STAGE ~SCIENCE WORLD~ to Open at Ikebukuro Sunshine Theater

Dr. Stone THE STAGE ~SCIENCE WORLD~, the stage play adaptation of Riichirou Inagaki and Boichi's Dr. Stone sci-fi adventure manga, is being performed at Ikebukuro's Sunshine Theater until July 18, 2022.

In the year 2019 AD, a mysterious flash suddenly petrifies nearly all human life. 3,700 years pass with the human race frozen in stone, until in April 5738, a 15-year-old prodigy named Senku Ishigami is suddenly revived. He soon sets up a basecamp and begins to study the petrified humans in order to determine the cause of the event, as well as a cure.

 

The Tokyo performance will take place until July 18. From July 21 until July 24, the stage play will be held at AiiA 2.5 Theater Kobe in Hyogo.

Those unable to see the performance in person can stream the July 9 performance until July 16!

Comment from Tsubasa Kizu (Senku)

"My name is Tsubasa Kizu and I play Senku. 

Less than a month into our rehearsals, we've been powering our way through!

I'll do my best to make sure that there are no injuries on set, and that myself and this wonderful cast and crew successfully complete this stage run. 

I really want to share how fun science can be with the audience, even if just a little bit. 

We'll give it our all, so please continue supporting us until the very end!"

Ⓒ米スタジオ・Boichi/集英社・「Dr.STONE」THE STAGE製作委員会

Adorable Penguin Koupen-Chan Inspires Starry Sky-Themed Exhibition at Ikebukuro Parco Factory

From July 15 until August 1, Ikebukuro PARCO will hold a special exhibition featuring the adorable penguin character Koupen-chan!

 

The exhibition will show Koupen-chan among the stars. The character has become massively popular on social media, inspiring a collection of books and merchandise. 

[Admission Bonus] Foil-stamped Art Card

Message Corner

Koupen-chan Constallations

Unreleased Original Drawings

Koupen-chan's Video Corner

Exclusive Ikebukuro Stamp

Purchase Bonus for Guests Spending ¥2,200 (Tax Included)

Purchase Bonus for Guests Spending ¥3,300 (Tax Included)

Purchase Bonus for Guests Spending ¥5,500 (Tax Included)

New Picture Book – Koupen-chan: Summer Friends

New Picture Book – Koupen-chan & You

Original Sticker with the Purchase of a Book

Exclusive Event Merchandise

Shooting Star Koupen-chan Stuffed Animal

Koupen-chan Moon & Star Stuffed Animal

When You Wish Upon a Star Art Reproduction

When You Wish Upon a Star Art Reproduction

The venue will be transformed into a starry sky-themed space and over 100 original drawings will be on display. These have never been posted on social media, so be sure to visit if you're a fan! The exhibition will also include a photo spot and a video corner, and visitors to the Ikebukuro venue will get a unique stamp. New picture books will be on sale, including autographed copies, and those spending a certain amount on merchandise will receive a special purchase bonus.

Come spend some time surrounded by the encouraging Koupen-chan in this magnificent space!

Information

Koupen-chan's Starry-Sky Exhibition

Running: July 15 – August 1, 2022 

Hours: 11:00-21:00

Venue: Ikebukuro PARCO Main Building 7F, PARCO FACTORY

Official Site: https://ikebukuro.parco.jp/


Cafe Inspired by Technoroid Mobile Game to Open at Sunshine City Prince Hotel in Tokyo

Tokyo's Sunshine City Prince Hotel will hold a special collaboration cafe with the mobile game Technoroid at the Bayern restaurant. The first collaboration cafe for the multimedia project will be open from July 30 until September 11, 2022.

Ikebukuro is a part of Tokyo filled with shops, restaurants, movie theaters, and plenty of anime and game shops. Anyone visiting the area will find something fun to do, and it has also become known nationally as a mecca for girls who like BL. 


Afternoon Tea Menu





Sales Period: July 30 – August 6

Nobel / Ruma / Einsatz

 

Sales Period: August 7 – August 13

Silve / Auru / Lana / Zin

Sales Period: August 14 – August 20

Kite / Light / Night

Sales Period: August 21 – August 27

Bora / Xyo / Rhodi

Sales Period: August 28 – September 3

Fran / Hyd / Lim

Sales Period: September 4 – September 11

Colbalt / Chrom / Kei / Neon





Six different afternoon tea menus will be available during the event period, changing weekly. These will be inspired by different groups from the music series. 

Hot and cold drinks inspired by the game's characters, including 20 varieties of latte art, will be available during the entire event period. The cafe will also offer collaboration food items and drinks that can be enjoyed only at the collaboration cafe, as well as exclusive goods.

©芝浦アンドロイド研究室/TECHNO-OM Project  
©芝浦アンドロイド研究室/TECHNO-UH Project

Information

Technoroid x Sunshine City Prince Hotel 'Cafe Unison'

Open: July 30 – September 11, 2022

Venue: Restaurant Bayern (Hotel B1F)

*Reservations required.

Reservations/Details: https://www.princehotels.co.jp/sunshine/restaurant/contents/techno-roid/

※For those unable to visit the collaboration cafe, goods will be on sale even after the event period ends. More information will be released at a later date. 

Three Popular NIJISANJI VTubers Inspire New Apparel Collection

Fashion brand RAGEBLUE has opened orders for a new collaboration collection with three popular VTubers from NIJISANJI! These items will be available at the .st web store and ZOZOTOWN until July 15, 2022.

Lineup

Kaede Higuchi

Gaku Fushimi

Akina Saegusa

Novelty

Original Sticker

The lineup includes 11 items inspired by three NIJISANJI talents: Kaede Higuchi, Gaku Fushimi, and Akina Saegusa. Customers will receive an original sticker as a gift for buying something from the collection!

Which of these talents is your favorite?

Nagoya City Museum to Hold Special Exhibition Featuring Ukiyo-e Prints of Anthropomorphic Cats

Have you ever wondered what it would be like if cats could talk? Anthropomorphization is when a non-human creature is depicted in a way that imitates humans. 

The Moshimo Neko Exhibition, which focuses on anthropomorphic cat artworks by the ukiyo-e artist Utagawa Kuniyoshi, will be held at the Nagoya City Museum from July 2 to August 21, 2022.

Popular Cat's Juggling Act – Utagawa Kuniyoshi (Private Collection)

New Cat's Balancing Act – Utagawa Kuniyoshi (Private Collection)

Piece from Utagawa Kuniyoshi (Private Collection)

This exhibition presents 135 works featuring humanized cats, with a focus on the fun of Edo-era anthropomorphic expression centered on the works of Utagawa Kuniyoshi. Those who love cats and ukiyo-e will be in heaven here, and these charming cats are sure to make you giggle.

From around 1841, the ukiyo-e artist Utagawa Kuniyoshi released numerous works featuring anthropomorphized cats and portraying actors as cats.

The Hazy Moon Cat's Writings – Kyozan Santo・Utagawa Kuniyoshi (Private Collection)

Popular Cats in a Noh Play – Utagawa Kuniyoshi (Private Collection)

Guests can also take part in a quiz to more deeply understand the works found in the exhibition and an AR component will make it seem like the cats are jumping out of the paintings. 

Information

Moshimo Neko Ten (What If We Were Cats Exhibition)

Running: July 2 – August 21, 2022

Venue: Nagoya City Museum

Hours: 9:30-17:00

Closed July 4, 11, 19, 25, 26 / August 1, 8

Official Site: https://www.ctv.co.jp/nekoten/

VTuber Group NIJISANJI Releases 10th Round of Themed T-Shirts

Popular VTuber group NIJISANJI has started selling some new T-shirts as part of the NIJI-Tee project. These shirts were designed by three of the members and are available to order from the NIJISANJI official store.

Kokoro Amamiya

SisterClaire

Kizuku Yashiro

Three members–Kokoro Amamiya, SisterClaire, and Kizuku Yashiro–designed these shirts themselves. Which one will you be ordering?