VTuber Group NIJISANJI EN Inspires Collaboration Cafes in Ikebukuro and Nagoya
From August 3 until August 30, VTuber group NIJISANJI EN fans won't want to miss two unique collaboration cafes coming to Ikebukuro and Nagoya! The cafes are being held at Animate Cafe and a number of themed dishes and goods will be available for purchase.
Menu
Pomu, Selen, and Reimu's Favorite Things Plate
Ike, Shu, and Luca's Favorite Things Plate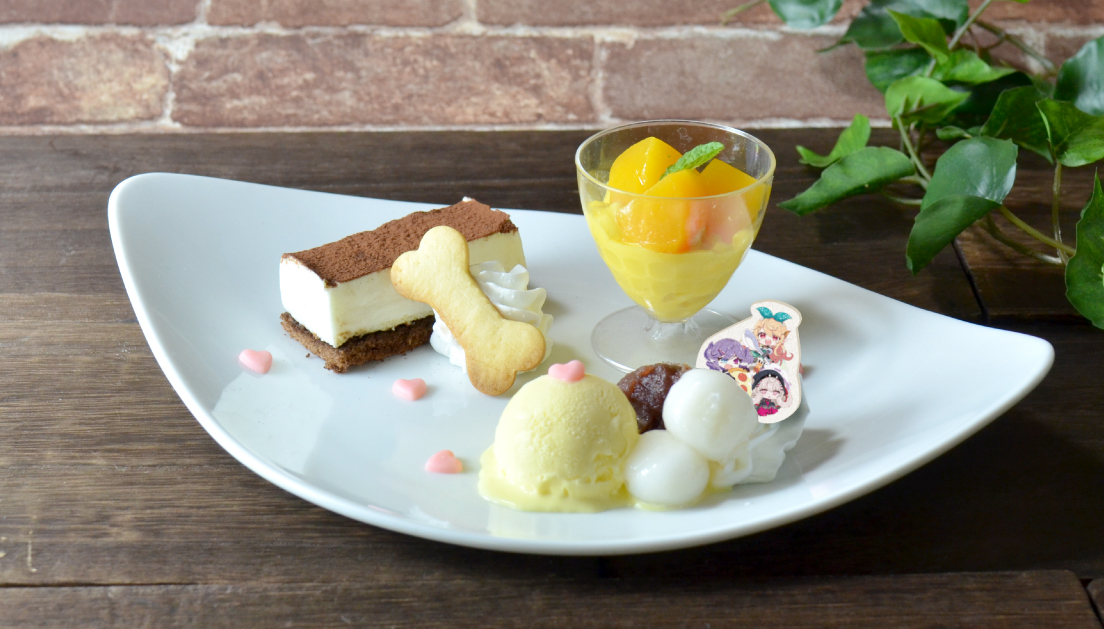 Pomu, Selen, and Reimu's Favorite Sweets Set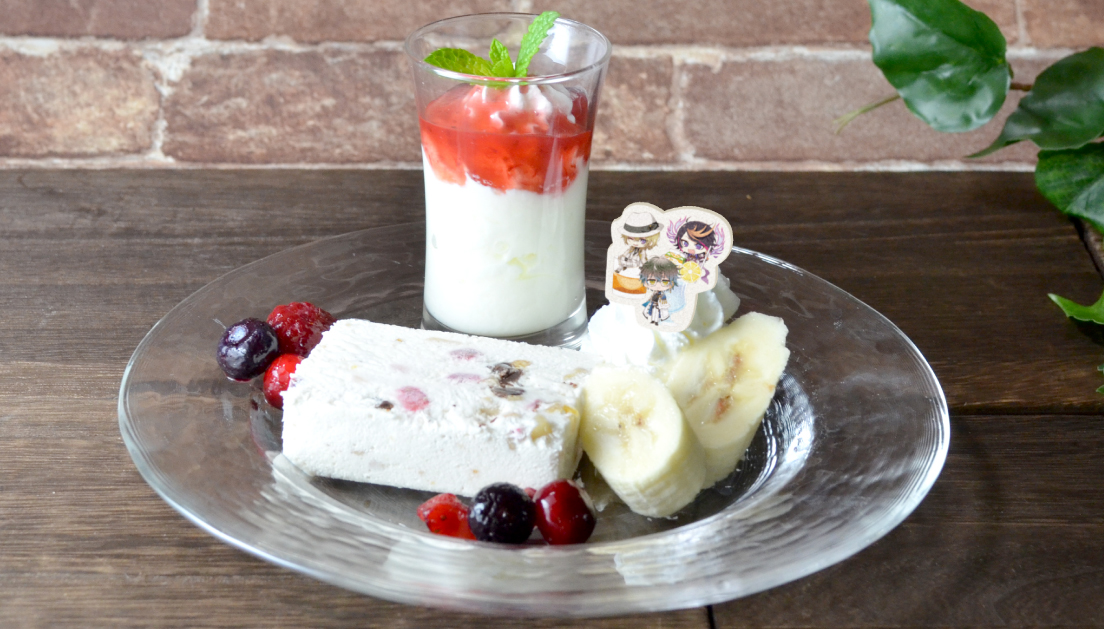 HOW CAN I WORK PLEASE! Cake Set by seisoxiem
Big Powerful Pomu Energy Drink
Mango Cider That Won't Make You Blackout
Miso Soup & Toast
fika time
Super Popular Taiyaki Drink
C&C (Cookies & Cream) Frozen Drink with Cheddar Cheese Flavored Thing
Goods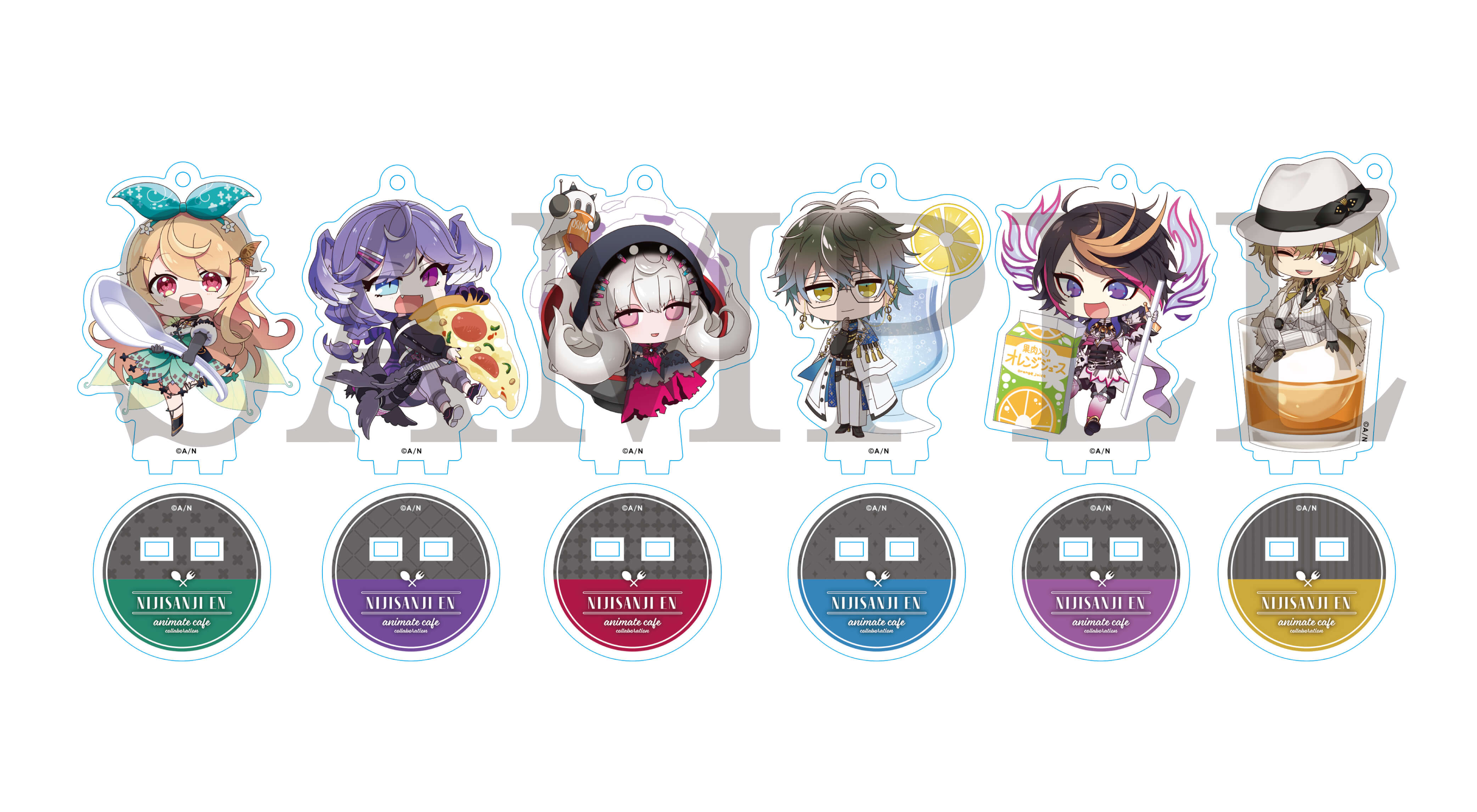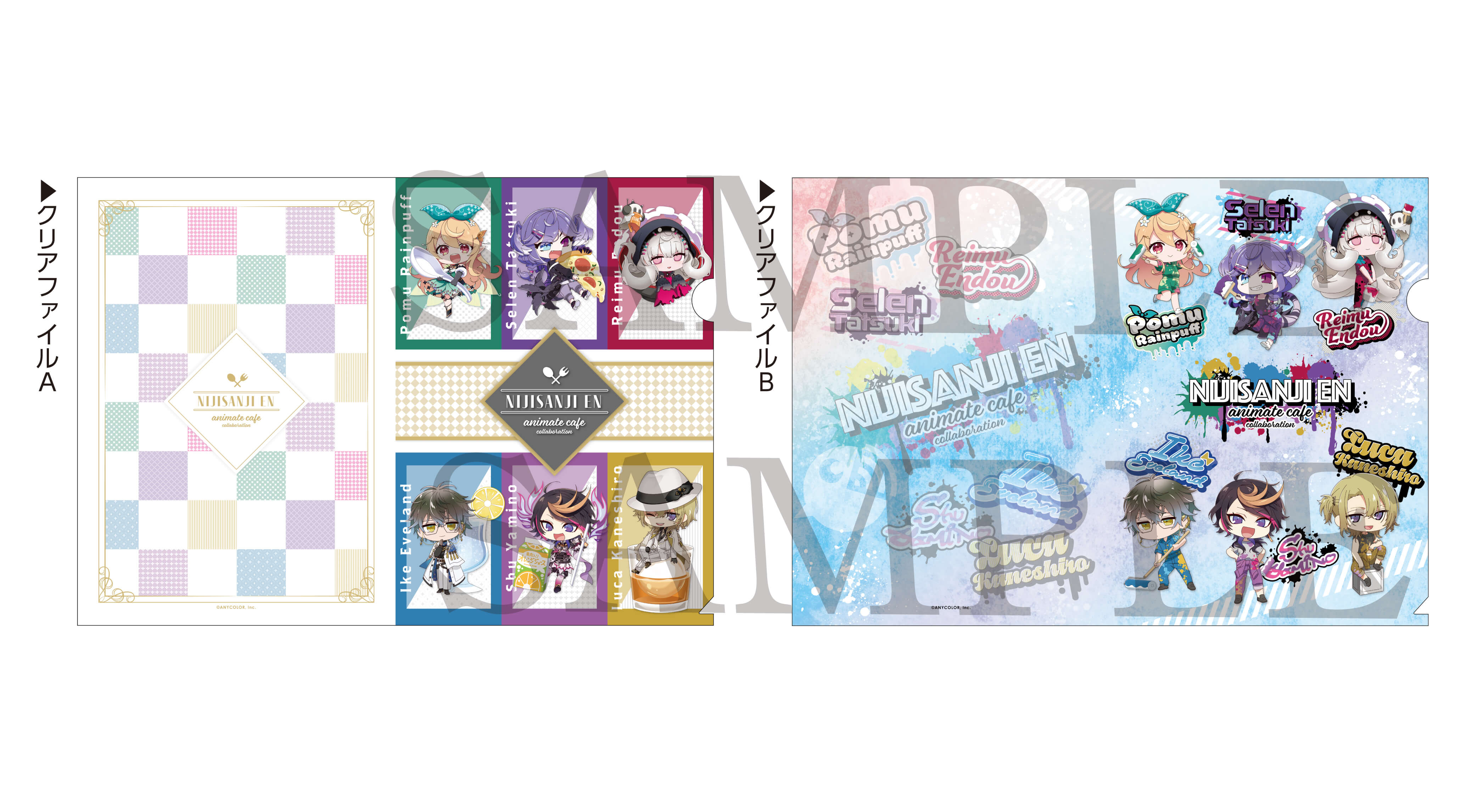 At the collaboration cafe, limited-edition goods featuring entirely new illustrations of the members will be on sale. Pomu Rainpuff, Selen Tatsuki, Reimu Endou, Ike Eveland, Shu Yamino, and Luca Kaneshiro are waiting for you!
©ANYCOLOR, Inc.
Information
NIJISANJI EN x Animate Cafe
Running: August 3 – August 30, 2022
Venue: Animate Cafe Ikebukuro #3 / Nagoya #2
How to Visit:
  
Animate Cafe Ikebukuro #3
Reservations by lottery for all dates (Online)

Animate Cafe Nagoya #2
August 3 – August 5, Weekends & Holidays: Reservations by lottery (Online)
*All other dates feature first-come-first-served seating. If the shop becomes too crowded, numbered tickets may be handed out.
Details: https://cafe.animate.co.jp/event/nijisanji-en2208/

RELATED ENTRIES
VTuber Group NIJISANJI EN to Hold First Live Event in April 2023

In May 2021, the NIJISANJI EN project appeared as a part of the overall umbrella of NIJISANJI VTubers. This April, these English-speaking talents will hold their first live event titled COLORS. A total of 19 performers will appear on April 8 and 9, with the Pastel Stage being held on the 8th and the Vivid Stage being held on the 9th. Don't miss these fully 3D AR performances!

Online tickets are on sale now, and fans can buy tickets for either a single day or the full two days. The performances can be watched as many times as you like during the viewing period, and the first part of the event will be broadcast for free on YouTube and Nico Nico Live.

Information

COLORS (NIJISANJI EN AR LIVE) – Pastel Stage & Vivid Stage
Dates
April 8, 2023 at 12:00JST (Pastel Stage)
April 9, 2023 at 12:00JST (Vivid Stage)
Performer Details and Ticket Info: https://event.nijisanji.app/EN_COLORS

CreepHyp to Bring 10th Anniversary Exhibition to Nagoya PARCO

From February 11 to February 26, an exhibition inspired by the popular rock band CreepHyp will be held at the PARCO GALLERY on the 6th floor of the Nagoya PARCO West Building. The event is being held to celebrate the 10th anniversary of CreepHyp.

The exhibition is themed around a 'Museum of Voices.'

A person's voice is said to be a true expression of their personality. This exhibition will give fans a new sense of what CreepHyp is and will feature their music, their MC content, and various radio appearances.

Visitors will be able to listen to the member's voices, but they'll also be able to step on them, dive into them, look at them, and experience plenty of other ways to enjoy the band's content. Completely immersed in this world of voices, this experience promises to be like no other. Come experience it while you can!

The exhibition was largely created by CHOCOLATE, the creative team behind CreepHyp's past exhibitions. Exclusive merchandise will also be available on-site.

Nagoya Castle to Hold Special Autumn Night Art Viewing for a Limited Time

The historic Nagoya Castle will hold a special nighttime viewing event for 14 days only, from November 25 until December 8, 2022. During this period, Honmaru Palace will be open to the public at night, and the Chrysanthemum Corridor inside will be open to visitors for the first time. 


The Ninomaru Garden will also be illuminated and will transport guests to a different place and time by showing a space only possible during dark hours.

Inspired by the relationship between light and shadow, this event focuses on changes that occur over time and the creation and emergence of new ideas and things.

Honmaru Palace, Typically Closed to the Public, to be Open at Night

Nagoya Castle's Honmaru Palace was completed in 1615 and served as the primary residence of the Lord of the Owari Domain and as the Domain's government office. The interior of the palace was lavishly decorated with paintings and other art pieces and was praised as a masterpiece. Sadly, it was destroyed by an air raid in 1945. Restoration work began in 2009 and was completed in 2018 with unparalleled accuracy. The Honmaru Palace gives off a completely different aura at night. 

First Public Viewing of the Jodan-no-ma in the Joraku-den

The Joraku-den was added to Nagoya Castle to accommodate the third Shogun, Iemitsu, on his way to Kyoto. It is the most luxurious of all the Honmaru Palace buildings, and this event marks the first time that the Chrysanthemum Corridor on the north side will be open to the public. Visitors are welcome to admire the golden-blue paintings as they stroll through the historic site.

See Spectacular Paintings when Entering the Tsugi-no-ma Room

During this period, visitors can enter the Tsugi-no-ma room to view classical period paintings, giving a more clear idea of how people acted and dressed during this time in history.

[Ninomaru Garden Special Viewing] 


~Witness a Never-Before-Seen Feudal Lord's Garden through a Spacial Presentation~

Scenography for this unique show was provided by the creative label PERIMETRON. In order to show another side of the Ninomaru Garden at night, the company focused on light's characteristics, from reflection and transmission to refraction and absorption. Light and shadow intertwine in various ways, and guests will be transfixed by this curious showing.

Information

Nagoya Castle: Autumn Night Special Viewing ~KEI~

Running: November 25 – December 8, 2022

Viewing Hours: 9:00-19:30 (Gates close at 20:00)

Official Site: https://www.nagoyajo-kei.jp/

NAKED FLOWER TOWER AUTUMN to Add Color to Nagoya's Nightscape

Creative company NAKED is currently holding the NAKED FLOWER TOWER AUTUMN event at the Chubu Electric Power Company MIRAI TOWER Sky Deck in Nagoya until December 2, 2022. 

The historic MIRAI TOWER, formerly the Nagoya TV Tower, opened in 1954. On October 12, 2022, the tower was registered as a tangible cultural property, and many companies have collaborated with the structure over the years. Now, NAKED's digital art is creating a new night experience for visitors and residents of Nagoya!

 

The NAKED FLOWER TOWER event which began this summer invited guests to enjoy Nagoya's evening views with all five senses. The tower's Sky Deck was decorated with fresh flowers, given that Aichi Prefecture is the nation's largest flower producer. It was also brought to life with a special projection mapping performance, and guests could enjoy original drinks as they gazed out at the illuminated city.

 

This event has now been reimagined for autumn, with fall flowers and grasses brightening the space. During the projection mapping show, a massive full moon is projected on the glass. You won't want to miss it!

Information

NAKED FLOWER TOWER AUTUMN
Running until December 2, 2022

Venue:
Chubu Electric Power MIRAI TOWER (formerly the Nagoya TV Tower)
Sky Deck 90m Indoor Observation Deck

Official Site: https://www.nagoya-tv-tower.co.jp/nakedinc/


30th Anniversary Crayon Shin-chan Exhibition to Open in Ikebukuro

Crayon Shin-chan's 30th Anniversary Exhibition will be held at Ikebukuro Sunshine City starting December 17, 2022. Humorously titled The Adventure in Ass Wonderland, the interactive exhibition will pay homage to the past three decades of the beloved anime series. In conjunction with the event, a key visual drawn especially for this exhibition has also been unveiled.

This special exhibition looking back on the 30th anniversary of the anime series and films will feature many hands-on Crayon Shin-chan projects based on the theme of Shinnosuke's butt. More details will be announced soon, so stay tuned.

Advance tickets for the exhibition will be on sale starting November 17, 2022. The exhibition is also scheduled to travel to other venues in Japan beginning in 2023. See the official website for more information. 

©臼井儀人/双葉社・シンエイ・テレビ朝日・ADK

The #KuromifyTheWorld Project Celebrates First Anniversary with Special Week of Events

The #KuromifyTheWorld campaign is already one year old! Created to share the adorable Sanrio character Kuromi with the world, fans will be invited to celebrate this milestone from October 20 until October 31 with special events in Tokyo, Osaka, and Nagoya. 

Kuromi's Drink Stand will be open for a limited time in Tokyo and Osaka. Customers will be invited to choose the color of their drink according to their mood, and will also be able to customize it with tags, acrylic stands, and stickers! An original photo spot will also be set up beside each drink stand, and those wanting to attend can enter the lottery to win tickets now. 

Sanrio's first and largest Kuromi ad truck will also be driving through the streets of Tokyo, Nagoya, and Osaka during the event week. 

Kuromi will also be teaming up with (G)I-DLE, a popular five-member global idol group from South Korea. Campaigns are planned to appear in Hangzhou, Suzhou, Taiwan, Korea, North America, and Europe.

Kuromi ranked in the top three in this year's Sanrio Character Awards, and her popularity is steadily growing with Gen-Z. Keep an eye out for more Kuromi-inspired events in the future!

Information

#KuromifyTheWorld Week

・Kuromi's Drink Stand: 

Running: 

Shinjuku, Tokyo: October 20 – October 24, 2022

Shinsaibashi, Osaka: October 29 – October 31, 2022

・#KuromifyTheWorld Ad Truck:

Running:
Tokyo: October 20 – October 24

Nagoya: October 26 – October 27

Osaka: October 29 – October 31

MATZ, NIJISANJI EN and SURAN Perform at ULTRA JAPAN 2022

30.September.2022 | MUSIC

Popular artist and producer MATZ has worked on songs for a number of popular artists, including BE:FIRST, NIJISANJI EN, SKY-HI, Kizuna Ai, and more. His major debut single, STAY feat. SURAN, was released this summer and reached the top spot on the iTunes Dance Single Chart. When the set list for ULTRA JAPAN 2022, a popular dance festival held for the first time in three years following the pandemic, was released on social media, fans immediately noticed that MATZ would be performing with NIJISANJI EN–a pairing many people never expected to see in real life. 

 

When MATZ began his DJ set, the venue immediately burst into an excited frenzy, with guests obsessed with his song selection. SURAN appeared as a surprise guest–the South Korean artist collaborated with the producer on his debut single. Finally, NIJISANJI EN appeared, as MATZ played a special medley of NIJISANJI EN songs mashed up with high-tempo dance music, including two songs produced by MATZ himself. The performance blended sound with images of NIJISANJI EN members projected on huge screens, and many are predicting more crossovers with popular VTubers in the future. What will MATZ come up with next?

BTS TinyTAN Pop-Up Shop Open in Nagoya for a Limited Time

BTS fans will want to head to Nagoya! The TinyTAN Licensed Product Special Exhibition is now open at Nagoya Kintetsu Pass'e until October 2, 2022. Tons of new products inspired by Butter are available at an on-site pop-up shop!

The exhibition opened on September 17, and fans of the BTS song Butter are flocking to the event to snag some adorable new merch. In addition to new interior goods being unveiled for the first time, popular products have been released with entirely new designs. 

Many other world premiere products will also be available, including the 4 Season Blanket decorated with TinyTAN characters and inspired by spring, summer, fall, and winter. This will be available in limited quantities, so don't miss out!

Information

TinyTAN​ Licensed Product Special Exhibition in Nagoya (DIRECTOR JAPAN)
Venue: Nagoya Kintetsu Pass'e 4F Special Event Space (1-2-2 Meieki, Nakamura-ku, Nagoya)
Running: September 17 – October 2, 2022
Hours: 10:00-20:00
Reservations: https://select-type.com/rsv/?id=zf4tWp-4ICA

Musee du Qouvre Inspires Limited-Time Store at Ikebukuro PARCO

PARCO will open a special shop inspired by Musée du Qouvre at its Ikebukuro location from August 19 until September 11, 2022. 

Suki Rabbit Dance

Suki Rabbit with Apple

Rabbit Eating Pizza

Naked Rat Lying Down

Suki Rabbit in a Cup

Portrait of a Cat's Day

Portrait of a Sad Bear

Exclusive Goods

Musée du Qouvre Special Layered Acrylic Stand

Square Cushion

A5-size Clear Folder (8 varieties)

Capsule Toy Pin (6 varieties)

Stained Glass Pin

Glass Hair Tie (2 varieties)

Canvas Art (4 varieties)

Sticker Sheet

Eco Tote Bag (3 varieties)

Black Memo Pad

*Designs are subject to change.
*All prices include tax.
*The specifications of the goods are subject to change without notice.
*Some items will be sold randomly. Specific designs cannot be chosen.
*The above merchandise is only a selection. More will be available.
*Products are available in limited quantities.
*The number of items purchased may be limited.

 

The exhibition toured PARCO locations nationwide, and audiences loved the bizarre animal images created by Qrais. Now, the museum shop will feature a huge collection of goods inspired by the artist's works.

 

At the venue, guests will be able to enter a raffle to win a painting by the artist himself!

Information

Musée du Qouvre Museum Shop

Running: August 19 – September 11, 2022 / 11:00-21:00

Venue: Ikebukuro PARCO 6F (1-28-2 Higashiikebukuro, Toshima-ku, Tokyo)

Admission: Free

First 'Made in Abyss' Anime Exhibition to Open at Ikebukuro and Nagoya PARCO

To commemorate the release of Made in Abyss: The Golden City of the Scorching Sun, an exhibition will open at PARCO FACTORY in Ikebukuro on September 2 and at PARCO GALLERY in Nagoya on October 1!

Guests can see original drawings from the first and second seasons of the anime and the movie, special video content that mixes full-length anime footage with original drawings, and artifacts from the story.  Photo spots will also allow visitors to experience famous scenes from the series.

Those wanting to be guided through the exhibition can purchase the One Point Nanachi voice guide! The voice actress Shiori Izawa will lead you through key parts of the venue.

Original goods will also be on sale at the venue. A special collaboration menu will be available at Cafe Address on the 6th floor of Ikebukuro PARCO, including savory dishes, desserts, and drinks inspired by the show's characters.

Additional information will be announced on the exhibition's official website, so keep an eye out for more!

Information

Made in Abyss Exhibition ~Tracks of the Challengers~

PARCO FACTORY (Ikebukuro PARCO 7F)

Running: September 2~

PARCO GALLERY (Nagoya PARCO West Building 6F)

Running: October 1~

NIJISANJI and Sanrio Characters Collaboration Cafe to Open for a Limited Time

The NIJISANJI and Sanrio Characters Collaboration Cafe will open in Harajuku and Yokohama on August 18 and in Osaka on September 2!

Three units from the popular NIJISANJI VTuber collective will be featured at the cafe, with each talent teaming up with a particular Sanrio character, from Hello Kitty, Pompompurin, and Kuromi to Tuxedo Sam and Hangyodon.

Food Menu Purchase Bonus: Original A3-size Lunch Mat

Drink Menu Purchase Bonus: Original Postcard (3 varieties)

Drink Menu Purchase Bonus: Original Straw Tag (13 varieties)

Menu

Food

 [Kojirase Harassment] Zenryoku Boomerang Sandwich

 [Sereine Girl's School] Lunch Plate

[Eden-gumi] Curry from Eden

Dessert

[Kojirase Harassment] The Cutest Idol Parfait

 [Sereine Girl's School] Drama Club Fruit Pancakes

[Eden-gumi] Eden Sweets Plate

Drinks

[Kojirase Harassment]

 [Sereine Girl's School]

[Eden-gumi] Member Drink

The food, dessert, and drink menus were each inspired by these three unique units. Fans of Kojirase Harassment won't want to miss the tasty Zenryoku Boomerang Sandwich based on the hit song, and anyone who loves the adorable members of Serine Girl's School can grab some tasty fruit pancakes. The Eden-gumi menu consists of delectable curry and a sweets plate sure to fill you up. 13 unique drinks will also be available, each inspired by the member colors of the participating V-Tubers.



Come spend a relaxing time with your favorite characters this summer!

©ANYCOLOR, Inc. © '22 SANRIO Ⓛ

Information

NIJISANJI x Sanrio Character Collaboration Cafe

Venue/Dates:

Harajuku, Tokyo
BOX cafe&space Shinjuku MYLORD #1
August 18 – September 24, 2022


Yokohama, Kanagawa
Collabo_Index Lumine Yokohama
August 18 – September 24, 2022

Osaka
#702 CAFE&DINER Namba Parks
September 2 – September 24, 2022


Reservations / Cafe Details: https://nijisanjisanrio3-cafe.jp

Anime Series 'Aoashi' Inspires Collaboration Cafe at AMOCAFE Ikebukuro

A collaboration cafe inspired by the anime series Aoashi is now open at AMOCAFE Ikebukuro! Characters from the Tokyo Esperion youth academy will appear in cafe-style costumes in new illustrations for the event. 

The menu offers a variety of unique dishes, from sandwiches and fried chicken to more traditional Japanese fare. Many of these food items appear in the series, so those familiar with the content should be extra excited. 

Hana's Homemade Sandwich Bento: ¥1,320 (Tax Included)

 

Featuring plenty of tasty and healthy ingredients, this high-protein and veggie-heavy dish is delectable.
*Available from August 9 until August 22

Sukiyaki Meal Set from the Players' Dorm Cafeteria: ¥1,540 (Tax Included)


Everyone loves this traditional flavor. Be careful with ordering this one before the big game–the rice will weigh you down!
*Available from August 9 until August 22


Sandy Beach Kinako Mochi: ¥990 (Tax Included)


This dish was inspired by the sandy beach where Ashito's fateful encounter took place and where his training began.

*Available from August 9 until August 22


There are also plenty of other food and drinks available, so if you're interested, please check out the official website.

A total of 12 mini character illustrations exclusive to the cafe will be available! The goods can only be purchased by guests who order from the collaboration menu. 

Enjoy the world of Aoashi at this collaborative cafe!


©小林有吾・小学館 /「アオアシ」製作委員会

Information

Aoashi x AMOCAFE Ikebukuro

Running: August 9 – September 4, 2022

Venue: AMOCAFE Ikebukuro
Reservations Now Open
Special Collab Site: https://amocafe-reserve.jp/aoashi_amocafe/
*Priority will be given to guests with reservations. Same-day entry may be possible depending on availability.
*Contents are subject to change without notice.

 

AMOCAFE Webshop
https://amocafe-shop.com/
Period: TBD
Shipping Date: TBD