Czecho No Republic to release new version of "For You" as a coupling track on upcoming "Time Travelling" single!
08.September.2017 | MUSIC
It was recently announced that Czecho No Republic and Sky-Hi are to co-write a new single titled "Time Travelling" which has created a huge stir. The single will also including an acoustic arrangement of the song "For You" which just went on air via the late-night radio show RADIO∞INFINITY (00:00-03:00) on FM802 on September 7th.
"Time Travelling" Music Video (Short Ver.)
Czecho No Republic released the song "For You" back in 2015, with lyrics and production by the band's own Masami Takei. The band performed a special version of the song at their solo show in Osakajo Ongakudo on July 2nd under the theme of being conscious to continue loving and developing older songs. The band's guitarist Rui Yagi has arranged the track to breathe new life into its rebirth.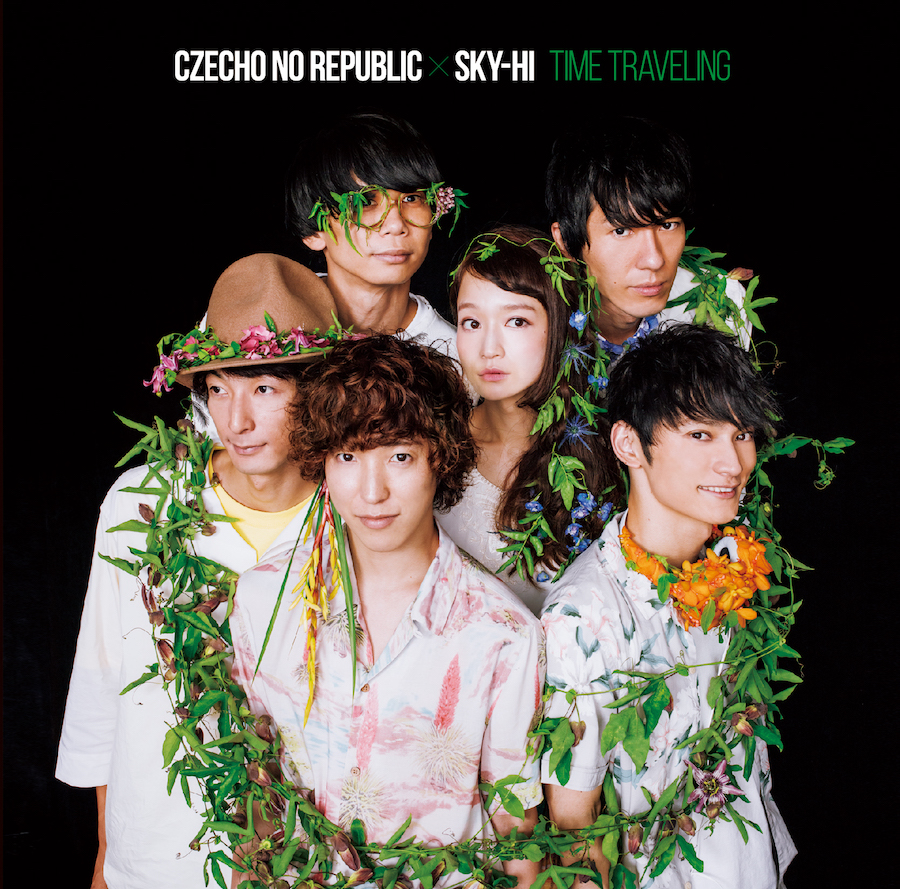 Czecho No Republic's bodacious single will be released on September 27th featuring the title song "Time Travelling" in collaboration with Sky-Hi, as well the tracks "MUSIC" featuring 12 vocalists (Czecho and 12 associates) and "For You (Acoustic Arrangement)."
Those of you who missed the first airing of the new "For You" will have the opportunity to hear the acoustic arrangement once it hits shelves in Japan.
■Information
Czecho No Republic × Sky-Hi
Single – "Time Travelling"
On sale September 27, 2017
First Press Limited Edition (CD+DVD) – [COZA-1377/8]
Price: ¥1,800 (tax incl.)
Regular Edition (CD only) – [COCA-17371]
Price: ¥1,000 (tax incl.)
▶︎Bonus for people who purchase the single
Order "Time Travelling" at select stores and online shops to receive an original CD jacket.
TOWER RECORDS (+online shop) – TOWER RECORDS Original CD Jacket
HMV (+online shop) – HMV Original CD Jacket
TSUTAYA (TSUTAYA Online Shopping is pre-order only) – TSUTAYA Original CD Jacket
Supporting shops other than the ones above – Original Support CD Jacket
※The visual for the bonus will be unveiled at a later date.
※A list of supporting shops will be available at a later date.
※Limited stock. Will no longer be available once all have been purchased.
Details regarding other bonuses for purchasers can be found here:
http://columbia.jp/artist-info/czechonorepublic/info/55852.html
http://columbia.jp/artist-info/czechonorepublic/info/55852.html
■Czecho No Republic Official Homepage: http://c-n-r.jp/
■SKY-HI Official Homepage: http://avex.jp/skyhi/
RELATED ENTRIES
Japanese Music Artists Performing Overseas in 2019: Part 4

More and more announcements have been rolling out about Japanese artists set to perform overseas in the latter half of 2019. Let's take a look and see if one of them is coming to a city near you in Part 4.

・Aimyon

Singer-songwriter is set to take her enthralling set to Shanghai with a headline show. The music video for her hit song Marigold, taken from her album Shunkanteki Sixth Sense which released in February, was shot on the streets of Shanghai. Currently knee-deep in her Japan tour to promote her new album, this will mark Aimyon's second time performing overseas following up from a successful show in Taiwan. Her popularity is steadily surging across the globe, be sure to check out her music available on Spotify as well as her many music videos.

Related Article: Aimyon Releases Music Video Teaser & CD Cover For New Song 'Manatsu no Yoru no Nioi ga Suru'

▶︎AIMYON 2019 LIVE in SHANGHAI

Date: July 13, 2019

Venue: 世博中心—紅庁, Shanghai 2019

Japan Enquiries: http://www.accessbright.com/aimyon/

AIMYON Official Website: http://www.aimyong.net/

・OKAMOTO'S 

Celebrating 10 years since their debut, OKAMOTO'S are currently touring Japan nationwide in promotion of their new album BOY. The four-piece rock band performed what they called their "first and last" Nippon Budokan show on June 27 but are following that straight up with two concerts in Beijing and Shanghai. OKAMOTO'S are veterans when it comes to having performed overseas. They are the younger Japanese male act to play SXSW in Texas, US when they performed back in 2010. They also embarked on a 7-city US tour and have toured Australia, Hong Kong, Taiwan, Vietnam and other countries. Don't miss out!

Related Article: OKAMOTO'S New 'Dancing Boy' Music Video Features Lots Of Guest Artists

▶︎OKAMOTO'S "BOY" CHINA TOUR 2019
2019/7/19 @ Beijing MAO Live House, Beijing
2019/7/21 @ Shanghai MAO Live House, Shangai

Tickets: https://www.showstart.com/event/list?type=1&tag=22685

OKAMOTO'S Official Website: https://www.okamotos.net

【お知らせ】

MY FIRST STORY初の中国・上海でのワンマンライブが決定🇨🇳!

MY FIRST STORY TOUR 2019 IN SHANGHAI

7/27(土) 19:30開演予定
中国・上海市静安体育センター

公演詳細は後日発表!#myfirststory#マイファス pic.twitter.com/BqEzLdAgj9

— MY FIRST STORY (@MyFirstStory_of) 2019年6月6日

・MY FIRST STORY

Since debuting in 2012, Japanese rock band MY FIRST STORY have performed at some of Japan's biggest music festivals and have also collaborated with foreign musicians. Their lyrics are fluent English which have racked them up some real attention outside Japan. This will mark their first headline show in mainland China.

▶︎MY FIRST STORY TOUR 2019 IN SHANGHAI

2019/7/27 @ Jing'an Sports Center, Shanghai

MY FIRST STORY Official Website: http://www.myfirststory.net

・Yuzu

Yuzu's popularity trickles down all generations having performed the song Muscat for the anime series Crayon Shin-chan. The duo have their eyes set on two days at Legacy MAX in Taipei on September 28 and 29. The musicians performed at the 30th Golden Melody Awards, which is nicknamed the "Taiwanese Grammy Awards," on June 29 and hail as the only Japanese artists to do so.

Related Article: Yuzu Joined By Crayon Shin-chan On Stage to Sing New Song 'Muscat'

▶︎YUZU ASIA LIVE 2019 YUZUNOMI

2019/9/28 @ Legacy MAX, Taipei

2019/9/29 @ Legacy MAX, Taipei

Tickets: https://ticket.ibon.com.tw/Web/ActivityInfo/Details/36025

YUZU Official Website: http://yuzu-official.com

・MAN WITH A MISSION

MAN WITH A MISSION recently announced their US headline tour. They joined Jimmy Eat World and Stone Sour on tour back in fall 2017, but which is their first North American solo tour in five years. Full details can be found over on their official website.

Related Article: MAN WITH A MISSION To Embark on First North American Solo Tour in 5 Years

▶︎MAN WITH A MISSION presents Chasing the Horizon World Tour 2018/2019 -North American Tour-

2019/9/6 @ Great American Music Hall, San Francisco

2019/9/8 @ The Regent Theater, Los Angeles

2019/9/10 @ Canton Hall, Dallas

2019/9/16 @ Gramercy Theatre, New York

MAN WITH A MISSION Official Website: https://www.mwamjapan.info/

・BABYMETAL

BABYMETAL will released their new album METAL GALAXY this year on October 11 and follow it up with their GALAXY WORLD TOUR where they will hit up Europe, US and Russia. BABYMETAL's unmatched force continues to be felt across the globe.

Related Article: BABYMETAL Announce New Album 'METAL GALAXY' & World Tour

▶︎BABYMETAL GALAXY WORLD TOUR

*For full dates, please check the band's official website below.

BABYMETAL Official Website: http://www.babymetal.com

《TOUR》

\💫SKY-HI × SALU TOUR決定!/

🎙Say Goodbye to the System

9/4:東京 Zepp DiverCity

9/24:大阪 なんばHatch

9/25:名古屋 名古屋ダイアモンドホール

9/29:韓国/ソウル

10/1:香港

10/4:台湾/台北

✅詳細はSKY-HI公式HPへ
【https://t.co/AOcUrXeEGL】#SKY_HI #SALU #TOUR pic.twitter.com/E5h8Svngff

— SKY-HI情報 (@skyhi_hidaka12) 2019年7月1日

・SKY-HI

SKY-HI will release his second collaborative album with SALU entitled Say Hello to My Minions 2 on September 4 which will be promoted with the "Say Goodbye to the System" Asia tour. SKY-HI has performed in Los Angeles, New York, Paris, London, Shanghai, Taiwan and Hong Kong in the past. Be sure to keep up to date with his tour schedule via his official website.

 

▶︎Say Goodbye to the System -ASIA TOUR-

2019/9/29 @ Seoul (Venue TBA)

2019/10/1 @ Hong Kong (Venue TBA)

2019/10/4 @ Taipei (Venue TBA)

SKY-HI Official Website: https://avex.jp/skyhi/

If you love Japanese music and an artist you like is heading to a city near you, be sure to show them love and support by getting your hands on a ticket!

TV Anime Run with the Wind's Opening Theme by Q-MHz & Mitsuhiro Hidaka Revealed in New Trailer

A new promotional video has been released featuring the new opening theme of the upcoming TV anime series Run with the Wind. The song, titled Kaze Tsuyoku, Kimi Atsuku, was written by Q-MHz and Mitsuhiro Hidaka―also known as SKY-HI―and will be released as a digital single on January 23.

The song features a running-like melody coupled with SKY-HI's vocals and rapping. Check out the video below which showcases the 10 members of the athletic club in Kansei University in their uniforms.


Run with the Wind will continue with episode 12 on January 8, 2019.

Information

Kaze Tsuyoku, Kimi Astsuku.

Release Date: January 23, 2019
To be released on iTunes Store, Recochoku and other digital platforms.

Q-MHz Official Website: http://q-mhz.com

SKY-HI Official Website: https://avex.jp/skyhi/

Run with the Wind Official Website: kazetsuyo-anime.com

©Shiwon Miura・Shinchosha / 寛政大学陸上競技部後援会

TV Anime Run with the Wind Opening Theme to be Performed by Q-MHz

Japanese music group Q-MHz which is composed of Aki Hata, Tomokazu Tashiro, Katsuhiko Kurosu and Tomoya Tabuchi (UNISON SQUARE GARDEN) are teaming up with AAA member Mitsuhiro Hidaka―who is also active as a solo rapper under the bane SKY-HI―to release a new digital single called Kaze Tsuyoku, Kimi Atsuku on January 23.

The song will be used as the second opening song for the ongoing anime series Run with the Wind. It features a running-like melody coupled with SKY-HI's vocals and rapping.

The sports anime is an adaptation of Shion Miura's award-winning novel of the same name.  It is being directed by Kazuya Nomura (Robotics;Notes, Ghost In The Shell: The New Movie) at Production I.G.

Comment: Q-MHz
"We are Q-MHz and we have been handed the baton from the first opening theme to perform the second one! It has a colourful rock sound that looks towards the climax of the story. Hidaka's numbing rapping too makes it mega exciting. [People's] emotions are sure to rise when the song doesn't play for a second time at the end."

Comment: Mitsuhiro Hidaka a.k.a. SKY-HI
"Tabuchi was my upperclassman in high school. This is the first time we have worked together, so getting to sing for Q-MHz felt like going back to being a high school student. I also got to sing in a style different to what they usually do! In receiving a request as singer I feel that though the weight is fairly heavy that pressure is thrilling and ties in with the anime and the song. It's an eternity of youth packed in an instant into 3 minutes!"

Information

Kaze Tsuyoku, Kimi Astsuku.

Release Date: January 23, 2019
To be released on iTunes Store, Recochoku and other digital platforms.

Q-MHz Official Website: http://q-mhz.com

SKY-HI Official Website: https://avex.jp/skyhi/

Run with the Wind Official Website: kazetsuyo-anime.com

©Shiwon Miura・Shinchosha / 寛政大学陸上競技部後援会

SKY-HI Performs Alongside Miyavi, Nobuaki Kaneko and More at Tour Finale

SKY-HI dropped his fourth studio album JAPRISON on December 12. He held the finale of his 2018 "Round A Ground" tour across two days at Toyosu PIT. This is a report of the first day, December 11, 2018.

The prior unveiling of the list of special guests to perform at this show drew huge attention. Once the overhead radio show 'Radio Marble' ended (something which has become a staple to play at SKY-HI's shows), the man himself, SKY-HI, stepped onto stage with his band THE SUPER FLYERS to an eruption of cheers from the crowd.

The night began with a performance of Free Tokyo, the title track of SKY-HI's hit album that was released back in summer as a free download. He went on to perform nine continuous tracks including this year's newly released tracks So What??, Name Tag, The Story Of "J" and Nanisama in addition to some of his classic live tracks.

sleepyhead was the first guest artist to be called out to perform 1 2 3 for hype sex heaven which received a music video this year to much attention. This was his first performance of the song and it went down a riot with the crowd.

Takuya "TAK" Tanaka (guitar) then took over for a talk and then a relaxing acoustic session to perform StrayCat and Bitter Dream before performing together with THE SUPER FLYERS for Limo.

Then, all of a sudden, the gauze curtain dropped and the music video for illusions feat. SKY-HI made in collaboration with Nobuaki Kaneko began playing.

During that, Nobuaki Kaneko himself appeared to perform the song alongside SKY-HI. This was followed by a freestyle session of Gemstone together with Miyavi and then Double Down. It was an overwhelming performance as SKY-HI, Miyavi and Kaneko showed off their incredible musical skills together, giving the crowd a riveting performance.

mabanua and Kan Sano were next on stage who had a jam session of Reincarnation and Chrono Club, both produced by mabanua. It was a more relaxing session than the previous, spreading a chilled vibe through the room, but still as skilfully performed.

THE SUPER FLYERS returned to the stage for the final act. Together with SKY-HI they performed 0570-064-556 which is a remix of Logic's 1-800-273-8255, as well as I Think, I Sing, I Say and Marble.

At the end of the show SKY-HI gave some comments on his new album before performing What a Wonderful World!!, Snarchaway and his hit song Kamitsure Velvet.

It was an emotional and energetic performance from SKY-HI throughout the two-hour show. He will promote the album with his new tour titled SKY-HI TOUR 2019 -The JAPRISON- next year from February 3, 2019 where he will hit 12 locations across Japan.

Information

JAPRISON

On Sale: December 12, 2018

Regular Edition (CD+SP Music): ¥3,000 (Tax Included) [AVCD-96047]

Music Video Edition: ¥5,000 (Tax Included)

CD+DVD+SP Music+Music Videos [AVCD-96045/B]

CD+Blu-ray+SP Music+Music Videos [AVCD-96046/B]

Live Edition: ¥6,500 (Tax Included)

CD+2 DVDs+SP Music+Music Videos [AVCD-96043/B~C]

CD+Blu-ray+SP Music+Music Videos [AVCD-96044/B]

What a Wonderful World!! Official Stream: https://avex.lnk.to/SKY_HI_WWW

SKY-HI ROUND A GROUND 2018 – Toyosu PIT

Special Guests (Japanese Alphabetical Order):

December 11, 2018: Nobuaki Kaneko, Kan Sano, mabanua, Miyavi, Sleepyhead

December 12, 2018: eill, KEN THE 390, SALU, Ja Mezz, Tak Tanaka, NovelCore, HIDEYOSHI, Takashi Mochizuki, Reddy

*Guest line-up subject to change.

Venue: Toyosu PIT

Time: Open 17:30 / Start 18:30

Price: ¥6,500 (Tax Included)

*All-standing

*Separate mandatory drink charged upon entry

*Tickets are numbered in order for entry

*Pre-school children not permitted entry

Tour Page: https://avex.jp/skyhi/live/tour.php?id=1001234

SKY-HI Official Homepage http://avex.jp/skyhi/

SKY-HI Releases New Music Video & Announces Miyavi as Special Guest for Tour Finale

Having teased it earlier this month, SKY-HI has released the full music video for What a Wonderful World!! taken from his upcoming new album JAPRISON.

The song was produced by SKY-HI himself and sees the rapper and singer take to the piano throughout. The track also features legendary Brazilian musician Sérgio Mendes performing his own piano solo. Laced together with SKY-HI's personal and emotional lyrics and a chorus by Yuuho and Kayo of SUPER FLYERS, What a Wonderful World!! will no doubt be a standout of the artist's first album in nearly two years.

The cage in which the music video is set can be said to be symbolic of SKY-HI's new record. Throughout our eyes are treated to a kaleidoscope of creative and avant garde visuals. The dance between SKY-HI and the skull face painted lady serves to deepen the perspective of the song that much more.

It has also been announced that internationally renowned guitarist Miyavi as well as RAU DEF and sleepyhead will join the special guest list the finale of SKY-HI's ongoing tour SKY-HI Round A Ground 2018 which will take place at Toyosu PIT in Tokyo on December 11 and 12. There are limited tickets left for the two-nighter at Toyosu PIT

Information

JAPRISON
On Sale: December 12, 2018

Regular Edition (CD+SP Music): ¥3,000 (Tax Included) [AVCD-96047]

Music Video Edition: ¥5,000 (Tax Included)

CD+DVD+SP Music+Music Videos [AVCD-96045/B]
CD+Blu-ray+SP Music+Music Videos [AVCD-96046/B]

Live Edition: ¥6,500 (Tax Included)
CD+2 DVDs+SP Music+Music Videos [AVCD-96043/B~C]
CD+Blu-ray+SP Music+Music Videos [AVCD-96044/B]

What a Wonderful World!! Official Stream: https://avex.lnk.to/SKY_HI_WWW

SKY-HI ROUND A GROUND 2018 – Toyosu PIT

Special Guests (Japanese Alphabetical Order):

■December 11, 2018: Nobuaki Kaneko, Kan Sano, mabanua, Miyavi, Sleepyhead

■December 12, 2018: eill, KEN THE 390, SALU, Ja Mezz, Tak Tanaka, NovelCore, HIDEYOSHI, Takashi Mochizuki, Reddy

*Guest line-up subject to change.

Venue: Toyosu PIT

Time: Open 17:30 / Start 18:30

Price: ¥6,500 (Tax Included)

*All-standing

*Separate mandatory drink charged upon entry

*Tickets are numbered in order for entry

*Pre-school children not permitted entry

Tour Page: https://avex.jp/skyhi/live/tour.php?id=1001234

SKY-HI Official Homepage http://avex.jp/skyhi/

SKY-HI Collaborates With Brazilian Musician Sérgio Mendes on New Song

SKY-HI's upcoming 4th album JAPRISON will be released on December 12―his first album in almost two years. The song What a Wonderful World!! from the new record aired on Tokyo FM/JFN38's "SCHOOL OF LOCK!" slot in Japan on November 14.

The song, self-produced by SKY-HI himself, features a piano track by SKY-HI and a guest appearance from legendary Brazilian musician Sérgio Mendes. The song is said to be representative of the overall album.

What a Wonderful World!! -Teaser Movie-

A teaser trailer for the avant garde music video was also released. Check it out above.

What a Wonderful World!! will be released digitally on November 16. JAPRISON will also be available to pre-order on the iTunes Store for the special price of ¥1,500 for a limited time only.

SKY-HI Reveals Artwork & Details For Upcoming New Album 'JAPRISON'

SKY-HI has released the CD covers for all three versions of his upcoming 4th album JAPRISON―his first album in almost two years. The main design of each album cover features the artist holding his head in his left hand.

The album features a total of 14 tracks which consists of the 4 already-unveiled tracks Marble, Snatchaway, Diver's High and Name Tag -Remix- feat. Ja Mezz & HUNGER and 10 all-new tracks produced by UTA and SUNNY BOY who have both released a range of big hits, as well as Yosi who belongs to Hi-Lite Records, and MATZ, a spearhead of Japan's dance music scene who is also active as an artist under the name Matt Cab.

JAPRISON Music Video Edition

The album's Music Video Edition comes with a DVD containing numerous music videos from SKY-HI in addition to a new song title What a Wonderful World!!, the complete version of Name Tag titled Name Tag feat. SALU, HUNGER, Ja Mezz, Moment Joon (No Cut ver.), as well a bonus track titled Bitter Dream for a total of 8 songs.

JAPRISON Live Edition

The album's Live Edition includes footage of SKY-HI's concert at ROHM Theatre Kyoto's main hall on April 28, 2018 which was the final concert of his tour SKY-HI TOUR 2018-Marble the World-.

SKY-HI will head on a new tour next year titled SKY-HI TOUR 2019 -The JAPRISON- to promote the new album. Get your hands on the Live Edition to see the excitement you can expect from the artist on his tour in 2019. JAPRISON drops on December 12.

Information

JAPRISON
On Sale: December 12, 2018

Regular Edition (CD+SP Music): ¥3,000 (Tax Included) [AVCD-96047]

Music Video Edition: ¥5,000 (Tax Included)

CD+DVD+SP Music+Music Videos [AVCD-96045/B]
CD+Blu-ray+SP Music+Music Videos [AVCD-96046/B]

Live Edition: ¥6,500 (Tax Included)
CD+2 DVDs+SP Music+Music Videos [AVCD-96043/B~C]
CD+Blu-ray+SP Music+Music Videos [AVCD-96044/B]

SKY-HI Official Homepage: http://avex.jp/skyhi/

SKY-HI to be Joined By Guest Musicians Nobuaki Kaneko and SALU at Tour Finale Concert

SKY-HI's Japan tour "Round A Ground 2018" began on October 5 at the port city of Otaru in Hokkaido. The final two shows of the tour will be held at Toyosu PIT in Tokyo on December 11 and 12, for which it has been announced that the singer, dancer and AAA member will be joined by Japanese drummer Nobuaki Kaneko and music artist SALU. Both artists have a long friendship with SKY-HI.

Nobuaki Kaneko featured on SKY-HI's newest song illusions which was released digitally on October 3. A line-up of other artists close with SKY-HI are also scheduled to appear as guests at the final concerts. The excitement of both the artists and fans is sure to be nothing less than through the roof.

Tickets are still on sale for Toyosu PIT but the number is low, so you'd best get yours quick.

Information

SKY-HI ROUND A GROUND 2018 – Toyosu PIT

Special Guests (Japanese Alphabetical Order):

■December 11, 2018: Nobuaki Kaneko, Kan Sano, mabanua

■December 12, 2018: eill, KEN THE 390, SALU, Ja Mezz, Tak Tanaka, NovelCore, HIDEYOSHI, Takashi Mochizuki, Reddy

*Guest line-up subject to change.

Venue: Toyosu PIT

Time: Open 17:30 / Start 18:30

Price: ¥6,500 (Tax Included)

*All-standing

*Separate mandatory drink charged upon entry

*Tickets are numbered in order for entry

*Pre-school children not permitted entry

Tour Page: https://avex.jp/skyhi/live/tour.php?id=1001234

SKY-HI Official Website: http://avex.jp/skyhi/

New Gundam Breaker Theme Song 'Snatchaway' by SKY-HI Teaser Released

SKY-HI successfully completed his SKY-HI Round A Ground tour last year which saw him perform 25 concert in 24 locations including his first performances overseas in Shanghai, Taiwan, Hong Kong, Los Angeles, New York, Paris and London.

A music video teaser has just dropped for the singer and rapper's new song Snatchaway which was written for the video game New Gundam Breaker.

The song was produced by Koichi Tsutaya and features horn sections made by SKY-HI's own band The Super Flyers. Inspired by the world of the game, the foot-tapping and free-feeling song shows off the singer's technical rap skills.

The music video features a dance performance together with BFQ, elevating the party-like feeling of the track's sound.

Snatchaway will be released as a maxi-single on June 27 together with Diver's High, the opening theme to the anime series Gundam Build Divers written in collaboration with UNISON SQUARE GARDEN guitarist and vocalist Saito Kousuke and produced by music producer veteran Seiji Kameda. A free live show is set to take place in promotion of the new single. It will be held at DiverCity Tokyo in Odaiba where the famous giant Gundam statue stands.

It's not every day you get to stand before a life-sized Gundam and listen to the theme song for New Gundam Breaker and opening song for Gundam Build Divers. Gundam fans, don't miss out!

■Information

Snatchaway / Diver's High
On Sale: June 27, 2018
Price:
First Press Limited Edition (CD+DVD) – ¥5,000 (+Tax)
First Press Limited Edition (CD+Blu-ray) – ¥5,000 (+Tax)
*Includes slip case packaging, 52 pg. "SKY-HI Round A Ground 2017 -LA, NY, PARIS, LONDON" photobook, sticker.

Regular Edition (CD+DVD) – ¥2,000 (+Tax) *First Press Bonus: Sticker
Regular Edition (CD-Only) – ¥1,204 (+Tax) *First Press Bonus: Sticker

DVD/Blu-ray Includes:
Music Video: "Snatchaway," "Diver's High, " "Snatchaway (Behind The Scenes)"
Live Footage: "SKY-HI Round A Ground 2017 at Los Angels Troubadour"

SKY-HI / Snatchaway -Teaser Movie-: https://www.youtube.com/watch?v=EijQ17_iCUY

SKY-HI / Diver's High: https://www.youtube.com/watch?v=k0rj-Y0nMcc

Live Event

Venue: DiverCity Tokyo Plaza 2F

Date/Time:  June 24, 2018 @ 3pm

*Please visit SKY-HI's official website for full details.

Official Website: http://avex.jp/skyhi/

SKY-HI successfully completed his SKY-HI Round A Ground tour last year which saw him perform 25 concert in 24 locations including his first performances overseas in Shanghai, Taiwan, Hong Kong, Los Angeles, New York, Paris and London.

For these first ever overseas performances the singer-rapper was joined by DR Jr, who he has supported since his early career, and dance group Blue Flap Quartet which consists of Kensuke, JUN, Money and TAK-YARD. It was a simple formation but one SKY-HI holds much faith in and can be said to be a return to his roots.

The live footage of Bitter Dream that was released was taken from SKY-HI's performance at the Troubadour in Los Angeles on November 12, 2017. His electrifying performance combining singing, dancing and rapping broke the language barrier and captivated the crowd.

Bitter Dream was recorded for this tour in an LA studio in a session with producer 91 West. This is the first official live video of the song. The video will be included in the first press limited edition of Snatchaway / Diver's High―at mu-mo shop only―which is SKY-HI's first single to be released in nearly a year, hitting shelves on June 27. A photobook will also be featured in the same edition with photos taken by young up-and-coming video creator Spikey John. The photos were taken in LA, New York, Paris and London during SKY-HI's Round A Ground tour last year.

■Information

SKY-HI / Bitter Dream -2017.11.12 at Los Angels Troubadour-

https://www.youtube.com/watch?%20v=jflgjT00oqI

Snatchaway / Diver's High

On Sale: June 27, 2018

Price:

First Press Limited Edition (CD+DVD) – ¥5,000 (+Tax)

First Press Limited Edition (CD+Blu-ray) – ¥5,000 (+Tax)

*Includes slip case packaging, 52 pg. "SKY-HI Round A Ground 2017 -LA, NY, PARIS, LONDON" photobook, sticker.

Regular Edition (CD+DVD) – ¥2,000 (+Tax) *First Press Bonus: Sticker

Regular Edition (CD-Only) – ¥1,204 (+Tax) *First Press Bonus: Sticker

DVD/Blu-ray Includes:

Music Video: "Snatchaway," "Diver's High, " "Snatchaway (Behind The Scenes)"

Live Footage: "SKY-HI Round A Ground 2017 at Los Angels Troubadour"

mu-mo Shop

PC: http://shop.mu-mo.net/a/list1/?artist_id=SKYHI

Mobile: http://m-shop.mu-mo.net/a/list1?artist_id=SKYHI

mu-mo Shop Overseas

PC: http://shop.mu-mo.net/avx/sv/list1?jsiteid=MSW&categ_id=663614

AAA Party

PC: http://shop.mu-mo.net/avx/sv/list1?jsiteid=APY&categ_id=800272

Mobile: http://m-shop.mu-mo.net/avx/sv/list1?jsiteid=APY&categ_id=800272

AAA OFFICIAL GLOBAL FANCLUB

PC: http://shop.mu-mo.net/avx/sv/list1?categ_id=8002527&jsiteid=AAGF

Ani mu-mo

PC: http://shop.mu-mo.net/avx/sv/list2?jsiteid=ANMS&categ_id=3076501

Mobile: http://m-shop.mu-mo.net/avx/sv/list2?jsiteid=ANMS&categ_id=3076501

SKY-HI Official Website: http://avex.jp/skyhi/

SKY-HI's First US Performance in LA at Troubadour to be Released on DVD & Blu-ray

SKY-HI performed two successful nights at the Budokan in May 2017. He also completed a nightclub tour at the end of last year which saw him play 25 concerts in 24 locations including his first-ever overseas performances.

SKY-HI performed at the Troubadour rock nightclub in Los Angeles on November 12 last year. This was his first ever performance in the US, and an official teaser video showcasing footage from the show has been released.

His first new single in almost a year, Snatchaway / Diver's High, will be released on June 27. A full compilation video of the Los Angeles concert will be released on the first press limited edition of the new single.

SKY-HI Round A Ground 2017 -2017.11.12 at Los Angels Troubadour- Teaser Movie

Young video creator Spikey John who is gaining attention right now joined the overseas tour and created a photo compilation titled SKY-HI Round A Ground 2017 -LA, NY, PARIS, LONDON- which is also featured on the single.

The footage is a must-see as it fully relives the experience of SKY-HI's first trip to perform overseas!

■Information

SKY-HI / SKY-HI Round A Ground 2017 -2017.11.12 at Los Angels Troubadour- Teaser Movie

Snatchaway / Diver's High

On Sale: June 27, 2018

Price:

First Press Limited Edition (CD+DVD) – ¥5,000 (+Tax)

First Press Limited Edition (CD+Blu-ray) – ¥5,000 (+Tax)

LIVE Footage – "SKY-HI Round A Ground 2017 at Los Angels Troubadour"

Price:

(CD+DVD) – ¥2,000 (+Tax)

(CD-Only) – ¥1,204 (+Tax)

SKY-HI Official Website

SKY-HI Concludes "Marble the World" Tour at ROHM Theatre Kyoto on April 28

SKY-HI's 2018 tour -Marble the World- began on March 1 and saw the singer perform 19 concerts across 15 locations across Japan, wrapping it up with a finale at ROHM Theatre Kyoto on April 28.

SKY-HI performed at the Nippon Budokan last year for the first time, as well as overseas in Shanghai, Taiwan, Hong Kong, Los Angeles, New York and Paris. He also played at Makuhari Messe this year. He is garnering much attention across the board, not just in the hip-hop scene.

The usual course of things is that went an artist releases a new album, they go on a tour to promote that album. In this case, however, SKY-HI threw people into the world of Marble, his single that was released and available only at concerts last year.

THE SUPER FLYERS stepped on stage to open the set, a familiar sight made up of a band featuring a guitarist, bassist, dummer, keyboardist, DJ, a horn section and chorus, as well as four dancers. This sparked huge roars across the room from the FLYERS, a title given to SKY-HI fans. "Let's get this party started!" It was at this call where SKY-HI walked onto the stage.

The first track on the list was BIG PARADE, where the horn section, dancers and chorus danced in rhythm with SKY-HI's singing. It really looked as if a big parade was taking place before fans as the whole venue lit up with a bright and brilliant atmosphere.

A medley was played during the One Night Boogie feat. THE SUPER FLYERS interval, after which SKY-HI performed his new song Snatchaway, the opening theme to New Gundam Breaker, where he sang along while playing the piano. This was followed by Marble and Kamitsure Velvet before wrapping up the set.

It wouldn't be an exaggeration to call this SKY-HI's best live concert as he played a staggering 36 songs. It was like an entire story woven on stage, with plenty of love and meaningful messages laced in, the SKY-HI way.

His feelings were undoubtedly delivered to the hearts of all the FLYERS gathered in the room on the final night of this tour.

SKY-HI will released a new single in June and go on to perform at huge summer festivals like VIVA LA ROCK 2018, SUMMER SONIC 2018 and more. His fire isn't about to be distinguished any time soon. It's set to only grow stronger and brighter.

■Information
SKY-HI New Single ― "Snatchaway / Diver's High"
On Sale June 27, 2018

<Single Types>
・First Press Limited Edition: Available via mu-mo Shop / AAA Party / AAA mobile

CD+DVD ¥5,000 (+tax) [AVC1-94101/B]
CD+Blu-ray ¥5,000 (+tax) [AVC1-94102/B]
*Box packaging / Live footage of "SKY-HI Round A Ground 2017 at Los Angels Troubadour"
*52p photobook of "SKY-HI Round A Ground 2017 -LA, NY, PARIS, LONDON-" / Includes insert bonus

・Regular Editions

CD+DVD ¥2,000 (+tax) [AVCD-94099/B]
*First Press Edition: Includes insert bonus
CD ¥1,204 (+tax) [AVCD-94100]
*First Press Edition: Includes insert bonus

<Tracklist>
-CD-
01. Snatchaway
02. Diver's High

-DVD / Blu-ray-
○First Press Limited Edition
-AVC1-94101/B & AVC1-94102/B-
・Snatchaway
・Diver's High
・Snatchaway MUSIC VIDEO Behind-the-Scenes
・"SKY-HI Round A Ground 2017 at Los Angels Troubadour" Live Footage

○CD+DVD – AVCD-94099/B-
・Snatchaway ("New Gundam Breaker" Theme Song)
・Diver's High ("Gundam Build Divers" Opening Theme)
・Snatchaway MUSIC VIDEO Behind-the-Scenes

Official Website: http://avex.jp/skyhi/