McDonald's Japan Launches Festive Doraemon-Themed Summer Sweets
On August 5, McDonald's Japan will begin selling some summer-only sweets! The McShake Doraemon Ramune and Doraemon Choco Banana Pie items are based on a summer festival, and the packaging will feature adorable Doraemon imagery. 
These treats will bring back memories of summer festivals, with popular flavors like chocolate banana and ramune. Each sweet will be available in a total of six newly-designed packages, so you might need to buy a few until you get your favorite character!
McShake Doraemon Ramune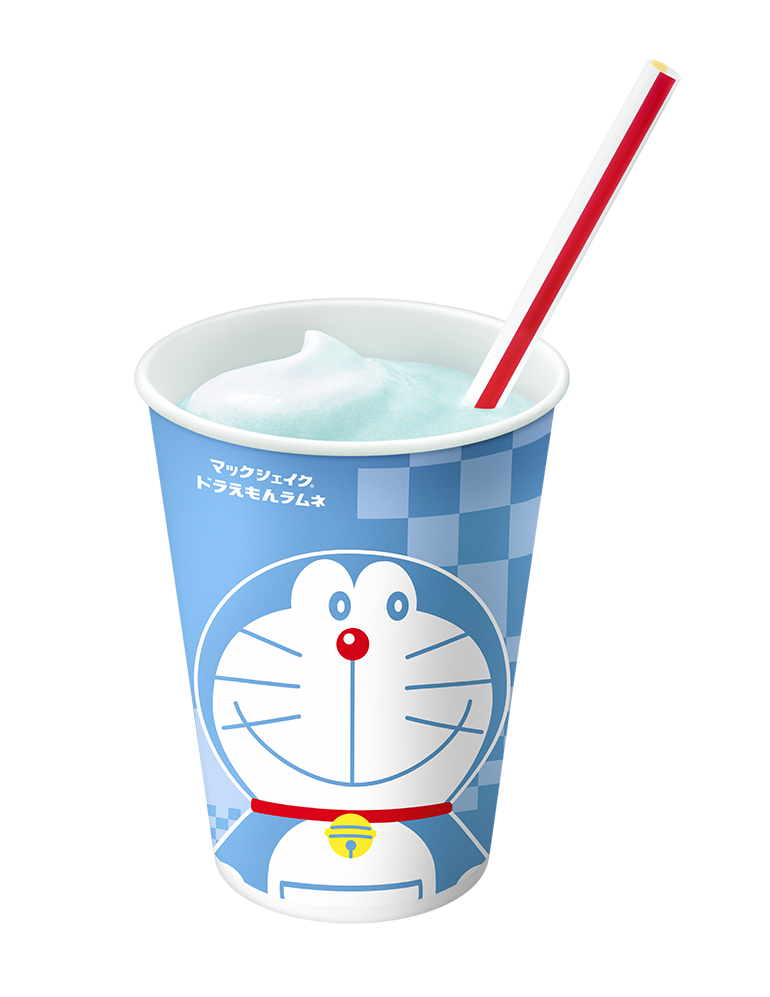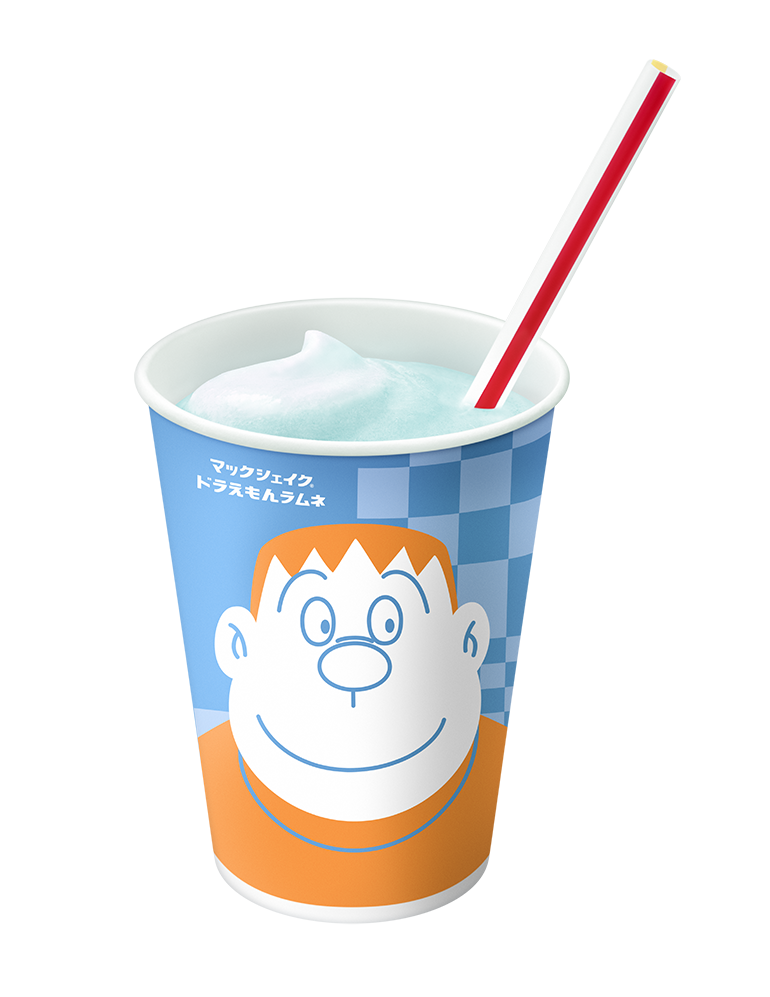 The McShake Doraemon Ramune features the nostalgic flavor of ramune and a creamy texture. Two types of ramune flavors were used to create a taste that will keep you coming back for more, and citrus flavors were added to create a refreshing flavor perfect for summer. This tasty treat is available in three versions–Doraemon, Nobita, and Gian.
Doraemon Chocolate Banana Pie
The Doraemon Chocolate Banana Pie consists of a crispy pie crust packed with banana filling and a rich chocolate sauce. Fans of Doraemon can grab this pie in three different sleeves–Dorami, Shizuka, and Suneo.
※Product images for illustration purposes only. Actual products may vary.
Happy Meal
Round 1: August 5 – August 11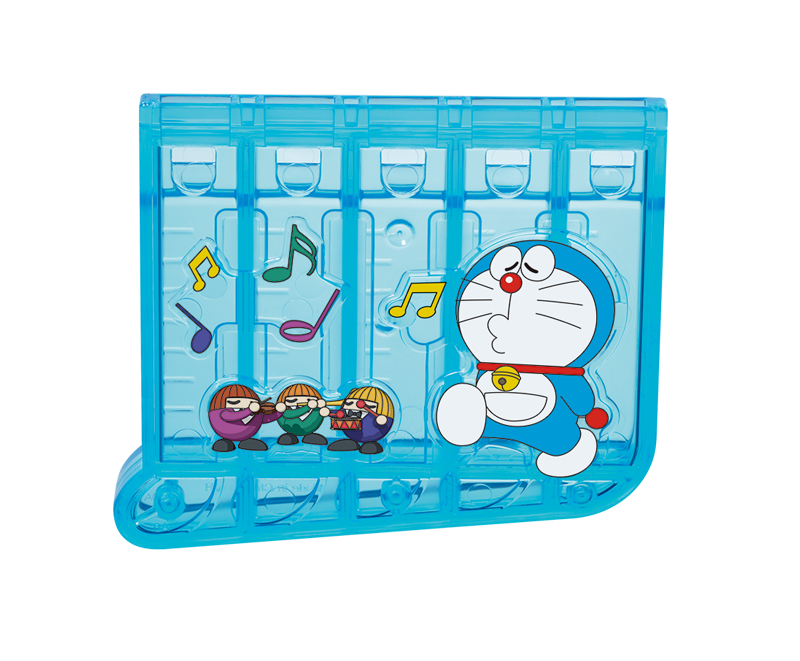 Round 2: August 12 – August 18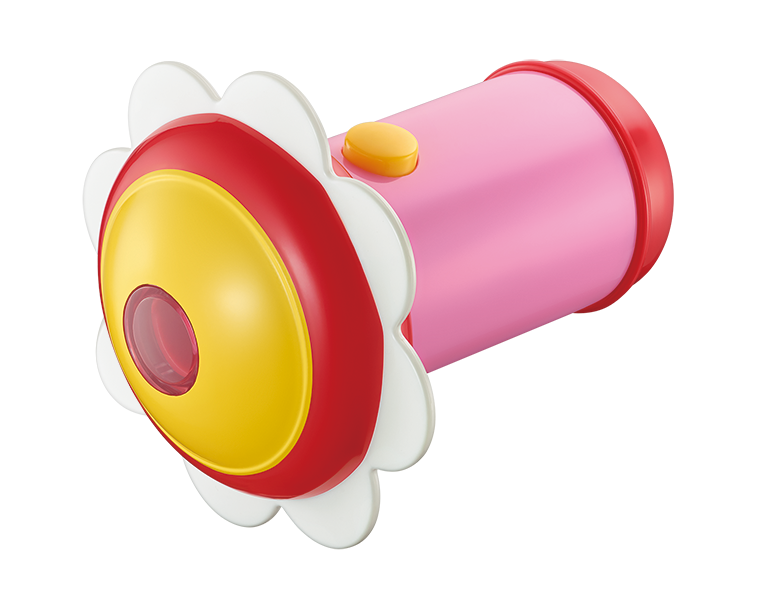 In addition, Doraemon-related items will be packed with every Happy Meal starting August 5.
RELATED ENTRIES
McDonald's Fry Buzzer Used in New Remix Featuring Ado and Asmi Mega-Hits

On January 13, McDonald's Japan released a colorful music video on YouTube featuring two of the biggest J-pop mega-hits of the last year! The remix combines Ado's Odo and asmi's PAKU with the familiar sound of the French Fry buzzer. A rhythm game using this song will also be available on TikTok starting on January 30!

In March 2019, the McDonald's French Fry buzzer became a popular theme on TikTok with over 150 million views.

This remix may not be what most people expected, but it's incredibly catchy and might make you hungry at the same time. Check out the McDonald's Fry Buzzer Remix at the link below!

The neon-drenched music video features 3D models of both Odo-chan and PAKU-chan along with the three French Fry Brothers hanging out at an incredibly colorful and futuristic McDonald's restaurant.

Be sure to check out the rhythm game coming to TikTok for a limited time starting January 30!

Fans Asked to Name Blimp Inspired by the Upcoming Film 'Doraemon: Nobita's Sky Utopia'

The film Doraemon: Nobita's Sky Utopia will be released on March 3, 2023. The 42nd Doraemon movie follows Doraemon, Nobita, and his friends as they venture off to find Utopia, a perfect land in the sky where everyone lines in joy and happiness. They do so using an airship with a time warp function on their adventure, and to commemorate the film's release, the Flying Doraemon Project began on January 14. A real-life 17-meter-long Doraemon blimp will soon appear in the sky, and fans are being asked to decide on a name for the craft.

The blimp, inspired by the Doraemon movie, will feature popular characters including Nobita, Shizuka, Suneo, and Gian. The blimp is the largest unmanned airship in Japan.

The message of the Flying Doraemon Project is to convey the feeling that in this day and age, children and adults alike can once again look upward and move forward toward their hopes and dreams.

Fans are asked to contribute ideas for the blimps name during the application period. Check the website for more details!

Original Doraemon Shirt Inspired by Nobita's Room Now Available

Shogakukan's online store has released a long-sleeve shirt inspired by Nobita's room from the long-running Doraemon series. Released on December 15, the fashionable and fun item is sure to be a fan favorite.

Shirts Inspired by Nobita's Room!

The shirt was developed in collaboration with Kawatani Shirt, a Tokyo-based brand dating back to 2011 specializing in casual shirts for adults. 

 

The green stripes were inspired by the tatami mats found in Nobita's room, and the simple back is white with a slight checker pattern at the top.

 

Part of the inner lining is even decorated with Doraemon's Take-copter!

The button at the neck is bright yellow, inspired by Doraemon's signature bell.

The lining of the left breast pocket features an embroidered Doraemon as well. 

As expected, Nobita can also be seen lounging on the bottom right of the shirt. 

The shirt is available in four sizes from S to XL. Made from 100% cotton, this is a comfortable piece of clothing perfect for wearing all year round. Why not add this playful shirt to your rotation?

 ©Fujiko-Pro

Information

Doraemon Long-sleeve Shirt 'Nobita's Room'

Release Date: December 15, 2022

Sizes: S, M, L, XL

Price: 14,300 (Tax Included)

Doraemon Sleeping Bag and Neckwear Perfect for Bringing on a Winter Camping Trip

Doraemon fans who also love the great outdoors will be able to grab some new goods for their winter outings. A Doraemon-inspired sleeping bag created by down maker NANGA and neckwear made by Spanish brand BUFF are now available at the Shogakukan online department store!

NANGA is one of Japan's leading down manufacturers, beginning as Yokota Sewing in 1941 in Maibara, Shiga Prefecture, a famous production center for cotton futons. The down used in this new sleeping bag has been cleaned and refined using the newest technology, promising that this bedding will last for years to come.

Sleeping Bag

In addition to the blue, white, and red Doraemon-inspired coloring, the character's famous collar also makes an appearance. Covered head to toe in motifs from the series, this bedding is also highly functional and warm.

Neckwear

The included storage bag is compact and able to fit in a backpack, measuring approximately 20cm x 40cm. Will you be adding these items to your camping pack this winter?

©Fujiko-Pro

Doraemon's Official Store Launches Limited Edition Dorayaki-Flavored Black Tea

Doraemon's Mirai Department Store, Doraemon's official shop, has announced a limited edition black tea flavored with the character's favorite food: dorayaki! The tea and four special themed plates will be available starting November 11, 2022. The tea itself is provided by the tea specialty shop LUPICIA. 

Doraemon's Mirai Department Store Black Tea (Dorayaki Flavor)

Doraemon's Mirai Department Store is now offering this special tea in an adorable themed tin.

The flavor of the tea is inspired by Doraemon's favorite food, dorayaki, a sweet Japanese pastry filled with red bean paste. The gorgeous blue and red toppings blended into the tea leaves were inspired by Doraemon himself, and fans will want to enjoy a cup as they lose themselves in the classic manga or anime series.

Doraemon's Mirai Department Store Tasty Plate (4 varieties)

These 14cm square plates are perfect for snacks with tea. Dishwasher-safe, fans can pick from four designs, each showing Doraemon enjoying some tasty treats. 

©Fujiko-Pro

Doraemon's Official Shop Opens for a Limited Time at Daimaru Umeda

From December 1, 2022 until May 28, 2023, Doraemon's official shop will appear at Daimaru Umeda! Doraemon's Mirai Department Store will offer a variety of limited-edition products for this brief period. 

Doraemon's Mirai Department Store Exclusive Goods (Selection)

Chenille Embroidered Tote Bag (Doraemon and Mini Doraemon): ¥3,520 (Tax Included)

This tote bag is decorated with lasting embroidery and is sure to brighten any Doraemon fan's day. The shoulder-length handles are practical and each bag has excellent storage capacity!

Doraemon Striped Socks (Red/Green): ¥2,420 each (Tax Included)

These thick socks are sure to keep your feet warm during the cold winter months. The simple lines and chic colors make these a great gift for any age.

Come check out these exclusive items that you can only find here!

©Fujiko-Pro

Information

Doraemon's Mirai Department Store in Daimaru Umeda 2022-2023

Running: December 1, 2022 – May 28, 2023
Venue: Daimaru Umeda 13F (3-1-1 Umeda, Kita-ku, Osaka)

Hours: 10:00-20:00
Doraemon's Mirai Department Store Official Site: https://mirai.dora-world.com/

Doraemon Ukiyo-e Series Reimagines Popular Characters in Classic Hiroshige Work

A Doraemon version of Hiroshige's 1833 ukiyo-e painting Fifty-Three Stations of the Tokaido Hoeido Edition (Rainstorm) will be available to order on October 29!

This work is said to be one of the most famous paintings by the artist, who was considered the last great master of ukiyo-e.


 

The painter was best known for his depiction of rainscapes, and many of his paintings pushed the envelope of traditional art.

 

This painting shows Ise Province, what is now present-day Mie Prefecture. 

Doraemon and his friends have been expertly placed into the famous piece of art, desperately climbing a steep hill during a sudden evening shower.

 

For Doraemon and Nobita, the rain is a chance to have fun. Looking at the piece, viewers can see an image of hope in tough times and can remember that with friends, anything is possible and any difficulties can be overcome. 

The piece is made from high-quality materials, and you won't want to miss ordering one of these rare works of art!

Information

Doraemon Ukiyo-e / Fifty-Three Stations of the Tokaido Hoeido Edition (Rainstorm)

Orders Open: October 29, 2022 at 12:00
Price: ¥45,000 (Excluding tax and shipping charges)
Number Available: 300
Echizen-Manufactured Washi Paper Provided by Iwano Ichibei
Online Shop: http://ukiyoework.com/

Tasty Half-Moon Sandwiches Coming in Second Doraemon Tokyo Banana Collaboration

Doraemon Tokyo Banana Half-Moon Sandwiches are coming on April 1, 2022! These tasty snacks come in a pack of eight and are sure to make the perfect gift.

This release of Doraemon Tokyo Banana is celebrating the 30th anniversary of the Tokyo Banana brand and the 50th anniversary of Doraemon. Why not enjoy your daily snack time with these cute treats?

Each sandwich is filled with chocolate-banana cream with the dough baked into a crispy, savory crust with a winking Doraemon on both sides.

©Fujiko-Pro,Shogakukan,TV-Asahi,Shin-ei,and ADK ※画像はイメージです

McDonald's 'McCafe by Barista' to Offer Uji Matcha Sweets for Spring

McDonald's Japan locations with 'McCafe by Barista' areas will begin selling special spring treats for a limited time starting April 6, 2022. Customers will be able to grab the 'Strawberry Uji Matcha Frappe' and the 'Uji Matcha Mont Blanc Tart.'

McCafe by Barista invites guests to enjoy high-quality frappes and smoothies. The Uji Matcha Frappe was added to the regular product lineup in June 2021, and features a mellow matcha flavor. The Strawberry variant is coming back for the first time in three years. The Mont Blanc Tart is a new addition, and is a perfect treat to enjoy with this popular frappe! 

Strawberry Uji Matcha Frappe: ¥490

The Strawberry Matcha Frappe mixes together the full-bodied flavor of matcha together with sweet and sour strawberries. It includes both a strawberry paste made from whole strawberries and a strawberry whipped cream at the bottom. The drink is topped with more strawberry whipped cream and a sprinkling of matcha powder. The refreshing taste of the strawberry sauce coupled with the whipped cream serves to elevate the great flavor of the Uji Matcha even more.

Uji Matcha Mont Blanc Tart: ¥390


The Uji Matcha Mont Blanc Tart is made with Uji Matcha batter, Uji Matcha whipped cream, white bean paste, and green tea cream. The refined sweetness is complemented by the mellow aroma and slight bitterness of Uji Matcha.

How would you like to enjoy these treats beneath the cherry trees?

Information

Strawberry Uji Matcha Frappe

Uji Matcha Mont Blanc Tart

Available: April 6 – Mid-May, 2022

Available at Participating McDonald's Japan Locations with 'McCafe by Barista'

Official Site: https://www.mcdonalds.co.jp/

'Doraemon: Nobita's Little Star Wars 2021' Film Inspires Limited Edition Ukiyo-e Prints

Fans of Doraemon and traditional Japanese artwork won't want to miss this special collaboration! On March 30, preorders will open for ukiyo-e prints inspired by the film 'Doraemon: Nobita's Little Star Wars 2021.' These limited-edition pieces were created by Iwano Ichibei, a Living National Treasure.

The prints show Doraemon and friends along with the alien Papi and the special gadget the "Small Light." The tool is giving off light depicted in a traditional Edo pattern believed to bring good luck, and the characters are shown inside its silhouette. 

Ukiyo-e Woodblock Print Production

Engraving by Craftsman

Printing by Craftsman

First, a sketch is made, and a monochrome version of the print is carved. After carving a number of woodblocks for each color and using them to rub the painting tirelessly to bring it to life, one single woodblock print is completed. 

 

 

 



The extremely delicate and advanced techniques these craftsmen utilize have been passed down from the Edo period. Imagine having one of these beautiful pieces hanging in your home!

Information

'Doraemon: Nobita's Little Star Wars 2021' Commemorative Ukiyo-e Prints

Preorders Open: March 30, 2022
Price: ¥33,000 (Excluding Tax and Shipping Charges)

Quantity: 300
Painter: Living National Treasure Iwano Ichibei 
Online Shop: http://ukiyoework.com/

McDonald's Japan Offering Sakura Mochi Pie to Celebrate Springtime

McDonald's Japan will start selling the new Sakura Mochi Pie starting March 23, 2022 for a limited time only.

The new pie is inspired by sakura mochi, a traditional wagashi sweet popular during spring. 

Sakura mochi is typically made from mochi rice cakes filled with a sweet red bean paste and wrapped in a pickled cherry blossom leaf. The McDonald's pie is filled with azuki red bean paste and a chewy, sakura-flavored mochi that features bits of pickled sakura leaves.


The packaging will also feature spring designs and each pie costs just ¥150. They will be available until mid-April. 

Doraemon Reappears as a Traditional Japanese Candy

The Tabemas brand transforms popular characters into traditional Japanese sweets. A new chilled Doraemon dessert is now available at Lawsons locations nationwide, but it might be too cute to eat.

Everyone's favorite robot cat is showing off two distinct impressions in this 2022 release. Do you like the winking Doraemon or the playful one with his tongue sticking out?

Be sure to try one of these intricate sweets! You don't need to visit a traditional sweets shop to get an authentic taste of Japan.

(C)Fujiko-Pro,Shogakukan,TV-Asahi,Shin-ei,and ADK