Wearable Kirby Fan Available as Crane Game Prize
Kirby fans, watch out! An adorable Kirby Wearable Fan is now available in certain crane games!
This small fan is designed to be hung around the neck by a string and will be perfect to keep you cool while spending time outdoors.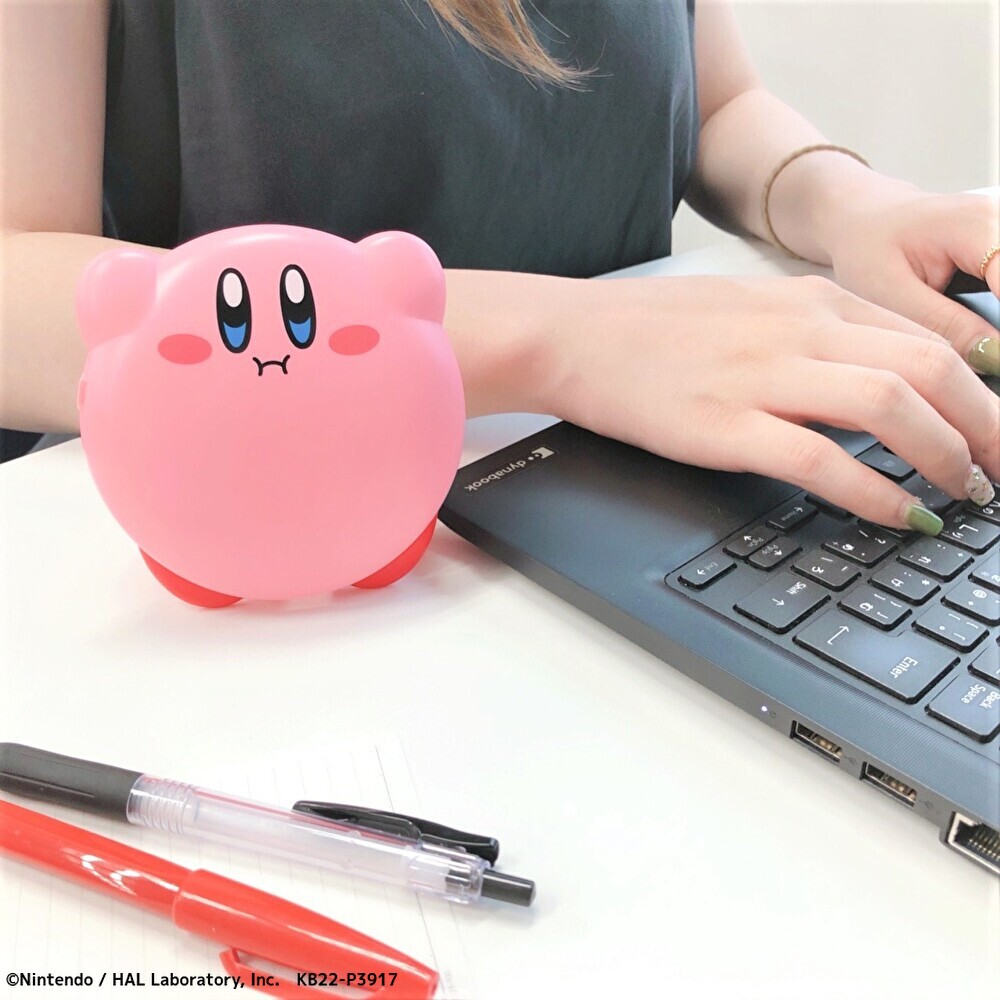 Kirby's round body will make you stand out in a crowd in the best way. The neck strap also comes with a safety feature making it safe for children to wear as well.
The fan is rechargeable via USB and has three speeds. The prize is available in crane games nationwide now, so go out there and win this perfect summer item!
© Nintendo / HAL Laboratory, Inc.
RELATED ENTRIES
Kirby Cafe Tokyo and Fukuoka Reveal Peach-Inspired Summer Menu

Kirby Cafe TOKYO and Kirby Cafe HAKATA will begin selling special summer-themed food and drink items on July 7. The Kirby Cafe Summer 2022 event will introduce seven peach-themed goodies to the menu through September 11. 

Menu

Transform! Carby Cake ~WELCOME TO THE NEW WORLD!~

Kirby's Peach♡Peach Parfait

Summer Souvenir Parfait Glass

Awoofy's Footsteps in the Desert Pizza

Waddle Dee's Friendly Rice Croquettes

King Dedede's Full Tummy! Massive Beast King Plate

Rolling ♪ Peach Soda

(Includes Summer Souvenir Parfait Glass)

Rolling ♪ Summer-Colored Pineapple Soda

Summer Souvenir Acrylic Muddler (3 varieties)

Visitors to the two cafe locations can enjoy peach-flavored treats like Kirby's Peach Parfait and an adorable cake based on the pink puffball's Carby form seen in the new game Kirby and the Forgotten Land. Those wanting something more savory can enjoy Waddle Dee's Friendly Rice Croquettes and the absolutely huge King Dedede's Full Tummy! Massive Beast King Plate. 


Come enjoy the warmer months with Kirby and friends!

Story

Summer is returning to the Kirby Cafe. Thinking of the warmer months, Chef Kawasaki has created a special menu! As a Waddle Dee, filled with great excitement, wandered through the forest…it saw tons of lush, ripe peaches. 

"Huh? That pink, round peach reminds me of something…" 

Then came Kirby, who was looking forward to the summer menu more than anyone else. 

"Ah, that's right! The peach looks just like Kirby!"

Happy to have solved the riddle, Kirby smiled brightly at Waddle Dee. Gazing at this glorious summer scene with tons of juicy peaches ready to be eaten, he couldn't help but imagine tons of tasty treats! Peach parfait, sparkling soda, blue jelly sparkling like the ocean…not wanting to forget these ideas, Kirby and Waddle Dee gathered the peaches and began cooking.

Please come and enjoy this summer with Kirby and his friends under the dazzling sunshine!

©Nintendo / HAL Laboratory, Inc.

Information

Kirby Cafe Summer 2022

Available: July 7 – September 11, 2022

Locations: Kirby Cafe TOKYO, Kirby Cafe HAKATA

Official Site: https://kirbycafe.jp

Kirby and Suntory Tokucha Team Up for New Video, "Kirby and the Secret of Your Stomach"

Suntory's popular Iyemon Tokucha tea was released with a revamped design on April 5, 2022. To celebrate the return of many people's favorite drink, the company has teamed up with popular game character Kirby for an adorable new YouTube video available on the Suntory channel!

The video highlights the health benefits of Suntory's Green Tea Lemon Tokucha through the eyes of Kirby, who has retained his adorable shape even after sucking in tons of objects for the past 30 years.

 

The video starts with a scene from an early Kirby title in which Kirby swallows Waddledy. The story follows Waddledy and his Suntory Tokucha as they venture deep into Kirby's stomach. How does his journey end? You'll have to watch to find out…

This story is a play created by Waddle Dee to entertain King Dedede, the King of Dream Land. The King is desperate to learn the secrets of the Tokucha, and the other characters are surprised and happy to see everyone's favorite penguin taking an interest in his health!

Kirby and the Secret of Your Stomach

Enjoy the video and try to find some tasty Tokucha in a store near you!

© Nintendo / HAL Laboratory, Inc.
KB22-P4135

Information

Kirby and the Secret of Your Stomach
Now Available to Stream

Confectionery Brand 'Edible Mascot' Celebrates Kirby's 30th Anniversary with New Sweets

It's hard to believe that Kirby is turning 30 today, bursting onto the video game scene back in 1992. To commemorate this special occasion, Bandai's Candy brand Tabemas (meaning 'Edible Mascot') is selling some adorable sweets inspired by the character at Lawson stores nationwide starting April 26, 2022. The items will be available in the chilled dessert section, and these items won't be available at LAWSON STORE100. 

Edible Mascot Kirby 30th: ¥353 each (Tax Included)

The Kirby sweets are made of mochi, the perfect food to express the character's round and squishy form, and the Warp Star is made of nerikiri. Nerikiri is a traditional Japanese sweet made from mochi flour and white bean paste, and it's especially easy to mold and carve into detailed shapes.

Kirby (Strawberry Flavored) Warp Star (Chocolate Flavored)

*Image for reference only. 

Kirby is filled with strawberry-flavored filling, while the Warp Star is stuffed with chocolate. Fans can find eight different expressions on Kirby's face, including a big smile and a sleeping expression. The Warp Star features a 30th-anniversary logo, perfect for photos.  Which one is the most adorable?

What's your favorite Kirby game?

© Nintendo / HAL Laboratory, Inc. KB22-P3638

Information

Edible Mascot – Kirby 30th

Available Now

Kirby 30th Anniversary Music Festival to be Held at Tokyo Garden Theater

The Kirby game series turns 30 on April 27, 2022, and to celebrate this impressive event, the Kirby 30th Anniversary Music Festival will be held on August 11!

 

While the event will be held in person at the Tokyo Garden Theater, fans from all over the world will also be able to watch for free on YouTube.

The concert will feature songs from the series performed by a "big-band style ensemble" made up of 35 musicians, with Kirby himself participating in real-time on an LED monitor, dancing around as fans celebrate his birthday.


Those attending the concert venue in person will be able to snag a special penlight that will sync to the music for some extra magic. 

What's your favorite Kirby soundtrack?

©HAL Laboratory, Inc. / Nintendo

Kirby Cafe Introduces Karby Cake from Kirby and the Forgotten Land to Menu

Starting April 1, 2022, fans of the new Kirby game 'Kirby and the Forgotten Land' can enjoy a tasty cake inspired by Karby at the Kirby Cafe in Tokyo and Hakata! Two limited-time menu items commemorating the 30th anniversary of Kirby will also be available. 

The newest Kirby game sees everyone's favorite pink puffball with a brand-new ability, allowing him to transform into various objects by sucking them up. The trailer for the game shocked Kirby fans around the world after Kirby transformed into an entire car!

Transform! Karby Cake

The Karby Cake replicates a special dish that appears in Kirby and the Forgotten Land's Waddle Dee Café. It's a strawberry-flavored blancmange (a French gelatin-based dessert) laid over a sponge cake with fruit layers.

Kirby Burger and Meat & Veggie Pasta (Standard Version)

Kirby Burger and Meat & Veggie Pasta (30th Anniversary Version)

Souvenir Plate

Happy Birthday☆Kirby
Available: April 1 – May 31, 2022


 

The popular Kirby Burger and Meat & Veggie Pasta menu item will be available in a special 30th-anniversary version for a limited time only. This includes a souvenir plate, and fans won't want to miss it!

The Kirby Cafe is also selling a Happy Birthday☆Kirby cake, a simple dome-shaped sponge cake filled with fruit covered in icing and cherries.

Come celebrate Kirby's 30th anniversary while you can!

©Nintendo / HAL Laboratory, Inc.

Kirby Cafe Introduces Healthy New Menu and Seasonal Items

The Kirby Cafe, with locations in Tokyo and Hakata, began offering some brand-new menu items on September 21, including the new Waddle Dee Soy Burger & Meat Pasta with Warm Veggies. This marks a collection of new healthier options, along with some cute new dishes perfect for the fall season. 

Menu

Waddle Dee Soy Burger & Meat Pasta with Warm Veggies: ¥2,838 (Tax Included)

Souvenir Plate TOKYO

Souvenir Plate HAKATA

Waddle Dee Salmon Avocado Bowl: ¥2,178 (Tax Included)

Waddle Doo Beam Salad: ¥1,298 (Tax Included)

Kirby's Inhaling Star Drink, Seasonal Apple Flavor (with squishy mascot): ¥980 (Tax Included)

Some adorable new dishes at the Kirby Cafe feature Waddle Dees, one of the most common characters in the video game series! The new Waddle Dee Burger is topped with avocado and made from soy, while still having the taste and texture of real meat. The spooky enemy Waddle Doo also makes his appearance in the new Waddle Doo Beam Salad! For those looking to eat healthier while enjoying time with some classic gaming characters, these new menu items are sure to satisfy. Don't miss out on the apple-flavored drink, also available for takeout. 

In addition to these tasty new items, brand-new goods will also be popping up at each location! Keep an eye out for some unique Kirby merch coming soon. 

Information

Kirby Café TOKYO

Address: Tokyo Skytree Town Solamachi East Yard 4F (1-1-2 Oshiage, Sumida-ku, Tokyo)

Hours: 10:00-20:00 (Last orders at 19:30)

Reservations: https://kirbycafe-reserve.com/guest/tokyo/

Kirby Café HAKATA

Address: Canal City Hakata North Building B1F (1-2-1 Sumiyoshi, Hakata-ku, Fukuoka City, Fukuoka)

Hours: 11:00-20:00 (Last orders at 19:30)

Reservations: https://kirbycafe-reserve.com/guest/hakata/

Reservations are not required, but they are recommended. 

Kirby Café THE STORE

Address: Tokyo Skytree Town Solamachi East Yard 4F (1-1-2 Oshiage, Sumida-ku, Tokyo)

Hours: 10:00-20:00

Official Site: https://kirbycafe.jp/thestore/

KIRBY'S DREAM FACTORY Pop-Up Shop to Open at Nagoya PARCO

Everyone's favorite pink ball is coming to Nagoya! The KIRBY's DREAM FACTORY pop-up shop, previously appearing in Osaka, Shizuoka, and Tokyo, will open in Nagoya PARCO from October 22 until November 8, 2021.

Adorable Original Merchandise Overview

Kirby Plushie: ¥2,420 (Tax Included)

 

Mug: ¥1,650 (Tax Included)

 

Kirby Cookie: ¥540 (Tax Included)

 

Craft Tape: ¥825 (Tax Included)

*Images for promotion only. Designs may differ.

*Product prices subject to change.

*Number of items for sale limited.

Photo Spot

Virtual Factory Experience Ticket: ¥700 (Tax Included)

Limited-Edition Poster

The Kirby franchise began in 1992, when the first title was released for the GameBoy. Since then, a number of titles have been released starring the adorable pink orb, with 34 Kirby games released to date! The latest in the series, Kirby Fighters 2, released in September 2020 for the Nintendo Switch.

KIRBY's DREAM FACTORY is an interactive pop-up experience, where Kirby and Waddle-Dee work together in a sweets factory. Visitors can take photos with their favorite character next to a working conveyor belt, and by holding up a smartphone to the QR code, a number of cool visuals will pop up! Over 100 pieces of exclusive merchandise will be on sale, and everyone who participates in the event will receive a limited-edition poster as a gift.

 

For those who can't make it to Nagoya PARCO, don't worry: the online store will also offer plenty of limited-edition Kirby goods!

*Game Boy and Nintendo Switch are trademarks of Nintendo.

© Nintendo / HAL Laboratory, Inc.

Kirby POP☆UP Shop Opening In Osaka LUCUA 1100

A Kirby POP☆UP Shop will be opening in Osaka's LUCUA 1100 1F Isetan Seasonal Selection from August 11th.

Shop Sample (photo from Nagoya autumn event.)

The shelves are covered in adorable Kirby goods, while the store has been decked out in fun, Kirby-esque summer motifs. You can even find items from the mature and simple  PLAYFUL KIRBY series or the colorful and stylish KIRBY'S FABRICS series! 

You can also spot Kirby playing as a train, with PU-PU-PU-TRAIN goods available to purchase.

There will be free gifts available for customers too; Customers who spend over ¥2,200 (Tax Included) will be eligible for a special Kirby POP☆UP Shop postcard. 

These are only available in limited quantities, so get them while you can!

 

© Nintendo / HAL Laboratory, Inc. KB21-P3040​

Information

Kirby POP☆UP Shop

Shop Duration: August 11 ~ August 24, 2021 (Free Entry) 

Opening Hours: 10:30 ~ 20:00

Location: 3-1-3 LUCUA 1100 1F isetan Seasonal Selection, Umeda, Kita-ku, Osaka

Access: 1 minute walk from JR Osaka St.

KIRBY's DREAM FACTORY Pop-Up Shop Opens at Ikebukuro PARCO

Kirby fans won't want to pass up the chance to visit the KIRBY'S DREAM FACTORY pop-up shop that will open at PARCO FACTORY on the 7th floor of Ikebukuro PARCO in Tokyo from August 13 to September 5.

Inhale this collection of original Kirby merchandise

Kirby Plushie | ¥2,420 (Tax Included)

Mug | ¥1,650 (Tax Included)

Tote Bag | ¥1,650 (Tax Included)

Kirby Cookie | ¥540 (Tax Included)

Pouch (Small) | ¥1,100 (Tax Included)

Craft Tape | ¥825 (Tax Included)

Photospot

Virtual Factory Experience

Price: ¥700 (Tax Included)

Enter the factory virtually on your smartphone

Free poster

Kirby's Dream Land is a video game developed by HAL Laboratory and published by Nintendo. First released in 1992 for the GameBoy, the game has been released in a variety of game genres. There are 34 titles in the series to date, with the latest, Kirby Fighters 2, dropping in September 2020 for the Nintendo Switch.



The concept of KIRBY's DREAM FACTORY is lots of Kirby and Waddle-Dee working in a sweets factory making pink sweets. Fans of the franchise can get their hands on over 100 pieces of exclusive merchandise while watching Kirby and Waddle-Dee hard at work. There's also a photo spot where you can snap a picture next to a working conveyor belt. The pop-up shop is also running virtually online with a range of exclusive virtual features.

Don't miss the chance to visit the pink-coloured KIRBY's DREAM FACTORY in Tokyo.


※ ゲームボーイ、Nintendo Switch は、任天堂株式会社の商標です。

© Nintendo / HAL Laboratory, Inc.

Japan's Kirby Café Announces Kirby's Happy Birthday Fair

If you didn't know, Kirby's birthday falls on April 27. To celebrate, Kirby Café Tokyo and Kirby Café Hakata have announced the Kirby's Happy Birthday Fair event which will run from April 1 to May 9 where customers can get their fingers on some delicious birthday treats and items.

 

Kirby's Birthday Line-Up

Happy Birthday☆Kirby | ¥1,518 (Tax Included)

No birthday is complete without a fitting cake. This one is loaded with fruit, strawberry cream, an icing cookie, and other delicious treats. Make sure to get yourself a slice before Kirby inhales it whole!

Kirby 29th Birthday Badge | ¥594 (Tax Included)

Kirby 29th Birthday Candy (Lime Flavoured w/Sticker) | ¥638 (Tax Included)

TOKYO BOX Candy (Lemon Flavoured w/Sticker) | ¥638 (Tax Included) | Exclusive to Kirby Café Tokyo

Candy (Soda Flavoured w/Sticker) | ¥638 (Tax Included)

Candy (Strawberry Flavoured w/Sticker) | ¥638 (Tax Included)

Information

Kirby's Happy Birthday

Running: April 1, 2021 – May 9, 2021

Bookings: Not mandatory but recommended

Kirby Café Tokyo: https://kirbycafe-reserve.com/guest/tokyo/

Kirby Café Hakata: https://kirbycafe-reserve.com/guest/hakata/

Kirby Café Tokyo

Address: Tokyo Skytree Town Solamachi Floor 4F (1-1-2 Oshiage, Sumida, Tokyo)

Opening Hours: 10:00-21:00 (Last Orders 21:00)

Kirby Café Hakata

Address: Canal City Hakata North Bldg. B1F, 1-2-1 Sumiyoshi, Hakata, Fukuoka, Fukuoka Prefecture

Opening Hours: 11:00-21:00 (Last Orders 22:00)

Kirby Café Official Website: https://kirbycafe.jp

Kirby Café Begins Serving its Spring Picnic Themed Menu

The Kirby Café branches in Tokyo and Hakata rolled out their Spring 2021 menu on Friday which is set to run until June 6. Themed on a springtime picnic, the line-up includes three items: six siz different temari-zushi servings, cherry blossom mochi, and a cherry blossom latte, all inspired by the Kirby video game series.

The Menu

Cherry Blossom Temari-zushi: Eat In ¥2,178 / Takeout ¥2,138

A serving of six sushi rolls perfect for a spring picnic. Each roll features designs that will be instantly-recognisable to Kirby fans.

Souvenir – Lunchbox (4 Designs)

Kirby's Spring Search | ¥1,078 (Tax Included)

Kirby is playing hide and seek under the cherry blossom tree in this cute dish which is adorned with shiny coloured candy.

Cherry Blossom Latte | ¥968 (Tax Included)

A light pink-coloured cherry blossom latte with a touch of salt. Mix everything together for a tasty sipping experience.

Tokyo's Kirby Café Whips Up Chocolate and Fruit Loaded Limited-Time Menu

The Kirby Café in Tokyo, which is based entirely around the popular Kirby video game series, will release a new limited-time menu on January 15 called 'Chocolate de PUPUPU' which will be served until February 28. The fruit and chocolate-packed line-up features three items. Item names are translated from Japanese by MMN.

The 'Chocolate de PUPUPU' Menu


Kirby Café's Stovetop Dessert Pizza ~Looking Out the Chocolate Train Window~ | ¥1,380 (Before Tax)


Waddle Dee Also Loves Chef's Chocolate Pan Stew! | ¥1,480 (Before Tax)


Old Odyssey | ¥780 (Before Tax)


Which of these delightfully cute treats do you want to inhale?

Information

Kirby Café
Running: January 15, 2021 – February 28, 2021
Official Website/Table Reservations: https://kirbycafe.jp