Creepy-Cute Halloween Sweets Available for a Limited Time at Hyatt Centric Kanazawa
Halloween is on the way, and the Hyatt Centric Kanazawa hotel is prepping some spooky sweets to celebrate! From October 1 until October 31, a Monster Halloween Cake Set will be available at the hotel's restaurant FIVE – Grill and Lounge. Guests can also enjoy a Halloween lunch and dinner menu featuring a chic menu filled with black, red, and purple dishes. Visitors who come in costume will gain access to some special offers as well!
Halloween Lunch / Dinner Course
Poached Eggs with Black Chaudfroid Sauce
Grilled Beef Tenderloin with Beet Variation
The courses were inspired by an adult Halloween party and will be available for four days only. Each dish contains colors perfect for the season, like haunting black and bloody red punctuated with a purple-tinted memory of moonlight. While the dishes may look strange, they are made with the finest ingredients. 
Monster Halloween Cake Set
Witch's Mont Blanc Pudding
Mummy Macaron
Denture Parfait
Jack-o'-Lantern Cream Puff
Frankenstein Brownie
Gyuhi Ghost
Spider Web Mousse
GO FOR KOGEI 2022 Collaboration 5×5 Cake Set
A special cake set featuring everything from Frankenstein to spider webs will get you in the Halloween mood. The lineup includes Witch's Mont Blanc Pudding topped with purple sweet potato cream, and the adorable Jack-o'-Lantern cream puff filled with–you guessed it–pumpkin cream. Come enjoy some other playful treats like the Mummy Macaron filled with apricot and the Denture Parfait with berries and marshmallows. On weekdays from October 3 until October 21, the cakes will be served on a special Kutani ware in collaboration with GO FOR KOGEI 2022. This 5×5 set will be limited to five servings per day. Kutani ware is a style of traditional Japanese porcelain found in Ishikawa Prefecture.
Halloween Cocktail

This year's Halloween cocktail is the rock-themed Back in Black. With a tequila base, you're sure to have some extra fun after downing this classy beverage.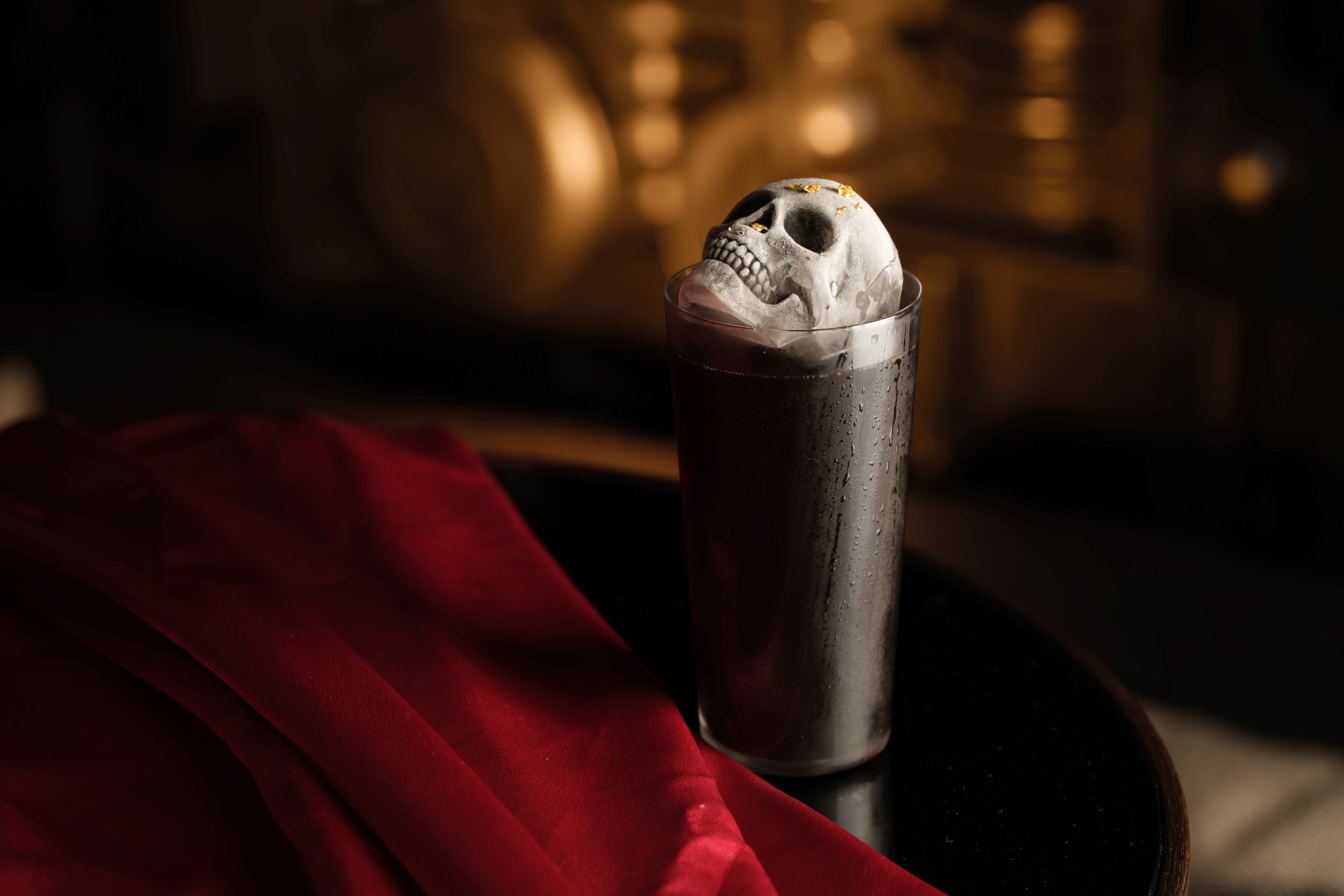 Come enjoy some spooky and cute Halloween sweets while you can!
Information
Monster Halloween 
Hyatt Centric Kanazawa
FIVE – Grill & Lounge
Address: Hyatt Centric Kanazawa 3F (1-5-2 Hirooka, Kanazawa, Ishikawa)
Official Site: http://fivegrillandlounge.jp
Lunch / Dinner Menu
Available: October 28 – October 31, 2022
Hours:
Lunch: 11:30-14:30 (Last Order at 14:00)
Dinner: 17:30-21:00 (Last Order at 20:30)
Details/Reservations: https://bit.ly/FIVEHalloween 
Monster Halloween Cake Set
Available: October 1 – October 31, 2022
*On weekdays from October 3 to October 21, the 5×5 cake set, made in collaboration with GO FOR KOGEI 2022, will only be offered in a limited number of 5 per day. (Advance reservations required.)
Hours: 12:00-17:00 (Last Order at 16:30)
Details/Reservations: https://bit.ly/FIVEHalloween 
Halloween Cocktail
Available: October 24 – October 31, 2022
Hours: 17:00-24:00 (Last Order at 23:30)
*Menu subject to change depending on availability.
RELATED ENTRIES
Report: Kyary Pamyu Pamyu's Tasty Time in Gastropolis Kobe – Sweets Edition

Kobe is filled with famous sightseeing spots like the nostalgic Ijinkan neighborhood and port. The city is packed with fashionable shops and restaurants and is highly regarded for its selection of tasty sweets!

The port city, with over 150 years of history, has fostered a unique and diverse culinary culture.

Recently, Kyary Pamyu Pamyu began starring in a series of promotional videos for the Gastropolis Kobe project. The artist traveled to the city to partake in plenty of delicious treats, and MOSHI MOSHI NIPPON went along for the ride! Here are some of the singer's favorite spots around town.

Kobe, known as a city where East meets West, is lined with sweets shops that are unique to the area.

The tea salon TOOTH TOOTH Dekoboko Sabo opened in 2019 in the Kobe City Museum and offers a menu that mixes Western food and sweets with tea and ingredients from traditional Japanese cuisine. Kyary ordered the Dekoboko Sabo Afternoon Tea Set, a collection of western sweets blended with the essence of traditional Japanese flavors. Guests are invited to enjoy their tea and sweets in a one-of-a-kind space filled with Meiji period flare and retro Western furniture. Those interested will need to make a reservation, so be sure to remember the next time you're in Kobe.

TOOTH TOOTH Decoboco Sabo

Address: 24 Kyomachi, Chuo Ward, Kobe (Inside the Kobe City Museum)

Hours: 9:30-17:30 (Last Order at 16:30) 

Closed Mondays

Official Site: https://toothtooth.com/restaurant/decoboco-sabo

The next stop was Kobe Nankin-machi, one of the three major Chinatowns in Japan. Kobe MILK is known nationwide for its Apricot Pudding, which is made with local ingredients. The raw apricot pudding is mixed with milk brought from the foot of Mt. Rokko and other ingredients from Hyogo Prefecture. Of course, Kyary ordered some, and was amazed by its fluffy texture. You can only enjoy it in Kobe–also, the shop sells other puddings mixed with seasonal fruits, so don't miss those either!

Kobe MILK

Address: Shin-Motomachi Building 1F (1 Motomachi-dori, Chuo-ku, Kobe)

Hours: Weekdays 9:30-19:00 / Weekends 9:30-19:30

Official Site: https://kobe-milk.com

For Kyary's final stop, the singer visited the Moore House, a cafe located in a building with over 100 years of history. Guests are surrounded by greenery, and the Western-style building is incredibly elegant. The Strawberry Mille-feuille Kyary ordered was created by an expert patissier and based on the strawberry mille-feuille recipe from the legendary French restaurant Maxim's de Paris in Ginza. A generous amount of custard cream complements the crispy pie crust and enhances the sweetness of the fresh strawberries. We'd recommend it with a glass of champagne–if you're of age.

Kitano Ijin-kan Moore House

Address: 2-9-3 Kitanocho, Chuo-ku, Kobe

Hours: 11:00-17:00

Closed Tuesdays

Official Site: https://www.kitanomoore.com/cafe/

The streets of Kobe are packed with sweets that you can only enjoy if you visit. Why not come experience these incredible spots like Kyary did?

Kobe Sweets Trailer: https://youtu.be/Sx9B1ZdAvlI

ANNA'S by Landtmann in Shibuya Scramble Square Now Offering Halloween Sweets

ANNA'S by Landtmann, a cafe located inside +Q Beauty on the 6th floor of Shibuya Scramble Square, has begun selling two Halloween cakes! These spooky sweets will be available until October 31, 2022.

Halloween Mont Blanc

Halloween Poison Apple

Guests will be able to snag the Halloween Mont Blanc and Halloween Poison Apple cakes, available for ¥580 each including tax. The Mont Blanc is filled with pumpkin custard and Chantilly cream. The Poison Apple is a sweet and sour cake featuring a blend of chocolate mousse covered in red glaze and applesauce with apple pulp.

Which of these two adorable cakes would you like to enjoy this autumn?

Second Sylvanian Families Sweets Buffet to Open with a Christmas Theme

Keio Plaza Hotel in Tokyo will hold a special Christmas-themed Sylvanian Families buffet starting November 1, 2022. This is the second Sylvanian Families event following the previous Halloween-themed buffet, which became extremely popular. Some guests even bring their own Sylvanian Families dolls!

Starting in November, visitors can enjoy a full lineup of 20 scrumptious dishes inspired by the cake shop found in Sylvania Village. Some sweets are also inspired by the many beloved characters found in the series, and anyone wanting to get into the Christmas spirit won't want to miss this exclusive event. For those without a sweet tooth, some light lunches will also be available.

The restaurant will also erect a decorative display of Sylvanian Families enjoying a Christmas party and a sweet diorama made exclusively of desserts by the pasty chef. Guests can enjoy tea time while getting lost in this magical world, so get excited about the Christmas season!

1. Sweets Inspired by the World of Sylvanian Families

2. Become Enthralled by a Wonderful Winter World of Sweets

3. Exclusive! Sweets Diorama and Sylvanian Families Photo Spot

4. Light Meals Perfect for Winter and Burgers Featuring Original Illustrations

5. A Special Plan to Enjoy the Buffet with Sylvanian Families Babies

Information

Sweets Collection with Sylvanian Families

Running: November 1 – December 31, 2022

Venue: Keio Plaza Hotel's Jurin Restaurant

Price: ¥5,500 (Adults) / ¥3,000 (Children 4-12) *Children under 3 free

Details/Reservations: https://www.keioplaza.co.jp/event/autumn-sweets/#event02

Colorful and Cute Halloween Menu Now Available at Huis Ten Bosch in Nagasaki

Nagasaki's Huis Ten Bosch is now offering up some tasty and colorful autumn sweets! Visitors can enjoy the feel of an authentic European Halloween at the Netherlands-inspired theme park for a limited time only. 

Forest Fantasia Cafe's Sorciere Sweet Potato au Lait

Cafe Deli Plus's Halloween Party Parfait

Madame Chocolat's Special Halloween Parfait at the Former Residence of Madame Chocolat

Chestnut Witch Hat at Bikken Bikken

Akanbe Burger at Bikken Bikken

The Exciting Halloween Burger with Colorful Veggies and Pumpkin at dam

Jack-o'-lantern Shrimp Cheese Fondue at Gokuu

Halloween Lunch and Dessert Buffet at Anchors Lounge

Ghostly Forest Carnival Pasta at Pinoccio

Halloween Ghost Curry at Tottotto

This Halloween menu features a wide variety of seasonal ingredients. Why not enjoy the autumn season to the fullest by having your fill?

Terrifying Halloween Night Yokai Tour to be Held at Kokuminshukusha Shodoshima in Kagawa Prefecture

In conjunction with the autumn segment of Setouchi Triennale 2022, the Yokai Halloween 2022 event will be held for the first time at the Yokai Art Museum in Shodoshima in Kagawa. During the event, guests can take part in the Halloween Night Yokai Tour on Saturdays, which will invite them to transform into terrifying ghouls! Each guest will receive a yokai mask and will be tasked to test their courage in this unique Halloween event. Those visiting the museum in costume will receive a discount, and visitors can also enjoy some spooky treats at the Yokai Bar. This is one museum horror fans won't want to miss!

Visit the Yokai Art Museum at Night 

Unlike daytime, the Yokai Art Museum is filled with a mysterious energy at night. With a flashlight in hand, staff members will lead guests on a tour through the museum, which exhibits more than 800 yokai sculptures. Visitors can wear yokai masks and costumes, and unlike a haunted house, you won't need to worry about yokai jumping out at you. However, the staff may ask you to keep an eye out for anything mysterious. Guests are permitted to take as many photos as they like inside the museum, so be sure to share your experience on social media!

Too Realistic! Enjoy Finger Cookies at the Yokai Bar

At the Yokai Bar attached to the museum, guests can find these terrifying finger cookies! These were made in collaboration with FUJI, a popular snack shop in Shidoshima. While tasty, they might be a little too realistic for some people. These will be available in two flavors: spicy and sweet. 

Rent a Halloween Lantern for Free

A Night Walk through the Shidoshima Maze will invite visitors to carry a Halloween-themed lantern through the town. This event is being held to promote tourism in the town at night, and lanterns will be free to rent! These will be available in different colors from the first floor of the nearby Shodoshima International Hotel. Shodoshima, known as the City of Mazes, has over 60 streets with three-way intersections and many mysterious alleys. Walking through the town at night will be an experience you'll never forget, especially during the spookiest time of the year!

Information

Halloween Night Yokai Tour

Dates: October 1, 8, 15, 22, 29 / November 5

Time: 20:00 at the Yokai Art Museum (Please reserve your spot by 20:00.) 

Venue: Yokai Art Museum (298 Kou, Tonosho, Shozu District, Kagawa)

Price: Adults ¥3400 / Middle/High School Students ¥1,950 / Elementary Students and Under are free (Must be accompanied by a parent or guardian.)
*Fee includes admission, yokai masks, and the tour. 

Details/Reserve Tickets: https://www.asoview.com/channel/tickets/eZLNyX5SzG/

*The tour will feature parts of buildings 1-4 and will be led by staff members. Fee includes admission to the museum. Guests can enjoy the museum both before and after the tour, and may re-enter the museum only on the same day. 

NAKED's Halloween Event Coming to Tokyo Tower for a Limited Time

Digital art collective NAKED will hold a special Halloween projection mapping show at Tokyo Tower! The Tokyo Tower City Light Fantasia ~Halloween Party 2022~ event will run from September 16 until October 31 on the 2nd floor of the tower's main deck. 

NAKED has collaborated with Tokyo Tower in the past to create shows inspired by the seasons. These incredible illuminations captivate audiences at night, and this fall, visitors will be captivated by autumn leaves dancing in the breeze along with silvergrass swaying and the sound of chirping insects. The scene will eventually change into something more spooky–a ghost will appear alongside witches, bats, and pumpkins! The main deck will be enveloped in Halloween colors perfect for a fall photoshoot!

Information

TOKYO TOWER CITY LIGHT FANTASIA ~Halloween Party 2022~

Venue: Tokyo Tower Main Deck (150m), 2F North Side Floor
Running: September 16 – October 31, 2022
Hours:
September 16 – September 30 / 18:00-Close
October 1 – October 31 / 17:30-Close
Entry: Guests can enjoy the main deck for only the price of entry to the observation deck.

Hilton Tokyo Odaiba to Hold Second Touken Ranbu ONLINE Collaboration Sweets Buffet

From October 21 until November 30, 2022, Hilton Tokyo Odaiba will hold the Touken Ranbu ONLINE Special Buffet ~Black & White~ event! This second collaboration with the popular series will be held Grillogy Bar and Grill on the second floor.

Dessert Menu

Drink Menu

Drink Order Bonus: Original Coaster (8 varieties)

At the buffet, guests can enjoy luxurious dishes inspired by characters from the sword-centered game and anime series. The desserts blend Japanese and Western cuisine, and special cocktails will be available during the first phase, each coming with a special coaster as a bonus! In addition, original goods will be on sale at the venue, so don't miss it!

Information

Touken Ranbu ONLINE Special Buffet ~Black & White~

Running: October 21 – November 30, 2022

Reservation Start Dates and Times: 

Lottery Opens: September 16, 12:00~

General Reservations Open: October 6, 12:00~

*Lottery reservations and general reservations will be open
for the first and second runs.

*Please see the official website for the full reservation schedule.

Venue: Hilton Tokyo Odaiba 2F Restaurant, Grillogy Bar and Grill

*Reservations required

Tickets/Details: https://odaiba.site/

Online Shop: https://touken-yorozuya.com/

Sanrio Puroland Begins Autumn's Puro Halloween Event

From September 9 until November 1, Sanrio Puroland is celebrating the spookiest season of the year with the Puro Halloween event. On the first day of the event, guests immediately showed up to enjoy the new additions to the park, including the light show, Halloween photo spot, and an exclusive food menu filled with autumn flavors. 

The theme of this year's event is the popular Halloween phrase "Trick or Treat!" Popular Sanrio characters are all dressed up in spooky costumes, with each joining Team Trick or Team Treat!

First Set of Seasonal Goods (Costume ver.)

Light Show

 

At Puro Village, guests can see the incredible Trick or Treat light show, perfect for getting into the Halloween mood!

Fairyland Theater will present the new 'Let's Trick or Treat' stage show as well, with Hello Kitty and Dear Daniel dressed in new costumes as they dance and play games with each other.

Special Greeting

'Vampire Butler Cafe ~Broken Rules~' Immersive Horror Experience


Along with these new shows, those looking for a fright can visit the Vampire Butler Cafe, Puroland's first immersive horror show featuring handsome actors dressed as vampires. This will only be open after Puroland closes, and only on select dates. Younger children can also enjoy a special candy-catching event sure to excite!



Starting October 1, a Halloween version of the Mewkledreamy March stage show will wow audiences. Everyone's favorite characters Mew, Peko, and Su will appear in new costumes, so don't miss it!

Limited Time Food Menu

Limited Time Photo Spot


In the Rainbow Hall on the third floor, guests can take pictures a bright orange and purple photo spot. In the Character Food Court on the first floor, new menu items are available, served on decorated tables. The limited food menu offers everything from Meatball Curry to a Luxurious Sweet Potato Parfait. If you like autumn treats, be sure to enjoy while taking some pictures to post on social media!

Come enjoy the Halloween season with your favorite Sanrio characters, and don't forget to say "Trick or Treat!" 

© 2022 SANRIO CO., LTD. TOKYO, JAPAN MMP,TX 著作 株式会社サンリオ

Yokohama Royal Park Hotel to Hold Halloween Sweets Fair in October

From October 1 until October 31, Yokohama Royal Park Hotel will hold a special Halloween Fair at its delicatessen and lounge Coffret. In addition to six playful sweets from the Halloween Frankenstein to the Halloween Mummy, two types of autumn bread featuring pumpkin and purple sweet potato will be available, allowing guests to enjoy the taste of the season!


Halloween Frankenstein

Halloween Cat

Halloween Mont Blanc

Halloween Mummy

Halloween Pudding

Halloween Pound Cake

Pumpkin Cream Fondue / Halloween Anpan

  

Come enjoy this Halloween with some cute and silly sweets!

Information

Halloween Fair

Running: October 1 – October 31, 2022
Venue: Coffret Delicatessen and Lounge, 1F
Hours: Lounge 10:00-20:00 (*Cakes served starting at 11:00) /
Delicatessen 11:00-20:00
Reservations: 045-221-1111 (Representatives available 11:00-20:00)

Tsujiri Reveals Colorful Autumn Parfait Using Purple Sweet Potatoes

Tsujiri, a staple of Uji, Kyoto, has announced an exclusive autumn menu! Guests can enjoy the Tsujiri Soft Autumn Parfait, the Kyo Latte Smoothie with Purple Sweet Potato, and the Kyo Latte with Hojicha at the Kyoto location and three other stores starting September 1, 2022.

Tsujiri Limited Time Autumn Menu

These three limited-time items are filled with fall flavors. The Tsujiri Soft Autumn Parfait is filled with Uji green tea carefully selected by tea masters and topped with purple sweet potato paste, sweet potato nectar, and other gorgeous goodies.

The Kyo Latte Smoothie with Purple Sweet Potato features an autumn-only flavor combining purple sweet potato bean paste, cream, and sweet potato nectar with Tsujiri's matcha green tea smoothie. The Hojicha version is made with luxurious Uji Hojicha and milk for a soothing experience.

Enjoy autumn with these tasty treats filled with seasonal flavors!

Information

Tsujiri Kyoto Store
Address: 215 Nakanocho, Kyoto 

Tsujiri Kyoto Tower Sando
Address: Kyoto Tower Sando Building 1F (721-1 Higashishiokojicho,
Shimogyo-ku, Kyoto)

Tsujiri arde! Shin-Osaka
Address: arde! Shin-Osaka, JR Shin-Osaka Station 2F (5-16-1 Nishinakajima, Yodogawa-ku, Osaka)

*The autumn menu is not available at the Uji location or the Naha Airport location.

Q-pot CAFE to Offer Cute Halloween Sweets to Celebrate 10th Anniversary

Q-pot CAFE in Omotesando will be offering up some Halloween treats to celebrate the location's 10th anniversary! Guests will be able to sample these special sweets from September 3 until October 31, 2022.

Happy Halloween! Afternoon Tea Set

The festive Happy Halloween afternoon tea features pink Jack-o'-lantern macarons and other Halloween-inspired sweets.

Fluffy Floating Ghost Plate (Drink Included)

The adorable ghost is made from fluffy milk mousse covered with gyuhi, a typical ingredient in Japanese sweets made from rice flour. Inside is blackcurrant and redcurrant jelly with an incredibly sweet and sour flavor.

Black Devil Tea Mocha

Featuring large devil wings, this tasty and eye-catching beverage is a mix of black tea, chocolate, and milk. When the cocoa cream melts, the taste changes to something creamy and cozy, perfect for the autumn months.

Shimmering Blueberry & Grapefruit Soda

This refreshing sweet and sour drink combines blueberries and pink grapefruit along with soda and pearl powder.

Come enjoy Halloween while celebrating the cafe's 10th anniversary!

Information

Q-pot CAFE 10th Halloween Menu

Location: Q-pot CAFE Omotesando

Running: September 3 – October 31, 2022

Hours: 11:00-19:00 (Last Order at 18:30)

Details/Reservations: http://www.Q-pot.jp/news/2022/08/1746.html

Sanrio Characters to Celebrate Halloween with Special Campaign

Namco will be releasing some exclusive Halloween prizes featuring everyone's favorite Sanrio characters! The Halloween event will run from September 9 until October 31 at around 200 Namco Amusement Centers nationwide and on the Torumo online crane game mall.

 

During the campaign, exclusive prizes featuring brand-new designs of popular Sanrio characters will be available in crane game machines!

When ¥500 is inserted into select crane games using the link function of the Namco Point app, an original sticker will be gifted to players! Starting September 16, those collecting three of these original stickers will receive an original pin that looks just like candy! All guests need to do is show their stickers to the staff. 

Collaboration Goods

Exclusive Clear Shopping Bag (3 varieties)

Original Sticker (5 varieties)

Original Candy Pin (5 varieties)

Blanket

Prizes will also be available from Torumo, an online crane game mall. In addition, a present campaign will be held to select winners to receive a special blanket! To enter, all you need to do is play the target machine three times. During the campaign period, by following a participating store on the Namco Point app, customers will receive a limited edition shopping bag!

Come grab some of these Halloween goods and show off your Sanrio love!

ⓒ '22 SANRIO CO., LTD. APPR. NO. L633490
©Bandai Namco Amusement Inc.