Naruto Anime Series Celebrates 20th Anniversary with Traditional Kokeshi Dolls
To commemorate the 20th anniversary of the Naruto anime series, Usaburo Kokeshi has created two traditional dolls modeled after Naruto Uzumaki and Sasuke Uchiha. The original manga series by Masashi Kishimoto has become a global phenomenon, and fans won't want to miss out on these unique pieces! Preorders are now open.
Usaburo Kokeshi makes each of these pieces by hand, transforming them from children's playthings into traditional works of art. The wood used to create these pieces is from trees in Gunma Prefecture.
Usaburo Kokeshi Doll – Naruto Uzumaki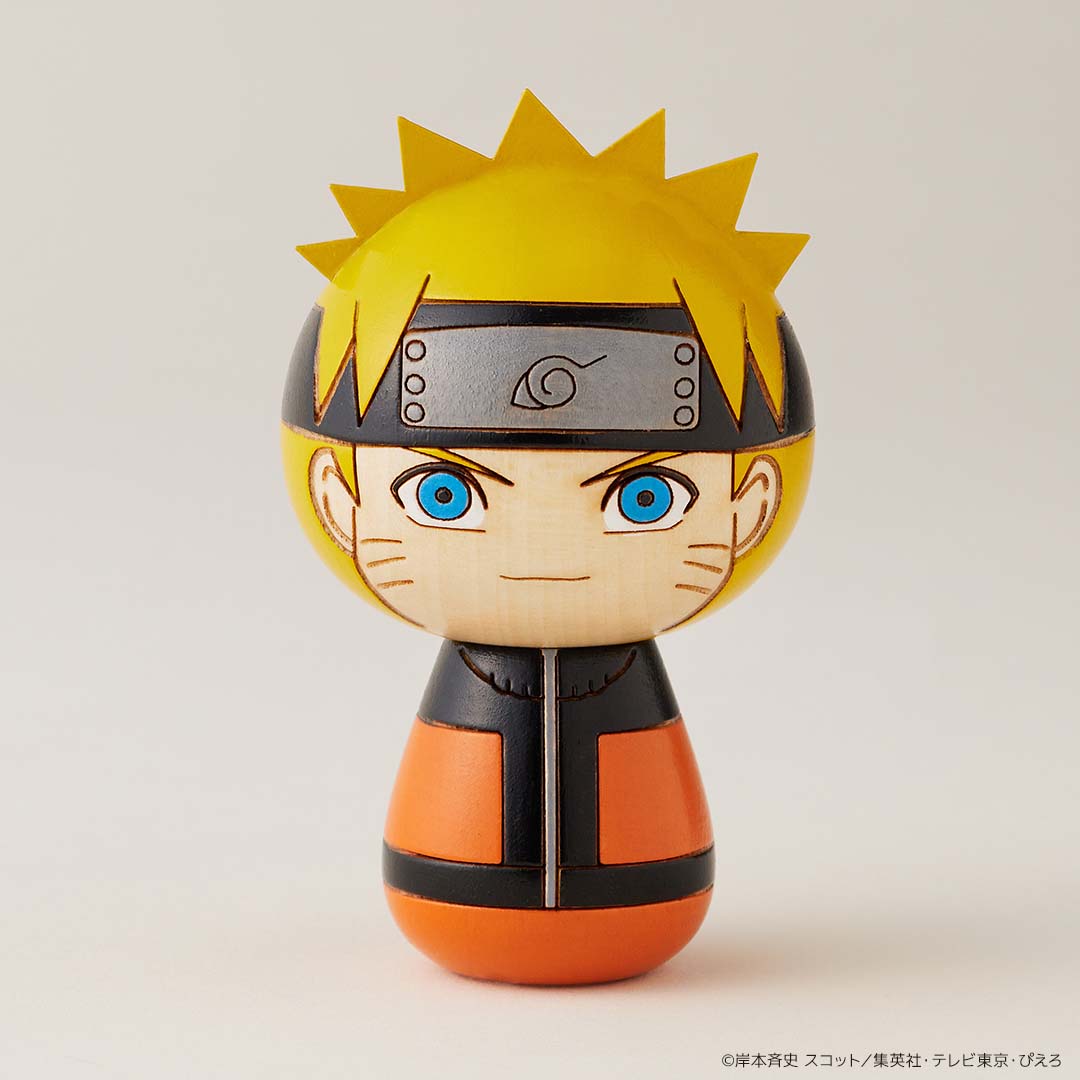 Usaburo Kokeshi Doll – Sasuke Uchiha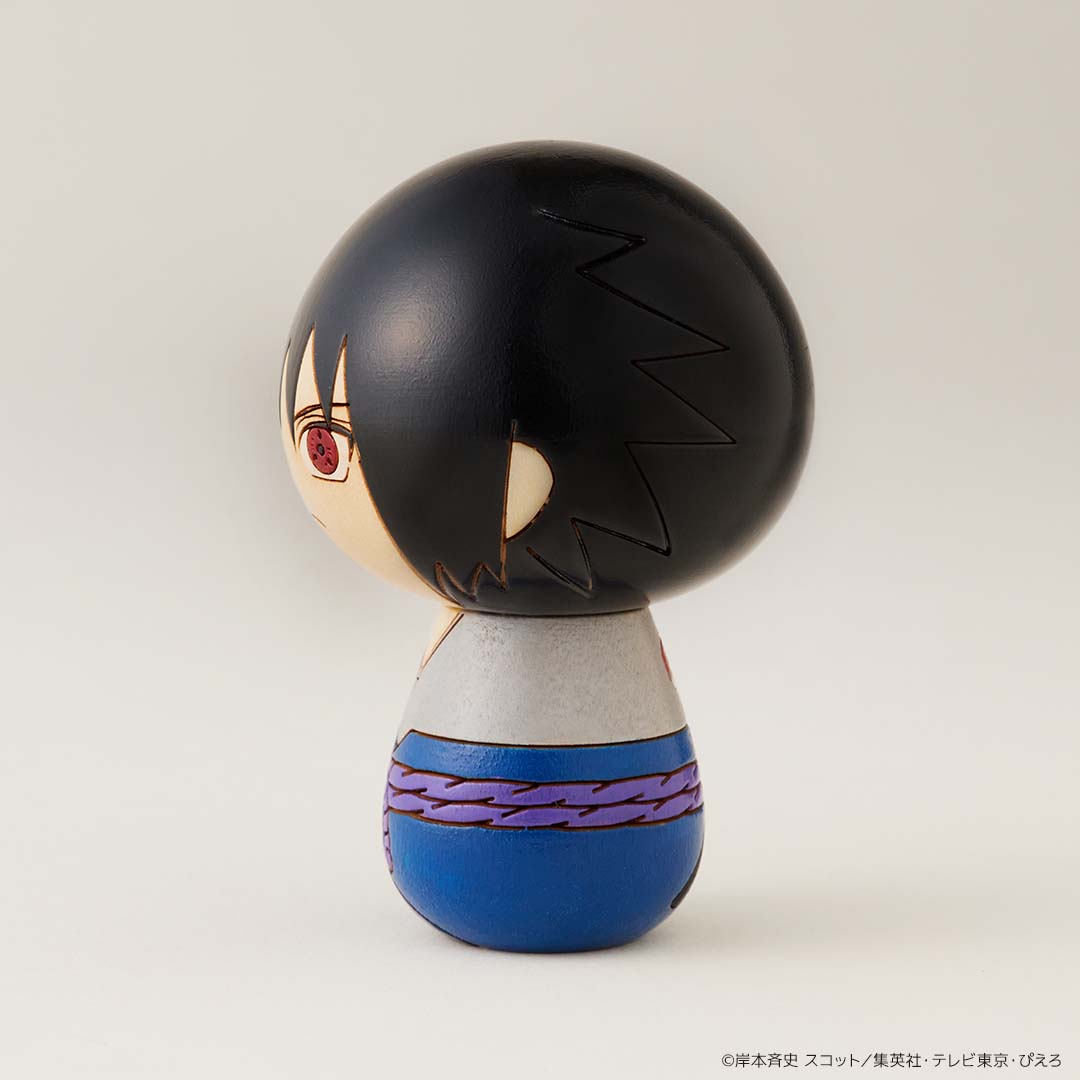 These adorable dolls completely recreate both character's outfits and hairstyles, and the designers clearly focused on the small details. Enjoy these palm-sized versions of your favorite Naruto characters!
©岸本斉史 スコット/集英社・テレビ東京・ぴえろ
RELATED ENTRIES
Results of Second Japanese Cultural Grand Prix Announced

The five winners of the second Japanese Traditional Culture Grand Prix have been announced! The contest was spearheaded by the Japan Traditional Culture Promotion Project, established in May 2020 as a collaborative effort among companies, associations, and local governments to establish a sustainable framework for the continued development of Japanese traditional culture.

The project is headed by Seiichi Kondou, the Former Commissioner of the Agency for Cultural Affairs. United Arrows Honorary Chairman Osamu Shigematsu serves as Vice-Chairman. Along with Nobuo Yoshida, the 14th generation head of the 400-year-old traditional paper fan store Ibasen, the Japan Cultural Promotion Project began this Grand Prix as a way to honor outstanding works of Japanese culture by companies, organizations, and individuals. Anyone can enter, regardless of nationality, residence, or age. The jury consists of 11 people from various fields, including Richard Collasse, the Chairman of Chanel LLC, and popular model Kozue Akimoto.

Grand Prix Winner

Dustpan x Broom

Luo Qi

Each dustpan is shaped by hand to match the special shape of the Matsumoto broom, which is then dyed with natural Tokushima indigo dye. The broom is the only one in the world made from home-grown broomcorn, and each is made by a third-generation craftsman with years of experience.

Runner-up Prizes

Japanese Lacquer Art – Ether

Takehito Sasaki

[Critique]


Both traditional and innovative. The spirit of Japanese culture and the meaning of this award seem to have taken shape in this work. The zippers do not open. The surface looks like leather, but it isn't. When the lid is opened, the glossy lacquer seems to spread out. My expectations were surpassed. Anyone who sees it or uses it will find themselves lost in imagination, and I'm sure that thinking about that will bring a smile to the creator's face. This beautiful craftsmanship was born from plenty of care and attention. What a pleasant surprise. (Risa Tanaka)

Sake Drinking Set – Japanese nagomi Sake Cups


Nagomi Fujita

[Critique]


There's something about this piece that shares a spirit with Art Nouveau. The delicate plants superimposed on the bright transparent glass are a powerful image. In traditional Japanese nagomi art, the linear appearance of the plants is painted a bit more lightly, but these overlapping layers and shapes resonate and make an impact. The artist used traditional techniques such as lacquer and foil in a subtle manner, while still making the plants look alive. I'd consider this as a modern take on ecology. (Yuko Hasegawa)

Excellence Award


Floating Boat Counter


Masafumi Kodama (Registered Architect with a First-Class License) / Taiki Ishikawa (First Class Carpenter/Registered Architect with a Second-Class License)

[Critique]
The motif that inspired this piece is the traditional Japanese architectural technique of funahijiki. It's an outstanding piece that utilizes practical architectural practices to create a piece of furniture at the center of a home, somewhere that the family relaxes. It brings the beauty of Japanese wood into the modern age. Funahijiki is a technique that has been used in incredible places, such as the Kyoto Imperial Palace and Kojoin Temple. It's graceful and elegant, and not often seen in the current age. (Hidetsugu Horikoshi)


Folding Chair to Assist in Seiza
patol stool SEIZA

Hirayama Daily Goods Shop, Makiko & Kazuhiko Hirayama

[Critique]


The judges liked this folding chair for assisting seiza sitting, as it's something that could be put to practical use right away. It's sure to help people enjoy tatami culture, and will be a big help for people who seldom sit on the floor in this traditional way. The height and size of the chair, as well as its ability to be folded for easy storage, are nice touches. I'd consider this a masterpiece with incredible potential. (Yuji Akimoto)

These pieces of artwork managed to connect traditional Japanese culture with future sensibilities, so give them a look!

Creative Social Media Site Behance Promotes Traditional Japanese Culture in New Project

Behance, the world's largest creative social media network, has started a new project to promote Japanese traditional culture and arts and crafts to the world. Works on Behance will be transformed into NFTs, with the goal to establish a new way for traditional craftsmen to profit from their work.

Japan's traditional arts and crafts are well-known by many around the world. On the other hand, challenges still remain as many regions' traditional manufacturing industries are digitized. Sharing more detailed information about these crafts with overseas markets has also been difficult.

According to the "Survey on the Revitalization of Local Traditional Manufacturing Industries" published by the Development Bank of Japan in 2018, Japan's traditional arts and crafts industry peaked around 1980. Due to the recession caused by the burst of the bubble economy, the rise of inexpensive foreign products, and changes in lifestyle, the amount of production has been declining year by year. Compared with the peak period, current production has dropped to one-fifth or about 100 billion yen. The workers involved in traditional crafts are also aging, making it difficult to pass on their skills to younger creators.

On Behance, users can not only get inspiration from other people's work but can also publish their own works and receive helpful feedback and comments. Marketing professionals also use Behance to find creators for campaigns and collaborations, and previously, a Japanese creator who had uploaded his work to the social media site was asked to illustrate the cover of the New York Times. 

This project is designed to promote traditional Japanese arts and crafts in the hopes of supporting their continued development in the face of many difficult conditions.

Information

Digital Council for Traditional Culture x Adobe

Official Site: https://tcdc.jp

Nijigen no Mori's Naruto & Boruto Ninja Village Sakura Birthday Event Stickers Now Available

The Naruto and Boruto Ninja Village located at the Nijigen no Mori anime theme park in Hyogo is celebrating its third anniversary! A new event has begun celebrating Sakura's birthday, and fans of the characters will be able to grab some neat merch.


Those who purchase tickets to this special event will receive a Mission Accomplished Sticker featuring an original, newly-drawn design. The celebration is running until June 30!

The escape game will have park guests running around the park looking for panels with hints on how to progress. For this event, the panels contain keywords and illustrations related to Sakura. Visitors will really have to use their brains to figure out the solution!

Guests will also be able to write congratulatory messages on cherry blossom petal stickers associated with Sakura and stick them to life-size character panels. Original goods featuring characters in original event costumes will be on sale.

© 岸本斉史 スコット/集英社・テレビ東京・ぴえろ

'Doraemon: Nobita's Little Star Wars 2021' Film Inspires Limited Edition Ukiyo-e Prints

Fans of Doraemon and traditional Japanese artwork won't want to miss this special collaboration! On March 30, preorders will open for ukiyo-e prints inspired by the film 'Doraemon: Nobita's Little Star Wars 2021.' These limited-edition pieces were created by Iwano Ichibei, a Living National Treasure.

The prints show Doraemon and friends along with the alien Papi and the special gadget the "Small Light." The tool is giving off light depicted in a traditional Edo pattern believed to bring good luck, and the characters are shown inside its silhouette. 

Ukiyo-e Woodblock Print Production

Engraving by Craftsman

Printing by Craftsman

First, a sketch is made, and a monochrome version of the print is carved. After carving a number of woodblocks for each color and using them to rub the painting tirelessly to bring it to life, one single woodblock print is completed. 

 

 

 



The extremely delicate and advanced techniques these craftsmen utilize have been passed down from the Edo period. Imagine having one of these beautiful pieces hanging in your home!

Information

'Doraemon: Nobita's Little Star Wars 2021' Commemorative Ukiyo-e Prints

Preorders Open: March 30, 2022
Price: ¥33,000 (Excluding Tax and Shipping Charges)

Quantity: 300
Painter: Living National Treasure Iwano Ichibei 
Online Shop: http://ukiyoework.com/

'VOLTAGE' by Anly Chosen as Ending Theme for BORUTO Anime Series

Anly's new song VOLTAGE will serve as the new ending theme song for the TV Tokyo anime series Boruto. 

This will be the second time that Anly has teamed up with the Naruto series, having previously performed the opening theme Kara no Kokoro from Naruto Shippuden. The track has been streamed over 20 million times globally.


Comment from Anly


It's been a long time since I've worked with the Naruto series, and I'm deeply moved to be returning to contribute. VOLTAGE is a song meant to cheer people up and to inspire friends to overcome anything standing in their way. While it's similar in many ways to Kara no Kokoro, I feel like this is even cooler than Boruto's dad's song! I hope everyone enjoys it.

The new ending theme song will premiere with the new episode of Boruto airing on TV Tokyo on January 9, 2022.

©岸本斉史 スコット/集英社・テレビ東京・ぴえろ

FujiQ Highland Holds Limited Time "Uzumaki Naruto Birthday Celebration 2021"

FujiQ Highland's 'NARUTO x BORUTO Fuji Konohagakure Hidden Village,' will be holding the 'Uzumaki Naruto Birthday Celebration 2021' birthday event to commemorate NARUTO protagonist Uzumaki Naruto's birthday, held between October 10 and November 7 2021. 

 

Happy Birthday, NARUTO! Miso Tonkotsu with Extra Char Siu Special

Yakitori Set

Arcade Game Corner 'Game Area – Ninjutsu Carnival'

"Uzumaki Naruto Birthday Celebration 2021" Specially Designed Sweets

NARUTO Birthday Commemorative Big Sticker


Stamp Rally with Impressive Prizes

During the event period, Satouchi's 'Ramen Ichiraku' will be offering ramen based on Naruto's beloved Miso Tonkotsu with Extra Char Siu, topped with six pieces of Char Siu (available Sat. and Sun. only, 30 portions a day). Meanwhile, YakitoriQ will be reducing the cost of their ultra popular 'Family Pack' yakitori from ¥1,200 down to ¥1,010 to mark the date on October 10. Plus, if you say "NARUTO HAPPY BIRTHDAY" at the Game Area Ninjutsu Carnival game, the staff will offer you an extra round, boosting your chance of winning the prize.

The Fuji-Q Official Highland Resort Hotel & Spa's restaurant "Makaroni Club" is also hosting a series of fun events to liven up the celebration, including event-exclusive latte art, macaroons, and themed cakes!

In addition, customers who purchase event merchandise or use the facilities will receive a free 10cm 'NARUTO Commemorative Big Sticker' which will be sure to leave an impact. The stickers are available in limited quantities.

If you collect three stamps on your rally card then you will be eligible to enter a lottery, with the chance to win a variety of impressive prizes, such as FujiQ Highland Free Passes or NARUTO or BORUTO dolls, so why not give it a shot?

If you're a NARUTO fan then be sure to celebrate his birthday at FujiQ Land!

 

Information

Uzumaki Naruto Birthday Celebration 2021

Duration: October 10 ~ November 7 2021

Location: NARUTO x BORUTO Fuji Konohagakure Hidden Village

Address: 5-6-1 Shinnishihara, Fujiyoshida, Yamamashi 

Official Site: https://www.fujiq.jp/ 

Nijigen no Mori Amusement Park Starts Naruto Birthday Event

The anime-themed amusement park Nijigen no Mori in Hyogo Prefecture will hold a special Naruto event from October 2 until November 28, 2021. The Naruto Shippuden x Real Puzzle Solving Game will feature popular characters from the Shikamaru Hiden arc!

NARUTO&BORUTO Ninja Village

This marks the second version of the event to date, with the first taking place in 2020. Naruto's birthday is October 10, and to celebrate, this event will open with new visuals of the titular ninja along with popular character Shikamaru!

Flower Petal Stickers

Fans of Naruto won't want to miss their chance to leave a congratulatory message for the birthday boy! Just write your message on one of these stickers, and stick them to the character panel of your choice. 

Event Contents

Gameplay

Players will solve a number of riddles placed all over the Naruto & Boruto Ninja Village, with certain keywords related to each character playing a role. 

Wooden Phone Straps (4 varieties) featuring new illustrations

The event will take around 30 minutes, even for beginners. Those buying a ticket will receive a wooden phone strap. 

©岸本斉史 スコット/集英社・テレビ東京・ぴえろ

Information

Naruto Shippuden x Real Puzzle Solving Game – Ninja Village Special Mission #010: Naruto/Shikamaru Arc

Running: October 2, 2021 – November 28, 2021

Address: Nijigen no Mori Naruto & Boruto Ninja Village (Awaji, Hyogo Prefecture)

Hours: 10:00-20:00

*Please check the official website for hours. 

Results of First Japanese Traditional Culture Grand Prix Announced

With 130 entries submitted from all parts of Japan, the 8 winners of the first Japanese Traditional Culture Grand Prix have finally been announced. The contest was spearheaded by the Japan Traditional Culture Promotion Project, established in May 2020 as a collaborative effort among companies, associations, and local governments to establish a sustainable framework for the continued development of Japanese traditional culture.

Grand Prix Winner: Nakagawa Woodcrafts Hira Studio "Wave" series (left) "YORISIRO" series (right)

The winner of the top prize was Nakagawa Woodcrafts Hira Studio, in which the craftsmen still use a 700-year-old technique to create their famous wooden buckets. These buckets, once used for storing rice and miso, are still used today for a variety of different purposes, from bathing to cooling champagne! In stepping away from their typical works, the Nakagawa Woodcrafts studio created the more freeform "Wave" series, and the name surely fits–each bucket looks too free to have been manmade. The "YORISIRO" series, rather, keeps the natural curvature of the wood. Both are signature pieces of traditional Japanese artisanal culture.

Runner-up: Cubism in Calligraphy "Natural Stance," Atelier Sisyu, Sisyu

Excellent Award: Kyo Braided Cords Sanjiku-Kumiori "Kujaku Kouki," Saiko Ltd., Koichiro Murokado

Excellent Award: Structured System "Kumiko Endurance Wall," Tosa Kumiko Co., Daisuke Iwamoto

Excellence Award: Porcelain "Yuragi" Hiroshi Taruta

Excellence Award: Lacquer Art "Tataeru" Shinsuke Aoki. 

 

Excellent Student Award: Picture Frame "KOZAI" Ryohei Nomura. 

Special Award: Rinku, a group of young female craftswomen from the Toukai region

The Japan Traditional Culture Promotion Project began this contest as a way to honor outstanding works from creators around Japan. The jury consists of 18 people from various fields, including Richard Collasse, the Chairman of Chanel LLC, and popular model Kozue Akimoto. A collection of online presentations and interviews with the winners is planned in future events, and the project aims to help these artists continue to work sustainably. The second round of applications will open in November 2021.

Anime Theme Park Nijigen no Mori to Hold Second Kakashi & Obito-themed Escape Game

A special event is coming to the Naruto-themed area of Nijigen no Mori, an anime theme park located on Awaji Island in Hyogo prefecture! The Naruto Shippuden x Escape Game: #009 Kakashi & Obito event is taking place from August 21 to October 10!

A look at NARUTO & BORUTO Shinobizato

A look at the game

Participation bonus: 4 special wooden phone straps with new illustrations

The first escape game in the series was held in 2020 to positive feedback. It was first held to celebrate Kakashi's birthday, which is September 15, and all visuals of both him and Obito are completely new and made for the event. 

Guests can also write their celebratory messages on special 'petal stickers' and place them on the character panel of their choice!

Would you like to come celebrate Kakashi's birthday? 

©Masashi Kishimoto /Shueisha・TV Tokyo・Pierrot

Information

Naruto Shippuden x Escape Game: #009 Kakashi & Obito

Running: August 21-October 10, 2021

Opening Hours: 10:00-20:00

Estimated Play Time: 30 minutes

Nijigen no Mori

Address: 2425-2 Kusumoto, Awaji, Hyogo

Official Website: https://nijigennomori.com/

Naruto and Boruto Summer Event Begins at Nijigen no Mori

Nijigen no Mori, an amusement park located on Awaji Island in Hyogo, began a summer event at its Naruto and Boruto-themed zone on July 22 which is set to run until September 30.

Event-exclusive stickers

The event includes a huge water gun event where 25 litres of water will be sprayed to cool down guests during the hot summer event. With themed character panels displayed around the park, join Naruto and the gang, including Zabuza and Haku, for some summer fun. All guests receive a free original sticker too.

© 岸本斉史 スコット/集英社・テレビ東京・ぴえろ

Information

NARUTO&BORUTO SHINOBI-ZATO
Running: July 22, 2021 – September 30, 2021

Location: Nijigen no Mori

Opening Hours: 10:00-18:00
Price: Free (But park entry payment required)
Official Website: https://nijigennomori.com/naruto_shinobizato/

renacnatta x Shiki Theatre Company to Release Banshu-Ori Weave Collection

renacnatta has teamed up with Shiki Theatre Company to release a collection of banshu-ori skirts and neckties, all of which will arrive on August 3.

renacnatta is a brand which weaves clothes using deadstock fabric from Japan and Italy and by using traditional Japanese weaving techniques.

Skirts

Banshu Mermaid Wrap Skirt – Matinee|Collaboration with Shiki Theatre Company | ¥35,200 (Tax Included)


Banshu Mermaid Wrap Skirt – Soiree|Collaboration with Shiki Theatre Company | ¥35,200 (Tax Included)


Neckties

Banshu Tie – Matinee|Collaboration with Shiki Theatre Company | ¥9,350 (Tax Included)

Banshu Tie – Soiree|Collaboration with Shiki Theatre Company | ¥9,350 (Tax Included)

Shows at the Shiki Theatre Company have been cancelled or postponed due to COVID-19. The collaboration comes to reignite the fire and excitement towards the theatre in these restrictive times. This August, the theatre is release a new and original musical which will see actors wearing clothing made using banshu-ori weave. This collection uses the same weaving technique.

Banshuori is a yarn-dyed textile made using a special production method which sees yarn dyed in advance and patterns woven by the dyed yarn. The items in the collection come in two colours: Matinee and Soiree, named after afternoon and evening theatre performances respectively. The Matinee line-up is beige and yellow while the Soiree picks are a mix of navy and black.

The one-size-fits-all skirts feature a comfy mermaid style with a fashionable silhouette perfect for going to the theatre with. They are made in such a way that they do not wrinkle when sitting down for long periods of time. The neckties too are made using banshu-ori weave for a smooth, sleek look.

This Kamen Rider Kokeshi Doll Collection is Crafted With Traditional Japanese Techniques

Hikidashi released its third collection of Kamen Rider design kokeshi dolls on Tuesday as part of Usaburo Kokeshi's character doll line-up.




Kamen Rider Kokeshi: Kamen Rider 2 by Usaburo Kokeshi

Kamen Rider Kokeshi: Shocker by Usaburo Kokeshi

Kamen Rider Kokeshi: Black by Usaburo Kokeshi

Showa Kamen Rider Kokeshi

Usaburo Kokeshi is a kokeshi doll maker that first opened in 1950. Its workshop is based in Shinto, a village in Gunma Prefecture. This third collection in its Kamen Rider Kokeshi series includes wooden palm-sized versions of Kamen Rider 2, Shocker, and Black, all of which are handmade individually with love and care.

The dolls feature all the little details of the characters carved naturally from the wood from the masks and belts to each of their outfits. You can feel the attention to detail poured in from the craftsmen imbued into every part of the dolls.

Information

Showa Kamen Rider x Usaburo Kokeshi
Pre-Orders: June 29, 2021