Musee du Qouvre Inspires Limited-Time Store at Ikebukuro PARCO
PARCO will open a special shop inspired by Musée du Qouvre at its Ikebukuro location from August 19 until September 11, 2022. 
Suki Rabbit Dance
Suki Rabbit with Apple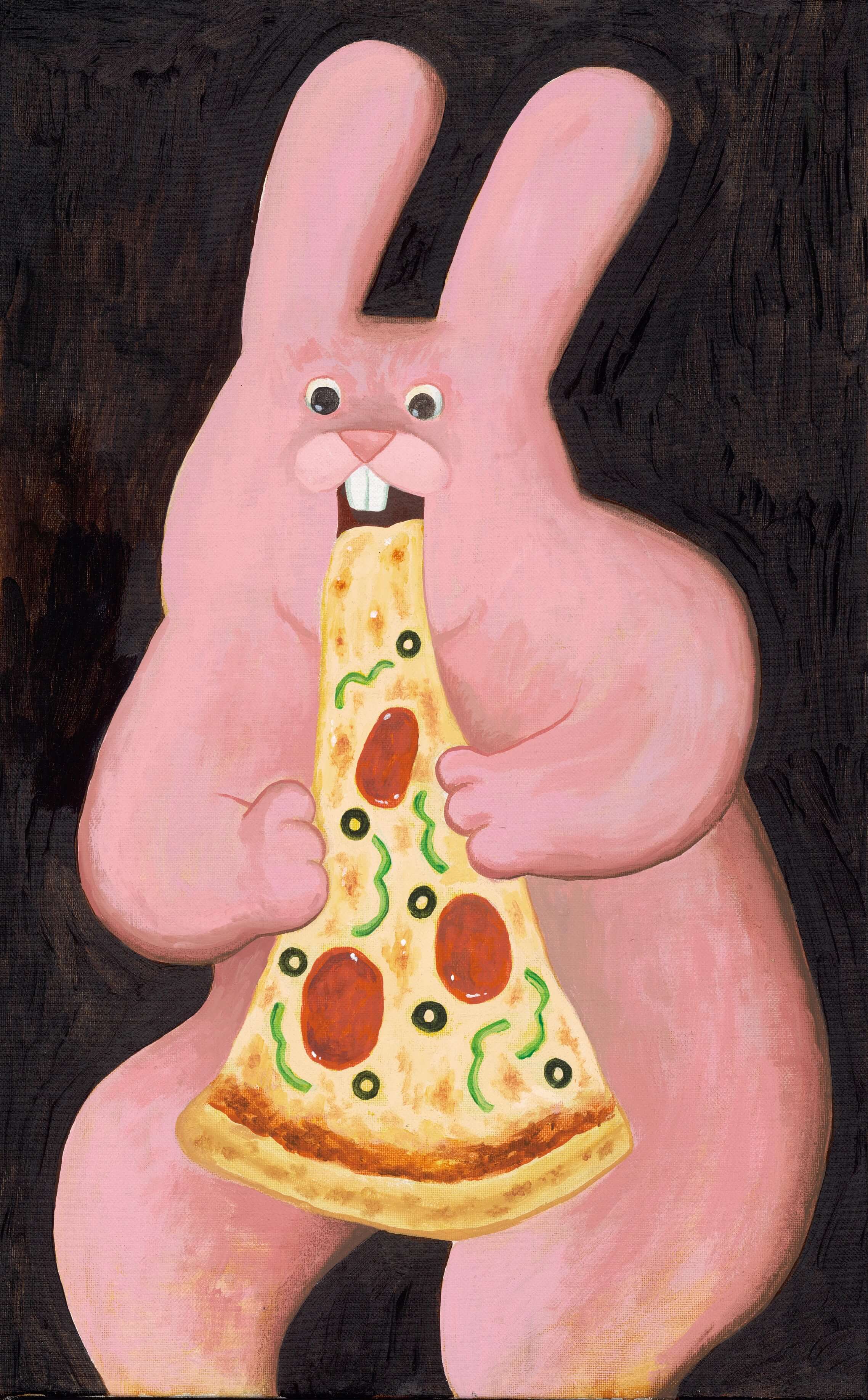 Rabbit Eating Pizza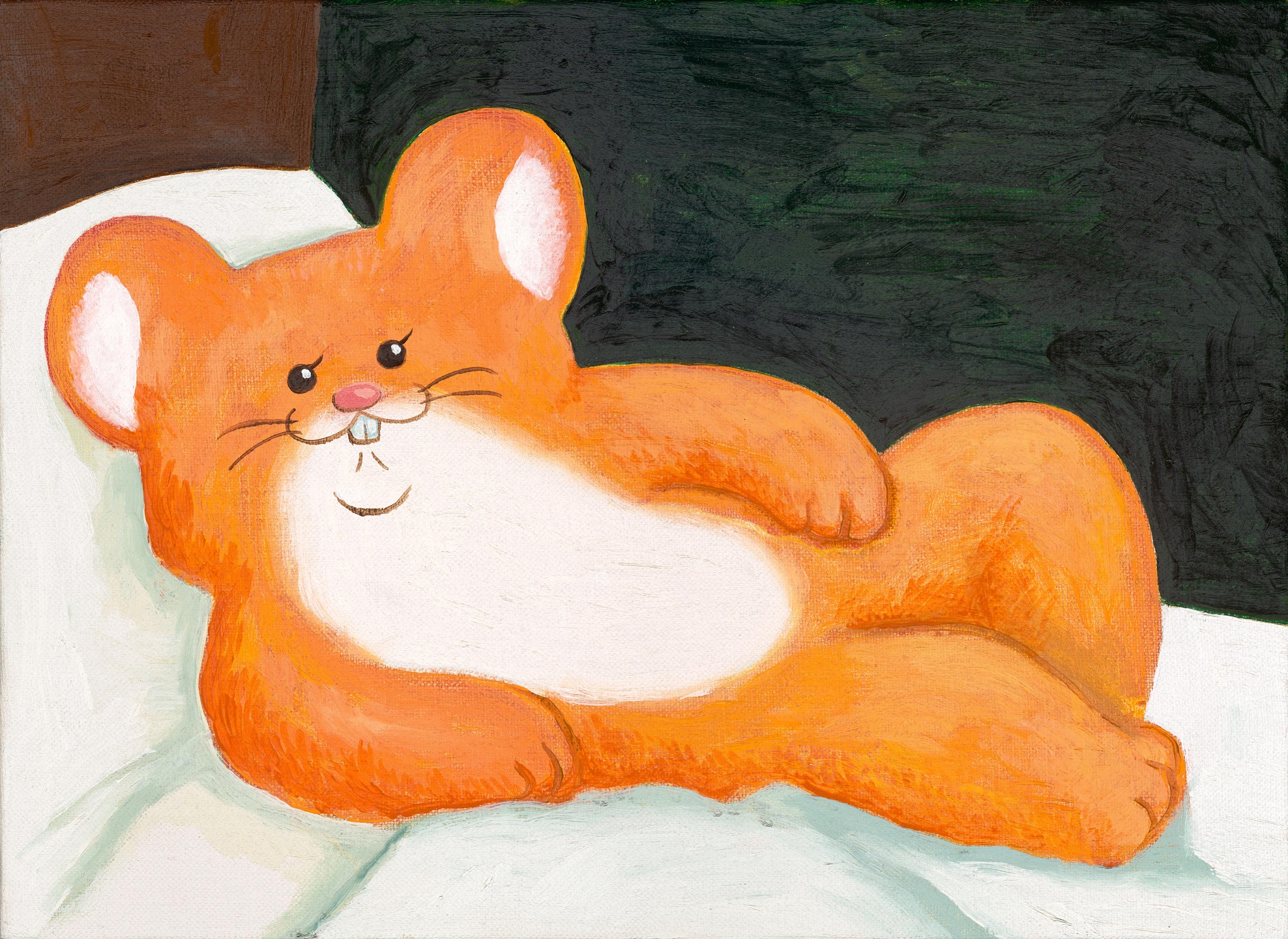 Naked Rat Lying Down
Suki Rabbit in a Cup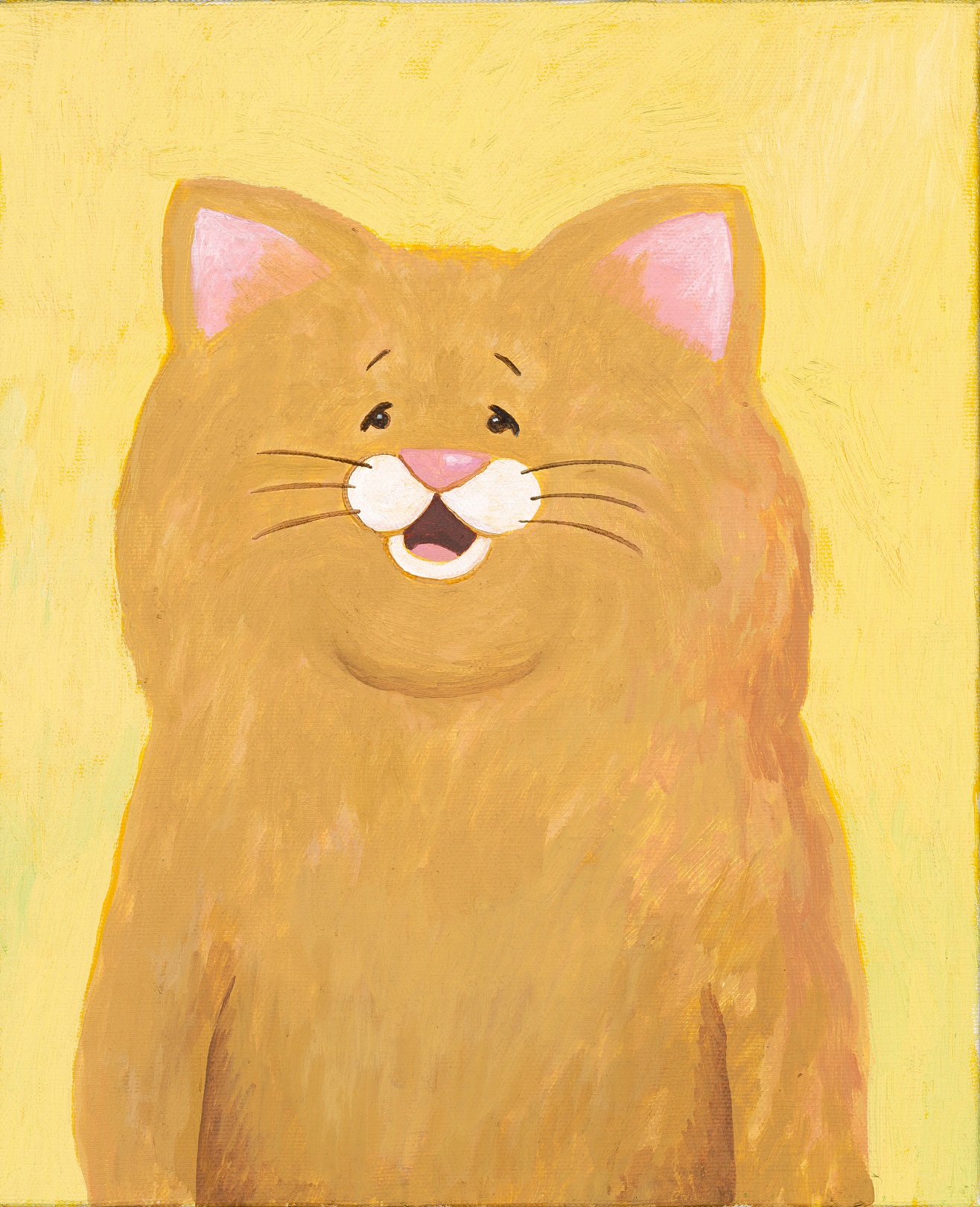 Portrait of a Cat's Day
Portrait of a Sad Bear
Exclusive Goods
Musée du Qouvre Special Layered Acrylic Stand
Square Cushion
A5-size Clear Folder (8 varieties)
Capsule Toy Pin (6 varieties)
Stained Glass Pin
Glass Hair Tie (2 varieties)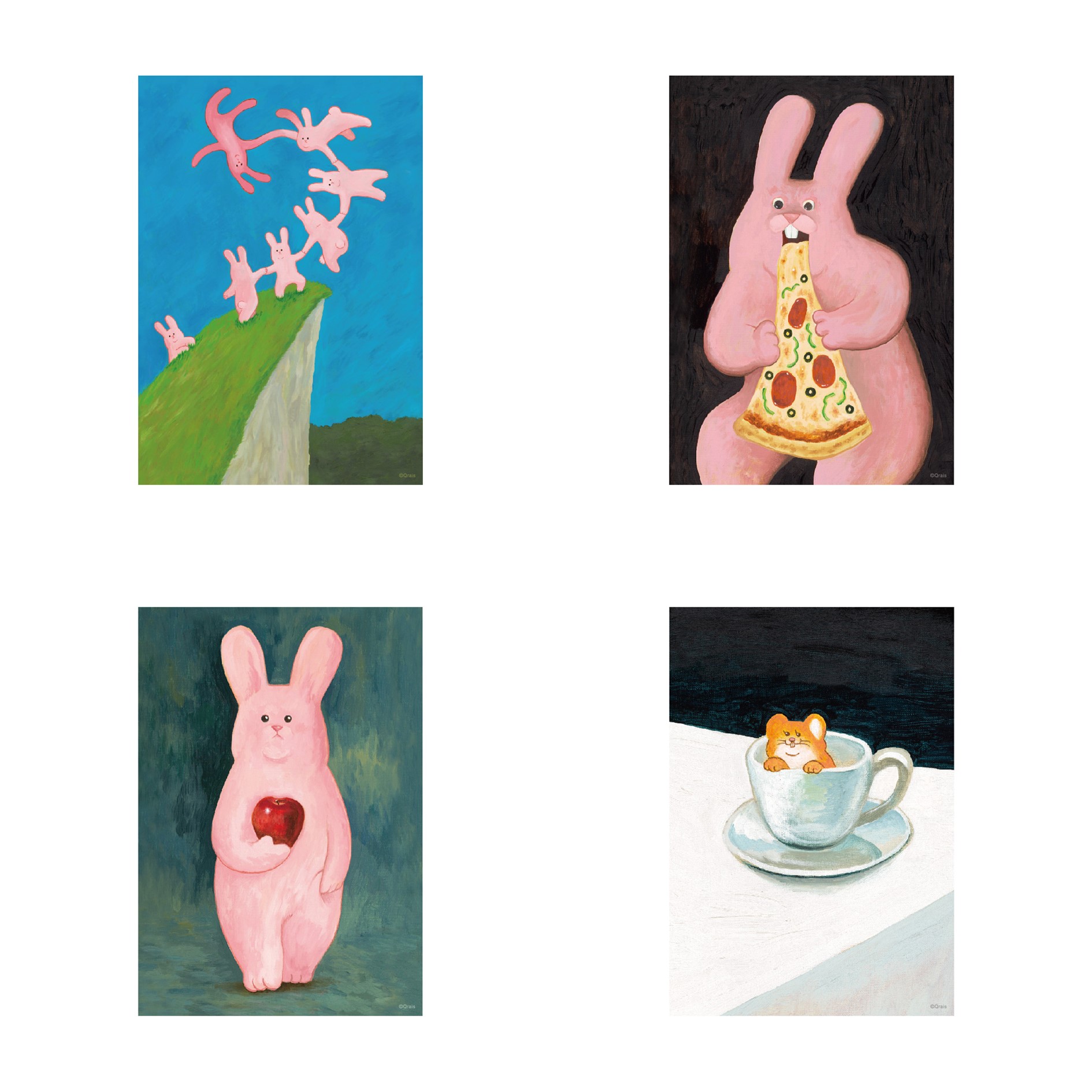 Canvas Art (4 varieties)
Sticker Sheet
Eco Tote Bag (3 varieties)
Black Memo Pad
*Designs are subject to change.
*All prices include tax.
*The specifications of the goods are subject to change without notice.
*Some items will be sold randomly. Specific designs cannot be chosen.
*The above merchandise is only a selection. More will be available.
*Products are available in limited quantities.
*The number of items purchased may be limited.
The exhibition toured PARCO locations nationwide, and audiences loved the bizarre animal images created by Qrais. Now, the museum shop will feature a huge collection of goods inspired by the artist's works.
At the venue, guests will be able to enter a raffle to win a painting by the artist himself!
Information
Musée du Qouvre Museum Shop
Running: August 19 – September 11, 2022 / 11:00-21:00
Venue: Ikebukuro PARCO 6F (1-28-2 Higashiikebukuro, Toshima-ku, Tokyo)
Admission: Free
RELATED ENTRIES
First 'Made in Abyss' Anime Exhibition to Open at Ikebukuro and Nagoya PARCO

To commemorate the release of Made in Abyss: The Golden City of the Scorching Sun, an exhibition will open at PARCO FACTORY in Ikebukuro on September 2 and at PARCO GALLERY in Nagoya on October 1!

Guests can see original drawings from the first and second seasons of the anime and the movie, special video content that mixes full-length anime footage with original drawings, and artifacts from the story.  Photo spots will also allow visitors to experience famous scenes from the series.

Those wanting to be guided through the exhibition can purchase the One Point Nanachi voice guide! The voice actress Shiori Izawa will lead you through key parts of the venue.

Original goods will also be on sale at the venue. A special collaboration menu will be available at Cafe Address on the 6th floor of Ikebukuro PARCO, including savory dishes, desserts, and drinks inspired by the show's characters.

Additional information will be announced on the exhibition's official website, so keep an eye out for more!

Information

Made in Abyss Exhibition ~Tracks of the Challengers~

PARCO FACTORY (Ikebukuro PARCO 7F)

Running: September 2~

PARCO GALLERY (Nagoya PARCO West Building 6F)

Running: October 1~

Anime Series 'Aoashi' Inspires Collaboration Cafe at AMOCAFE Ikebukuro

A collaboration cafe inspired by the anime series Aoashi is now open at AMOCAFE Ikebukuro! Characters from the Tokyo Esperion youth academy will appear in cafe-style costumes in new illustrations for the event. 

The menu offers a variety of unique dishes, from sandwiches and fried chicken to more traditional Japanese fare. Many of these food items appear in the series, so those familiar with the content should be extra excited. 

Hana's Homemade Sandwich Bento: ¥1,320 (Tax Included)

 

Featuring plenty of tasty and healthy ingredients, this high-protein and veggie-heavy dish is delectable.
*Available from August 9 until August 22

Sukiyaki Meal Set from the Players' Dorm Cafeteria: ¥1,540 (Tax Included)


Everyone loves this traditional flavor. Be careful with ordering this one before the big game–the rice will weigh you down!
*Available from August 9 until August 22


Sandy Beach Kinako Mochi: ¥990 (Tax Included)


This dish was inspired by the sandy beach where Ashito's fateful encounter took place and where his training began.

*Available from August 9 until August 22


There are also plenty of other food and drinks available, so if you're interested, please check out the official website.

A total of 12 mini character illustrations exclusive to the cafe will be available! The goods can only be purchased by guests who order from the collaboration menu. 

Enjoy the world of Aoashi at this collaborative cafe!


©小林有吾・小学館 /「アオアシ」製作委員会

Information

Aoashi x AMOCAFE Ikebukuro

Running: August 9 – September 4, 2022

Venue: AMOCAFE Ikebukuro
Reservations Now Open
Special Collab Site: https://amocafe-reserve.jp/aoashi_amocafe/
*Priority will be given to guests with reservations. Same-day entry may be possible depending on availability.
*Contents are subject to change without notice.

 

AMOCAFE Webshop
https://amocafe-shop.com/
Period: TBD
Shipping Date: TBD

VTuber Group NIJISANJI EN Inspires Collaboration Cafes in Ikebukuro and Nagoya

From August 3 until August 30, VTuber group NIJISANJI EN fans won't want to miss two unique collaboration cafes coming to Ikebukuro and Nagoya! The cafes are being held at Animate Cafe and a number of themed dishes and goods will be available for purchase.

Menu

Pomu, Selen, and Reimu's Favorite Things Plate

Ike, Shu, and Luca's Favorite Things Plate

Pomu, Selen, and Reimu's Favorite Sweets Set

HOW CAN I WORK PLEASE! Cake Set by seisoxiem

Big Powerful Pomu Energy Drink

Mango Cider That Won't Make You Blackout

Miso Soup & Toast

fika time

Super Popular Taiyaki Drink

C&C (Cookies & Cream) Frozen Drink with Cheddar Cheese Flavored Thing

Goods

At the collaboration cafe, limited-edition goods featuring entirely new illustrations of the members will be on sale. Pomu Rainpuff, Selen Tatsuki, Reimu Endou, Ike Eveland, Shu Yamino, and Luca Kaneshiro are waiting for you!

©ANYCOLOR, Inc.

Information

NIJISANJI EN x Animate Cafe

Running: August 3 – August 30, 2022
Venue: Animate Cafe Ikebukuro #3 / Nagoya #2
How to Visit:
  

Animate Cafe Ikebukuro #3
Reservations by lottery for all dates (Online)

Animate Cafe Nagoya #2
August 3 – August 5, Weekends & Holidays: Reservations by lottery (Online)

*All other dates feature first-come-first-served seating. If the shop becomes too crowded, numbered tickets may be handed out.
Details: https://cafe.animate.co.jp/event/nijisanji-en2208/


The Devil is a Part-Timer! Anime Series Teams Up with AMOCAFE Ikebukuro for Collaboration Cafe

From July 22 until August 7, AMOCAFE Ikebukuro is holding a special collaboration cafe with the anime series The Devil is a Part-Timer!

A number of unique menu items inspired by the show's characters are available, and new original goods featuring illustrations of the cast in beach house costumes are on sale.

Priority for admission is given to those with reservations, so make yours now!

Special Collaboration Menu

Serious Office Worker's Dinner: ¥1,100 (Tax Included)


Emi is serious about her job, and her dinner is filling and simple.

The Devil's Experiment (Honey Cucumber & Konnyaku): ¥990 (Tax Included)


Using the wits of the Demon King's army, this tasty Konnyaku features a delicious melon and miso flavor. 

[AMOCAFE x Chiho] Special Omurice: ¥1,210 (Tax Included)


Of course, Chiho loves to draw a heart on her tasty Omurice. 

Urushihara's Hard-earned Crystals / Daikokuya's Shaved Ice: ¥880 (Tax Included)


This menu will make you excited to watch–or rewatch–the anime series!

Guests can expect even more themed menu items along with drinks and exclusive merchandise!

In addition, new illustrations of Mao and Chiho working at the beach house with Emi on surveillance are available from the AMOCAFE webshop. A number of products are on sale, including acrylic stands and water-resistant tapestries. Check the AMOCAFE Ikebukuro and AMOCAFE webshop Twitter accounts for more details soon!

©2021 和ヶ原聡司/KADOKAWA/MAOUSAMA Project

Mystery Manga Series 'The Summer Hikaru Died' to Get Pop-up Shop in Ikebukuro This Autumn

A limited-time pop-up shop for the manga series The Summer Hikaru Died will be held at TLC RECORDS at Sunshine City in Ikebukuro from October 8 until October 23, 2022.

Manga Synopsis


Yoshiki and Hikaru are two boys who live in a certain village. They're the same age and have always been together growing up. But one day, Yoshiki noticed that "something else" has taken Hikaru's place. Even after learning of this, Yoshiki still wants them to be together. And so, his life with the "something" that looks like his friend begins.

The first volume of The Summer Hikaru Died was released this year by Kadokawa and managed to sell over 200,000 copies in under three months. The series has also been nominated for the Next Manga Awards 2022.


Fans of mystery and boys' love won't want to miss out on this series. The pop-up shop will feature new merchandise including newly-drawn images by the manga's creator Ren Mokumoku.

©モクモクれん/KADOKAWA

Information

The Summer Hikaru Died Limited-Time Pop-up Shop

Running: October 8 – October 23, 2022
Venue: Sunshine City alpa B1, TLC RECORDS (3-1-2 Higashiikebukuro, Toshima-ku, Tokyo)
Official Site: https://web-ace.jp/youngaceup/contents/1000183/

Dr. Stone THE STAGE ~SCIENCE WORLD~ to Open at Ikebukuro Sunshine Theater

Dr. Stone THE STAGE ~SCIENCE WORLD~, the stage play adaptation of Riichirou Inagaki and Boichi's Dr. Stone sci-fi adventure manga, is being performed at Ikebukuro's Sunshine Theater until July 18, 2022.

In the year 2019 AD, a mysterious flash suddenly petrifies nearly all human life. 3,700 years pass with the human race frozen in stone, until in April 5738, a 15-year-old prodigy named Senku Ishigami is suddenly revived. He soon sets up a basecamp and begins to study the petrified humans in order to determine the cause of the event, as well as a cure.

 

The Tokyo performance will take place until July 18. From July 21 until July 24, the stage play will be held at AiiA 2.5 Theater Kobe in Hyogo.

Those unable to see the performance in person can stream the July 9 performance until July 16!

Comment from Tsubasa Kizu (Senku)

"My name is Tsubasa Kizu and I play Senku. 

Less than a month into our rehearsals, we've been powering our way through!

I'll do my best to make sure that there are no injuries on set, and that myself and this wonderful cast and crew successfully complete this stage run. 

I really want to share how fun science can be with the audience, even if just a little bit. 

We'll give it our all, so please continue supporting us until the very end!"

Ⓒ米スタジオ・Boichi/集英社・「Dr.STONE」THE STAGE製作委員会

Adorable Penguin Koupen-Chan Inspires Starry Sky-Themed Exhibition at Ikebukuro Parco Factory

From July 15 until August 1, Ikebukuro PARCO will hold a special exhibition featuring the adorable penguin character Koupen-chan!

 

The exhibition will show Koupen-chan among the stars. The character has become massively popular on social media, inspiring a collection of books and merchandise. 

[Admission Bonus] Foil-stamped Art Card

Message Corner

Koupen-chan Constallations

Unreleased Original Drawings

Koupen-chan's Video Corner

Exclusive Ikebukuro Stamp

Purchase Bonus for Guests Spending ¥2,200 (Tax Included)

Purchase Bonus for Guests Spending ¥3,300 (Tax Included)

Purchase Bonus for Guests Spending ¥5,500 (Tax Included)

New Picture Book – Koupen-chan: Summer Friends

New Picture Book – Koupen-chan & You

Original Sticker with the Purchase of a Book

Exclusive Event Merchandise

Shooting Star Koupen-chan Stuffed Animal

Koupen-chan Moon & Star Stuffed Animal

When You Wish Upon a Star Art Reproduction

When You Wish Upon a Star Art Reproduction

The venue will be transformed into a starry sky-themed space and over 100 original drawings will be on display. These have never been posted on social media, so be sure to visit if you're a fan! The exhibition will also include a photo spot and a video corner, and visitors to the Ikebukuro venue will get a unique stamp. New picture books will be on sale, including autographed copies, and those spending a certain amount on merchandise will receive a special purchase bonus.

Come spend some time surrounded by the encouraging Koupen-chan in this magnificent space!

Information

Koupen-chan's Starry-Sky Exhibition

Running: July 15 – August 1, 2022 

Hours: 11:00-21:00

Venue: Ikebukuro PARCO Main Building 7F, PARCO FACTORY

Official Site: https://ikebukuro.parco.jp/


Popular Character Chiikawa Inspires Collaboration Cafe at Shizuoka PARCO

From July 22 until August 21, fans of the adorable character Chiikawa will want to visit Shizuoka PARCO! The Chiikawa Chinese Restaurant and Drink Stand will be offering up some themed dishes for a limited time.

Original Menu at a Glance

Cream Soda with Winning Lottery Number

Otter's Iced Cocoa

Hot Spring Style Hot Apricot Milk with Marshmallows

Chestnut Manju Alcohol-Free Drink

Chiikawa Meat Bun

Bonus for Drink Orders: Original Cafe Coaster (17 varieties)

Original Goods at a Glance

Mini Glass

Clear Folder

Acrylic Smartphone Ring

Silicon Ice Tray

Drawstring Bag

T-Shirt / Meat Bun

Goods Purchase Bonus





The Chiikawa Chinese Restaurant is a collaborative cafe project featuring a Chinese-inspired menu and newly-drawn illustrations. This cafe was a huge hit in Tokyo in the past, and those who missed out will have another chance to enter the world of this popular character!

The collaboration menu includes three kinds of cream soda with a winning lottery stick, iced cocoa similar to a strawberry parfait, and other items to enjoy the world of Chiikawa. Guests can also purchase goods featuring illustrations of Chiikawa, Hachiware, and Usagi in Chinese costumes.

Come have a tasty snack and a refreshing drink while you grab some limited Chiikawa merch!

©nagano / chiikawa committee

Information

Chiikawa Chinese Restaurant and Drink Stand

Running: July 22 – August 21, 2022

Venue: Shizuoka PARCO (6-7 Yoichi, Aoi-ku, Shizuoka)

Drink Stand: 1F Parque Cafe

Goods Shop: 3F Special Event Space

Hours: 10:00-20:00

Cafe Inspired by Technoroid Mobile Game to Open at Sunshine City Prince Hotel in Tokyo

Tokyo's Sunshine City Prince Hotel will hold a special collaboration cafe with the mobile game Technoroid at the Bayern restaurant. The first collaboration cafe for the multimedia project will be open from July 30 until September 11, 2022.

Ikebukuro is a part of Tokyo filled with shops, restaurants, movie theaters, and plenty of anime and game shops. Anyone visiting the area will find something fun to do, and it has also become known nationally as a mecca for girls who like BL. 


Afternoon Tea Menu





Sales Period: July 30 – August 6

Nobel / Ruma / Einsatz

 

Sales Period: August 7 – August 13

Silve / Auru / Lana / Zin

Sales Period: August 14 – August 20

Kite / Light / Night

Sales Period: August 21 – August 27

Bora / Xyo / Rhodi

Sales Period: August 28 – September 3

Fran / Hyd / Lim

Sales Period: September 4 – September 11

Colbalt / Chrom / Kei / Neon





Six different afternoon tea menus will be available during the event period, changing weekly. These will be inspired by different groups from the music series. 

Hot and cold drinks inspired by the game's characters, including 20 varieties of latte art, will be available during the entire event period. The cafe will also offer collaboration food items and drinks that can be enjoyed only at the collaboration cafe, as well as exclusive goods.

©芝浦アンドロイド研究室/TECHNO-OM Project  
©芝浦アンドロイド研究室/TECHNO-UH Project

Information

Technoroid x Sunshine City Prince Hotel 'Cafe Unison'

Open: July 30 – September 11, 2022

Venue: Restaurant Bayern (Hotel B1F)

*Reservations required.

Reservations/Details: https://www.princehotels.co.jp/sunshine/restaurant/contents/techno-roid/

※For those unable to visit the collaboration cafe, goods will be on sale even after the event period ends. More information will be released at a later date. 

Kuroko's Basketball Collaboration Cafe Coming to Open in Ikebukuro

From June 21 until August 21, the GiGO Collaboration Cafe in Ikebukuro will be hosting a cafe inspired by the anime series Kuroko's Basketball.

Drink Menu

Latte Art

Food Menu

Round 1

Kuroko and Kagami's Japanese-style Tomato Pasta / Murasakibara and Himuro's Rice with Bisque Sauce

Round 2

Aomine and Imayoshi's Carbonara with Black Sesame / Akashi and Mayuzumi's Doria with Squid Ink Cream and Cherry Tomatoes

Round 3

Midorima and Takao's Focaccia Sandwich / Kise and Kasamatsu's Chicken Omurice Plate

Dessert Menu

Round 1

Midorima and Takao's French Toast / Aomine and Imayoshi's Mixed Flavor Parfait

Round 2

Kuroko and Kagami's French Toast / Kise and Kasamatsu's Mixed Flavor Parfait

Round 3

Hanamiya's 'Akudo' French Toast / Murasakibara and Himuro's Mixed Flavor Parfait / Akashi and Mayuzumi's Mixed Flavor Parfait

Menu Bonuses

Round 1

Round 2

Round 3

Goods


Big Acrylic Stand ~Cafe Ver.~ (10 varieties)

Holo Pin ~Cafe Ver.~ (10 varieties, random)

Art Panel ~Cafe Ver.~ (10 varieties, random)

Mini-character Pin ~Cafe Ver.~ (13 varieties, random)

Mini-Character Acrylic Keychain with Stand ~Cafe Ver.~ (13 varieties, random)

Polaroid Acrylic Keychain ~Cafe Ver.~ (10 varieties, random)

Fans of the series won't want to miss a collection of dishes based on popular characters and a slew of new merchandise! Those ordering menu items will receive an exclusive coaster. 

©藤巻忠俊/集英社・黒子のバスケ製作委員会 ©「黒子のバスケ」アニメ10周年プロジェクト
© GENDA GiGO Entertainment Inc, All rights reserved.

JoJo's Bizarre Adventure Anime Series Celebrates 10 Years with Tokyo Exhibition

This year marks the 10th anniversary of the JoJo's Bizarre Adventure anime. To commemorate the event, a special anniversary exhibition will be held around Japan starting in August! The first venue will be Ikebukuro Sunshine City in Tokyo.

Fans will be able to trace the history of the many JoJo's Bizarre Adventure anime releases, and the exhibition will feature characters from Phantom Blood and Stone Ocean.

Come enjoy celebrating this major milestone and check out some special illustrations drawn exclusively for the exhibition! Special video screenings and a behind-the-scenes look at the animation production process will be held as well. 

(C)荒木飛呂彦&LUCKY LAND COMMUNICATIONS/集英社・ジョジョの奇妙な冒険THE ANIMATION PROJECT

Information

JoJo's Bizarre Adventure Anime 10th Anniversary Exhibition
Opening in locations around Japan in August 2022
First Venue: Tokyo (Ikebukuro Sunshine City Bunka Kaikan Bldg. 3F Exhibition Hall C)
Scheduled to open in Hokkaido, Niigata, Aichi, Osaka, Fukuoka
*Venues and exhibition dates for exhibitions outside of Tokyo will be announced at a later date.

Official Site: https://jojoanime10th-ex.com/

Tokyo Revengers Cafe to Open for Short Time at Mixalive TOKYO in Ikebukuro

A Tokyo Revengers collaboration cafe will open for a limited time at Live Cafe Mixa located in the Mixalive TOKYO entertainment complex in Ikebukuro. Fans can enjoy a menu filled with items themed after popular characters from June 1 until June 18, 2022.

Menu

Just like the inside of Pah-chin's head?! Crispy Pie

Massive Teriyaki Burger

If You're Hungry, Just Eat Fried Rice

My Favorite Machine (Mikey)

My Favorite Machine (Mitsuya)

Mikey

Baji

The popular manga series Tokyo Revengers began serialization in Weekly Shonen Jump in 2017 and has sold over 50 million copies. The event, titled "Tokyo Revengers Formation Eve Rally," will be held to celebrate the series' anniversary. The venue will feature new visuals of the founding gang members, and original menu items based on each character will only be available here.


Live Cafe Mixa has collaborated with other popular series in the past such as Attack on Titan and A Couple of Cuckoos, making a huge splash on social media.


Enjoy plenty of dishes based on your favorite character!

©和久井健・講談社/アニメ「東京リベンジャーズ」製作委員会