Purin specialist shop "Nikko Purin Tei" releases new Nikko-standard souvenir – the gold leaf purin
"Nikko Purin Tei," a shop located in Nikko in Tochigi Prefecture specialising in Japanese 'purin' or 'pudding,' are now selling soft cream topped with gold leaf to commemorate 4 years since the gorgeous "Yomeimon" of Nikkō Tōshō-gū, a Shinto shrine in Nikko, underwent renovation and opened to the general public.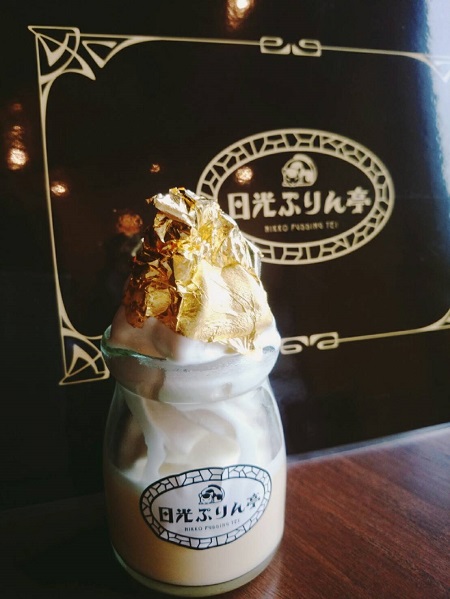 Renovation of "Yomeimon," the main gate of Nikkō Tōshō-gū started 4 years ago as part of the Heisei Renovations. It reopened this year in March.
The 'kinpaku' or 'gold leaf' purin is designed around the spectacular Yomeimon. The traditional full-bodied purin is made using milk and eggs from Nikko and is on top of which sits a refreshing yet rich soft cream topped with gold leaf. The gold leaf turns it into a luxury soft cream purin. Priced at an affordable ¥500, only 10 will be sold each day.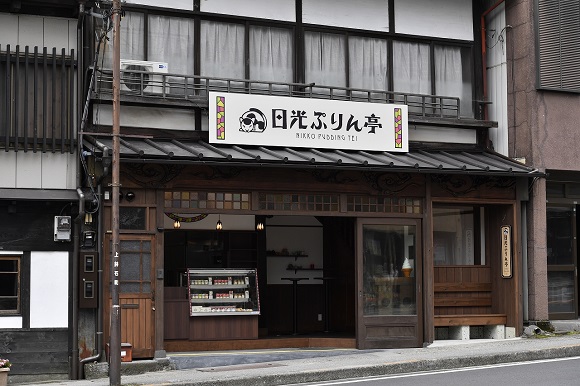 As well as the purin, they are also selling sweets and smoothies using strawberries picked in Tochigi Prefecture and more. They are stocked with plenty of delectable perfect as a souvenir from Nikko. The shop itself was renovated from an old Japanese residence and now also has a café space. If you're sightseeing around Nikko then it's a great place to stop by and relax to let the fatigue of travel melt away.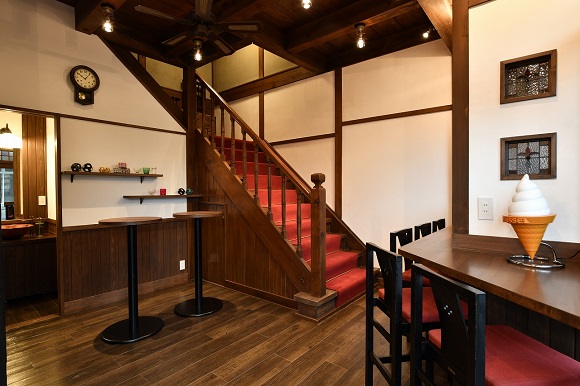 If you're heading to Nikko, then make sure to arrive at the shop early to get one of the 10-a-day gold leaf purin soft creams.
■Information 
Kinpaku Purin
Price: ¥500 (tax incl.)
Note: Limited to 10 per day
Shop: "Nikko Purin Tei" (日光ぷりん亭 ) (Address: 1017 Kamihatsuishimachi, Nikko, Tochigi Prefecture)
Hours: 10am-5pm
TEL: (0288)25-6186
Website: http://nikko-pudding.jp/
RELATED ENTRIES
4 Matcha-tastic Desserts Selling at Convenience Stores in Japan

If you love delicious Japanese desserts and are keen to discover more, you've visited the right website. Today with the help of Instagrammer Yukko, we'll be looking at matcha desserts you can purchase from Japanese convenience stores. 

Matcha Purin Cake Sandwich: ¥324/ Family Mart

Matcha Purin Cake Sandwich: ¥324

This is a fluffy sandwich with a hearty filling of sweet matcha purin, matcha cream, whipped cream and red bean paste. The fluffy cake and light cream create a wonderful balance of textures and enjoy a moderate sweetness. This dessert is sure to leave your stomach fully satisfied.

Dorayaki Pancakes Stuffed with Matcha Cream: ¥300/ 7-Eleven


Dorayaki Pancakes Stuffed with Matcha Cream: ¥300


The delicious aroma of the matcha will entice you before you have even tried it. The refined, rich matcha flavour will spread throughout your mouth and melt beautifully. 

Uji Matcha and Shiratama White Dumpling Parfait:¥300/ 7-Eleven


Uji Matcha and Shiratama White Dumpling Parfait:¥300

This is a luxurious parfait containing Shiratama dango, warabi mochi, matcha whipped cream, dorayaki pancake pieces, plain whipped cream, matcha mousse and matcha starch cakes. Enjoy a variety of textures – perfect for the matchaholic!

Matcha & Sweet Red Beans & Whipped Cream Doyayaki: ¥140/ 7-Eleven

Matcha & Sweet Red Beans & Whipped Cream Doyayaki: ¥140

Sweet red bean paste, matcha sauce, whipped cream and chewy warabi mochi are stuffed between two matcha dorayaki. The matcha sauce is rich and plentiful, creating the perfect matcha-tastic treat.

 If you're on a matcha hunt, how about starting at the convenience store? There are just so many matcha desserts to discover. Mogu Mogu Yukko's Instagram is full of delicious desserts that you can buy from Japanese convenience stores and supermarkets. If you're looking for a sweet treat, make sure to check it out.

 Original Article Contents and Photos By: Mogu Mogu Yukko

*Convenience stores are always updating their products and therefore the desserts mentioned in this article may stop selling at any time. Please check the convenience store's social media or official website for the most up-to-date information. 

Delicious Valentine's Desserts and Drinks All Over Japan For You and Your Sweetheart

As Valentine's fever slowly sets in across Japan, for many of us, thoughts turn to what we could give to our lovers. For the rest of us, how about a  bit of self-love with a romantic dessert for one? Whether it's for just yourself or that special someone, if you're in Japan, you got to try one of these Valentine's-limited desserts.

Eggs 'n Things

Fondant Chocolate Strawberry Pancakes: ¥1,580 (Before Tax)

Eggs 'n Things Fondant Chocolate Strawberry Pancakes will be love at first bite. Hazelnut gianduia chocolate pancakes are topped with a luxurious mountain of fruity strawberries and drizzled with chocolate sauce for an overall mellow flavour. The pancakes come with a generous tower of whipped cream – a sweet treat perfect for you and your sweetie. 

▼Eggs 'n Things

Fondant Chocolate Strawberry Pancakes 

Price: ¥1,580 (After Tax)
Selling: January 16 – February 27, 2020
Available At: Most Eggs 'n Things restaurants across Japan

Not Available At:
・EGGS'N THINGS Lalaport Nagoya minato AQULS
・EGGS'N THINGS Coffee OPA Takasaki
・EGGS'N THINGS Coffee Kashiwa Takashimaya Station Mall

Official Website: https://www.eggsnthingsjapan.com/

nana's green tea

Choco Orange Latte/Hōjicha Chocolate Brownie Parfait

nana's green tea is serving up a gorgeous Valentine's latte and parfait topped with orange zest and gold leaf. The Choco Orange Latte is full of chocolatey goodness. The orange zest contributes a tangy kick to the sweet yet bitter chocolate latte. The Hōjicha Chocolate Brownie Parfait is topped with Valentine's limited hōjicha chocolate brownie and hōjicha ice cream, drizzled with chocolate sauce and sprinkled with gold leaf. nana's green tea is the perfect place to enjoy a sip of luxury with your lovebird. 

▼nana's green tea

Choco Orange Latte/Hōjicha Chocolate Brownie Parfait

Selling: January 6 – February 14, 2020
Available At: All nana's green tea restaurants

Please check the official website for pricing.

Official Website: http://www.nanasgreentea.com/

Sarabeth's

Choco Pudding French Toast: ¥1,600 (Before Tax)


 Sarabeth's Choco Pudding French Toast is made with their special challah bread. The bread is toasted and topped with their popular Chocolate Pudding dessert. The beauty of this Valentine's-limited dessert is captivating. Enjoy a moment of pure bliss with this luxury treat.

▼Sarabeth's

Choco Pudding French Toast

Price: ¥1,600 (Before Tax)
Selling: January 14 – February 14, 2020
Available At: Sarabeth's LUMINE Shinjuku, Shinagawa, Tokyo, Nagoya and Osaka

Official Website:http://sarabethsrestaurants.jp/

Segafredo Zanetti Espresso

Chocolat Peach Melba: ¥560 (After Tax)

White chocolate is poured over a peach melba sauce made from peaches and raspberries. The barrister then seals the drink under a thick lid of their unique, smooth foam. The sweetness of the chocolate enjoys a fruity accent and the rich flavour of the milk will warm your body and your heart.

▼Segafredo Zanetti Espresso

Chocolat Peach Melba

Price: ¥560 (After Tax)
Selling: January 7 – February 14, 2020
Available At: All Segafredo Zanetti Espresso Cafés in Japan

Official Website:https://www.segafredo.jp/

Give yourself and/or your loved ones a wonderful treat this Valentine's Day.

Kaori's Easy Recipe: Learn to Make My Melody Strawberry Purin

With just a small bit of ingenuity, turn everyday food into something cute using Kaori's easy recipe! With a few simple ideas, an ordinary recipe magically transforms into a cute dish.

As strawberries are currently in season in Japan, today we'll be looking at an easy recipe for delicious strawberry purin. All you have to do is mix the ingredients and you're done! In previous recipes, we've looked at purin recipes that involve decorating the inside of the glass. Many people commented that this is quite difficult so today we've got a recipe that is easy enough for even kids.

Ingredients (For 2 Portions)

Two small jars (this recipe uses Weck jars)

200g Strawberries with stems and leaves removed (approximately one small pack)

20g Sugar

20ml Fresh Cream (or milk to substitute)

5g Gelatin (dissolved in a tablespoon of water)

½ Teaspoon Lemon Juice

To Decorate

Premade Chocolate Decorations or Chocolate Slices (as you like)

Strawberries to Decorate (as you like)

Fresh Cream (As you Like)

Chocolate Pen

2: After removing the leaves and stems from the strawberries, blend them in a mixer.

3: Heat the mixture in a microwave on 600w for 50 seconds. Afterwards, add the sugar, gelatin solution and lemon juice in that order. Finally, mix in the fresh cream.

4: Meanwhile, press the premade chocolate decorations or sliced chocolate (white) into the inside wall of your jar.

5: Use the chocolate pen to draw the face, strawberries and ribbons from the outside of the glass. If you make a mistake, wipe it off using kitchen paper and try again.

6:Put the jar into the fridge for the chocolate to harden. Once the chocolate does not sink when the jar is placed upright, slowly add your strawberry mixture into the jar and put it back in the fridge until hard. After your dessert solidifies, you can add the finishing touches of whipped cream and strawberries.

And you're done!

Kaori invites you into her world of character-themed food dishes in her recipe series. Be sure to check out her Instagram where she has uploaded many pictures of her character dishes!

Profile

Kaori Kubota

@kaopan27

I live in Hokkaido and I love to make character-themed foods, desserts and pastries♡I want to see my family smile, so I enjoy putting in a bit of effort to make character foods and changing food into something cute♡You can see more of my character foods and character bento boxes on my Instagram page→ 

@kaopan27

Check Out The New Desserts in The Strawberry World of Ichigo BonBonBerry This Season

Strawberry Shop Izunokuni Shizuoka Michi-no-Eki Izu no Heso ichigo BonBonBerry Izunokuni factory will be celebrating "ii ichigo no hi" (Good Strawberry Day) on January 15 by releasing new strawberry purin desserts which are full of strawberry goodness. 

Committed to increasing love for strawberries, Michi-no-Eki Izu no Heso Ichigo BonbonBERRY Izunokuni factory sells a wide range of delicious strawberry-based foods as well as cute merchandise throughout the year. For example, strawberry-themed merchandise, jams, seasoning containing strawberries, desserts and much more. 

Strawberry Parfaits

Toge Toge Bonbon: ¥1800 (After Tax)

The Toge Toge Bonbon parfait is full of impact and full of strawberries. The glass is filled with homemade no-bake cheesecake, milk purin, homemade strawberry jam and much more. As strawberries are currently in season, the parfait currently enjoys a sweeter flavour. The fruitiness balances out with the mildness of the cheesecake and leaves a refreshing aftertaste.

Mix and Enjoy – Strawberry Pouch Pudding

Strawberry Pouch Pudding: ¥650 (After Tax)

A smooth strawberry purin is layered with slices of strawberry and fluffy whipped cream. The adorable purin pouch is packed with dried, crispy strawberry granola mix. Mix up the granola to enjoy a range of different textures. This can also be enjoyed on the go. 

As strawberries are in season, this is the perfect time to treat yourself to one of Japan's sweet and beautiful strawberry desserts.

Information

Michi-no-Eki Izu no Heso Ichigo BonBonBerry Izunokuni factory

Address: 195-2 Takyo, Izunokuni, Shizuoka

Opening Hours:

・Souvenir Corner: 09:00 – 17:00

・Bonbon Berry Cafe: 10:00 – 16:00 (Last Orders: 15:30)

・Bonbon Berry Stand (Soft Serve Ice Cream and Drinks): 10:00 – 16:00

Phone Number: 0558-99-9300

Michi-no-Eki Izu no Heso Official Website: http://www.izunoheso.com

Ichigo BonBonBERRY Izunokuni factory Official Website: http://www.izu-ichigo.com

Matcha Desserts in Sapporo You Just Have To Try

We've previously covered the best spots to try delicious matcha desserts in Kyoto. Now, with the help of expert dessert Instagrammer Kei, we are going to introduce you to some of the most delicious spots to try matcha desserts in Sapporo, Hokkaido.

If you want to discover more delicious cafés, desserts and drinks in Hokkaido, make sure to check out Kei's Instagram (@607keih).

 

KotoniSand, Nishi Ward

Macchan French Toast: ¥1200

 From dinners to desserts, this café serves up lots of meals based on their delicious thick-sliced bread. Bread flavours include plain, matcha and even coffee. You can order to go or enjoy the eat-in-limited menu. This fluffy french toast is soaked in matcha liqueur and is full of flavour even before trying it with the toppings. Take a bite of it with the red bean paste for a flavour adventure. A limited number of these are sold per day so if you want to try it, make sure to get there early. 

▼KotoniSand

Address: 1-1-1 Yamanote 5 Jō, Nishi-ku, Sapporo, Hokkaido

Opening Hours: 11:00-18:00
Closed: Tuesdays
Official Website: https://kotonisand.business.site

Ame no hi to yuki no hi, Minami Ward

Gelato Futatsu: ¥450

Located before Jozankei's onsen hotspot is a café called Ame no hi yuki no hi. It serves delicious pizzas and a variety of gelato flavours depending on the season. Their matcha ice cream is delicious. They even allow you to order two or three flavours at once so you can enjoy a mix and match of combinations. 

▼Ame no hi to yuki no hi

Address: 2-4-1, Jozankeionsennishi, Minami Ward, Sapporo, Hokkaido 

Opening Hours: 10:00-17:30
Closed: Thursdays
Official Website: https://www.amenohitoyukinohi.com

KANON pancakes, Shiroishi Ward

Matcha Tiramisu Pancake: ¥1500

This is a famous pancake shop in Kikusui. Tuck into a stack of fluffy pancakes inside the relaxing and soothing restaurant. The Matcha Tiramisu Pancakes are soaked with liqueur, creating a texture that is softer and moister than their standard pancakes. In addition to the matcha liqueur, the pancake is also dusted with matcha powder for a richer matcha flavour. Finally, they are drizzled with delicious brown sugar syrup and topped with walnuts.

▼KANON pancakes

Address: 5-5-18 Kikusui 3 Jo, Shiroishi Ward, Sapporo,

Opening Hours: 10:00-17:00 (Last Orders: 16:00)
No Regular Holidays
Official Website: https://kanon-pancakes.com

Any cafe, Kita Ward

Matcha Kintoki: ¥1350

This shop uses gluten-free ingredients in their food. This pancake dish is made using unpolished rice powder, three pieces of Turkish delight, red bean paste, rice flour dumplings, and cream made from Hokkaido-produced mascarpone and fresh cream. The cream is full of the bitter and delicious flavour of matcha, making the pancake sweet and very delicious. 

▼Any cafe

Address: 3-2-24 Kita 18 Jonishi, Kita Ward

Opening Hours: 11:00-18:30 (Last Orders: 18:00)
Closed: Tuesdays

Official Instagram: https://www.instagram.com/any_cafe_sapporo/

If you are looking for delicious matcha desserts in Sapporo, let this article help you decide where to go. When your food cravings kick in, make sure to visit Kei's Instagram which is full of the most delicious meals, drinks and desserts in Hokkaido. 

Original Article Contents and Photos by: Kei (@607keih )

Krispy Kreme Doughnuts Japan to Release Cute Doughnuts that Look and Taste Like America

Krispy Kreme Doughnuts Japan is set to release their new SWEET SURPRISE BOX from January 15, 2020 which is bursting with the delicious flavours of America. The box contains three doughnuts that are topped with a series of delicious treats such as cookies, marshmallows, chunky chocolate and popcorn. KKDJ will also release two banana drinks that are sure to become popular. These are available for a limited time only.  

The SWEET SURPRISE BOX contains a happy and colourful world of American treats. The doughnuts were born from the concept of a doughnut packed with everybody's favourite treats and then turned inside-out.

The "Happy Chunky Choco" doughnut is coated with bitter chocolate and then sprinkled with five different toppings including chunky chocolate chips, two kinds of chocolate puff and crunchy chocolate biscuit crumbs to balance out the sweetness with a bitter flavour. Chocoholics just won't be able to resist.

The "White Caramel Carnival" is a fluffy doughnut topped with milky white chocolate cream and five different toppings. From caramel popcorn too lightly salted pretzels, this doughnut is packed with the flavours of America. The variety of textures and fun appearance are sure to make your mouth water instantly. Chunky white chocolate chips and white chocolate puffs are sprinkled on top and drizzled with a sweet caramel sauce. If you love white chocolate, this doughnut is perfect for you.

You won't be able to take your eyes off the cute "Sweet Strawberry Magic" doughnut, which is a strawberry chocolate doughnut garnished luxuriously with a wide range of unique sweet toppings. The sweet and tangy strawberry chocolate coating is studded with five luxurious toppings including chocolate chip cookies, marshmallows, chocolate puffs and colourful sprinkles.

Purchase the SWEET SURPRISE DOZEN (Box of 12) to enjoy all three of the new American treat-filled doughnuts as well as KKDJ's no.1 Original Glazed Doughnuts and Choco Sprinkles Doughnuts.

KKDJ will also release their "Hot Caramel Banana" drink which is flavoured with a thick and fruity banana sauce mixed with caramel sauce and heated with milk. With each gulp, you can feel the fruity texture and feel the warmth.

 KKDJ will also release the Krispy Frozen Banana Caramel Pretzels drink which fuses their caramel milk frozen drink with their banana fruit sauce and crunchy pretzels.

The moment you open the SWEET SURPRISE BOX you will be filled with the exciting feeling of an American carnival. Treat yourself and your friends to a special KKDJ doughnut and drink experience this winter.

Information

Doughnuts

Price: ¥230 Each (Before Tax)

SWEET SURPRISE DOZEN (Containts 12)

Price: ¥2,000 (Before Tax)

Hot Caramel Banana

Price: ¥370 (Before Tax) 

Krispy Frozen Banana and Caramel Pretzels

Price: ¥540 (Before Tax) 

Available: January 15 ー End of February 2020 (Subject to Change)

Krispy Kreme Doughnuts Japan Official Website: https://krispykreme.jp/

Warm Food and Succulent Seasonal Strawberries Served at Ginza Six For Winter

GINZA SIX—officially the biggest shopping complex in Tokyo's high-end Ginza district—is home to a host of restaurants now serving some seriously luxurious and gourmet winter food.

For the winter season only, the shopping centre's cafes and restaurants have cooked up menus of food to warm both the heart and body. The extravagant line-up is made up of carefully-selected seasonal ingredients that's sure to warm you to the core. Let's take a select look at some of the things on offer.

JASMINE Specially-Made Hotpot Plan – ¥7,800 (Before Tax) @ JASMINE Washinkansai

This hot pot is made with a broth of chicken bones and collagen boiled in water and a broth of mala sauce. Both broths have a deep and nourishing taste and are filled with carefully-chosen ingredients as well as nine condiments for complex flavours. As well as that seen in the photo above, it is served as a set with an appetiser, fried gyoza, Chinese-style noodles, and almond tofu.

Matsusaka Beef Sukiyaki Gozen Hotpot – ¥3,400 @ Sukiyaki Gyu-shabu Matsuju

Warm yourself up with this hot pot which is made sukiyaki-style and contains high-quality Matsusaka beef picked out by Asahiya, a shop specialising in Matsusaka beef. The beef is soft, tender, and has a rich sweet taste and fragrance. It's served with a red miso soup seasoned with Japanese pepper which complements the salty-sweetness of the sukiyaki.

Homemade Sausage and Potato Raclette Cheese Melt – ¥2,400 (Before Tax) @ Bistro AUX AMIS

Raclette cheese is a staple food in France during the winter. This delicious dish is served with juicy homemade sausages made from yoshidabuta pig from Saitama, bacon, potato, and warm veg, all covered in a hot melted cheese. It's sure to warm you up and goes even better with a glass of wine.

Once you've had a fill of lunch or dinner, you should go and check out the in-season strawberry takeout treats and desserts that are being sold on the booth floor where the latest in culinary trends gather.

Strawberry Chocolate Sandwich – ¥300 (Before Tax) @ Patisserie Sembikiya Ginza Six

Coated in white chocolate, this biscuit sandwich is made with a strawberry ganache that squeezes every last delicious drop out of the fresh strawberries. Combined with he raspberry sablé cookies and chocolate, it's a strawberry match made in heaven.

Real Strawberry Gummies – ¥1,050 for 3 @ Candy Art Museum by PAPABUBBLE

These gummy candies are made as big as real large strawberries. They are coated in chocolate and made with lots of real strawberry juice, and when bitten into, taste fresh and juicy.

Strawberry Matcha Daifuku – ¥400 Each @ Kurogi Chacha

Kurogi Chacha's Strawberry Matcha Daifuku are filled with a whole fresh strawberry and coated in a matcha-laced white bean paste and gyūhi, a form of Japanese confection. The rich taste of the matcha comes together with the sweet and sour strawberry to create a delicious combination. They are hand-wrapped fresh as soon as your order is put in to retain their freshness.

Enjoy the full course winter has to offer at GINZA SIX, from soul-warming hotpot dishes to strawberry delights and more.

Information

GINZA SIX

Address: 6-10-1 Ginza, Chuo Ward, Tokyo

Opening Hours: Shops/Cafes (B2F-5F) 10:30-20:30 / Restaurants (6F, 13F) 11:00-23:00

*Business hours differ from shop to shop.

No Fixed Holidays (But shops and restaurants will be closed on January 1, 2020)

Access: Directly connected to Ginza Station via the Tokyo Metro Ginza Line, Marunouchi Line and Hibiya Line.

TEL: 03-6891-3390

Business hours will be shortened on December 31, 2019 and January 2, 2020 as shown below.

December 31st

Shops/Cafes (B2F-5F) 10:30-18:00

Restaurants (6F, 13F) 11:00-21:00

January 2nd

Shops/Cafes (B2F-5F) 10:30-20:00

Restaurants (6F, 13F) 11:00-22:30

Official Website: http://ginza6.tokyo/

5 Must-Eat Succulent Strawberry Desserts in Kyoto That Are Simply Kawaii

Winter is here, which means that the season of strawberries has finally fallen upon Japan. Today we are joined by Instagrammer Tiara, who enjoys posting their adventures around Japan's Kansai region to try out all of the sweets and desserts. We are taking a look at must-visit locations in Kyoto for a taste of their tempting strawberry delights.

LITT UP.KYOTO in Gion-Shijō

At LITT UP.KYOTO, their "ichigoame" lets you enjoy strawberries in their original cute form.

They are coated in sweet strawberry candy and served on sticks in cups reminiscent of something from a Japanese festival. Part of their allure is how perfect they are as a tasty treat for walking around with. There's even popping candy attached to the strawberries for an even sweeter textural treat.

▼LITT UP.KYOTO Gion

Address: 533 Gionmachi Minamigawa, Higashiyama Ward, Kyoto

Opening Hours: 10:00-18:00

Official Instagram: https://www.instagram.com/litt_up_kyoto/

Kissa Zou in Imadegawa

The "Kisetsu no Babaroa" (Seasonal Baravois) at Kissa Zou has an springy texture and sits in a sweet and sour strawberry sauce.

I recommend ordering one of the separate elephant cookies to place on top too to make this an even cuter dessert.

▼Kissa Zou

Address: 440-3 Santeicho, Kamigyo, Kyoto

Opening Hours: 9:00-18:00 (Last Orders 17:00)

No Fixed Holidays

Official Instagram: https://www.instagram.com/kissa_zou/

Chounohane in Fushimi

At Chounohane they are serving strawberry barquettes as well as mini versions of them. The dessert itself is of course beautiful, but is made even more so by the antique plate♡

▼Chounohane

Address: 791 Nishishujakucho, Fushimi Ward, Kyoto, Kyoto Prefecture

Opening Hours: [Tues/Sat/Sun] Shop & Cafe 11:00-17:00 / [Fri] Shop Only 11:00-17:00

Official Instagram: https://www.instagram.com/chounohane/

Utanekodo in Kyoto Shiyakusho-mae

Utanekodo was renovated from a 100+ year old building and has its own cat cafe. The cafe space is located on the first floor.

Their "Nyanko Strawberry Milk" speaks for itself, topped with adorable kitty ice cream and delicious with its subtly sweet taste.

▼Utanekodo

Address: 155-4 Tachibanayanagicho, Nakagyo Ward, Kyoto, Kyoto Prefecture

Opening Hours: 13:00-20:00 (Last Orders 19:00)

No Fixed Holidays

Official Website: http://utanekodo.com/

MASHOLA in Kyoto Shiyakusho-mae

Finally we have the "Strawberry Tiramisu Cube Cake" served at MASHOLA, a Korean-style cafe. This cake is made with refreshing homemade tiramisu cream, delightful sponge, and is packed full of sweet and sour strawberries which complement the entire thing.

▼MASHOLA

Address: 1-A MOVIX, 406 Sakuranocho, Nakagyo Ward, Kyoto, Kyoto Prefecture

Opening Hours: 10:00-20:00

Official Website: https://mashola.business.site/

All of these cafes are wonderful, so if you're in Kyoto for the strawberry season, be sure to visit as many as you can.

Tiara has plenty of other recommendations over on their Instagram page, so if you're a sweet tooth looking for something sweet to indulge in around the Kansai area, be sure to give them a follow.

Text & Photos: @happy_pinkrose_tiara

Translation: Joshua Kitosi-Isanga

Irresistible Fruit Sandwich Shop "Futsu ni Fruits" Opens in Osaka

Popular Tokyo fruit sandwich shop "Futsu ni Fruits" has opened a branch in Osaka called "Futsu ni Fruits Tosabori Parlor". With the help of Kansai's expert dessert Instagrammer Tiara, we'll be taking a closer look at the shop's irresistible menu.

Futsu ni Fruits is a sister branch of Omotesando's popular café & bakery "Bread, Espresso &,". Futsu ni Fruits at Tosabori Parlor in Osaka sells takeout sandwiches on floor 1 and has an eat-in café space on floor 2. 

Fruit Sandwich

 The café menu varies according to the time of day. There's a toast menu in the morning which sells toast with various fruit toppings. Futsu ni Fruits' classic Fruit Sandwiches are available from lunchtime and onwards. The rich whipped cream embraces the flavour of the fruit filling perfectly, leaving a refreshing aftertaste. 

The teatime menu is served from 3 pm which is your chance to try the Tosabori Parlor-limited Purin à la mode, parfaits and much more. 

Seasonal Fruits Drink


Purin à la Mode, Strawberry Milk and Coffee Milk

The Tosabori Parlor-limited purin à la mode is a luxurious mountain of delicious fruit and purin. 

If you're curious to try a Japanese fruit sandwich then Futsu ni Fruits is guaranteed to give you an enjoyable experience. 

If you're a dessert-lover in Japan then you just have to check out Tiara's Instagram which is a library of the most delicious desserts in the Kansai region. 

Article Contents and Photos by: @happy_pinkrose_tiara

*The information on the desserts mentioned in this article are subject to change at any time. For the latest updates, please refer to the links provided in this article.

Information

Futsu ni Fruits Tosabori Parlor

Opening Hours: 10:00 – 19:00
(Floor 1 Takeout: 10:00 – 16:00)
(Morning Menu: From 10:00/Lunch Menu: From 12:00/ Teatime Menu From 15:00)

Address:  1 Chome-1-30 Tosabori, Nishi Ward, Osaka

Official Website: https://bread-espresso.jp/

Food Review: Q-pot CAFE.'s Afternoon Tea in Omotesando is a New Year's Treat

The afternoon tea is the perfect way to treat yourself to a little indulgence as you tuck into tea and sweets in the latter half of the day. It's something surely everybody wants to try at least once.

Q-pot. is known for its accessory brand, which features jewellery made to look like sweets and desserts. It is also known for the Q-pot CAFE. which flips that concept, instead making sweets and desserts that look just like real accessories.

We recently covered the Christmas afternoon tea at Q-pot CAFE., so what on earth could be so special about this option that we just had to report on it?

2020 is the Year of the Rat in the Chinese zodiac, and so I was seated in the cheese area based on mice and rats' favourite food.

Seated with me at the table was Q-chan, a rat character created by Q-pot. which looks like a real rat eating cheese. The afternoon tea set I ordered is in fact based on this Q-chan character.

"CHEESE" Afternon Tea Set w/ One Drink – ¥2,400 (Tax Included)

The joyous and auspicious-looking afternoon tea set was adorned with a golden rosetta, fittingly festive for the New Year.

The upper tier of the set is plated with servings of no-baked mousse, cupcakes, cherry scones, and lemon-flavoured cream macarons. Each and every piece was a work of art so beautiful they almost seemed a waste to eat!

The red velvet cupcakes are topped with chocolate cream made in the image of our Q-chan. The flavours were a perfect match with the sweet and sourness of the red velvet and the subtly sweet chocolate.

The no-bake mousse was in its own league: sensuously smooth and topped with crunchy streusel. Every mouthful was a treat to the senses―delicious with an incredible smell.

The lower tier was packed full of filling savoury foods including a roast beef, tomato and broccoli croissant. There was also a rich potage made with onions, potatoes and melted cheese, as well as skewered baby tomatoes, olives and pickles which were perfect as a palate cleanser after the sweets.

Hot "CHEESE" Tea – ¥750

The afternoon tea set comes with one drink, so you can pick your favourite from the menu, but for an extra ¥100 you can get the New Year's-exclusive drink: a hot cheese tea made with Q-pot CAFE.'s luxurious "Sweet Weekend" black tea . It has a smooth texture and a gorgeous subtle cheese scent.

"CHEESE" Parfait w/ Drink – ¥1,850 (Tax Included)

This parfait is also a New Year's exclusive. It's made formed of cute orange apricot layers, salty cookies, chocolate sponge, and topped off with cheesecake. Sat on the cheesecake having a munch is none other than Q-chan.

Apricot and cheese is a rare combination, but it results in this parfait being like a refreshing no-bake cheesecake. As you delve lower into the depths of the parfait you can enjoy an assortment of scrumptious flavours.

Q-chan's tail is actually shaped like the letter "Q" too, and hidden behind him is a pile of nuts and at either side of him cookies with "2020" written on them. It really is a filling parfait.

It was a very satisfying meal, from the sweets and drinks to the afternoon tea!

Q-pot CAFE. Happy Bag 2020 – ¥3,000 (Before Tax)

Q-pot CAFE. is also selling fukubukuro in a cute cheese colour. This is the cafe's first time selling fukubukuro lucky bags with rat motifs.

Award-winning Japanese writer Mizuki Tsujimura also posted a story about Q-chan on the cafe's website which can be read below in Japanese.

▼The Adventures of the Little Rat Known as "Q"

http://www.q-pot.jp/news/2019/12/1159.html

There are several other fukubukuro lucky bags you can get your hands on too filled with accessories centred around cheese. The items are limited-edition and exclusive and come in ¥10,000 (Before Tax) and ¥30,000 (Before Tax) options.

If you're in Japan for the New Year, why not spend it with Q-chan and a side of cheese at the Q-pot Cafe.?

Information

New Year's Cafe Menu

Location: Q-pot CAFE. Omotesando

Running: December 26, 2019 – January 10, 2020

Online Reservations: https://www.q-pot.jp/cafe.php

Q-pot CAFE. Happy Bag 2020

Includes:

・Cheese Mouse Tote Bag

・Q-pot CAFE. Original Tea (Random Selection Of 2)

・Tinned Cheese Crackers

・¥2,000 Q-pot CAFE. Vouchers (¥500 x 4)

Q-pot CAFE. Happy Bag 2020 Sales

・Available from January 3, 2020 at 11:00 A.M. (JST) from Q-pot CAFE. Omotesando

・Available from January 1, 2020 at 12:00 P.M. (JST) from the Q-pot. Online Shop

Q-pot Happy Bag 2020 Sales

*Available at the branches below

*Release dates differ from branch to branch. The New Year's schedules for each branch are here.

*New Year's opening hours are different from regular hours

・Available from January 1, 2020 at Q-pot. Tokyo Sky Tree Town Solamachi

・Available from January 2, 2020 at Q-pot. LUCUA Osaka

・Available from January 3, 2020 at Q-pot. Omotesando

・Available from January 1, 2020 at Q-pot. Online Shop at 12:00 P.M.

Fukubukuro Details: http://www.q-pot.jp/news/2019/12/1162.html

Q-pot. Omotesando

Address: 3-4-8 Jingumae, Shibuya, Tokyo

Opening Hours: 11:00-20:00 (Last Orders 19:30)

Closed: New Year's Holidays

Official Website: https://www.q-pot.jp/eng/

Granny Smith Apple Pie & Coffee and Dandelion Chocolate Release Chocolate and Cherry Apple Pie

Granny Smith Apple Pie & Coffee—a cafe chain in Japan—has teamed up with bean to bar chocolate company Dandelion Chocolate to release a special new dessert. The "Chocolate and Cherry Holiday Apple Pie" is now available to enjoy until January 13, 2020.

This lovingly-made ambrosial temptation is made with kougyoku apples from Aomori Prefecture which have a luscious sour kick to them. It's combined with dark and sour cherries, which give a fruity flavour, and chocolate made from chocolate beans sourced in Guatemala. It's held together by a crunchy pie pastry which is topped with velvety chocolate custard and ganache. The richness of the chocolate together with the apple makes for a delicious marriage of flavours.

The Guatemala bean chocolate too matches perfectly with the apples and cherries, which have a full-bodied flavour reminiscent of wine. There's also chocolate nibs for added texture. This is truly a dessert for the gods, so don't miss out.

Information

Granny Smith Apple Pie & Coffee x Dandelion Chocolate – "Chocolate and Cherry Holiday Apple Pie"

Running: December 14, 2019 – January 13, 2020

Available: At Granny Smith Apple Pie & Coffee branches and Dandelion Chocolate branches in Japan

Prices (Before Tax):

<Granny Smith>

・Takeout: One Slice ¥570 / Whole ¥4,500 (*Reservations must be made 3 days in advance for a whole pie. Orders up to December 25, 2019 come with Christmas decorations.)

・Eat In: One Slice ¥800 (Comes with sauce and ice cream)

・ Online Shop: ¥4,500

<Dandelion Chocolate>

・Takeout/Eat In: ¥570

Sold At:

・Granny Smith Apple Pie & Coffee – Branch List: https://grannysmith-pie.com/info.html

・Granny Smith Apple Pie & Coffee Online Shop:  https://www.rakuten.co.jp/grannysmith/

・Dandelion Chocolate, Factory & Cafe Kuramae / Dandelion Chocolate Omotesando / Dandelion Chocolate Kamakura: https://dandelionchocolate.jp/

Kiyomizu Cheese Kobo: Kyoto's Dessert House Releases Matcha Tiramisu and New Cheese Products

Kiyomizu Cheese Kobo opened in Kiyomizu Gojozaka, Kyoto in July this year as the first place in Kyoto to specialise in "bottled cheesecakes." This month, they are releasing four new products to continue the cheese craze right to the end of 2019.

The first is a revamp of their number one most popular soft serve cheese ice cream: the "Chocolate Mont Blanc Cheese Soft." The soft serve ice cream is a mix of refreshingly sweet milk and rich cheese topped with a full-bodied mont blanc-style chocolate—a welcome addition during the winter months when you want to stay in and indulge in some chocolate. The ice cream is finished with crushed chocolate pieces and a crowning raspberry to create a chocolate cake in a cone. You're sure to become a frequent customer after a bite of this.

And for the Christmas season only, between December 18th-25th the shop is also selling another special soft serve that's made to look like a Christmas tree. The cheese soft serve is covered with a sprinkling of Uji matcha powder and adorned with chocolate pearls and stars.

Kiyomizu Cheese Kobo is also releasing hot versions of its "Kiyomizu Cheese Drink" and "Matcha Cheese Tea," the iced versions of which were greatly enjoyed in summer. The Matcha Cheese Tea can also now be ordered with tapioca topping, creating a delicious combination between the expertly crafted rich matcha cheese tea and the chewy and sugary tapioca pearls.

Also released this month is the "Homemade Matcha Tiramisu" when is served in a traditional masu box and served only on the second floor eat-in section. This irresistible delight is made with flavourful mascarpone cheese and bitter Uji matcha from Kyoto to create a dessert that's perfect during a trip or day out in Kyoto. Because of the hard labour that goes into creating this dessert, only 5-10 are served per day, so be sure to arrive early to not miss the opportunity.

Information

Chocolate Mont Blanc Cheese Soft – ¥550 (Before Tax)

Christmas Cheese Soft – ¥400 (Before Tax) *Available December 18-25, 2019 only

Matcha Tapioca Cheese Tea – ¥550 (Before Tax)

Homemade Matcha Tiramisu – ¥540 (Before Tax)

Kiyomizu Cheese Kobo

Address: 569-10 Shiraitochō, Higashiyama Ward, Kyoto, Kyoto Prefecture

Official Website: http://kiyomizu-cheese.com/