Rent an autumn style yukata from the Tokyo Bay Noryosen Yukata Shop and board the cruise!
The "Tokyo Bay Noryosen Yukata Shop," a yukata rental store for riders boarding the Tokyo Bay Noryosen cruise, are renting out autumn themed yukata coloured in the hues of autumn to fit the season.
From September 12th to October 9th, this "Aki Yukata" autumn line-up will be added to their yukata rental service.
The Tokyo Bay Noryosen also hosts yukata performances for people to enjoy their yukata even more. They also offer a hugely popular ¥1,000 discount to those boarding in yukata. The cruise drew in almost 15,000 people dressed in yukata last September and is a popular location for wearing them in autumn.
Compared to summer, autumn brings much crisper weather that can be enjoyed even more, making it the perfect occasion to wear a yukata.
Board the Tokyo Bay Noryosen and celebrate the full moon with this year's Jugoya along with a nighttime view of Tokyo Bay.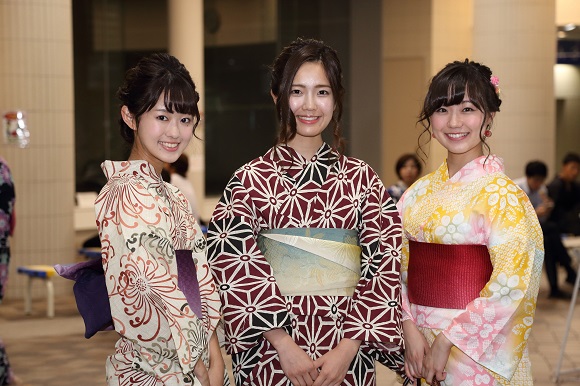 ◼︎Information 
Tokyo Bay Noryosen Yukata Shop
Address: Tokyo Bay Noryosen Yukata Shop, Takeshiba Passenger Ship Terminal 2, 1-16-1 Kaigan, Minato, Tokyo, 105-0022
Access: 8-minutes' walk from JR Monorail "Hamamatsucho Station"
*When using the monorail, please get off at the 1st floor elevator.
*Connected to Yurikamome at "Takeshiba Station"
*11-minutes' walk from "Daimon Station" via the Toei Ōedo Line and Toei Asakusa Line
*1-minutes' walk from Tokai Kisen Takeshiba Bridge
Telephone: 03-44405-6788 (Available weekdays 10:00-17:00)
Homepage: http://yukata-natsu.tokyo/
"Tokyo Bay Noryosen 2017"
Running: June 30, 2017 to October 9, 2017
Course: Departing Takeshiba Passenger Ship Terminal at 19:15 – Cruise around Tokyo Bay area – Return to Takeshiba Passenger Ship Terminal at 21:00
Price: Adults – ¥2,600 / Highschool-Middle School Students – ¥1,050 / Elementary School Students – ¥550
*Payment includes boarding free, free drink and consumption tax
*Adults wearing a yukata upon boarding will receive a ¥1,000 discount from the above price (apart from on the weekends and on national holidays)
Telephone: 03-3437-6119 (*all days are reservation-only)
Homepage: http://www.nouryousen.jp
※Reservations can be made for the boarding ticket and food set 'Party Plan' 2 months prior to your day of boarding. Reservations for just boarding tickets can be made up to 1 month prior to your day of boarding.
RELATED ENTRIES
See Traditional and Modern Japanese Culture Collide With Yukata, DJs & More at Tokyo's Hamarikyu Gardens

The three-day Hamarikyu Oedo Cultural Festival will take place at the beautiful Hamarikyu Gardens in Tokyo from August 23 to 25. It will be produced by international fashion designer and stylist Junko Koshino.

The boisterous festival is a coming together of Japan's traditional Edo period and modern times which will be celebrated with a myriad of exciting experiences.

The centrepieces of this year's event are the DJ performances and Yukata Fest which will take place around the two 6-meter tall pillars in the garden's plaza. DJ KOO will appear as a special guest on Friday August 23rd while Japanese models Arina Urahama, Sayaka Shimizu and YORI will take the spotlight on Saturday 24th wearing Edo-style outfits with a contemporary pop spin all made by Junko Koshino.

During the Yukata Fest, there will be taiko drumming along to the DJ performance. Three people from the Eitetsu Fu'un no Kai―a group supervised by famous Japanese musician Eitetsu Hayashi―will be the drummers. The Fest will mash together traditional Japanese music with modern DJing.

Expect to be thrilled with an up-close performance of kendo swordsmanship, iai―the art of drawing one's sword―and a showcasing of naginata, a type of long pole weapon. There will also be a play area where you can play karuta with the Hyakunin Isshu one-hundred poems which was popular during the Edo period, blow bubbles, and more.

And of course, there'll be plenty of Japanese food to tuck into as well served at one of the many booths. This includes namie yakisoba, a local speciality soba noodle dish adored by the people of Fukuoka which will be served as part of maintaining the culture, a Fukushima no Sake standing bar which has won the top award in the Shinshu Kanpyokai 7 years in a row, and so on.

Specially prepared traditional Japanese wagashi confections produced by Junko Koshino will also be sold as part of a collaboration project with Ito En who are sponsoring the event and holding a special tea party. They are limited in availability, and those lucky few who do get a spot will be able to enjoy tea and sweets while enjoying a view of the spectacular Japanese-style gardens at the Nakajima No Ochaya cafe.

Visitors will also be able to pick from a wardrobe of bright and colourful yukata, including some designed by Junko Koshino, at one of the booths at the festival and have them fitted on from them. Those who arrive already dressed in a yukata will receive free entry to the festival!

You'll completely forget you're in the boisterous city of Tokyo while at this traditional x modern fusion of a festival. If you're in Japan this summer, then don't miss out. More details of the festival and its content can be found on the official website below.

Information

Hamarikyu Oedo Cultural Festival 2019

Date/Time:

August 23 @ 17:00-21:00
August 24 @ 11:00-21:00
August 25 @ 11:00-17:00

*Hamarikyu Gardens are open from 9am as usual while the festival is running

Location: Hamarikyu Gardens (1-1 Hamarikyuteien, Chuo Ward Tokyo)

Price: General ¥300 / 65+years ¥150 (Free for elementary school children and younger, residents of Tokyo, and middle school student residents and younger)

*Free entry for those wearing a yukata

Official Website: https://hamarikyu-event2019.jp/

Hi everyone, this is Midori from MMN's Editorial Department!

Do you know what a Yukata is? It's a long, casual garment that resembles a kimono. As they are made of light and breathable material, this traditional Japanese clothing is usually worn in the summer. A beautiful yet refreshing garment is the perfect clothing for a summer festival and other summer events. How would you like to try one on? Today, I'll be introducing you to this year's latest Yukatas.

KIMONOMACHI: Polyester Yukata Perfect for a Hot Summer's Day

These yukata are made from polyester which is breathable and ventilating. From subtle and mature patterns for adults to large, modern and vivid patterns, there is a wide range of fabric designs to choose from.  

Cream Water-Colour Camellia Flower Yukata: ¥11,880 (after tax) 

You also do not have to worry about coordinating your outfit as you can putchase a set that includes a Sash (obi) and Japanese wooden clogs (geta). This is recommended for those of you who are completely new to yukata-wearing.  

▼ KIMONOMACHI main shop

Official Website: https://www.kimonomachi.co.jp/

Cayhane Yukata: Easy to Wear By Yourself 

Cayhane sells yukata that are made from materials sourced from all over Japan. 

Reiría Minana Yukata: ¥7,128

The Yukata sold here consist of a top and bottom half, which makes it easy for anyone to put on.

You can also get yukata with a separate skirt too, meaning that you can wear the skirt with your other normal clothes on a regular day too.

▼ Cayhane

Official Website: http://www.cayhane.jp/shop/c/c01

kyomadoka: Wear a Yukata Designed By an AKB48 Graduate 

Haruna Kojima, who graduated from Japan's world famous idol group AKB48, created the designs for a collection of kyomadoka Yukata.

¥45,360 (after tax)

Not only are the designs made with lots of care and attention, but the materials used have been carefully sourced. The patterns are mature yet cute. 

▼kyomadoka: Haruna Kojima Original Design Yukata

Purchase here: https://isetan.mistore.jp/onlinestore/brand/006180/list?categoryId=01_061604&rid=24098c5b16c840e39ea3dddf42efd3ad

Sales Start: June 5, 2019

Felissimo Neko-Bu™: Fill Yourself With Feline Fabulousness

Cat-Themed Retro Modern Yukata ¥8,400 (before tax)

Notice the cute, round eyes of a cat amongst beautiful camellia flowers. Felissimo Neko-Bu™ sells cat-themed goods that are also perfect for adults. This retro-modern design is both cute and mature.

Look closely and you will also notice a striped pattern. Felissimo are selling many other cat-themed Yukata besides this so please check them out.

This is a design of a tiger playing with green foxtail grass.

▼Felissimo Neko-Bu™

Official Website: https://www.nekobu.com/

RiLi.tokyo Sells Yukata That Look Like Japanese Sweets

RiLi.tokyo sells Yukata that are perfect for walking the streets of Asakusa, Kyoto and other traditional-style streets that are full of dark and mature colours.

RiLi Yukata: ¥11,990 each (before tax)

The sash is a waist band with wrinkles so that it does not hurt when you put it on. You will notice that it is incredibly easy to wear these. All Yukata in this series use similar colours, so it is easy to coordinate your outfit with other friends and family members. ♡

Official Website: https://rili.tokyo/#new

Furifu and Touken Ranbu-ONLINE- Collaborative Yukata

Furifu is dedicated to creating new styles of traditional Japanese fashion. They have released a retro-modern style kimono brand through a collaborative effort with the game Touken Ranbu-ONLINE- . This includes three Yukata themed around the characters Kashuu Kiyomitsu, Tsurumaru Kuninaga and Kasen Kanesada.

 Kasen Kanesada ¥62,640 (after tax )

Tsurumaru Kuninaga: ¥62,640 (after tax)

Kashuu Kiyomitsu: ¥62,640 (after tax )

▼Furifu Touken Ranbu Collaborative Yukata

Official Website: https://mgos.jp/furifu/index.html

All these Yukata are available online. This would be the perfect way to stay cool and beautiful during the summer. Wearing one to a summer event would be a wonderful experience. ♡

Keio Plaza Hotel is expanding their yukata experience service plan "Easy Kimono". The plan, which allows guests to wear Japanese traditional clothing called yukata, was originally a weekday-limited plan. Now, the plan will be expanded to include the weekends and national holidays. The plan was launched in June 2017 through a collaboration with Keio Department Store's dressing rooms. Keio Plaza Hotel's objective is to spread Japanese culture and offer guests the opportunity to fully experience Japan. The hotel also offers tea ceremony and Ikebana flower arranging classes.

There are two yukata plans on offer: a standard plan available for men and women and a women-limited premium plan which includes top quality cotton yukata that have a mature feel to them. Both plans come with wooden clogs, an ornate kanzashi hairpin, a drawstring purse and a map of wonderful locations to take a stroll in Shinjuku. Head to the third floor lobby in the South Building of the hotel to arrive at the Keio Department Store Dressing Rooms. Here, you can choose your favourite yukata. Once you put it on, the staff will take a commemorative photo with a camera or your smartphone.

You can rent these yukata for a maximum of six hours, during which time you can take as many selfies as you want, enjoy a meal in Tokyo, and have a relaxing stroll around the streets of Shinjuku. This luxurious plan is a chance to experience the great feeling of wearing a yukata.

Information

Easy Kimono Yukata Wearing Plan (aimed at overseas foreigners)

Reservations: Everyday from 10:00am ー 4:00 pm

Returns: No later than 6:00pm on the day of rental.

(Arrangement/dressing takes approximately 30 ー 40 minutes)

Prices

Standard plan

1 person: ¥5,400 (after tax)

Women (up to 170cm tall, medium size) :  Selection of 30 yukata patterns

Men (Up to 185 cm tall, medium, large, extra large size): Selection of 6 yukata patterns

Premium plan (women-limited) 

1 person: ¥7,560 (after tax)

Women (up to 170cm tall, medium size) : Selection of 15 top-quality cotton yukata patterns

* Extended rental: ¥2,160 (after tax). Extended rental returns are expected by 12:00pm the following day.

Reservations can be made on the Hotel's Official Website: (English website only) https://www.keioplaza.com/offers/easykimono.html

Yukata IN LAFORET: Grab Your Summer Yukata at Laforet Harajuku's Event

Laforet Harajuku is holding a yukata event on its second floor CONTAINER area from June 25 to July 24 where you'll be able to pick from a wide range of different yukata designs.

This marks the 5th run of the event, and this year, it is being split into three separate periods. A total of 9 shops are participating including the popular kimono brand Roccoya Summer Shop which fuses the traditional with the modern as well as MICOPARADE which is managed by designer and Japanese clothing model Maria Kawahara.

The event's main visual was conceived by art director Tomoko Katayama, a designer at airlinesinc. and president of kimono teaching company Airport Lounge. There will be a photo spot as well as displays created by Katayama.

Period 1: June 25, 2019 – July 4, 2019

Roccoya Summer Shop

Roccoya is a brand popular for fusing together traditional and modern designs. The company is returning to Yukata IN LAFORET once again to sell a variety of new yukata, kimono and accessories. Pick anything from cute to contemporary to sophisticated couture. They also sell head accessories and customers can order specific sizes.

MICOPARADE

MICOPARADE is a kimono brand led by designer and Japanese clothing model Maria Kawahara which offers contemporary twists of traditional ideas. Expect kimono like you have never seen as modern fashion. This event will be MICOPARADE's first unveiling of their new products.

Period 2: July 5, 2019 – July 14, 2019

MIKI SAKURA & Sakura Maison

Sakura Maison focuses on "Japanese kawaii" kimono, accessories and obi sashes while MIKI SAKURA's concept, conceived by designers at Sakura Maison, is "dignified women wrapped in beautiful fragrances."

These two brands will come together to showcase an array of feminine yukata including yukata made from lase. They will also sell headdresses, ornate hairpins and other accessories. Expect to get your fill of kawaii♡

Asobiya Meets yuminique

Asobiya is a brand that adds a bit of fun to traditional Japanese motifs. They will collaborate with the "nostalgic and cinematic" brand yuminique for the very first time. Asobiya will have their popular paper crane series of items while yuminique will showcase their "SECRET" themed line-up this summer with an assortment of handmade head accessories with rose and lily of the valley designs. You're sure to find the right decorative accessories for your yukata look here♡

Period 3: July 15, 2019 – July 24, 2019

AYAKONAGAHASHI


Ayako Nagahashi's select shop is associated with many different kimono and yukata brands. The new yukata and accessory collection by KIIRO, which Nagahashi is the director of, and Furifu will be on show. New Yukata and obi sashes the likes of which the industry has never seen before from Nagahashi's private brand Fruttarossa will also make an appearance. There will also be plenty of other pieces like geta shoes and obi clips.

Shigemune Tamao

Unique and innovative kimono creator and artist Shigemune Tamao is opening her first ever store where she will sell original kimono, obi sashes, and a selection of items made in collaboration with guest brands that transcend traditional and contemporary clothing.

Find the yukata for you at this year's Yukata IN LAFORET.

Feel the Spirit of Japanese Culture With Hotel Gajoen Tokyo's Yukata Plan

Japanese museum and hotel Hotel Gajoen Tokyo is currently offering its new "Yukata Plan" until September 30. The plan includes a yukata service, lunch or dinner, and a chance to witness the Hyakudan Kaidan, or '100 Step Staircase,' which was registered by Tokyo Prefecture as a Tangible Cultural Property in 2009 for its exceptional architecture and artistic beauty.

The plan lets guests wear a beautiful and colourful yukata allows them to get a feel for the Japanese spirit. After enjoying a special food course specially prepared by the hotel's chef, you will head on over to observe the Hyakudan Kaidan, something offered in the hotel's popular summer plan. Yukata are available for men, women and children, making it perfect for groups, couples and families. What's more is that you can take home the yukata, obi sash and geta shoes you choose.

Once you chance into your yukata you can stroll to some of Meguro's famous spots such as Meguro River as well as Ryūsenji temple and Ōtori-jinja Shrine, both of which are just a 10-minute walk from the hotel.

Enjoy a real Japanese time this summer at Hotel Gajoen Tokyo.

Information

Yukata Plan

Prices

Lunch: Adults ¥13,500 / Children ¥10,000

Dinner: Adults ¥16,000 / Children ¥10,000 (Each price includes price for 1 person, tax and service charge)

*Those who order the dinner plan will receive an original Gajoen senko hanabi firework

Hotel Gajoen Tokyo: http://www.hotelgajoen-tokyo.com/

Disney Store Unveils Mickey, Minnie, Ariel & Rapunzel Summer Yukata

Disney Store Japan has announced that it will begin selling a range of original yukata and miscellaneous items for summer. Sales in-store begin on June 18 with pre-sales hitting the online store a week earlier on June 11.

Ariel/Rapunzel

The line-up sees the return of the Ariel and Rapunzel Disney princess yukata which were a hit in Japan last year as well as the new Mickey Mouse and Minnie Mouse versions. This year's assortment of accessories and miscellaneous items to co-ordinate with the yukata is also even bigger than last year.

Mickey Mouse/Minnie Mouse

The designs are chic and subtle while still celebrating the characters of the Disney world. The Mickey and Minnie yukata in particular feature retro patterns which can be enjoyed by people of all ages. The obi sash that come with the outfits also play into the story of each character.

The other items in the mix include fans, bags, and a range of cute accessories to make your yukata even more glamorous.

It would be super fun to co-ordinate the yukata together with friends. So if you're heading to Japan this summer then why not pay a visit to the Disney Store and ready yourself for the fireworks and festivals?

©Disney

5 Must-Wear Yukata for Japanese Summer 2018

Yukata are a traditional type of Japanese clothing originally used before and after entering a steam bath. Today, they are used as summer dress when going to events such as summer festivals and firework festivals.

They come in many different colours and designs. Here's a list of ones we recommend for summer 2018.

Sailor Moon Yukata

These Sailor Moon themed yukata have been made in collaboration with Kyoto Marubeni. Choose from five yukata sets inspired by each sailor as well a range of other chic and modern yukata. They have all the accessories you need to including obi and folding fans so you can enjoy the full dress-up experience. How about becoming a sailor this summer?

Full Details: https://www.moshimoshi-nippon.jp/88541

Yukata Fukubukuro

Kyoto based traditional Japanese clothing brand KIMONOMACHI are selling yukata fukubukuro, or 'lucky bags.' There are several lucky bags to choose from, including one containing a single yukata, a 2-set which includes a yukata and obi, and 4, 5 and 6-sets which include that plus accessories. Part of the reason for the popularity of these bags is that you can pick from four sizes: Small (S), Free, (F), Tall (TL), and 2L. Choose from a variety of kawaii infused yukata!

Full Details: https://www.moshimoshi-nippon.jp/108656

Disney Princess Yukata

Disney have released a range of yukata and accessories at five of their stores and online. The Ariel and Rapunzel are original designs that were specially illustrated for these yukata. No matter which you choose, all of them embrace the characters' stories down to the tiniest of details. Pick one of these yukata and become a Disney princess this summer!

Full Details: https://www.moshimoshi-nippon.jp/113122

Tokyo 2020 Emblem Yukata

Summer 2018 marks two years until the Tokyo Olympics. Gear yourself up for the excitement this summer with these official Tokyo 2020 yukata, jinbei and accessories. Cloisonne design yukata with the Tokyo 2020 emblem on them were released on July 3, and the above indigo design will be available from early August. Both are stylish and come in a gentleman's version and a lady's version.

SCANDINAVIAN PATTERN COLLECTION

This collection is a Northern Europe design project developed by Andfika for children. There are yukata for girls and jinbei for both boys and girls. The collection incorporates designs from three designers in Sweden and Finland. The clothes are a unique mix of Northern Europe designs and traditional Japan clothing.

Did you like this list? There's a lot of variation when it comes to yukata, so be sure to pick the right one for yourself this summer in Japan.

Choose Your Own Yukata and Dine at a Beer Garden in Yokohama Marine Tower

Put on your favourite yukata and enjoy the night time scenery of Yokohama at the Yukata Beer Garden coming to Yokohama Marine Tower. It will run from July 6 to September 7.

Beer gardens are a staple of Japanese summer, as are yukata. You can rent out yukata while in Japan, or you may have one already but require assistance putting it on properly. The Yukata Beer Garden aims to eliminate these problems. There, you can choose from over 100 different items of clothing including yukata, obi and geta which will be fitted for you by professionals.

The best part about it is that you get the full set. Once you've picked out your yukata you can enjoy a beer garden course at one of four shops. There are also courses that come with a ticket for the Yokohama Marine Tower observatory deck.

All of the yukata items available accommodate for males and females. They stock everything from simple and stylish to colourful and retro.

Once you've had your yukata fitted, you're free to enjoy yourself until your dinner reservation time arrives. You can take a stroll in Yamashita Park, feel cool breeze at Oka Koen while gazing at the harbour, walk around China Town or Motomachi Shopping Street and more while wearing your yukata.

Choose a dinner plan you like from either 3 restaurants at Yokohama Marine Tower or one of the 4 beer garden plans at Yamate Jubankan.

THE BUND (Marine Tower 1F): Garden BBQ Course (+2-hr 30 min Unlimited Drinks)

A tempura BBQ beer garden course with all-you-can-eat beef, pork and chicken including beef harami garlic steak. Enjoy a cold beer in an open terrace while feeling that Yokohama breeze!

The Tower Restaurant Yokohama (Marine Tower 4F): Beer Terrace Course (+2-hr 30 min Unlimited Drinks)

Takes place in an open terrace area that has a sweeping view of the Port of Yokohama. Relax and enjoy Mediterranean cuisine such as the main dish, roast chicken.

Mizumachi Bar (Marine Tower 1F): Black Iberian Pig & Spare Rib Set (+2-hr 30 min Unlimited Drinks)

A traditional bar with a relaxed atmosphere next to Mizumachi-dori Street. Their hearty portions of spare ribs (250g) and cocktails made in collaboration with Crazy Ken Band are hugely popular.

Bonus: Comes with ticket to Marine Tower observatory deck.

Yamate Jubankan: BBQ Course (+2-hr 30 min Unlimited Drinks)

This place is perfect if you want a special evening date that's a little different or if you want to go for a bit of drinking with the girls. Enjoy a BBQ in a garden enveloped in greenery.

Restaurant: Yamate Jubankan (10-mins on foot from Marine Tower)

Make some summertime memories in Japan dressed in a yukata at a beer garden!

■Information

Eraberu Yukata Beer Garden

Running: July 6, 2018 – September 17, 2018
Price: Females ¥12,000 / Males ¥14,000
Contents:
・Pick and choose your own yukata, obi and geta.
・Have them fitted by a professional.
・Choose a beer garden course from one of the four places below.

Locations
"THE BUND" (Yokohama Marine Tower 1F)
Dinner: 5:00pm-11:00pm (From 4:00pm on Weekends & National Holidays)

TEL: 045-263-8115
http://bund.marinetower.jp/news/2018/07/04/post_11.php

The Tower Restaurant Yokohama (Yokohama Marine Tower 4F)
Dinner: 5:00pm-11:00pm

TEL: 045-263-8117

http://restaurant.marinetower.jp/news/2018/07/04/post_10.php

Mizumachi Bar (Yokohama Marine Tower 1F):
Dinner: 5:00pm-11:00pm

TEL: 045-263-8116
http://mizumachi.marinetower.jp/news/2018/07/04/post_8.php

Yamate Jubankan (10-mins on foot from Yokohama Marine Tower)
Dinner: 5:00pm-9:00pm

TEL: 045-621-4466
http://www.yamate-jyubankan.yokohama/news/2018/06/23/post.php

*A separate entry fee is required to access the observatory deck floor.
Adults: ¥750 / Children (13-15 years): ¥500 / Children (7-12 years): ¥250 / Children (4-6 years): ¥200 / Children (Under 3-years): Free

However, the Mizumachi Bar beer garden course includes an entry ticket to the observatory deck floor.

How to Style Your Hair & Make-Up for Wearing Yukata

The summer season is almost here, which in Japan means summer festivals and fireworks. Wearing yukata is tradition during summer here and really gives you that summertime vibe.

But to enjoy yukata fashion even more, you've got to get the hair and make-up right too. Here's some tips!

How To Style Hair & Make-Up for Yukata: 2018 Edition
Showing us the tricks of the trade is top hair and make-up artist Yumiko Kamada of cosmetics company Shiseido who has incorporated 2018 trends and made it so that anybody can challenge themselves to it.

・Hair

1. Start off by curling your hair. Depending on how you like it done, it's good to slightly curl the tips with the curling iron too.

2. Tie your hair from behind your ears to the top of your head to separate the front and back like in picture ②.

3a. Tie each part of the hair you separated close to the top of your head.
3b. For the front, divide the inner part of your hair from the knot into two, and pass the tips of your hair through. Add some nuance to the side with a Gibson tuck.

4. Twist the front and back bundles and bring together.

5. To give the top balance, fix tightly with a hairpin. Add nuance by styling your hair around your face and finish with hairspray. Leave a refreshing impression with checkered hair decorations and transparent glass hairpins.

・Make-Up

1. For the base make-up, lightly apply liquid foundation to your skin.

2. Lightly fix with face powder and use highlighter to give your skin shine and luster.

3. Powder your eyebrows to a natural thickness and make soft.

4. Add coral cream eye colour to the outer part of the double eyelid. Apply lavender cream eye colour to the entire bottom eyelid. For single eyelids, close your eye and add the eye colour to the eyelid.

5. Carefully add mascara starting from your lash roots to brighten your eyes.

7. Add pink cream blusher to the upper parts of your cheeks. This brings out the depth of your face and makes your side profile look beautiful.

7. Use a glossy pink lipstick to give a bright look. Lightly shade off the outline to give a lighter look.

Recommended Make-Up Items: PLAYLIST Multi Painter (With New Colours)
These multi coloured creams come in paint tubes and can be used just about anywhere from your eyelids to eyebrows, cheeks, lips and so on. There are 14 colours in total (13 coloured and 1 clear). There's the lavender and coral which was used in this tutorial as well as two new summer colours. Pick them up and get on Japan's 2018 summer trends!

Dress up in a colourful and beautiful yukata and have yourself an unforgettable summer!

■Information

Shinseido:

http://www.shiseidogroup.jp/?rt_pr=trb50Yumiko Kamada (Top Hair & Make-Up Artist at Shinseido)


Yumiko Kamada is active in many fields, including advertisements, commercials, collections, female hair and make-up fashion magazines, beauty seminars, cosmetic development, technique development and more. Her luxurious and delicate craft and earned her support from women and models from inside and outside Japan. She works as the chief coordinator for 'Fashion Cantata from KYOTO' and also works on 'TOKYO KIMONO COLLECTION in Nihonbashi.'

Disney Princess Yukata Arriving at the Disney Store on June 22

Disney are releasing a range of original yukata and accessories on June 22 at their Disney Stores in Tokyo Disney Resort, Shibuya Koen-Dori, Sendai Toei Plaza, Shinsaibashi, Kyoto Shijo Kawaramachi, as well via their online store.

Ready yourself for Japanese tanabata, summer festivals and firework festivals with the Ariel and Rapunzel themed Disney Princess yukata.

There are two variations each of the Ariel and Rapunzel designs for a total of four yukata to choose from. No matter which you choose, all of them embrace the characters' stories down to the tiniest of details.

The characters are printed on them in a simple, stylish and sophisticated manner, so nothing is too in-your-face.

As well as yukata, they have a line-up of small accessories inspired by Ariel and Rapunzel too which serve to elevate your yukata look. This includes an obi clip that features a resein Ariel and shell, a golden Ariel hairpin, and a decorative hair clip with dangling golden chains and Rapunzel.

Style your hair like Ariel or Rapunzel together with the accessories and yukata to full embody them!

Make some unforgettable summer memories this year by stepping into the world of Disney.

■Information

Disney Original Yukata & Accessories

On Sale: June 22, 2018

Available: 5 Disney Stores (Tokyo Disney Resort, Shibuya Koen-Dori, Sendai Toei Plaza, Shinsaibashi, Kyoto Shijo Kawaramachi) + Online

Webpage: https://store.disney. co.jp/special/yukata.aspx

*Please be aware that items may sell out.
*The designs, price and release dates are subject to change.
©Disney

Yukata Fukubukuro Lucky Bags Released by Kyoto Kimono Brand KIMONOMACHI

KIMONOMACHI is a brand hailing from Kyoto that makes traditional Japanese clothes.

The company pre-released their newest yukata fukubukuro, or 'lucky bags,' on May 16. The bags were officially unveiled on May 17 and will be available for seven days.

There are several lucky bags to choose from, including one containing a single yukata, a 2-set which includes a yukata and obi, and 4, 5 and 6-sets which include that plus accessories. Part of the reason for the popularity of these bags is that you can pick from four sizes: Small (S), Free, (F), Tall (TL), and 2L.

KIMONOMACHI operate online via their online shop, and for this event are selling their wares at malls. Their first exhibition not only allows people to see the yukata with their own eyes which are usually bought online, but they can even try the kimono on over their clothes. Find your favourite yukata too!

While the event is taking place, you can get your hands on coupons and pamphlets on how to coordinate your yukata. If you're interested then be sure to go and grab a lucky bag for yourself!

■Information

KIMONOMACHI – 2018 Newest Yukata Exhibition Event

Shop Name: Yumeyakata

Address: Oshikoji Dori Ryogaecho Agaru Nishigawa, 472-1 Kinpukicho, Nakagyo, Kyoto

Running: May 17, 2018―May 23, 2018

Time: 10:00-17:00

TEL: 075-354-8511

Website: https://www.kimonomachi.co.jp/

Wear Yukata with Confidence with Aeon's New Easy-to-Wear Yukata Line

Aeon is introducing a new line yukata at approximately 460 Aeon and Aeon Style stores across Japan from April 26.


A range of new yukata are being introduced this year, including yukata made by apparel brand Earth Music & Ecology Sakura Label whose products are aimed at young girls; super inexpensive yukata price at just ¥3,880; Smart Yukata for men which can be worn simply by slender guys too; Sukaato Yukata for kids where the top and bottom separates so you don't have to be an expert and fitting yukata; and more.

In recent years,the number of foreign tourists coming to Japan has increased, giving rise to more opportunities to rediscover old Japanese culture and traditions. Ministries and enterprises have locked onto that and are introducing a plethora of events and services, including Bon Odori arranged in a contemporary style, endorsing cool and casual business dress like yukata, and much more.

As yukata go on to be incorporated in a variety of everyday scenes, Aeon have produced a new style of yukata to erase people's worries on wearing the traditional Japanese dress, like those who aren't sure how to pick yukata out, or those who want to let children wear them but don't have the confidence to help them put them on. Now, this summer, absolutely anybody can pick and wear yukata with confidence.

Get your hands on your own yukata which you can wear freely.

■Information

Available: Approx. 460 "Aeon" and "Aeon Style" stores
On Sale: April 26, 2018 sequentially
*Select products may not be sold at certain stores.

Item Amount: Approx. 1,050 (including accessories etc.)
Price: ¥3,800 (w/tax ¥4,190)―¥15,800 (w/tax ¥17,064)
Online Purchases: Aeon Style Fashion Website
https://shops.aeonsquare.net/shop/c/c184016/

For more details, visit the Aeon Yukata website below.