Color Camo Version BE@RBRICK Now Available
A BATHING APE®︎ and MEDICOM TOY's iconic BE@RBRICK block figure is getting a makeover! Fans will be able to grab Color Camo Tiger versions in three shades for a limited time only. 
Collectors can grab a figure in blue, red, or purple. These will be on sale at authorized A BATHING APE®︎ retailers, project 1/6, MEDICOM TOY Tokyo Skytree Solamachi, 2G Tokyo, 2G Osaka, and online starting October 1, 2022. 
BE@RBRICK BAPE®︎ CAMO TIGER
100% & 400% (Height: 7cm and 28cm) 
Colors: Navy / Purple / Red
Price: ¥19,800 (Tax Included)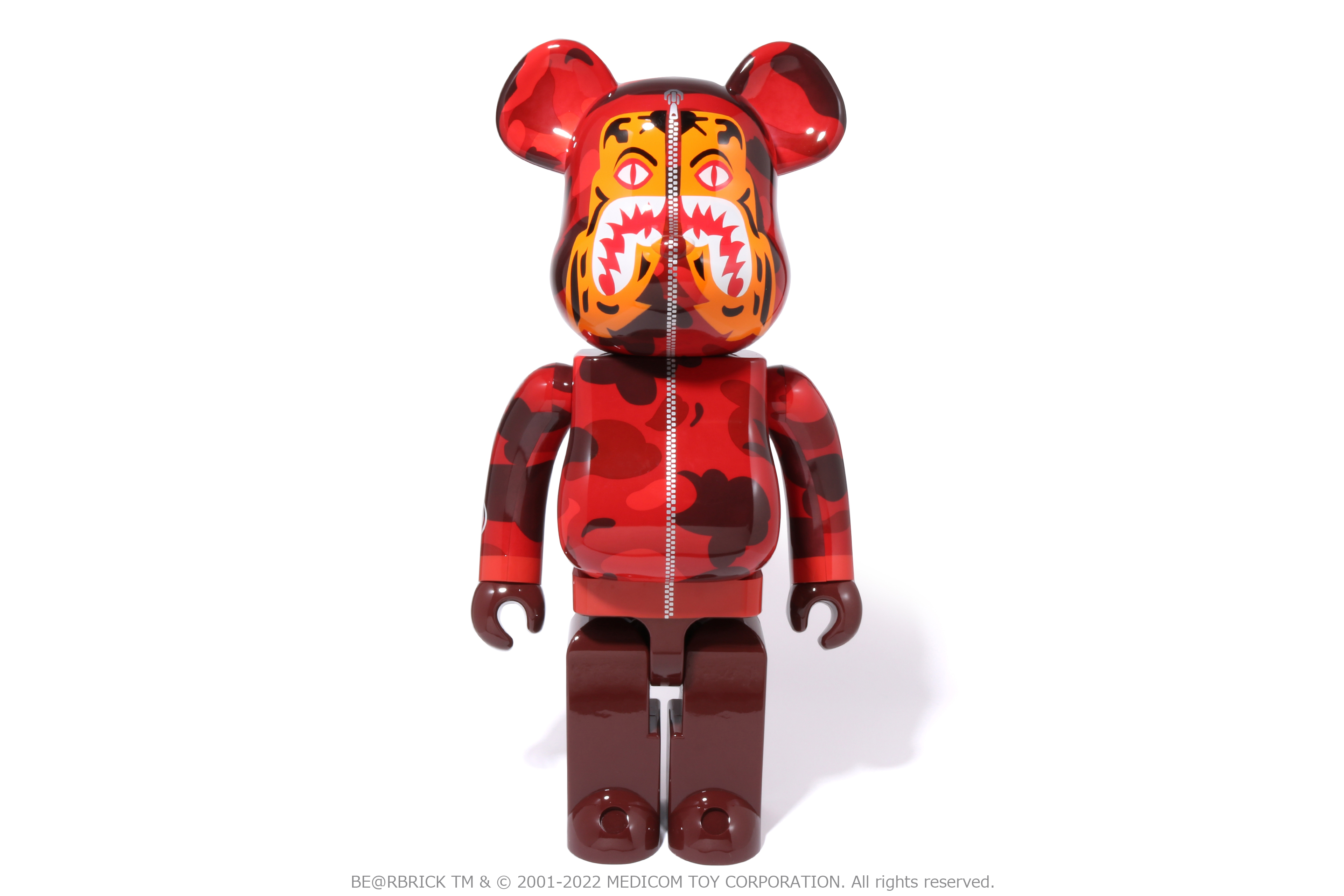 BE@RBRICK BAPE®︎ CAMO TIGER
1000% (Height: 70cm)
Colors: Navy / Purple / Red
Price: ¥107,800 (Tax Included) 
Information
Color Camo BE@RBRICK Version
BAPE.com Special Page:
RELATED ENTRIES
A BATHING APE® Announces Collaboration with Classic Sci-Fi Film E.T.

Famed streetwear brand A BATHING APE® has announced a surprising collaboration with the sci-fi film classic E.T.

 

Academy Award-winning Steven Spielberg directed E.T., and the film made a huge splash when it was released in 1982. The themes of trust, courage, and friendship are timeless and inspiring, and the film has remained popular 40 years later. To celebrate the 40th anniversary, this new collection came into being.

The new collection utilizes themes, scenes, and characters from the film. When combined with BAPE®︎'s signature style, fans will find pieces that mix nostalgia and modern street fashion. Which piece is your favorite?

Fans of the film will recognize Elliott riding his bicycle against a backdrop of the moon with E.T. in the basket. The classic line "I'll be right here" is printed on the upper sleeve of the sweatshirts.





The red hoodie is a tribute to Elliot's outfit in the film. Meanwhile, new items have been released under the BABY MILO®︎ label, with the T-shirt showing Elliott, E.T., and the popular ape character lined up in a row.

The print on the back of the T-shirt is glow-in-the-dark, and the long-sleeved T-shirts feature reflective fabric. The team did everything they could to make these items feel as sci-fi as possible, and they are a great way to celebrate the film's 40th anniversary.

 

Was E.T. a part of your childhood? 

©Universal Studios Licensing LLC All Rights Reserved.

BE@RBRICK, BABY MILO, and Furniture Maker Karimoku Collaborate on New Figure

BAPE's iconic BABY MILO, Medicom Toy's BE@RBRICK figure, and upscale furniture shop Karimoku are coming together for a unique collaboration. On August 6, a 400% size wood figure will be available at the BAPE.com Web Store, the Toy Medicom online store, and select retailers.

Karimoku x BABY MILO® x BE@RBRICK 400% (Height: 280mm)

Overlapping wood tones make this a must-have for BE@RBRICK collectors.

Information

BE@RBRICK x Karimoku x BABY MILO® HORIZON

Release Date: August 6, 2022

Where to Buy: BAPE.com Web Store, project1/6, Tokyo Skytree Town Solamachi Store, 2G, Medicom Toy Online Store

Details: https://bape.com/pages/karimokubearbrick-horizon

GELATO PIQUE HOMME Limited Concept Store Opens at Hankyu Men's Tokyo for Father's Day

Men's roomwear brand GELATO PIQUE HOMME will open a limited-time concept store at Hankyu Men's Tokyo from June 15 until June 21, 2022. 

The store will offer a wide variety of items, including light and comfortable loungewear perfect for summer and unisex items perfect for partners. In addition, GELATO PIQUE x BE@RBRICK collaboration items will also be available for purchase. 

Popular around the world, Medicom's BE@RBRICK figure can now be purchased in full Gelato Pique loungewear, with customers able to choose between 400% and 1,000% sizes. Shoes are also available for each figure.

The summer collection includes soft and lightweight items perfect for the heat, including sweatshirts, long pants, and ultra-thin shirts.

Hand soap and face wash will also be available. Gelato Pique Homme's original citrus mint blend is made with bergamot and patchouli essential oils sourced from France.

Come pick up some of these items, perfect for Father's Day!

Information

GELATO PIQUE HOMME LIMITED CONCEPT STORE
Running: June 15 – June 21, 2022
Address: Hankyu Mens Tokyo Main Base, 1F (2-5-1 Yurakucho, Chiyoda-ku, Tokyo)
Hours: 11:00-20:00
*Business days and hours are subject to change.

GELATO PIQUE HOMME Official Site: https://gelatopique-homme.com/

A BATHING APE Releases Dragon Ball Super: Super Hero Collaboration Collection

A BATHING APE, one of Japan's leading streetwear brands, has announced a new collection inspired by the new film Dragon Ball Super: Super Hero!


This isn't the first time that BAPE and Dragon Ball have come together for a stylish collaboration. The two have set the standard for what a crossover between streetwear and manga culture should look like, starting with the first collaboration in 2016. From pieces showing the protagonist Son Goku as a young boy to the most recent items inspired by the Majin Buu arc, fans of the series can't get enough.


The latest collection features characters from the highly-anticipated new film Dragon Ball Super: Super Hero set to premiere on June 11, 2022.

Son Gohan, Pan, Piccolo BABY MILO® T-Shirt (Colors: Black, White): ¥9,900 (Tax Included)

Red Ribbon Army BABY MILO® T-Shirt (Colors: Black, White): ¥9,900 (Tax Included)

Popular characters Gohan and Piccolo have been given the BABY MILO treatment along with the new androids Gamma 1 and Gamma 2 and their creator Dr. Hedo from the newly-revived Red Ribbon Army. 

BAPE® X Dragon Ball Super Ape Head Pullover Hoodie (Colors: Black, Orange): ¥28,600 (Tax Included)

BAPE® X Dragon Ball Super Ape Head Totebag (Colors: Black, Orange): ¥8,800 (Tax Included)

Fans of Goku, Vegeta, and Gohan's daughter Pan won't want to miss these stylish hoodies and tote bags complete with BAPE's signature Ape Head!




The collaboration items will be available at select stores throughout Japan and online starting on June 5, 2022, just before the movie's release. 

Information

A BATHING APE® × Dragon Ball Super: Super Hero

Release Date: June 5, 2022

Where to Buy:

BAPEXCLUSIVE™️ Aoyama
BAPE STORE®︎ COMME des GARCONS Osaka
BAPE STORE®︎ DOVER STREET MARKET Ginza
BAPE.COM Online Store

BAPE.COM Special Page:https://bape.com/pages/dragonball-super

A BATHING APE®︎ Announces Collaboration Collection with BE@RBRICK

MEDICOM TOY's iconic BE@RBRICK block figure is getting a BAPE®︎ CAMO makeover! The collaborative figures will come in two colors–gold and silver–and two sizes. They will be released on June 4, 2022. 


BE@RBRICK BAPE®︎ CAMO SHARK 100% & 400% GOLD / SILVER

Don't miss out on these special collector's items!

Information

BE@RBRICK BAPE®︎ CAMO SHARK – 100% & 400%
Release Date: June 4, 2022

Where to Buy: A BATHING APE® stores nationwide, BAPE.COM WEB STORE, project 1/6, MEDICOM TOY Tokyo Skytree Solamachi, 2G TOKYO, 2G OSAKA, 2G Online Store

A BATHING APE Releases Dragon Ball Z Majin Buu Collection

Japan's top streetwear brand A BATHING APE is releasing a new collection inspired by Dragon Ball Z! The two first collaborated in 2016 starting with imagery inspired by Son Goku's childhood. In June 2020, the company released a collection themed around the Cell arc.

Lineup

The newest collection was inspired by the final arc of the series, the Buu Saga, expressed in the style of BABY MILO.


The main characters from the series–Goku, Vegeta, Majin Buu, and Piccolo–are all depicted in BABY MILO style. In addition, characters such as Mr. Satan and Uub appear, perfect for more hardcore fans wanting to see lesser-known characters represented.


The lineup includes a coach jacket and hoodie featuring newly-drawn illustrations inspired by the final episode. Don't miss this special collaboration!

Information

A BATHING APE x Dragon Ball Z

Release Date: May 21, 2022
Where to Buy: A BATHING APE Authorized Retailers, BAPE.COM Web Store

For Preorder
Coach Jacket

Preorders start May 21, 2022 (Preorders will end when the item is sold out.)
Item to ship in early July
*Regular items and preorder items cannot be purchased in one order.

Official Site: https://bape.com/pages/dragon-ball-z

10 Artists Collaborate on Eight Inch BABY MILO Figure Collection from BAPE

In September 2018, ten incredibly talented artists came together to celebrate BAPE's 25th anniversary by designing life-sized BABY MILO sculptures. These pieces of art were put on display at Space O in Omotesando Hills. After four years, those sculptures have been reimagined as eight-inch figures in collaboration with BAIT! (Much easier to display at home, right?) 

The participating artists are SK8THING, mankey, Stash, James Bond, Adam Lister, Michael Lau, Eric Haze, Shepard Fairey, Shinsuke Takizawa, and Nishiyama Tetsu.

BABY MILO®️ BY A BATHING APE 10 ARTISTS 8" FIGURE BY ADAM LISTER: ¥16,500 (Tax Included)
This design was inspired by the colors of the Earth–yellow for the sun, green for the plants and trees, and blue for water. Using geometric patterns, rigid angles, and bright colors, the final product gives off a peaceful aura.

BABY MILO®️ BY A BATHING APE 10 ARTISTS 8" FIGURE BY SK8THING: ¥16,500 (Tax Included)
Reimagining BABY MILK as a haniwa, or a terracotta clay figurine, SK8THING blended elements of Japanese history into his work. Haniwa were used for ceremonial purposes in ancient Japan.

BABY MILO®️ BY A BATHING APE 10 ARTISTS 8" FIGURE BY mankey: ¥16,500 (Tax Included)
The artist mankey listed his design concept as "mirror camo BABY MILK." The finished product is a shiny figure made from reflective material and decorated with BAPE's classic camo. 

BABY MILO®️ BY A BATHING APE 10 ARTISTS 8" FIGURE BY MICHAEL LAU: ¥16,500 (Tax Included)
The sponges used in the previous 'WHAT WE WANT' exhibition were used again to create this BABY MILK sculpture. On the back, fans can find classical Chinese calligraphy.

BABY MILO®️ BY A BATHING APE 10 ARTISTS 8" FIGURE BY TETSU NISHIYAMA: ¥19,800 (Tax Included)
To celebrate BABY MILO's birthday, Nishiyama Tetsu created his figure based on a chocolate banana, a treat usually eaten during Japanese festivals. Who wouldn't want this adorable iteration of BABY MILO on their desk?

BABY MILO®️ BY A BATHING APE 10 ARTISTS 8" FIGURE BY SHINSUKE TAKIZAWA: ¥16,500 (Tax Included)
Shinsuke Takizawa aimed to bring a 2D T-shirt design to life with his figure. The design incorporates the black color found in NEIGHBORHOOD goods, SKULL & BONE graphics, and the slogan "No. 1 CRAFT WITH PRIDE TOKYO." 

BABY MILO®️ BY A BATHING APE 10 ARTISTS 8" FIGURE BY SHEPARD FAIREY: ¥19,800 (Tax Included)
Shepard's design concept is to raise awareness about environmental issues, global warming, and oil pollution. The top of BABY MILO features an oil spill and the figure will remind buyers to think about the big picture.

BABY MILO®️ BY A BATHING APE 10 ARTISTS 8" FIGURE BY JAMES BOND: ¥16,500 (Tax Included)
Martial artists Chris Haueter and Rob Abeyta, the founders of UNDEFEATED GYM, inspired this design. This BABY MILO loves jiujitsu and wears a traditional dougi uniform.

BABY MILO®️ BY A BATHING APE 10 ARTISTS 8" FIGURE BY ERIC HAZE: ¥16,500 (Tax Included)
Eric's work features freehand brushstrokes to represent the current direction of his artwork. The design is organic and gives off a human touch.

BABY MILO®️ BY A BATHING APE 10 ARTISTS 8" FIGURE BY Stash: ¥16,500 (Tax Included)
In his early days of using spray paint, Stash painted on just about everything in his local park. The figure is a reinterpretation of his exciting youth.

BABY MILO®️ BY A BATHING APE 10 ARTISTS 8" FIGURE BUNDLE SET: ¥165,000 (Tax Included)

The collection will be available in a 10-piece set as well as individually. Items will be available at the BAPE STORE in Shibuya on May 14. The bundle is only available at the BAPE.COM web store, so check the special page for details.

New BE@RBRICK Released in Collaboration with 9090 and S.H.I.P&crew

To celebrate its fifth anniversary, the street brand 9090 by yutori has announced a triple collaboration with toy maker Medicom Toy and influencer Mika Oitsuki's project S.H.I.P&crew. The three have come together to create a new BE@RBRICK, and this unique figure will be available in limited quantities starting April 29, 2022.

The lineup includes street wall design stickers stating "THANK GOD I'M YOUNG" and "FAKE GHOST," along with stickers from the Com.yuta collaboration.

Are you a BE@RBRICK collector? Is this one you'd want to add to your shelf?

BE@RBRICK TM & ⓒ 2001-2022 MEDICOM TOY CORPORATION. All rights reserved.

From April 23 until May 15, 2022, the second floor of BAPEXCLUSIVE™️ Aoyama will host BAPE LOUNGE!

The store will display a selection of hand-picked items including lifestyle goods and interior items made with BAPE branding, as well as products made in collaboration with leading furniture brands. During the exhibition, visitors can not only see the items on display but can also order pieces of their own at the online store!

BAPE LOUNGE also features products made in collaboration with MODERNICA, an interior design company creating original pieces by utilizing mid-century craftsmanship techniques.

MODERNICA's shell chairs are still handmade in California, using machinery from the Zenith factory where the original was created in 1950. The company rehires craftsmen from that time to manufacture them, using not only the original process but also the same skills and know-how. The new shell chair is upholstered with ABC CAMO cushions that follow the shape of the seat surface, making it easy to sit for long periods of time comfortably. The coloring goes well with wooden furniture and will brighten up a variety of interiors!

BAPE LOUNGE will appear on the second floor of BAPEXCLUSIVE™️ in Aoyama, which is filled with archived BAPE items. It's worth a trip just to take a stroll around to see the many valuable items on display!

While BAPE LOUNGE is open, archived items will also be sold on the first floor. Don't miss out!

Information

BAPE®︎ LOUNGE

Open: April 23 – May 15, 2022
Venue: BAPEXCLUSIVE™️ Aoyama
Address: 5-5-8 Minamiaoyama, Minato-ku, Tokyo
Hours: 11:00-20:00
Advance reservations are required to attend. Click the link below to reserve a time.
https://a-bathing-ape.peatix.com/

British Jewelry Brand Stephen Einhorn Collaborates with A Bathing Ape for the First Time in 20 Years

A BATHING APE and Stephen Einhorn, a luxury jewelry brand based in London, have teamed up again after 20 years to create two items that clearly express the vision and creativity of both brands. The collection includes both a limited-edition collaboration ring and 'Fire Garden,' a unique candle holder.

The Stephen Einhorn x A BATHING APE®︎ Sterling Silver Ring features the BAPE®︎ logo and has a classy ergonomic shape with a 90s feel. Each item is handmade in a London workshop and is made sustainably.

The playful 'Fire Garden' candle holder features four monkeys holding their hands up to a flame, representing the discovery of fire. The monkeys and candle can be rearranged freely.

The packaging, developed by Stephen Einhorn, is a sustainable box made of 100% recyclable materials with environmentally friendly ink. The items are now on sale at Bape.com and at select locations in Japan.

Information

A BATHING APE®︎ × Stephen Einhorn

Release Date: March 19, 2022

Where to Buy: Bape.com

Available in Japan at BAPEXCLUSIVE™ Aoyama, BAPE STORE®︎ DSMG, CDG Osaka, Bape.com

Official Site: https://bape.com/pages/stephen-einhorn

Second Collaboration Between BE@RBRICK and Music Producer Nujabes Announced

Yen Town Market and Medicom Toy have announced two new BE@RBRICK figures inspired by the globally influential music producer Nujabes. Available in 100% and 400% sizes, these items will be released in limited quantities on March 25, 2022. This is the second collaboration between BE@RBRICK and Nujabes.

These new figures are decorated with the distinctive artwork of 'metaphorical music' from Nujabes' label Hydeout Productions. The first collaborative product, released last month, sold out on the same day. Given the global popularity of Nujabes, these will likely do the same. 

 

Yen Town Market also opened the Nujabes POPUP STORE 'World Tour' 2nd Collection last month. Be sure to check out the new products on sale at the official website!


More collaborations are expected soon, so keep an eye on Yen Town Market going forward!


BE@RBRICK TM & C 2001-2022 MEDICOM TOY CORPORATION. All rights reserved.


Information

BE@RBRICK Nujabes 'metaphorical music' (100% & 400%)
Price: ¥16,800 (Tax Included)
Where to Buy:
Yen Town Market https://yentownmarket.com/ 
Medicom Toy Retailers
Tokyo Skytree Town Solamachi
Medicom Toy Plus
2G TOKYO (Shibuya PARCO 2F)
2G OSAKA (Shinsaibashi PARCO 2F)
MCT TOKYO

Chogokin, BE@RBRICK, and BAPE Team Up for Triple Collaboration Figure

A triple collaboration of Medicom Toy's BE@RBRICK block-type figure, Chogokin, and A BATHING APE's signature camo will be released on March 12, 2022. The figure will be available at A BATHING APE retailers, BAPE.com, select Medicom toy shops, and select online shops.


The figure is light, and despite being made of alloy, it is completely smooth without screws or protrusions. Customers can snag it in either blue or pink.

BE@RBRICK TM & © 2001-2022 MEDICOM TOY CORPORATION. All rights reserved.

Information

BE@RBRICK x Chogokin

Release Date: March 12, 2022

Where to Buy: A BATHING APE® authorized retailers, BAPE.com Web Store, select Medicom toy stores, and online toy retailers