Night Strawberry Picking Tour Opens at Hoshino Resorts Risonare Atami in Shizuoka
The scenic Hoshino Resort Risonare Atami in Shizuoka Prefecture, known for its spectacular views and hot springs, will begin hosting Night Strawberry Tours, inviting couples to pick strawberries in an illuminated greenhouse from January 6 until March 30, 2023. The event is only available on even-numbered days, and only one couple per day can participate. Beni Hoppe Strawberries are a specialty of the area, and this is the 10th event of its kind. Fittingly, guests can enjoy their strawberries with 10 unique condiments. 
Enjoy Fresh Strawberries with 10 Condiments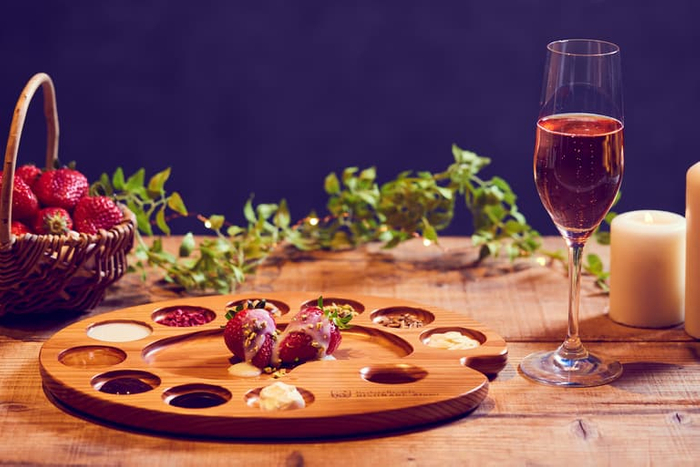 Guests can enjoy ten unique condiments with their strawberries, including condensed milk, mascarpone, and pistachio. When the mild flavor of condensed milk is combined with savory pistachios, the fresh, full-bodied sweetness of the Beni Hoppe strawberries reaches a new level. Visitors are welcome to ask the staff for the best combinations, or are welcome to experiment themselves!
Pick Strawberries at Night in a Private, Shimmering Greenhouse
After dinner, guests will leave the hotel to begin the Night Strawberry Tour. A red carpet is laid out in the illuminated greenhouse, and those taking part in the tour will enjoy strawberry picking as they sip a glass of rose champagne. 
See how Strawberries are Cultivated
Beni Hoppe strawberries are made by combining the Akihime and Sachinoka varieties. In Japanese, the name means red cheeks, and the name was inspired by the Japanese term hoppe ga ochiru*, meaning "my cheeks are falling off." This is often used to describe food that's extremely flavorful. These particular strawberries are award-winning, so visitors won't want to miss this exclusive experience!
*See Shizuoka Prefecture's official website for more information.
Information
Hoshino Resorts Risonare Atami – Night Strawberry Tour
Running: Even-numbered days from January 6, 2023 – March 30, 2023
Hours: 19:00-21:00
Price: ¥17,000 per person, reservation for 2 people (Tax Included)
Details/Reservations: https://risonare.com/atami/
RELATED ENTRIES
Enjoy a Hot Footbath Inside an Igloo with a Glass of Sweet Sake at Hoshino Resorts KAI Alps

Starting February 1, 2023, visitors to Nagano will be able to experience an unforgettable winter experience at Hoshino Resorts KAI Alps. The Kamakura Footbath will invite guests to soak their feet in a warm bath as they sit in a traditional Japanese igloo while sipping local amazake and enjoying the snowy scenery. 

Soak your Feet Inside a Hot Footbath Inside a Kamakura

During February when snowfall is the heaviest, these kamakura, or igloos, can be spotted in the hotel's courtyard. A private footbath is available inside each structure, which will keep guests from experiencing the cold wind. According to many, having a cool body and warm feet is the perfect recipe for a good night's sleep and good health.

Taste Amazake from a Local Brewery

Kurazukuri Amazake is brewed at Hokuan Brewery in Omachi, Nagano. Made exclusively from home-grown, expertly polished sake rice, the sweet beverage has a delicate flavor similar to wagashi. Why not warm your body from the inside out with this traditional drink?

Enjoy the Winter Landscape Illuminated by Bamboo Lights

Around each kamakura are a sea of bamboo lanterns, popular in the area. Guests can gaze out at the cold winter landscape beneath the awesome peaks of the Japanese Alps while pondering what the spring will bring. 

Information

Kamakura Footbath

Running: February 1 – 28, 2023
Price: ¥2,000 (Tax Included)
Reservations: https://hoshinoresorts.com/ja/hotels/kaialps/activities/9929/

*Reservations are required by noon the day before.
Time Slots: 18:00-18:45 / 19:00-19:45 / 20:00-20:45

Capacity: Up to 3 guests per session
*Must be staying at the hotel.
**Bookings may be canceled due to weather. 

Hoshino Resorts KAI Tsugaru in Aomori Prefecture to Hold Special Snow and Sake Event

Hoshino Resorts KAI Tsugaru, a hot-spring hotel located in Owani, Aomori Prefecture, will hold a special snow and sake event from February 1 until February 28, 2022. Hotel guests will be invited to enjoy drinks before dinner with a special winter twist–under a kamakura! A kamakura is the Japanese equivalent of an igloo, and local sake will be cooled by the snow as guests enjoy a glass while taking in the gorgeous scenery.

Famed author Osamu Dazai described the seven types of snowfall found in the Tsugaru region in his work Tsugaru. To allow visits to enjoy the many different types of snow in Aomori, seven unique sakes will be prepared and depending on the snowfall each day, the sake guests are served will change. This unique experience is sure to leave an impression. Who would you like to bring along?

Tsugaru Snow Lanterns

Seven lanterns designed by Iemasa Yamahata will be placed on the inside of the kamakura. Each has a different color and pattern and each is based on one of the seven types of snow: powdery snow, large snowflakes, grainy snow, watery snow, granular snow, sleet,  and crusted snow.

Information

Tsugaru Snow Festival

Running: February 1 – February 28, 2023
Price: ¥1,000 per set (Tax Included, 20 sets available per day)
Included: 1 glass of local sake, 2 scallop snacks
Venue: Hoshino Resorts KAI Tsugaru, Water Garden
Hours: 16:30-18:00
*Only available to hotel guests.
https://hoshinoresorts.com/ja/hotels/kaitsugaru/

Hoshino Resort Launches Oceanfront Onward Beach Resort Guam

Hoshino Resorts currently operates 56 facilities in Japan and abroad, and the company has just added another gorgeous property to the list. Starting March 30, Hoshino Resorts acquired all shares of the Onward Beach Resort Guam. Going forward, the hotel will undergo extensive renovations and will be relaunched as a Hoshino Resorts branded location. This is the fifth Hoshino property to be located overseas and the second in the United States. 

The Onward Beach Resort Guam is located 10 minutes by car from downtown Tumon. At the hotel, guests can enjoy a quiet stay away from the hustle and bustle of the city, with a private beach and unrivaled views of the sunset. 

 

The resort also boasts one of the largest water parks in Micronesia, where adults and children can enjoy themselves all day long. With plenty of chances to both relax and stay active, this is the perfect location for any travel lover!

Information

Onward Beach Resort Guam

Address: 445 Governor Carlos G. Camacho Rd. Tamuning, Guam 96913

Facilities: Water Park, Restaurants, Shops, etc.

Official Site: https://www.onwardguam.com/hotel/

Godzilla Escape Room Opens at Atami Bay Resort Korakuen in Shizuoka

In February, Godzilla fans were excited to hear that they would be tasked with protecting Atami Bay Resort Korakuen in a new escape room coming soon. Now, the Escape from Godzilla event has a starting date: May 27, 2022!

Atami Bay Resort Korakuen has been a familiar sight in Atami since 1965. The beautiful property sits on the gorgeous Sagami Bay, treating guests to unforgettable views. The Escape from Godzilla event will ask players to solve mysteries throughout the hotel. Visitors will need to explore rooms and sometimes interact with hotel staff to reach the end. SCRAP, known for its numerous crossover escape games, created the project.

Atami is the setting of the decisive battle in the 1962 film King Kong vs. Godzilla. 2022 is the 60th anniversary of the film, and guests are invited to enjoy an original story and original images showing Godzilla's attack on present-day Atami in cooperation with Toho.

Five original pieces of merchandise have been announced as part of the project. These Godzilla-themed items can only be purchased during the event.

Commemorative Puzzle Game Set: ¥2,300 (Tax Included) / Door Plate / Sticker / Hotel Keychain

Plush: ¥1,800 (Tax Included)

Fans can grab a commemorative set including a special Godzilla sticker, a hotel keychain, and a door plate perfect for decorating at home. Clear folders and celebratory stickers for escape room winners will also be available, along with special hand towels printed with a special Atami design.

Tickets for the event are now on sale!

Information

Real Escape Game – Godzilla vs. Atami Bay Resort Korakuen "Escape from Godzilla"

Venue: Atami Bay Resort Korakuen (10-1 Wadahamaminamicho, Atami, Shizuoka)
Running: May 27, 2022~

Special Event Site: https://realdgame.jp/atami-godzilla/

Cross Hotel Kyoto Offering Two Seasonal Strawberry Parfaits for a Limited Time

Cross Hotel Kyoto, a hotel under the ORIX Hotels & Resorts brand, has begun selling two seasonal parfaits at the KIHARU Brasserie Restaurant and Bar. The strawberry desserts will be available until May 5, 2022. 

KIHARU de Parfait – Lady Berry

KIHARU de Parfait – Lady Chocolat

Strawberry and Balsamic Cream Risotto

 

The Lady Berry is a gorgeous parfait combining strawberry-based sweet and sour sorbet and genoise with yogurt cream and black currant mousse. The Lady Chocolat has a more grown-up flavor and is made with chocolate cream, pistachios, and a rich rum-based mousse that goes well with wine.

The spring menu also includes a unique strawberry risotto, fusing the sweet and sour taste of strawberries and the saltiness of cheese. Other savory spring menu items will also be available for a limited time!

Information

KIHARU de Parfait

Available: March 9 – May 5, 2022

Location: KIHARU Brasserie Restaurant and Bar, 1F

Hoshino Resort Aomoriya Holds Cherry Blossom Viewing Event Under a Cozy Kotatsu

Hoshino Resort Aomoriya, an inn where visitors are invited to fully enjoy Aomori's culture, will begin its Hanami Kotatsu event from April 1 until May 31, 2022. Guests can enjoy local sake while warming themselves beneath a cozy kotatsu. In the chilly Aomori spring, a kotatsu) will be set up beneath the blooming trees for visitors to comfortably view the cherry blossoms. Hot-water bottles will also be available for rent if guests can a little too cold!

April in Aomori is spring according to the calendar, but it's still quite chilly. Nevertheless, the people of Aomori look forward to flower viewing to overcome the cold winter and enjoy the long-awaited arrival of spring.

Three Fun Additions to Make Cherry Blossom Viewing More Fun

1  A Traditional Umbrella with a Sakura Pattern

Next to each kotatsu is a row of Japanese umbrellas with cherry blossoms painted on them, spreading the pink cherry blossom imagery all around. When opened, the umbrellas are covered with cherry blossoms, making you feel as if you are under the cherry blossoms in full bloom.

2 Choose a Local Sake and Sake Cups for a Flower Viewing Sake Tower

Choose your favorite local sake and three sake cups to make a sake tower! Guests can choose from 10 Aomori sake brands, each with unique aromas and flavors. 

3 Cherry Blossom Patterned Cotton-Filled Hot Water Bottle for Extra Warmth

To keep extra warm beneath the kotatsu, a cotton blanket with a cherry blossom pattern and a hot-water bottle are available for rent. Doesn't it sound heavenly?

Sheraton Grande Tokyo Bay Hotel Cafe Toastina Offering Strawberry Sweets for a Limited Time

Cafe Toastina, located inside the Sheraton Grande Tokyo Bay Hotel in Chiba Prefecture, is now offering delicious and very photogenic strawberry sweets and baked goods until March 31, 2022! There are tons of different ways to enjoy the event: the Sheraton Sweets Box is filled with mini-sweets and is available to take with you, and the Friday Sweets Buffet will allow guests to enjoy as many treats as they can! A cute photo wall covered in strawberries will also serve as the perfect photo spot, so visit while you can.

Strawberry Champagne Mousse

Strawberry Mille-feuille

Strawberry Paris-Brest

Strawberry Milk France / Danish with Strawberry & Mascarpone Cream

Sheraton Sweets Box

Information

Strawberry Sweets & Bakery
Running: February 15 – March 31, 2022
Location: Cafe Toastina (Hotel 2F) 10:00-23:00

Friday Sweets Buffet
Running: Fridays from February 18 – March 25, 2022

Details/Reservations: https://toastina.sheratontokyobay.com/

Godzilla Escape Room to Open at Atami Bay Resort Korakuen in Spring

Escape rooms invite family and friends to solve exciting puzzles and riddles within a time limit, and have become massively popular around the world. Since the first one opened in 2007, over 8 million people in Japan have participated in one of these exciting events held everywhere from apartment buildings to amusement parks.

The Escape from Godzilla event will be held throughout the Atami Bay Resort Korakuen, and will ask players to solve mysteries throughout the hotel. Visitors will need to explore rooms and sometimes interact with hotel staff to reach the end. SCRAP, known for its numerous crossover escape games, created the project.

Atami is the setting of the decisive battle in the 1962 film King Kong vs. Godzilla. 2022 is the 60th anniversary of the film, and guests are invited to enjoy an original story and original images showing Godzilla's attack on present-day Atami in cooperation with Toho.


Keep an eye out for more details coming later in February!

©SCRAP TM & © TOHO CO., LTD.

Aman Tokyo Hotel Offering Strawberry Jewels Afternoon Tea

5-star hotel Aman Tokyo is now offering a strawberry-filled afternoon tea called 'Strawberry Jewels' through April 14, 2022. The event is underway at The Lounge by Aman on the hotel's 33rd floor. From strawberry sweets that look like jewels in a jewelry box to savory items and smoothies, the menu is filled with domestically grown strawberries with both a mellow sweetness and sourness. Guests can also enjoy as much Duval Leroy Brut Reserve Champagne as they like. 

In addition to the original three-tiered black bamboo tray, Aman Tokyo's special jewelry box containing jewel-like strawberry sweets will be personal-sized this year, and one will be provided to each table. You can enjoy two types of tarts, one with strawberries and cheese, and the other with strawberries and passion fruit. Guests can also enjoy smooth strawberry mousse and fresh strawberries to their heart's content.

The top of the three-tiered tray includes a waffle and chocolate bowl decorated with strawberry pugs and rich pistachio-flavored cream. Everything from rhubarb tarts to fresh mixed berries and strawberry jellies to macaroons decorate this magnificent tower.

The bottom of the tray includes savory items made with premium ingredients, including pork pastrami and flounder meuniere with scallop mousse. Each item is accented with strawberry powder.

Guests can also choose to enjoy the afternoon tea with unlimited champagne. Which item looks the tastiest? 

Aman Kyoto Offering the 'Art of Strawberry' Parfait with Eight Layers

Aman Kyoto has started selling the 'Art of Strawberry' until April 30, 2022. This year's eight-layered parfait in a strawberry-shaped bowl was incredibly successful last year, so it is making a triumphant return.

Mini Strawberry Pancakes

Executive Pastry Chef Hiroyuki Matsuo and his team hand-craft each of the delicate candy dishes, and when the lid is opened, fresh strawberries from Kamigamo, Kyoto greet guests. A sweet and sour strawberry compote and a light and fluffy genoise, elegantly sweetened Wasanbon cream, yuzu jelly and jam, and crunchy white chocolate cornflakes will excite the tastebuds. How would you like to try this luxurious dish?

Limited Time Atami Plum Cafe Opens at Risonare Atami Resort

Hoshino Resort Risonare Atami will open the Atami Plum Cafe from January 6 until March 11, 2022. Guests can experience the early arrival of spring beneath the plum blossoms, and at the cafe space on the top floor of the hotel, visitors can feast on a number of plum-inspired dishes. 

The Atami Plum Garden, located near the resort, is one of the most famous places in Japan to see plum blossoms early. The first blossoms usually open up in late November or early December, and this event will get people excited about welcoming the warmer spring months.

A false plum tree will welcome visitors to the cafe, and the ceiling will also be covered in lavender blossoms. The tables, chairs, and garlands are all themed to welcome spring, and the terrace will feature a plum-shaped kotatsu. Guests sitting beneath it can stay warm while gazing out at the vast ocean.

The Plum Gelato Plate features three varieties made with plum pulp, jam, and paste. Why not give it a try?

Plum Gelato Plate: ¥2,000 (Tax Included) *5 available per day

Information

Atami Plum Cafe

Running: January 6 – March 11, 2022
Hours: 10:00-22:00 (Last Order at 21:30)
*Adults Only (12 and up) after 21:00
Free Entry
Capacity: 40 seats 
*Visitors must be staying in the hotel. 

Official Site: https://risonare.com/atami/

Video Released of Winter Event at Hoshino Resort's Banta Cafe in Okinawa

Located in wonderfully warm Okinawa, Hoshino Resort is the perfect getaway for those wanting a warmer winter. The Banta Cafe overlooks the ocean, and from December 1, 2021, until January 31, 2022, the cafe is putting on the 'Illumi-Banta: Night Lights by the Sea' event. Of course, Illumi-Banta is a portmanteau of the words 'Illumination' and 'Banta,' but the Okinawan word iyumibanta means 'a cliff overlooking the fish.' The entire location, from the top of the cliff all the way to the sea, will be bathed in otherworldly light. A special menu is available during the event period, serving up food perfect for eating as guests wander by the seaside. A number of Okinawan workshops have also brought local craftsmen to the site to show off their creations.

Okinawa is warm in the winter, and this event has been perfect for those wanting to avoid being chilled to the bone during the holidays. For those unable to attend, the video above was filmed using a drone and shows the incredible heart of this event. Who knew that water could be so blue?

A Fantastic World of Light and Ocean Life

Banta Cafe sits on a cliff above the water, and the waters beneath it hide gorgeous coral reefs. Watch the sea come to life, as the ocean, white sand beach, and rock formations are illuminated. The lights will change colors during the daily light show along with the tides, giving a different impression depending on the time of day. The pavilion on the seaside terrace is also illuminated with motifs inspired by traditional Okinawan textiles.

Playful Plant Shadows

On the large roof deck located at the entrance, large fern and palm leaves have been arranged to welcome guests along with other plants local to Okinawa. Using lights, the shadows from these plants reach massive heights on the 4-meter high Ryukyu limestone walls. This takes shadow puppets to a whole new level!

Enjoy a Lantern-Lit Night Picnic

The night cafe will be selling a special Strolling Soup Set menu, inviting guests to venture out onto the sandy shore with a lantern in hand to enjoy a meal beside the sea. Guests can choose two of the available four soups along with a crispy baguette and herb butter.


Hours: 18:00-20:30 (Last Order)
Price: Strolling Soup Set for Two, ¥2,600

The Night Light Market, a Gathering of Proud Okinawan Artists

On Saturday nights from January 8 to January 29, the Night Light Market will bring various artists and craftsmen from Okinawa to the Hoshino Resort. These artists will be excited to share the culture of Okinawa and will offer a range of products made of locally sourced materials. Guests can even try their hand at local crafts at the indoor Gorogoro Lounge!

Running: Every Saturday Night from January 8 – January 29, 2022

Hours: 18:00-21:00

Information

Illumi-Banta
Running until January 31, 2022
*Running every Thursday during the event period except December 23 and 30. Closed December 17-21. 
Hours: 18:00-22:00 (Last Drink Order at 21:00)

*Event may be canceled in case of inclement weather.
Admission: Free admission with purchase at cafe or grill.

Official Site: https://banta-cafe.com