Each eating and drinking establishment located at GOOD MEAL MARKET on the 2nd floor of Laforet HARAJUKU will be offering a photogenic monster-themed Halloween menu that is limited to the Halloween season. These menus will only be available from Sunday 1st October to Tuesday 31st October. Laforet HARAJUKU will transform into Laforet Halloween,  offering Halloween events, Halloween-themed goods that you can preorder, and much more in order to raise your spirit for this spooky celebration!
Stunning presentation, filling and photogenic – let's dig into some of the menus!
CAFE CREPE /1F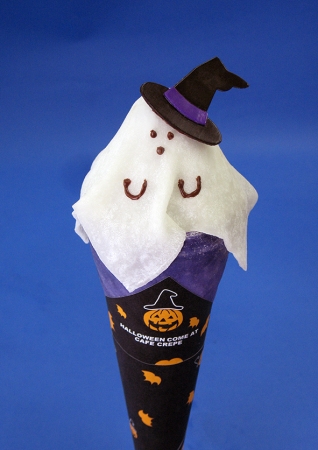 Ghost crepe ¥860(price including tax)
Pumpkin pudding, fresh cream, caramel sauce and pumpkin ice cream wrapped in a purple crepe, topped with a sweet and soft rice flour sheet. The cute expressions are done by hand!
MAX BRENNER CHOCOLATE PIZZA BAR /2F
Possible toppings
1 Ghost marshmallow = ¥100 (price including tax)
1 Jelly eyeball = ¥70 (price including tax)
These are the Halloween-limited toppings! Eyeballs made of milk jelly and ghost marshmallows – select your own toppings and create your own, original chocolate pizza!
※ Above is just an example of what you can make!
Onigiri stand Gyu! /2F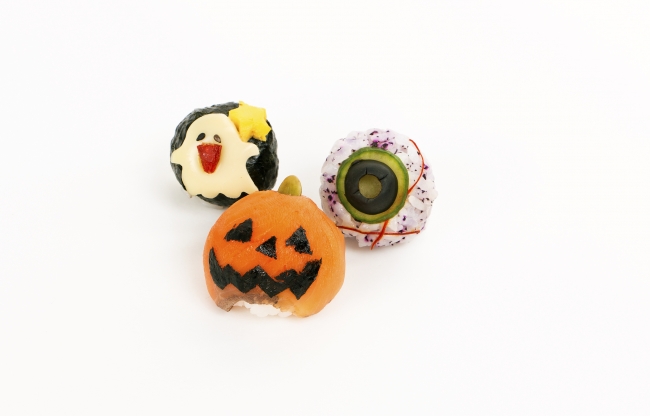 Halloween pack ¥648(price including tax)
Three varieties of temari onigiri!
The pumpkin-shaped onigiri contains salmon and wasabi mayonnaise. The eyeball onigiri is made with a base of rice and red perilla sprinkles. This base is topped with sesame seeds and olives and bundled up with thin slivers of red pepper. These monstrous onigiri are topped with sesame seeds, nori seaweed, egg and cheese.
Look out for the events going on too!
Guzman y Gomez /2F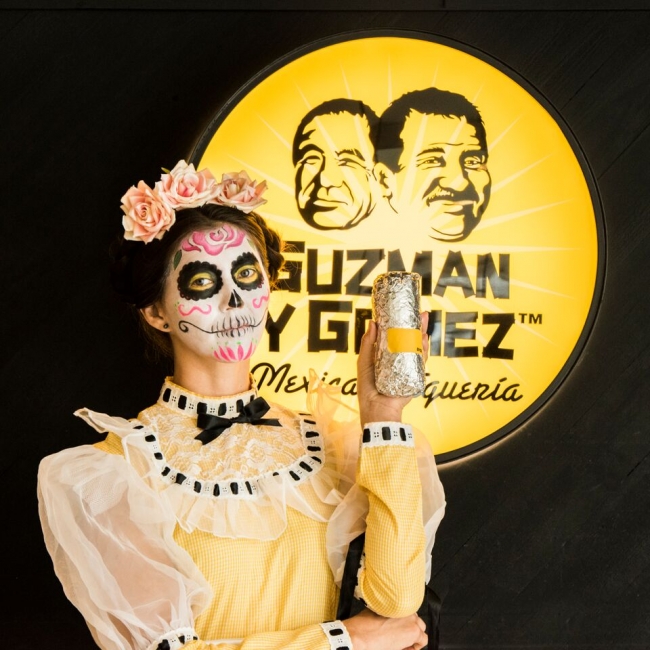 Event date/time:Tuesday 31st October 15:00 ~ 20:00
One of the top 10 most beautiful festivals in the whole world is going to be held at Laforet HARAJUKU! The Mexican "Dia de Muertos" (All Soul's Day) is not a day to fear death, but a day to enjoy a cute and pleasant Mexican Halloween. Those who purchase from the partaking stores during Laforet Halloween will be able to take part in Katrina the skeleton's face-painting event for free! From Monday 23rd October 〜 Tuesday 31st October, there will be traditional Mexican paper crafts (Papel picado), an altar decorated with colourful skeletons and many other special decorations. This is your chance to enjoy a Mexican Halloween!
1.5F / BeautiK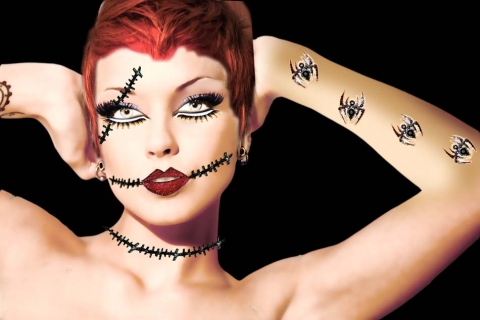 BeautiK has prepared a large array of items which are perfect for Halloween fashion, such as fake eyelashes, fake tattoos, masks, head accessories, gloves and much more. Make sure you upgrade your Halloween experience! At the front of the store, you can reserve an appointment for the Halloween makeup or nails service from ¥540 (price including tax).
Photogenic food, special events, crazy items and so much more – Laforet HARAJUKU is packed to the brim this Halloween, so make sure you have your fill!
■ Information
Laforet Halloween
Limited event period:Sunday 1st October to Tuesday 31st October 2017
Laforet HARAJUKU official site:http://www.laforet.ne.jp