Let's dress-up the squid characters from Splatoon 2! "Splatoon 2 kisekae Figure Collection" will be sold
Bandai Candy Business Division will sell a snack-toy, "Splatoon 2 Kisekae Figure Collection" (450 yen / tax not included) which contains the "gear" of the player characters from the game software, "Splatoon 2" from the 18th of December 2017 (Mon.) in the snack sections of convenience stores and supermarkets throughout Japan. Moreover, reservations of the product can be made from the 20th of September (Wed.) 13:00 at Premium Bandai and websites ahead of the official release date.
 "Splatoon 2" is a game software for Nintedo Switch (™) which was released on the 21st of July 2017. It is a very popular action shooting-game where the characters inside the game shoot ink at each other.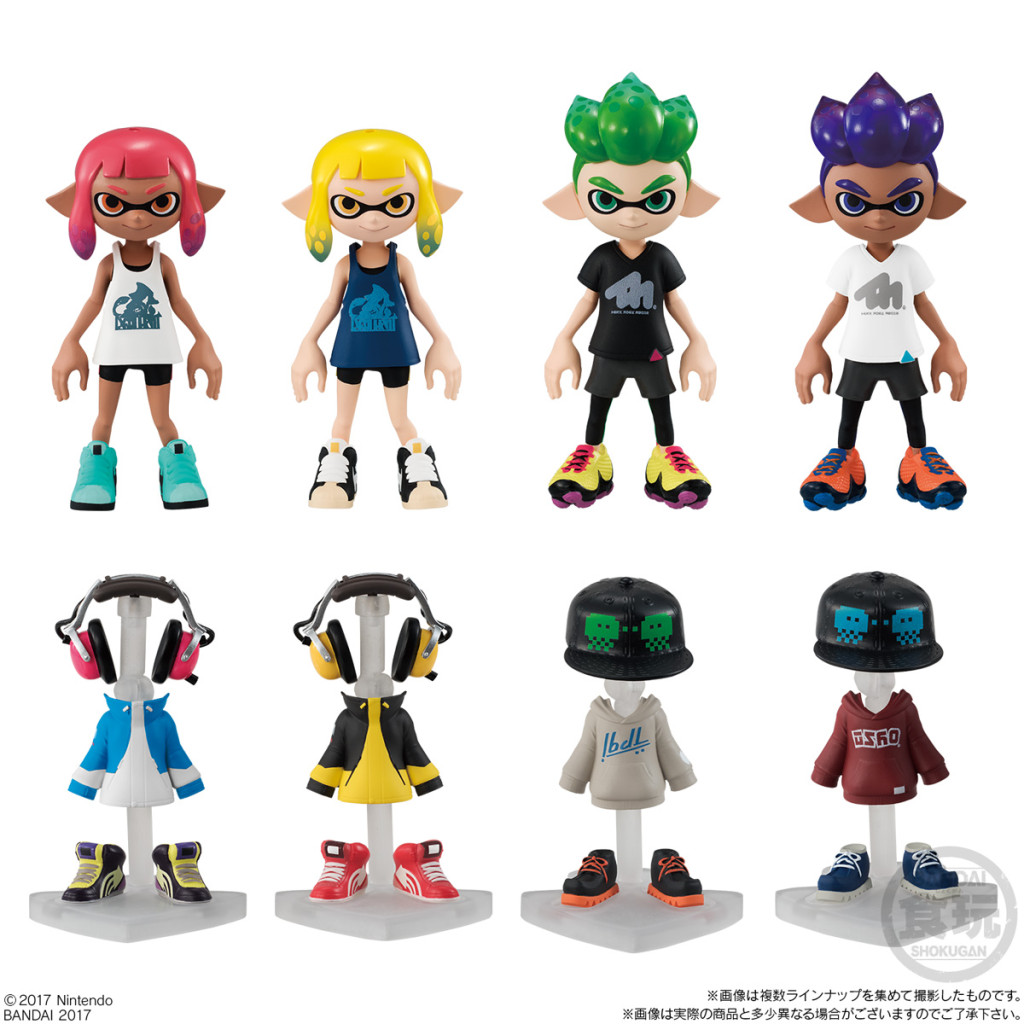 The product is a snack-toy collection figure which contains figures of "Boy & Girl" which appear in the game and "gears" that can alters the ability of each character. The purchasers of the product can enjoy various kinds of coordinations, the same as in the game, by dressing up the "Boy & Girl" with several "gears" such as "head / clothes/ Shoes."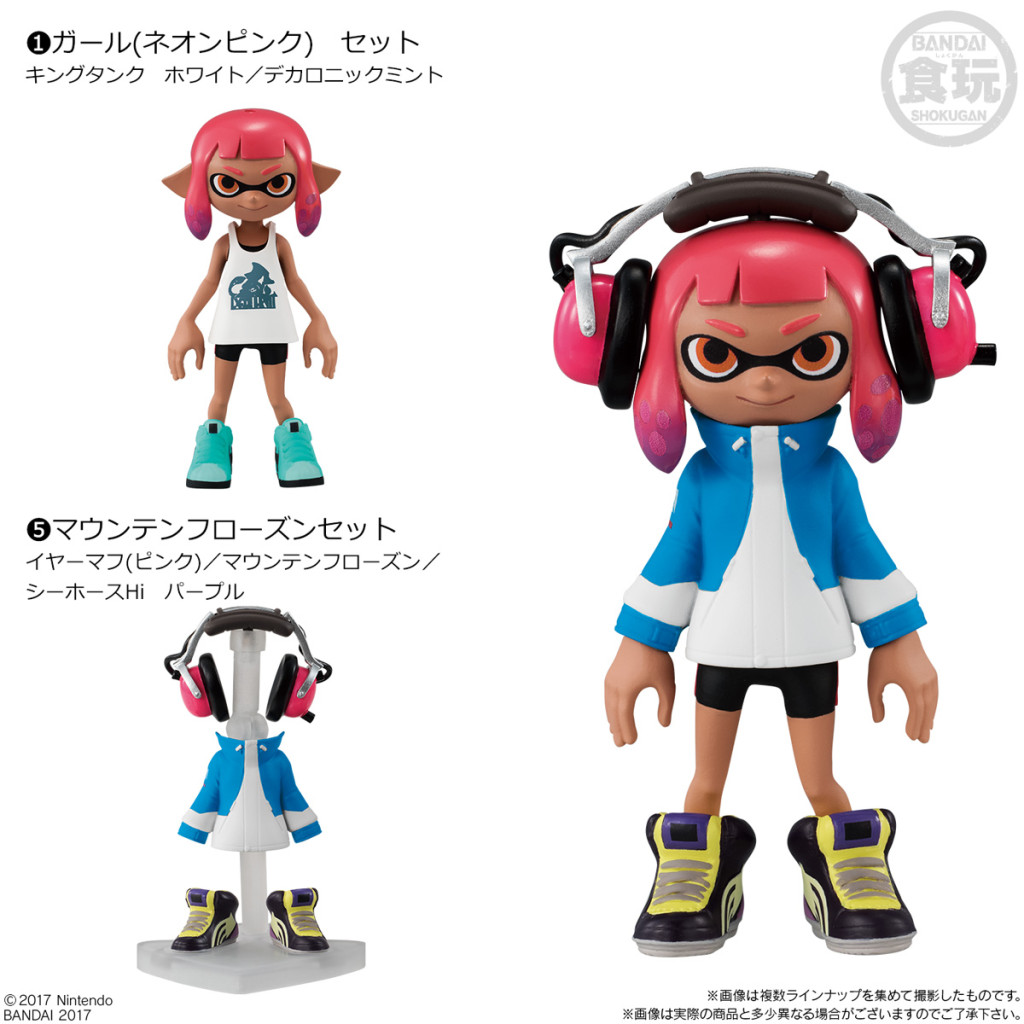 There are four kinds of "Figure (Boy or Girl) Gear Sets" and four kinds of "Gear and Display Base Sets" available. The hairstyle of "Boy & Girl" is same as the hairstyle which can be chosen in "Splatoon 2" and the product comes with figures who have different skin colors / hair colors, "Clothes" and "Shoes." The sets of gear and display includes "Head," "Clothes" and "Shoes" and the seat for the figure.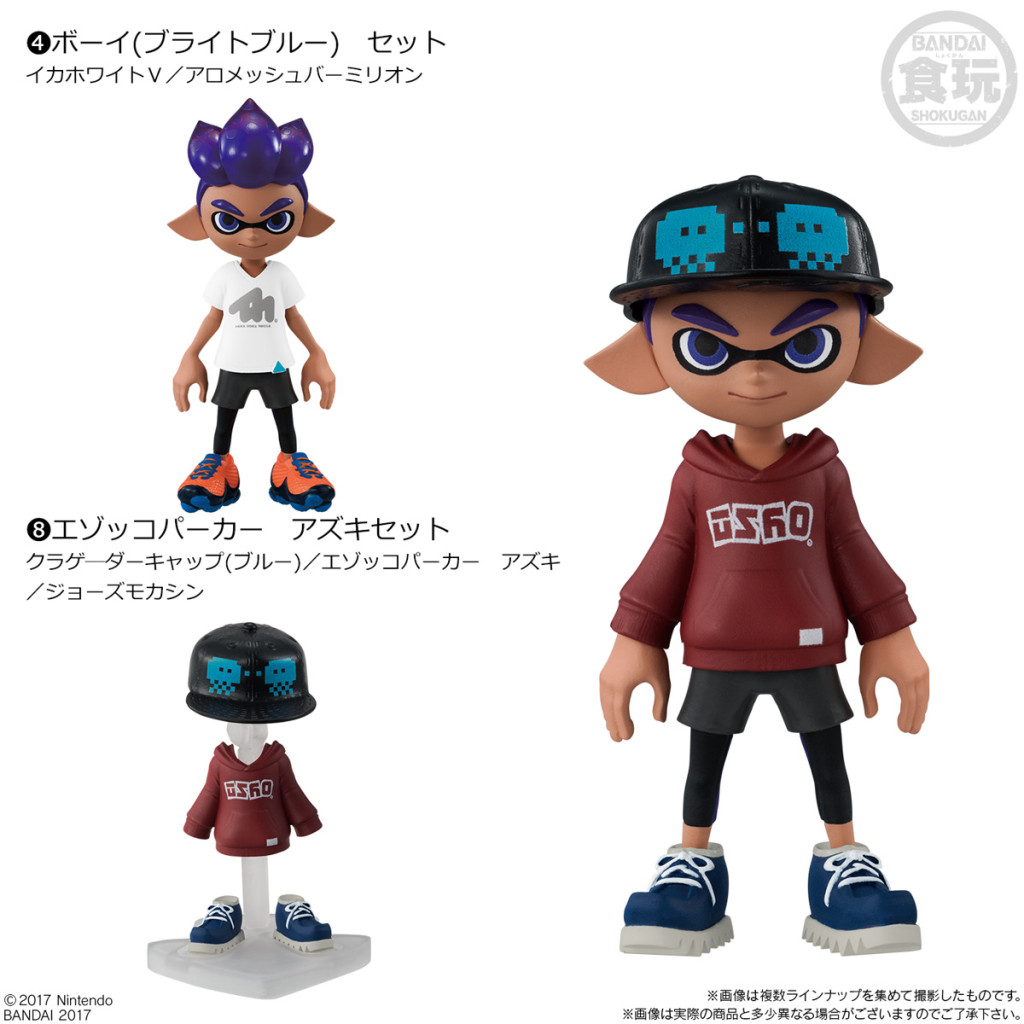 Every "Gear" can be attached to either Boy and Girl. The gears have been made precisely which means, for example, the winkles in the clothes and the texture of the shoes are built in a full-fledged manner.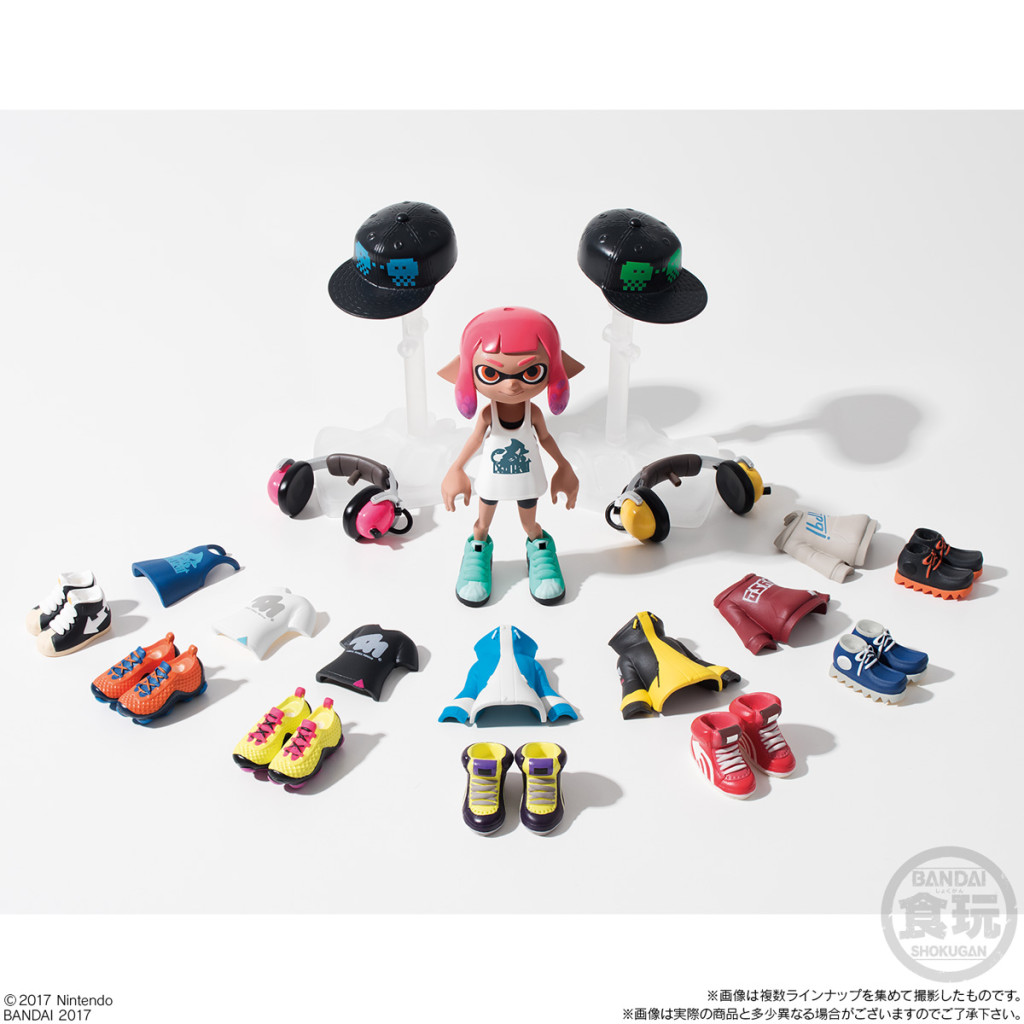 There are more than 1,000 ways of coordinating the characters!
Why don't you find your favorite coordination?
■Information
・Product name: Splatoon 2 Kisekae Gear Collection
 ( http://www.bandai.co.jp/candy/splatoon/ )
・Price: 450 yen
・Qualifying age: older than 15 years old
・Content of the product: Colored figures (eight kinds)
 (1) Girl (neon pink) set
 (2) Girl (neon yellow) set
 (3) Boy (neon green) set
 (4) Boy (bright blue) set
 (5) Mountain Frozen set
 (6) Mountain Noritamago set
 (7) Hota Parker Gray set
 (8) Ezokko Parker Azuki set
A piece of soda pop candy
・The size of the product: height 60mm × length 40mm
・Material of the product: product…PVC・ABS / seat…MABS
・Produced in China
・Available stores: snack corners in convenience stores and supermarkets throughout Japan, Premium Bandai and websites etc…
・Release date: 2017,12,18 (Mon.)
※Reservations can be made from the 20th of September 2017 (Wed.) 13:00
(C)2017 Nintendo
RELATED ENTRIES
Kyary Pamyu Pamyu Performs Theme Song for RPG Dark Tales ~Mirror and Mad Princess~

The smartphone game Dark Tales ~Mirror and Mad Princess~ was officially released on April 11, and the popular singer and talent Kyary Pamyu Pamyu performed the theme song for the title.

The dark RPG tells a tale of the loss of childlike innocence and was pre-downloaded over 1 million times. The theme song, Magical Mirror, was written and composed by Yasutaka Nakata.

Fans of the genre won't want to miss out on this mysterious mobile title!

Japanese Indie Game Label Yokaze to Hold Exhibition at Taipei Game Show

Japanese indie game label Yokaze will exhibit many anticipated upcoming titles at the 2023 Taipei Game Show. The event will be held in Taiwan from February 2 until February 5, 2023.

ghostpia


ghostpia's visuals mix warm, delicate art that would be fit for an illustrated children's book with glitch and noise effects, for a strangely nostalgic visual novel vibe. The story takes place in a snowy town where immortal "ghosts" live. When Sayoko, a girl who doesn't belong, meets Yoru, a newcomer to town, her world begins to change. Her thoughts begin to drift outside of the town, and certain events bring her back to a lost friendship. Filled with mystery and a bit of violence, this title is being touted as a movie you can read on PC.

Developer: Chosuido
Release Date: 2023
Platform: Nintendo Switch™/Steam, etc.
Website: https://ghostpia.xyz/

Recolit


Recolit is a pixel art mystery adventure game where players explore a strange town by following trails of light. After your spaceship crash lands in a mysterious place, you'll have to help the residents of the town as you explore and progress through the story.

Developer: Image Labo
Release Date: 2023
Platform: Steam/itch.io (Others planned)
Website: https://image-labo.com/recolit/

 

Kitsune: The Journey of Adashino

Kitsune: The Journey of Adashino is a 3D adventure game set in a mysterious version of Japan. One day, a fox girl and her frog friend find themselves on a mysterious island shrouded by darkness but for a few floating lights. Torii gates, food stall lanterns, and neon signs give light and color to the island. Something is lurking in the shadows, inching ever closer. Kitsune can use light to temporarily blind these demons, giving her enough time to find safe routes and hiding places. Be sure to enjoy this curious tale when it releases in the future!

Developer: Rias
Release Date: TBD
Platform: Nintendo Switch™/Steam (Others planned)
Website: https://www.foxandfrog.net/

Japanese Card Game SCOUT Nominated for German Game of the Year Award

The card game SCOUT, designed by Kei Kajino and developed overseas by Oink Games, was nominated for the Spiel des Jahres Award in Germany on May 23, 2022. The yearly award is given to a card or board game and is known as the highest honor in the world of tabletop games. This is the second time in seven years that a Japanese-designed game has been nominated.

 

The Spiel des Jahres Award has been given out each year since 1979. There are three categories: Game of the Year, Kids' Game of the Year, and Complex Game of the Year. Three board or card games are nominated from among those released in Germany in the previous year, and one is awarded the grand prize. The last Japanese game to be nominated was Machi Koro, a board game that has become extremely popular among Western audiences. The grand prize winner will be announced on July 16.


What is SCOUT?

You have suddenly been appointed as the leader of a circus. Using the members of your circus you must put together a show that will beat out your rivals. Everyone on your team has a specific role. To fill in the gaps on your team, try to scout members away from other circus groups! With the addition of just one extra person you may set off an incredible chain reaction that helps you create a show that no other circus will be able to surpass. Will you battle with your current members? Or will you wait it out and try to recruit different ones?

You will feel amazing when you make the right choices in this speedy card game!

A new version has just been released for players purchasing the game from outside of Japan. In Japan, the original version was released by One More Game.

Theme Song for Initial D The Arcade Arcade Finally Hits Streaming Services

Initial D The Arcade is the tenth game in the Initial D series. Released in February 2021, one particular song from the title has struck a chord with fans. After a long wait, SCRAMBLE EYES by MOTSU vs A-One, has finally been released on streaming services starting May 25!

 

SCRAMBLE EYES is a fast-paced track blended with sharp vocals and engaging rap. The speedy song is perfect for Initial D, bringing to mind being behind the wheel and driving at top speed. Fans have called the song addictive, and even those who aren't a fan of the game have been applauding the track across social media. 

 

MOTSU and A-One have both provided comments following the song's release.

 

MOTSU

The name SCRAMBLE EYES was inspired by the bright headlights plowing through the darkness during a particular stage in Initial D The Arcade.

I'd be so happy if the listeners could get the same tingling sensation I felt when I met A-One for the first time.

A-One

I'm so thankful to be able to create music for Initial D, a series that brought me so much joy as a child.

And collaborating with MOTSU? I absolutely adore him, so I put all of my energy into this track.

If you work hard and don't back down, your dreams will come true.

But one of my dreams hasn't come true yet–playing this song live!

MOTSU, let's do it someday!

Please enjoy this track and really feel the speed and excitement as you race towards your goals!

 

In 2023, an anime adaptation of MF Ghost, the sequel to Initial D, is scheduled to premiere. The series takes place in the 2020s, when self-driving cars are normal Japan, and focuses on Kanata Livington, a Japanese driver who goes back to Japan after graduating at the top of his class at a racing school in England.

Touhou Project and One Night Werewolf Collaboration Items Now Available

ARMA BIANCA, an online store specializing in original goods, is now taking orders for limited-time collaboration items between Touhou Project and One Night Werewolf!

Lineup

One Night Werewolf Collaboration – Pixel Art Ver.

Acrylic Stand

Preorder Purchase Bonus

Acrylic Keychain

Preorder Purchase Bonus

Pin

Preorder Purchase Bonus

T-Shirt

Hoodie

Clear Folder

Mug

Pen

 

One Night Werewolf is a card game where players take on the role of a Villager, a Werewolf, or a number of special characters with unique abilities. The goal is to figure out who the Werewolves are and to kill at least one in order to win!

The Touhou characters featured in the collaboration include Reimu Hakurei, Marisa Kirisame, Cirno, Youmu Konpaku, Sakuya Izayoi, Satori Komeiji, Koishi Komeiji, Remilia Scarlet, Flandre Scarlet, and Kagerou Imaizumi. 

Story Game Series POLARIS to Get Second Installment 'Inside Blue' in Summer 2022

POLARIS, the story game label started by NOMEETS, will get a second installment titled 'Inside Blue' this summer. Preorders will open at Spring Game Market 2022 on April 23 and April 24, 2022.

POLARIS is a story game label launched in the winter of 2021. Players become characters in the story, sometimes cooperating and sometimes betraying each other to arrive at their own unique endings. An incredibly immersive experience, the first work 'RED LINE' sold 400 units at Winter Game Market 2021, gaining tons of positive reviews. The title has over 300 different endings and a unique design like no other title before.

 

The second title 'Inside Blue' follows a group of high school students trying to solve a summer murder mystery in a small town. This is a massive change from 'RED LINE,' which was set in a world filled with humans and vampires in conflict. By interacting with townspeople, attending summer festivals, and enjoying vacation, how will you solve this bizarre and terrifying mystery? 

Information

POLARIS-02: Inside Blue
Price: ¥6,000 (Tax Included)
Release Date: Summer 2022
Total Play Time: Around 150 minutes
Number of Players: 5 (No Gamemaster required)
Official Site: https://polaris.game

Azur Lane Celebrating 4th Anniversary with New Apparel Collection by ZOZOTOWN

To commemorate the 4th anniversary of the popular smartphone game Azur Lane, the fashion shopping site ZOZOTOWN has launched a limited apparel collaboration exclusive on their website. The Azur Lane Black Collection will be available until March 18, 2022.

Azur Lane is a side-scrolling shoot 'em up RPG set in an alternate timeline of World War II. Using cute female characters based on warships to battle, the game is popular with players of all ages. 

Items at a Glance

ZOZOTOWN × Azur Lane Hoodie

ZOZOTOWN × Azur Lane T-shirt

ZOZOTOWN × Azur Lane Acrylic Stand

ZOZOTOWN × Azur Lane Character Blanket

ZOZOTOWN × Azur Lane Tapestry

Bonus – Original Pin

Lottery Prize: Super Large 50cm Acrylic Stand (Not for Sale)





The Azur Lane Black Collection features seven popular characters from the game–Friedrich der Große, Vittorio Veneto, Belfast, Bremerton, Atago, Ajax, and Unicorn. The illustrations were provided by Modare, Yatsuha, and Rag Miwano and were created exclusively for the collection. In addition to apparel, fans can also pick up acrylic stands, blankets, tapestries, and more.

For every item purchased, customers will receive one original pin. A large acrylic stand will be given away to seven lucky winners, so good luck!


Live Puzzle Game, 'The Little Wizard and Monsters,' to be Held in Cosplay City Matsudo

Ready to put your thinking caps on? Gather your best friends and head to Matsudo City in Chiba (about 40 minutes from Tokyo Station) for the real puzzle-solving game 'The Little Wizard and Monsters ~Enter the Costume Contest, ya hear?~, taking place from December 4, 2021, until March 27, 2022. During the event, guests will have to search for clues in the area around Yabashira Station on the Shin Keisei Line, as well as the 21st Century Forest and Square Park. 

The 21st Century Forest and Square Park and Yabashira Station are both very familiar to those in their 20s and 30s who love pop culture, and this event was planned in the hopes that people would learn more about the area. While attempting to solve the puzzle, guests will find plenty of very Instagrammable spots and locations perfect for cherry blossom viewing as well!

Information

Live Puzzle Game 'Little Wizard and Monsters' ~Enter the Costume Contest, ya hear?~

Running: December 4, 2021 – March 27, 2022

*Closed Mondays and During New Years Holiday (December 29 – January 3)

Hours: 10:00-16:30

Free to Enter

Official Site: https://nazotoki-plus.com/

Identity V x Death Note Crossover Launches

NetEase's multiplayer horror game Identity V is currently holding a crossover event with the anime series Death Note. Running until June 27, fans of the series can look forward to seeing some familiar faces in thrilling mind battles.

Death Note is a manga series written by Tsugumi Ohba and illustrated by Takeshi Obata which was serialised in Weekly Shonen Jump from 2003-2006. The manga has over 30 million copies in circulation. Its anime adaptation aired from 2006-2007. The story tells of a notebook called the Death Note where if you write someone's name in it they die. It is one of the most well-known series both in Japan and overseas. One of the aspects of the series that draws people in most are the mind battles between its two intellectual protagonists; Light Yagami and L.

Ryuk is a Shinigami, or Death God, and is the one who drops his Death Note into the human world which is eventually found by the protagonist Light Yagami. He did this on on purpose because he was bored one day and wanted to see what would happen if a human had a Death Note. In the game, he will pursue the Survivors.

Light Yagami, the protagonist of Death Note, finds the notebook one day and after discovering its secrets, decides to rid the world of criminals and people he deems villains under the guise of Kira. He will try to escape the Hunters in the game.

L is the second main character of Death Note. Known as the world's greatest detective, he is tasked with trying to discover why so many people are dying randomly in Japan and who this mysterious Kira is. He will fight against the Hunters.

Misa Amane is a fashion model and supporter of Kira. She also has her own Death Note and eventually becomes the Second Kira. In the game she will take on the role of an engineer and use her skills to make changes to the Manor.

A range of accessories, character actions, furniture, and more themed on Death Note are also rolling out as part of the crossover. Items include apples which are Ryuk's favourite, Misa's Death Note, Light's pen, L's handcuffs, and more.

Discover all kinds of mysterious during the event

The game is littered with mysterious to be discover and solved. Players can complete daily sign-ins to receive rewards such as Crossover Essence, collecting clues with L by participating in matches, and much more.

©大場つぐみ・小畑健/集英社・VAP・マッドハウス・NTV・D.N.ドリームパートナーズ

TOKYO MYSTERY CIRCUS Releases More Snoopy Merchandise as Part of SCRAP x SNOOPY Puzzle Game Project

As part of the second SCRAP x SNOOPY Puzzle Game Project taking place at TOKYO MYSTERY CIRCUSーthe world's first puzzle-themed theme parkーthe Shinjuku-based theme indoor theme park has its third batch of original and exclusive merchandise which is comprised of 8 new pieces.

This will be the final batch of merchandise made for the project, featuring illustrations of Snoopy, Charlie Brown, and other characters from Peanuts and themed around the puzzle game.

Puzzle Origami: ¥1,000

7 of the 8 origami designs come with their own puzzle. When you make your own Snoopy and Charlie Brown, the puzzle is completed too.

Puzzle Mirror: ¥1,000

Puzzle Folders: ¥900 Each

Puzzle Handkerchief: ¥1,200

The merchandise line-up sold at TOKYO MYSTERY CIRCUS is available to people not participating in the event too. The first two batches of merchandise are also available via the online SCRAP GOODS SHOP.

An English version of the second puzzle game, officially titled "Snoopy and the Secret Recipe," was released at TOKYO MYSTERY CIRCUS on June 11 so that English speakers can enjoy the event too.

© 2020 Peanuts Worldwide LLC

Information

SCRAP x SNOOPY Puzzle Game Project

Event Page: https://mysterycircus.jp/snoopy/en/

TOKYO MYSTERY CIRCUS

Address: APM Bldg., 1-27-5 Kabukicho, Shinjuku, Tokyo, 160-0021

Opening Hours: Weekdays 11:30-23:00 / Weekends & Holidays 09:30-23:00

No Fixed Holidays.

Price: Free Entry (*Separate tickets required for games)

TOKYO MYSTERY CIRCUS x Snoopy Official Website: https://mysterycircus.jp/snoopy/en/

Anime Crossover Mobile Game Dengeki Bunko: Crossing Void Releases Worldwide

Dengeki Bunko: Crossing Void is a turn-based RPG developed in collaboration by 91Act and SEGA. On November 5, 2019, the game service was made available in 24 countries worldwide across Europe, America, India, Oceania, and elsewhere.

Dengeki Bunko: Crossing Void is based on the 2D fighting game Dengeki Bunko: Fighting Climax Ignition, which was released on PlayStation®4, PlayStation®3, and PlayStation®Vita in 2015. The game features a roster of characters from Dengeki Bunko's multitude of light novel series.

The game was published in mainland China last August by Tencent and in Taiwan, Hong Kong and Macao last December by Net Publishing. It was also published in South Korea and 11 other southeast Asian countries by G-Mei, an umbrella company of 37Games, in April of this year. Together with the 24 new countries added on Tuesday, the game is now available in 40 countries and regions worldwide.

If you are a fan of titles such as Sword Art Online, A Certain Magical Index, and Shakugan no Shana, and have yet to experience the world of Dengeki Bunko: Crossing Void, you are in for an immersive treat.

©SEGA  ©2017 KADOKAWA ASCII MEDIA WORKS  ©91Act

Information

Dengeki Bunko: Crossing Void

Genre: Turn-based RPG

Release Date: November 5, 2019

Price: Free (Additional items available for purchase)

Developed by: 91Act / SEGA

Platforms: iOS/Android

Language: English

Available: North America, Canada, Brazil, Iceland, Ireland, UK, Italy, Austria, Holland, Switzerland, Sweden, Spain, Denmark, Germany, Finland, France, Portugal, Belgium, Russia, India, Australia, New Zealand, Turkey, South Africa

Official Website: https://crossingvoid.91act.com/

Gamers! Rally Your Teammates For A New Quest: TOKYO GAME SHOW

The TOKYO GAME SHOW is in a league of its own. It is a mecca for gamers who cannot get enough of Japanese games and entertainment. This is where Japan's major game publishers from all kinds of platforms unite to put on an enormous exhibition. 

This includes the opportunity to explore games that are yet to be released as well as hear new announcements about the direction developers are steering the future of gaming. There's no lagging behind. This is a major event for the gaming industry, raking in leagues of heroes every year. 

On August 28, a total of 2,417 game booths were announced, which is the largest number the event has ever seen in its history. This event is home to games on a range of platforms including for console, smartphone and PC. The enormous variety of genres includes the most cutting-edge and latest trends including Esports, VR and much more.

For those of you who love cosplay, this event is your chance to finally meet your fantasy. The outside area of Hall 9 will have a Cosplaying Area Stage where two events will take place: a cosplay fashion show and a gathering. 

On Saturday 14th, Hall 1 event stage will hold the Cosplay Collection Night@2019 event where participants and event staff will take over the stage in game character cosplay. Spectating is free, so feel free to watch as each cosplayer dominates the entire stage, showing off their excellent craftsmanship and skills as they walk the runway and strike a pose definitely worth saving in your highlights! 

On Sunday 15th at 2:30 pm, cosplayers will take to the stage in units of two or more to put on a dance or combat show that you just cannot critically miss out on. 

Schedule:

September 14 (Sat)  From 12:00 ー Cosplay Runway  From 15:30 ー Cosplay Runway

September 15 (Sun) From 13:30 ー Cosplay Runway From 14:30 ー Cosplay Dance and Combat Shows From 15:30 ー Cosplay Runway

The Gathering is where cosplayers can interact with one another and have photos taken ー the perfect opportunity to send those friend requests. On September 14, a gathering dedicated to the Final Fantasy Tales Series will take place on the Cosplay Area Stage. On September 15, there will be gatherings for the Dynasty Warriors and Samurai Warriors series.

Schedule:

September 14  13:00-13:30 Final Fantasy Series Gathering  14:00-15:00 Final Fantasy Tales Series Gathering 

September 15 12:30-13:00 Dynasty Warriors and Samurai Warriors Series Gathering

More information on the exhibitions, booths and events will be announced on the morning of September 12 so please check it out. 

There is no better way to multi kill your time than to spend the entire day at TOKYO GAME SHOW 2019 ー get your tickets and GLHF!

Information

TOKYO GAME SHOW 2019

Event Information

Business Days*: September 12 & 13, 2019 (10:00~17:00)

*Business Days are open to industry and press only.

Public Entry*: September 14 & 15, 2019  (10:00~17:00)

*Doors may open at 9:30 am according to conditions on the day.  

Venue: Makuhari Messe (Mihama Ward, Chiba)

Exhibition Halls 1-11/ Event Hall/ International Conference Hall

Entry Fee: Advanced tickets: ¥1,500 (after tax)

On The Door: ¥2,000 (after tax)

Those under Elementary School age can enter for free (public entry days only)

Official Website: https://expo.nikkeibp.co.jp/tgs/2019/en/