Festival Report: J-pop Culture Fans Blown Away at MOSHI MOSHI NIPPON FESTIVAL 2015 in Paris and London!
Massive two-day J-pop celebration MOSHI MOSHI NIPPON FESTIVAL 2015 took place at Le TRIANON in Paris, France on Oct. 3 and 4 and at Roundhouse in London, UK on Oct. 11, showcasing the best and latest of cutting-edge J-pop culture. The Paris edition welcomed over 3,000 J-culture fans while the London show drew over 2,500 people.
The first day of MOSHI MOSHI NIPPON FESTIVAL 2015 in PARIS kicked off with Charisma.com, a rising J-pop rap duo consisting of Gonchi and Itsuka, who appeared on stage with a French flag, and fittingly, a loaf of French bread in their hands.
The two-girl crew started the set with their hit single "GEORGE." Their energetic performance instantly got the attention of the whole audience and kept them engaged. They got more interactive during the performance of "Tongari Young" when they did their original pose called the "Tongari Pose" with the amused audience. After having a little bit of fun with the crowd with some call-and-response with the duo yelling "MOSHI MOSHI" and the crowd following "NIPPON!," they showered fans with a few more of their hit songs, including "Kongara Girl," "HATE" and "100% Booby."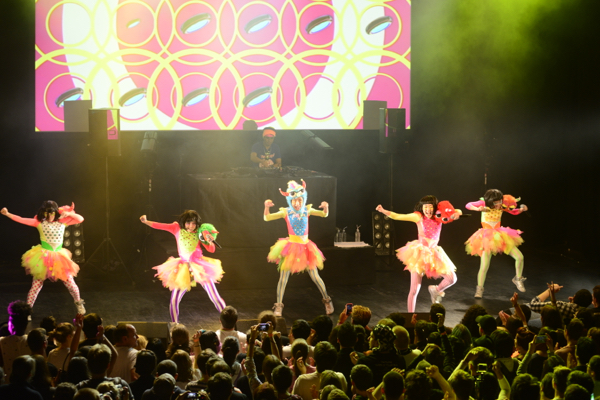 Next up was TEMPURA KIDZ. Their snappy dance moves kept the audience on their toes throughout the entire set. From "Suimin Busoku" to "CIDER CIDER," the group showcased a number of their hits. Charisma.com came back on stage and performed their collaboration song "Miira Killer," which revved up the crowd to a pitch of excitement. After singing "LOLLiPOP," they finished the powerful performance with a cover of Noriyuki Makihara's "Donna Tokimo."
The last band to perform on Day 1 was CAPSULE, who started their set with their well-known song titled "more more more," which was followed by a new tune, "Another World." Toshiko Koshijima, the vocalist, pumped up the crowd throughout their set, while Yasutaka Nakata showcased his DJ prowess. In the second half of the show, Toshiko greeted the crowd once again, and performed several catchy tunes such as "Starry Sky" and "White As Snow" before finishing Day 1 on a solid note with "Sugarless GiRL."
Day 2 started on a high with thousands of excited fans impatiently waiting for the opening act to start, calling out for the show to begin. In the response to their cheers and name calls, Cheeky Parade showered fans with a number of hits, including "C.P.U!?," "Chekera" and "Cheeky Fighter." The audience was very responsive, and everyone was having the time of their lives. They also surprised the audience by introducing themselves in French between songs. By the time they finished their performance, the whole venue was illuminated in hundreds of glow sticks. They were the perfect opener, and their performance of "M.O.N.ST@R" got the audience ready for another massive J-pop showcase.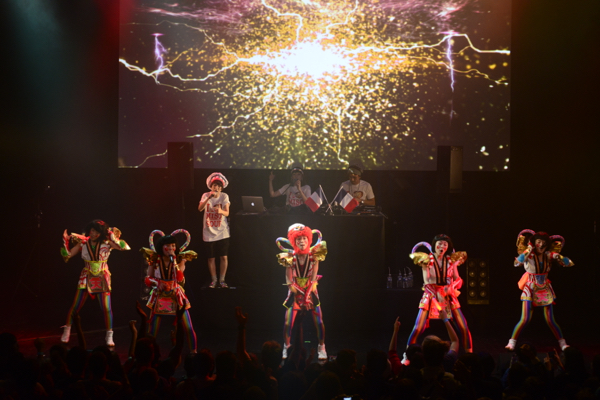 By the time Charisma.com appeared on stage two days in a row, the crowd was already dancing along to their songs. During their performance of "Tongari Young," Itsuka got the audience cheering by asking them a question "Super Subur!?" They even threw in a small ladder as a prop during "Otsubone Rock," and effortlessly moved onto their last song titled "100% Booby."
Next was the ever-lovable TEMPURA KIDZ, who wore different outfits from the previous day. After singing hit songs such as "Suimin Busoku," "LOLLiPOP" and "Happy Natsu Matsuri," they invited their "senpai" (or "senior") rap duo Charisma.com onto the stage and performed "Miira Killer" together.
WORLD ORDER was the headliner of the two-day event. Their dance performance was entertaining to watch and easily had the audience locked in. After performing "WORLD ORDER" and "BLUE BOUNDARY," leader Genki Sudo introduced each member to the audience. The last half of the concert included their hit single "Change Your Life" and solo dance performances. Their flawless dance moves got fans hooked throughout the show, which also included songs such as "FIND THE LIGHT" and "MACHINE CIVILIZATION." The band left the audience screaming from the top of their lungs, and the festival came to a sublime conclusion.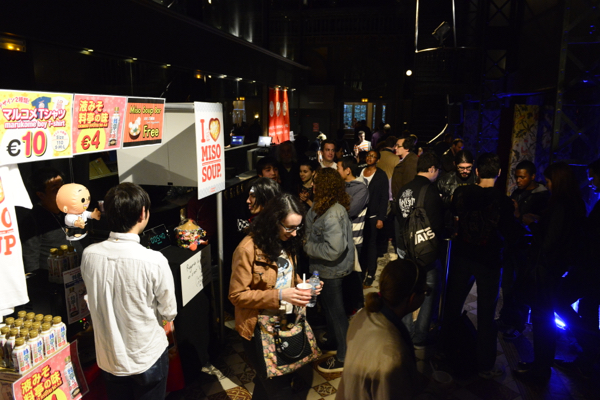 Over the course of the festival, there was an admission-free area at Le TRIANON, where visitors were able to try Japanese miso soup produced by marukome and MOSHI MOSHI INPPON, as well as get their hands on loads of made-in-Japan goodies at booths such as costume brand PURE and the Harajuku-based information centre MOSHI MOSHI BOX.
---
MOSHI MOSHI NIPPON FESTIVAL 2015 in LONDON, which took place in the English capital on Oct. 11, presented the freshest J-pop trends through a show on a mini stage and a number of booths. J-pop and "fashion monster" Kyary Pamyu Pamyu also came back to London to perform her third London concert – "KYARY PAMYU PAMYU CONCERT 2015 in LONDON."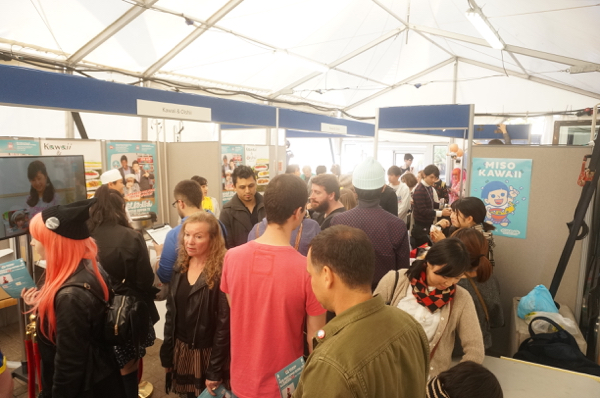 Japanese idol unit Musubizm performed a special set at MOSHI MOSHI NIPPON's mini stage, and had the audience dancing and bobbing along to their songs such as "Go Straight" and "ONE STEP." There was also a photo session with popular Sanrio character Gudetama.
The booth area also drew a large crowd. Booths such as the Kawaii & Oishii and marukome x MOSHI MOSHI NIPPON booths offered free rice balls and miso soup, repectively. Kyary Pamyu Pamyu Costume Exhibition booth had one of Kyary's iconic outfits on display, from the "Fashion Monster" music video, while the Japan Centre booth showcased the artistry of Japanese desserts, and MOSHI MOSHI NIPPON booth offered a wide range of Japanese gifts.
《Information》
■Details on upcoming "MOSHI MOSHI NIPPON FESTIVAL 2015" events
・MOSHI MOSHI NIPPON FESTIVAL 2015 in TOKYO
Date: Nov. 6 (Fri.) – 8 (Sun,), 2015  
Nov. 6: Open 4:00pm (main stage opens at 5:00pm and starts at 6:00pm)
Nov. 7 & 8: 12:00pm (main stage opens at 12:00pm and starts 2:00pm)
Venue: Tokyo Metropolitan Gymnasium (1-17-1 Sendagaya, Shibuya-ku, Tokyo)
 
▼Participating artists
Nov. 6【MOSHI ANI】
Afilia Saga・Shinjuku・TEMPURA KIDZ・drop・Hachioji P・Runa Haruna・May'n・Nagi Yanagi・Rinna Yoshida・Yun*chi livetune+・LinQ・Luce Twinkle Wink☆・Wasuta …and more
Nov. 7【MOSHI POP】
Misaki Iwasa・Osaka☆Shunkashuto・Caramel・Cupitron・Silent Siren・sora tob sakana・Cheeky Parade・Devil ANTHEM TEMPURA KIDZ・Shiho Namba・Niji no Conquistador・NEKO PUNCH・Hanae・Natsumi Hanaoka・Hayabusa・ PiiiiiiiN・Faint⋆Star・predia・Natsume Mito・Musubizm・Tsukasa Mogamigawa・Yamaguchi Kassei Gakuen・Lovely★DOLL LisaMelody, Devil ANTHEM, Faint Star PiiiiiiiN, Osaka☆Shunkashuto, predia and more…
8th【MOSHI COOL】
Leaders・AMIAYA・HSMS<HISASHI(GLAY)×DJ Mass MAD Izm*>・m-flo(DJ SET)・OOPARTZ・CAPSULE・Charisma.com・Kyary Pamyu Pamyu・CREAM ・CTS・Suiyobi no Campanella・DAISHI DANCE・TEMPURA KIDZ・TeddyLoid・TEMPURA KIDZ・hy4_4yh・vivid undress・MAAKIII・Una・Yoshida Brothers(Young brother Kenichi Yoshida)・RAM RIDER・WORLD ORDER and more…
 
◯Participating models(listed in Japanese alphabetical order)
Nov. 7【MOSHI POP】
Fumiko Aoyagi・Hiko Achinami・AMIAYA・Hitomi Ueno・Nana Ikeda・Miyu Ikeda・Airi Otsuka・Tetsuko Okuhira・Misa Kimura・Ren Koseki・Natsuko Kondo・Saki Sato・Saki Shibata・Hikari Shibata・Ayumi Seto・Shiho Takechi・Rina Tanaka・Ema Tanioku・Eri Tanioku・Asaka Taniguchi・Mai Nakaseko・Culumi Nakada・Himezawa・POCHI・MANON・Rinko Murata・Anna Yano・Yuna Yabe・Una・Yura・YuRi・Chisato Yoshiki・Ryucheru and more…
 
◯JAPAN FOOD FESTIVAL ※Free admission※
Niku Fes …and more
 
▼Admission(All prices include tax)
Advanced one-day ticket (Nov. 6) ¥4,320 (Nov. 7 or 8) ¥4,860
Nov. 7 & 8 two-day ticket ¥8,100 Three-day ticket ¥10,800
Free admission for foreign-passport holders!
>>Click here to register for the festival!
MOSHI MOSHI NIPPON FESTIVAL 2015 in TOKYO Official Website
http://fes15.moshimoshi-nippon.jp
MOSHI MOSHI NIPPON FESTIVAL 2015 in TOKYO Official English Website
http://fes15.moshimoshi-nippon.jp/en