Nao Iwamoto's popular manga series Gold Kingdom and Water Kingdom (Kin no Kuni Mizu no Kuni) topped Takarajimasha's Kono Manga ga Sugoi list for female readers in 2017. The long-awaited film adaptation will head to theaters on January 27, 2023.
The story involves two constantly bickering neighboring countries that eventually go to war, causing God to intervene. Country A is commanded to offer its most beautiful girl as a bride, while Country B is told to send its wisest young man as a groom. While this is going on, the princess of Country A has a chance encounter with a young man from Country B. Although the two begin to fall for each other, it's not easy to be honest about their feelings.
https://www.youtube.com/watch?v=ZxYh-ezfyDk
The first of four behind-the-scenes videos for the film has been released. These will include deep dives into the original work and story, the incredible cast, the director and staff, and the music. 
Actor Kento Kaku plays Naranbayar, while Minami Hamabe portrays Sarah. "Watching the film made me realize how immersive the story really is," Kaku said. Hamabe had a similarly impressed reaction. "The expressions and scenery gave me goosebumps," she said. Additional cast members include Hiroshi Kamiya as Saladin, the Gold Kingdom's Minister of the Left; Miyuki Sawashiro as Lailala; Subaru Kimura as Jauhara; Keiko Toda as Leopoldine, the Gold Kingdom's first princess; Masaki Terasoma as Oduni, the patriarch of the Water Kingdom; and Banjou Ginga as Rastavan III, the king of the Gold Kingdom.
The film is directed by Kotono Watanabe at Madhouse, who claims to love the original work. Evan Call, known for his work on Violet Evergarden, is providing the music, while Fumi Tsubota is acting as the scriptwriter. Nao Iwamoto, the original author, expressed excitement about the film.


Don't miss this unique love story in theaters January 27.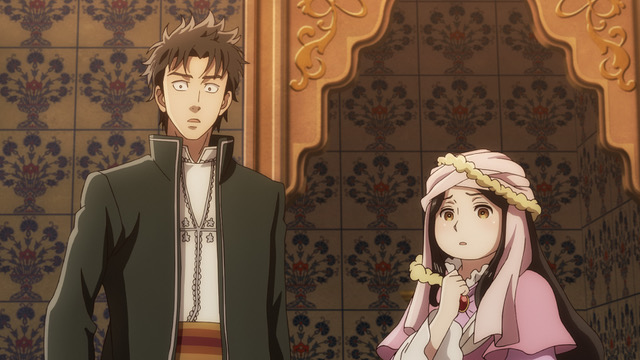 ©岩本ナオ/小学館  ©  2023「金の国 水の国」製作委員会 ※タイトルの間に半角スペース
Information
Gold Kingdom and Water Kingdom
In theaters January 27, 2023
Official Website: kinnokuni-mizunokuni-movie.jp

Twitter: @kinmizu_movie #GoldKingdomandWaterKingdom