SSSS. DYNAZENON Compilation Film to Open in Theaters March 10 for Two Weeks Only, Ticketholder Bonus Revealed
Ahead of the release of Gridman Universe on March 24, the SSSS.DYNAZENON Compilation Film will open in select theaters March 10 for two weeks only.
Those buying tickets will receive a special illustration card with a voice drama created by Akira Amemiya, the director of the SSSS series, while supplies last. The drama features the characters Yume Minami (voiced by Shion Wakayama) and Koyomi Yamanaka (voiced by Yuuichiro Umehara). A follow-up to the main story, fans won't want to miss it!
The special illustration features the characters Gauma, Yomogi Asanaka, Yume Minami, Koyomi Yamanaka, and Chise Asukagawa.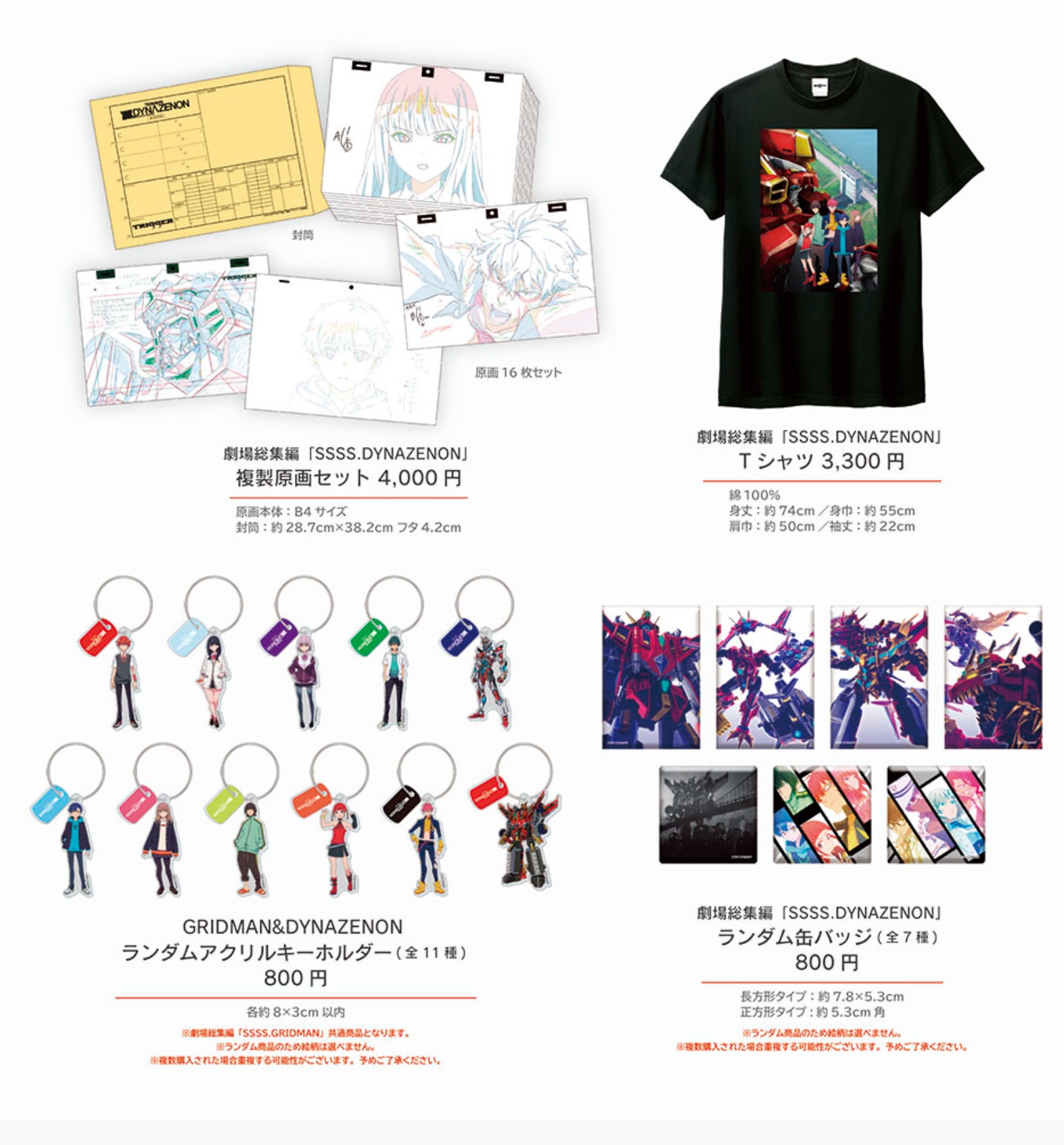 The SSSS.DYNAZENON pamphlet given to fans includes new interviews with director Yoshihiro Miyajima and Maaya Uchida, who sings the ending theme.
Fans shouldn't miss out on the SSSS.DYNAZENON theatrical compilation set, which includes 16 carefully selected pieces of reproduction art in a special bag.
A special pin featuring the jacket illustration on the SSSS.GRIDMAN Blu-ray release will also be available, along with those featuring the character song jacket illustrations.
The SSSS.DYNAZENON compilation film is being directed by Yoshihiro Miyajima, who served as assistant director on the anime series. The film will show a somewhat new interpretation of the story while keeping the same amount of action and human drama. You'll want to check it out before Gridman Universe hits theaters nationwide on March 24!
RELATED ENTRIES
Merchandise Inspired by SSSS.GRIDMAN Film Revealed, Rare Original Reproduction Images Shown

New merchandise has been revealed to coincide with the release of the SSSS.GRIDMAN compilation film on January 20, 2023. The film, along with the subsequent SSSS.DYNAZENON compilation film, will prepare fans for the original Gridman Universe film coming to theaters on March 24, 2023.

The SSSS.GRIDMAN film pamphlet features a summary of events seen in the film and includes new interviews with director Yoshiyuki Kaneko and singer Masayoshi Oishi.

SSSS.GRIDMAN Compilation Film Original Reproduction Image Set/SSSS.GRIDMAN Compilation Film T-Shirt/GRIDMAN & DYNAZENON Acrylic Keychain (11 varieties, random)/SSSS.GRIDMAN Compilation Film Pin (12 varieties, random)


The SSS.GRIDMAN Compilation Film Original Reproduction Image Set is a must-have item for fans, featuring 16 carefully-selected reproductions from the film in a special bag.

Plenty of other items are available for purchase including a commemorative T-shirt, keychains, and pins.

The SSSS.GRIDMAN compilation film is being directed by Yoshiyuki Kaneko, who served as assistant director on the anime series. The film will show a somewhat new interpretation of the story under this new direction.

Be sure to grab some of this exclusive merch before seeing the highly-anticipated original film Gridman Universe on March 24!

©円谷プロ ©2023 TRIGGER・雨宮哲/「劇場版グリッドマンユニバース」製作委員会

SSSS.GRIDMAN Compilation Film Bonuses Revealed

Based on the Tsuburaya Productions Gridman live-action tokusatsu series from 1993, the
SSSS.GRIDMAN anime series aired in October 2018. A sequel, SSSS.DYNAZENON, followed in April 2021.

Ahead of the release of GRIDMAN UNIVERSE, an all-new anime film coming in March, both SSSS.GRIDMAN and SSSS.DYNAZENON will be getting compilation films. Each will only be
in theaters for two weeks.

劇場総集編『SSSS.GRIDMAN』

The SSSS.GRIDMAN film will be in theaters starting January 20. Those buying tickets will
receive a special illustration card with a voice drama created by Akira Amemiya, the director of the SSSS series, while supplies last. The title of the drama is Hinekuremono Demo (Even if You're Cynical) starring Soma Saito (Sho Utsumi) and Hass (Akari Kito).

The newly-revealed illustration card's design features Yuta Hibiki, Sho Utsumi, Rikka
Takarada, and Akane Shinjo happily snapping photos.

SSSS.DYNAZENON will be released for two weeks starting March 10, and those buying
tickets will also get an illustration card and a special voice drama written by Akira Amemiya.

The SSSS.GRIDMAN compilation film is being directed by Yoshiyuki Kaneko, who served as assistant director on the anime series. The film will show a somewhat new interpretation of the story under his new direction. Both compilation films will include extra footage leading
up to the release of GRIDMAN UNIVERSE on March 24, 2023.

©円谷プロ ©2023 TRIGGER・雨宮哲/「劇場版グリッドマンユニバース」製作委員会

Information

SSSS.GRIDMAN Compilation Film
Limited 2-week screenings begin January 20, 2023
Admission Bonus: Illustrated Card with Voice Drama by Akira Amemiya
Official Website: https://ssss-movie.net/

Masayoshi Oishi's New Song 'uni-verse' Chosen as Theme Song for Gridman Universe Film

Masayoshi Oishi has announced the release date for his new EP Gift. Fans can expect to get their hands on it on March 8, 2023, and the song uni-verse will serve as the theme song for the Gridman Universe film coming to theaters on March 24.

 

Based on the Tsuburaya Productions Gridman live-action tokusatsu series from 1993, the SSSS.GRIDMAN anime series aired in October 2018. A sequel, SSSS.DYNAZENON, followed in April 2021. Characters from both series will appear in the new original film. 


The new EP Gift features seven tracks including Gift, the opening theme song for the anime series The Angel Next Door Spoils Me Rotten and the Azur Lane 5th anniversary song Aoi Hogeki. Be on the lookout for the newly-drawn anime cover!

Comment from Masayoshi Oishi

"I'm pleased to announce that I'll be performing the theme song for the upcoming Gridman Universe film!

I'm so incredibly honored, and I think that this song really fits with the story of the movie. 

The song was written, arranged, and sung by me. Please listen!"


SSSS.GRIDMAN and SSSS.DYNAZENON Get Compilation Films Prior to GRIDMAN UNIVERSE's Release

Based on the Tsuburaya Productions Gridman live-action tokusatsu series from 1993, the SSSS.GRIDMAN anime series aired in October 2018. A sequel, SSSS.DYNAZENON, followed in April 2021.

 

Ahead of the release of GRIDMAN UNIVERSE, an all-new anime film coming in March, both SSSS.GRIDMAN and SSSS.DYNAZENON will be getting compilation films. These will be perfect for those who want a refresher, or those who never watched the two series!

 

The SSSS.GRIDMAN compilation film will only be in select theaters for two weeks starting January 20, 2023. The compilation film for SSSS.DYNAZENON will also only be shown for two weeks starting March 10, 2023. Key visuals and trailers for both films have been released.

The SSSS.GRIDMAN compilation film is being directed by Yoshiyuki Kaneko, who served as assistant director on the anime series. The film will show a somewhat new interpretation of the story under this new direction. 

 

The compilation film for SSSS.DYNAZENON will be directed by Yoshihiro Miyajima, who also served as assistant director for the original anime series.

 

Those coming to see the films will receive a special illustration card with a voice drama created by Akira Amemiya while supplies last.

 

Both compilation films will include extra footage leading up to the release of GRIDMAN UNIVERSE on March 24, 2023. 

©円谷プロ ©2023 TRIGGER・雨宮哲/「劇場版グリッドマンユニバース」製作委員会

Gridman Universe to Premiere in March, Second Teaser Visual and Trailer Released

At the Gridman Universe Showcase on November 20, it was announced that the new movie will premiere on March 24, 2023!

The second teaser visual and a new trailer have also been released. In the available visuals, fans can see Yuta Hibiki and Rikka Takarada from SSSS.Gridman and Yomogi Asanaka and Yume Minami from SSSS.Dynazenon. 

First announced in June 2021, Gridman Universe will be a crossover between the SSSS.Gridman and SSSS.Dynazenon.

Fans of Gridman should look forward to this new film! Stay tuned for more announcements and details.

©円谷プロ ©2023 TRIGGER・雨宮哲/「劇場版グリッドマンユニバース」製作委員会

'SSSS.GRIDMAN x SSSS.DYNAZENON Special Night' Announced

On August 26, a special event will be held that SSSS fans won't want to miss. 'SSSS.GRIDMAN x SSSS.DYNAZENON Special Night' has been announced as a part of Ultra Heroes EXPO 2022 Summer Festival in Ikebukuro Sunshine City! This will be the first joint event between the two series.

From SSSS.GRIDMAN, Hikaru Midorikawa (Gridman) and Yuya Hirose (Yuta Hibiki) will take the stage, while Junya Enoki (Yomogi Asanaka) from SSSS.DYNAZENON will also appear. Gridman and Dynazenon will also be on display.


Tickets will go on sale starting August 13 at 10:00, so don't miss out if you're a fan of either series!

©円谷プロ ©2018 TRIGGER・雨宮哲/「GRIDMAN」製作委員会
©円谷プロ ©2021 TRIGGER・雨宮哲/「DYNAZENON」製作委員会

Information

SSSS. GRIDMAN x SSSS.DYNAZENON Special Night
Date: August 26, 2022
Doors Open at 18:30, Show Starts at 19:00
Venue: Ikebukuro Sunshine City Bunka Kaikan Bldg. 4F Exhibition Hall B

General Ticket sales start August 13 at 10:00
Tickets: https://eplus.jp/ssss_project_night/

Akane Shinjo from SSSS.GRIDMAN Inspires Pop-Up Store at Shibuya PARCO

From January 15 until January 30, a pop-up store inspired by the antagonist Akane Shinjo from Studio TRIGGER's SSSS.GRIDMAN series will open on the 6th floor of Shibuya PARCO at the Tokyo Otaku Mode TOKYO store.

SSSS.GRIDMAN, released in 2018, has become a global hit. This limited-time shop will sell goods related to the character Akane Shinjo, with many featuring newly-drawn illustrations. The shop will double as an exhibition, with original drawings and other pieces from the show's production available for guests to browse in the space. This was overseen by the team at Studio TRIGGER, the company behind the series. Certain surprises will also appear at the event, and a number of items will also be available for purchase online, so keep an eye out!

Masaru Sakamoto, the character designer and chief animation director for SSSS.GRIDMAN provided the original illustrations for the event. 

Ⓒ円谷プロ Ⓒ2018 TRIGGER・雨宮哲/「GRIDMAN」製作委員会   

Information

Akane Shinjo Exhibition

Running: January 15 – January 30, 2022

Address: Tokyo Otaku Mode TOKYO, Shibuya PARCO 6F (15-1 Udagawa-cho, Shibuya-ku, Tokyo)

Hours: 11:00-20:00

Online Shop: PARCO ONLINE STORE / Tokyo Otaku Mode TOKYO

GRIDMAN x DYNAZENON Film Announced, Akira Amemiya to Direct

The next project in the SSSS.Gridman universe will be GRIDMAN x DYNAZENON, a crossover feature film coming soon from Studio Trigger. The announcement was made on December 13. 

Studio Trigger launched the new Gridman Universe with SSSS.Gridman, which was loosely based on the 1993-94 tokusatsu drama series Gridman the Hyper Agent by Tsuburaya Productions. SSSS.Dynazenon, a sequel, aired in 2021. 

 

GRIDMAN×DYNAZENON Teaser Trailer

The director for both anime series Akira Amemiya will be returning to direct the upcoming film. The script will be written by Keiichi Hasegawa, while the character designs will be provided by Masaru Sakamoto. Music will be written by Shiro Sagisu. 

While the title has not been announced and details are still scarce, expectations are already incredibly eye. Keep an eye out for more information!

 

Comment from Akira Amemiya (Director)

A new GRIDMAN film has been announced.

As the first theatrical release in the series, I hope to make it accessible to as many people as possible. I'll do my best!

©円谷プロ ©2018 TRIGGER・雨宮哲/「GRIDMAN」製作委員会
©円谷プロ ©2021 TRIGGER・雨宮哲/「DYNAZENON」製作委員会

SSSS.DYNAZENON and SSSS.GRIDMAN Pop-Up Shops Open in Akihabara and Osaka

Two pop-up shops, the SSSS.DYNAZENON @ Dash Store and SSSS.GRIDMAN @ Dash Store, are now open at Animate Akihabara and Animate Osaka Nipponbashi until June 24. The stores are themed on Tsuburaya Productions and Studio Triggers' anime series SSSS.DYNAZENON, which began airing in April, and SSSS.GRIDMAN.

SSSS.DYNAZENON @ Dash Store

SSSS.GRIDMAN @ Dash Store

Fans of the series can get their hands on a range of pre-sale and exclusive merchandise. For every ¥2,000 spent, they can get their hands on one of five possible bromide illustrations, and if they spend over ¥3,000, they'll enter for a chance to win a special poster.

Bromides (5 Designs)

Special Poster

The Line-Up

Dash Store Exclusive T-Shirts | 5 Designs | ¥7,150 Each (Tax Included)

Dash Store Exclusive Bottles | 2 Designs | ¥2,200 Each (Tax Included) (All come with one of 3 possible illustrated cards)

Dash Store Exclusive Metal Sticker Sets | 2 Designs | DYNAZENON ¥1,320 – GRIDMAN ¥880 (Tax Included)

Dash Store Exclusive T-Shirt | ¥2,750 (Tax Included)

Dash Store Exclusive Stainless Thermo Tumbler | ¥2,750 (Tax Included)

Pre-Sale Acrylic Stands | 5 Designs | ¥1,980 Each (Tax Included)

Pre-Sale Tapestries | 5 Designs | ¥3,850 Each (Tax Included)

Pre-Sale Pin Set | DYNAZENON ¥1,320 – GRIDMAN ¥880 (Tax Included)

©円谷プロ ©2021 TRIGGER・雨宮哲/「DYNAZENON」製作委員会
©円谷プロ ©2018 TRIGGER・雨宮哲/「GRIDMAN」製作委員会

SSSS.GRIDMAN Greatest Hits Album to be Released

It has been almost exactly one year since popular TV anime SSSS.GRIDMAN came to screens across Japan. To commemorate, a greatest hits album title SSSS.GRIDMAN BEST ALBUM will be released.

The album will include the anime opening theme song UNION which was performed by musical group OxT, who are widely popular for their heroic anime songs. Other songs include the emotional ending theme song youthful beautiful which was performed by Maaya Uchida, which reflects the struggles faced by the young characters in their everyday lives. The album even contains character songs from the anime, giving even more reason for all fans to have it on their shelves.

No fan could resist getting their hands on this record after one look at the illustration for the CD cover. The album will be released on December 18, 2019. This goldmine of the best songs from the anime will be released on December 18, 2019, so be sure to check it out. 

ⒸTsuburaya Productions Ⓒ2018 TRIGGER, Akira Amemiya / "GRIDMAN" Production Committee

Information

SSSS.GRIDMAN BEST ALBUM

Release Date: December 18, 2019

Catalog No.: PCCG-01858 

Price: ¥2,727 (Before Tax)

Official Website: https://gridman.net

Event Report: SSSS.GRIDMAN Voice Cast Get Together For Anime's 2nd Special Event

SSSS.GRIDMAN SHOW 02, the second of a series of special events centred on the hit 2018 mecha series SSSS.GRIDMAN, was held at Culttz Kawasaki in Kawasaki, Kanagawa on May 26, 2019. Following up from the first event back in February, the second saw the voice cast appear once again along with an even bigger and better schedule packed full of surprises. This is a report of the evening portion of the event.

The voice cast line-up this time was even bigger than the last with each respective voice actor standing in front of an illustration of their respective characters: Yūya Hirose (who plays Yūta Hibiki), Hikaru Midorikawa (Gridman), Sōma Saitō (Shō Utsumi), Yume Miyamoto (Rikka Takarada), and more. Each of them gave a brief introducing of themselves before the room suddenly faded to black. It was then that Masayoshi Ōishi, the vocalist for music duo OxT, took to the stage to perform the TV edit version of t he anime's opening theme UNION.

Following the performance, the cast were given a time limit to draw their own original monsters. Thanks to a classy suggestion by Katsuyuki Konishi, who voices Max, series director Akira Amemiya quickly drew the "Culttzdon" (a pun on the name of the venue) while he was in the waiting room. It was clear for all to see that the cast and staff had a great relationship with each other.

During the event, a video message was also on screen from Maaya Uchida who performs the ending theme youthful beautiful. The cast also read lines out loud in character once again, continuing from where they left off at the first event.

At the end of the event when all the cast members left the stage, a message on the screen announced that a manga and novel spin-off will be released and that a live-action stage adaptation will arrive in spring 2020, causing the crowd to give a huge round of applause. Though the anime may have concluded, SSSS.GRIDMAN is clearly not over yet.

ⒸTsuburaya Productions Ⓒ2018 TRIGGER・Akira Amemiya / "GRIDMAN" Production Committee

Information

SSSS.GRIDMAN Live-Action Stage Adaptation
Coming Spring 2020

SSSS.GRIDMAN Official Website: https://gridman.net

Event Report: SSSS.GRIDMAN Show an Overwhelming Success, Follow-Up Show Announced

The first live event for the TV anime series SSSS.GRIDMAN titled "SSSS.GRIDMAN SHOW 01" was held at TFT Hall in Odaiba, Tokyo on February 3, 2019.


 
The event began with a screening of famous scenes from the show. Each member of the voice acting cast was then welcomed on stage one by one with huge rounds of applause: Yūya Hirose (who plays Yūta Hibiki), Hikaru Midorikawa (Gridman), Sōma Saitō (Shō Utsumi), Yume Miyamoto (Rikka Takarada), Reina Ueda (Akane Shinjō), Ryōsuke Takahashi (Samurai Calibur), Aoi Yūki (Borr), Masaya Matsukaze (Vit), Kenichi Suzumura (Anti/Gridknight), and Suzuko Mimori (Namiko).


Warning: This article contains spoilers for scenes in the series.

The event was led by actors Ryōsuke Takahashi and Masaya Matsukaze. It was accompanied by performances from Hirose, Saitō, Miyamoto and Ueda who each performed their own character's song. For Yūta's song voice actor Hirose got the crowd pumping by saying "I can't hear you!" Fans waved their red pen lights to each tune.


 
During the discussion each member from the cast looked back at their favourite scenes. Suzumura recalled episode ten when Anti, the character he voices, transforms into Gridknight. "Because special effects have been an important aspect for antiheroes for a very long time [laughs]. I was able to play both a Kaiju and the hero," he comments. He also gave a little behind-the-scenes insight, continuing: "I actually didn't know about Anti's transformation into Gridknight in the beginning. I originally auditioned for Samurai Calibur."


 
The cast also got into character to read some scenes aloud. Tetsu Inada, joined in too who voices the digital being Alexis Kerib. One scene included Akane Shinjō summoning a Kaiju after becoming offended. Alexis got the whole room to shout "Instance Abreaction" at which point Wooser from the TV anime series Wooser's Hand-to-Mouth Life suddenly appeared. Gridman appeared on stage, saying "We can't continue our reading like this," but he did not fight Wooser, instead escorting him away in a gentlemanly manner.

 
Anti showed his fighting spirit when Gridman walked on stage. Borr pointed out that "We don't have the budget to pay the GRIDMAN production team to make mascot costumes." However, a mascot dressed as Anti in his Kaiju form stepped on stage, delighting even the crowd. The atmosphere was truly one of a hero show.

The audience also called out the words "Access Code Gridman Calibar" at the call of Samurai Calibar at which his sword was sent to where Gridman was.


 
Gridman and Anti got into a heated battle. Fans cheered on with Gridman coming out as victor. It was a spectacular fusion of reading aloud and acting.


 
Music duo OxT came onto stage to perform a cover of the song Yume no Hero, the main theme for Gridman the Hyper Agent. Guitarist Tom-H@ck said, "I've really been looking forward to today, but we had to wait so long. I was worried our names weren't written down." Vocalist Masayoshi Ōishi invited laughs as he took out half a ticket on stage and said, "Even though our names were clearly written down it feels like we're being treated like secret guests.


 The two musicians continued with UNION, the opening theme for SSSS.GRIDMAN. Their performance ended with Ōishi doing the Access Flash pose.


 The voice cast returned to the stage to announce that a second show, SSSS.GRIDMAN SHOW 02, will take place on May 26, which drew cheers and a round of applause throughout the room. The event wrapped up with the screen showing the final live-action part of the series and announcing that a music video for UNION is currently in production. 

Information

SSSS.GRIDMAN SHOW 02
Date: May 26, 2019

*Full details TBA on the series's official website and Twitter.


SSSS.GRIDMAN Official Website: https://gridman.net/


©Tsuburaya Productions ©2018 TRIGGER・Akira Amemiya / "GRIDMAN" Production Committee