Illustrator Natsumi Sato Opens New Solo Exhibition
Natsumi Sato's "peloringirl series," featuring girls sticking out their tongues in vivid pop colors with a 90s feel, has become increasingly popular. On June 2, the artist opened a new solo exhibition at A.F GALLERY in Harajuku.
In addition to many of her past creations, visitors will also be able to see newly drawn works created especially for the exhibition, as well as works from the recently released NFT project City Pop TOKYO, for which Natsumi Sato acted as the character designer.
Sato is planning on holding exhibitions in Fukuoka and Osaka in the future.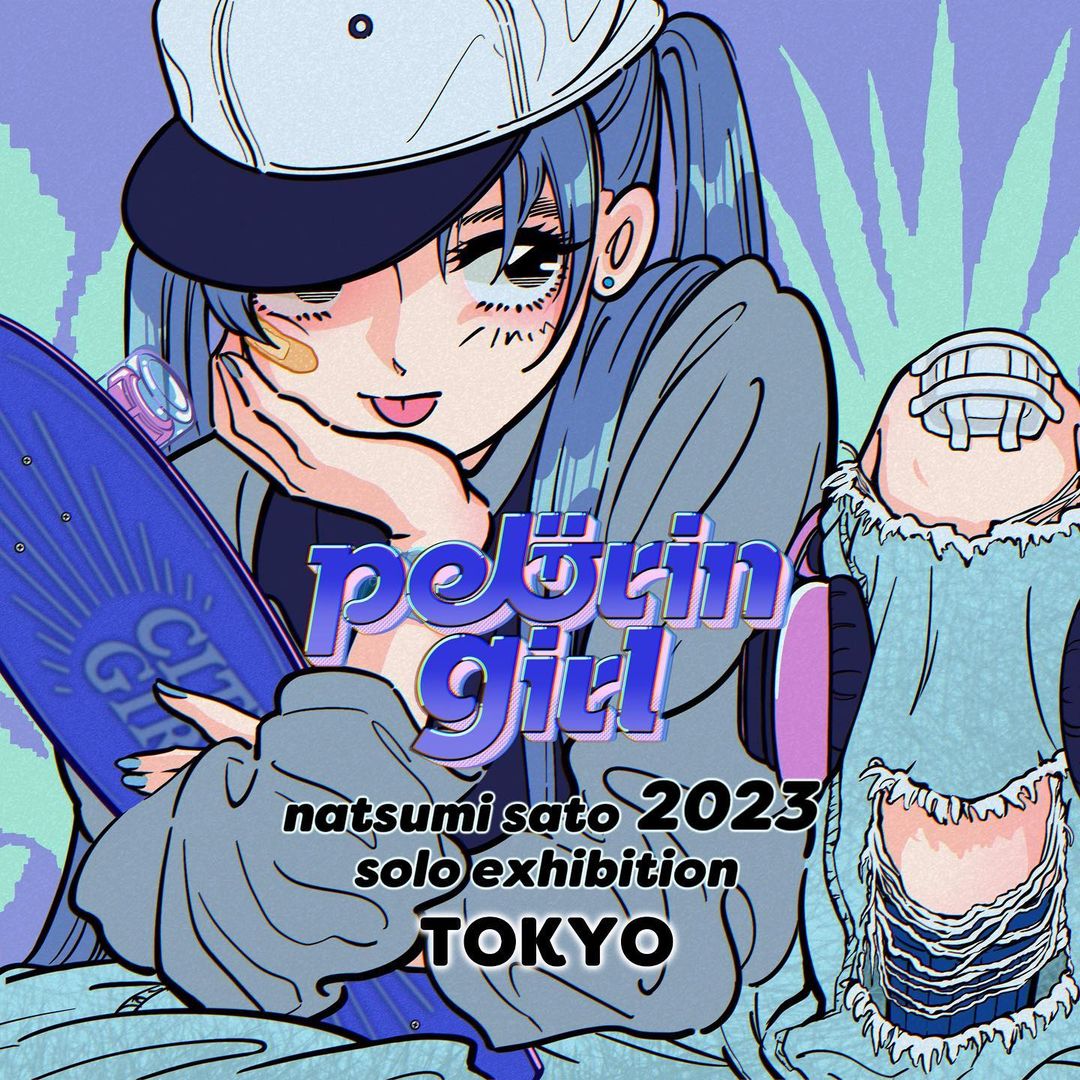 Information
Natsumi Sato Solo Exhibition TOKYO
Running: June 2 – June 16, 2023
Venue: A.F GALLERY (Tokyo)
Hours: 12:00-18:00
Admission: Free
■A.F GALLERY
Address: ASOBIFACTORY 1F (3-21-8 Jingumae, Shibuya-ku, Tokyo)
Map: https://goo.gl/maps/SsAJpwcTR3Z77bux8
■Natsumi Sato Gallery Visits
June 2 – June 4
June 10 – June 11
RELATED ENTRIES
Mitsui Shopping Park's LaLaport TOKYO-BAY to Collaborate with meeco

In collaboration with illustrator meeco, LaLaport TOKYO-BAY is currently holding the cashless 'AUTUMN FESTA 2023 Find Happiness;' event for the entire month of September.

In a special area of the shopping center, the latest fall items and fashions will be displayed along with an art exhibit dedicated to meeco's creations. Visitors will receive an original card featuring a new illustration by meeco (while supplies last).

Be sure to browse the special website for more details.

City Pop TOKYO Collaborates with Idol Group FRUITS ZIPPER to Produce Member-Inspired Legendary NFTs

The NFT project City Pop TOKYO is inspired, fittingly, by City Pop, a music genre from Japan that is immensely popular worldwide, particularly among Gen Z. Now, the project is collaborating with the incredibly popular idol group FRUITS ZIPPER!

Starting at the end of April, Legendary NFTs inspired by the members of FRUITS ZIPPER will be released sequentially as part of the City Pop TOKYO NFT collection. These collaborative NFTs feature rare designs that are unique among the other characters in the City Pop TOKYO NFT collection and were drawn by Natsumi Sato, the illustrator who oversaw character design for the collection.

This collaboration will commemorate the release of City Pop TOKYO's main collection, which will be available starting at the end of April. City Pop TOKYO will allow both NFT holders and non-holders to participate in new character development through a series of Twitter posts after the main NFT collection is sold. Characters will level up by earning training points when they post on Twitter, which will also be reflected in their NFT properties. The final ranking will be based on level, and a subsequent audition will be held, with winners being invited to join ASOBISYSTEM as new talents.

For this collaboration, the wildly popular FRUITS ZIPPER is sure to bring some new excitement to this incredible project.

Information

<Collaboration Details>
●Seven FRUITS ZIPPER NFTs inspired by the group's members will be added to the City Pop TOKYO collection as Legendary NFTs.
● Legendary NFTs were created by Natsumi Sato, the illustrator behind City Pop Tokyo. Each special edition release has its own unique parts.
● Unlike standard collections, Legendary NFTs will be sold via auction.

Available: April 19 at 21:00 ~ April 20 at 21:00
Amount Available: 7
Price: To be determined at auction

Below are the NFT designs. Illustrations will be sent to auction winners as NFTs.

<Special Benefits for Legendary NFT Holders>
● One NFT airdrop from City Pop TOKYO's main NFT collection
● Easier to accumulate XP points when developing characters on Twitter
● A 3D model from the Gemie Metaverse (Design to be selected from airdrops from the main collection)
●NFT airdrops of future collections (details to be announced as soon as the collections are available)
*Legendary NFTs cannot participate in the promotional game or audition.
*The images and designs of the characters may be used by the FRUITS ZIPPER and its members during their activities.

About City Pop TOKYO
City Pop TOKYO plans to release 1984 original NFTs based on City Pop, a music genre from Japan that is immensely popular worldwide, particularly among Gen Z. The project's characters are featured in trendy outfits and makeup representing symbolic fashion styles in Japan, such as GAL, SHOWA, and REIWA. After the NFTs are sold out, they can be registered as talents with ASOBISYSTEM and entered into the METAVERSE'S GOT TALENT NFT talent audition using Twitter! Successful entries will be invited to have full-fledged virtual careers, appearing in ads and releasing music. Community members can participate in surveys and vote on songs and other releases, coming together to help develop new talent.

Through this project, City Pop TOKYO will work to reaffirm the usefulness of Web 3.0 technology and NFT and further promote Japanese culture to people worldwide.

・Website: https://www.city-pop.tokyo/
・Twitter: @CityPopTokyoNFT
・Discord: https://www.city-pop.tokyo/

<Participating Businesses>

Kingdom Labs
Kingdom Labs is a venture studio that aims to support and invest in projects in the gaming and toC areas within the Web 3.0 domain. The company provides consistent support to entrepreneurs building innovative business models across various industries, from planning to execution. One of the company's key strategies is to partner with large companies that are expanding their business to Web 3.0 or that exist in a different area but hope to create Web 3.0 services. Kingdom Labs takes a unique, multi-disciplinary approach to maximize the interests of investors and partners, leverage its global team, and to grow its global portfolio and investment experience. The company also operates the world-renowned NFT collection Monkey Kingdom.

Representative: CSO Maurice Ng
URL: https://www.kingdomlabs.com/

UPBOND Inc.
UPBOND offers Wallet, which easily allows customers to manage their assets and connect to many Web 3.0 services. Its non-custodial wallet enables general consumers to easily engage with Web 3.0 marketplaces and allows enterprises to obtain customer information with its decentralized identity solution. UPBOND works with top-notch Japanese corporates to bring their business into this new frontier while also updating customer relationships.

Representative: Director Takashi Mizuoka
Head Office: 6-31-15 Jingumae, Shibuya-ku, Tokyo (8F)
URL: https://www.upbond.io

GEMIE
GEMIE is an Asian entertainment-focused metaverse platform inspired by fan culture. The company aims to help artists achieve their full potential by providing them with the tools, resources, and opportunities they need to reach their goals and allowing them to interact with fans from all over the world without limitations.
Comment: "Instead of holding a talent show by region or country, why don't we do it in the metaverse so there won't be any geographical locations – you will be surprised how many talented artists who are worth a shot are scattered in our everyday life!"

Representative: Co-founder John Fung

Hisashi Eguchi's Illustration Exhibition "Tokyo Girlfriend" Coming to Tokyo Midtown Hibiya, New Works to be Exhibited for the First Time

From March 14 until April 23, 2023, Tokyo Midtown Hibiya will hold Hisashi Eguchi's Tokyo Girlfriend illustration exhibition, set to show off the artist's unique perspectives on people and cityscapes. The exhibition will feature new illustrations of the titular girlfriend standing in the streets of Hibiya drawn especially for this exhibition, as well as various other girlfriends both large and small.

GING NANG BOYZ Kimi to Boku no Dai 3ji Taisen-teki Renai Kakumei CD Jacket (2005)

A LONG VACATION – Eiichi Ohtaki 40th Tribute Illustration (2021) ©2023 Eguchi Hisashi

Hisashi Eguchi, a manga artist and illustrator, continues to convey the charm of the city and its people by vividly depicting Tokyo and the many unique happenings within. As Tokyo Midtown Hibiya celebrates its 5th anniversary along with many other nearby businesses, the Tokyo Girlfriend exhibition of illustrations by Hisashi Eguchi is being held to celebrate.

The exhibition will feature a new painting of the mysterious girlfriend standing in the streets of Hibiya, newly created for the Tokyo Midtown Hibiya exhibition. A number of original pieces using Pantone overlay, Eguchi's favorite painting medium in the 80s and 90s, will also be on display for the first time.

During the exhibition period, guests can enjoy autograph sessions, live sketches in which Eguchi himself will draw a portrait of selected subject on the spot, and workshops where he will teach tips on how to be a better illustrator.

Don't miss your chance to meet one of the greatest illustrators of the modern era!

©2023 Eguchi Hisashi

BAPE KIDS®︎ Teams Up with Illustrator Chocomoo on New Kidswear Collection

BAPE KIDS®︎ is celebrating its 16th anniversary with a wholesome new collaboration with illustrator Chocomoo! The artist has become popular around the world for his pop style, and this new collection is sure to have kids heading to school in style.

The new items are available for kids of all ages and include everything from T-shirts and sweatshirts to skirts and rompers.

The design also incorporates the classic APE HEAD from A BATHING APE®︎, the popular BABY MILO®︎ character, and Chocomoo's heart character.

Chocomoo will participate in the special lookbook for this collaboration.

 

A triple collaboration with the popular zipper bag brand Pake®︎ is also underway. Some of the products will have special Pake®︎ packaging for a limited time.

The Chocomoo collaboration items will be available at authorized BAPE KIDS®︎ stores and the BAPE.COM web store starting December 17, 2022. 

Converse Sneakers Now Available with Designs by ASOBISYSTEM Illustrator Kayoubi

White atelier BY CONVERSE, a directly-managed Converse store in Tokyo and Fukuoka, is now offering a lineup of custom shoes featuring designs by illustrator Kayoubi.

Customers can create an original pair of shoes by choosing from a selection of four different illustrations, which can be placed on the outside of the shoe and the tongue.

These sneakers will be available online and at White atelier BY CONVERSE locations.

Information

Shoes: ALL STAR COLORS R HI
Price: ¥12,650
Sizes: 22.0-28.0cm, 29.0cm, 30.0cm
Available: December 1 – March 31, 2023
Locations: White atelier BY CONVERSE Harajuku / Fukuoka
Website: https://whiteatelier-by-converse.shop/

170 Artists Collaborate on VISIONS 2023 ILLUSTRATORS BOOK, On Sale Now

VISIONS 2023 ILLUSTRATORS BOOK, the newest edition of the popular art book edited by pixiv, was released on October 4, 2022. Art fans know the pixiv website as a place to share artwork, manga, and more. 

The VISIONS book series began publication in 2020, and the total number of copies sold worldwide has surpassed 150,000. The latest 2023 issue features works by 170 creators, allowing readers a glimpse into the current state of illustration today.

The cover art was drawn by Mika Pikazo, a character designer for many popular titles including Fire Emblem Engage, the latest in Nintendo's Fire Emblem series. Mika Pikazo has long been pursuing new forms of expression in digital art, including incorporating cubism. Digital art is often treated as something vastly different from traditional art such as paintings and sculptures, but the cover art of this book challenges this belief by blending digital and traditional art. Pikazo's vivid colors and exquisite brushwork are a must-see.

 

In addition to providing the cover art, a 7,000-word special interview with Mika Pikazo delving into his thoughts and vision can be found in the new book, providing a detailed view of what the digital art scene will look like in 2023.

12 Illustrators Collaborate on Flowers & Women Art Collection

An anthology illustration collection themed around women and flowers will be released in September 2022! The collection will contain 142 beautiful illustrations by 12 up-and-coming artists. Interviews with these artists will be included at the end of the book.

Image Collection

 

The images within range in style from girly and stylish to pop and cute, with each girl surrounded by flowers pulled from each season. The delicate brushwork and vivid colors of the popular artists will inspire the reader's creativity, so don't miss out on this book when it releases next month!

Participating Artists

Buchi / Keiko / YUE / potg / mashu / Minami / Niwa Haruki / Hinano / Yukorin / Suzu Sakuraba / Ayata / Toaruocha

Illustrator Umishima Senbon Opens First Solo Exhibition at pixiv WAEN GALLERY

'Rooms,' Umishima Senbon's first solo exhibition, is currently underway at the pixiv WAEN GALLERY by TWIN PLANET x pixiv until May 5, 2022!

Goods at a Glance

After working as a chief animation director and character designer, Umishima Senbon is now an illustrator and manga artist. This exhibition features approximately 70 illustrations on canvas to specifically highlight the artist's characteristic use of soft colors and delicate brush strokes. Some of the works will be swapped out during the second half of the exhibition, allowing visitors to see even more images–110 in total! Certain pieces will be available for purchase exclusively at the venue on a first-come, first-served basis.

History of OSAMU GOODS to be on Display in 'OSAMU GOODS 45th Anniversary Exhibition'

Palette Club, a school for illustrators located in Tsukiji, will be holding a 45th Anniversary exhibition for OSAMU GOODS! The characters were created in 1976 by Osamu Harada, who is from Tsukiji, and Dusty Miller. Items featuring these adorable characters are still incredibly popular to this day.

Exclusive Merchandise

Rare original drawings, prints, and goods from the 1970s to the 1990s, as well as Dusty Miller store bags and fan club newsletters, will be on display during the event. Those more nostalgic about these characters and those new to them will both find something to enjoy!

Information

OSAMU GOODS 45th Anniversary Exhibition

Running: April 12 – May 22, 2022

Hours: 13:00-19:00 (Last Entry at 18:30)
*Closed Mondays
Admission: Free

Venue: Palette Club School (4-11-10 Tsukiji, Chuo-ku, Tokyo)

Information: https://www.osamugoods.com/

Nostalgic and New Neo-Retro Illustrations to be Featured in New Book

Pie International will release Neo-Retro Illustrations: A Creator's Guide to Blending the New and Nostalgic on April 22, 2022.

In recent years, blending both nostalgic prints with modern sensibilities has become a popular trend in art, especially among young people. This "retro boom" has become a genre in itself, and this tome compiles some of the most incredible examples of this genre from 40 popular illustrators.

The book contains over 250 pieces of "neo-retro" art, blending past eras with futuristic colors and highlights.

 

The new book also includes interviews with the featured artists, providing a glimpse into their creative roots and personalities.  The cover illustration was done by NAKAKI PANTZ.

Featured Artists


AiLeeN / an / itousa / Inata / Inoue Noi / Oliwa / Sawako Kageyama / Kamin / Kisumi Rei / Guugorou / Kano Komori / Natsumi Sato / Michi / Sanho / Haruna Sudo / Soreeeeyu / tabi / Choo / TV♡CHANY / NAKAKI PANTZ / NANCYSNAKE / Nekopota. / noco / hachika / Hana Chatani / Hanabushi / Harawata Chanko / PHI / Catherine Hitachi / HOHOEMI / mawawiz / Mannen Mofuku / Hiro Mizuno / Monyochita Pomichi / Yoko / Rasuku / Rikku / RING / Rorurari / wacca

Hatsune Miku & 39Culture Collaboration Shop Release New Art by Popular Illustrators

The merchandise brand Cocollabo will be opening a special shop featuring Hatsune Miku and other Vocaloid goods, 39Culture 2022, at Shibuya LOFT starting March 4, 2022!

Illustration by Mo

Illustration by Hechima

Illustration by miyoru

Illustration by Mame Shinoda

Merchandise

Speedy Lottery

 

The theme for this year's 5th-anniversary event is 'fashion and music,' a throwback to the first event. Four illustrators–Mo, Hechima, miyoru, and Mame Shinoda–have contributed illustrations for the shop's goods, while koya and shu have written a theme song to liven up the venue! Miku fans, don't miss out!

Art by 藻/へちま/miyoru/篠田まめ (C) Crypton Future Media, INC. www.piapro.net

Information

Hatsune Miku x 39Culture 2022

Address: Shibuya LOFT 6F Art & Culture Floor

Dates: March 4 – March 20, 11:00-21:00 *Closing at 18:00 on March 20
Admission: Free

Event Theme Song: Yoru Uneru Koro Ni – koya/shu

Additional Venues:
Tenjin LOFT 5F General Sales Area: March 25 – April 10
Umeda LOFT 4F Event Space: April 14 – May 8
Sakae LOFT 4F General Sales Area: May 13 – May 25

Sapporo LOFT ESTA 6F Special Event Space: June 1 – June 14

Online Art Exhibition 'Creators Show Up' Announces Original Catalogue, Contest

The online art exhibition for artists from the current era 'Creator's Show Up Gallery Online' has announced the creation of a new original catalog, along with a contest to decide the best work from among the exhibitors' booths.

The original catalog will include the works of all exhibitors of the online gallery. The cover features a key visual drawn by najuko. For those wanting to be included in the catalog, register as an exhibitor on the site, and then register for a booth. Sales will begin on January 20, 2021 for a limited time only. 

Contest Details

A new contest is being held under the theme of 'the emergence of new talent.' Winners can snag prizes regardless of fame or achievements prior, and the top prize is ¥100,000 and a YouTube thumbnail created by singer-songwriter John/TOOBOE.