Nagomi to Serve as Image Model for PURIMANIA Purikura Machine
YouTuber Nagomi of Nakonako cp has been chosen as the image model for FuRyu's PURIMANIA purikura machine. The machines will be installed at entertainment facilities nationwide starting in early October.
The new model offers an exciting new sticker printing experience, with advanced retouching and makeup functions. Visitors can still look forward to the fun analog feel of creating and printing their own original stickers.
Nagomi visuals will be featured on the exterior of each machine.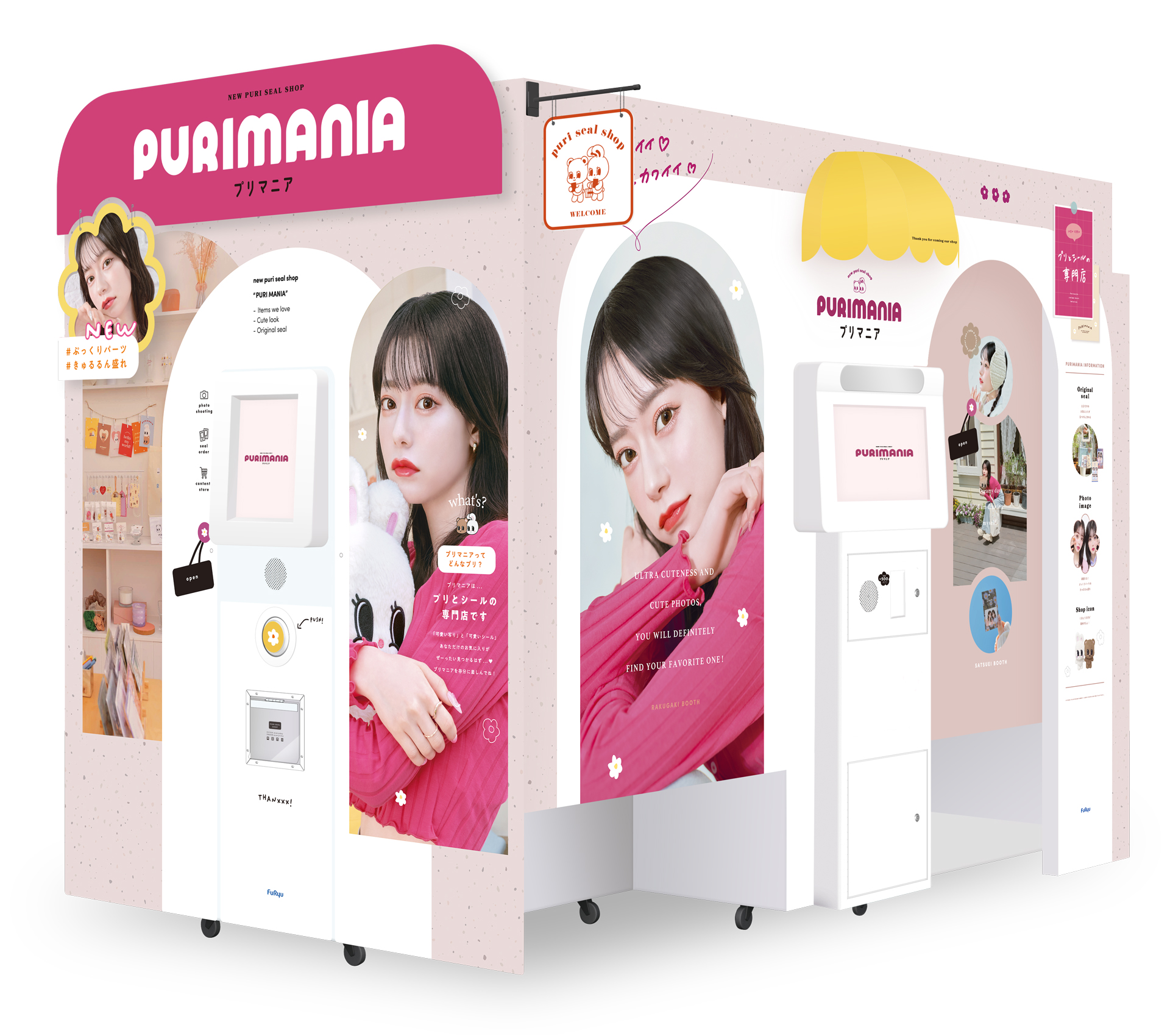 RELATED ENTRIES
Popular YouTuber Shou Takeyaki Sings The Yakuza's Guide to Babysitting's Opening Theme

The music video for Mirai no Hero Tachi e, the opening theme song for the anime series The Yakuza's Guide to Babysitting, has been released on Sho Takeyaki's YouTube channel. The track was the first anime song performed by the popular YouTuber, who has amassed over 2 million followers.

The music video was directed by Nora Inu, known for also directing Nanawo Akari's music videos. The video is a retrospective of Sho Takeyaki's journey to adulthood, interspersed with old photos. Fans won't want to miss it!

Comment from Shou Takeyaki

"My name is Shou Takeyaki, and I performed the theme song for The Yakuza's Guide to Babysitting. 

The lyrics of this song relate to the anime series so well–I thought it was a perfect fit when I heard about it.  I still remember when I finally saw the track overlap with the anime opening footage. That's when it felt real. 

It's a great song and was created with some incredibly talented musicians, so I hope you'll listen when you get a chance!"

The Yakuza's Guide to Babysitting manga series has sold over 1 million copies, and the anime series is now available to stream. Be sure to check out the manga on Comic ELMO.

©つきや・マイクロマガジン社/組長娘と世話係製作委員会

Information

Mirai no Hero Tachi e

Release Date: August 17, 2022

YouTuber Idol Group UNI Mello to Release First Original Song

In March 2022, UNI MELLO, a virtual YouTuber idol group, made its debut. A joint venture by Pony Canyon and Hello, the group will release its first original song Find out SHANGRI-LA on streaming services on September 28, 2022.

 

UNI Mello consists of seven members: Kaede, Sekai, You, Amane, Tomoka, Shirafuji, and Shun. Each has a unique hobby and skillset, and the members have continued to grow over the past six months. On the UNI Mello YouTube channel, the members have continuously posted singing videos, as well as daily streams. The group's first original song was announced at the September 18th event Uni Mello's First Offline Meeting, and the audience was beyond thrilled.

 

Find out SHANGRI-LA is a song filled with the member's dreams and hopes, and listeners are sure to want to embark on a new journey. The track is filled with solo parts, allowing each member to shine, as well as harmonies highlighting the cohesiveness of the seven members.

More original music is planned to be released in the future, so look forward to it!

(C)UNI Mello

YouTuber JULIA Collaborates with Disney Series Created by MOUSSY on Limited Edition Collection

High casual brand MOUSSY is teaming up with popular YouTube JULIA on a new collection! The new items will be available to order on a number of online storefronts starting March 30, 2022.


The limited-edition collection with 'Disney Series Created by MOUSSY' is being developed by JULIA, known for her YouTube series 'Julia in style.' 

A huge Disney fan, JULIA is one of the most popular Japanese creators on YouTube with over 650,000 subscribers. Known for her high-quality videos and personal style, she has become a huge influence on young women, with her fashion often being shown off in Look Book videos.

Julia wanted this collection to be more 'girly,' and those wanting to snag some of these pieces will notice plenty of ribbons.

The collection will feature a total of five items: a knit vest, sweatshirt, long-sleeve top, loungewear set, and hat. 

The knit vest, long sleeve top, and loungewear set feature Minnie Mouse, with keywords related to Minnie Mouse and Minnie Mouse used as accents.

The sweatshirt and hat featured embroidered artwork of Lady from Lady and the Tramp. Julia lives with her dog, which inspired her to feature an adorable puppy in this new collection.


JULIA Comment

"For this collection, I created along with MOUSSY, I decided to make five items designed with 'girliness' in mind.

 

I'm so happy to be able to share what I like to wear with everyone.


Each item is packed with special elements that can only be found in the Disney SERIES CREATED by MOUSSY and Julia collection, so please enjoy!"




©Disney

The Yakuza's Guide to Babysitting Reveals Opening Song by Sho Takeyaki

Sho Takeyaki has been chosen to sing the opening theme song for The Yakuza's Guide to Babysitting! The anime series will premiere July 7, 2022. Takeyaki, a popular Osaka-based video creator debuting in 2013, has nearly 2 million subscribers. The track is titled Mirai no Hero Tachi e (To Tomorrow's Heroes), and this is the first time the singer is performing an anime theme song.

The music was produced by ANCHOR, an up-and-coming creator who has provided and produced music for numerous anime series, voice actors, and games. Takeyaki's high voice really shines in this fast-paced rock tune that perfectly fits the content of the anime series.

You can hear a part of the opening theme in the second trailer for the series, so check it out!

The Yakuza's Guide to Babysitting Trailer #2

Sho Takeyaki Comment


"I'm Sho Takeyaki, and I'm in charge of the theme song for The Yakuza's Guide to Babysitting! I've always loved manga and anime, and I so happy to contribute to an anime series for the first time. It's surreal to see the characters moving to my music. This is a series that I'm familiar with, so I'm insanely excited. The song is meant to be refreshing and fit the show perfectly, so please enjoy the song along with the anime!"

SPINNS Collaborates with Popular YouTubers Uchira3shimai in New Autumn Visual

Uchira3shimai are featured in the Autumn season visual for apparel brand SPINNS. The new visual poster appeared in store and online on September 5 2021. Four Autumn visuals will be released, alongside a new collaboration collection.

Behind the Scenes

Collaboration Items

With over 490,000 subscribers, popular YouTubers Uchira3shimai have appeared in the SPINNS Autumn visual. The new collection is titled "○○○3shimai STYLE." The YouTubers are shown in some of SPINNS most trendy items, wearing caps, printed shirts, and flare pants.

You can easily spot the individuality of each sibling in this unmissable Autumn visual!

Hatsune Miku Features in Pocari Sweat Promotion as Official Ambassador

Otsuka Pharmaceutical released a 30-second video titled "Netsunarero" on their official YouTube channel on May 6 announcing Hatsune Miku and members of Leo/need from the Project Sekai Colorful Stage ft. Hatsune Miku mobile game as the official ambassadors for the Japanese sports drink Pocari Sweat.

The importance of "Netsunare"

The video stresses the importance of netsunare – sweating in order to get used to the heat during summer. Leading the promoting of this message is Hatsune Miku who is followed by Leo/need, MEIKO, Mirai Akari, Fuji Aoi, and YuNi. The video features the original song Waiting for Clear Weather created by Orangestar for the Project Sekai Colorful Stage ft. Hatsune Miku mobile game. The popular track has been streamed over 1.9 million times as of April 2021.

The Character Line-Up

Since December 2019, Otsuka Pharmaceutical has appointed Hatsune Miku, MEIKO, Leo/need, MEIKO, Mirai Akari, Fuji Aoi, YuNi, and other familiar faces as official ambassadors for Pocari Sweat to spread information on how to overcome Japan's hot summer weather to the world. It is part of the beyond2020 project which Otsuka describes: "With an eye to 2020 and beyond, this cultural program will contribute to the creation of a legacy befitting a maturing society that will make the next generation proud, through Japan's strength which consists of its local and diverse culture."

Leo/need from Project Sekai Colorful Stage ft. Hatsune Miku

Project Sekai Colorful Stage ft. Hatsune Miku is a mobile game for iOS/Android. The members of Leo/need include guitarist and vocalist Ichika Hoshino, keyboardist Saki Tenma, drummer Honami Mochizuki, and bassist Shino Hinomori. They will release their first single on June 9, 2021.

Twitter Campaign

Otsuka Pharmaceutical is also holding a Twitter campaign in Japan as part of the promotion where 200 random people can win a box of seven 500ml Pocari Sweat bottles for cooling down in the summer heat.

How to Sign Up

Step 1: Follow Pocari Sweat on Twitter @pocarisweat_jp

Step 2: Retweet or quote any of Pocari Sweat's posts featuring the hashtag #ネツナレろ ("Netsunarero")

Running: May 6, 2021 – May 19, 2021 (Japan Only)

Campaign Site: https://pocarisweat.jp/action/pocarimiku/netsunarero/

© SEGA / © CP / © CPM / © Mirai Akari Project / © YuNi / © Fuji Aoi

Virtual Singer YuNi Announces Release of Major Debut Album 'eternal journey'

Virtual singer YuNi has announced that her major debut album eternal journey will release on June 16, 2021, almost two years after the release of her previous album. She has also announced a solo concert this summer and released some new visuals to go alongside it. Details on the concert are TBA.

YuNi is a virtual singer produced by Activ8, a company that produces XR content and virtual talent.

eternal journey First Press Limited Edition | CD+DVD+2 Bonus Tracks | Release Date: June 16, 2021

eternal journey RegularEdition | CD-Pnly | Release Date: June 16, 2021

kirai Now On Sale (Digital Release)

YuNi claims herself to be a pioneer of the virtual singing world. Her song Kokoro Knock was used as an ending theme for the anime series Uzaki-chan Wants to Hang Out! last year. Her major debut album will bring the singer to new heights. Its title, eternal journey, was previously used as the title of her VR live concert held in October last year. The record will be released with First Press Limited Edition and Regular Edition copies with a track list that collaborates with a variety of Vocaloid producers, music artists, and more. The Limited Edition version includes a music video and two bonus tracks. Both editions' CD covers were designed by Sakuragi Ren. The album also sees YuNi writing her own lyrics for the first time.

YuNi's song kirai from the album was released digitally on April 16. Produced by DJ'TEKINA//SOMETHING a.k.a Yuyo Yuppe, the electro pop number is an upbeat and positive trip with YuNi as bright and energetic as ever.4

©️YuNi

Japanese YouTuber Saaya Releases Oil Rich Tint Lipsticks From Her Brand Lillua

The Japanese cosmetics brand Lillua launched a new collection of four "Oil Rich Tint" lipsticks on Monday (February 22). The brand is produced by Direct Tech in collaboration with the popular beauty YouTuber Saaya.




Saaya is a popular beauty guru and influencer from Japan. She has over 2.14 million followers across her social media pages including 1.23 million subscribers on YouTube (as of February 22, 2021). On her main YouTube channel, she posts how-to videos on hair and makeup as well as content related to fashion, videos with her siblings, and more.

Saaya launched Lillua to support people to become the person they want to be – someone who they love even more than they did yesterday. The brand released its teaser site on February 19 which blew up amongst her fans on social media. Now, the site has fully launched with its first collection of products.

Lillua's "Oil Rich Tint" is a line-up of glossy lipsticks with a tint effect. The products take into account the reality of wearing face masks everyday by being super easy to apply. They are made using an oil gel which spreads across the lips effortlessly and leaves them feeling soft. They also contain squalane, olive oil, and jojoba oil to moisturise the lips, making them look plump and soft. The collection features four types: 01 Mellow Pink, 02 Gala Deep Red, 03 Lut Terracotta, and 04 Peach Pig.

  

Oil Rich Tint | ¥1,450 (Before Tax)

 

01 Melon Pink

Not just simply cute and sweet – but a romantic pink with a faint dullness to it.

02 Gala Deep Red

Peak with the ever-popular deep red which captivates and captures a gaze in an instant.

03 Lut Terracotta

The nuanced colour of the orange-brown terracotta gives your lips a refined look.

04 Peach Pig

A beautifully joyous natural coral colour you'll find yourself wanting to use everyday.

Every purchase via Lillua's official website will gift members a free original postcard. Additionally, the first 1,500 people to order two or more items will receive an original Lillua pouch.

Virtual YouTuber Kizuna AI Collaborates with Animate Cafe in Shinjuku

Animate Cafe is known for collaborating with many anime series and game franchises. This time, they're teaming up with internet's biggest virtual YouTuber, Kizuna AI.


Kizuna AI is the world's first virtual YouTuber and claims to be artificial intelligence. Her YouTube Channel A.I.Channel went online on December 1, 2016. Since then, she's posted pretty much every day on a variety of topics and raked in 1 million subscribers in less than a year. As of May 2018, she currently has over 1.8 million subscribers. She has gained rapid attention not only in Japan but overseas too.

Maid Cafe Kizuna AI Angel Omurice-Style Crepe

Price: ¥750

[Guilty] Kizuna AI Trial Minestrone [Not Guilty]

Price: ¥600
*There are two types available: Guilty and Innocent. Guilty is spicy and packs a punch!

All of the items on the menu at the cafe are references to videos on Kizuna AI's YouTube Channel. They will sell the legendary Soda Bath drink as seen in her video, as well as a minestrone based on her trials, an omurice-style crepe, and more. All of the items are references to videos on Kizuna AI's YouTube channel.

A.I.Channel Soda Bath

Price: ¥600
*All prices listed include tax.

For every item you order from the menu, you will receive one coaster randomly selected from a possible six. There'll be plenty of Kizuna AI merchandise on sale at the Animate Cafe too that you can't get anywhere else.

Full details regarding the merchandise will be announced at a later date, so look forward to updates!

■Information

A.I.Channel×Animate Cafe

Location: Animate Cafe Shop Shinjuku
Running: May 29, 2018―June 26, 2018
Entry: First-come, first-served each day.

Animate Cafe Homepage: https://cafe.animate.co.jp/event/kizuna-ai1805/

*For details on how to attend please check the Animate Cafe homepage.
*The opening times and dates as well as entry methods may be subject to change.

Click here to go to Kizuna AI's official YouTube channel.