BG, an apparel brand directed by Toua, has officially launched. The online store began accepting orders on September 7, 2023.
The name 'BG' stands for 'Borderless Gradation,' implying that the brand's creations represent freedom without boundaries. Buyers can expect unisex items with a playful and modern touch.
<CONCEPT>
No matter your age or your gender,
empower yourself just the way you are.
As sure as your heart beats, always keep your curiosity.
Make today the best day of your life.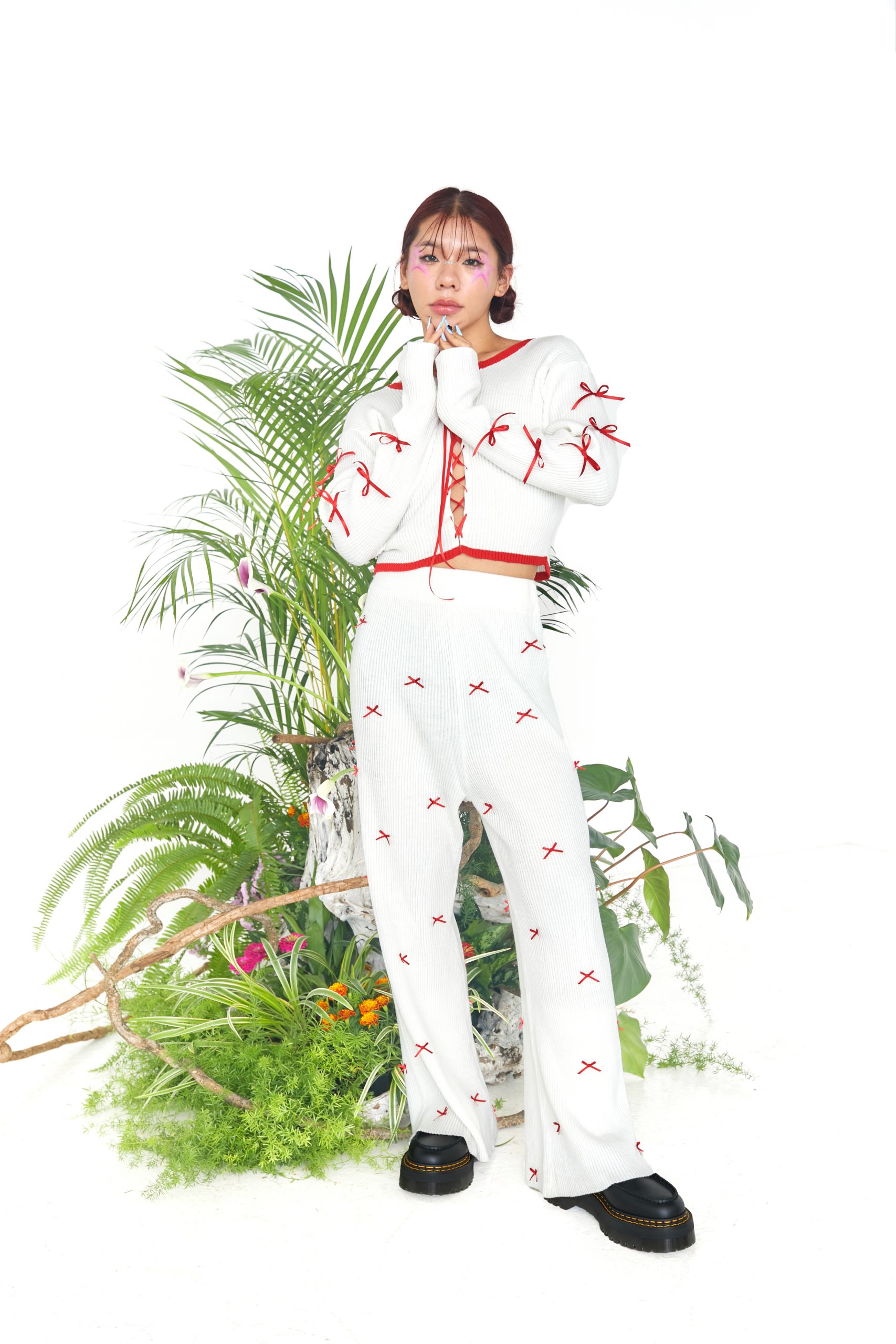 RELATED ENTRIES
On August 10, the apparel brand tiit tokyo released a short film titled ESCAPE starring model and talent Nagomi.

The film comes prior to tiit tokyo's first solo pop-up shop at Shibuya PARCO, scheduled to open on August 24. The final scene of the film was filmed at Shibuya PARCO and features the location's classic symbol–a neon 'P.'

The story follows a woman who lives a strictly controlled life who, after witnessing an incredible scene, begins planning her escape and a new beginning. Nagomi plays the main character, a female vampire.

ESCAPE was written and directed by fashion event director and filmmaker Hajime Tsuda, who previously worked on the film Daughters. The creative director for tiit tokyo, Sho Iwata, served as fashion director.

『

ESCAPE (Part One)

*Part Two will be released on August 22

Information

ESCAPE (tiit tokyo Short Movie)

Release Date: August 10, 2023 (Part One) / August 22 (Part Two)

Where to Watch: tiit tokyo's Official Instagram / YouTube

Writer / Director: Hajime Tsuda

Starring: Nagomi

Fashion Director: Sho Iwata (tiit tokyo)

tiit tokyo Official Site

Licaxxx, Yutaro Appear in Ad for Mandom's 'Gatsby' Brand

Licaxxx and Yutaro are currently appearing in a new ad for Meta Rubber, a new series of products from Mandom's 'Gatsby' hair styling brand.

A total of nine cast members from all areas of the entertainment world appear in the ad, from voice actors and video creators to idols and DJs. The video features the song Kororon by the popular artist Eve.

Be sure to check out the ad for a glimpse into the Meta Rubber lineup, which aims to transcend standard hair styling techniques.

Information

Cast:
kemio (Video Creator)
Mizuho Habu (Artist, Sakurazaka46)
Keito Kimura (Performer, FANTASTICS)
Subaru Kimura (Voice Actor)
Yamato Inoue (Model/DJ)
Shuichiro (Video Creator)
Licaxxx (DJ)
Yutaro (Actor)
Tensei Saito (Model/Younger Song Director)

Official Site
https://www.gatsby.jp/product/hairstyling/meta-rubber/

Jimmy Choo Announces 30th Anniversary Sailor Moon Collection Available Worldwide

Jimmy Choo has announced a new collection to commemorate the 30th anniversary of the internationally beloved Sailor Moon series.

Feminine style and power are important themes in Sailor Moon, and these inspiring elements are incorporated into Jimmy Choo's beautiful shoes and accessories. The collection will include items inspired by Sailor Moon, Sailor Mercury, Sailor Mars, Sailor Jupiter, Sailor Venus, and Luna. These superheroines created by Naoko Takeuchi are ready to take the main stage, and there's no doubt that fans around the world will be clamoring to get their hands on these items next week.

Sailor Moon boots/ VARENNE QUAD XS

Sailor Mercury ankle boots

Sailor Mars patent pumps

Sailor Jupiter boots

 Sailor Venus platform pumps

Each pair of shoes comes in a specific color inspired by one main character, instantly recognizable to fans. This collection was inspired by the limited-edition custom-made Sailor Moon boots released last year, with a pair shown off at the Sailor Moon Museum in Roppongi. With Jimmy Choo's signature kick heel, Sailor Moon's iconic crescent moon jewel, and bright pink all-over crystal embellishment, the boots unite the worlds of Sailor Moon and Jimmy Choo and give off some serious feminine energy.

Items in this exclusive collection will be available to purchase worldwide on Valentine's Day, February 14. Major Jimmy Choo flagship stores will also be decorated in Sailor Moon style, and the collection's limited-edition packaging will shimmer in the colors of the rainbow. In addition to fashion, Jimmy Choo has also collaborated with DJ Honey Dijon to create two remix tracks inspired by Sailor Moon.

If you grew up with Sailor Moon, you'll want at least one pair of these stylish shoes!

Information

JIMMY CHOO x PRETTY GUARDIAN SAILOR MOON COLLABORATION
Worldwide Release Date: February 14, 2023
Japan Release Date: February 15, 2023
http://www.jimmychoo.jp/

Zipper Magazine's 2022-2023 Winter Issue on Sale Now

The Winter 2022-2023 issue of the revived fashion creator magazine Zipper went on sale on December 23.

This issue focuses on this winter's must-know trends and is packed with coordination tips, outfit plans through spring, snapshots, hair and makeup tips, and much more.

Zipper ended its 24-year history in December 2017. In March 2022, ASOBISYSTEM teamed up with DONUTS Inc. to revive the magazine as a quarterly release. The fashion magazine, popular with Gen Z, is known for sharing details aspects of Harajuku culture and will continue to share more from the creative center of Tokyo for years to come.

Standard Edition (Cover: Nagisa Saito)

Another Edition (Cover: FRUITS ZIPPER)

Information

Zipper 2022-2023 Winter Issue
Release Date: December 23, 2022
Price: ¥700
Publisher: DONUTS
Publishing Company: Shodensha

Available at bookstores nationwide and online

Amazon
・通常版
・anotehr edition

Official Site
https://www.zipper.jp/

Virtual Artist WADE Announces Collaboration with Fashion Brand ©SAINT Mxxxxxx

WADE, known as the virtual artist behind LINE FRIENDS, has announced that he will participate in the 2022 A/W collection as the first virtual model for the global street fashion brand ©SAINT Mxxxxxx. The campaign video includes music produced by WADE himself and was released on August 22. 

WADE is a DJ and producer whose creative activities transcend genre. He continuously inspires artists around the world to pursue different fields and to stay open-minded, earning him a large fanbase. Previously, WADE participated as a virtual artist for a Leica photo exhibition in Korea and has also worked extensively on the PEACEMINUSONE x Nike KWONDO 1 F&F Special Shoe Box and Air Max 1 x Kashina Won-Ang campaigns.

WADE × ©SAINT Mxxxxxx 

©SAINT Mxxxxxx was co-founded by Yuta Hosokawa, the designer behind READYMADE, a company that upcycles vintage military fabrics and transforms them into new and fashionable items, along with American visual artist Cali Thornhill. The company is known for its artistic graphics and vintage feel.


For this collaboration, WADE acts as the first ever virtual model for ©SAINT Mxxxxxx and the music producer for the unique campaign video.


WADE and ©SAINT Mxxxxxxxx share a common respect for diversity and a desire to break away from stereotypes. Anyone who feels similarly shouldn't miss out on this unique collab!

©SAINT Mxxxxxx official 

BiSH Appears on First Front Cover of the Reborn Fashion Magazine Zipper

DONUTS and ASOBISYSTEM will begin reprinting the legendary fashion magazine Zipper starting March 23, 2022! The commemorative first issue will feature girls group BiSH on the cover, and the girls will also take center stage in a six-page special feature.

The first feature will feature plenty of what Zipper is known for–Harajuku street photography. The magazine is filled with unique talents who are looking towards the future of Tokyo's style. The theme, simply put, is "I decide what's fashionable!" 


The grand prize winner of the Zipper model audition will also be announced in the first issue. Seven finalists were selected via a live streaming audition and a professional photo shoot. The winner will work as a Zipper model for a full year.

Azur Lane Celebrating 4th Anniversary with New Apparel Collection by ZOZOTOWN

To commemorate the 4th anniversary of the popular smartphone game Azur Lane, the fashion shopping site ZOZOTOWN has launched a limited apparel collaboration exclusive on their website. The Azur Lane Black Collection will be available until March 18, 2022.

Azur Lane is a side-scrolling shoot 'em up RPG set in an alternate timeline of World War II. Using cute female characters based on warships to battle, the game is popular with players of all ages. 

Items at a Glance

ZOZOTOWN × Azur Lane Hoodie

ZOZOTOWN × Azur Lane T-shirt

ZOZOTOWN × Azur Lane Acrylic Stand

ZOZOTOWN × Azur Lane Character Blanket

ZOZOTOWN × Azur Lane Tapestry

Bonus – Original Pin

Lottery Prize: Super Large 50cm Acrylic Stand (Not for Sale)





The Azur Lane Black Collection features seven popular characters from the game–Friedrich der Große, Vittorio Veneto, Belfast, Bremerton, Atago, Ajax, and Unicorn. The illustrations were provided by Modare, Yatsuha, and Rag Miwano and were created exclusively for the collection. In addition to apparel, fans can also pick up acrylic stands, blankets, tapestries, and more.

For every item purchased, customers will receive one original pin. A large acrylic stand will be given away to seven lucky winners, so good luck!


Perfume's Fashion Project 'Perfume Closet' to Get Limited Time Pop-up Store for 6th Collection

In January, Perfume held 'Perfume LIVE 2022 Polygon Wave,' an encore of the concert they held in August 2021. Massively popular with fans around the world, the three-member girls techno-pop unit continues to impress year after year. On March 9, 2022, they will release their new track Flow, the theme of the TBS Tuesday drama series 'Fight Song.' On February 21, the 6th Perfume Closet apparel collection was announced on the official Perfume website and the A! SMART Online Store.

Merchandise at a Glance

Laforet Harajuku x Perfume Closet Collaboration Menu

 Chipoon Soy Milk Noodles with Hiroshima Lemon

MILKMILKMILK! Perfume Closet Gradient Soda/Perfume Closet Milk Ice Cream

ovgo B.A.K.E.R Meiji St. Salty Chocolate

Cafe Crepe – Banana, Chocolate, and Fresh Cream / Fermented Butter & Vanilla Sugar / Avocado Shrimp Salad





The 6th apparel line features items inspired by Perfume's on-stage costumes. The new pieces focus on three songs in particular–Polygon Wave, Rebirth, and If you wanna. Made popular during the reveal of the Perfume Closet project, the pop-up fashion truck will return for this new release! At the pop-up store, fans can see the actual costumes worn in the Polygon Wave video on display for the first time.

 

At Laforet Harajuku, Perfume Closet will collaborate with participating restaurants to create a limited-time menu inspired by the pop group. Which dish looks the tastiest?

Information

Perfume Closet

Shop Opens March 1, 2022 at 11:00
Online Shop: https://www.asmart.jp/perfume

Pop-up Shop

Tokyo
Laforet Harajuku 1F Entrance / 2F CONTAINER
March 1 – March 7, 11:00-20:00

Hakata
Caitac Square Garden 1F Central Atrium Plaza
March 11 – March 13, 11:00-20:00

Hiroshima
SOGO Hiroshima New Building Entrance Plaza, New Building 4F
March 18 – March 21, 10:00-19:30

Kyoto
Daimaru Kyoto 1F Higashinotoin Entrance / 3F Women's Clothing Event Space
March 25 – March 27, 10:00-20:00

Osaka
Osaka Takashimaya 1F East Entrance / 3F Rose Equair
April 1 – April 3, 10:00-20:00

Nagoya
Global Gate 1F Open Air Plaza / Atrium
April 15 – April 17, 11:00-20:00

Sendai
Sendai PARCO AER, AER Plaza / AER 1F Atrium
April 22 – April 24, 10:00-20:00

Fashion Brand SLY Collaborates with Shiomi Wada on New Collection

The fashion brand SLY has collaborated with popular illustrator Shiomi Wada for a new collaboration! These unique items are on sale now at select SLY stores, The SHEL'TTER TOKYO Tokyu Plaza Omotesando Harajuku, and the SHEL'TTER web store.

Sheer Arm Tee

Hooked T-shirt

Cushion Cover

Rug


The lineup includes apparel, a mat, and a cushion cover, all featuring adorable imagery with a unique touch that will make you chuckle. Participating stores will also be exhibiting a vase with words from Shiomi Wada's favorite book 'AFTER DARK,' as well as the brushes and notepads she uses to draw.

「You're my home.」


As long as I have this person, I'll be at ease.

It's time to go home and laze about on the couch or stare out the window at the scenery. Even if you're not in a specific place, being with them feels like home. It could be a family member, a partner, a dog, a cat, a bird. It's the same feeling that I get when I listen to the announcements at the grocery store or a song I've always liked. It could be the world you find in a book or the smell of flowers.

Tokyo Metropolitan Teien Art Museum Opens Surrealism in Fashion Exhibition

The Tokyo Metropolitan Teien Art Museum will hold the 'Mode Surreal' exhibition, highlighting surrealism in fashion, from January 15 until April 10, 2022.

Surrealism, known as the biggest artistic movement of the 20th century, goes beyond the normal boundaries of art and influences people's consciousness in deeper ways. Certain fashion designers who attempt to create more innovative designs sometimes overlap with th e surreal, and this exhibition will look more closely at this phenomenon.

Poster Dress – Harry Gordon, 1968. Kyoto Costume Institute. Photo: Takashi Hatakeyama

Evening Cape –  Elsa Schiaparelli, 1938. Kyoto Costume Institute. Photo: Taishi Hirokawa

LUNG-TSHUP-TA – Masaya Kushino, 2009. 

Italian designer Elsa Schiaparelli, a close friend of many in the surrealist movement, actively incorporated the unique trend into her fashion. Surrealists also used fashion items such as hats, shoes, and gloves as sources of inspiration in their paintings and photographs. Although the movement is over one hundred years old at this point, many surrealist influences still find their way into art to this day.

This exhibition will also focus on works that share many of the same sensibilities, from historical fashion from the 16th century to bizarre contemporary art. How would you like to stroll through this collection of pure creativity?

Yohji Yamamoto Reveals 2022 Spring/Summer Collection, Key Visual

The newest Yohji Yamamoto Ground Y collection was released on January 21, 2022. The spring/summer items made their first appearance in a key visual featuring actors Mai Fukagawa and Mahiro Takasugi.

 

The concept for the new collection is 'Beyond Boundaries.' By reconstructing existing borders to create a hectic visual cacophony, Yamamoto has also been deeply inspired by the stories of Japan's literary giants such as Natsume Souseki and Dazai Osamu. 





The models seen in the key visual are Mai Fukagawa and Mahiro Takasugi, both of whom are active in popular dramas and films. Commentary from both actors can be seen on the official Ground Y YouTube channel, so be sure to give it a watch!

The visuals for this collection were shot under the direction of photographer Masatoshi Yamashiro and stylist Takashi Mizuguchi at the Jiyu Gakuen Girls' School, which was designed by American master Frank Lloyd Wright in 1921 and has been designated as an important cultural property.

Information

Ground Y 2022 Spring/Summer Collection
Release Date: January 21, 2022

Where to Buy: Authorized Ground Y Retailers (GINZA SIX / Laforet Harajuku / Shibuya PARCO / Shinsaibashi PARCO)Official Online Store THE SHOP YOHJI YAMAMOTO
THE SHOP YOHJI YAMAMOTO: http://theshopyohjiyamamoto.jp/JP/shop/c/c20 

All Looks: https://www.yohjiyamamoto.co.jp/collection/groundy/spring-summer-2022-gy/

Ground Y 2022 Spring / Summer Collection Purchase Bonus: Collection Book
Starting January 21 at Ground Y shops and THE SHOP YOHJI YAMAMOTO, those purchasing Ground Y products will receive, on a first-come, first-served basis, the 2022 Spring / Summer Collection Book featuring Mai Fukagawa and Mahiro Takasugi. 

Harajuku Girls Magazine Zipper to Return to Quarterly Release Schedule After 5 Years

Popular Harajuku-based fashion magazine Zipper, which ceased publication in 2017, will return in March 2022! The rebirth of the magazine is being spearheaded as a joint venture between DONUTS Inc. and ASOBISYSTEM.

Zipper was first published in 1993 as a way to say "NO!" to traditional style. It continued to inspire creative minds for 24 years until it ceased publication in 2017, and many Harajuku-based celebrities and influencers cite the magazine as a major source of inspiration over the years. Now, this beacon of individuality and fashion is making a triumphant comeback right when the world needs it most.


In addition to the magazine, Zipper will also be available on YouTube, TikTok, Instagram, and Twitter, opening up the brand to fans of Japanese fashion around the world. More details will be announced in the future.


Information

Zipper

Resuming Publication in March 2022