Their overseas performance will be held soon! The all-Japan tour of SKY-HI "LIVE HOUSE" started from Obihiro, Hokkaido
SKY-HY which won first place on the oricon weekly digital album ranking for their digital album "Marble" released on the 6th of October, started their all-Japan live tour "LIVE HOUSE SKY-HI Round A Ground 2017" from MEGA STONE located in Obihiro, Hokkaido.
SKY-HI had a very successful live concert at Budokan in May of this year. Based on this success, the present all-Japan tour will be presenting the basics of the band. On this tour DJ Jr. and two members will perform and you will be able to enjoy the performance of SKY-HI from close up.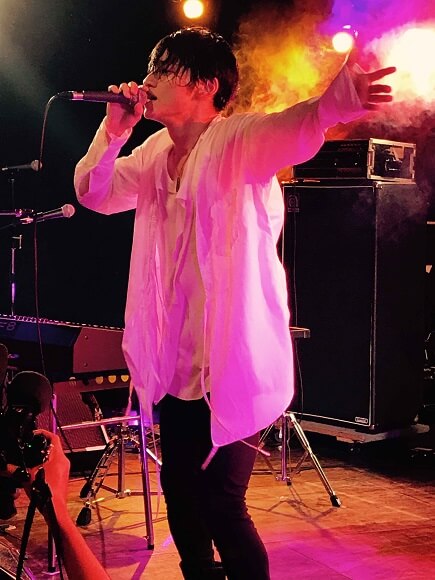 The first day of the tour was rained on but the venue was filled with excitement. After the passionate performance of Freaky Styley, the members of SKY-HI appeared on stage. After the MC's words, "I came here to see you guys!," the band started to play "Reincarnation." They performed their famous songs such as "Ai Bloom" and "Silly Game" at the beginning of the live and the venue was filled with excitement.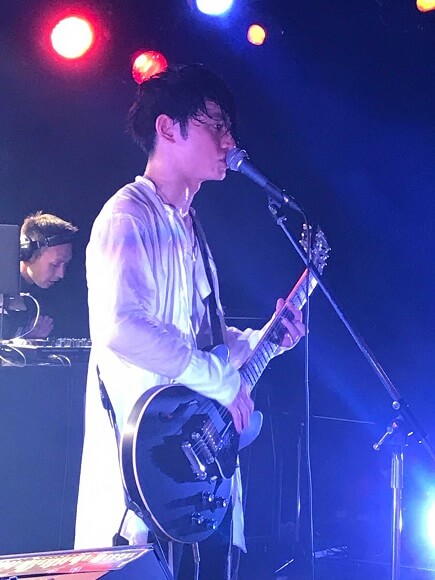 After that, they performed their standard numbers such as "Iris Light" accompanied with keyboards and performed their rap songs.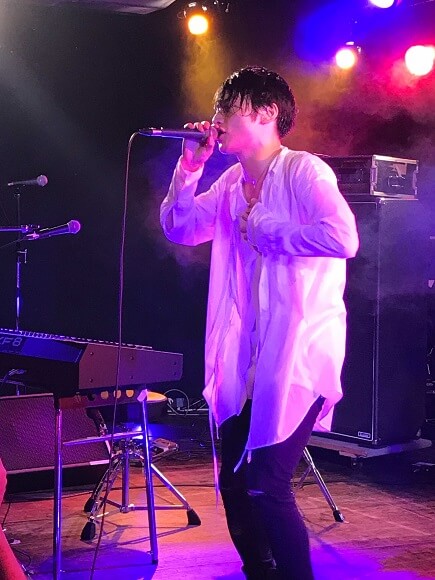 At the latter part of the live, they played their new song which they created in LA called "Bitter Dream" and performed a free style session with Freaky Styley.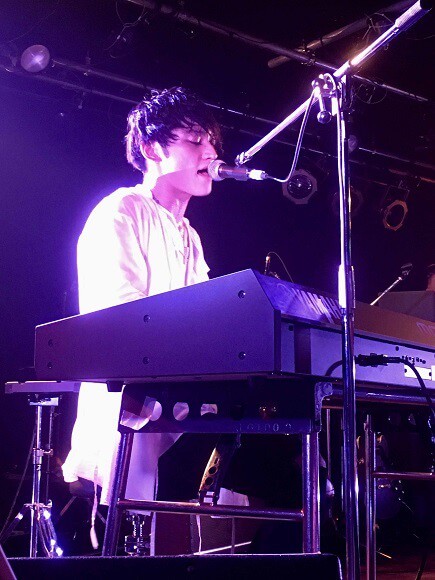 At end of the live, they performed a tender new song called "Marble" and "Kamitsure Velvet." The audience and the band sang the song together.
This tour will be held at 24 venues (25 lives) including in cities abroad, in countries such as Shanghai, Taiwan, Hongkong, LA, NY and Paris.
"Mable" MUSIC VIDEO :
The music video of their latest song "Marble" is gaining much popularity so let's check it out.
■Information
▶︎Release information
Digital album "Marble" now on sale
-songs-
Marble
Bitter Dream
Double Down
Smile Drop'16
Nanairo Holiday
As A Sugar
Stray Cat
Limo
TOKYO SPOTLIGHT
Over the Moon
▶︎Event information
『SKY-HI Round A Ground 2017』
2017,10,11 (Wed.)
Venue: Hokkaido Obihiro MEGA STONE
2017,10,12 (Thurs.)
Venue: Hokkaido Sapporo PENNY LANE24
2017,10,18 (Wed.)
Venue: Shanghai E-Max Music Zone
2017,10,20 (Fri.)
Venue: Taiwan ATT SHOW BOX
2017,10,22 (Sun.)
Venue: Hongkong E-Max Music Zone
2017,10,25 (Wed.)
Venue: Chiba Prefecture Kashiwa PALOOZA
2017,10,27 (Fri.)
Venue: Kanagawa Prefecture Yokohama Bay Hall
2017,10,28 (Sat.)
Venue: Shiga Prefecture Shiga U STONE
2017,11,01 (Wed.)
Venue: Yamaguchi Prefecture Shunan RISING HALL
2017,11,07 (Tue.)
Venue: Gunma Prefecture Taksaki clubFLEEZ
2017,11,08 (Wed.)
Venue: Saitama Prefecture Nishi Kawaguchi Hearts
2017,11,12 (Sun.)
Venue: Los Angeles Troubadour
2017,11,15 (Wed.)
Venue: New York SOB's
2017,11,18 (Sat.)
Venue: Paris Glazart
2017,11,19 (Sun.)
Venue: London Bush Hall
2017,11,22 (Wed.)
Venue: Nagano Prefecture Nagano CLUB JUNK BOX
2017,11,24 (Fri.)
Venue: Toyama Prefecture Toyama MAIRO
2017,11,25 (Sat.)
Venue: Fukui Prefecture Fukui Hibiki no Hall
2017,11,27 (Mon.)
Venue: Kagawa Prefecture Takamatsu festhalle
2017,11,29 (Wed.)
Venue: Nagasaki Prefecture Nagasaki DRUM Be-7
2017,11,30 (Thurs.)
Venue: Oita Prefecture Oita DRUM Be-0
2017,12,02 (Sat.)
Venue: Yamagata Prefecture Yamagata Music Showa Session
2017,12,09 (Sat.)
Venue: Gifu Prefecture Gifu club G
2017,12,11 (Mon.)
Venue: Tokyo Toyosu PIT
2017,12,12 (Tue.)
Venue: Tokyo Toyosu PIT
Official website: http://avex.jp/skyhi/
RELATED ENTRIES
SKY-HI Drops #Homesession Video From His Own Home On YouTube

SKY-HI has released a video from his own home on his official YouTube channel for a song his he writing called #Homesession.

The rapper and singer began posting vlogs on his channel at the end of February amid the coronavirus outbreaks and continues to together with his band SUPER FLYERS.

SKY-HI has made the vocal track and system data for #Homesession public, so fans can download it and try recording their own home session.

"#Homesession -0406-" / SKY-HI"

SKY-HI | Message

"How's everyone holding up? We've gotten to a point where starting off with greeting like that has taken on a special meaning. But I really miss being around people as well. I'd thought to myself, well, this would be around the time I'd be sessioning with SUPER FLYERS every year, we can't return to life before the novel coronavius, and I want to session with everyone during the time of the coronavirus, so I'm releasing the song #Homesession. The song isn't done yet though. Now the baton will be passed to each member of SUPER FLYERS, so if you'd like, please try recording yourself too at home and send it to me. I'll put them online, and the last one will be the version with SUPER FLYERS! I look forward to sharing with you. I hope we can have fun together like we always do even if we're at home. That's what's going through my head!"

He continues: "I myself get so much energy from Gen, Origami, and all the other musicians out there too. I really believe that thinking about the future and enjoying the moment are one in the same. I'm going to work to drop music and stems, so if anyone wants to mix them then please feel free to mix them whenever you like. That being said, let's all meet at home together!"

SKY-HI Releases Saucy Photos For His Upcoming Greatest Hits Album 'SKY-HI's THE BEST'

SKY-HI will drop his first ever greatest hits album SKY-HI's THE BEST on June 17, 2020. Today, the CD covers for the album have been released, with SKY-HI flaunting his power of seduction.

The photos taken during this photo session will be compiled in a photo book exclusive to Limited Pressing Edition copies of the album. This edition of the album is jam-packed: it will include 3 discs compiling the best of SKY-HI's pop songs, rap songs, and collaborative songs respectively, as well as new songs, fully-remastered tracks, and songs with re-recorded vocals.

Live Edition copies of the album can be bought with either a DVD or Blu-ray which features footage of SKY-HI's entire "Round A Ground 2019 ~Count Down SKY-HI~" live concert held at Toyosu PIT on December 11, 2019. For this show, fans submitted their favourite songs of SKY-HI, of which 20 of the most popular were chosen and performed in a "countdown" style. SKY-HI was joined by his band, SUPER FLYERS, on stage for the show.

Limited Pressing Edition copies are available to buy exclusively on mu-mo Shop, AAA Party, and AAA mobile. If you order before April 26, 2020 at 23:00 (JST) your name will be written on the CD box. This edition will also be sold with a DVD or Blu-ray featuring all of SKY-HI's music videos to date including commentary by the artist himself, a 100-page A4 size photo book, and exclusive merchandise.

SKY-HI also posted a teaser video of a piano arrangement of his song Iris Light which can be watched below.

Japanese rapper and singer posted his very first vlog on his official YouTube channel, SKYHICHANNEL, on February 29, 2020.

Fans have expressed their excitement at getting to see a closer and more personal look at SKY-HI, as well as their interest in wanting to see more behind the scenes when it comes to music production and the music world.

SKY-HI's new vlog series is set to cover not only the Japanese artist knee-deep in the recording process, but will also feature in-depth talks with other artists and production staff from the music world, as well as other related technical music content. SKY-HI has also expressed his desire to post based on what viewers want to see too.

SKY-HI stated that if he reaches 100,000 subscribers, he will post the video of his recording of the song Uren which he did during a previous livestream on his channel. The video will have the song played over it and the lyrics will be shown on screen. If he reaches 150,000 subscribers, he'll post the song's music video. And if he makes it to 1 million subscribers, he's going to collaborate together with someone famous in the YouTube community.

Subscriber to SKY-HI's YouTube channel at the link below and stay tuned for the next vlog upload.

SKY-HI Releases Lyric Video in Collaboration With Thai Pop Star STAMP

SKY-HI released the first of a series of upcoming songs together with Thai pop star STAMP. The song is now streaming on major music platforms including Spotify.

The song combines SKY-HI's technical rap ability with STAMP's gentle yet powerful singing voice. Its lyrics say that if people experience good things in life, they'll experience bad things too, so we should pick them up all up and take them with us as we move forward.

Don't Worry Baby Be Happy feat. STAMP (Prod. its) -Lyric Video-

The lyric video is taken from the duo's debut performance of the song at the concert "SKY-HI Round A Ground 2019 ~YO! SKY RAPS~" held on December 12 last year. It features English, Japanese, and Thai captions, so be sure to read along with the lyrics as you listen to the song.

Speaking about the song, SKY-HI said: "When I went to Thailand last year, I got a really good vibe from the country. On one of my free days, I found myself quickly heading to the studio. I asked if anyone knew STAMP, and he came to the studio. I thought, well, he's here and everything now, so… And that's how the song came to be. We recorded it there in the studio."

He continues: "The songs we make these days end up having such heavy bass no matter what, and even I don't like it, but thanks to STAMP's rich voice, and his nature, this is the song I have been most encouraged for. He said to me, 'Having a mountain of things you don't like is part and parcel with life, but more than anything, time keeps on ticking. No matter how big things may seem, or how many of those things you have, while ever you're alive, you put those things to work.' Thanks to him, now the moment the intro starts, I feel lifted up <laughs>."

SKY-HI finishes by saying: "It was so much fun doing this song live too. As an artist, and as an individual, getting to meet STAMP for me was really fortunate. I pray this song becomes the same for everyone that hears it too. Don't Worry Baby Be Happy!!"

STAMP was also interviewed about the new song. When asked to give his impressions on it, he said: "The beat is groovy, cool-sounding, and melodic. I really like how it speaks to the heart. It's become my favourite song. Even if you don't understand the Japanese rap lyrics, SKY-HI's rap parts are just the best. It moves me how it transcends the barriers of language. The melodies for the hook were written by me when we first met in the studio. It was my first time writing a half-Japanese, half-Thai song."

He also commented on how the recording process was. "When we were recording, SKY-HI was always dancing to the rhythm while singing. I had such a fun time working in there. I haven't met many artists that are overflowing with energy like him. It was really exciting. Now I want to try dancing next time I'm in the studio."

Finally, STAMP was asked to give a message to Japanese listeners. "Like other people, I'm really pleased with this collaboration too. I am honoured to have been able to do this with such a genius artist like SKY-HI. I hope everyone likes hearing the Thai lyrics as well as the Thai music influences too."

SKY-HI Announces Asia Tour on Top of SKY-HI Round A Ground 2020 Japan Tour

SKY-HI has announced an Asia tour consisting of four additional performances to follow up straight after the "SKY-HI Round A Ground 2020" Japan tour.

The Asia tour will see four performances take place in Indonesia, Thailand, Taiwan and South Korea. Following numerous collaborations with other Asian artists in recent years, you can only imagine the excitement of fans as they guess what kind of performance SKY-HI has in store for them in Asia.

SKY-HI will now be performing in a total of 28 cities, 24 of which are in Japan. This is a big chance to see him live! If you're worried about tickets selling out, there are preorder tickets available for each live performance. More information on the Asia Tour will be announced in the future so stay tuned. 

SKY-HI / Snatchaway (SKY-HI TOUR 2019 -The JAPRISON-)


SKY-HI has also unveiled the video of "Snatchaway" from the live tour video "SKY-HI TOUR 2019 -The JAPRISON-". This is a chance to witness SKY-HI's rapping, singing and dancing skills that you don't want to miss. 

Information

SKY-HI Round A Ground 2020

Japan Tour

March 1: mito LIGHT HOUSE, Ibaraki 

March 7: HEAVEN'S ROCK, Utsunomiya

March 11: NIIGATA LOTS, Niigata

March 13: Kofu CONVICTION, Yamanashi Prefecture

March 14:  LIVE ROXY, Shizuoka

March 15: CLUB ROOTS, Yokkaichi, Mie Prefecture

March 20 (National Holiday): Eight Hall, Kanazawa, Ishikawa Prefecture

March 21: Sound hall a.C, Nagano prefecture

March 22: HEAVEN's ROCK Saitama Shintoshin, Saitama prefecture 

March 28: AZTiC laughs, Yonago Tottori prefecture

March 30: RISING HALL, Shunan, Yamaguchi prefecture

March 31: HIROSHIMA CLUB QUATTRO, Hiroshima

April 1: Club GRINDHOUSE, Tokushima

April 3: YEBISU YA PRO, Okayama

April 4: Kobe Harbor Studio, Hyogo Prefecture

April 5: EVANS CASTLE HALL, Nara Prefecture

April 10: Club COCOA, Hakodate, Hokkaido

April 12: Aomori Quarter, Aomori

April 13: Morioka club CHANGE WAVE, Iwate Prefecture

April 17: Miyazaki SR BOX, Miyazaki

April 18: Kagoshima CAPARVO HALL, Kagoshima

April 19: Kumamoto B.9 V1, Kumamoto

April 22: SAKURAZAKA Central, Okinawa

April 26: Live House The 3rd Stage, Chiba

 

Asia Tour

March 2020 *Schedule to be announced

Jakarta, Indonesia

Bangkok, Thailand

Taipei, Taiwan

Seoul, South Korea

 

Official Website: https://avex.jp/skyhi/skyeg/

Japanese Music Artists Performing Overseas in 2019: Part 4

More and more announcements have been rolling out about Japanese artists set to perform overseas in the latter half of 2019. Let's take a look and see if one of them is coming to a city near you in Part 4.

・Aimyon

Singer-songwriter is set to take her enthralling set to Shanghai with a headline show. The music video for her hit song Marigold, taken from her album Shunkanteki Sixth Sense which released in February, was shot on the streets of Shanghai. Currently knee-deep in her Japan tour to promote her new album, this will mark Aimyon's second time performing overseas following up from a successful show in Taiwan. Her popularity is steadily surging across the globe, be sure to check out her music available on Spotify as well as her many music videos.

Related Article: Aimyon Releases Music Video Teaser & CD Cover For New Song 'Manatsu no Yoru no Nioi ga Suru'

▶︎AIMYON 2019 LIVE in SHANGHAI

Date: July 13, 2019

Venue: 世博中心—紅庁, Shanghai 2019

Japan Enquiries: http://www.accessbright.com/aimyon/

AIMYON Official Website: http://www.aimyong.net/

・OKAMOTO'S 

Celebrating 10 years since their debut, OKAMOTO'S are currently touring Japan nationwide in promotion of their new album BOY. The four-piece rock band performed what they called their "first and last" Nippon Budokan show on June 27 but are following that straight up with two concerts in Beijing and Shanghai. OKAMOTO'S are veterans when it comes to having performed overseas. They are the younger Japanese male act to play SXSW in Texas, US when they performed back in 2010. They also embarked on a 7-city US tour and have toured Australia, Hong Kong, Taiwan, Vietnam and other countries. Don't miss out!

Related Article: OKAMOTO'S New 'Dancing Boy' Music Video Features Lots Of Guest Artists

▶︎OKAMOTO'S "BOY" CHINA TOUR 2019
2019/7/19 @ Beijing MAO Live House, Beijing
2019/7/21 @ Shanghai MAO Live House, Shangai

Tickets: https://www.showstart.com/event/list?type=1&tag=22685

OKAMOTO'S Official Website: https://www.okamotos.net

【お知らせ】

MY FIRST STORY初の中国・上海でのワンマンライブが決定🇨🇳!

MY FIRST STORY TOUR 2019 IN SHANGHAI

7/27(土) 19:30開演予定
中国・上海市静安体育センター

公演詳細は後日発表!#myfirststory#マイファス pic.twitter.com/BqEzLdAgj9

— MY FIRST STORY (@MyFirstStory_of) 2019年6月6日

・MY FIRST STORY

Since debuting in 2012, Japanese rock band MY FIRST STORY have performed at some of Japan's biggest music festivals and have also collaborated with foreign musicians. Their lyrics are fluent English which have racked them up some real attention outside Japan. This will mark their first headline show in mainland China.

▶︎MY FIRST STORY TOUR 2019 IN SHANGHAI

2019/7/27 @ Jing'an Sports Center, Shanghai

MY FIRST STORY Official Website: http://www.myfirststory.net

・Yuzu

Yuzu's popularity trickles down all generations having performed the song Muscat for the anime series Crayon Shin-chan. The duo have their eyes set on two days at Legacy MAX in Taipei on September 28 and 29. The musicians performed at the 30th Golden Melody Awards, which is nicknamed the "Taiwanese Grammy Awards," on June 29 and hail as the only Japanese artists to do so.

Related Article: Yuzu Joined By Crayon Shin-chan On Stage to Sing New Song 'Muscat'

▶︎YUZU ASIA LIVE 2019 YUZUNOMI

2019/9/28 @ Legacy MAX, Taipei

2019/9/29 @ Legacy MAX, Taipei

Tickets: https://ticket.ibon.com.tw/Web/ActivityInfo/Details/36025

YUZU Official Website: http://yuzu-official.com

・MAN WITH A MISSION

MAN WITH A MISSION recently announced their US headline tour. They joined Jimmy Eat World and Stone Sour on tour back in fall 2017, but which is their first North American solo tour in five years. Full details can be found over on their official website.

Related Article: MAN WITH A MISSION To Embark on First North American Solo Tour in 5 Years

▶︎MAN WITH A MISSION presents Chasing the Horizon World Tour 2018/2019 -North American Tour-

2019/9/6 @ Great American Music Hall, San Francisco

2019/9/8 @ The Regent Theater, Los Angeles

2019/9/10 @ Canton Hall, Dallas

2019/9/16 @ Gramercy Theatre, New York

MAN WITH A MISSION Official Website: https://www.mwamjapan.info/

・BABYMETAL

BABYMETAL will released their new album METAL GALAXY this year on October 11 and follow it up with their GALAXY WORLD TOUR where they will hit up Europe, US and Russia. BABYMETAL's unmatched force continues to be felt across the globe.

Related Article: BABYMETAL Announce New Album 'METAL GALAXY' & World Tour

▶︎BABYMETAL GALAXY WORLD TOUR

*For full dates, please check the band's official website below.

BABYMETAL Official Website: http://www.babymetal.com

《TOUR》

\💫SKY-HI × SALU TOUR決定!/

🎙Say Goodbye to the System

9/4:東京 Zepp DiverCity

9/24:大阪 なんばHatch

9/25:名古屋 名古屋ダイアモンドホール

9/29:韓国/ソウル

10/1:香港

10/4:台湾/台北

✅詳細はSKY-HI公式HPへ
【https://t.co/AOcUrXeEGL】#SKY_HI #SALU #TOUR pic.twitter.com/E5h8Svngff

— SKY-HI情報 (@skyhi_hidaka12) 2019年7月1日

・SKY-HI

SKY-HI will release his second collaborative album with SALU entitled Say Hello to My Minions 2 on September 4 which will be promoted with the "Say Goodbye to the System" Asia tour. SKY-HI has performed in Los Angeles, New York, Paris, London, Shanghai, Taiwan and Hong Kong in the past. Be sure to keep up to date with his tour schedule via his official website.

 

▶︎Say Goodbye to the System -ASIA TOUR-

2019/9/29 @ Seoul (Venue TBA)

2019/10/1 @ Hong Kong (Venue TBA)

2019/10/4 @ Taipei (Venue TBA)

SKY-HI Official Website: https://avex.jp/skyhi/

If you love Japanese music and an artist you like is heading to a city near you, be sure to show them love and support by getting your hands on a ticket!

TV Anime Run with the Wind's Opening Theme by Q-MHz & Mitsuhiro Hidaka Revealed in New Trailer

A new promotional video has been released featuring the new opening theme of the upcoming TV anime series Run with the Wind. The song, titled Kaze Tsuyoku, Kimi Atsuku, was written by Q-MHz and Mitsuhiro Hidaka―also known as SKY-HI―and will be released as a digital single on January 23.

The song features a running-like melody coupled with SKY-HI's vocals and rapping. Check out the video below which showcases the 10 members of the athletic club in Kansei University in their uniforms.


Run with the Wind will continue with episode 12 on January 8, 2019.

Information

Kaze Tsuyoku, Kimi Astsuku.

Release Date: January 23, 2019
To be released on iTunes Store, Recochoku and other digital platforms.

Q-MHz Official Website: http://q-mhz.com

SKY-HI Official Website: https://avex.jp/skyhi/

Run with the Wind Official Website: kazetsuyo-anime.com

©Shiwon Miura・Shinchosha / 寛政大学陸上競技部後援会

TV Anime Run with the Wind Opening Theme to be Performed by Q-MHz

Japanese music group Q-MHz which is composed of Aki Hata, Tomokazu Tashiro, Katsuhiko Kurosu and Tomoya Tabuchi (UNISON SQUARE GARDEN) are teaming up with AAA member Mitsuhiro Hidaka―who is also active as a solo rapper under the bane SKY-HI―to release a new digital single called Kaze Tsuyoku, Kimi Atsuku on January 23.

The song will be used as the second opening song for the ongoing anime series Run with the Wind. It features a running-like melody coupled with SKY-HI's vocals and rapping.

The sports anime is an adaptation of Shion Miura's award-winning novel of the same name.  It is being directed by Kazuya Nomura (Robotics;Notes, Ghost In The Shell: The New Movie) at Production I.G.

Comment: Q-MHz
"We are Q-MHz and we have been handed the baton from the first opening theme to perform the second one! It has a colourful rock sound that looks towards the climax of the story. Hidaka's numbing rapping too makes it mega exciting. [People's] emotions are sure to rise when the song doesn't play for a second time at the end."

Comment: Mitsuhiro Hidaka a.k.a. SKY-HI
"Tabuchi was my upperclassman in high school. This is the first time we have worked together, so getting to sing for Q-MHz felt like going back to being a high school student. I also got to sing in a style different to what they usually do! In receiving a request as singer I feel that though the weight is fairly heavy that pressure is thrilling and ties in with the anime and the song. It's an eternity of youth packed in an instant into 3 minutes!"

Information

Kaze Tsuyoku, Kimi Astsuku.

Release Date: January 23, 2019
To be released on iTunes Store, Recochoku and other digital platforms.

Q-MHz Official Website: http://q-mhz.com

SKY-HI Official Website: https://avex.jp/skyhi/

Run with the Wind Official Website: kazetsuyo-anime.com

©Shiwon Miura・Shinchosha / 寛政大学陸上競技部後援会

SKY-HI Performs Alongside Miyavi, Nobuaki Kaneko and More at Tour Finale

SKY-HI dropped his fourth studio album JAPRISON on December 12. He held the finale of his 2018 "Round A Ground" tour across two days at Toyosu PIT. This is a report of the first day, December 11, 2018.

The prior unveiling of the list of special guests to perform at this show drew huge attention. Once the overhead radio show 'Radio Marble' ended (something which has become a staple to play at SKY-HI's shows), the man himself, SKY-HI, stepped onto stage with his band THE SUPER FLYERS to an eruption of cheers from the crowd.

The night began with a performance of Free Tokyo, the title track of SKY-HI's hit album that was released back in summer as a free download. He went on to perform nine continuous tracks including this year's newly released tracks So What??, Name Tag, The Story Of "J" and Nanisama in addition to some of his classic live tracks.

sleepyhead was the first guest artist to be called out to perform 1 2 3 for hype sex heaven which received a music video this year to much attention. This was his first performance of the song and it went down a riot with the crowd.

Takuya "TAK" Tanaka (guitar) then took over for a talk and then a relaxing acoustic session to perform StrayCat and Bitter Dream before performing together with THE SUPER FLYERS for Limo.

Then, all of a sudden, the gauze curtain dropped and the music video for illusions feat. SKY-HI made in collaboration with Nobuaki Kaneko began playing.

During that, Nobuaki Kaneko himself appeared to perform the song alongside SKY-HI. This was followed by a freestyle session of Gemstone together with Miyavi and then Double Down. It was an overwhelming performance as SKY-HI, Miyavi and Kaneko showed off their incredible musical skills together, giving the crowd a riveting performance.

mabanua and Kan Sano were next on stage who had a jam session of Reincarnation and Chrono Club, both produced by mabanua. It was a more relaxing session than the previous, spreading a chilled vibe through the room, but still as skilfully performed.

THE SUPER FLYERS returned to the stage for the final act. Together with SKY-HI they performed 0570-064-556 which is a remix of Logic's 1-800-273-8255, as well as I Think, I Sing, I Say and Marble.

At the end of the show SKY-HI gave some comments on his new album before performing What a Wonderful World!!, Snarchaway and his hit song Kamitsure Velvet.

It was an emotional and energetic performance from SKY-HI throughout the two-hour show. He will promote the album with his new tour titled SKY-HI TOUR 2019 -The JAPRISON- next year from February 3, 2019 where he will hit 12 locations across Japan.

Information

JAPRISON

On Sale: December 12, 2018

Regular Edition (CD+SP Music): ¥3,000 (Tax Included) [AVCD-96047]

Music Video Edition: ¥5,000 (Tax Included)

CD+DVD+SP Music+Music Videos [AVCD-96045/B]

CD+Blu-ray+SP Music+Music Videos [AVCD-96046/B]

Live Edition: ¥6,500 (Tax Included)

CD+2 DVDs+SP Music+Music Videos [AVCD-96043/B~C]

CD+Blu-ray+SP Music+Music Videos [AVCD-96044/B]

What a Wonderful World!! Official Stream: https://avex.lnk.to/SKY_HI_WWW

SKY-HI ROUND A GROUND 2018 – Toyosu PIT

Special Guests (Japanese Alphabetical Order):

December 11, 2018: Nobuaki Kaneko, Kan Sano, mabanua, Miyavi, Sleepyhead

December 12, 2018: eill, KEN THE 390, SALU, Ja Mezz, Tak Tanaka, NovelCore, HIDEYOSHI, Takashi Mochizuki, Reddy

*Guest line-up subject to change.

Venue: Toyosu PIT

Time: Open 17:30 / Start 18:30

Price: ¥6,500 (Tax Included)

*All-standing

*Separate mandatory drink charged upon entry

*Tickets are numbered in order for entry

*Pre-school children not permitted entry

Tour Page: https://avex.jp/skyhi/live/tour.php?id=1001234

SKY-HI Official Homepage http://avex.jp/skyhi/

SKY-HI Releases New Music Video & Announces Miyavi as Special Guest for Tour Finale

Having teased it earlier this month, SKY-HI has released the full music video for What a Wonderful World!! taken from his upcoming new album JAPRISON.

The song was produced by SKY-HI himself and sees the rapper and singer take to the piano throughout. The track also features legendary Brazilian musician Sérgio Mendes performing his own piano solo. Laced together with SKY-HI's personal and emotional lyrics and a chorus by Yuuho and Kayo of SUPER FLYERS, What a Wonderful World!! will no doubt be a standout of the artist's first album in nearly two years.

The cage in which the music video is set can be said to be symbolic of SKY-HI's new record. Throughout our eyes are treated to a kaleidoscope of creative and avant garde visuals. The dance between SKY-HI and the skull face painted lady serves to deepen the perspective of the song that much more.

It has also been announced that internationally renowned guitarist Miyavi as well as RAU DEF and sleepyhead will join the special guest list the finale of SKY-HI's ongoing tour SKY-HI Round A Ground 2018 which will take place at Toyosu PIT in Tokyo on December 11 and 12. There are limited tickets left for the two-nighter at Toyosu PIT

Information

JAPRISON
On Sale: December 12, 2018

Regular Edition (CD+SP Music): ¥3,000 (Tax Included) [AVCD-96047]

Music Video Edition: ¥5,000 (Tax Included)

CD+DVD+SP Music+Music Videos [AVCD-96045/B]
CD+Blu-ray+SP Music+Music Videos [AVCD-96046/B]

Live Edition: ¥6,500 (Tax Included)
CD+2 DVDs+SP Music+Music Videos [AVCD-96043/B~C]
CD+Blu-ray+SP Music+Music Videos [AVCD-96044/B]

What a Wonderful World!! Official Stream: https://avex.lnk.to/SKY_HI_WWW

SKY-HI ROUND A GROUND 2018 – Toyosu PIT

Special Guests (Japanese Alphabetical Order):

■December 11, 2018: Nobuaki Kaneko, Kan Sano, mabanua, Miyavi, Sleepyhead

■December 12, 2018: eill, KEN THE 390, SALU, Ja Mezz, Tak Tanaka, NovelCore, HIDEYOSHI, Takashi Mochizuki, Reddy

*Guest line-up subject to change.

Venue: Toyosu PIT

Time: Open 17:30 / Start 18:30

Price: ¥6,500 (Tax Included)

*All-standing

*Separate mandatory drink charged upon entry

*Tickets are numbered in order for entry

*Pre-school children not permitted entry

Tour Page: https://avex.jp/skyhi/live/tour.php?id=1001234

SKY-HI Official Homepage http://avex.jp/skyhi/

SKY-HI Collaborates With Brazilian Musician Sérgio Mendes on New Song

SKY-HI's upcoming 4th album JAPRISON will be released on December 12―his first album in almost two years. The song What a Wonderful World!! from the new record aired on Tokyo FM/JFN38's "SCHOOL OF LOCK!" slot in Japan on November 14.

The song, self-produced by SKY-HI himself, features a piano track by SKY-HI and a guest appearance from legendary Brazilian musician Sérgio Mendes. The song is said to be representative of the overall album.

What a Wonderful World!! -Teaser Movie-

A teaser trailer for the avant garde music video was also released. Check it out above.

What a Wonderful World!! will be released digitally on November 16. JAPRISON will also be available to pre-order on the iTunes Store for the special price of ¥1,500 for a limited time only.

SKY-HI Reveals Artwork & Details For Upcoming New Album 'JAPRISON'

SKY-HI has released the CD covers for all three versions of his upcoming 4th album JAPRISON―his first album in almost two years. The main design of each album cover features the artist holding his head in his left hand.

The album features a total of 14 tracks which consists of the 4 already-unveiled tracks Marble, Snatchaway, Diver's High and Name Tag -Remix- feat. Ja Mezz & HUNGER and 10 all-new tracks produced by UTA and SUNNY BOY who have both released a range of big hits, as well as Yosi who belongs to Hi-Lite Records, and MATZ, a spearhead of Japan's dance music scene who is also active as an artist under the name Matt Cab.

JAPRISON Music Video Edition

The album's Music Video Edition comes with a DVD containing numerous music videos from SKY-HI in addition to a new song title What a Wonderful World!!, the complete version of Name Tag titled Name Tag feat. SALU, HUNGER, Ja Mezz, Moment Joon (No Cut ver.), as well a bonus track titled Bitter Dream for a total of 8 songs.

JAPRISON Live Edition

The album's Live Edition includes footage of SKY-HI's concert at ROHM Theatre Kyoto's main hall on April 28, 2018 which was the final concert of his tour SKY-HI TOUR 2018-Marble the World-.

SKY-HI will head on a new tour next year titled SKY-HI TOUR 2019 -The JAPRISON- to promote the new album. Get your hands on the Live Edition to see the excitement you can expect from the artist on his tour in 2019. JAPRISON drops on December 12.

Information

JAPRISON
On Sale: December 12, 2018

Regular Edition (CD+SP Music): ¥3,000 (Tax Included) [AVCD-96047]

Music Video Edition: ¥5,000 (Tax Included)

CD+DVD+SP Music+Music Videos [AVCD-96045/B]
CD+Blu-ray+SP Music+Music Videos [AVCD-96046/B]

Live Edition: ¥6,500 (Tax Included)
CD+2 DVDs+SP Music+Music Videos [AVCD-96043/B~C]
CD+Blu-ray+SP Music+Music Videos [AVCD-96044/B]

SKY-HI Official Homepage: http://avex.jp/skyhi/