Celebrate Christmas with Kyary Pamyu Pamyu and other unBORDE artists at their Christmas live!
Kyary Pamyu Pamyu, Shinsei Kamattechan, and RIP SLYME are all members of unBORDE. This year, the artists of unBORDE will be delivering an omnibus live event called "unBORDE Xmas Party 2017".
There are six music acts taking part for the Christmas live, one of whom is AIMYON – a singer-songwriter from Nishinomiya, Hyogo, who released her first full album in September. She will be joined by Stardust Promotion's Nagoya idol group Team Syachihoko, who will release their first best album on 18th October, and the girl band yonige, who are from Neyagawa, Osaka and released their first major full album in September. The stage will also be occupied by RöE, the new music sensation that is planning their major debut with unBORDE next year, the three-person ensemble WANIMA from Kumamoto who will join unBORDE from March next year, and the world famous Harajuku icon Kyary Pamyu Pamyu!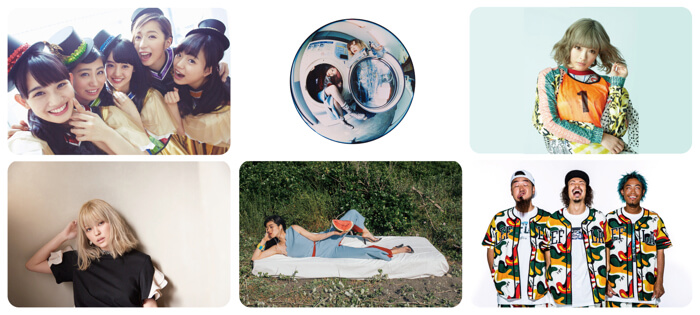 The first round of tickets to be released will be issued to celebrate 7 years of unBORDE. The "lucky seven" extremely rare tickets will be launched for sale from noon of Saturday 21st October through "WIZY". This ticket comes with the benefit of obtaining an unBORDE Xmas official T-shirt that cannot be purchased anywhere except for at this event. Those who possess the rare lucky seven tickets will be given priority entrance into the venue. There are only 777 of these rare tickets available!
Get your hands on a special ticket and enjoy Christmas!!
■Information
unBORDE Xmas Party 2017
Venue:Zepp Tokyo
Date:23rd December 2017(Saturday, national holiday)Doors open: 14:00/ start: 15:00(planned finish time: 20:30)
Performers(alphabetical order): AIMYON, Kyary Pamyu Pamyu, RÖE, Team Syachihoko, WANIMA, yonige,
<Advanced tickets (released from 21st OCtober)>
Ticket type:Lucky Seven ultimate rare tickets: ¥8,000(price including tax)+ postage charge
unBORDE Xmas official T-shirt(WIZY-limited)(includes 1st floor standing)
※ Separate drink fee
※ Includes Christmas present
※ 4 T-shirt sizes: S, M, L, XL
※ Priority entry
※ Original design ticket
Number of tickets:777 (limited number) (One customer can purchase up to two tickets)
Ticket sales period:21st October(Sat)noon ~ 31st (Tues) 23:59(Sales will discontinue once all 777 tickets have been sold).
Ticket website: http://recochoku.com/wizy/unborde/
From Wednesday 1st November, the official website will be releasing advanced sales for 2nd floor family seats.
Ticket type:Standard ticket ¥5,500 (price including tax)  ※ Does not include drink price ※ includes Christmas present
1st floor – standing /2nd floor seating/ 2nd floor family seating/2nd floor standing  
Some 2nd floor seating/family seating options:
1 adult & seating for 1 child(purchase of 2 tickets)
1 adult, seating for 2 children(purchase of 3 tickets)
2 adults, seating for 1 child(purchase of 3 tickets)
2 adults, seating for 2 children(purchase of 4 tickets)
Family ticket terms and conditions:
※ Primary school children(aged 12)must be accompanied by a parent or guardian.
※ You will not be permitted to enter the venue without your accompanying child/children. Likewise, children must be accompanied by their responsible adult.
※ Those above primary school age (12 years old) must purchase a ticket.
※ Those below preschool age are not required to purchase a ticket and may sit on the lap of their parent or guardian. In the case that a seat for the child is necessary, a ticket must be purchased.
※ You cannot stand and watch the performance. All spectators will be allocated seats with their tickets.
● You will be asked for ID at the entrance to the venue. Please ensure that you bring sufficient official identification that shows your name and date of birth as it is stated when you purchased the tickets. ID could include your driver's license, passport, student ID card, insurance card or certificate of residence. Please remember that not all countries include both your name and date of birth on the above listed forms of identification, so if you are a foreigner please check beforehand.
●Your ticket is valid for one venue, one day, one entry, and for one person.
● Please be aware that you will not be able to replace your ticket if it is lost, stolen or damaged under any circumstances.
● The ticket will become invalid if you tear along the dotted line and remove it from the stub before inspection.
● Once you receive your ticket(s), please check the venue, date and time carefully so that you do not miss the performance.
● If the ticket details are changed due to a change of the performers, you will not be able to receive a refund. We ask for your cooperation.
● Please listen to the personnel working at the venue and follow their instructions. Those who do not conform to the rules and instructions may be denied entrance to the venue or asked to leave. Those who are injured as a result of not following the rules or instructions given by personnel will be completely responsible for their own injury.
● Entry will be restricted for those who enter the venue after the performance has begun.
● Items that you cannot take into the venue include devices that record sound, video or take photos, foods and drinks containing alcohol, and dangerous items. If you bring something that falls into the above category, the film tape or other storage device on which the recordings lie will be confiscated and not returned.
● Due to certain circumstances, please acknowledge that parts of the performance are subject to change.
●You cannot exchange your ticket for another one or for your money back unless the performance is cancelled.
● In the event that the performance is cancelled or postponed, you will not be able to claim on travel expenses. Only the price of your ticket(s) will be refunded.
●In the case that the performance is postponed or cancelled and you choose to get a refund, the payment will be made to you within a predetermined period of time and at a predetermined place.
※ Please note that you will not be refunded in full if your ticket is severely damaged, lost or stained to the extent that it cannot be read.
●We will not accept any tickets that are resold. Tickets that are resold for a profit will also be declined.
●Any trouble caused to those who obtain tickets by illegal means and tickets purchased through resale are solely responsible for this themselves.
● If the face of your ticket cannot be read due to falsification, or if it changed, you may not be able to purchase it.
● If you are given an invitation to purchase these tickets, sponsors may contact you using the information you provided to purchase the tickets.
● Any personal valuables and belongings are solely the responsibility of the person who brought them along.
● Any accidents that occur inside and outside the venue such as theft are not the responsibility of the sponsors, organisers or the performers.
● Please use public transport (trains or buses) to reach the venue on the day of the performance.
● Filming and photography will be taken inside the venue during the performance. Please acknowledge that this means that footage containing you may be accessible to the public.
RELATED ENTRIES
Kyary Pamyu Pamyu's Kabuki Themed Concert Showcased in Documentary On YouTube

Kyary Pamyu Pamyu's 'Oto no Kuni Live Tour 2019' has been taking the singer to various locations across Japan steeped in the country's cultural heritage. The tour gets its name from Kyary's song Oto no Kuni taken from her album Japamyu.

Following the success of her show at the sacred Izumo Shrine in Shimane Prefecture―a region said to be the birthplace of Japan's many gods―Kyary took her traditional show to Minami-za in Kyoto, the oldest theatre in Japan. What's more is that she held it on the final day of Japan's Heisei period before the country transitioned into the current Reiwa period. The concert fused Kyary's iconic pop culture fantasia with traditional Japanese kabuki theatre.

A 9-minute medley of the concert, featuring tracks such as Ninja Re Bang Bang and Oto no Kuni, is set to be played back live on NHK World Japan today (August 19) and again on NHK General TV on September 14. It will also feature a talk with Kyary and show host Shingo Murakami.

A special documentary featuring behind-the-scenes footage as well as clips of the concert was uploaded onto Kyary's official YouTube channel. The video showcases Kyary's training for the concert carried out with kabuki actor Ainosuke Kataoka. Check it out below.

Information

「SONGS OF TOKYO」

August 19, 2019 on NHK World Japan (0:10-0:38 / 6:10~ / 12:30~ / 18:30~)

August 15, 2019 on NHK General TV (0:05-0:33)

Line-Up: Kyary Pamyu Pamyu / Shingo Murakami, Chiaki Horan

Kyary Pamyu Pamyu Official Website: http://kyary.asobisystem.com/

Kyary Pamyu Pamyu & Yasutaka Nakata Joined by Kizuna AI at SUMMER SONIC 2019

Yasutaka Nakata is the internationally acclaimed architect of kawaii music and music producer of huge Japanese names such as Kyary Pamyu Pamyu and Perfume.

The DJ and music producer is known for having collaborated with a whole string of big artists, such as Kenshi Yonezu on the song NANIMONO as well as Charli XCX on Crazy Crazy. Despite having only just dropped his new song Pico Pico Tokyo (feat. Momo Mashiro) recently, he just released a new song entitled Kizunami (cover) for digital download on August 16. The track is a cover of Kyary Pamyu Pamyu's song Kizunami taken from her fourth studio album Japamyu which Nakata Produced. It is covered by virtual talent Kizuna AI who has almost 2.7 million subscribers on her YouTube channel.

To celebrate the release of the new song, Kizuna AI appeared as a surprise guest on Yasutaka Nakata and Kyary Pamyu Pamyu's set at SUMMER SONIC 2019 which was held in Tokyo and Osaka. In a very special collaboration, she sang the song alongside Kyary―the singer of the original track.

As with the Osaka show, the RAINBOW STAGE at the Tokyo concert had an admission limit due to how much music fans were anticipating this stage.

When the intro to Fashion Monster started playing as the first song of Yasutaka Nakata's set, the crowd's excitement went straight through the roof. But it didn't stop there however, as it shot into the stratosphere when Kyary Pamyu Pamyu walked onto the stage, clad in a beautiful white outfit.

Nakata and Kyary's set was an energetic amalgamation of song mash-ups and alternative arrangements, treating the crowd to familiar hit after hit. It reestablished Nakata's status as a spearhead of the industry.

He joined Kyary in front of his DJ booth for CANDY CANDY and waved his hands left and right with the crowd to Kyary's directions. The two of them rolled out even more big numbers including Invader Invader, PON PON PON and Ninja Re Bang Bang which also had fun new arrangements.

When the intro to Kizunami started up, Kizuna AI's chorus entered the fray at which Kyary asked, "Whose voice is that?" Kizuna AI suddenly appeared on the giant LED screen at the back of the stage, and the crowd reacted instantly. She riled everyone up by calling "Summer Sonic!" before joining Nakata and Kyary in a dream collaboration.

The 19-song set was up with Mondai Girl and finally Oto no Kuni during which the crowd waved their towels in unison.

Kizuna AI's cover of Kizunami is now available for digital download and is streaming on Spotify.

Disney Christmas 2019 at Tokyo DisneySea: Spend This Year's Holiday Season With That Special Someone♡

Tokyo Disney Resort has announced this year's Disney Christmas which will take place at Tokyo Disneyland® and Tokyo DisneySea® from November 8 to December 25. This is the Tokyo DisneySea® event line-up. For the Tokyo Disneyland® schedule, click here.

'Tis the season to be jolly this year at Tokyo DisneySea, where the Christmas spirit is set to fall and settle like December snow across the park with a fantastic line-up of festive entertainment programs, magical decorations and more. Guests are invited to join the Disney cast in welcoming a very merry Christmas at this year for Disney Christmas 2019.

It's Christmas Time!


The "It's Christmas Time!" show returns again this year to Mediterranean Harbor to wrap guests in the Christmas spirit, featuring Mickey Mouse and friends along with singers and dancers who will perform to classic Christmas tunes.

Colour Of Christmas


This magical performance takes place at nighttime on the water at Mediterranean Harbor, featuring a huge 15-meter tall shimmering Christmas tree. Held annually, this will mark the show's eighth and final run. Disney characters including Mickey will also be present for the performance.

The whole of Mediterranean Harbor will be wrapped in the Christmas spirit, with the huge tree in the centre and little trees all around, and onlookers all with their own wishes for the holiday season. Snow will also fall during the performance to create a romantic atmosphere.

Special Christmas Merchandise

Pouch – ¥2,000 (Tax Included)

Around 65 very special pieces of merchandise will be available for guests to pick up, many themed on the It's Christmas Time! show. The pouch features the cute scene of Mickey and Minnie line dancing which you will see in the show. The available plush toys also have a Christmas-y gold bell on them. All of these items will be available from November 1.

There will also be adorable Duffy and Friends merchandise to pick up. Some of these items are themed on Cape Cod Village in winter, an area in the park which serves as a greeting spot for Duffy and his friends. These Christmas items will be available from November 6.

Christmas Food & Drink

A festive feast of 15 drinks and dishes will be served for Disney Christmas, from seafood pasta to roast beef sandwiches and more. There will also be a reindeer-inspired dessert as well as alcoholic cocktails and much, much more.

Enjoy a very merry Christmas this year at Tokyo DisneySea.♡

Disney Christmas 2019 at Tokyo Disneyland: Spend This Year's Holiday Season With That Special Someone♡

Tokyo Disney Resort has announced this year's Disney Christmas which will take place at Tokyo Disneyland® and Tokyo DisneySea® from November 8 to December 25. This is the Tokyo Disneyland® event line-up. For the Tokyo DisneySea® schedule, click here.

Disney Christmas Stories

Disney Christmas Stories celebrates the holiday season with a magical parade which will bring together the Disney cast members with their loved ones. The characters will dress in festive outfits and deliver to guests their own Christmas stories. Seven joyous Christmas stories will unfold before guests' eyes, from a merry family outing with Donald Duck, his beloved Daisy Duck and his three nephews Huey, Dewey, and Louie, to the star couple Mickey and Minnie Mouse.

The parade will seemingly stop all of a sudden which will be followed by ringing bells, signalling the start of a Christmas party. Snow will fall along the parade route, and the cast members will invite guests to join them in celebrating a heart-warming Christmas.

Christmas Decorations

An enormous 15-meter tall Christmas tree will tower over World Bazaar and illuminate the streets with its brilliant lights together with dazzling projections, combining with the festive music to create a romantic atmosphere.

The plaza in front of Cinderella's Castle will glimmer with Christmas adornments as well as Christmas presents, Winnie the Pooh decorations, and more. Each themed land across the park will also be embellished in Christmas colours, bringing a merry little Christmas to the park.

Special Christmas Merchandise

Glass Set – ¥2,200 (Tax Included)

Around 65 special Disney Christmas themed items are set to go on sale from November 1, from glasses to cushions and more, all of which can be used for Christmastime at home. Featuring designs of the Disney characters, each item is sure to bring an air of that nostalgia we all feel at Christmas.

Christmas Food & Drink


Also available from November 1 is a very special Christmas menu made up of 15 dishes and drinks. There's the seafood cream bread packed with melted cheese, a hot dog dressed in the colours of Christmas with its eye-catching red bun and white cheese, and more. There's also a dish inspired by the Disney film Beauty and the Beast who are set to appear in the parade.

Enjoy a very merry Christmas this year at Tokyo Disneyland.

Lolita Singer Luna Haruna Announces Surprise Solo Live Performance at Most Recent Concert

Tokyo singer and lolita fashion model Luna Haruna finished her premium solo summer concert at SHIBUYA TAKE OFF7 on August 4. The concert title Lupa and Aries no gastronomie was named after her single Lupa to Aries which was released earlier this year in June and is so far only available on streaming services. Haruna performed once in the afternoon and once in the evening with a live band. She performed a total of 28 songs, including some brand new hits.

 She launched into her concert with her hit songs Stertear, Kimi Iro Signal, Stella Breeze and Overfly. She then performed her two new fairytale-themed songs Lupa to Aries and Kaiten Mokuba live for the first time. 

Afterwards, she turned to her fans and said:

"I challenged myself to something completely new this time. I want to show you all a side of me you have never seen before."

What the fans heard next was an unexpected surprise. 

She announced that she will be performing at Mt.RAINIER HALL SHIBUYA PLEASURE PLEASURE, Tokyo on November 16. The venue, packed with fans, could not contain their excitement, responding to the glorious news with cheers of joy that echoed throughout the entire room. 

Her recent release Kaiten Mokuba follows the same fairytale theme as Lupa to Aries. The beautiful harmonies created by the strings pierce through the strong and pressing beat of the song. This gothic fairytale song is appropriately titled Kaiten Mokuba (Carousel) to further emphasise the distorted feeling of being spun around in endless circles. Luna is an artist who represents the lolita scene for lolita fans worldwide. This fairytale video is where her true self comes alive. Her new, mysterious visuals are a fusion of lolita fashion and Alice in Wonderland themes. 

Luna Haruna Music Video: Kaiten Mokuba 

The head-spinning music video shows Luna in different lolita fashion outfits. Each outfit explores the depths of a different character from Alice in Wonderland. Watch Luna spin her way through five Alice in Wonderland-themed lolita dresses including the White Rabbit, the Cheshire Cat, the Mad Hatter and of course, Alice.  

Luna will also be singing the theme song for the upcoming anime film Saekano: How to Raise a Boring Girlfriend Fine, which will premiere on October 26. This isn't the first time Luna has been involved in the Saekano anime series. She performed the theme songs Kimi Iro Signal and Stella Breeze, which were the TV anime's first and second anime openings respectively. 

The anime film opening will be written by Miku Sawai, who wrote the lyrics for the TV anime's first and second ending theme songs Colourful and Sakura Iro Diary respectively. Miku Sawai and Luna Haruna have become massive sensations in the news for their anime hits. Just what kind of chemical reaction will unfold when these two heroines collaborate on the anime film's opening theme song? Please keep your eyes peeled for future updates. 

Photos: ©美澄

Information

Luna Haruna 2019 Autumn Solo Concert (Title to be confirmed)

Date/Time: November 16, 2019 Doors Open: 16:30 Start: 17:00

Venue: Mt.RAINIER HALL SHIBUYA PLEASURE PLEASURE, 

Address: Shibuya PRIME (6th floor), 2 Chome-29-5 Dogenzaka, Shibuya City, Tokyo

http://www.pleasure-pleasure.jp/index.php

Ticket Prices: ¥6,480 (after tax, designated seating only).

* You can order a maximum of four tickets per concert.

*There is also a compulsory one drink fee that you must pay upon entry into the venue. 

* Entry is not permitted for those under school age. 

Fan Club Member-limited preorder period: August 4th (21:00) ー 19th (23:59)

Luna Haruna Official Fan Club "L-67 Luna☆Station"

・General Ticket Sales period: To be confirmed.

Queries: (Sunrise Promotion Tokyo) 0570-00-3337(10:00-18:00)

Kaiten Mokuba

Available on most streaming services:  https://harunaluna.lnk.to/OWrKt0ME

Lupa to Aries

Available on most streaming services: https://harunaluna.lnk.to/ro4yd5wD

Saekano: How to Raise a Boring Girlfriend Fine

Premiere: October 26, 2019 across Japan. 

Anime Film Website: https://saenai-movie.com

Luna Haruna Official Website:  http://www.harunaluna.jp/

Sailor Moon Show Restaurant To Open in Azabu Juban, Tokyo

Dining on Sailor Moon-themed food while being entertained by a live Sailor Moon musical is a dream come true for many. On August 15, 2019, a show restaurant called Sailor Moon-SHINING MOON TOKYO will open in Azabu Juban, Tokyo. 

Japan has already surprised many with the release of a Sailor Moon 2.5D Musical. This is a type of modern Japanese musical theatre based on anime where the characters are brought into the real world. This new show restaurant is aiming even higher, offering a completely new form of live entertainment. 

There isn't a better place for the restaurant to open than Azabu Juban, where the Sailor Moon characters are often seen in the anime. In fact, Azabu Juban is a holy land for all Sailor Moon fans, attracting fans from all over Japan and even from overseas. Once fans heard the news of the show restaurant, excitement spread like wildfire.

There is no doubt that this original show is a fantastic opportunity to delve deep into the world of Sailor Moon. There will also be the opportunity to try meals and drinks that are based on the anime which is not sold anywhere else. Of course, there will also be an area dedicated to the sale of original goods. 

The official website was published ahead of the grand opening of the restaurant. General ticket sales will be launched at 10 am on July 21. Enjoying Sailor Moon-themed meals and drinks while being entertained by a Sailor Moon stage show is a completely unique experience that many are curious about.

©️Naoko Takeuchi

©️Naoko Takeuchi, PNP, Sailor Moon  –SHINING MOON TOKYO –

Information

Sailor Moon  –SHINING MOON TOKYO –

Location: Basement Floor 1, Joule A, 1 Chome-10-10 Azabu Juban, Minato City, Tokyo 

Grand Opening: August 15, 2019 

※ Ticket sales start at 10 am on July 21, 2019

General Ticket Enquiries: info@sailormoon-shiningmoontokyo.com 

Official Website: https://sailormoon-shiningmoontokyo.com/ 

Eir Aoi Just Dropped The Music Video For Granbelm Anime Opening Tsuki wo Ou Mayonaka

Eir Aoi's LIVE TOUR 2019 Fragment oF took her on a journey across the country, performing at eight different locations to approximately 10,000 wild fans. She saw her final tour performance at Kanagawa Kenmin Hall on July 15.  

The overpowering digital rock song UNLIMITED sent an instant surge of energy through the crowd. Her heart-throbbing setlist included a range of big hits that were used as theme songs for the anime Sword Art Online including Iris, INNOCENCE, Cynthia no Hikari, Ryusei and IGNITE . Her strong vocals and the passion etched onto her face enthralled the crowd. 

For the encore, she performed Tsuki wo Ou Mayonaka, which is the new opening theme song for the anime Granbelm. The urgent beat of the song energised the audience, who were dancing and singing as one. For the last song, she performed AURORA, which she especially prepared for this day only. 

"There are times that I just cannot sing this song, but seeing the encouraging and excited faces of my fans gave me the support I needed to sing," she said.

Eir Aoi: Tsuki wo Ou Mayonaka Music Video

After the encore was over, there was a surprise for the fans. The music video for Tsuki wo Ou Mayonaka, the new theme song for the anime Granbelm, was played before the crowd. Fans could not contain their wild joy at being the first people to watch the video. The music video was just released on July 16 at 8pm, so please check it out. 

Stream Your Favourite Japanese Artist Anytime With Deezer's New 'Asian Music' Channel

Have you ever tried typing in your favourite Asian artist into Spotify only to find only some or none of their music is on there? All of that is about to change as the music streaming platform Deezer introduces its new 'Asian Music' channel to bring fans closer to their favourite acts, both mainstream and underground.

Deezer boasts 14 million monthly active users in 180 countries around the world who are connected to an ever-expanding catalogue of 53 million tracks.

Available now worldwide, the new music channel will help support local genres in Japan, Singapore, Malaysia, Philippines, and Indonesia. It features exclusive and personal playlists from the biggest artists across the continent such as Kyary Pamyu Pamyu (Japan), Tabitha Nauser (Singapore), and Gloc-9 (Philippines). The editors at Deezer have also created dedicated playlists for each country to help fans find their favourite artists as well as introduce them to new acts.

The playlists created by Deezer's editors for Japan include: Top J-Pop, J-Pop Rising, Top J-Rock, and Japan 90s Hits. Look forward to listening to the biggest names in the land of the rising sun right now such as Perfume, Aimyon, and tofubeats and get familiar with rising acts like Manon and AAAMYYY.

Deezer's Asian Music section can be accessed here. Find your new favourite artist today.

Kyary Pamyu Pamyu, Marshmello, Ninja & More to Perform at Metarama Festival in Las Vegas

Kyary Pamyu Pamyu released her new song KIMI GA IINE KURETARA in May and subsequently went on to put on a Kabuki-style concert at Minami-za in Kyoto.

The pop sensation continues to spread Japanese culture across the globe as she announces her appearance at the Metarama festival in Las Vegas this October.

Metarama is a gaming and music festival that is being held for the first ever time this year. It features a line-up of influencers in both music, such as Marshmello and Snoop Dogg, and gaming including Ninja and Pokimane.

Tickets are now on sale so be sure to get yours ASAP.

Join Kyary Pamyu Pamyu as She Tours the Sacred City of Izumo in Latest Video

Recently, Kyary Pamyu Pamyu held a special one-night-only live performance at Izumo Taisha; a sacred and grand Shinto shrine located in Shimane prefecture which is said to be the origin of Japan's gods. Kyary's Otono Kuni Live Tour 2019 performance embraced the sacred atmosphere and the theme of her recent fourth album Japamyu. On that night in particular, her new song Otono Kuni really struck a chord!

Wanna know more about her godlike live concert on holy grounds?!

Here's the concert live report: https://www.moshimoshi-nippon.jp/191957

Travelling to Japan? Let Kyary be your tour guide!

Kyary has just released a travel movie where she returns to the sacred land but this time, as your tour guide and not a performer! Join Kyary and get discovering with her new tourist video! She has also set up a special website dedicated to her sightseeing adventures in Izumo.

Kyary strolls around Izumo: The sacred land where the sun sets.

From legends to ancient history, Izumo is a gold mine of culture and secrets that Kyary will share with you! In this beautiful short movie, you can join Kyary and enjoy a day of fun!

Whether you want to visit Izumo or you've already been,or maybe you're considering a trip to Japan and you're not quite sure where to go! This movie is something you'll definitely love to see so please check it out!

Japanese Music Artists Performing Overseas in 2019: Part 3

With summer fast approaching, concertgoers are gearing up for this year's music festivals and live shows. We previously covered numerous Japanese bands and artists performing who overseas this year in parts one and two of this feature, but since the previous entry, even more acts have been announced.

Here is a new list of artists embarking outside Japan this summer.

Suchmos

For the first time in their career, rock group Suchmos are set to embark on their first ever Asia Tour this June. They will hit up 6 locations, beginning in Hong Kong before heading to Taipei, Seoul, Shenzhen, Shanghai and Beijing.

▶︎ Suchmos ASIA TOUR 2019

2019/6/2 @ Music Zone @ KITEC, Hong Kong

2019/6/7 @ Legacy Taipei, Taipei

2019/6/9/ @ YES24 Live Hall, Seoul (*w/ HYUKOH)

2019/6/12 @ B10 Live, Shenzhen

2019/6/14 @ Modern Sky Lab, Shanghai

2019/6/16 @ Tango Live (Floor 3F), Beijing

Suchmos Official Website: https://www.suchmos.com

→News Update (June 1, 2019)
Following unexpected illness of one of their members, Suchmos have cancelled all remaining dates on their upcoming overseas tour.

【NEWS】
アジアツアー追加公演が決定しました。

■6/28(金) ジャカルタ
会場は後日発表

■6/30(日) バンコク
Moon Star Studio 1

▼公演詳細はこちら▼https://t.co/HzrqIYa1FQ pic.twitter.com/ooz5TLntDL

— [ALEXANDROS] (@alexandroscrew) 2019年4月13日

[ALEXANDROS]

Rock band [ALEXANDROS] are also heading on tour in Asia throughout June and July. The band are currently on their "Sleepless in Japan Tour" in promotion of their newest album Sleepless in Brooklyn and will take their concerts across Asia for 8 shows, starting with Shanghai on June 21 and wrapping in Seoul on July 21. This also marks their first time performing in Shanghai and Beijing.

 

▶︎ Sleepless 2019 Asia Tour

2019/6/21 @ Modern Sky Lab, Shanghai

2019/6/23 @ Beijing Omni Space, Beijing

2019/6/28 @ Jakarta (*Venue TBA)

2019/6/30 @ Moon Star Studio 1, Bangkok

2019/7/5 @ Music Zone @ E-Max, Hong Kong

2019/7/7 @ Legacy Taipei, Taipei

2019/7/19/ @ Bentley Music Auditorium, Kuala Lumpur

2019/7/21 @ MUV HALL, Seoul

[ALEXANDROS] Official Website: https://alexandros.jp

SAKANAQUARIUM 2019 "834.194"
6月28日 上海&6月30日 深セン公演

明日5月1日12:00よりチケット販売が始まります。
券種・プレイガイドはサカナクションHPに掲載しています。https://t.co/GyH6y5B25n

— sakanaction (@sakanaction) 2019年4月30日

Sakanaction

Sakanaction have announced that they will play in Shanghai and Shenzhen at the end of June. Upon unveiling the news the band created their own Weibo account, a Chinese social media platform. The rock band will release their new album 834.194 in June, their first album release since sakanaction was released 6 years ago in March 2013. The Asia dates were added to their ongoing Japan tour. This will be their second set of headline concerts outside in Japan since they performed overseas for the first time back in 2013 in Taiwan. The band are known for their use of cutting-edge technology at their shows, so foreign fans can look forward to seeing what they have in store for them next month.

  

▶︎ SAKANAQUARIUM 2019 "834.194"

2019/6/28 @ Modern Sky Lab, Shanghai

2019/6/30 @ A8 Live, Shenzhen

Sakanaction Official Website: http://sakanaction.jp

BAND-MAID

Earlier this month, five-piece maid rock band BAND-MAID announced the European leg of their 2019 world tour, one which will begin this June and one whose decided theme is Gekidou, or "tumultuous." All shows on BAND-MAID's 2018 world tour sold out completely. The initial European leg of their long-awaited new world tour will take them to 3 countries for 4 performances. They will then head to the US in September.

Related Article: BAND-MAID Announces European Leg Of 'Tumultuous' 2019 World Tour

▶︎BAND-MAID WORLD DOMINATION TOUR 2019 【激動】 ~gekidou~

6/22 – London, UK @ Islington Assembly Hall

6/23 – Paris, France @ Le Trabendo

6/24 @ Bochum, Germany @ Zeche

6/26 @ Hamburg, Germany @ DAS LOGOS

9/26 @ NYC Gramercy Theater, US

9/28 @ Dallas Cambridge Room, US

9/30 @ LA ECHOPLEX, US

10/1 @ LA ECHOPLEX, US

World Tour Info: https://bandmaid.tokyo/contents/241952

BAND-MAID Official Website: https://bandmaid.tokyo/

Kyary Pamyu Pamyu, CAPSULE, m-flo & More

The biggest names in Japanese pop music are set to take over Los Angeles at QTAQUEST LIVE and OTAQUEST KICK OFF PARTY which is set to take place at THE NOVO by Microsoft on July 3, 2019. Both OTAQUEST LIVE and OTAQUEST KICK OFF PARTY serve as the opener to Anime Expo, the biggest anime convention in the US, which will run from July 4 to 7. CAPSULE, Kyary Pamyu Pamyu, Crazy Boy, HIROOMI TOSAKA and m-flo are set to deliver Japanese entertainment to US lovers of Japanese music and entertainment.

Related Article: Kyary Pamyu Pamyu, Yasutaka Nakata & CRAZYBOY to Perform at QTAQUEST LIVE in Los Angeles

▶︎OTAQUEST LIVE

Date: July 3, 2019

Time: OPEN 17:00 / START 18:30

Location: THE NOVO by Microsoft, Los Angeles, California, US

Line-Up: CRAZYBOY / HIROOMI TOSAKA / m-flo / CAPSULE / Kyary Pamyu Pamyu

OTAQUEST KICK OFF PARTY

Date: July 3, 2019

Time: OPEN/START 22:00

Location: THE NOVO by Microsoft, Los Angeles, California, US

Line-Up: ☆Taku Takahashi / TeddyLoid / Yasutaka Nakata (CAPSULE) / …and more

Event Website: https://live.otaquest.com/

Tickets: https://www.axs.com/events/372261/otaquest-live-tickets?skin=novo

Ai Otsuka

This year, Ai Otsuka celebrates her 15th anniversary since her debut. The singer-songwriter released her greatest hits album Ai am BEST, too in January this year, and she is currently in the midst of her nationwide Japan tour. 5 Asia dates have been added to the tour. Her previous Asia tour took her to just three cities: Taipei, Shenzhen and Guangzhou, but this year she is spreading her wings and will perform in Guangzhou, Chengdu, Shanghai and Taipei.

 

▶︎ AIO PIANO at ASIA vol.2 

2019/7/17 @ Dr. Sun Yat-sen's Memorial Hall, Guangzhou

2019/7/19 @ 特侖蘇音楽庁, Chengdu

2019/7/27 @ BANDAI NAMCO SHANGHAI BASE DREAM HALL, Shanghai

2019/7/28 @ BANDAI NAMCO SHANGHAI BASE DREAM HALL, Shanghai

2019/8/17 @ ATT SHOW BOX 大直, Taipei

Ai Otsuka Official Website:  http://avex.jp/ai/

If you love Japanese music and a Japanese band or artist are coming to a city near you this year, then be sure to show your love and support by getting your hands on a ticket to see them live.

Kyary Pamyu Pamyu stars as herself in the drama My Family Goes Viral!

Kyary Pamyu Pamyu will make a guest appearance in the 7th episode of the drama My Family Goes Viral (Mukai no Bazuru Kazoku) which will air on 16th May! Kyary Pamyu Pamyu's latest song KIMIGA IINE KURETARA became the opening theme song for My Family Goes Viral which stars Rio Uchida as the main character. Kyary's last appearance in a drama was four years ago on the CX Kei drama series A Restaurant with Many Problems (Mondai no aru restaurant).

For this episode, Kyary has challenged herself to the role of… herself!

So, what's the episode all about?

As main character Akari Kagari (Rio Uchida) spends her days working at a café, her mother Hinako, a housewife, gets stuck deep into a social media obsession after posting a cooking video which got a like from Kyary Pamyu Pamyu! Just one like from Kyary as she was casually scrolling social media and all of a sudden, the entire Kagari family is plunged into chaos!

 

And what was Kyary's opinion on all this?!

Q. What are your thoughts on taking part in the drama?

I haven't really taken part in any dramas in my life. I've rarely ever even been to a drama set so I was really nervous! As I played the role of me, there wasn't any need to create a new personality or anything, so I just acted like myself and I had so much fun!

Q. What was your impression when you watched the drama?

It's so now! I watch this drama every day and it makes my heart thud uncontrollably! After the characters took a small step into the world of social media, so much drama started to unfold! The opening theme song KIMIGA IINE KURETARA is also perfect to describe the world of the drama! I want viewers to enjoy the song along with the drama!

KIMIGA IINE KURETARA became available for digital download and streaming from 10th May so please check it out along with the drama!