Kyary Pamyu Pamyu, Shinsei Kamattechan, and RIP SLYME are all members of unBORDE. This year, the artists of unBORDE will be delivering an omnibus live event called "unBORDE Xmas Party 2017".
There are six music acts taking part for the Christmas live, one of whom is AIMYON – a singer-songwriter from Nishinomiya, Hyogo, who released her first full album in September. She will be joined by Stardust Promotion's Nagoya idol group Team Syachihoko, who will release their first best album on 18th October, and the girl band yonige, who are from Neyagawa, Osaka and released their first major full album in September. The stage will also be occupied by RöE, the new music sensation that is planning their major debut with unBORDE next year, the three-person ensemble WANIMA from Kumamoto who will join unBORDE from March next year, and the world famous Harajuku icon Kyary Pamyu Pamyu!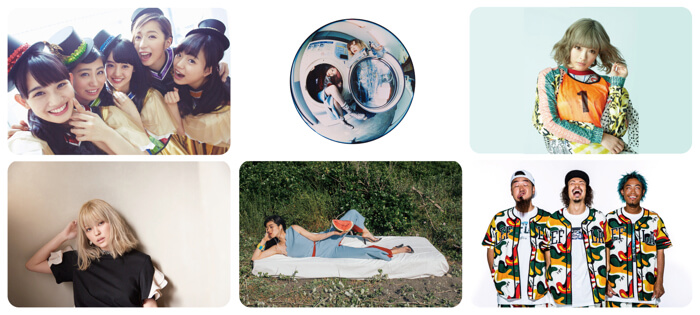 The first round of tickets to be released will be issued to celebrate 7 years of unBORDE. The "lucky seven" extremely rare tickets will be launched for sale from noon of Saturday 21st October through "WIZY". This ticket comes with the benefit of obtaining an unBORDE Xmas official T-shirt that cannot be purchased anywhere except for at this event. Those who possess the rare lucky seven tickets will be given priority entrance into the venue. There are only 777 of these rare tickets available!
Get your hands on a special ticket and enjoy Christmas!!
■Information
unBORDE Xmas Party 2017
Venue:Zepp Tokyo
Date:23rd December 2017(Saturday, national holiday)Doors open: 14:00/ start: 15:00(planned finish time: 20:30)
Performers(alphabetical order): AIMYON, Kyary Pamyu Pamyu, RÖE, Team Syachihoko, WANIMA, yonige,
<Advanced tickets (released from 21st OCtober)>
Ticket type:Lucky Seven ultimate rare tickets: ¥8,000(price including tax)+ postage charge
unBORDE Xmas official T-shirt(WIZY-limited)(includes 1st floor standing)
※ Separate drink fee
※ Includes Christmas present
※ 4 T-shirt sizes: S, M, L, XL
※ Priority entry
※ Original design ticket
Number of tickets:777 (limited number) (One customer can purchase up to two tickets)
Ticket sales period:21st October(Sat)noon ~ 31st (Tues) 23:59(Sales will discontinue once all 777 tickets have been sold).
Ticket website: http://recochoku.com/wizy/unborde/
From Wednesday 1st November, the official website will be releasing advanced sales for 2nd floor family seats.
Ticket type:Standard ticket ¥5,500 (price including tax)  ※ Does not include drink price ※ includes Christmas present
1st floor – standing /2nd floor seating/ 2nd floor family seating/2nd floor standing  
Some 2nd floor seating/family seating options:
1 adult & seating for 1 child(purchase of 2 tickets)
1 adult, seating for 2 children(purchase of 3 tickets)
2 adults, seating for 1 child(purchase of 3 tickets)
2 adults, seating for 2 children(purchase of 4 tickets)
Family ticket terms and conditions:
※ Primary school children(aged 12)must be accompanied by a parent or guardian.
※ You will not be permitted to enter the venue without your accompanying child/children. Likewise, children must be accompanied by their responsible adult.
※ Those above primary school age (12 years old) must purchase a ticket.
※ Those below preschool age are not required to purchase a ticket and may sit on the lap of their parent or guardian. In the case that a seat for the child is necessary, a ticket must be purchased.
※ You cannot stand and watch the performance. All spectators will be allocated seats with their tickets.
● You will be asked for ID at the entrance to the venue. Please ensure that you bring sufficient official identification that shows your name and date of birth as it is stated when you purchased the tickets. ID could include your driver's license, passport, student ID card, insurance card or certificate of residence. Please remember that not all countries include both your name and date of birth on the above listed forms of identification, so if you are a foreigner please check beforehand.
●Your ticket is valid for one venue, one day, one entry, and for one person.
● Please be aware that you will not be able to replace your ticket if it is lost, stolen or damaged under any circumstances.
● The ticket will become invalid if you tear along the dotted line and remove it from the stub before inspection.
● Once you receive your ticket(s), please check the venue, date and time carefully so that you do not miss the performance.
● If the ticket details are changed due to a change of the performers, you will not be able to receive a refund. We ask for your cooperation.
● Please listen to the personnel working at the venue and follow their instructions. Those who do not conform to the rules and instructions may be denied entrance to the venue or asked to leave. Those who are injured as a result of not following the rules or instructions given by personnel will be completely responsible for their own injury.
● Entry will be restricted for those who enter the venue after the performance has begun.
● Items that you cannot take into the venue include devices that record sound, video or take photos, foods and drinks containing alcohol, and dangerous items. If you bring something that falls into the above category, the film tape or other storage device on which the recordings lie will be confiscated and not returned.
● Due to certain circumstances, please acknowledge that parts of the performance are subject to change.
●You cannot exchange your ticket for another one or for your money back unless the performance is cancelled.
● In the event that the performance is cancelled or postponed, you will not be able to claim on travel expenses. Only the price of your ticket(s) will be refunded.
●In the case that the performance is postponed or cancelled and you choose to get a refund, the payment will be made to you within a predetermined period of time and at a predetermined place.
※ Please note that you will not be refunded in full if your ticket is severely damaged, lost or stained to the extent that it cannot be read.
●We will not accept any tickets that are resold. Tickets that are resold for a profit will also be declined.
●Any trouble caused to those who obtain tickets by illegal means and tickets purchased through resale are solely responsible for this themselves.
● If the face of your ticket cannot be read due to falsification, or if it changed, you may not be able to purchase it.
● If you are given an invitation to purchase these tickets, sponsors may contact you using the information you provided to purchase the tickets.
● Any personal valuables and belongings are solely the responsibility of the person who brought them along.
● Any accidents that occur inside and outside the venue such as theft are not the responsibility of the sponsors, organisers or the performers.
● Please use public transport (trains or buses) to reach the venue on the day of the performance.
● Filming and photography will be taken inside the venue during the performance. Please acknowledge that this means that footage containing you may be accessible to the public.