Tokyo Stroll: A relaxing date with Yutaro at Shibuya's Cat Cafe MoCHA!
Our cute model Yutaro finally found some time in his busy schedule to go on a date with me! Today we're heading to a spot where you can cure your fatigue after a long day at work. Our destination for today is a cat café! Today Yutaro took me out to Café MoCHA in Shibuya. This cat café is filled with many sofa seats, from which you can gaze at the scenery of Shibuya at nighttime.
This was my first time at this cat café, but Yutaro's second time. Yutaro quickly proceeded as if he was very familiar with it. We ended up on the second floor of Cat Café MoCHA Shibuya. First, we spent time on the upper floor to meet the cats.
Cats, cats and more cats in so many different places – they were here, there and everywhere! Some stayed sprawled out on the swinging seats whilst some came to cosy up with the humans. This was a great opportunity to get to know them.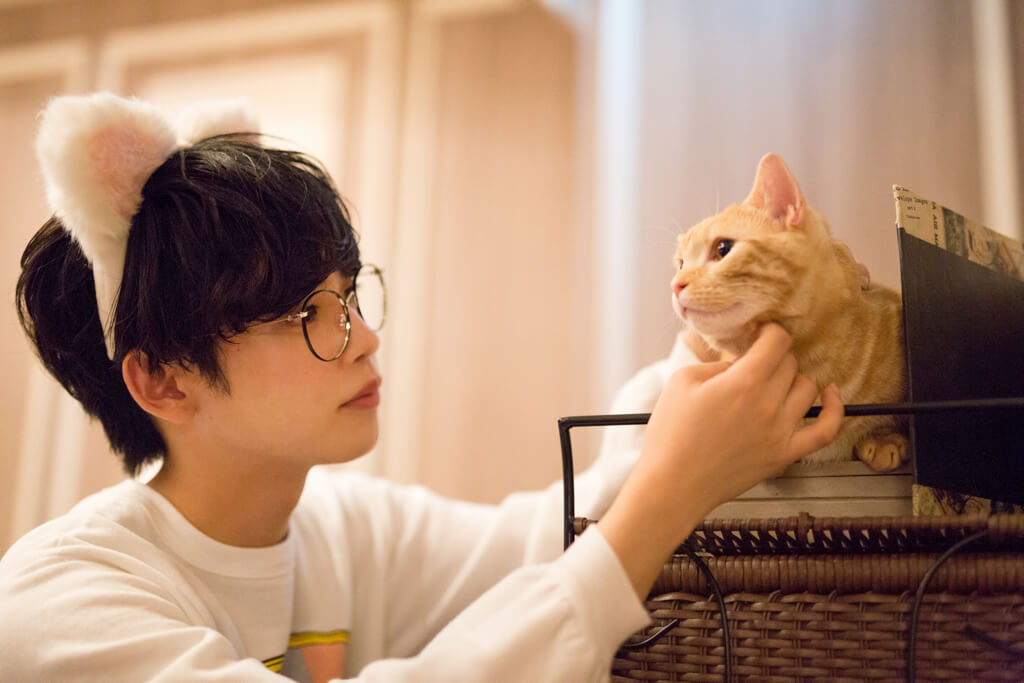 All of a sudden…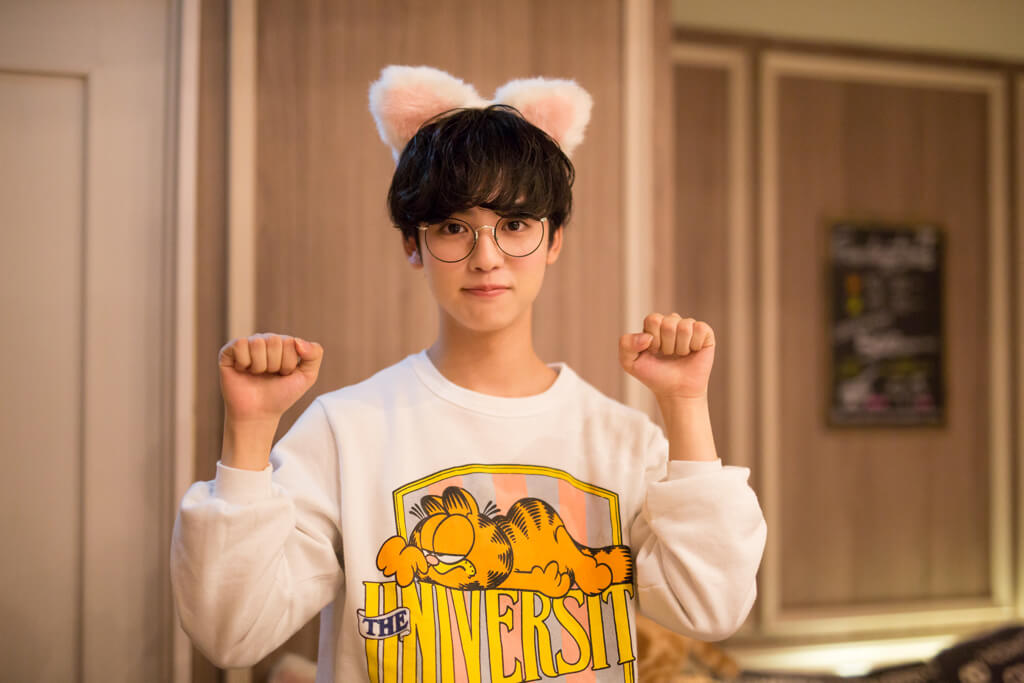 …When did Yutaro get those cat ears?! Did he do this to get into the cat café mood? With a bushy cat toy in one hand, he got closer to the cats. Notice Yutaro is wearing a sweater with a cat character on it in this photo! I wonder if he decided to wear this because of the cat café… anyhow, it's so cute!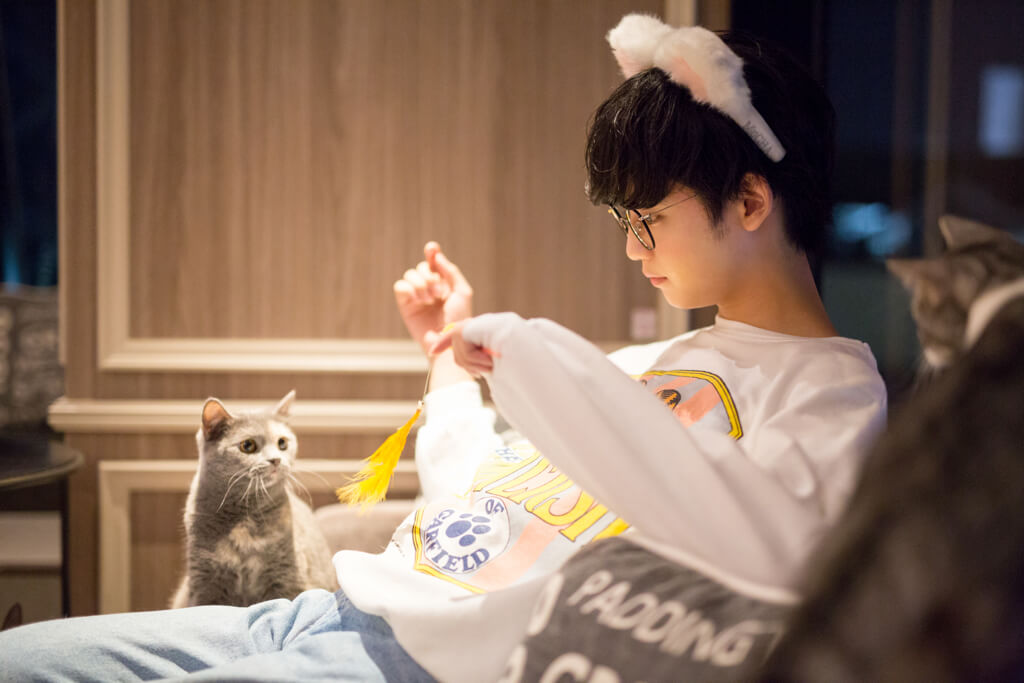 "Caaaaaaats!"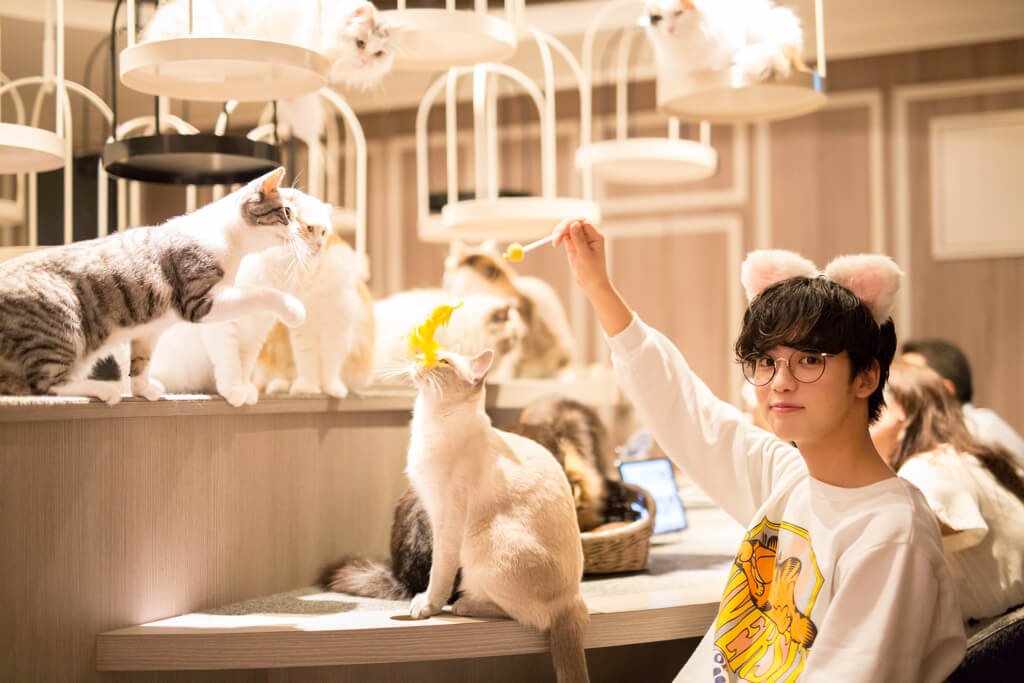 "I've got them all!"
I wonder if it's Yutaro's cat ears that attracted all the cats to gather around him? Yutaro waved the bushy cat toy about with one hand, triggering the playful cats. The sight of it healed my tired heart. ♡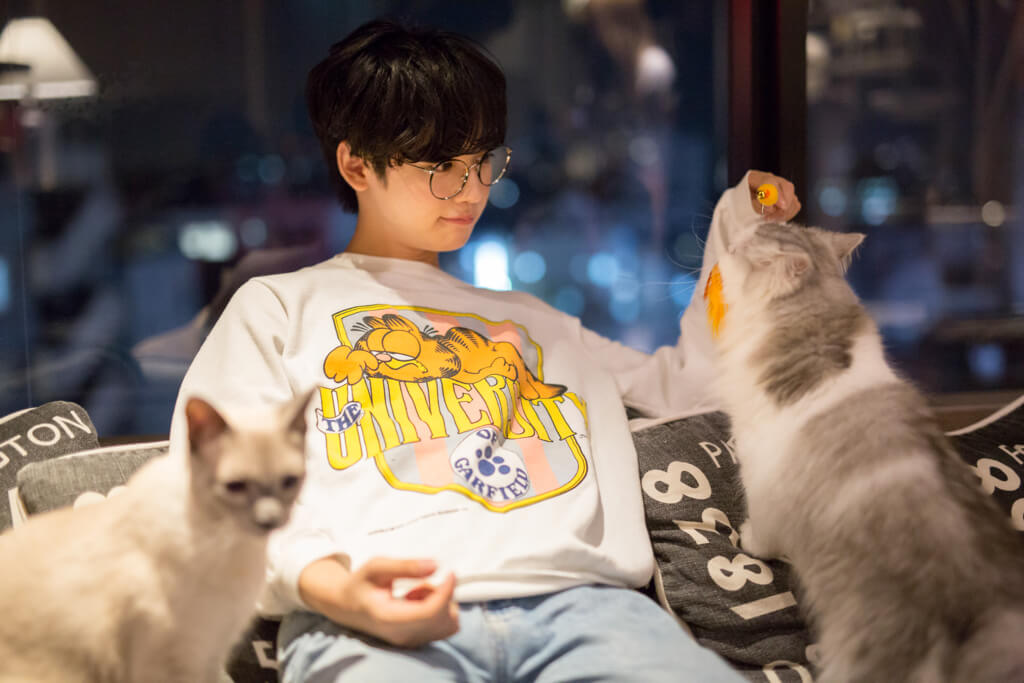 Afterwards, we chilled with some cats on a sofa, purring. The sofa was a great spot to look over the beautiful nighttime scenery of Shibuya. It was very…romantic…
After our break, we went straight back to play mode! It was time to play with the cats!
The cats seemed to gradually get tired after all that playing and then it was back to relaxation mode. Why does this cat choose to sit right behind Yutaro?!
And here's one sitting just like Yutaro!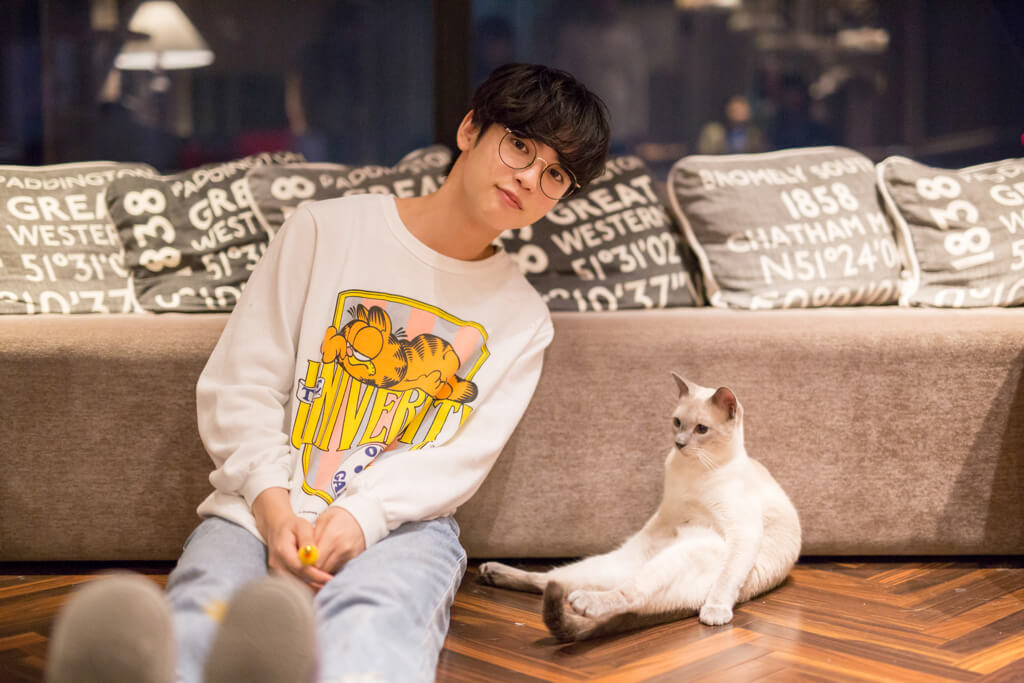 Little by little, Yutaro and the cats became better friends.
>>next page
RELATED ENTRIES
Review: The 30 Year Old Cafe Chatei Hatou in Shibuya

Hi, everyone. It's Banako of MOSHI MOSHI FRIENDS. Today I'm reviewing Chatei Hatou, a long-standing cafe in Shibuya, Tokyo.

Shibuya is a place that bustles with youth culture and fashion. It's also home to many eateries, but there aren't many places around that you can go to to get away from the busy streets for a quiet break.

Chatei Hatou opened in 1989 at Miyamasuzaka Shita in Shibuya, where it has gone unchanged and welcomed customers for the past 30 years. It's very easy to get to, being just a 3-minute stroll from the Hachiko Exit of Shibuya Station.

When opening the door to the cafe and stepping inside, the first thing to jump out at you are the rows of coffee cups lined up along shelves behind the counter.

The coffee cup collection features a selection of works by many different makers. There's even a cup in there valued at ¥200,000!

The antiques littered here and there around the cafe elevate the vibe of the cafe. There's a number of seating areas, including the counter seats as well as tables for two, four, or big groups.

I felt the faint tasty scent of the Japanese pudding calling to me so I went and ordered a pumpkin pudding along with a hot chocolate.


Cafe Chocolat (Hot) ¥950 / Pumpkin Pudding ¥500


The pumpkin pudding was nice and moist and rich in flavour. Nothing short of delicious. It's made even sweeter when eaten together with the fluffy whipped cream―which also elevates the flavour of the pumpkin too.


I was inspired by the cafe owner to go for the cup I chose for my hot chocolate. There is so much variety between the cups; it's fun getting to see rare ones. Be sure to check their Instagram page where they have more detailed write-ups about their coffee cups and coffee varieties.

The cafe has a selection of original coffee blends which they make fresh with the utmost care and consideration. You can buy their coffee beans, take cake away from you, and even order whole cakes, so you can enjoy their delights at home.

Chatei Hatou has stood together with Shibuya these past 30 years. According to the owner, the most important thing about running a cafe is making sure its doors are always open. It's been tough as a result of the pandemic this year, but the cafe is still there as a part of people's lives.

The next time you're in Shibuya, why not enjoy a drink and a sit down at Chatei Hatou?

Information

Chatei Hatou
Address: 1-15-19 Shibuya, Shibuya-ku, Tokyo
Opening Hours: 11:00-23:30 (Last Orders 22:30)
No Fixed Holidays (But may be closed during the New Year Holidays)
Access: 3-minutes on foot from Shibuya Station's Hachiko Exit
Official Instagram: https://instagram.com/hatou_coffee_shibuya?igshid=9ubwybwvpktb
*The cafe is cash-only and has an outdoor smoking area

Writer: Banako
Translator: Joshua Kitosi-Isanga

Tokyo Stroll: The Café That You Want to Visit to See Someone #14 – 'Kayaba Coffee' in Yanaka

In this edition of The Café That You Want to Visit to See Someone, I visited Kayaba Coffee, a coffee shop in Yanaka, Tokyo, which is a perfect example of the old and traditional shitamachi neighbourhoods.

Kayaba Coffee is just a 10-minute walk from both Nezu Station and Nippori Station.


This is a place I've visited in my private time out of work and I'm always excited to go. Kayaba Coffee was established in 1938, and actually closed in 2006. But due to public demand, the cafe reopened just two years later in 2008. It's a popular coffee shop loved by people of all generations.

Time to head on in.

The first floor houses the counter and table seats, while the seating on the second floor is traditional zashiki style on tatami flooring. Although it's a cafe, you I feel so relaxed in there that it's like I'm visiting my grandma's house. The sun shines through the big windows, making you all warm and want to take a nap.

I ordered their super popular egg sandwich! The menu was changed in May this year, and a new and improved version of their egg sandwich was put on there. It's made using sourdough bread from VANER, a local bakery in Uenosakuragi not far from the cafe.


Breakfast Menu – Egg Sandwich | ¥1,000

The chewy, sour bread is the perfect combination with the fluffy eggs.

Lemon Squash | ¥600

The lemon squash has a cinnamon aftertaste. Everything on the menu is made with love and perfection; before I realised it, I was hooked on going there.

Strawberry Shaved Ice | ¥800

This was my first shaved ice of the year! I went with the classic strawberry flavour. The syrup is super juicy and nearly collapsed the fluffy shaved ice the moment I put it on. It has a syrupy texture and the strawberry juice has a sweet and sour kick that's just simply delightful♡

And you can make it even sweeter by pouring over your desired amount of condensed milk. It was really tasty.


Kayaba Coffee is the same as it was back in the day, and continues to be loved dearly. I think even people who visit it for the first time will feel a sense of nostalgia. If you have a place you can go to relax on bad days or when you're feeling down, it's sure to give you the strength to work hard again. This cafe is a wonderful place that's close to people's hearts.

I want to visit there again already.

Writer/Model: Ema Tanioku
Photographer: Haruka Yamamoto
Design: Yuko Takayama (ASOBISYSTEM)

Translator: Joshua Kitosi-Isanga

Information

Kabaya Coffee
Address: 6-1-29 Yanaka, Taito-ku, Tokyo

Opening Hours: [Tue-Fri] 8:00-18:00 (Last Orders 17:30) / [Weekends] 8:00-19:00 (Last Orders 18:30)

Closed: Mondays

Manga Series Tokyo Revengers Gets Exhibition at Tower Records Shibuya

Tower Records Shibuya will host an exhibition dedicated to the ongoing manga series Tokyo Revengers from September 26 to October 18. The exhibition is being held to promote the release of the 19th volume which hits shelves in Japan on September 17.

Tokyo Revengers is a manga series written and illustrated by Ken Wakui. An anime adaptation is scheduled to broadcast in 2021.

The exhibition will feature a variety of works drawn by Ken Wakui for the series, both black and white as well as coloured illustrations, as well as panels of each character, and more. There will also be an exhibit for the upcoming live-action film.


Tokyo Revengers x TOWER RECORDS OSMO Stamps (22 Designs) | ¥909 Each (Before Tax)

Tokyo Revengers Monochrome Panels | ¥30,000 Each (Before Tax, Includes Shipping)

Fans can also get their hands on a range of exhibition-exclusive merchandise, and from October, the exhibition will sell some Tokyo Revengers x Tower Records collaborative merch. There'll be some signed artwork for sale too.

Character Business Cards (11 Designs)

And for every ¥1,000 spent at the exhibit, fans will receive one of 11 possible character business cards.

Information

Tokyo Revengers Exhibition – Tower Records Shibuya
Running: September 26, 2020 – October 18, 2020

Time: 12:00-15:00 / 16:00-20:00 (Last Entries 19:30)

Location: Tower Records Shibuya Floor 8F SpaceHACHIKAI
Entry: Free (But you must book a place online)

Exhibition Information (Japanese): http://towershibuya.jp/news/2020/09/15/148467

TALENT PROFILE

Anna Yano

Released the song "Shape My Story" produced by kz (livetune) in August 2013. Performed as the vocalist on a single for kz's solo project 'livetune' in January 2014. Both songs were used as theme songs for anime series and received attention in Japan and overseas. In October 2015, she formed a new unit with kz called 'livetune+' and they released their first EP "Sweet Clapper" on May 11, 2016.

Ayumi Seto

Active as a model, especially in fashion magazines. Receives tremendous support for her cute and distinct fashion. In February 2014, she debuted her apparel brand 'Aymmy in the batty girls' where she works as a designer. She was the first Harajuku and Aomoji-kei model to establish an authentic apparel brand. She develops clothing items through her unique fashion sense lens.

Ema Tanioku

"Emaeri" is the nickname for models Ema and Eri Tanioku, who are Aomoji fashion model twins. Ema and Eri Tanioku specialise in twin fashion coordination. Over the years their fanbase has increased due to their cute looks. Ema Tanioku spreads Harajuku culture within Japan as well as overseas and works as a Harajuku Tourism Ambassador. Starting off as a model, Ema has broadened her talent range from fashion magazines to TV, and from playing the lead role in dramas to movies.

Shibuya's New Tourist Information Centre 'SHIBU HACHI BOX' Opens October 1

Shibuya is set to welcome tourists to its all-new tourist information centre SHIBU HACHI BOX which will open on October 1, 2020.

Conveniently located outside of Shibuya Station next to Shibuya's iconic Scramble Crossing and Hachiko statue, SHIBU HACHI BOX, managed by PLAY! DIVERSITY SHIBUYA, will act as the hub for tourist and sightseeing information on events, food, shopping, hotels, and more.

The centre will also house a PR space for its supporting partner NTT Docomo which will offer entertainment and video content related to the latest in technology and more.

SHIBU HACHI BOX will be ready waiting to welcome the people of the world to Shibuya as they step outside of the famous Hachiko Exit of Shibuya Station.

Information

SHIBU HACHI BOX

Grand Opening: October 1, 2020

Address: 2-1 Dogenzaka, Shibuya, Tokyo

Opening Hours: 10:00-20:00

PLAY! DIVERSITY SHIBUYA: http://play-shibuya.com/

Kawaii Fruit Desserts Now Being Sold at Shibuya Scramble Square in Tokyo

Tokyu Food Show Edge and +Q Beauty inside Tokyo's Shibuya Scramble Square mixed-use skyscraper are now serving a succulent selection of autumn fruit desserts, incorporating autumn flavours like chestnuts, apples, and Japan's famous Shine Muscat grapes.

Let's take a look, and try not to drool too much on your keyboard.

MORI YOSHIDA PARIS

Mont Blanc | ¥918 (Tax Included)

A mont blanc with cream draped around like a helix. Inside you will find Crème Chantilly and chestnuts, while the base is baked in parcel.

apple & roses

Caramel Apple Rose Cake/Raspberry Rose Cake | ¥2,160 (Tax Included)

These rich butter and almond rose cakes come in two flavours: caramel apple with apples specially selected from Nagano Prefecture, and raspberry, which add a sweet and sour kick.

Péché Mignon

Feuilletée (Box of Two) | ¥756 (Tax Included)

Feuilletée pies filled with a chestnut paste which add a delightful sweetness. The box contains two base flavours: chestnut and chestnut chocolate.

c7h8n4o2


Fresh Fruit Tablet Shine Muscat | ¥2,592 (Tax Included)

Whole specially selected Shine Muscat grapes wrapped in chocolate and shaped into a tablet bar. The chocolate is a rich 70% Piura Quemazon from Pacari Chocolate which blends deliciously with the grape juice.

Atelier Anniversary


Whole Chestnut Pound Cakes (Set of 4) | ¥1,404 (Tax Included)

The dough is combined with chestnut paste and each mini pound cake contains a whole chestnut.

ANNA'S by Landtmann


Red Apple | ¥693 (Tax Included) *Eat-in price

This apple cake is filled with apple mousse, chocolate mousse, and chocolate sponge. The entire thing is coated in a red apple glaze, giving it a cute appearance.

Egyptian God Anime Series To-totsuni Egypt Kami to be Narrated by Tomoya Nakamura

Some new information has finally arrived for Frontier Works's upcoming web anime series To-totsuni Egypt Kami.

Synopsis: To-totsuni Egypt Kami

Who would have thought that the Egyptian gods could be kawaii? Well, that's exactly what they've become in To-totsuni Egypt Kami, a series set in Ancient Egypt where the Egyptian deities, like Anubis, Thoth, Bastet, and Ra live laid-back and relaxed lives. The series is adapted from a popular line of character mascots of the same name.

Japanese actor Tomoya Nakamura has been confirmed as the narrator for the web anime series, whose warm and gentle voice will convey the chilled lives of the Egyptian pantheon of gods.

Tomoya Nakamura – Comment

"I think we'll see a domino effect with the number of people who will find themselves healed by these adorable and mysteries Egyptian gods. I hope you're sat back, relaxed, and looking forward to it."

To-totsuni Egypt Kami main voice cast

The full voice cast for To-totsuni Egypt Kami has finally been revealed, along with comments from the members. Here are some words from the main cast.

Hikaru Midorikawa – Comment

Medjed | Hikaru Midorikawa

"Everything about [Medjed] is riddled in mystery. His movements are bizarre , and nobody can predict what he's going to do next. And for his finishing move, he can… shoot a laser beam from his eyes? I think for an anime series, the movements of the gods make them that much more charming."

Nobunaga Shimazaki – Comment

Horus | Nobunaga Shimazaki

"Horus is a very powerful god with the head of a falcon. He's also a hard worker who works a busy part-time job day and night. He doesn't get along with Set who he fights with a lot. The world of 'To-totsuni Egypt Kami' is really pop and cute, but somewhat mysterious. It would delight be if you enjoyed it in a laid-back manner."

Hiroyuki Yoshino – Comment

 Set | Hiroyuki Yoshino

"The god of destruction. He doesn't get along with Horus and always tricks and harasses him. But his appearance makes you feel calm… I guess you'll have to look forward to the anime series to see!"

Kenjiro Tsuda – Comment

Ra | Kenjiro Tsuda

"Ra, the god of the sun. He's the father of everyone. He likes to sail a lot and bring back souvenirs for everyone, but there's something more to him… Sit back and look forward to it!"

*Comments translated from Japanese by MMN

Initial Broadcast: December 2020

The series will began airing online this December, including on YouTube. It is being directed by Katsuya Kikuchi (The Royal Tutor), with series composition by Yūichirō Higashide (Fate/Apocrypha; Fate/Grand Order – Absolute Demonic Front: Babylonia), and character designs and animation direction by Suzuna Okuyama (The Royal Tutor). Check out the promotional video below.

Themed cafe in collaboration with Animate Cafe Gratte

Gratte cookie design

Several branches of Animate Cafe Gratte in Japan are collaborating with To-totsuni Egypt Kami to serve themed food and drinks.

To-totsuni Egypt Kami x Gratte

Running: September 19, 2020 – November 8, 2020

Participating Branches: Animate Cafe Shibuya / Kichijoji PARCO / Sendai / Osaka Nipponbashi / Okuyama

©yuka/To-totsuni Egypt Kami Project

Information

To-totsuni Egypt Kami

Initial Broadcast: December 2020

Watch On: YouTube, GYAO!, Bandai Channel, FOD, ABEMA, d Anime Store, U-NEXT

Official Website: https://to-to2ni-anime.jp

Virtual Shibuya Appoints Hachiko as its Loyal Ambassador

YOU MAKE SHIBUYA Crowdfunding and Future Design Shibuya has appointed the faithful dog Hachiko, a Japanese Akita dog known for his loyalty to his owner, as the official leader of Virtual Shibuya, an online digital platform which opened in May this year and is officially recognised by Shibuya City. An event will be held in the virtual platform this October to officially appoint Hachiko as the leader.

The designer of Virtual Hachiko is none other than Yoshiyuki Sadamoto, the character designer for Neon Genesis Evangelion, Summer Wars and other Japanese anime series, as well as a founding member of the anime studio Gainax.

YOU MAKE SHIBUYA Crowdfunding was launched to help support the cultural industry of Shibuya which has been greatly impacted the effects of the COVID-19 pandemic. It is being carried out until September 6, 2020. The crowdfunding project has numerous projects in the works to help bring Shibuya to people, the first of which was the launch of Virtual Shibuya in May which is to act as "a second Shibuya." Hachiko is a symbol of Shibuya and has his own bronze statue outside of Shibuya station. The statue is a popular meeting spot for people getting together in Shibuya. Hachiko has watched over Shibuya throughout the Showa, Heisei, and current Reiwa eras of Japan, making him the perfect ambassador for Virtual Shibuya.

Hachiko will appear as "Virtual Hachiko" inside the virtual platform in the next couple of months. His design will be inspired by the real-life Hachiko.

Japanese politician Ken Hasebe (pictured below) and real-life mayor of Shibuya has also been appointed as the virtual mayor of Virtual Shibuya, further linking together the real and digital worlds.

The crowdfunding campaign will also give "Citizen ID Cards" to citizens of Virtual Shibuya, as well as SHIBUKURO Tote Bags and Pin Badges.

Manga Series Tokyo Revengers Takes Over Shibuya in Promotion For 2021 Anime Adaptation

Ken Wakui's popular manga series Tokyo Revengers, which is serialised in Weekly Shonen Magazine, is set to take over Shibuya from the end of this month until October in promotion of the series's upcoming TV anime and live-action adaptations that were recently announced.

Three pieces of promotional material are planned for Shibuya which will arrive in succession. The first is a series of character illustrations now up on pillars at the Tokyo Metro side of Shibuya Station which will stay there until September 6, 2020.

The second promotional effort will take place at Shibuya TSUTAYA from the start of September. Customers who purchase a copy of the Tokyo Revengers manga will receive one of 12 possible cards featuring the same character illustrations as seen in Shibuya Station. There are available on a first-come, first-served basis.

The last promotion will be the first ever Tokyo Revengers exhibition which will take place at various locations around Shibuya from the end of September to mid-October. Over 50 art illustrations will be displayed. More details for the exhibition will be announced at a later date.

Information

Tokyo Revengers Promotion
Running: Late August 2020 – October 2020
Location: Around Shibuya

Yowamushi Pedal Live-Action Film Promoted With Art & Movie Exhibition in Shibuya

The live-action film adaptation of Wataru Watanabe's manga series Yowamushi Pedal was released on August 14, 2020, and to promote it PARCO is set to hold the "Yowamushi Pedal ART & MOVIE EXHIBITION" at Shibuya PARCO's GALLERY X between August 21-31.

The exhibition will showcase various colour and full-colour displays of panels from the manga series as well as costumes used in the live-action film and more. There will also be a behind-the-scenes photo exhibit featuring photos of Ryota Bando who plays Shoukichi Naruko in the live-action film.

Acrylic Key Rings | ¥400 (Tax Included)


T-Shirt | ¥4,400 (Tax Included)


Blanket | ¥4,180 (Tax Included)

Fans can get their hands on a selection of exclusive merchandise too. These items will be posted on PARCO's online store on August 25 for those who can't attend the event.

©️2020 "Yowamushi Pedal" Film Production Committee ©️Wataru Watanabe (Akita Shoten) 2008 

Information

Yowamushi Pedal ART & MOVIE EXHIBITION

Location: GALLERY X, Shibuya PARCO Floor B1F

Running: August 21, 2020 – August 31, 2020

Opening Hours: 11:00-21:00

Entry: Free

Official Website: https://art.parco.jp/

Shibuya's New Cafe Bread, Espresso & Machiawase Whisks Up An Egg Themed Menu

Tokyo's newest cafe Bread, Espresso & Machiawase opened inside Shibuya MIYASHITA PARK on August 4, 2020.

The cafe is the first from cafe chain Bread, Espresso to have a menu centred around eggs. Customers can enjoy a cup of coffee with toast and eggs cooked fresh in a variety of ways. The cafe hopes to be a meeting spot for people to visit Miyashita Park and Shibuya where people go to kill some time while waiting for someone or something.

Freshly-made eggs


Menu examples

The luxurious dishes cooked up at Bread, Espresso & Machiawase are inspired by the omelettes and scrambled eggs you wait in anticipation for when you wake up early at a hotel for breakfast. The cafe's omelettes, which are cooked up a teppan iron plate, are soft, delicious, and are the perfect complement to the accompanying toast. The hot sandwich is made using Bread, Espresso &'s popular muu bread which is loaded with butter.

Whether it be for a feel-good morning, a spot of lunch, or a day's treat, Bread, Espresso & Machiawase promises freshness at its fullest.

A place to meet up

Shibuya is known as the place of meetups. Bread, Espresso & Machiawase has plenty of different seating spots that cater to meetups or for customers who need to kill some time, whether it be the egg-shaped "Torinosu" counter seats or the standing area.

French toast made before your eyes 

Order French toast and watch it made fresh in front of you using a flame. Their delicious-smelling "Brûlée French Toast" is a recommended dish too.

Parfaits in the evening

In the evenings, the owner of the cafe serves two different kinds of parfaits which originated in Sapporo where they were born. The parfaits are actually made using bread rather than cornflakes, making it more fitting for a place like Bread, Espresso &.

Pair bread with Japanese sake


Bread, Espresso & Machiawase has discovered a new way to enjoy eating bread: by pairing it with nihonshu, or Japanese sake. Enjoy a special selection curated by specialists, such as with the Sake Tasting Set which lets you taste and compare three different kinds of Japanese alcohol.

Bread, Espresso & Machiawase caters to a variety of situations, so if you ever travel to Shibuya be sure to pop in whether for breakfast, lunch, or an evening treat.

Information

Bread, Espresso & Machiawase
Address: RAYARD MIYASHITA PARK South 2F, 6-20-10 Jingumae, Shibuya, Tokyo
TEL: 03-6805-0830

Official Website: https://www.jisoku1jikan.jp/

THE TOKYO TOILET: Shibuya's Creative New Gender-Neutral Toilets Open to Anyone and Everyone

Japanese construction company Daiwa House took part in the planning and construction of Nippon Foundation's new "THE TOKYO TOILET" project which has set up new public toilets in 17 locations around Shibuya, Tokyo.

THE TOKYO TOILET

The toilets bring together two things that Japan is known for around the world: hospitality, and the best toilets around. A lot of people don't like the idea of public toilets due to their image of being dark, dirty, stinky, and all-around unpleasant experiences. Toilets in THE TOKYO TOILET project remove all of these worries from peoples' minds. Open to people of all ages, genders, and disabilities, the toilets were designed using the creative power of 16 international creators.

Hygiene is a big focus of these new toilets which will bring a whole new level of cleanliness to public toilets, making them a pleasant experience for users and making people considerate of the next person who will use the toilet after them.

Toilet Locations and Participating Creators

If you visit Shibuya, and are in need of a toilet, be sure to experience THE TOKYO TOILET and discover the best public toilet experience around.

Shibuya's New Hotel sequence MIYASHITA PARK Connects the People to the City

sequence MIYASHITA PARK is a new mixed-use hotel set to open inside MIYASHITA PARK on August 1, 2020.

sequence's concept is to connect the people with the city. It offers a space for everyone whether they want a quiet time alone, whether they are sightseeing, having a work-do, celebrating a party or festival, and more. This is centred around the hotel's three notions: "SMART," "OPEN," and "CULTURE."

The hotel is inspired by the local concept of "PARK MIND" which offers guests a place to relax after a long, busy day, like in a park. It has collaborated with Tokyo-based designers and creators to bring this to life in room designs. Furniture and fittings are simple while still being of high quality.

The fourth floor entrance connects seamlessly to Miyashita Park and is home to a lobby lounge as well as the new VALLEY PARK STAND cafe and bar. Up on the fifth floor is the breakfast dining restaurant Dōngxī Restaurant & Sakaba. Up on the 18th floor, guests can enjoy a panoramic view of Shibuya, as well as dine at the entertainment restaurant SOAK whose design and concept mixes together history and the future, the West and the East. There is also art from artists coordinated by The Chain Museum.