Tokyo Stroll: A relaxing date with Yutaro at Shibuya's Cat Cafe MoCHA!
Our cute model Yutaro finally found some time in his busy schedule to go on a date with me! Today we're heading to a spot where you can cure your fatigue after a long day at work. Our destination for today is a cat café! Today Yutaro took me out to Café MoCHA in Shibuya. This cat café is filled with many sofa seats, from which you can gaze at the scenery of Shibuya at nighttime.
This was my first time at this cat café, but Yutaro's second time. Yutaro quickly proceeded as if he was very familiar with it. We ended up on the second floor of Cat Café MoCHA Shibuya. First, we spent time on the upper floor to meet the cats.
Cats, cats and more cats in so many different places – they were here, there and everywhere! Some stayed sprawled out on the swinging seats whilst some came to cosy up with the humans. This was a great opportunity to get to know them.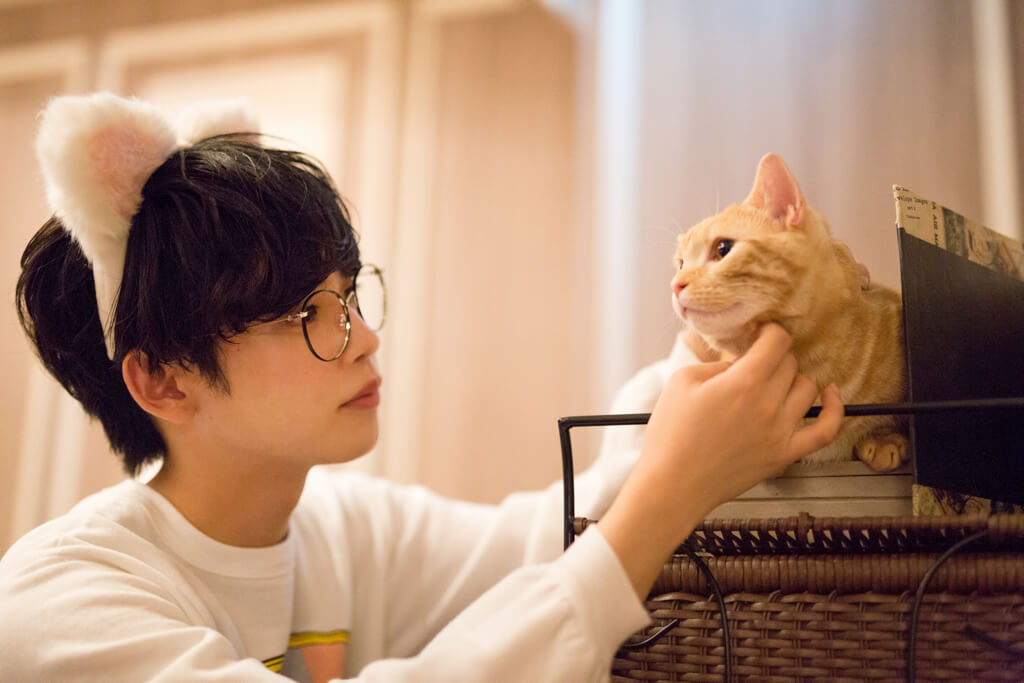 All of a sudden…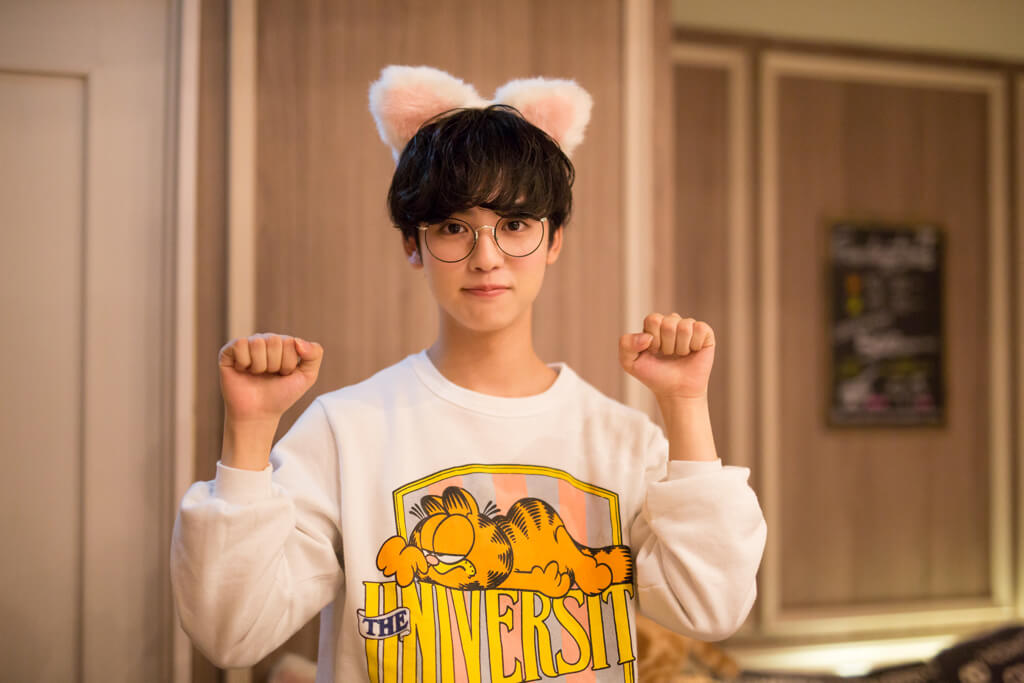 …When did Yutaro get those cat ears?! Did he do this to get into the cat café mood? With a bushy cat toy in one hand, he got closer to the cats. Notice Yutaro is wearing a sweater with a cat character on it in this photo! I wonder if he decided to wear this because of the cat café… anyhow, it's so cute!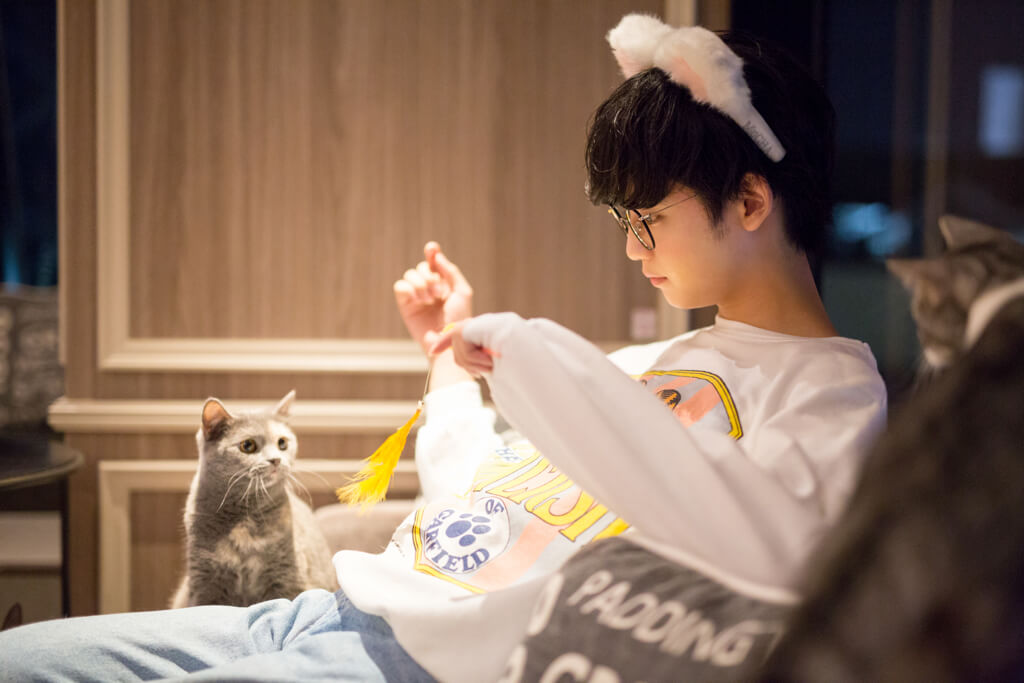 "Caaaaaaats!"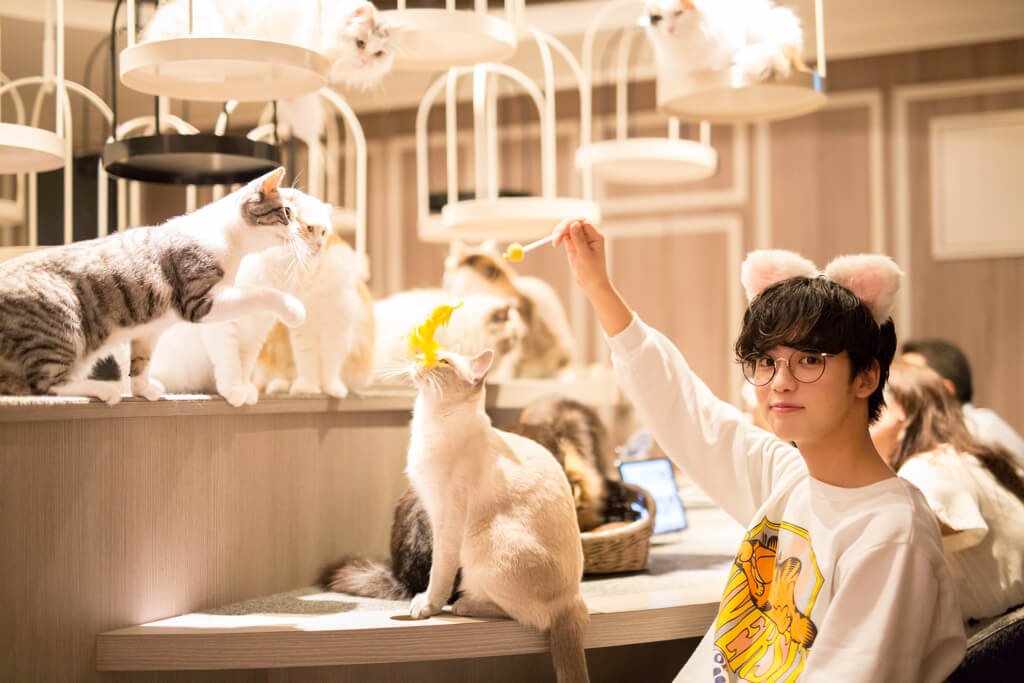 "I've got them all!"
I wonder if it's Yutaro's cat ears that attracted all the cats to gather around him? Yutaro waved the bushy cat toy about with one hand, triggering the playful cats. The sight of it healed my tired heart. ♡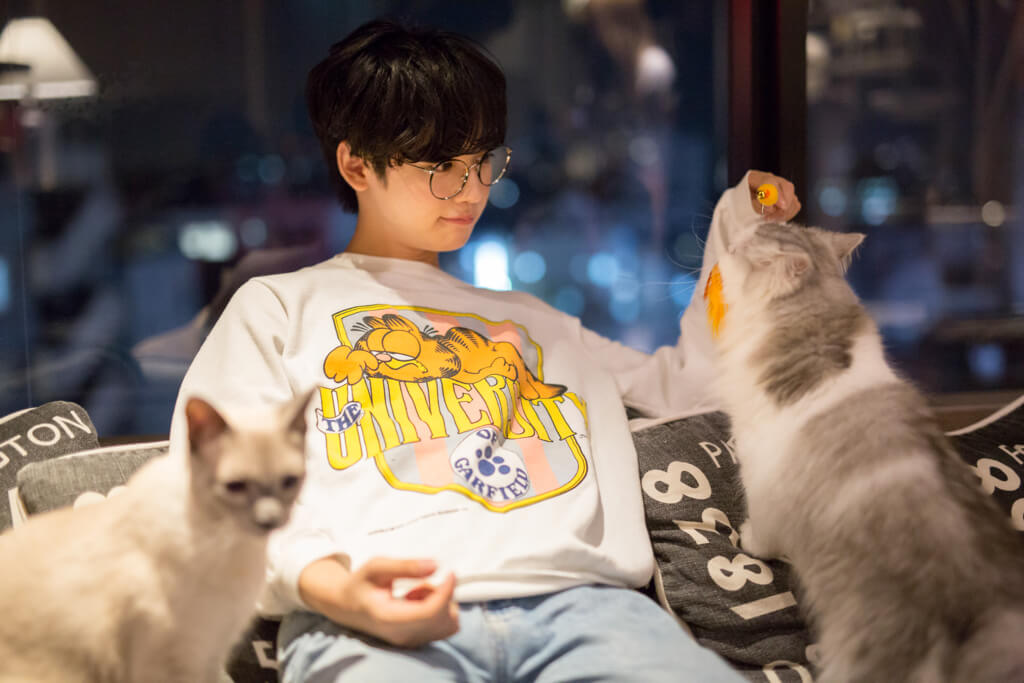 Afterwards, we chilled with some cats on a sofa, purring. The sofa was a great spot to look over the beautiful nighttime scenery of Shibuya. It was very…romantic…
After our break, we went straight back to play mode! It was time to play with the cats!
The cats seemed to gradually get tired after all that playing and then it was back to relaxation mode. Why does this cat choose to sit right behind Yutaro?!
And here's one sitting just like Yutaro!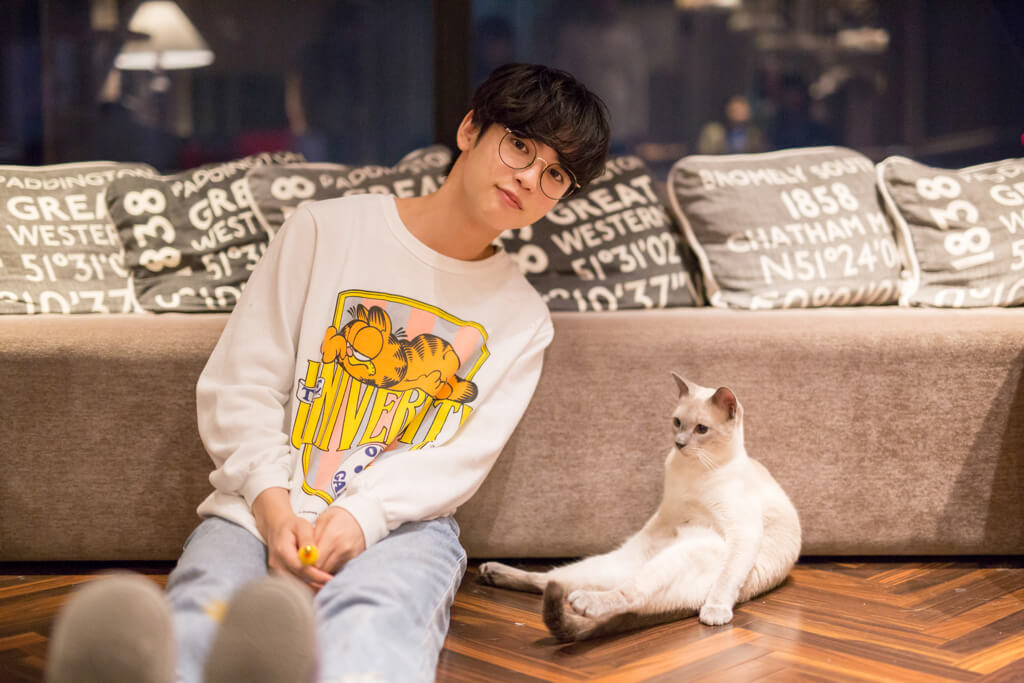 Little by little, Yutaro and the cats became better friends.
>>next page
RELATED ENTRIES
Report: Actors Reveal All at 'Zenra Meshi' Official Photobook Press Conference–"My Favorite Shot Is the Two of Us Taking a Bath Together"

On June 24, a special event was held at HMV&BOOKS SHIBUYA to celebrate the release of the official Zenra Meshi photobook. The popular drama series, currently airing on Kansai TV, stars Yutaro and Shori Kondo, who both took the stage for a press conference prior to the start of the event.

The book includes over 30 pages of gravure photos of Yutaro (Miki Mahiro) and Shori Kondo (Futa Ichijo). Also included are 20 pages of solo photos of Futa wearing a suit and posing in front of a beautiful night scene and Miki wearing a hoodie in a restaurant that smells of spices. Both shoots were intended to look as though a lover snapped the images. The photobook also includes Mizuchi's Recipe Notebook, highlighting recipes from around the world with comments by popular cookbook author Yummy. Fans can also enjoy plenty of interviews with the cast and crew along with behind-the-scenes filming and production details.

――What were your thoughts when you first held the photobook in your hands?

Kondo: "To be honest, I didn't expect these images to be released in photobook form. I was surprised but happy."

Yutaro: "During filming, the producer and I chatted a ton about how we wanted to create this. We took so many pictures of each other, but I didn't expect doing that to take an entire day, and I didn't expect to see interviews with the director and producer included too. When I first saw the book, I felt nostalgic…a little warm and fuzzy too."

Kondo: "I didn't know you wanted to do this from the beginning. (Laugh)"

――Tell us some of your favorite moments from shooting or the setups you like most!

Kondo: "I have some good memories of the swan boat race. Even though the two of us were in a swan boat, the photographer was shooting from a canoe. It was a ton of fun–we'd try to paddle away from him and things like that. There was this playfulness that I really love."

Yutaro: "We had our first photo shoot at Ueno Park, and we did so much–had a picnic and ate together, played badminton, just had fun. I used Shori-kun's legs as a pillow, which was so boyfriend-like. Finally being able to see what those shots looked like in the photobook made me smile. Obviously, I couldn't see them during the shoot itself."

Kondo: "We were pretty awful at badminton, weren't we?"

Yutaro: "That's why there are only three shots of it. (Laugh)"

――Which is your favorite shot of each other?

Kondo: (Immediately) "I have one! The one with the toothbrush…"

Yutaro: "Oh, totally!"

Kondo: "Yutaro was wearing glasses and PJs, brushing his teeth, right? It looks like a candid shot, like it was just shot at home. I love it."

Yutaro: "Mine would be the shot of the two of us taking a bath together. Even though it's my favorite, it doesn't have a huge presence in the book, and it wasn't even planned too far in advance. We were asked to come in and take that picture together at the last minute."

Kondo: "We took it while I was asking if we could get in the tub in our PJs. (Laugh)"

Yutaro: "I just love that picture. We look so cute."

――What does Zenra Meshi mean to the two of you today?

Kondo: "It's my first drama and my first acting role, so it's something that will stick with me for a long time."

Yutaro: "I've done more drama work than Shori-kun, and compared to those, this series allowed the two of us to spend so much time together. Even after shooting ended, we'd meet up for dinner and chat about all the people we worked with and how much we missed each other. We really care about each other and that's why this project worked so well. I don't usually watch the drama series I star in, but I am watching Zenra Meshi on TVer, so I think that's subconsciously causing me to become a fanboy."

Kondo: "I watched the first episode so many times I lost count. I couldn't believe it was me on the screen. I was so incredibly happy. I watched the video sent to me, then I watched it on TVer, then I watched it on Hulu!"

Yutaro: "You watched it live at your parent's house too."

Kondo: "Yeah. I watched a video of myself eating dinner naked with my mom. (Laugh) I told her that it would be too embarrassing to watch with her, but she called me and told me to come home. (Laugh) I was in Osaka at the time, and she told me that we'd never get another opportunity like this again. It was my first drama series, so we needed to watch it together. I got home, woke her up, and we watched it together. (Laugh)"

――Do you feel like the response to the series has been positive after 11 episodes?

Kondo: "So many people I know have been watching, including my friends back in Osaka and my old teachers. They've reached out to me to let me know! I mean, people I haven't heard from in years have told me that they're tuning in. I'm realizing how great it is to have media available in so many ways."

――Yutaro-san, you mentioned that you're watching the show on TVer. How is the response on social media in real-time?

Yutaro: "The show is available to watch around the world, and I've found out that it's popular in Brazil. If you look at the show's Instagram page, you'll find people from other countries summarizing the series for those who can't tune in and who have trouble understanding. I'm so glad that we were able to share this series with fans around the globe because they send so much love on social media.

――Do either of you want to do a sequel in the future? Maybe Season 2 or a movie?

Yutaro: "I feel like a movie would be good, right?"

Kondo: "I was talking to some of the higher-up staff behind the scenes, and a bunch of them were talking about heading to Okinawa. (Laugh)"

Yutaro: "Why Okinawa though? (Laugh)"

Kondo: "No idea, they just said they wanted to go. (Laugh)"

Yutaro: "Would this be set years later or something? (Laugh) That sounds like fan service! We were close, even if it was just for two months."

Kondo: "We shot in specific places and all of the actors and staff members ate together, so we still hang out like we've been friends forever."

Yutaro: "It looks like we're doing a barbeque soon. I'll have to tell everyone to come."

――Fans would love to see the two of you having a barbeque together.

Kondo: "Well, maybe if there's a Season 2…I'm not sure how that would work though."

Yutaro: "Since it's an original series, we could really put the characters into any situation."

Kondo: "I think my character would get angry again. (Laugh) Basically, I'm the source of all the trouble, so I'm sure I'd get carried away…(Laugh)"

――If there is a sequel, do you think it would be difficult to stay naked?

Kondo: "I think so. I've become much bigger than when we first started filming. I was so skinny then, but it was what it was. I have a little more muscle and a better overall body now. (Laugh)"

――We're looking forward to hopefully seeing that in the future.

Kondo: "Oh, I'll always take it all off. (Laugh)"

――Do you have a message to the fans ahead of the final episode?

Kondo: "It seemed like everything would be tied up in Episode 11 and that a happy ending was on the way, but things suddenly got muddled. Since everything will wrap up in Episode 12, I think fans have a lot of action to look forward to. I really love the last scene, and I can't wait for people to see it. It's so sweet."

Yutaro: "The series has everything–gourmet flavors, human drama, romance. Each time I see the bittersweet feelings the two main characters share, I feel a little impatient, sad, and frustrated. Even though I know how it ends, I want to watch it at the same time as everyone else. I've been watching every episode on TVer, and there were so moments when I wondered how we filmed certain scenes. I was happy to be able to watch them at the same time as the fans so that I could really hear their honest feedback. The ending is filled with hope for the future, and I hope that everyone will tune in to see how things work out for our protagonists. Even though it's fictitious, the photobook shows how the two live their daily life together, so I hope you'll enjoy it while you watch the show."

Kondo: "If you check out what people are saying on social media, they always say that Ichijo is mad all the time. At least, up until Episode 10. In Episode 11, he finally takes a proper step forward, and we see how much he's grown since meeting Mahiro. I feel like I also grew as an actor. I'm happy that I met Mahiro, and I hope that the fans feel that way too."

Information

Zenra Meshi Official Photobook -Our Recipes Start Here-
Release Date: June 23, 2023
Price: ¥3,850
Publisher: Tokyo News

Yutaro to Star in TV Tokyo Drama Adaptation of 'Nare no Hate no Bokura'

Yutaro will star in the TV Tokyo drama series Nare no Hate no Bokura, scheduled to air starting June 27.

The series is based on Yae Utsumi's manga series, serialized in Weekly Shonen Magazine and available digitally by Magazine Pocket. A group of classmates gather for an elementary school reunion, but what happens isn't so heartwarming–over a 52-hour period of confinement, the suspenseful series shows what humans will do when trapped in extreme conditions.

Yutaro plays Kohei Tachibana, a young man called the 'Chairman' by his classmates. A dependable leader, he also has a dangerous side after being raised with impossible expectations.

<Comment from Yutaro (Kohei Tachibana)>

"I'm Yutaro, and I play Kohei Tachibana, also known as the 'Chairman.' The original manga was just so interesting and so shocking–I was really looking forward to seeing how it would translate to the small screen. I remember being so excited that I couldn't stop flipping through the pages. As we work on the final pieces and hope for rave reviews, please pray for Tachibana's life as he hopes to maintain his relationships with his dear friends. Look forward to the first shocking episode on June 27!"

<Introduction>

A repulsive experiment to test the "goodness" within people–

Nezu and 23 other former sixth-grade students from class 2 gathered at their alma mater for a reunion only to be held captive for three days, resulting in the deaths of 13 people. The culprit was Mikio Yumezaki (Inukai Atsuhiro), a former classmate. His goal? To test the bounds of human goodness in such an extreme and life-threatening situation. Who would betray who? Who would kill who? What would people do when faced with such difficult decisions? Revenge, bullying, betrayal, shocking revelations–you won't want to miss this suspenseful series!

Information

Nare no Hate no Bokura
Airing: Tuesday nights at 24:30 starting June 27
TV Tokyo / TV Aichi / TV Setouchi / TV Hokkaido / TVQ Kyushu Broadcasting / BS TV Tokyo / BS TV Tokyo 4K: Airing Monday nights from 24:30~24:59 starting July 3
*The first episode on July 3 will run from 24:59~25:28

Streaming: Unlimited viewing on U-NEXT / Past episodes will stream with ads on TV TOKYO's website (TVer)
Original Work: Nare no Hate no Bokura – Yae Utsumi (Weekly Shonen Magazine KC)

Official Sites
・Website
・Twitter(@tx_narenohate)
・Instagram(@tx_narenohate)

©Nare no Hate no Bokura Production Committee ©Yae Utsumi / Kodansha

Drama Series Zenra Meshi, Starring Yutaro, to Get Official Photo Book in June

The Kansai Television drama Zenra Meshi, starring Yutaro, is getting an official photobook release on June 23, 2023 titled Zenra Meshi Official Photobook -Our Recipes Start Here-.

The unusual romantic comedy follows an elite businessman hiding an incredible secret–he loves to eat naked to relieve his stress. One day, this habit is revealed, and Ichijo finds himself quickly falling in love.

The official photobook will include over 30 pages of gravure photos of Yutaro (Miki Mahiro) and Shori Kondo (Futa Ichijo). Set as an epilogue taking place after the main story shown in the series, Futa and Miki can be seen enjoying a picnic date with a handmade bento and spending cozy time together in PJs at home.

Also included are 20 pages of solo photos of Futa wearing a suit and posing in front of a beautiful night scene and Miki wearing a hoodie in a restaurant that smells of spices. Both shoots were intended to look as though a lover snapped the images. The photobook also includes Mizuchi's Recipe Notebook, highlighting recipes from around the world with comments by popular cookbook author Yummy. Fans can also look forward to plenty of interviews with the cast and crew along with behind-the-scenes filming and production details.

Information

Zenra Meshi Official Photobook -Our Recipes Start Here-
Release Date: June 23, 2023
Price: ¥3,850
Publisher: Tokyo News
*The book may be released on a different date depending on the area.

■Purchase Bonus
Amazon: Limited Edition Cover
We! Premium Limited Store: Photo (Shori Kondo)
Seven Net Shopping: Autographed Photobook (Shori Kondo or Yutaro)

<Notes>
*The start date and time for orders may vary depending on the store. Check each company's website for details.
*Purchase bonuses and limited-edition copies are available while supplies last.
*Additional retailers and special offers may be added in the future.
*Availability will vary by store. Please check with each location for details.

Official Photobook Release Event
Date: June 24, 2023
Venue: Tokyo
More details will be released later in TOKYO NEWS magazine&mook (https://zasshi.tv/)

Licaxxx, Yutaro Appear in Ad for Mandom's 'Gatsby' Brand

Licaxxx and Yutaro are currently appearing in a new ad for Meta Rubber, a new series of products from Mandom's 'Gatsby' hair styling brand.

A total of nine cast members from all areas of the entertainment world appear in the ad, from voice actors and video creators to idols and DJs. The video features the song Kororon by the popular artist Eve.

Be sure to check out the ad for a glimpse into the Meta Rubber lineup, which aims to transcend standard hair styling techniques.

Information

Cast:
kemio (Video Creator)
Mizuho Habu (Artist, Sakurazaka46)
Keito Kimura (Performer, FANTASTICS)
Subaru Kimura (Voice Actor)
Yamato Inoue (Model/DJ)
Shuichiro (Video Creator)
Licaxxx (DJ)
Yutaro (Actor)
Tensei Saito (Model/Younger Song Director)

Official Site
https://www.gatsby.jp/product/hairstyling/meta-rubber/

Yutaro to Appear in Original Drama During the Recitation Play 'Shitaitoka, Shitakunaitoka no Hanashi Janai'

The recitation play Shitaitoka, Shitakunaitoka no Hanashi Janai (It's Not About Whether or Not I Want To) will be performed at the Haiyuza Theater in Tokyo starting on April 20. Yutaro will appear in the drama that will be shown as part of the production.

The recitation tells the story of a sexless couple and raises pertinent questions about the state of married couples and child-rearing today. AOI Pro., which has produced many theatrical films and TV dramas including the film Shoplifters and the drama series silent, planned and produced this performance.

For the stage production, the recitation will be staged with full-scale video footage from the play. It tells the story of Takashi, an unsuccessful screenwriter and husband, who was dumped by his lover. After his wife, Kyoko wins an award for excellence in a screenwriting contest she entered without her husband's knowledge, she tries to break free from her conventional life of housework and childcare into a new world. The original drama shown during the performance will detail Takashi and Kyoko's life when they were young and their first meeting before later becoming husband and wife.

The drama was produced exclusively for the performance by Izuru Kumasaka, the director of Pretenders and other popular films. Yutaro will play the role of Takashi.

<Comment from Yutaro>
"This story is both sweet and bittersweet. It tells the tale of two young people who, I think, should be adults by now, but they can't seem to grow up.
I had never met Seira Hayakawa before this, but I've gotten to know her so well through this role. I hope you'll enjoy the realistic struggles of two people through this reading!"

<Comment from Director Izuru Kumasaka>
"There's a specific shot used in the play that Yutaro filmed with his smartphone. He managed to get a lot of great expressions out of Ms. Hayakawa, saying things like "the camera's rolling," and "the mic was in the shot, so is it okay if I resize the footage a bit?" It was a really novel experience. The last shot of the last day of filming was also done by him. The two of them really gave it their all until the end. There's a scene where Hayakawa has to confess that she's carrying her husband's child, and it was so incredibly convincing despite how young she is. I was shaken. Please come to the theater to see their performance."

<Comment from Producer Yusuke Kurozawa>
"Since we're a video production company, we had to look at this theatrical performance in a unique way. We incorporated a lot of visual effects even though it's largely a recitation. On stage, you see a fast-paced conversation between a couple on the verge of separation, but on the screen, you see them when they first met–when they were in love. You see how happy they were, and you wonder how their relationship became so incredibly warped. I was thrilled to work with Izuru Kumasaka on location in Chigasaki, since I'm a huge fan of Southern All Stars and Chigasaki Story – My Little Hometown, which he directed. I hope you'll come to the theater to experience this blend of recitation and drama!

Information

Shitaitoka, Shitakunaitoka no Hanashi Janai (It's Not About Whether or Not I Want To)
Venue: Haiyuza Theater (Tokyo)
Original Work/Screenwriter: Shin Adachi (Shitakunaitoka no Hanashi Janai) (Futabasha Publishing)

Performance Date/Time/Cast:
4/20, 19:00 / Ryoko Shinohara x Hirofumi Araki
4/21, 19:00 / Ryoko Shinohara x Hirofumi Araki
4/22, 15:00 / Hitomi Sato x Shigenori Yamazaki
4/22, 19:00 / Hitomi Sato x Shigenori Yamazaki
4/23, 15:00 / Ryoko Shinohara x Shigenori Yamazaki

Drama Cast during the play:
Seira Hayakawa (Nogizaka46), Yutaro

<Tickets>
Admission: ¥8,500 (Tax Included, all seats reserved)
General Sales: April 8, 10:00~
・Ticket pia
・Lawson Ticket (L-Code: 32329)
・e+

<Summary>
It's spring 2020, and the pandemic is the talk of the town. Once a successful film director, Takashi has since had bomb after bomb. His wife Kyoko finally gives him the boot after entering and winning a screenwriting contest without his knowledge, eager to break free from housework and childcare for a new life. One night, while Kyoko is busy revising a script that has been chosen to be dramatized, she receives a LINE message from Takashi, who has gone to pick up their child from preschool. "I wanna do it tonight. It's been a while…" Though the message is brief, it starts something in their marriage, which is filled with compromises and self-restraint. A husband who wants to do it and a wife who doesn't–is sex essential for a couple to have a good relationship? As they mercilessly confront each other, they realize their true feelings for the first time…This is a story of a clumsy couple who rethink their lives and the state of their marriage in the wake of their sexless relationship.

Official Site: https://aoistage.com/shitaitoka/

©AOI Pro.

Yutaro will appear in the new Kansai TV drama series Zenra Meshi. The series is scheduled to begin airing this April during the EDGE time slot.

The romantic comedy follows the protagonist Ichijo, a professional man hiding an incredible secret–he loves to eat naked. One day, this habit is revealed, and Ichijo finds himself quickly falling in love. Yutaro will play the role of Miki Mahiro, a young man who runs a fruit and vegetable store in Ichijo's hometown.

One highlight of the show is the number of tasty-looking dishes supervised by Yummy, a cooking expert who has gained incredible popularity for sharing simple recipes that anyone can make. The dishes that Ichijo and Mahiro prepare using foreign spices are especially noteworthy, and viewers will definitely want to recreate them at home.

<Comment from Yutaro>

"My name is Yutaro and I play the role of Miki Mahiro.

When I first heard the name of the series, I was so confused. I'd be naked? And eating? I thought I'd need to strip, but I was told that my character didn't need to. I was so relieved…

My character is a young man who runs a fruit and vegetable store and likes to cook, so I tried to cook for myself as much as I could after being cast. Be sure to look forward to the cooking scenes–I did all of it myself!

I've previously worked with Shori Kondo, who plays Ichijo, so we already had a good relationship. So, there were some scenes where we get pretty close to each other, but it wasn't stressful at all. Everything went smoothly from day one. The staff has been amazing–everyone has been fun to work with, and even during darker scenes, everyone starts laughing as soon as the director yells "cut!"

Even though this is a romantic comedy, there are sad scenes scattered throughout that will make your heart ache, and I think it will touch a lot of people's hearts. Please look forward to it!"

Information

Zenra Meshi (Drama Series)
Premieres April 13, 2023
Airing Thursdays during the EDGE slot from 0:25~0:55 (Kansai Local)
*Episode 1 will air from 0:40~1:10
Streaming on Kantele Douga・TVer

Starring: Shori Kondo, Yutaro, etc.
Script: Tomomi Ookubo, Ryo Kawasaki, Yoriko Kodama
Directors: Misato Kato, Ayaka Kato, Ryo Kawasaki
Producers: Yoko Toyofuku, Keiko Nakayama
Made in Collaboration with FCC
Written in Collaboration with Kansai Telecasting Corporation

<Episode 1 Synopsis>
Futa Ichijo (Shori Kondo) is an elite salaryman working for the Financial Services Agency. A "perfect" man both in appearance and work performance, he has a secret hobby that he can't tell anyone about…

After an exhausting day at work, he comes home to his empty apartment, taking off his suit and his underwear, and eats a meal in the nude. Ah, what freedom! These stress-relieving nude meals would always be his secret.

One day, Ichijo receives a letter from his deceased grandmother–the letter had been sent before her death. Enclosed was the key to her house, and one day, after working overtime until the early morning hours, Ichijo is led to his grandmother's house. After falling asleep, an unfamiliar man comes in through the front door! Fighting back against the intruder, sure it was a thief, it turns out to be Miki Mahiro, a friend of Ichijo's grandmother. Mahiro owns a produce stand and spent time teaching the woman how to cook before she passed away.

Unique foreign spices and recipe notes were left in the house, and feeling hungry, Ichijo attempts to cook one of the dishes. Stripping naked before digging in, his secret is revealed as Mahiro appears!

Official Pages
HP: https://www.ktv.jp/zenrameshi/
Twitter: @lalala_meshi
Instagram: @lalala_meshi

Yutaro will appear in the upcoming stage production of How Many Sins are There, written, directed, and performed by Shigeyuki Totsugi. The play will begin in April 2023.

5D2-FIVE DIMENSIONS is a solo project by members of TEAM NACS, giving each member space to express themselves. This play will be Shigeyuki Totsugi's first new work in nearly four years.

Yutaro will play the role of Raido Beppu, a transgender inmate on death row who is interviewed by the reporter protagonist.

<Comment from Shigeyuki Totsugi>
"Four whole years have passed since my last solo project, MONSTER MATES. I'm incredibly happy to finally be able to return to my professional solo career in this big way.

Moreover, as with previous performances, I've assembled the best possible cast. We're all grateful for this opportunity and we're determined to bring audiences the best possible performance. Please look forward to it!"

Information

TEAM NACS Solo Project 5D2 -FIVE DIMENSIONS II-
Ikutsu no Daizai ~How many sins are there?~

Starring:
Kenta Suga, Fumika Baba
Tomoya Maeno, Yutaro, Noritaka Hamao, Tsukasa Kuroiwa, Kazuki Namioka
Shigeyuki Totsugi

Created and Directed by Shigeyuki Totsugi

■Tokyo Performance
Venue: EX THEATER ROPPONGI
Running: April 15 – April 23, 2023

■Osaka Performance
Venue: Morinomiya Piloti Hall
Running: April 28 – April 30, 2023

■Sapporo Performance
Venue: Kanamoto Hall
Running: May 5 – May 7, 2023

<Tickets>
Admission: ¥8,500 (Tax Included, all seats reserved)
General Sales: Lawson Ticket, March 18, 2023 at 10:00~
*General tickets for these performances will only be available for purchase at the Lawson Ticket website.

Details here
https://www.teamnacs.com/

<Summary>
Gossip magazine reporter Karasumi Ootani (Kenta Suga) is assigned a feature-length piece on death row inmates by his editor-in-chief Hitomi Kanzaki (Fumika Baba).

The content of the piece is simple and terrifying: "Convicted Killers Brainstorming the Perfect Murder."

The death row inmates to be interviewed include the dancer Tony Ogura (Tomoya Maeno), transgender inmate Raido Beppu (Yutaro), fisherman and gambling addict Idoharu Donguri (Noritaka Hamao), entertainment manager Rousuke Arisu (Tsukasa Kuroiwa), self-proclaimed musician Ichirou Enbi (Kazuki Namioka), and college professor Tobiemon Urasu (Shigeyuki Totsugi).

During the lengthy–and sometimes bumpy–interview process, the prisoners begin to mysteriously die one by one.

As the condemned prisoners become increasingly troubled as they face execution, they finally discover why they were brought together. An unpredictable ending awaits…

Yutaro to Appear in NHK E Special Drama Series 'Tokyo no Yukiotoko'

Yutaro will appear in the upcoming drama series Tokyo no Yukiotoko airing on NHK E starting February 4, 2023.

The family-centered series is packed with both humor and sorrow and tells the story of humanity living alongside a mysterious other species–the Snow People. Kouichi Yajima, known for his work on Kazeyo Arashiyo, Kounodori, and Busujima Yuriko no Sekirara Nikki, penned the screenplay.

Information

Tokyo no Yukiotoko (Special Drama Series)
Starting: February 4, 2023 on NHK Educational TV
Airing every Saturday, 21:00-21:30 (5 episodes)
Script: Kouichi Yajima
Starring: Hayato Isomura, Kana Kita, Shingo Mizusawa, Miwako Shishido, Akari Takaishi, Tamae Ando, Manabu Hamada, Yutaro, Naoto Eguchi, Eri Tokunaga, Saori, Yasuhi Nakamura, Ron Mizuma, Kaito Yoshimura, Yui Kitamura, Shuntaro Miyao, Tamaki Ogawa, Shiro Sano, Yorie Yamashita

Yutaro to Appear in TV Tokyo Drama Series 'Nani ka Okashii 2' with Theme Song by Atarashii Gakko!

The sequel to the May 2022 suspense drama series Nani ka Okashii (Something's Strange) is now streaming on the Paravi streaming service. It has been announced that Atarashii Gakko! will provide the theme song titled Suki Lie.

The original series featured a mysterious radio program and a murder mystery. The story was first written by occult horror writer Uketsu, whose bestseller Strange House sold over 300,000 copies.

<Comment from Atarashii Gakko!>
"We're honored that our song Suki Lie will be used as the theme song for Nani ka Okashii 2! Thank you so much!
The song is a strange pop tune, and that strangeness makes it perfect for this show. We're looking forward to the show's ending, where Uketsu will dance to our choreography! We also get to appear as radio guests in the drama in Episode 12, so keep an eye out!"

Atarashii Gakko!

<Comment from Yutaro>
"I'm Yutaro and I'll be starring in the series as a listener. I've been watching Uketsu's YouTube channel last year, so I was so happy to hear this new story. I really hope you'll enjoy this unique drama series."

Yutaro

<Comment from Director and Screenwriter Yu Ota (TV Tokyo)>
"Nani ka Okashii 2 is complete. In every episode, someone gets badly hurt, but a bad ending is rarely seen in Japanese dramas. The show sees someone hurt, and the malice born from that action splashes up and hurts someone else, and so on.
The cast for this series is incredible and extremely varied. The people on the radio booth side–who will be playing themselves–were asked to be calm with no connection or interest in horror or drama. On the other hand, those on the other side needed to have stronger personalities.
I'm also so happy to hear the theme song by Atarashii Gakko! Many people on the staff are fans of their music, and we thought it would be incredible to have Uketsu dance to their bizarre choreography as part of the series."

©テレビ東京

Information

Nani ka Okashii 2 (TV Tokyo Drama)
Airing on TV Tokyo in 2023
Episodes: 12
Starring: Yosuke Asari, Shogo Hama, Kanji Tsuda, Satoru Matsuo, Gaku Hosokawa, Saikou no Ningen (Yoichi Okano, Yoshizumi), Kenta Hamano, Hajime Syacho, LiLiCo, Glover, Yuuchami, Suzu Yamanouchi, Hina Higuchi, Atarashii Gakko!, Maju Ozawa, Nao Yumiki (Nogizaka46), Wakana Sakai, Yutaro, Yurina Yanagi
Original Story: Uketsu

Theme Song:
・Advanced stream & terrestrial TV & webcasts (Airing 2023)
intersolid – Toko Miura
・Terrestrial TV & Webcasts (Airing 2023)
Suki Lie – Atarashii Gakko!

*Honorifics omitted

Streaming Dates:

■Paravi Streaming Service
December 23, 2022 – Episodes 9 and 10 streaming at 9:00
January 20, 2023 – Episodes 11 and 12 streaming at 9:00
Nani ka Okashii 2 – Episodes 1-8 now streaming

■Odd-numbered episodes available for free on TV Tokyo's YouTube drama channel
Nani ka Okashii 2 – Episodes 1, 3, 5, and 7 now available
Nani ka Okashii – Episodes 1-3 now available

【Paravi】https://www.paravi.jp/title/98313
【YouTube】https://www.youtube.com/c/tvtokyodrama

Official Site
https://www.tv-tokyo.co.jp/nanikaokashii2/

Yutaro will star in the TV Tokyo Paravi original drama series Raise de wa Chanto Shimasu (I Will Do It in the Next Life).

The series is based on the manga of the same name written by Itsuma-chan and serialized in Shueisha's Grand Jump. Characters in the series live their lives without boundaries, from sex addicts and BL otaku to virgins and idol addicts. The erotic comedy blends risqué topics with tender and sometimes sad storytelling, giving hope to those facing troubles in their love and sex lives.

Prior to the start of the broadcast, the series will pre-stream on the Paravi video service starting December 28, 2022.

<Comment from Yutaro (Nagi Kuriyama)>
"This series began in 2020.
I'm so happy to play Nagi-chan in Season 2, the New Year's Special, and now again. I'm also honored to start 2023 by starring in this series that I have such a strong attachment to. I've started feeling the pressure of everyone's rising expectations for Nagi, and before filming started, I enhanced my sense of beauty, going on a diet to create an even better version of the character. The same incredible director has led me for three years, and I think I'll be lonely when this is all over.
I'm sure plenty of viewers are wondering if Nagi will have a happy ending after so much bitterness and sadness emerged from him last time. Will he become more powerful in Season 3? After all, a new character is about to appear. Be sure to tune in!"

(C)いつまちゃん/集英社

(C)「来世ではちゃんとします 3」製作委員会

Information

Drama Paravi – Raise de wa Chanto Shimasu (I Will Do It in the Next Life)
Where to Watch: TV Tokyo, TV Osaka, TV Aichi, TV Setouchi, TV Hokkaido, KVQ Kyushu Broadcasting
*Scheduled to air on BS TV Tokyo in the future
Airing January 4, 2023 at 0:30
Streaming: Available to watch on Paravi starting on December 28, 2022 at 9:00
Based on Itsuma-chan's manga series in Shueisha's Grand Jump

Lead Actress: Rio Uchida
Starring: Rina Ota, Yuta Koseki, Takenori Goto, Tsubasa Tobinaga, Yutaro, Chika Nakagawa, Akihisa Shiono, Yuya Hirata, Kentaro Tomita, Obata no Onisan, Miwako Kakei, Sakurako Konishi, Misaki Akari, Ryouya Ihara (Daw 90000)

Official Site: https://www.tv-tokyo.co.jp/raisechan3/

Drama Series Nani ka Okashii 2 Starring Yutaro to Feature Theme Song by Atarashii Gakko!

The sequel to the May 2022 suspense drama series Nani ka Okashii (Something's Strange) is now streaming on the Paravi streaming service. Atarashii Gakko! will provide the theme song titled Suki Lie. The show will air on TV Tokyo in 2023. In addition, actor Yutaro stars in episodes 9-12. 

The original series featured a mysterious radio program and a murder mystery. The story was first written by occult horror writer Uketsu, whose bestseller Strange House sold over 300,000 copies.

<Comment from Atarashii Gakko!>

"We're honored that our song Suki Lie will be used as the theme song for Nani ka Okashii 2! Thank you so much!

The song is a strange pop tune, and that strangeness makes it perfect for this show. We're looking forward to the show's ending, where Uketsu will dance to our choreography! We also get to appear as radio guests in the drama in Episode 12, so keep an eye out!"

<Comment from Yutaro>

"I'm Yutaro and I'll be starring in the series as a listener. I've been watching Uketsu's YouTube channel last year, so I was so happy to hear this new story. I really hope you'll enjoy this unique drama series."

<Comment from Director and Screenwriter Yu Ota (TV Tokyo)>

"Nani ka Okashii 2 is complete. In every episode, someone gets badly hurt, but a bad ending is rarely seen in Japanese dramas. The show sees someone hurt, and the malice born from that action splashes up and hurts someone else, and so on. 

The cast for this series is incredible and extremely varied. The people on the radio booth side–who will be playing themselves–were asked to be calm with no connection or interest in horror or drama. On the other hand, those on the other side needed to have stronger personalities.

I'm also so happy to hear the theme song by Atarashii Gakko! Many people on the staff are fans of their music, and we thought it would be incredible to have Uketsu dance to their bizarre choreography as part of the series."

©テレビ東京

Information

Nani ka Okashii 2 (TV Tokyo Drama)

Airing on TV Tokyo in 2023

Episodes: 12

Theme Song: Suki Lie – Atarashii Gakko!

Streaming Dates:

■Paravi Streaming Service

December 23, 2022 – Episodes 9 and 10 streaming at 9:00

January 20, 2023 – Episodes 11 and 12 streaming at 9:00

Nani ka Okashii 2 – Episodes 1-8 now streaming

■Odd-numbered episodes available for free on TV Tokyo's YouTube drama channel

Nani ka Okashii 2 – Episodes 1, 3, 5, and 7 now available

Nani ka Okashii – Episodes 1-3 now available

Paravi: https://www.paravi.jp/title/98313

Popular Illustrator and Character Designer Mika Pikazo Holds Solo Exhibition in Shibuya

Mika Pikazo is an illustrator and character designer. The artist has designed characters for many popular titles including Fire Emblem Engage, the latest in Nintendo's Fire Emblem series, as well as book covers and CD jackets.

Starting December 10, the artist will hold his second solo exhibition in three years at the Hz event space in Shibuya.

According to a press release, the exhibition is being held to show a number of creations Pikazo has made recently, and aims to show off new animation and past illustrations to merge his past and future selves. The creator hopes to challenge himself more going forward.

The first main visual, REVENGE, can be seen on the exhibition's official website. A total of three visuals have been newly drawn for the event and will be released sequentially. In addition, a number of collaborative works with other creators will be on display, so art fans won't want to miss out.

Limited-edition merchandise featuring new illustrations will be on sale at the venue, and autograph sessions are planned to be held. For more details, check the official Twitter page!

Be sure to come to see Mika Pikazo's colorful pieces in person!

Information

Mika Pikazo Exhibition – REVENGE POP

Running: December 10 – December 29, 2022

Hours: 10:00-20:00

Venue: Hz, 1F (4-3 Udagawacho, Shibuya-ku, Tokyo)

Admission: Free

Official Website: https://revenge-pop.mikapikazo.info/