Dressing up in "Japanese" Halloween costumes at Moshi Moshi Kimono salon in Harajuku
Harajuku's MOSHI MOSHI Kimono Salon -YUMENOYA-  is offering a Japanese "Yokai" (ghost) transformation experience service during the Halloween season.
You can transform into a Courtesan zombie, a mythological fox, a monster cat, a spider, a demon, a kappa, a skull, a goblin, ghost, or a snake woman.  There are all sorts of characters you can take on. They all appear old tales of Japan.
For makeup and the hair arrangements, the exclusive hair and makeup artists in YUMENOYA can answer your requests, by doing such things as scratch makeup. You can also rent a kimono to be a monster and walk around the town.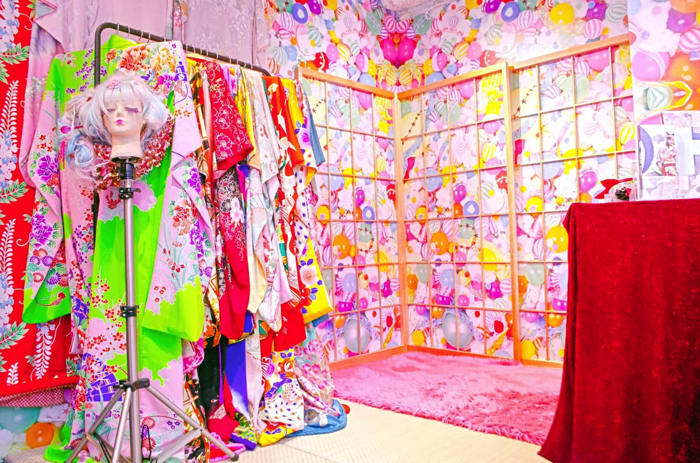 There is also the service to have your photo taken after you are dressed up. Let's take some wonderful monster pictures with the background of the salon's colorful wall.
In addition, as a special Halloween event, a free face-painting event will be offered on October 28th. The 59th "Harajuku Fashion walk"will also be held on that day.
There are 12 different kinds of face-painting designs, but they accept your specific request, too.
Why don't you dress up for Halloween at Moshi Moshi Kimono Salon this year?
◼Information
Moshi Moshi Kimono Salon Produced by –YUMENOYA-
Address: Gingumae 3-23-5, Shibuya-ku, TokyoMOSHI MOSHI BOX Tourist Center 1F
Opening time:10:00〜18:00
Holiday:Irregularly
Contact:yumenoya.harajuku@gmail.com
URL:https://www.tokyo-samurai.com/blank
"Hyakki Yako 2017" (100 devils night walk)
 Transformation Plan 1
Special make up fee 5000 yen * for details look below + costume rental 4000 yen + tax
*depending on the ghost make up you wish for, a reservation 2 days in advance will be necessary. (look below for details)
*the ghost costume parts are limited so you might not be able to get the costume you want.
*when renting costumes which you plan to return the following day a 5000 yen deposit will be necessary.
 Transformation Plan 2
<Special photo plan>
Special make up fee 5000 yen (for details look below) + costume rental 4000 yen + tax
<Special make up fee>
Flower devil zombie   …10,000 yen +tax
Devil / Kappa / Tengu  …6,000 yen + tax
Mythological fox, Monster cat, Spider,  Demon, Skull, Goblin, Ghost, Snake woman etc. …5,000 yen+tax
 Optional
Photo on location (up to 3 places) …5,000 yen+tax
*services will be canceled in the case of heavy rain
*changing of rental kimono 2,000 yen +tax
Halloween special face painting
Date:October 28th
Time schedule:
11:30~13:30  face painting / in costume
*Depending on the number of reservations the time will be adjusted. If you have a specific time request please be sure notify
14:00 Harajuku Fashion Walk starts
16:30 planned end of walk
RELATED ENTRIES
Kyary Pamyu Pamyu Adorns Shiseido Beauty Square in Harajuku With New Winter Look

Following her Halloween-inspired look for Shiseido Beauty Square, Japanese pop icon Kyary Pamyu Pamyu returns to the beauty facility with a new white and snowy winter look which was unveiled on Monday (November 2).

Shiseido Beauty Square

Kyary Pamyu Pamyu became the ambassador for Shiseido Beauty Square when it opened back in June. The concept of the beauty facility is centred on having people discovering their beauty, having fun, sharing experiences, and learning the latest in the scene

Winter Key Visual

Kyary's winter look for 2020 features a breathtaking headdress inspired by snowy skies, silver flowers, and powdery snow. The look was made in collaboration with top Shiseido hair  and makeup artist Tadashi Harada.

If you're stuck on what makeup to wear for winter, and are in Tokyo this holiday season, be sure to pay a visit to Shieido Beauty Square where you're sure to discover a new you.

Information

Shiseido Beauty Square

Address: WITH HARAJUKU Floor 1F, 1-14-30 Jingumae, Shibuya, Tokyo

Opening Hours: 11:00-20:00

No Fixed Holidays
TEL: 03-5413-7717

Official Website: https://beautysquare.tokyo/

*Website available in English, Japanese, and Chinese

Sanrio Puroland Halloween Makeup Developed in Collaboration With POLA

POLA INC. is collaborating with Sanrio Entertainment's amusement park Sanrio Puroland for their ongoing PURO HALLOWEEN PARTY event which is being held both at the park and online. The company has developed cute and sophisticated Halloween makeup inspired by the looks being worn by the Sanrio characters at Puroland for Halloween.

Halloween is a time to dress up as your favourite spooky figure, and POLA has jumped on board by creating a range of makeup looks to support Halloween outfits this year that anyone can do at home. Each look has a step-by-step visual guide as well as a video to help you along the way.

All the products used for the looks are by POLA and can all be bought at their nearly 4,000 stores including the 670 POLA THE BEAUTY branches and their flagship store POLA GINZA. Select branches in China, Taiwan, Hong Kong, Thailand, Macao, and Singapore are also stocking the items.

Cute Halloween Confections Make Their Way to Ginza Cozy Corner This October

Ginza Cozy Corner released a new collection of Halloween confections on October 19.

JOYJOY Halloween Party (9 Included) | ¥2,400 (Before Tax) | Available: October 19, 2020 – October 31, 2020

The tasty line-up features a collection of playful ghouls and ghosts partying at a haunted house. Bites include an eyeball tart, orange-flavoured Jack-o'-lantern roll cake, and lots more. Plus, the box they come in can be cut out and used as a photo prop for snapping cute Halloween pictures.

Imp's Trickster Mont Blanc | ¥580 (Before Tax) | Serving: October 19, 2020 – October 31, 2020

There's also a colourful mont blanc layered with four different creams: strawberry, lemon, melon, and blueberry, and inside—a mouth-watering tangy orange sauce surprise.

Kaori's Easy Recipe: Learn to Make Jack Skellington Stained Glass Cookies

With just a small bit of ingenuity, turn everyday food into something cute using Kaori's Easy Recipe! With a few simple ideas, an ordinary recipe magically transforms into a cute dish.

I have the perfect Halloween recipe for you this time. If we're talking Halloween, then who else but Jack Skellington is the man for the job? Here's my recipe to make Jack Skellington Stained Glass Cookies.

Ingredients

 

70g unsalted butter
50g icing sugar (or high quality white sugar if you don't have)
A pinch of salt
30g egg
110g weak flour
10g black cocoa
1 white chocolate pen
Hard candy of your choice crushed into small pieces

*To crush the candy, you can put into a zip lock bag and use a rolling pin

1


Place all ingredients except the egg into a food processor and blitz. After, place the egg into the blitzed mix and blitz once again. Once combined, wrap with cling film and place into the refrigerator for 1+ hours until set.

2


Use a rolling pin to roll out circles of equal thickness for Jack's head. Use a cutter to cut out the eyes, and place into the refrigerator one more to set.

3

Bake in the oven at 180°C for 10 minutes and take out again.

4


Place your crushed candy into the eye holes and bake for a further 5 minutes.
*The candy will melt into place and even out, so feel free to pile on the pieces

*Be careful not to overcook the candy as it will turn brown

5


Allow to cool. Be very careful handling and placing down the cookies as the eyes will be delicate. Decorate Jack's nose and mouth with the chocolate pen and he's ready for your Halloween party!

Kaori invites you into her world of character-themed food dishes in her recipe series. Be sure to check out her Instagram where she has uploaded many pictures of her character dishes!

Kaori Kubota (@kaopan27)

I live in Hokkaido and I love to make character themed foods, desserts and pastries♡

I want to see my family smile, so I enjoy putting in a bit of effort to make character foods and changing food into something cute♡

You can see more of my character foods and character bento boxes on my Instagram page → @kaopan72

Shibuya's L'OCCITANE CAFE Reveals Spooky Parfait For Halloween 2020

L'OCCITANE CAFE Shibuya is getting ready for Halloween with the reveal of its sweet potato and apple parfait which will be served from October 21 to 31. The Tokyo-based cafe is centred on the food culture and lifestyle of Provence in southern France.

Sweet Potato and Apple Parfait | ¥1,280 (Tax Included)

The seasonal treat is a mix of purple sweet potato and regular sweet potato, baked apples, apple sherbet, and vanilla ice, all topped off with whipped cream, roasted nuts, and almond tuile biscuits in the shape of ghosts and a pumpkin.

Information

Sweet Potato and Apple Parfait
Serving: October 21, 2020 – October 31, 2020

L'OCCITANE CAFE Shibuya
Address: 2-3-1 Dogenzaka, Shibuya, Tokyo
Opening Hours:
[Sun-Thur] 11:00~22:00 (Last Orders 21:00)
[Fri-Sat] 11:00-23:00 (Last Orders 22:00)
TEL:03-5428-1563
Access: Straight ahead of Shibuya Station's 5th Exit (Inokashira Exit)
L'OCCITANE Japan Official Website: https://jp.loccitane.com/

Halloween Food Served Up at Meiji Jingu Shrine's Constitution Memorial Hall

Meiji Kinenkan, also known as Constitution Memorial Hall, has announced that its beer terrace Sekirei will open up for October to serve up a Halloween themed menu.

Meiji Kinenkan is a unique and premium venue at Meiji Jingu Shrine that serves as a host to many different kinds of gatherings. It was designated as an important cultural property of Tokyo for its architecture in March of this year.

Sekirei normally opens during the summertime each year, but this year they've decided to open up for business for the autumn season too. Guests can enjoy a line-up of over 40 different food items in the beautiful autumn-kissed gardens along with beer and a selection of other beverage.

Halloween Menu

The Halloween menu arrived on Monday and features a colour arrangement of tasty bites, with an original line-up of foods and desserts conceived by Meiji Kinenkan's chef who specialises in French cuisine at the site.

Other Autumn Options

Autumn is a very pleasant season in terms of weather, and so as well as the Halloween menu, Sekirei has cooked up a separate seasonal assortment too including Japanese roast beef with vegetables, fried masutake mushroom and salmon, and more.

Sekirei has a special indoor all-you-can-drink plan as well in case it rains, so guests don't have to worry about the weather and can keep warm indoors if the occasion calls for it.

KIDDYLAND Harajuku to Celebrate Miffy's 65th Anniversary

KIDDYLAND Harajuku, a fun and cheerful shopping centre in Harajuku, Tokyo, has announced that it is celebrating the 65th anniversary of Dick Bruna's popular character Miffy from October 10 to March 19 with a different theme every month. Visitors can expect to get their hands on a range of merchandise, freebies, and more.

CARROT

Running from October 10, 2020

A selection of autumn-coloured and carrot-themed Miffy merchandise will be sold. If you head on up to miffystyle on floor 4F of KIDDYLAND Harajuku right, and spend more than ¥1,000, you'll also receive a special Miffy shopping bag completely free (available now). These are limited in stock though so you'll want to get your paws on them quick!

KIDDYLAND x miffystyle Christmas Fair 2020

Running from November 7, 2020

miffystyle and KIDDYLAND are hosting a Christmas fair this year themed on animals. A special range of merchandise with designs of Dick Bruna's animals will be sold. Customers who spend over ¥1,000 at the fair will also receive a free shopping bag, and if they spend more than ¥2,000 some special pink wrapping paper. These are both limited in stock.

A must-grab at the Christmas Fair


Miffy GOODGLAS | ¥3,900 (Before Tax)

One must-get item at the Christmas fair is the cute double-wall glass made by GOODGLAS. Perfect as a gift to yourself or someone else this Christmas. As you pour your drink into it, Miffy's face will appear.

Enjoy the autumn and winter this year with Miffy in Harajuku.

Illustrations Dick Bruna © copyright Mercis bv,1953-2020 www.miffy.com

Cute Cinnamoroll Halloween Doughnuts to be Sold at Floresta in Japan

Floresta Nature Doughnuts, a chain of shops that sell delicious doughnuts that are healthier to your body than regular doughnuts, is collaboration with popular Sanrio characters Cinnamoroll and Cappuccino for some adorable Halloween doughnuts.

Cinnamoroll / Cappuccino – ¥450 Each (Before Tax)

Donning their snug Halloween hats, which are made from purple sweet potato, Cinnamoroll and Cappuccino sit atop their doughnut that's covered in white chocolate spider web and topped with a star made from pumpkin.

The doughnuts will be released at Floresta on October 17, just two weeks before Halloween, at 12:00am in Japan. They are sold individually or as part of the Cinnamoroll Hallloween Doughnuts Box which contains two of each.

Cute, colourful, and a healthier option. If you're in Japan this Halloween, join Cinnamoroll and Cappuccino for the holiday season.

Information

Cinnamoroll Hallloween Doughnuts
Serving: October 17, 2020 – October 31, 2020

Release Date: October 17, 2020 at 12:00am (JST)
Floresta Oraganic Store: https://floresta-ec.jp

*Product is limited in stock. Only orders only.

Experience Shinjuku's Famous Halloween Event Online at Virtual Shibuya

The Virtual Halloween Committee has announced that it will host an online Halloween event inside Virtual Shibuya as a result of the pandemic and to mitigate crowded streets in Shibuya, a place which becomes a sea of people during the spooky holiday season.

The event, titled Virtual Shibuya au 5G Halloween Fes, will begin on October 26 and run up to Halloween Day. It is being promoted with the hashtag #StayVirtual.


Shibuya 5G Entertainment Project launched its new digital platform "Virtual Shibuya" back in May of this year. Officially recognised by Shibuya City, Virtual Shibuya comes in response to the effects of the novel coronavirus (COVID-19) which has brought tight restrictions to the economy and people's way of life. It will enable people to continue enjoying entertainment from the comfort of their homes by participating in a whole host of virtual events and activities. The project aims to deliver content from Shibuya with live performances from artists, art exhibitions, talks, and more. The use of 5G and the latest cutting edge technology will connect the real Shibuya to a virtual space, combining the realms of the digital and real world.

The Halloween event is inviting a host of Japanese artists and comedians to perform inside the virtual space, which itself will be littered with all things Halloween like Jack-o'-lanterns, bats, and more. Users will also be able to dress their avatars in the appropriate clothing in line with the holiday season of scares. All of this aims to deliver the famous Shibuya Halloween experience that the people of Tokyo are so used to.

Virtual Shibuya au Halloween Fes

Virtual Shibuya is evolving and will be updated for the upcoming Halloween event. Users can look forward to a host of music events and talk events during this age of the 'new normal.'

au 5G Presents Kyary Pamyu Pamyu: Virtual Mini Live

Virtual Shibuya will host its very first virtual live concert to open the Halloween festival. Japanese pop star Kyary Pamyu Pamyu is included in the performance line-up, who will be serving a very special one-night-only Halloween themed show inspired by horror movies. Titled "Kyary Pamyu Pamyu Online Halloween Live 2020 THE FAMILY 10.31," you can find out more about the concert here.

au 5G Presents BiSH: Virtual Live

Japanese idol group BiSH will also be playing a special Halloween show at the event.

au 5G Presents "Everyone's 5G" – Comedy Duo Wagyu Perform

Japanese comedy duo Wagyu will perform live using 5G technology which will render them in high-speed, high quality holograms.


The rest of the line-up and more details about the event will be announced in the coming weeks.

KAWAII MONSTER CAFE HARAJUKU Collaborates With Alice's Fantasy Restaurant For Halloween Fair

KAWAII MONSTER CAFE HARAJUKU is set to collaborate with Tokyo's three branches of Alice's Fantasy Restaurant to serve up a Halloween themed menu. It will be served from September 19 to October 31.

The Halloween season is right around the corner, and the KAWAII MONSTER CAFE is once again joining in with the spooky festivities. This year, the cafe has joined hands with Alice's Fantasy Restaurant to create a collaborative Halloween menu lineup.

Colourful Rainbow Pasta With Halloween Cream | ¥1,400

Colourful pasta served in rich pumpkin sauce and with a variety of different ghost creams.

Singing Alice's Caesar Salad | ¥1,360

Alice's Fantasy Restaurant's popular Caesar salad heads to KAWAII MONSTER CAFE, an assortment of purple carrots, pumpkin, and other tasty delights. Alice is also hidden in the pasta somewhere as a black witch.

Kingpin Choppy & Henchman Humpty Dumpty Curry | ¥1,300

KAWAII MONSTER CAFE's mascot is served wearing a silk hat and comes with his fellow henchman Humpty Dumpty.

Cheshire Cat Splatter Ice Cream | ¥1,100

Soft serve ice cream topped with crunchy cereal, cotton candy, and chocolate, all drizzled in a splattered sweet strawberry sauce.

Customers who post a photo of their foot onto social media with the hashtag #tokyohalloweencollection can enter for a chance to win some Halloween merchandise.

Halloween Doughnuts Creep Their Way Into Krispy Kreme Doughnuts in Japan

Halloween arrived at Krispy Kreme Doughnuts in Japan on September 16 with the "monster HARVEST" collection of themed doughnuts. Available until November 1, the spooky lineup incorporates a selection of Japanese autumn flavours like pumpkin and purple sweet potato.

The doughnut collection is here to put us in the Halloween spirit nice and early. Krispy Kreme Japan's popular jack-o'-lantern doughnuts are back this year, as are the new black cat doughnuts which first arrived last year. A completely new purple sweet potato flavour was also introduced to the menu on September 1.

Pumpkin Pudding Jack-o'-lantern | ¥240 (Before Tax)

The jack-o'-lantern doughnuts have been made even more delicious for Halloween 2020 by using pumpkins from Hokkaido and filling them with velvety pumpkin Japanese-style pudding. Add to that the chocolate facial features and you've got yourself a tantalising treat for the spooky season.

Black Cat Caramel | ¥250 (Before Tax)

A black cat made with big white chocolate eyes and a dark chocolate face topped with crunchy almond pieces and stuffed with caramel cream.

Muchimochi Purple Sweet Potato Mont Blanc | ¥240 (Before Tax)

The tasty, chewy, and hot purple sweet potato doughnut is made with sliced sweet potato and coated in powdered sugar. It's served hot which makes the flavour even more intense.

Halloween Dozen (12 Doughnuts) | ¥2,000 (Before Tax)

Share a dozen with friends this Halloween which includes not only two of each of the ones already shown, but Krispy Kreme's popular "Chocolate Sprinkle" and "Original Glazed®" too.

Halloween Mini Box (20 Doughnuts) | ¥2,000 (Before Tax)

There's also a colourful box of 20 mini versions of the doughnuts too.

Information

monster HARVEST
Running: September 16, 2020 – November 1, 2020

Krispy Kreme Doughnuts Official Website: https://krispykreme.jp

Harajuku's New Carbonara Restaurant Serves Pasta Japanese Style

A new spaghetti carbonara restaurant by the name of Nama Carbonara opened in Harajuku, Tokyo on September 17, 2020.

The restaurant opened in the same building as Harajuku's popular fresh cream shop MILK and bubble tea shop Mot Tram. The restaurant makes its own fresh flat pasta everyday and uses fresh, rich cream sourced from Hokkaido.

The current menu lineup consists of six dishes, from classic carbonara to Japanese twists. Let's take a look at some of them.

Classic Carbonara | ¥790

Walleye Pollack Roe Japanese Carbonara | ¥1,090

Freshly Grated Cheese & Bacon Carbonara | ¥1,090

Seafood, Avocado & Basil Carbonara | ¥1,190

Discover a brand new world of carbonara like never before at Nama Carbonara in Harajuku.

Information

Nama Carbonara (生カルボナーラ専門店 原宿店)

Grand Opening: September 17, 2020

Address: THE SHARE 1F, 3-25-18 Jingumae, Shibuya, Tokyo

Opening Hours: 11:00-19:00 (Last Orders 18:30)

TEL: 03-5772-8858

Official Website: http://www.opefac.com/