Experience the snowfall-night-view of Tokyo! "TOKYO TOWER CITY LIGHT FANTASIA" at Tokyo Tower
On the second floor of the main observation deck an event titled, "TOKYO TOWER CITY LIGHT FANTASIA" will be held. This event will integrate Tokyo's night view and projection mapping and it will be held from 2017 November 15th (Wed.) ~ 2018 January 31st (Wed.). This event was planned and will be carried out by NAKED Inc. This year's event will utilize a snow machine, laser beams and mirror balls to create a sparkling snow fall – a first for Tokyo Tower.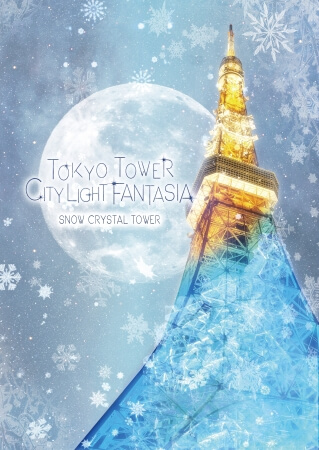 In recent years, NAKED Inc. has been producing Tokyo Tower's Observation Deck Christmas illumination experiential event, "TOKYO TOWER CITY LIGHT FANTASIA." The theme of this year's illumination program is "SNOW CRYSTAL TOWER" and they are going to play out the scene where a frozen and still Tokyo Tower, comes alive making for a "Magical observation deck of snow and ice." Using laser beams, a snow machine and mirror balls, it will seem as if glistening snow is falling throughout the observation deck. Furthermore, by projection mapping on the windows and the floor of the observation deck they will create a magical frozen world. During this grand collaborative event when the night view from Tokyo Tower and the illumination performance can be seen, a "snow crystal" photo spot will be installed for an event limited time.
Snow illumination
Utilizing the snow machine, snow will fall all around Tokyo Tower. Then using lazer beams and mirror balls this snow will sparkle making for a fairy-tale like atmosphere.
Snow crystal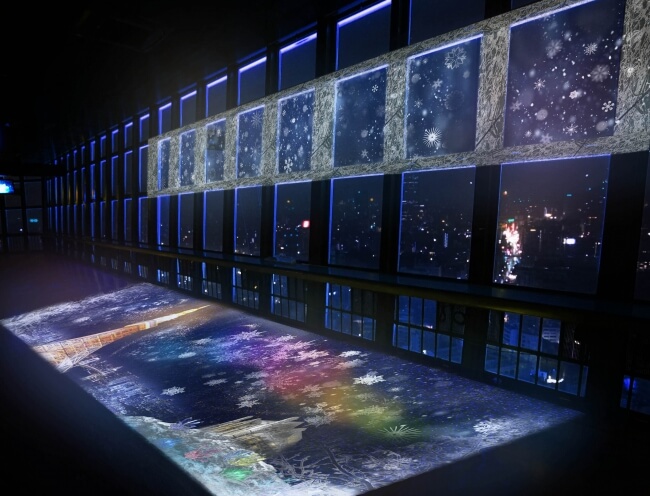 By projection mapping on the windows and the floor, one will experience a magical world which expresses a frozen Tokyo Tower world.
Along with the spectacular night view of Tokyo, why not come and experience this magical world of Tokyo Tower enveloped in snowfall.
■Information
「TOKYO TOWER CITY LIGHT FANTASIA」
Event duration: 2017 November 15th (Wed.) ~ 2018 January 31st (Wed.)
Hours: 18:00~22:50 *the projection will be continuous during this time
Venue: Tokyo Tower Maini Observation Deck 2nd floor (inside) 4-4-8 Shiba Koen, Minato-ku, Tokyo
Entrance fee: Entrance fee for Main observation deck
Adult (high school student and older) : 900 yen
Child (elementary and junior high) : 500 yen
Child (age 4 and older) : 400 yen *all prices tax included
RELATED ENTRIES
Event Report: Sanrio's Little Twin Stars and Their Dreamy World at Tokyo Tower

Sanrio's popular character duo Kiki & Lala, also known as the Little Twin Stars, are have brought their dreamy, pastel-coloured world to Tokyo Tower with a special summer event titled "Little Twin Stars Summer Night Fantasy Meets Kiki & Lala Exhibition produced by LIDDELL" which began on July 10.

At the event entrance, guests are given a special 'passport' notebook which is stamped before entering, allowing access to Kiki & Lala's world in the clouds above.

Guests are guided by Kiki & Lala's voice through the rose-coloured "Star & Rose-Coloured Cloud Fantasy Gate" were they are met with five different booths.

At Kiki's Star Catching booth, visitors can experience one of Kiki's favourite past times by 'catching' stars. The stars that are caught can be taken home as a fun memory.





There's also the Starry Sky Light Shower booth which is decorated with mirror balls that reflect the light as well as a wall featuring words and phrases said by the twins, the pink and light blue-coloured Kiki & Lala's Playroom where you can snap cute photos, the Glittering Moviegenic booth which uses your smartphone to watch an animation of Kiki & Lala, and more.

Fans of the twins can enjoy an exhibit of various artworks too, including the 8-meter tall Fantasy Wall which depicts the world above the clouds.

The day before the exhibition began, on July 9, Tokyo Tower was lit up in blue and pink Kiki & Lala colours from 19:30 to midnight. It was a special one-night experience.

If you're in Tokyo this summer, soar up high into Kiki & Lala's world at Tokyo Tower.

©'21 SANRIO 著作(株)サンリオ

Information

LittleTwinStars Summer Night Fantasy Meets Kiki & Lala Exhibition produced by LIDDELL

Running: July 10, 2021 – July 25, 2021

Event Site: https://sanrio.site/qY0AN

Art and Illuminations Fuse at Chiba Park For Nighttime Entertainment

YohaS is set to collide the real and digital worlds at Chiba Park with an event titled YohaS 2021 Night Park Gallery which will run from July 6 to 10.

Lightning artwork (*For illustrative purposes only, art will be different for the event)

The event held back in 2019

YohaS is a collaborative project between Chiba City and Tsubakimori Komuna. It was launched to boost and develop the nighttime economy of Chiba, with its first event having taken place as the evening portion of the Ooga Hasu Flower Festival held in Chiba back in 2018. YohaS was unable to be held last year due to the pandemic and so an event was held online. This year sees its return with an event taking on the theme of "Silent Lips" which refers to the current situation with COVID-19 and how we cannot see peoples' smiles or lips due to them wearing face masks.

The title of the YohaS 2021 event is "Night Park Gallery" which will turn Chiba Park into an art gallery and fuse it with breathtaking lighting and illuminations by Sun Effects. There will be six stages produced by Hiroaki Kumagai, a former member of Cirque du Soleil, each of which will offer equally incredible performances with their own stories from July 6-9. Visitors can also purchase YohaS wristbands, t-shirts, anti-bacterial sprays, and more.

For those still unable to attend in person, YohaS will also open an online version of the event called Virtual YohaS in Chiba Park which can be accessed via a PC or smart device.

Information

YohaS 2021 Night Park Gallery

Running: July 6, 2021 – July 10, 2021
Opening Hours: 17:00-21:00
Location: Chiba Park

Address: 3 Chome-1-1 Benten, Chuo Ward, Chiba, 260-0045, Japan

Entry: Free
YohaS Official Website: https://www.yohas.fun/

Sanrio's Little Twin Stars Bring Their Dreamy World to Tokyo Tower

Sanrio's popular character duo Kiki & Lala, also known as the Little Twin Stars, are set to delivery their dreamy, pastel-coloured world to Tokyo Tower with a special summer event titled "LittleTwinStars Summer Night Fantasy Meets Kiki & Lala Exhibition produced by LIDDELL" which will begin on July 10.

LittleTwinStars Summer Night Fantasy Meets Kiki & Lala Exhibition produced by LIDDELL

The exhibition will feature lots of kawaii artwork of the twins across seven different booths, each with their own art.

Passport Notebook

A special 'passport' notebook will also be sold at the exhibition which if bought, can be stamped at the entrance with an exclusive stamp to make it look like you went travelling to Kiki & Lala's world.

LittleTwinStars Summer Night Fantasy Meets Kiki & Lala Exhibition produced by LIDDELL

Running: July 10, 2021 – July 25, 2021

Opening Hours: 11:00-20:00

*60 minute slots / 75 people per slot / 6 slots per day
Location; Tokyo Tower

TOKYO TOWER CITY LIGHT FANTASIA -LittleTwinStars-


A projection mapping show will also take place on Tokyo Tower's second floor main deck. The three-minute show will see Kiki & Lala amongst the fireworks, at the beach, and more, with the real Tokyo cityscape in the background.

TOKYO TOWER CITY LIGHT FANTASIA -LittleTwinStars-

June 21, 2021 – August 26, 2021 @ 19:00 until closure

August 27, 2021 – September 16, 2021 @ 18:30 until closure

September 17, 2021 – September 30, 2021 @ 18:00 until closure

*Subject to change depending on COVID-19

Location; Tokyo Tower Main Deck (Floor 2F)

Tokyo Tower x Kiki & Lala Merchandise

Kiki & Lala fans can get their hands on a cute selection of merchandise featuring the artwork of the exhibition's main visuals such as pins, keyrings, and more. The first 3,000 people to buy something will also receive a limited-edition shopping bag.

The day before the exhibition begins, on July 9, Tokyo Tower will be lit up in blue and pink Kiki & Lala colours from 19:30 to midnight. Join the Little Twin Stars for a special summer in Tokyo.

©'21 SANRIO 著作(株)サンリオ

Information

LittleTwinStars Summer Night Fantasy Meets Kiki & Lala Exhibition produced by LIDDELL

Running: July 10, 2021 – July 25, 2021

Event Site: https://sanrio.site/qY0AN

Japanese Illustrator Mai Yoneyama Releases Limited-Edition T-Shirts

To commemorate her exhibition "EGO" exhibition currently taking place at Anicoremix Gallery in Harajuku, Japanese illustrator Mai Yoneyama has released a collection of limited-edition t-shirts in collaboration with the sneaker brand atmos. The exhibition, which is showcasing many of Yoneyama's works, is running until April 14.

Wear Mai Yoneyama's iconic pop style wherever you go with these limited-edition tees.

Tokyo Tower Gets Decorated With 333 Koinobori Carp Streamers

Tokyo Tower's annual "333 Koinobori" event returns for Spring 2021 which sees 333 colourful carp streamers adorning the 333-meter-tall tower. The decorations will blow in the Tokyo breeze until May 9.

Koinobori streaming up Tokyo Tower's base

Giant 'Sanmanobori' streamer

Flying alongside the koinobori is also a 'sanmanobori,' a giant streamer that stands out from the rest at 6 meters in length. This Sanmanobori flies every year as a message of support to the city of Ofunato in Iwate which was devastated during the Great East Japan Earthquake.

Tokyo Nightlife Beckons With Tokyo Tower's NAKED SAUNA & SPA

It's time to strip down and relax as Japanese company NAKED announces that its 'NAKED NIGHT SAUNA' event, which is being held as part of its 'NAKED SAUNA & SPA' project, will take place atop Tokyo Tower from March 12 to 14. Visitors will also receive a relaxation drink called 'CHILL OUT' in collaboration with Endian.

NAKED SAUNA & SPA is a sauna project launched by NAKED in November 2020 to promote equilibrium of the senses. The first event was held in the village of Achi in Nagano Prefecture which is known for being Japan's best location for enjoying the starry night sky. The second event was themed around the concept 'Art of Meditation.' It was held in Ariake and had visitors becoming one with nature as they sat under the expanse of Tokyo's night sky to enjoy every gleaming speck that twinkled above them. It was an opportunity for busy city workers to reset and recalibrate.

Now, the project is set to host its third event in collaboration with Tokyo Tower. Visitors can enjoy towering above the capital's city streets as they enjoy a sauna experience inside exclusive tents. It will be a fusion of analogue and technology as people enjoy sitting by the fire, smoking shisha, and gazing at mist that will be pumped and illuminations that will be lit to create atmosphere. Of course, this entire event will be held in accordance with government guidelines to prevent the spread of COVID-19. Social distancing will be enforced which will include a drive-through system so you don't come into contact with people, and all visitors will have their own tents (groups of 4 max), and all tent saunas will be separated with partitions.

The tent saunas that will be used are MORZH SKY, a type of tent with a transparent roof made by the Russian tent company MORZH. They are provided by Sauna Camp.Inc. The tents are fitted with a stove and chimney so visitors can adjust the temperature to their liking.

To attend the event, you must register to the Facebook online community NAKED SAUNA CLUB and fill out the form that will be made available there on March 1 and 2. A select number of visitors will be chosen at random on March 3 and winners will be contacted directly on March 4 with further instructions.

If you're in Tokyo this March, then don't miss out on a chance to kick back and unwind up Tokyo Tower with a sauna treat.

Information

NAKED NIGHT SAUNA at Tokyo Tower

Running: March 12, 2021 – March 14, 2021

Location: Tokyo Tower

Address: 4-2-8 Shibakoen, Minato-ku, Tokyo

Opening Hours: 17:00-20:00

Price: ¥20,000 (tax included) for 1-day tent rental (max 4 people)

Tickets: Will be posted on NAKED SAUNA CLUB Facebook Group

NAKED Official Website: https://naked.co.jp

Hoshino Resorts BANTA CAFE Releases Video of Magical Beachside Illuminations

The incredible beachside Hoshino Resorts BANTA CAFE, which offers guests a breathtaking ocean view along the Okinawan coast, released a video on the official Hoshino Resorts YouTube page showcasing the cafe's ongoing illumination event, "Illumi Banta," which is running until February 28, 2021. Guests can enjoy some limited-time menu options and then take a romantic stroll along the beach with a warm lantern in hand.

Okinawa is known for its warm climate, rarely dipping below 15°C in the chilly season of winter. There are many celebratory days enjoyed every year around Christmas and New Years, and so BANTA CAFE decided to get in on the action with Illumi Banta, which has been running since December 1 last year—while following the necessary precautions against COVID-19 to ensure everyone stays safe. The spacious cafe is mostly outdoors so visitors can enjoy their time without worry.

A seat at the cafe in on a clear evening guarantees a front row seat to a beautiful orange sunset that sinks into the horizon. Normally, the cafe closes as sunset arrives, but for this event, opening hour have been extended into the night.

BANTA CAFE is located in the village of Yomitan where the beautiful ocean is surrounded by coral reef, enormous rocks, and a rich natural environment. It's a must-visit if travelling to Okinawa.

Information

Illumi Banta
Running: December 1, 2020 – February 28, 2021 (Except February 1st-5th)
Time: 18:00-22:00 (Last Orders 21:00)

BANTA CAFE
Address: 560 Gima, Yomitan, Nakagami District, Okinawa
TEL: 098-921-6810
Opening Hours: 10:00 to one hour after sunset (from 08:00 on weekends and holidays)
Official Website: https://banta-cafe.com/en/

Kyoto's Shinto Shrine Iwashimizu Hachimangu Announces Light-Up Event

Iwashimizu Hachimangu, a Shinto Shrine in Yawata, Kyoto, has announced that a 5-day light-up event will take place from February 10 to 14 at the site's main shrine which is listed as a national treasure of Japan.

Following government guidelines in response to COVID-19, the event will feature LED illuminations, glowing exhibits from craftsmen, lights made by locals from materials such as bamboo, and more, all in the hopes of creating a bit of evening-time sightseeing in the area. The event will also be streamed live online for those unable to attend where viewers can also enjoy watching ceremonial dance by shrine maidens.

Information

Iwashimizu Hachimangu Inori no Tomoshibi ~Wa no Kokoro~

Event Name in Japanese: 国宝・石清水八幡宮 祈りのともしび~和の心~
Running: February 10, 2021 – February 14, 2021
Light-Up Times: 17:00-20:00
Location: Iwashimizu Hachimangu (30 Takabo, Yawata, Kyoto)
Note: Face masks and COVID-19 Contact Confirming Applications required
Event Page: https://ochanokyoto.jp/event/detail.php?eid=569
Official Website: https://newnormaltourism.jp/

2021 New Year's in Japan: 5 Must-Visit Illumination Spots

Illumination and light-up events are a huge part of winter and the holiday season in Japan, but when Christmas ends, many of them are turned off until next year. But there are still some that run through the New Year holidays and into early spring, so we've compiled a list of 5 must-visit illumination and light-up spots to visit over the next couple of months.

Please note that the times and dates of these events are subject to change depending on the COVID-19 situation.

Tochigi: The Garden of Illuminated Flowers ~Flower Fantasy 2020~


Ashikaga Flower Park in Ashikaga, Tochigi, is holding an illumination event for winter called "The Garden of Illuminated Flowers ~Flower Fantasy 2020~" until February 7, 2021. Held for the 19th time this year, the event was ranked among the Top 3 biggest light-up events in Japan in 2017 alongside Sapporo White Illuminations and Huis Ten Bosch Illuminations. It was also ranked top by night view critics in Japan as the best illumination event for four consecutive years.

Full Details: https://www.moshimoshi-nippon.jp/366535 

▼The Garden of Illuminated Flowers ~Flower Fantasy 2020~

Address: 607 Hasamacho, Ashikaga, Tochigi
Running: October 17, 2020 – February 7, 2021
Official Website: https://www.ashikaga.co.jp/flowerfantasy_special2020/en/index.html

▼MIDTOWN WINTER MOMENTS

Tokyo Midtown's winter season event 'MIDTOWN WINTER MOMENTS' is running until February 28, 2021. "ANOTHER WORLD" is the concept for this year's rendition of the annual event, which is enjoying new winter illuminations, Christmas decorations, an ice rink, and plenty of other fun experiences for people to enjoy throughout the entire day, right into the evening. A highlight of the event is the "MIDTOWN WINTER LIGHTS," warm illuminations to light fires in hearts during the cold winter season that will create a dazzling spectacle the likes of which cannot be missed.

Full Details: https://www.moshimoshi-nippon.jp/366420

▼MIDTOWN WINTER MOMENTS
Running: November 19, 2020 – February 28, 2021
Official Website: https://www.tokyo-midtown.com


Kanagawa: SAGAMIKO ILLUMILLION's 'Pokémon Illuminations'

Lake Sagami Pleasure Forest's annual SAGAMIKO ILLUMILLION winter event is taking place until April 4, 2021, and this year, it has brought that a new Pokémon with Pokémon illuminations. Wild Pokémon illuminations roam everywhere and there are plenty of Pokémon photo spots to take your picture with including Pikachu sleeping in the forest, Charmander taking a nap by an open-air, and more.

Full Details: https://www.moshimoshi-nippon.jp/375427

▼SAGAMIKO ILLUMILLION
Address: 1634 Wakayanagi, Midori-ku, Sagamihara, Kanagawa
Running: November 14, 2020 – April 4, 2021
Illumination Times: 16:00-21:00 (Last Entries 20:30)
*Illumination times to begin from 17:00 starting in February
Official Website: https://www.sagamiko-resort.jp/illumillion/


Nagano: Karuizawa Shiraito Falls Midwinter Light Up

Shiraito Highland Way is holding this year's Karuizawa Shiraito Falls Midwinter Light Up until February 14, 2021. Karuizawa Shiraito Falls is a 3-meter tall waterfall that spans 70-meters in length. The lights add a warmth to the cool evening and glow under a starry night sky. The event creates a different atmosphere from the summer light-up, allowing visitors to enjoy the enveloping nature in a way that they normally can't and see beauty they may not have noticed in the area before.

Full Details: https://www.moshimoshi-nippon.jp/379120

▼Karuizawa Shiraito Falls Midwinter Light Up
Location: Karuizawa Shiraito Falls
Running: December 19, 2020 – February 14, 2021
・Christmas Session: December 19th-20th, 24th-27th (17:00-19:00)
・New Year Session: January 2nd-3rd, 8th-11th (17:00-19:00)
・St.Valentine Session: February 11th-14th (17:30-19:30)

Access: https://karuizawa-shw.com/access/

*Please see the website for the latest information
*Entry restrictions may be made depending on the number of visitors

Official Website: https://karuizawa-shw.com/

Shizuoka: Hikari no Sumika Winter Illuminations

Toki no Sumika is hosting its 19th annual winter illumination event "Hikari no Sumika" until March 21, 2021. There are many different illumination areas to enjoy at the event, like the Forest of Trees Illuminations, the 370m-long Tunnel of Lights, and more.

Full Details: https://www.moshimoshi-nippon.jp/359381

▼Hikari no Sumika 2020-2021
Running: September 18, 2020 – March 21, 2021
Address: Gotemba Kogen Toki no Sumika, 719 KōyamaGotemba, Shizuoka
Illumination Times: 17:30-22:00
Car Park Spaces: 2,000
Enquiries: 0550-87-3700 (9:00-20:00)

Official Website: http://www.tokinosumika.com/illuminations2017/renewal/

Illumination Island Odaiba 2020: Tokyo's Artificial Island Begins Winter Illuminations Up to Christmas

23 facilities including shopping centres, hotels, parks, and more in Odaiba are participating in Illumination Island Odaiba 2020, a large-scale illumination event that opened on Friday and is set to run up to Christmas Day.

This year's event is bigger than the last, with only 10 facilities having taken part in 2019. The main park in Odaiba will also be lit up for the first time this year. The event is taking place to express gratitude towards those facing hardship during the pandemic – to connect everyone via gorgeous lights for a brighter tomorrow.

*Please note that illumination dates and times differ for each facility

Participating Facilities (Excerpt)

DECKS Tokyo Beach

The third-floor seaside deck faces Odaiba Marine Park and offers a gorgeous view of Tokyo Bay. Winter illuminations will serve cosy vibes around the rest area and plants, and serves as the perfect site to gaze at the lit-up Rainbow Bridge against the backdrop of Tokyo's nightscape.

Running: November 14, 2020 – February 14, 2021

DiverCity Tokyo Plaza

The Festival Hiroba's staircase will be colourfully lit up from 16:00 every day until January 31, 2021. After that, it will be lit up from 17:00.

VenusFort


teamLab – "The Tree of Resonating Colors of Life" ©チームラボ

teamLab's towering digital art installation The Tree of Resonating Colors of Life is running at Odaiba until February 7, 2021. The 8-meter tall three-dimensional tree is created from an accumulation of light spheres.

Palette Town Daikanransha


The Daikanransha Ferris wheel is a symbol of Odaiba and offers a panoramic view of famous sights around Tokyo up 115-meters in the sky.

Winter Illuminations: December 1, 2020 – December 25, 2020

Statue of Liberty


Odaiba's Statue of Liberty will be lit up with rainbow colours, changing the atmosphere in the area completely.

Running: December 11, 2020 – December 25, 2020

ARTBAY HOUSE


Japanese artist Takahiro Matsuo is also getting in the the action with the prism art at his PRISM/GLOW exhibition.

Running: November 27, 2020 – December 25, 2020

Tokyo International Cruise Terminal Station


A 5-meter tall Christmas tree is decorating Tokyo International Cruise Terminal Station.

Running: November 27, 2020 – December 25, 2020 (Not running select days)

Shizuoka's Strawberry Cafe Ichigo BonBonBERRY ATAMIHOUSE. Releases Winter Menu

Ichigo BonBonBERRY ATAMIHOUSE. is the first cafe to open in Atami specialising exclusively in strawberry desserts. This Christmas, the cafe is serving up a new Christmas cake, winter afternoon tea set, and strawberry milk beverage, all of which hit the menu on Friday (December 4).

Hitorijime Christmas Cake | ¥1,000 (Before Tax) *Comes with drink

A dreamy Christmas cake for one loaded with cream and sweet strawberries. There's a strawberry on top and more in the middle squished between soft sponge.

Winter Afternoon Set | ¥1,200 (Before Tax)

The cafe has turned its popular afternoon tea into a wintertime version for Christmas, served with a mini bavarois in the shape of a strawberry, strawberry ice cream, melty fondant chocolate, and a rum raisin chocolate tiramisu. A delightful combination of sweet, tangy, and rich flavours.

Hot Strawberry Milk | ¥400 (Before Tax)

A hot strawberry milk to feel cosy in the cold winter weather, topped with plenty of cream and a sprinkling of strawberry powder. Enjoy it as it is or mix together for a creamier beverage.

The winter menu is seasonal and so will only be available this wintertime.

Information

Ichigo BonBonBERRY ATAMIHOUSE.
Address: 3-16 Tawarahonchō, Atami, Shizuoka
Opening Hours: 10:00-18:00
Access: 2-minutes from Atami Station (JR Line side)
Official Website: http://www.atami-bonbonberry.com

Sarutahiko Coffee Releases Pistachio and Mixed Berry Coffee Beverage For Christmas

Sarutahiko Coffee released a Christmas-exclusive seasonal flavour of its popular Jellatte dessert drink on Tuesday (December 1) which it's calling the "Maroron Merry Pudding Jellatte."

Maroron Merry Pudding Jellatte | ¥750 (Before Tax)

The beverage is the second in this year's Christmas themed drinks to be released by Sarutahiko Coffee. It uses a coffee jelly base made from Ethiopian coffee beans and contains layers of mascarpone cheese from Italy, a chocolate sauce made from Cacao Hunters chocolate, milk pudding, four kinds of mixed berry jellies, pistachio milk pudding, milk foam, and to top it all off, chocolate pieces and pistachios.

The pistachio and mascarpone bring a richness to the dessert drink which blends deliciously with the freshness of the berries and full-bodied coffee for a combination that's like a warm and cosy Christmas hug.

Information

Maroron Merry Pudding Jellatte
Serving: December 1, 2020 – December 25, 2020
Available: Sarutahiko Coffee in Japan
Official Website: https://sarutahiko.co